If you've landed on our little corner of the web, you're likely researching virtual baby shower options. You're wondering about the best way to host a virtual baby shower, how to decorate a virtual baby shower, what sort of invitations to send, and you likely have a lot of other questions!
However, one thing to consider that you may not have thought of when planning a virtual baby shower is this—a virtual baby shower bundle.
What are virtual baby shower bundles? Simply put, they're a collection of must-have items that will help you host the perfect online baby shower. And WebBabyShower has absolutely everything you need.
What Makes a Virtual Baby Shower Bundle?
There are a lot of elements that comprise a virtual baby shower, but here are the major items you need:
The perfect baby shower theme. Once you pick one, all of the other elements of your baby shower will follow the theme you select.
A digital baby shower invitation. This is an invitation that you send to your guests, to let them know the details of your virtual baby shower! It should have all the necessary information: the shower date, a link to the baby registry, the baby shower itinerary, expectations, etc.
Virtual baby shower games. These are games that are adaptable and able to be played on a Zoom call.
A fun Zoom background. This background should match the theme you choose for the baby shower.
A baby shower website. WebBabyShower is the perfect place to host all of your virtual baby shower musts in one easy, organized spot!
Throw a Virtual Baby Shower so Everyone

Can Celebrate!

• Free Trial – 7 Day Refund for any reason
• Only 1 Minute Setup!
• 40+ Custom Themes & Matching Invites
• Use Any Online Registry
• Send Unlimited Invites and Updates
• Baby Shower Games with Scoreboards, Give Prizes!

Build Your Shower
---
WebBabyShower Bundles vs Virtual Baby Shower Bundles
During your research, you might find that there are virtual baby shower bundles and then that there is a WebBabyShower bundle. But what's the difference? Let's take a look:
With WebBabyShower, you don't have to go hunting for every item in your bundle. Everything is built directly on our platform and is ready to set up in minutes!
There are more features in the WebBabyShower bundle than you'd get in a virtual baby shower bundle anywhere else. WebBabyShower keeps everything together in one spot, making it easy to stay organized.
What WebBabyShower Has to Offer
So, just what does a WebBabyShower bundle offer?
A dedicated baby shower website. Your site is automatically set up for you upon logging in. All you have to do is choose a theme, add your photos and videos, write a personal message, and start inviting people!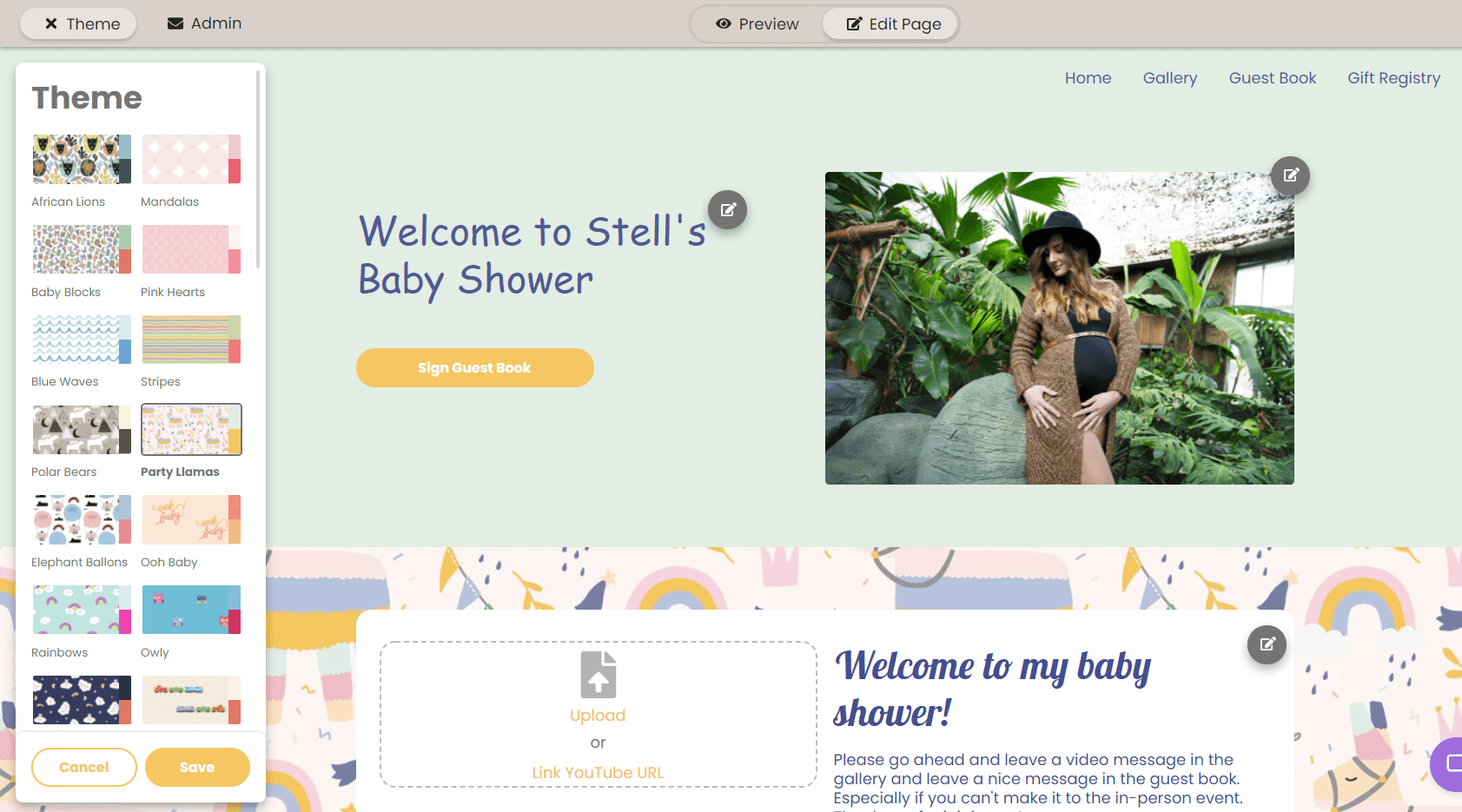 Invitations that match your theme. Once you choose your theme, you can send RSVP invitations to your guest list. =
Track your RSVPs. WebBabyShower gives you the ability to track who has opened the invitations and RSVPs so you can easily send guests reminders.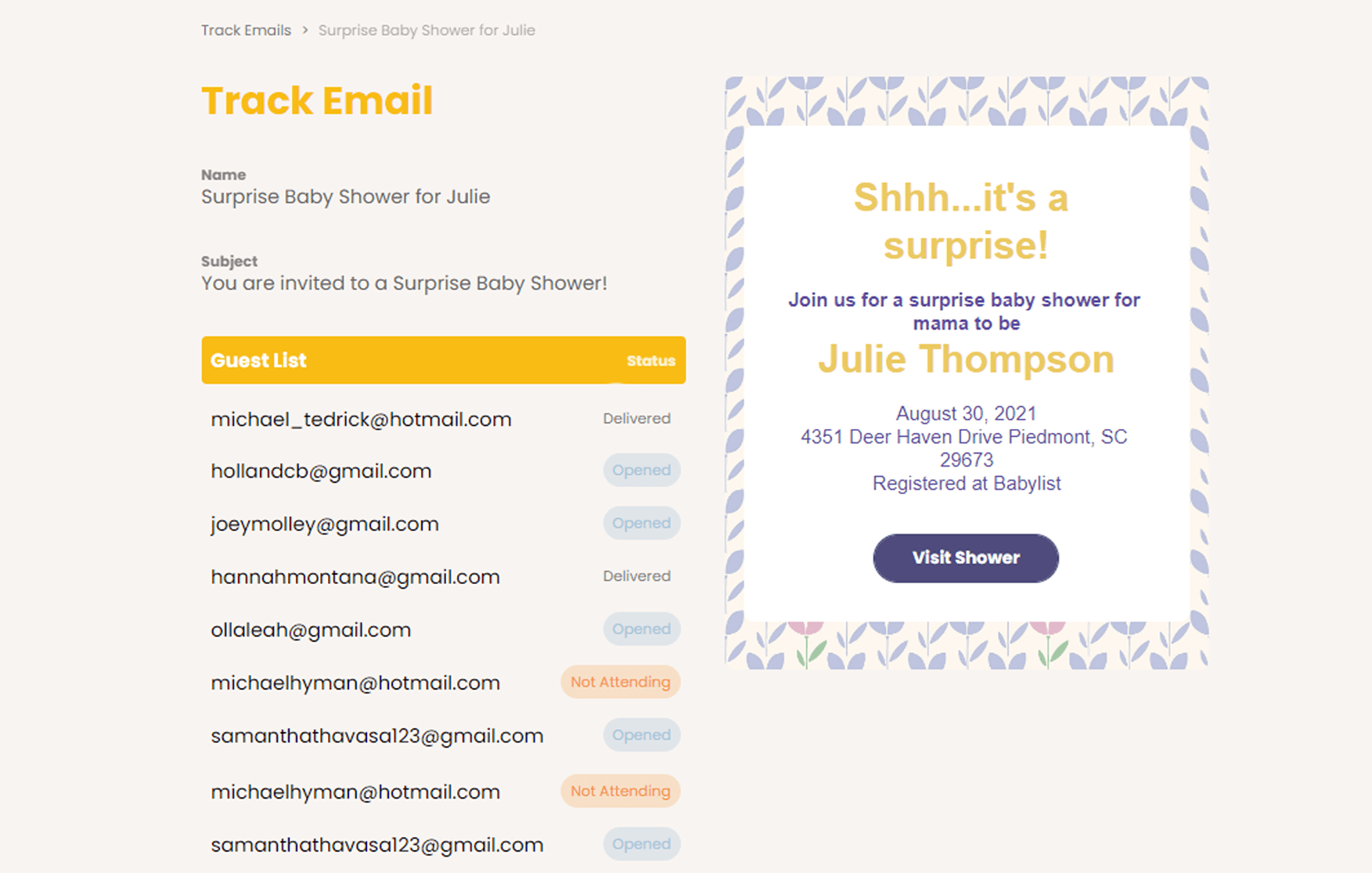 Share your shower invitations via link. If you don't have the e-mail address of a particular guest, simply send them the URL of your WebBabyShower site or share it on social media.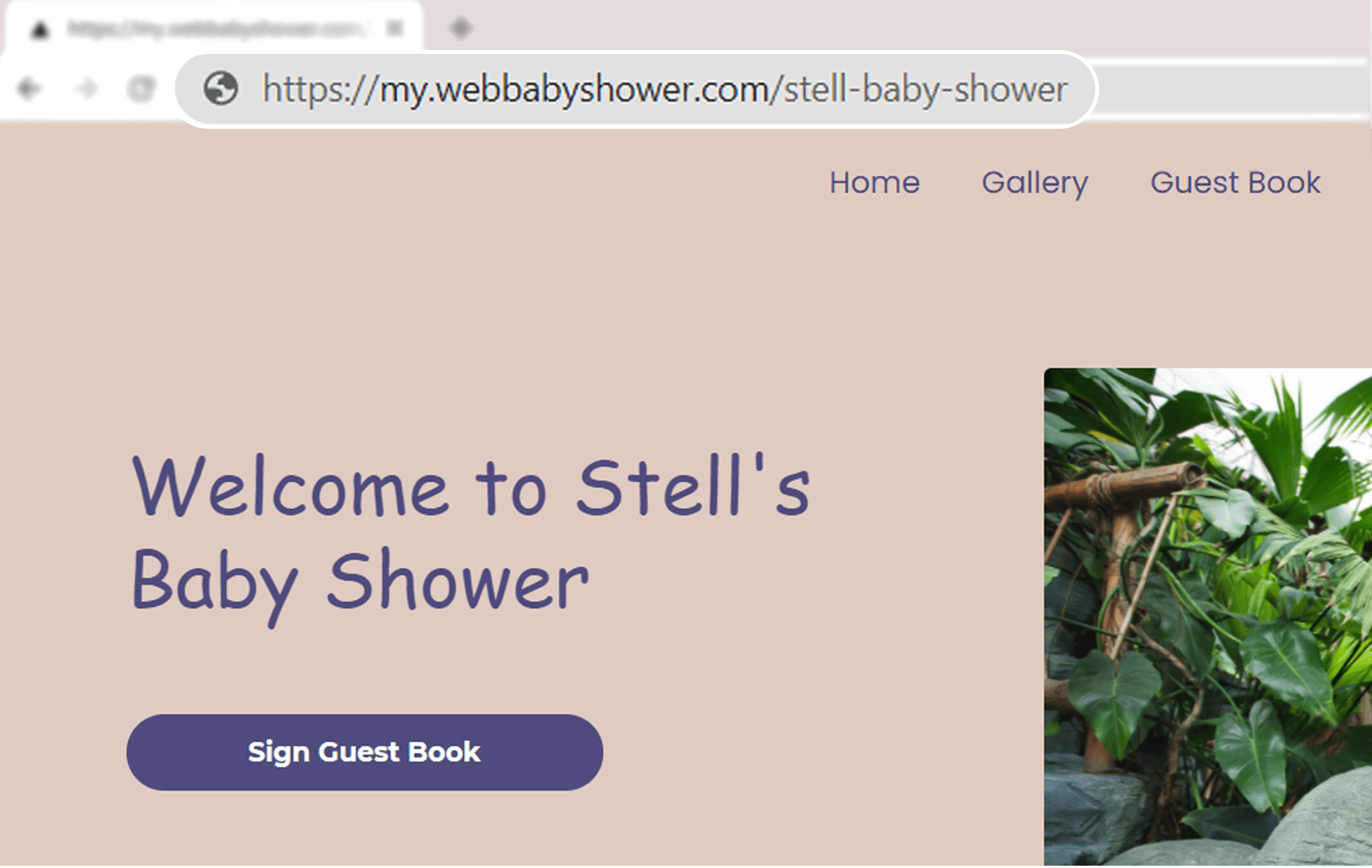 Give quick updates to everyone. WebBabyShower includes ready-made e-mails for things like explaining how to play games. When the baby arrives, you can even send a personalized announcement. And the fun doesn't have to stop there—keep your WebBabyShower site active for the baby's first year to post updates!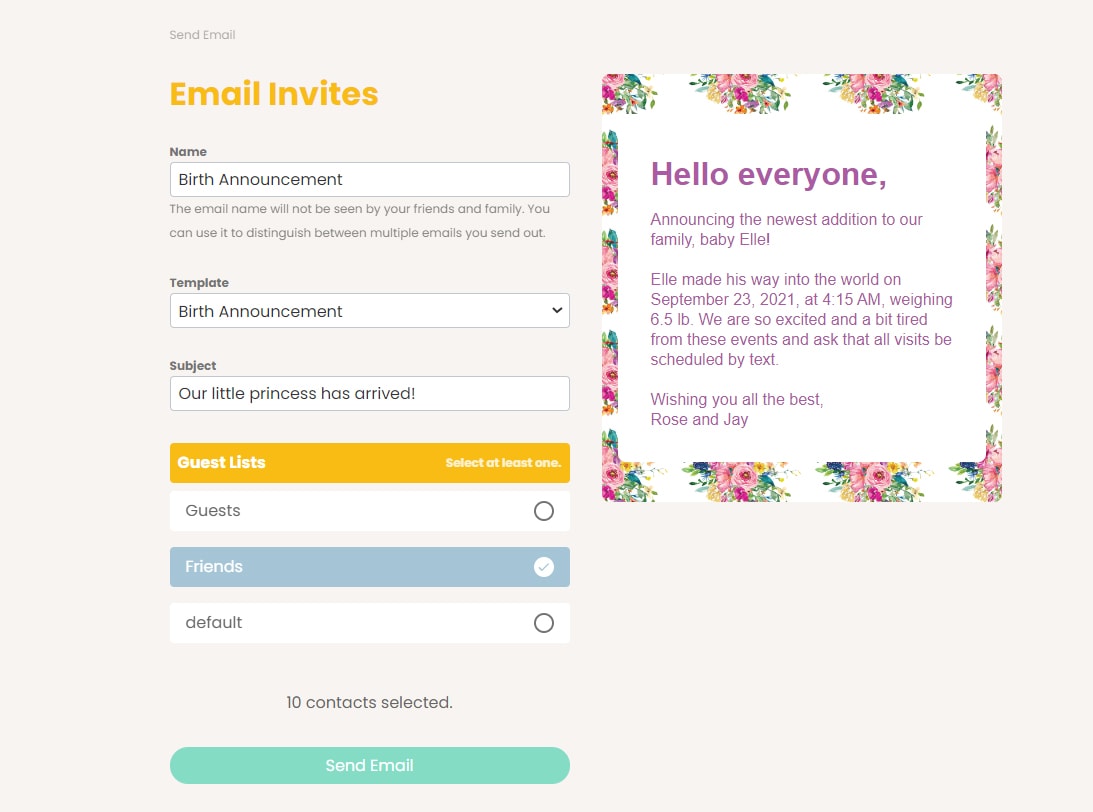 Virtual Baby Shower Themes
There are TONS of baby shower theme ideas, and it really comes down to personal preference. Some moms-to-be love a more subdued, classic look while others love big, bright, bold, exciting décor.
WebBabyShower has over 40 baby shower themes to choose from that can match your shower perfectly, whether you want a baby boy theme, a baby girl theme, or a gender-neutral theme.
Some of our favorite themes include:
Foxes
Lilacs
Rainbows
Party Llamas
Blue Waves
Pink Hearts
Koalas
Seashore
Nursery Jungle
Digital Invitations Ideas for Your Baby Shower
When you're selecting baby shower invitations, you definitely want to make sure you're taking the theme of your baby shower into consideration. For example, if your baby shower has a jungle theme, there are lots of cute critters you can choose from to feature on the invitations: leopards, monkeys, and lemurs, just to name a few.
Once you settle on your baby shower theme, it's time to move on to the wording. This is important, as you want to keep your invites simple and easy to read for all your guests. Here's a list of 15 unique virtual baby invitation wording selections to help inspire you!
Baby Shower Games
Games are one of the key components to a successful baby shower! Pick a dud, and the whole vibe suffers, but pick an awesome game that everyone loves and people will talk about your baby shower for years to come!
If you're throwing a strictly virtual baby shower, you need some great options for online baby shower games. WebBabyShower has a ton of free, exciting games that you can play over a Zoom call.
Some of our favorite virtual baby shower games include:
Guess That Baby Tune
Baby Jeopardy
Baby Shower Trivia
Which Parent Game
Celebrity Parent Charade
Click for a Zoom Baby Shower Games Printable!
Zoom Backgrounds to Match Your Baby Shower Theme
When you host a virtual baby shower and use Zoom, you want to make sure you use an adorable theme that perfectly matches your baby shower! There are lots of options for creating a Zoom background—Canva is a great and free designing tool with templates to design the perfect one for you.
Plus, with a WebBabyShower theme, you can grab the exact colors from your theme and plug them into Canva or Photoshop to create your Zoom baby shower background. Easy, cute, and fun! You can also download some of our FREE Zoom Baby Shower Backgrounds below.
Click to Get FREE Zoom Baby Shower Background!