Baby showers are a fun event to celebrate a fantastic milestone in the mama-to-be's life, but they can quickly turn into an expensive affair. However, that doesn't need to be the case!
When celebrating the birth of a new child, the essential part is to enjoy the company of loved ones as you share the excitement for a new family member – not how much money you spend on the party.
Stay Safe and Save Money
If you're wondering, "How much should I budget for a baby shower?", thankfully, it doesn't have to be much. A virtual baby shower is much less expensive than an in-person party – and safer for the parents and guests in the time of COVID-19!
With a little creativity and planning, it's simple to plan a budget baby shower. We've got you covered with ideas and options below!
Babylist.com agrees that we are a great budget option! Here's a quote directly from their website:
"For under $80 (cheaper than the average in-person shower), WebBabyShower offers an all-in-one place for all your baby shower needs"

Throw a Virtual Baby Shower so Everyone

Can Celebrate!

• Free Trial – 7 Day Refund for any reason
• Only 1 Minute Setup!
• 40+ Custom Themes & Matching Invites
• Use Any Online Registry
• Send Unlimited Invites and Updates
• Baby Shower Games with Scoreboards, Give Prizes!

Build Your Shower
---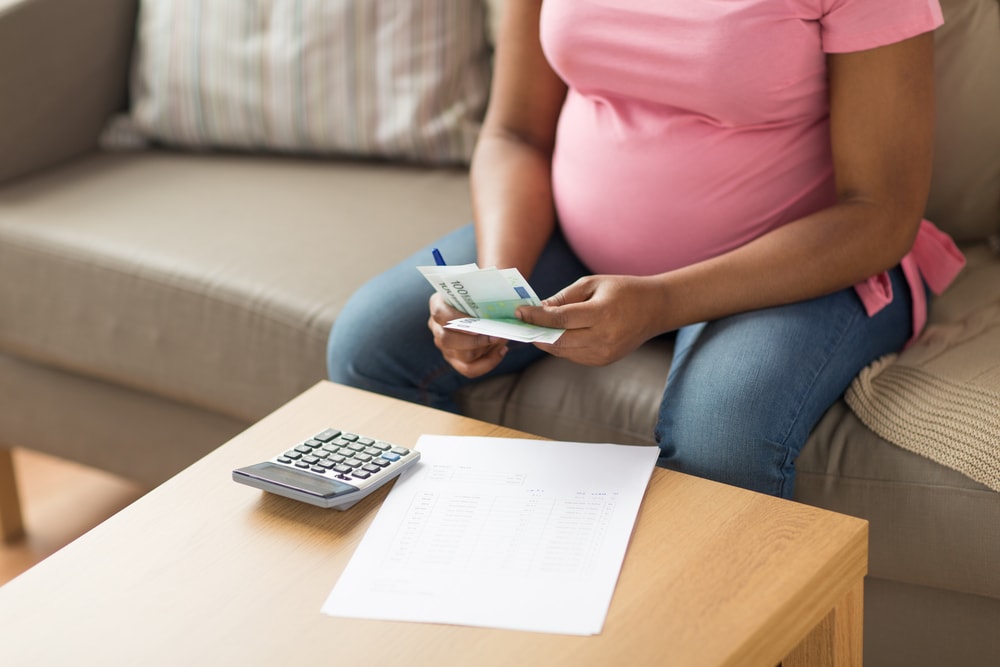 Average Cost of a Baby Shower
If you're wondering how much to budget for baby shower planning, it helps to know how much baby showers cost. While some parents may splurge on an expensive get-together, that's not the average. Even so, the numbers can vary a lot.
Depending on the number of guests, the location, the food, and other considerations, a baby shower can easily cost anywhere between $100 to $1000 – and celebrities like Beyoncé have pulled costs up to $500,000! While it can be fun to splurge a bit on the celebration, a lot of that money will often be more useful if spent on practical items after the baby is born.
In this article, we're here to help you cut that cost without cutting out any of the enjoyment of celebrating the new member of the family! We'll cover the average costs of a lot of baby shower items, ways you can save money, and more.
How much is a baby shower for 50 people?
To plan and throw a traditional in-person baby shower for 50 guests you are looking at a cost of around $1000-$1500, this includes renting out a space, food, decor, and everything in between. You don't have to spend this much though, there are plenty of simple choices you can make to cut costs- keep reading to find out how.
How much should a baby shower cost per person?
Depending on the venue and food you choose, you're looking at between $15-$30 a head for a traditional shower, again though, we can help you cut down costs and make this number more like $3-$5 per person.
The Virtual Shower Cost Advantage
Virtual baby showers are less expensive than an in-person party, plus they make it possible for guests from all over to participate.
As the market leader in virtual baby showers, WebBabyShower can help save money on many different areas of the party, from organizing your party virtually to providing ready-made games as part of the package – plus you have the benefit of sharing your joy with friends and family, no matter where in the world they may be!
Let's Break It Down
If the average cost of a baby shower can reach up to $1000, where will all that money go? Here's a quick break down of the average prices, according to CostHelper:
Venue – Reserving a community space for several hours can cost up to $200
Décor – Decorations, including items like a diaper cake, can potentially cost over $200, depending on the level of decorations put out
Invitations – Pre-printed invitations can cost 50 cents to one dollar apiece; customized ones can cost up to three dollars apiece, potentially including shipping costs
Food and Drink – Food can cost up to $10 per guest; purchasing a cake from an upscale bakery can cost up to $4 per serving
Games – Games can cost up to $50 per party; some games will require purchases like baby food or diapers
Prizes – Depending on the number of games winners, the additional expense of prizes can add to the cost
Extras – Party favors can cost up to $2 per guest; hiring a party planner can also increase the total cost
While these numbers may not seem too much at a glance, they can quickly add up, turning a simple shower into an expensive affair. So what do you need to do to figure out how to plan a low budget baby shower?
Set Your Budget Early
One of the best ways you can save money is to set a budget before planning your celebration. Having a hard limit of money to spend will help everyone keep on track. Costing a fraction of an in-person event, WebBabyShower provides an affordable option with plenty of fun to celebrate your new little one's arrival – no matter your budget!
Venue
As you can see from our cost breakdown above, one of the more expensive parts of the baby shower budget can be in the venue. Renting out a community space for the guests can easily cost a couple of hundred dollars. Hosting the baby shower out of the home can make a memorable experience and help save on the cleanup.
Some fun baby shower locations can include a botanical garden, a restaurant, a local tearoom, a farm and barn, or even an outdoor area like a park! And celebrity baby showers like Kim Kardashian's can easily show how the expenses pile up while hosting the party.
Renting out a community space can easily cost a few hundred dollars – or even more, depending on the area and time. Outdoor baby showers can be less expensive, but you still might need to invest in awnings or seating for the guests.
The Most Cost-Effective Venues
When planning how to throw a budget baby shower, it is possible to find an inexpensive location. Naturally, a venue with no cost is using the parents to be's home or the home of a friend! Places like churches will also often allow you to use their space for free. For more info about venues, check out our guide on the best places to have a baby shower.
Another answer to "Where to have a baby shower on a budget?" is virtually!
Hosting your baby shower online saves you and the guests money! Everyone can participate online from the comfort and safety of their own homes. WebBabyShower provides the perfect place to have a delightful virtual baby shower at an affordable cost.
Décor
Every baby shower is going to have a different decoration budget – and part of that is because of the venue. The venue's size will determine how many decorations you'll need to make the place look fun. The theme you pick out for the party will also impact the cost of decorations.
Pre-made decorations are cute, but they can cost up to $10 per item. Unique decorations, like a "diaper cake," can potentially cost $90 alone!
Get Crafty!
For crafty party hosts, reducing the cost of the décor can be simple if you put together decorations by yourself. This approach has the added benefit of letting you customize the decorations of the party as you like.
Simple crafts like handmade posters can add a lot of fun to the decorations, and you can also make a DIY diaper cake for a fraction of the cost. Other baby items, like blankets, toys, and onesies, can also make fun decorations if you get creative enough!
What's important to remember is that you don't need to go overboard for the decorations. A fun centerpiece and a few streamers can do a lot to boost the party atmosphere without breaking the bank. Consider turning the gifts from guests into the centerpiece as well!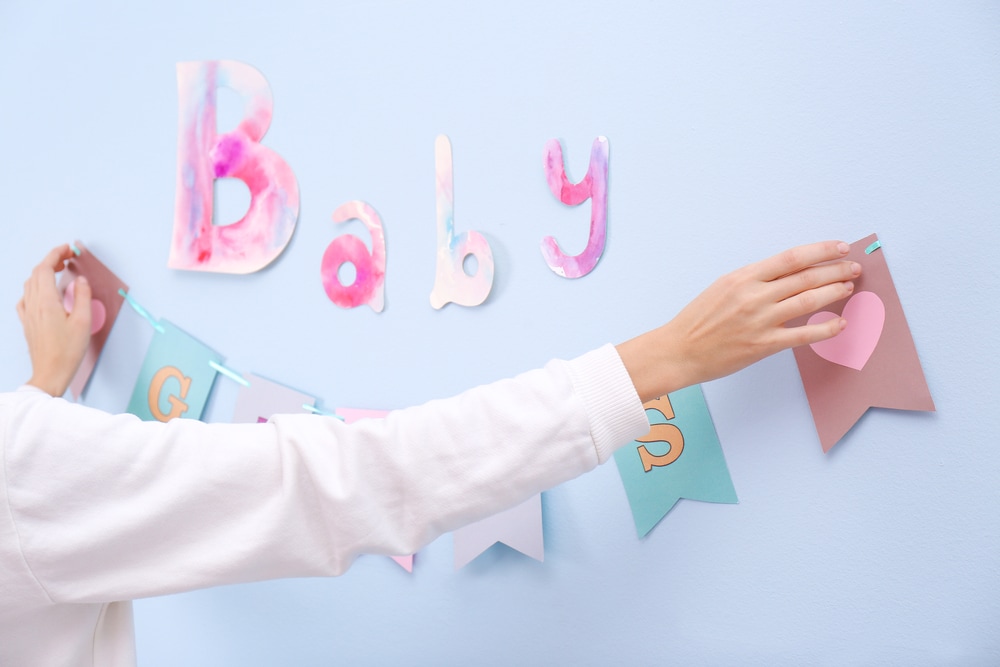 What About Decor for a Virtual Shower?
When hosting your virtual baby shower with WebBabyShower, there aren't any decoration costs to worry about! Even so, if you want, you can put up a few decorations in the background when you have your video call to add an extra personal touch to the video for guests to enjoy.
Decorating a small area will easily cost less than a whole room or venue!
Invitations
If there's one thing you can't go without when it comes to a baby shower, it's the invitations! All the guests need to know the when and where of the shower. You can also use the letters to share the gift registry if you have one, ensuring that all gifts are helpful to the parents.
Match your theme exactly on our platform where each theme is also an invitation design. And we offer unlimited sending for your invites.
Going the Invites by Mail Route?
Pre-printed invitations tend to be cheaper, costing between 50 cents to a dollar apiece. If you want to order customized invitations, you may be looking at the cost of $3 per item. Once you consider that the average number of guests at a baby shower is 20 people, you could be looking at a $60 expense on invitations alone.
Note that cost doesn't account for any shipping costs (if you order the invitations online) or mailing costs (a single forever stamp costs 55 cents, plus you'll need envelopes to mail the messages as well). Sending invitations by snail mail out of the country costs more, too.
The Good News!
You don't need complicated invitations for them to be effective! Some invitations will let you fill in the blanks so that you can have a customized touch. You may also want to make your own, but the cost of materials can add up, especially if you're planning an intricate design.
Try Out Digital Invites
One of the best ways to cut costs on invitations is to skip paper altogether and send a digital invite. This approach will let you have a more customized design without much hassle – and without needing to make individual invitations!
WebBabyShower has digital invites that can match your virtual baby shower theme – or you can pick a different design altogether. Our virtual invitations also let you track when the recipient has opened the invite, so you'll always know who's informed! Our digital invites also provide a quick and convenient link to your registry for guests to use.
Go The More Traditional Route with Printed Invitations
Want to know how to have a budget baby shower while still using printed invitations? WebBabyShower's invitations designs are free to print anytime, letting you have the best of both budgeting and the traditional worlds!
Food and Drink for In-Person Showers
No matter the celebration, people love to have food and drink while they socialize. This area is another one where the cost can quickly get out of control if you don't plan accordingly.
If you reserve a venue, you may need to be able to receive catering, and this can have a potential cost of up to $30 per guest. Multiply that again by the average guest number of twenty, and that $300 on food and drink alone!
Don't Forget the Cake!
These numbers also don't account for cake, which can be one of the highlights of the occasion. Upscale cakes will cost more, with a cost of up to $4 per serving. Less expensive cakes can cost 35 cents to $2 per slice – cheaper, but still enough to add up when considering other expenses.
Eat Food. Not Your Wallet
When it comes to saving money, making food and snacks yourself is less expensive than ordering catering. You can also make the party a potluck! Again, the celebration's point is to enjoy the coming addition of a new member of your family. There's no reason to make things as complex as they would be at a wedding.
Time Your Party Right to Save on Refreshments
Another trick is to think about the timing of your baby shower. If you put it at a time when no one expects a big meal, you'll only need to focus on snacks and the cake! Some good options are:
Early morning – bagels and yogurt are inexpensive choices
Afternoon – set your baby shower around 2 pm, and it can be closer to a tea party than a lunch occasion
Post-dinner – With guests getting their dinner beforehand, all you need to do is provide dessert in some form, be it a cake or otherwise!
With a virtual baby shower, there's no need to provide refreshments at all. Guests will be free to eat whatever they like at home, which will free up another part of your budget!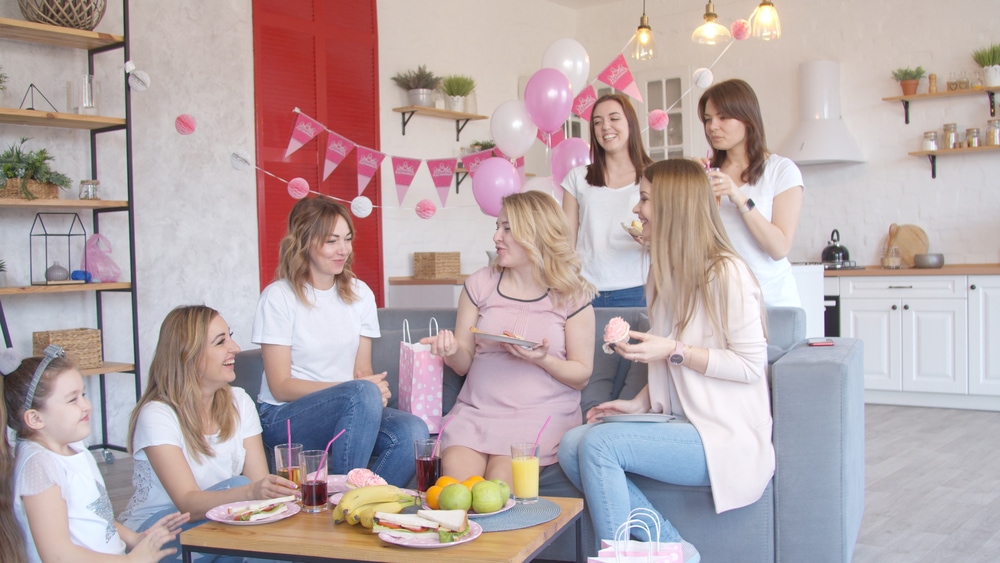 Still want to provide something to your guests, even if you're going virtual? Consider baking cookies and dropping them off/mailing them to guests in advance! These little snack bags don't have to be very big, and they're much less expensive than providing a full meal to your guests.
Extras
You may want to provide your guests with party favors, which can quickly turn into another expense to worry about. Thankfully, these don't need to be too complicated or expensive. Party favors can cost one to two dollars per guest.
If you are providing some food, that may be more than enough. Consider making whatever you pass out personalized for an extra touch – like customized rock candy pops! With a virtual party, you may skip party favors altogether, or deliver them digitally as gift cards or game prizes.
While you could have an elaborate entertainment setup, there's no need to spend anything more than a bit of time making a playlist in the background. A few games and the company of your loved ones should serve as entertainment enough.
Games
Party games can make for a fun activity to get everyone excited about the baby to come! Pre-printed baby shower games can cost between two and ten dollars. On average, the costs of baby shower party games can total between $20 and $50. Games like Baby Food Taste Test can include purchasing extra items to play the game in the first place.
Play Don't Pay
To reduce costs, you can play games that don't require much financial investment to play. 'Gift Bingo' lets guests try to score a bingo as the mama-to-be opens up her gifts. A game like 'Guess the Baby' will have everyone provide a photo of themselves as a baby and make an enjoyable guessing challenge.
Are there Virtual Shower Games?
Absolutely! WebBabyShower has both platform-based and printable games for you to use! The virtual scoreboard automatically keeps tracks of games you play on the platform, letting everyone focus on the fun.
Hooray For Freebies!
We also offer free printable games to play. Guests can print their own game and quiz sheets, or they can play virtually. With this setup, there's no need to worry about overspending on the game section of your baby shower budget!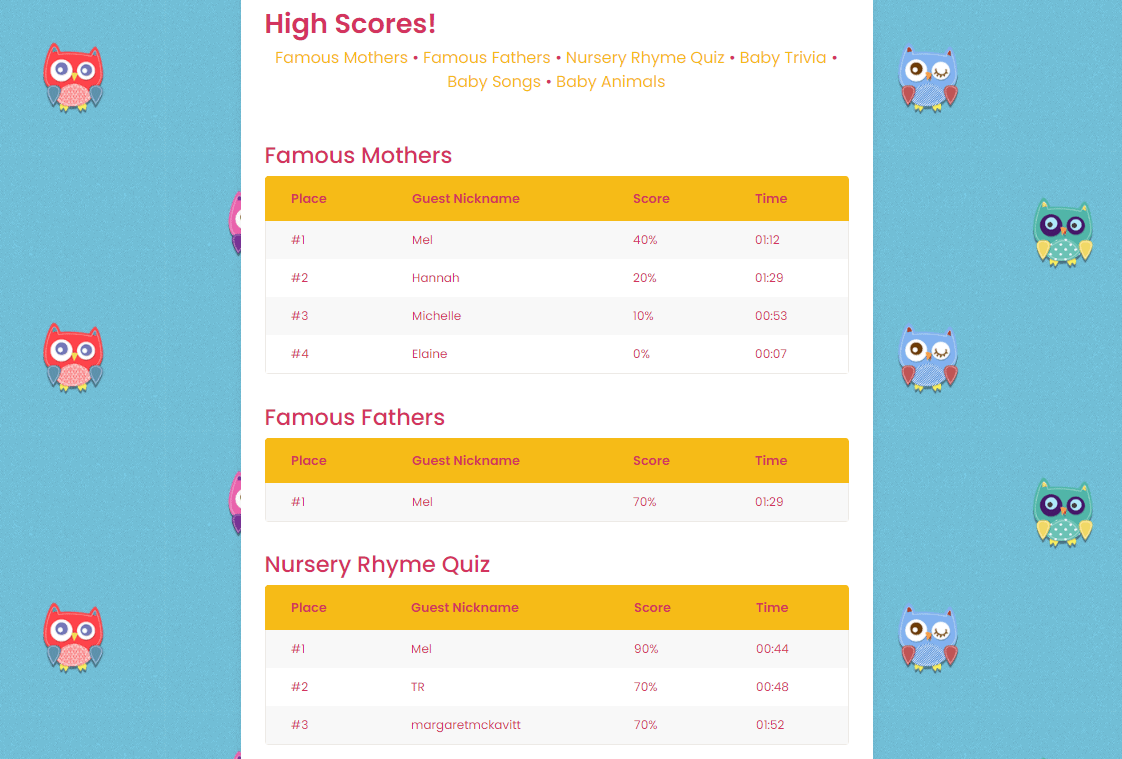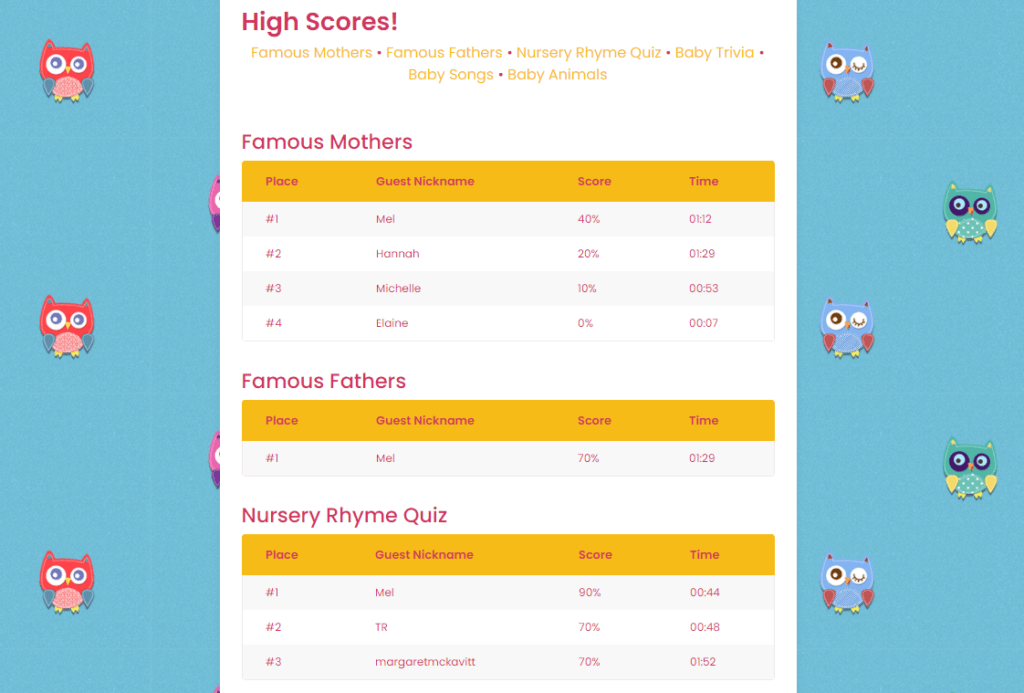 Another thing to note is that you don't need to go overboard with how many games you have. Many guests will simply be happy to have the opportunity to celebrate the coming baby. Social interaction with other guests and getting excited about opening the shower gifts are plenty of entertainment enough!
Prizes
If you do play games, prizes are a nice reward for your guests who win – plus, they provide an incentive to play! If you're an incredibly tight budget, your guests may not mind if there aren't prizes, but they're sure to appreciate anything you can give them.
You can easily manage your budget when it comes to prizes by not having an abundance of games. Some games also don't have a clear winner and are more for fun. You can mix and match game types to balance things out! Once you've determined how many prizes you'll need, you can plan from there.
Some inexpensive prize options include:
Succulents
Picture frames
Candles
Gift certificates
Coffee mugs
Candy
Think Outside The Box To Cut Costs
Even if the prizes themselves are simple, a little customization (like a gift tag or a wrapper decorated like the baby shower theme) can add an extra pop to make the prizes more enjoyable! Once you finalize your guest list, you can also pick out prizes that you know your friends and family will likely appreciate – so they don't need to go through the awkward "I want to toss this, but it was a gift" experience.
Virtual Parties Make Prizes More Manageable
While hosting a virtual baby shower with WebBabyShower can eliminate many other expenses, you may still want to pick out and mail prizes afterward. With all the money you save from other categories on this list, you should have some wiggle room when planning a baby shower on a budget to pick out some cute prizes.
After all, the point of the baby shower is to celebrate the mama to be. Games and prizes can be fun, but they don't need to be the main focus in the slightest. Let the fact that everyone has gathered in honor of the soon to arrive family member (be it in person or virtually) be reason enough to celebrate together!
Party Time!
Baby showers can end up costing a lot of money – but that doesn't mean you can't have a wonderful time on a budget! With enough careful planning, you can plan everything from the venue to prizes without breaking the bank.
When planning how to plan a budget baby shower, it's all a matter of focusing on which items will have the most importance, and determining how much cash you want to spend in advance. By setting a number before you start planning, you won't need to worry about feeling disappointed if there's an idea you like but can't afford.
Going Virtual Will Keep Your Party on Budget
WebBabyShower provides an inexpensive and simple way to host a virtual baby shower, leaving mamas to be with more time to enjoy the celebration of their coming little one without needing to fuss about money. All you need to do is get started!