How an Online Baby Shower Works: What to Expect from a Virtual Party
An easy and new way to include distant family & friends for a fantastic online baby shower experience.
WebBabyShower is a private way to be online together, with video & photo albums, guest books, games, a gift registry and built-in email invitations and birth announcements. We have a unique co-host system, so you can have friends or family help out with uploading photos, videos, etc. and share in putting it together.
WebBabyShower is the original online baby shower service. We are the leading provider and have helped millions of people connect to family and friends for birth celebrations.
Site setup couldn't be easier with our design selector, you can set up a virtual baby shower in one minute. Watch the 60 second video and see the whole process now.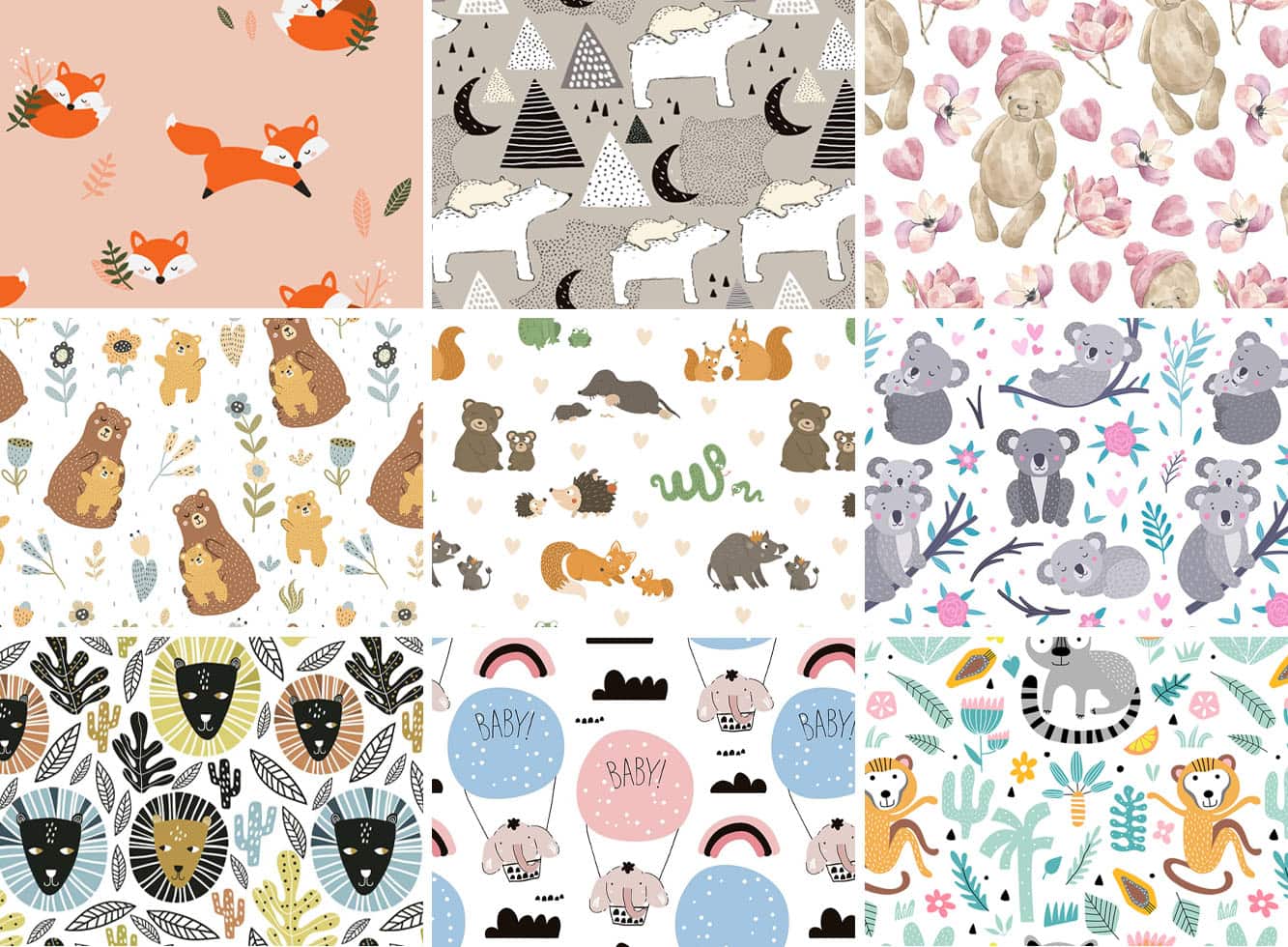 1 First Virtual Baby Shower Steps
Customize your shower. Pick invitation themes and templates that reflect the spirit of your event. Choose from over 40+ designs with matching invites.
2 Gather
You have the choice to recruit a few co-hosts from your list of guests who could help personalize the virtual baby shower design, upload photos, video, messages, add gift registry links, and get things rolling. Just like throwing a party, you can go solo or a few friends or family can come over a week or two early to pitch in with organizing and sharing baby shower ideas.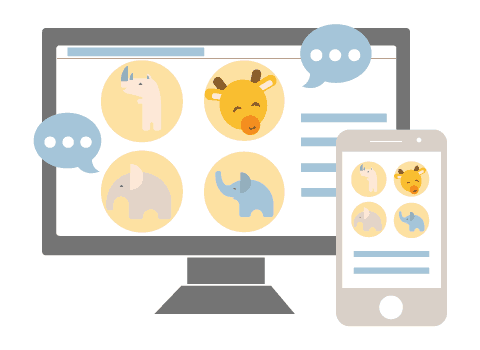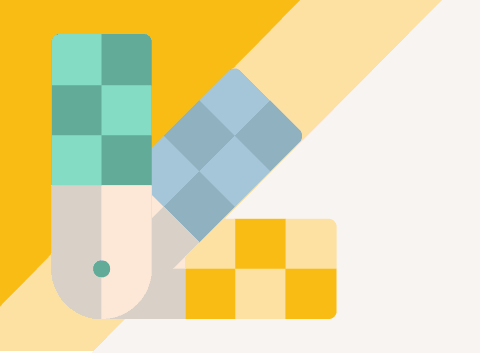 3 Design
Your online baby shower is fully customizable to get just the right feeling. Use our ready made designs and get custom with easy to change colors, fonts, even custom backgrounds when you upload your own! Unlimited variations for the designer at heart, and ready to use color sets and backgrounds for a quick, fun, and cheerful look.
4 Send out Baby Shower Invitations
Then it's time for the invites to go out, and everyone joins in, with their messages, photos, videos, etc. Participation between guests and hosts can include the games, like 'guess the baby' photo game and others.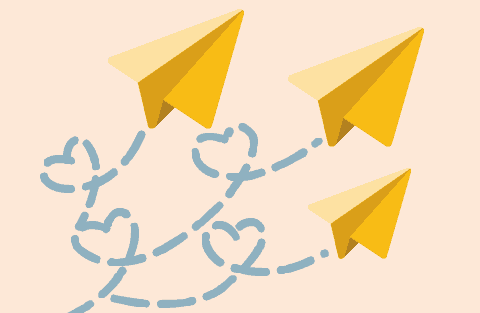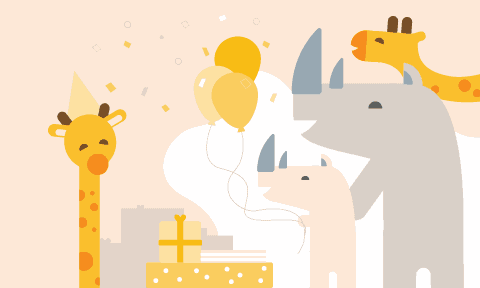 5 Set a Date for Video Chat
Pick a date and communicate it via your baby shower invitations and WebBabyShower website. If you choose to do a video call with your guests, we recommend one of the free video services you already know. Zoom, Skype, or Google Hangouts. We have found most customers prefer to use a video solution they are already familiar with. Hosting video calls is not one of our services and doesn't happen within our platform.
6 Pregnancy Updates from Mom to be
Many families update the site with the newest sonogram pics or other health news. Go beyond a one-day virtual baby shower, and share it with the group of guests as you like. Our service can serve as only a virtual baby shower or encompass a way to privately keep the people in your life up to date all the way to birth and beyond!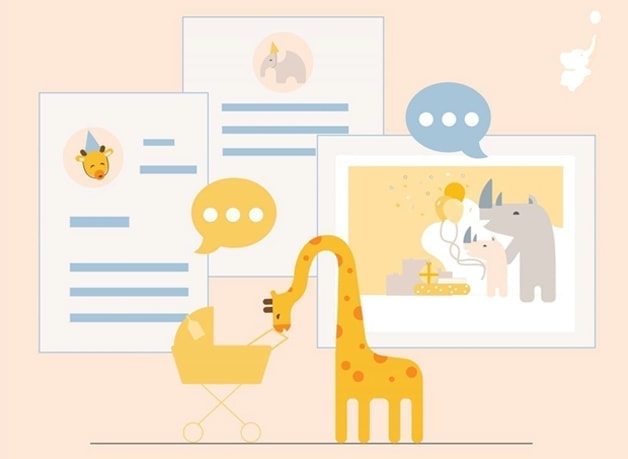 So you'd like to invite all of your closest family and friends in your life to help you celebrate your pregnancy and exciting future! However, getting everyone all in one place for a party is quite a challenge these days. So why not throw a baby shower all from the comfort of your own home?

What exactly is an online baby shower and how does it work? As the name suggests, this type of baby shower is a party that takes place virtually, meaning that guests on the baby shower invitation list will "meet up" online inside our custom-built online baby shower platform, in order to celebrate the expecting mother and their growing family.

A virtual baby shower for expecting parents
Online showers are a great way for families and friends to celebrate when they live across the country or are unable to attend an in-person celebration. Given our day and age, this is the perfect way to stay in touch with your friends, family, and loved ones from afar. Although the type of planning is a bit different, the celebration and merriments actually go on longer for an online shower.

A virtual baby shower can have just about every aspect of an in-person one — fun games, gift-giving, catching up with loved ones, and even decorations.
What Is WebBabyShower?
An easy way to include distant family & friends for a fantastic online baby shower experience.
WebBabyShower is a private way to be online together, with video & photo albums, guest books, games, a gift registry, and built-in email invitations and birth announcements. Also, we have a co-hosted system, so you can still have friends or family help out with uploading photos, videos, etc. and share putting it together
Our baby shower services: Give the gift of a virtual baby shower
So you've decided that a virtual baby shower is a way to go, but you're unsure how to go about it. That's where WebBabyShower comes in! We'll help you set up your baby shower, customize baby shower invitations, organize games, plan a gift registry, and a whole lot more. It's our job to have lots of baby shower ideas, so read below to learn the exact steps you should take in order to plan the best baby shower.
Ready to host your virtual baby shower with WebBabyShower?
Who says that planning an online baby shower has to be a hassle! At WebBabyShower, we make the planning process simple and straightforward, so that the host can focus on creating the most comfortable, fun, and customized "virtual" environment for the expecting mom and parents.
Preparing for the virtual baby shower
While throwing an online baby shower can be a really exciting and fun event, there are still logistics that need to be organized and plans to be put into place beforehand. If you're not internet or computer savvy, don't let this overwhelm you! We've written about virtual baby shower etiquette that includes many tips that will help with a smooth transition turning a traditional baby shower into an online one.
Have a close friend or family member help with hosting and baby shower invitations
No choosing a venue, planning for meals, and setting up rooms of decorations. Even though these are not things you'll need to plan for, there will still need to be some organizing. It's usually not the expecting mother's job to plan the in-person baby shower all by herself — so why should the virtual one have to be that way? Just as you would with a traditional baby shower, ask a close friend or family member to help out with the arrangements for the virtual baby shower. At WebBabyShower, we try to make the planning as smooth and fun as possible, so both mom and host will have to stress about making sure the event is perfect.
Guests can't make the online event? No problem!
Do you have invited guests who can't make the scheduled virtual baby shower event? That's actually no problem at all. One of the fun and unique features of hosting a virtual baby shower is that it doesn't have to happen all in one day! WebBabyShower allows all photos and videos to stay live for up to six months, which means that guests can prep their answers for games ahead of time, or gifts can be sent after the event and displayed online. This also means that once the baby arrives, you can share adorable photos of the little newborn, of mom, and of all the baby gifts from the shower — all in one spot!
A Little Fun: Ideas for Baby Shower Games
Games at baby showers are a great way for everyone to enjoy themselves and for guests to get to know one another a little better. And the good news is that there are plenty of party games that can be played completely online!
The Celebrity Baby Name Game. How well do you know the unique and sometimes unusual names for celebrity babies? Test your friends' pop culture knowledge with this party names game, where players have to match the baby names with the celebrity. You might end the game with some new baby name ideas!
Baby Word Unscramble. Anagrams are a favorite party game for many, so why not try it at the virtual baby shower? Compile a list of baby-related words, like baby products on your registry, and scramble them up. Have guests unscramble these words to reveal items that babies need — and there are a lot!
How Well Do You Know Mom? This party game is a real test for all the baby shower attendees! Put together a list of fun questions for friends and family to answer about the expecting mom, especially pregnancy related questions such as "what's her favorite pregnancy food?" and "When is her due date?". No matter how many questions you don't know the answer to, you'll definitely learn a thing or two about the expecting mom!
What comes after the virtual baby shower
After the mom-to-be has been showered with love and gifts from friends and family from around the world, your site continues to be a place to gather and give updates but don't forget thank you messages for gifts. The host and mom can write either handwritten thank you notes or electronic ones, depending on their preference and post-baby shower energy levels! Whatever way you choose, just make sure to graciously accept your guests' gifts and let them know you are also grateful for their attendance in your virtual baby shower. Here we have some helpful thank you note ideas that can be used after your virtual baby shower.
And then, of course, the baby arrives! Loved ones and guests from the party are usually very considerate about giving new parents enough space to settle into their new and chaotic routines. However, if needed, the host can send a followup to the guests of the virtual baby shower to give them a little update (that can include pictures of the baby and new parents!) as well as to clarify how much space and time they will need to adjust to their new life together.
Throwing a virtual baby shower doesn't have to be a headache! With a little bit of planning, hosting, and creative ideas, pregnant moms and expecting parents will get to share some beautiful moments and memories with their friends and loved ones, no matter where they live in the world. Online baby showers are how families stay connected.
Easy virtual baby shower service
At WebBabyShower, it's our mission to provide expecting mothers and parents with a platform that will provide the virtual best baby shower experience on the web. We've hosted thousands of baby showers in locations all over the world — and we expect to host many many more. We want all guests, parents, kids, moms, invitees, family members, friends, planners, and of course moms-to-be to have a great time at the party with their loved ones, whether they are near or far.
Begin your easy online
baby shower today