Most people know two things to be true about baby showers: one, they're fun, magical parties meant to celebrate a woman's admittance into Club Motherhood; two, they're usually quite expensive! But just what is the average cost associated with a baby shower anyway? That's the part that people leavefoo out. Just how much money does a baby shower cost?
That's a wonderfully important question. WebBabyShower is a reliable authority within the virtual baby shower market as the premier online baby shower company. Hosts should check out (and bookmark) this article as a guide (now and in the future) to figure out the cost of the average baby shower, compare in-person expenses to virtual expenses, and ultimately, how to use WebBabyShower's services to save money!
How Much Does the Average Baby Shower Cost?
An in-person baby shower's average cost can range anywhere between $100-1000, and a virtual shower averages about $20 to $200. Still, it largely depends on the venue, the number of guests in attendance, and what choices you make with things like party favors or prizes.
Virtual baby showers cost even less because they don't have to account for food and venue costs, saving money. Hosts do have to watch out for other expenses, such as video hosting software and custom domains, if they're doing the virtual shower themselves.
A great way to cut costs even more is by allowing WebBabyShower to host the festivities. By purchasing one of their packages, guests will get an all-in-one experience customized to their liking, without any extra planning!
Check out our cost calculator below for a virtual shower. You can use it see just how much you'll be spending!
---
Average Baby Shower Budget
The average baby shower budget should be about $400, but you should roughly plan out what the shower will look like before setting this amount. Naturally, the costs will increase as the budget does; this is typically true for virtual baby showers.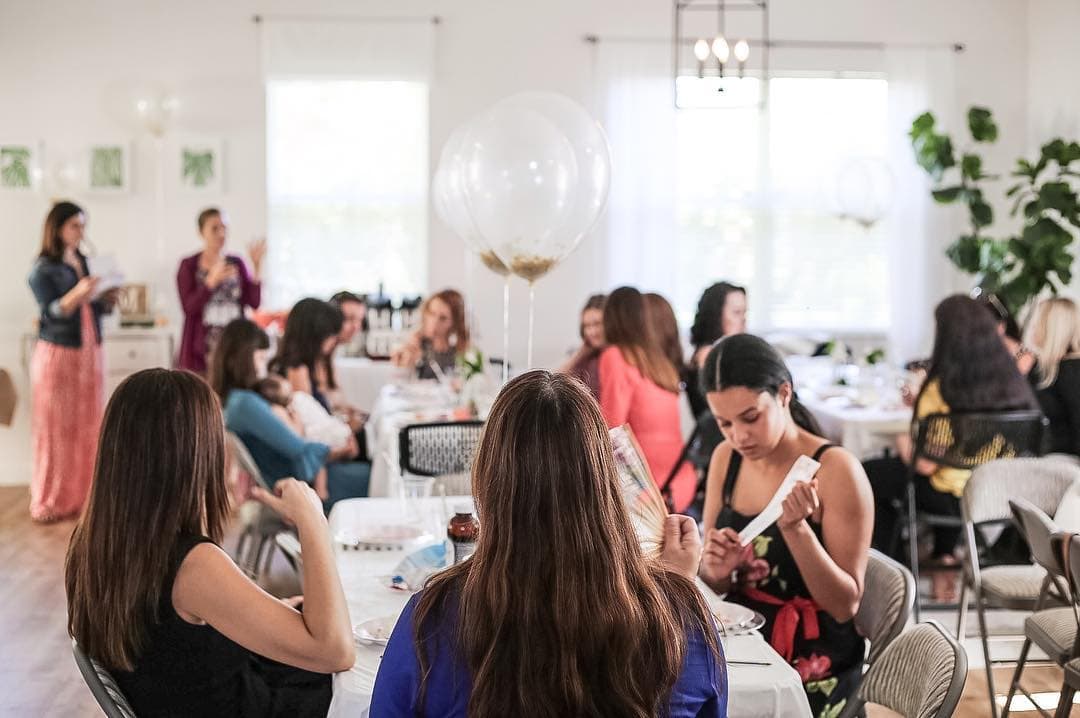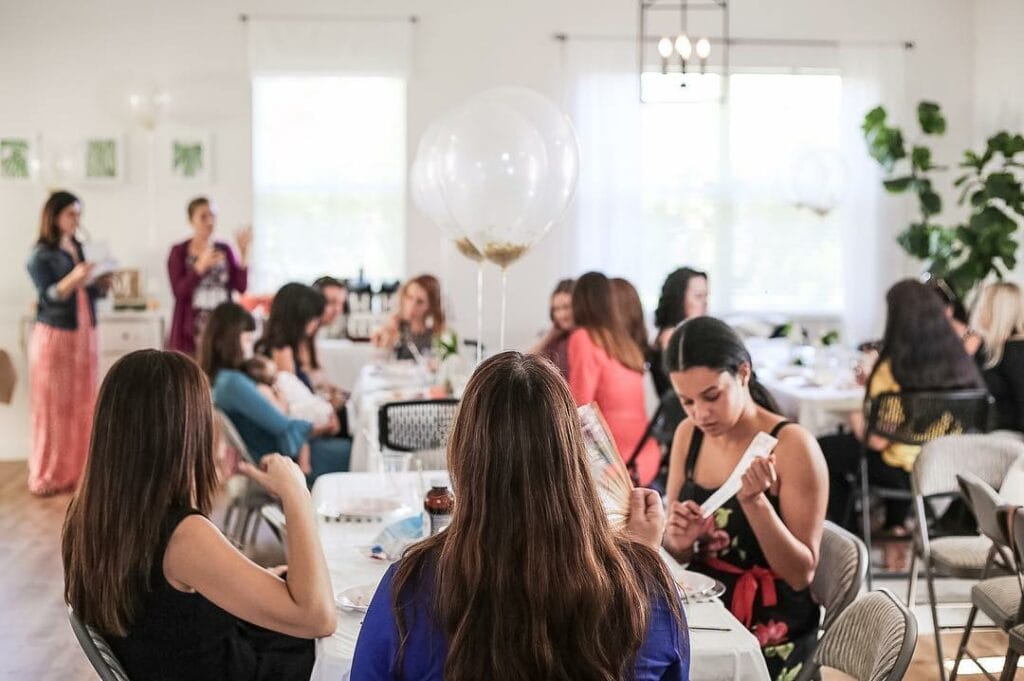 Throw a Virtual Baby Shower so Everyone

Can Celebrate!

• Free Trial – 7 Day Refund for any reason
• Only 1 Minute Setup!
• 40+ Custom Themes & Matching Invites
• Use Any Online Registry
• Send Unlimited Invites and Updates
• Baby Shower Games with Scoreboards, Give Prizes!

Build Your Shower
---
Where Does your Budget Go?
Venue and Location
For in-person baby showers, the venue should account for between 5-10% of the budget. Example: Should the baby shower cost $1000, then the venue rental would ideally be between $50-100.
Unless, of course, the host uses their own home as the venue, which wouldn't add extra costs to the budget. Hosting at home is an excellent way for hosts to save money without subtracting from the experience. However, it might be wise for hosts with large guest lists to rent out a public party space or even the mother's favorite restaurant for a few hours.
Invitations
Invitations are one of the most important aspects of a baby shower. Without them, guests won't know the theme, when and where it is, or even if they're invited at all! Because of this, it's easy for hosts to spend an arm and a leg to have a company create custom paper invites.
A good rule of thumb for hosts is to allocate between 5-10% of the budget to paper invites (though the price can quickly skyrocket depending on which company is being used).
Digital invites usually cost a fraction of whatever Paper invites do because they don't require hard materials like paper and ink. Hosts can use free invitation makers and cut costs altogether, or they can shell out a little cash on premium templates, the average price of which will run them up to $1 per piece. To see some online invite makers that can help you, check out WebBabyShower's free guide here.
Decor
No baby shower is complete without decor! It's a great, simple way for the host to inject some fun and personality into the festivities. For the average baby shower, hosts should set aside 10% of the budget for invitations. For a $1000 baby shower, that would be around $100.
But there are ways to save money. Hosts can look into printable decor for things like buntings and other signs, or anything that would a little flair to an otherwise basic setup.
Pinterest also has a ton of inspiration and DIY decor projects for you to try saving you more $$$s. The average cost of decorations for a shower is around $50.
Game Prizes and Supplies
No baby shower is complete without a little entertainment. Of course, that means games, which take up about 10% of the average budget. Expect prizes and game supplies to cost on average about $30 to $50/
However, hosts can circumvent this cost by printing off their own trivia, using games they already have lying around the house, or incorporating phone/PC/console games into the mix.
WebBabyShower has a ton of free printables for anyone hosting a virtual OR in-person shower. We also have a ton of guides to help you with this; just check out our article on using the Houseparty App at your baby shower.
Thank You Notes
No one enjoys writing thank you notes, but they're a necessary evil, something expected by the mother-to-be to keep her in good graces with her guests. 
Traditionally, paper thank you notes can take up from 10-15% of the baby shower budget; this includes postage and envelopes and averages about $2-$3 per head.
But hosts can save by using an online invitation platform, of which there are many options!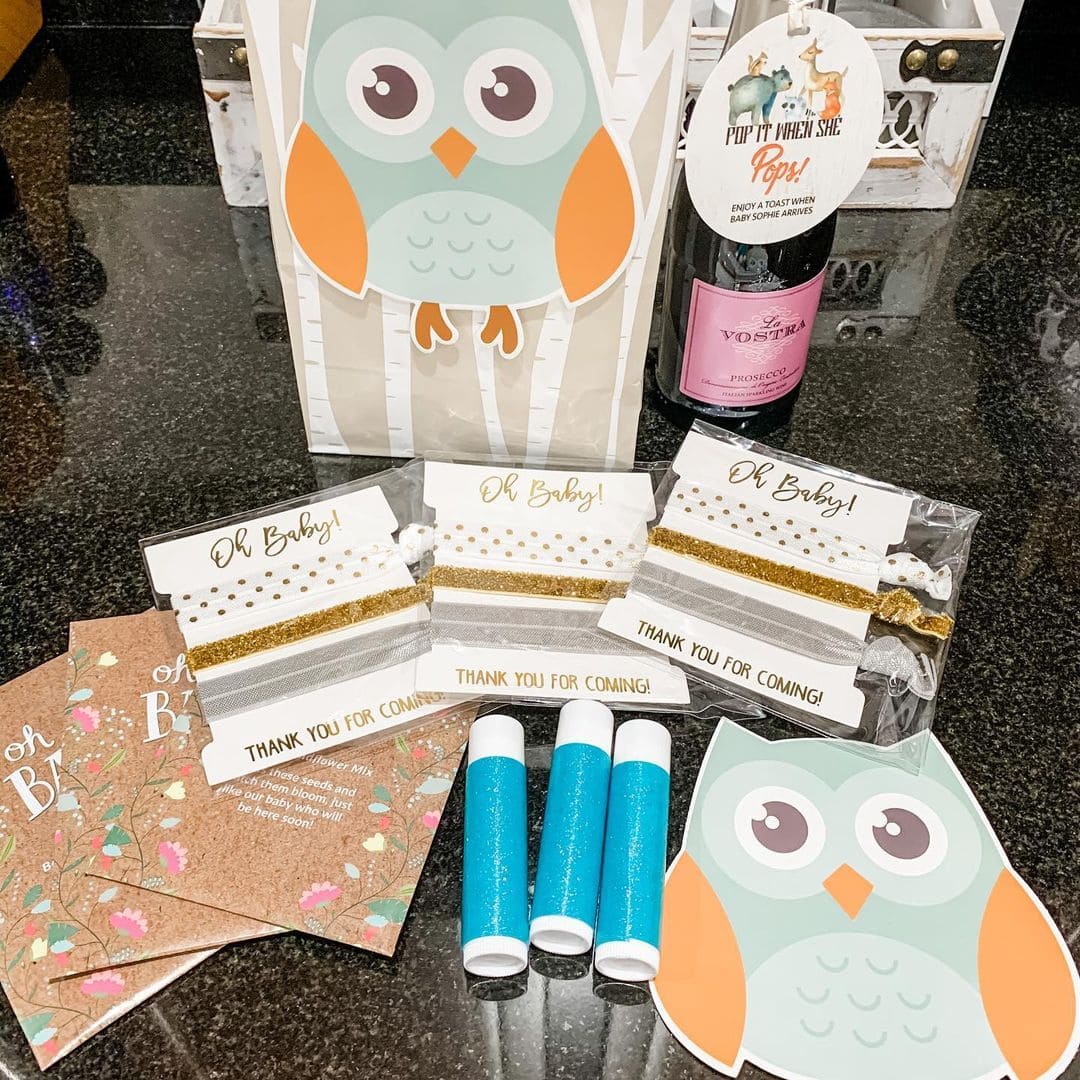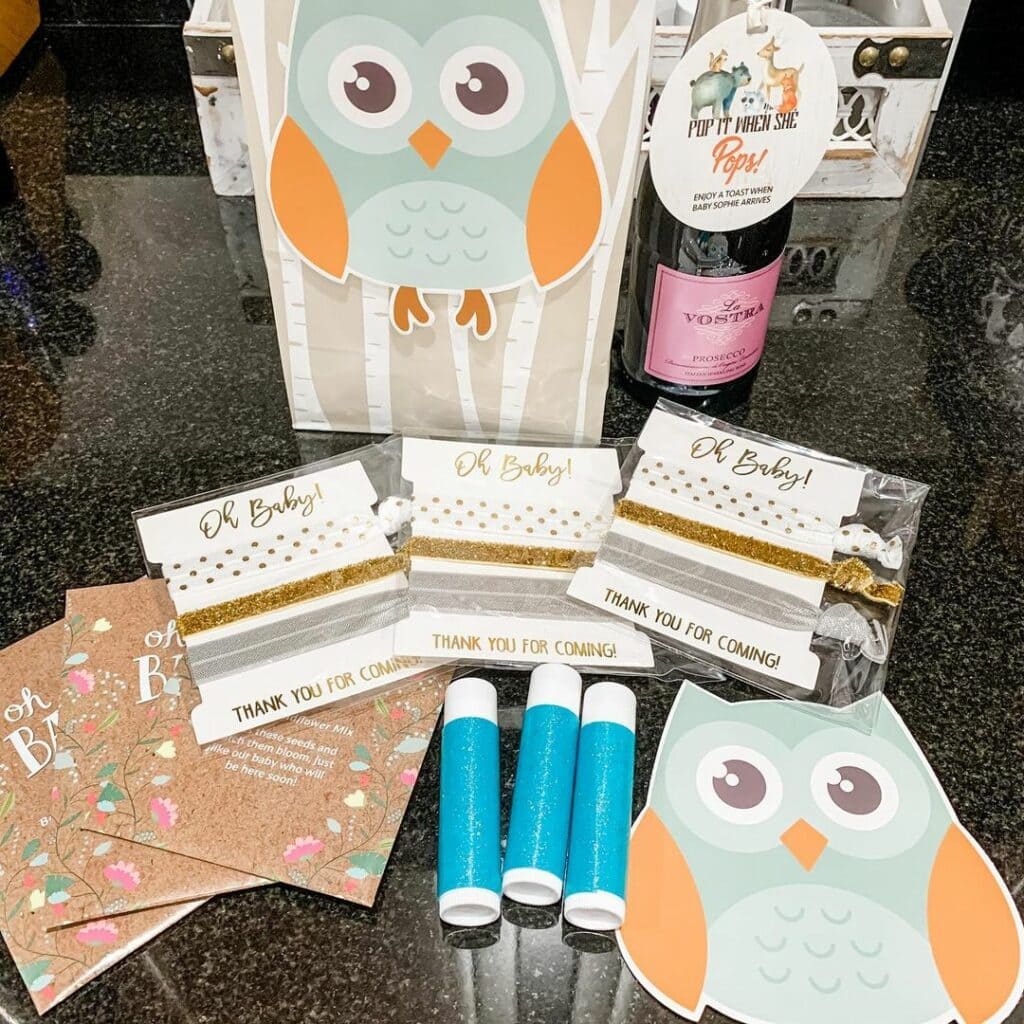 Food and Drink
According to theBUMP, food is usually the most expensive part of the shower. A baby shower without food and drinks is a pretty sad shower, so hosts should prepare to spend 40-50% of their budget just on food!
That might seem high, but trust, no one will enjoy the baby shower if they're hangry (hungry + angry), so hosts should plan ahead.
This is true, whether or not the host decides to offer guests a full course meal or just a nice variety of snacks and beverages. For a host with a $1000 budget, this will cost between $450-$500 (about $10 a head)! However, if you plan on providing snacks and finger food, expect to spend much less, more like $3-$5 a head.
Unfortunately, there's really no way to cut down on food costs at an in-person shower unless the host decides to do the baby shower potluck style, in which each guest will bring a dish from home (or the grocery store!). A potluck is a fantastic way to save money and keep within the budget!
Miscellaneous
Hosts should leave a small amount of the budget aside for extra things they may need the day of the shower. It's impossible to remember everything, so keeping $50 of the budget free to grab extra napkins or table cloth or dessert at the last minute is a great way for hosts not to have to dig further into their pockets on the day of!
How About For a Virtual Shower?
Virtual baby showers are growing more and more popular with each passing year. Hosts can throw virtual baby showers without shelling out a single penny, but there are also baby shower platforms, such as WebBabyShower, which charge a fee to handle the shower for hosts and guests, making things so easy.
Hosts should expect to set aside $50-$100 just for premium invitation makers or video chat apps. Costs surrounding other aspects may vary.
Depending on what the host decides, there might still be expenses related to food, giveaways, or game prizes!
The Virtual Shower Cost Advantage
When it comes to virtual baby showers, they're always less expensive than in-person baby showers. So it's no surprise that they're catching on! Especially now, in the age of COVID-19, when in-person gatherings are discouraged and (in some places) temporarily barred.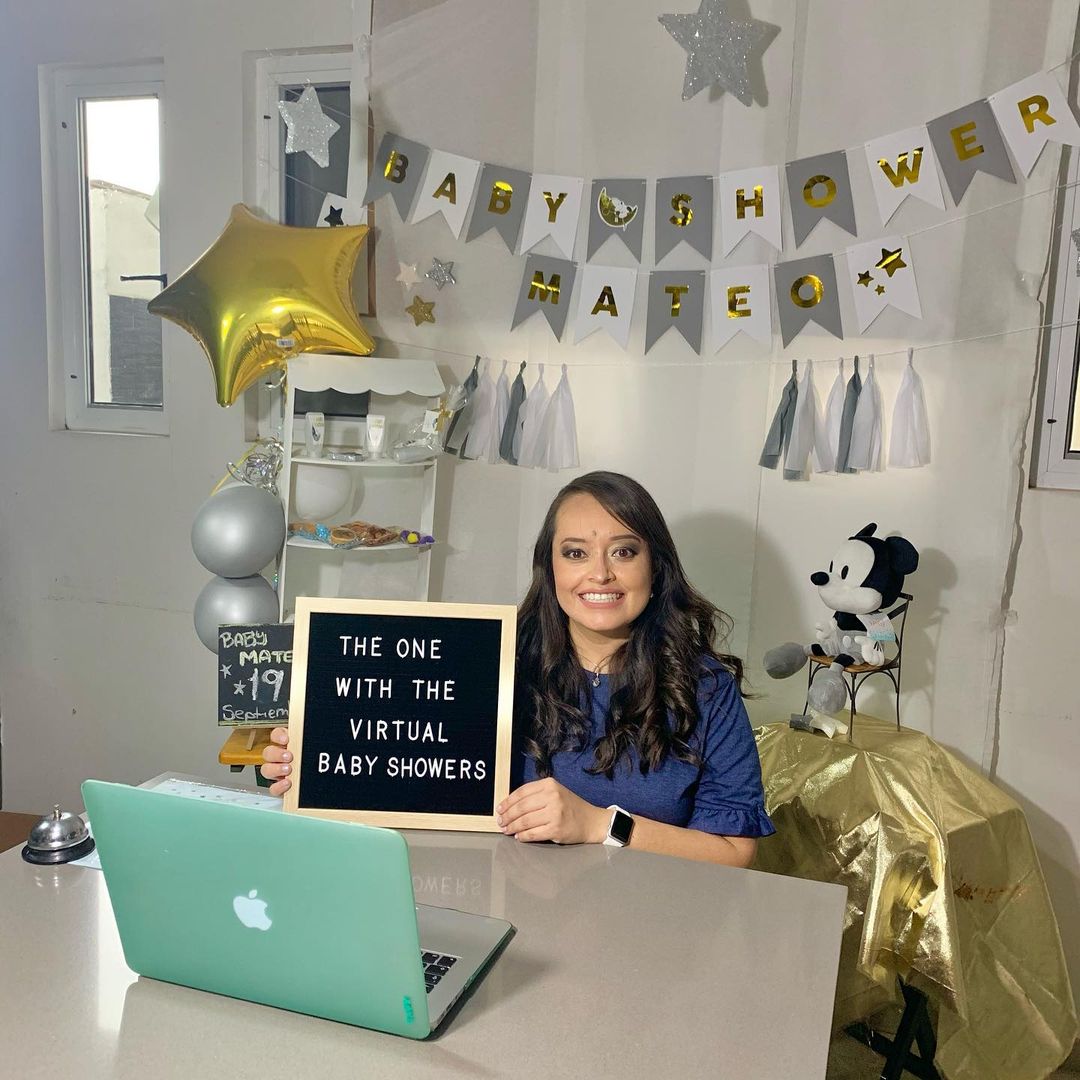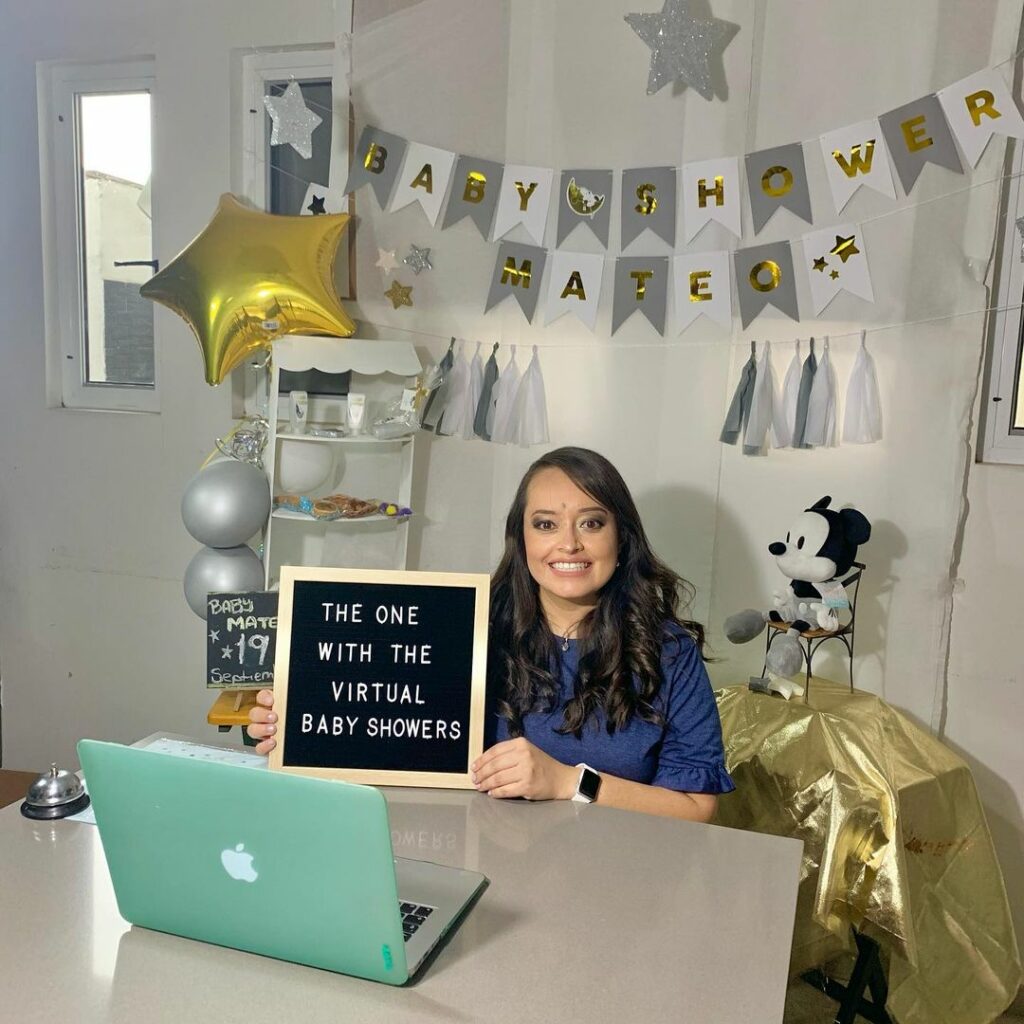 Venue
Virtual baby showers take place over the internet, so there's absolutely no location scouting or deposits involved, which means that hosts can use that money for other aspects of the baby shower — like a nice gift for the mom!
However, the only downside to this is that some baby shower websites may limit the number of guests who can join!… Psst, not us though.
Decoration
Virtual showers do contain decor, but it's on a much smaller scale.
It's lovely for guests to decorate the backdrop of their space, but that's as far as most go. Guests and hosts can easily acquire signs, stickers, and balloons from the dollar store.
Hosts can also opt to decorate the baby shower website that comes with their baby shower website. There are also invite maker websites that don't allow users to download premium designs or themes without buying it or upgrading your account to a paid version — so beware!
Invitation
An all virtual party also means virtual invitations! There might be a small fee associated with getting the perfect invitation for those hosts who choose to freestyle their virtual baby shower.
But for those hosts that utilize WebBabyShower's platform, they have the advantage of an easy built-in invite system that comes included in their package for no extra cost and with unlimited sends!
Game Supplies
Another upside to virtual baby showers is that all entertainment also takes place online. So hosts can skip shelling out money for games altogether; the most you or guests might spend is on printing things out to be able to play the games.
Who Pays For a Baby Shower?
Traditionally, the host and/or friends and relatives of the parents pay for the baby shower. Of course, the mom-to-be might want to plan (and therefore) pay for her own baby shower, even if etiquette practices advise against it.
At the end of the day, it really comes down to what the couple wants! For more information about who pays for a baby shower, click here! 
How to Throw a Baby Shower on a Budget?
Money is tight for pretty much everyone right now, so it makes sense that a host might not have a ton of monetary resources to throw a baby shower. But just because there are limitations doesn't mean the baby shower can't still be great – it can!
By thinking outside the box, hosts can minimize many of the costs!
For example, simple games that don't require customization are a great way to entertain. Planning the shower during the early morning, afternoon, or after dinner is a great way to make sure guests have already eaten big meals and won't be starving (and therefore expecting you to satiate their hunger) at the baby shower. Of course, going virtual means eliminating the need for a food budget at all (outside of perhaps a cake for the mother-to-be)!
See how a great online baby shower works
How Many Guests Should Be at a Baby Shower?
The average number of guests at a baby shower is twenty, but it really depends on what the host can afford. Still, they should try to coordinate with the most important people in the mother-to-be's life to make sure the guest list feels special to her.
For in-person baby showers, the price of the food depends on how many guests are in attendance. Food can cost up to $10 per head, and a nice cake from an upscale bakery might run a host $4 per serving.
How WebBabyShower Can Save Hosts and Family Money
WebBabyShower's platform is tailor-made to serve the needs of families looking to have/attend virtual baby showers. WebBabyShower can provide a host with everything needed to throw a fun, unique, memorable baby shower. For those unsure where to start, WebBabyShower has put a ton of time and resources into compiling tips and guides that help families save for those unsure where to start.
Purchasing a package gives the host and couple exclusive access to all the printables like buntings, invitation cards, party tags, and games. And there's never any reason to worry about providing outside entertainment or other hidden charges.
Planning an event of any size can cause people much stress and anxiety, but we believe that party planning can be fun and exciting! But part of easing the stress means being informed about the realistic expenses that go along with the event – that's the only way to be prepared!
If you haven't already, check out our cost calculator tool to help you budget for your baby shower at the top of this article.