Virtual baby showers are unique, and we want to make yours the best party ever. Hosting a virtual shower means including virtual shower etiquette as part of the process. Everything matters -from sending digital baby shower invitations to coming up with cute wording ideas, to hosting that video call.
To help make this process easy, we'll first give you some simple info on what to include while creating a baby shower invitation. After that, we have some creative and fun baby shower invitation wording ideas that you can use for your party!
Related Article: 27 Baby Shower Invitation Wording Ideas for a Successful Party in 2022
Create a Virtual Baby Shower Website
• Free Trial – 14-Day Refund for any reason
• Unlimited Invitation Sending & Updates with RSVP tracking
• Only 1 Minute Setup!
• 80+ Custom Themes & Matching Invites
• Use Any Online Registry
• Baby Shower Games with Scoreboards, Give Prizes!
Build Your Shower
---
Also Read: 27 Funny Baby Shower Invitation Wording Ideas for Your Party
8 Virtual Baby Shower Invitation Wording Ideas
Read: 20 Virtual Baby Shower Invitations Your Guests Will Love
Baby Girl Virtual Shower Invites
A girl baby shower presents unique opportunities to use theme-related invitation wording. You could write something like, "A little princess is on the way" or "Join us to celebrate our own little pumpkin," using themes like princess and pumpkin for the party itself.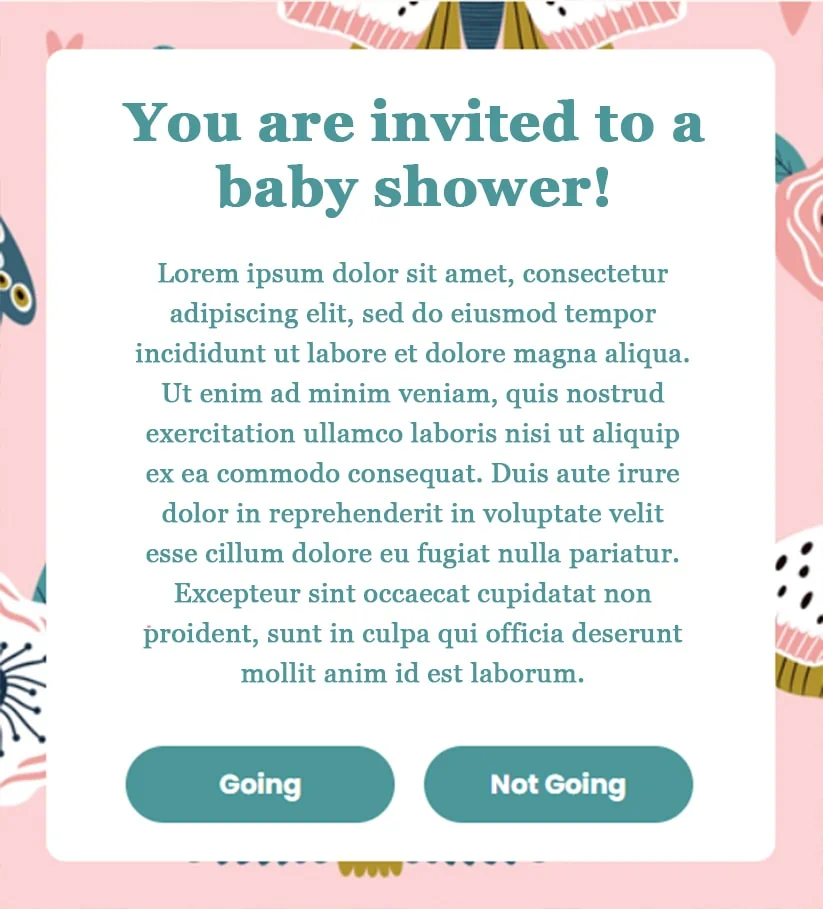 Here are some different ideas, too:
A precious baby girl is almost here! You're invited to join us in showering the parents-to-be.
A little lady is arriving soon! Celebrate during our baby shower.
We are tickled pink and excited to say baby (insert name) is on her way!
She's expecting a bundle sweet and snug. A little girl as cute as a bug.
An adorable little bunny is on her way. Join us for our baby shower.
Hear ye, hear ye! Join us in celebrating the arrival of our new little princess.
She's sugar and spice. Our new baby girl is everything nice!
Ponytails, tutus, ballerina twirls — did you guess? We're having a girl!
More precious than diamonds, even rarer than a pearl. Our bundle of joy is a sweet baby girl!
Baby Boy Virtual Shower Invites
Again, you can take your cues from theme-related parties when working on baby boy party invite wording. Something like, "All aboard! Heading to a fantastic party!" will be memorable and fun for a train-themed event.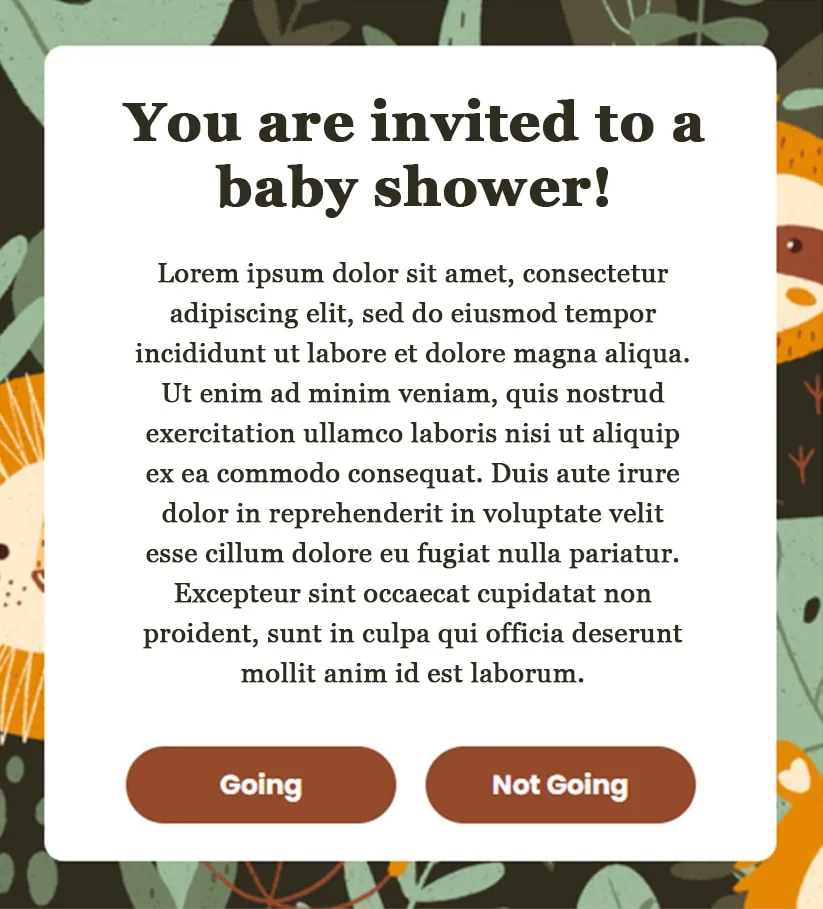 Check out these suggestions also:
We're over the moon excited to say a new baby boy is on his way. Join us in celebrating with the parents-to-be.
Our little gentleman will be here soon. You're invited to our baby shower.
A baby boy is on the way! Let's celebrate before the big day!
Boy, on boy! Celebrate with us at (mom's name) baby shower.
We can bearly wait! (teddy bear theme) Our little boy is on the way.
B is for baby, blue, and boy — help us celebrate our bundle of joy!
Come join in the fun as we welcome our son!
Tractors, trains, and trucks — such joy! Help us welcome our new baby boy!
Our family is growing, the new adventure's begun! We are proud to announce we're having a son!
Gender Neutral Virtual Shower Invites
When designing a gender-neutral baby shower, for invitation wording, use words to describe the little one in the invite without using gender. For example, "A little cutie is on the way!" or "A baby bumblebee is joining us soon!"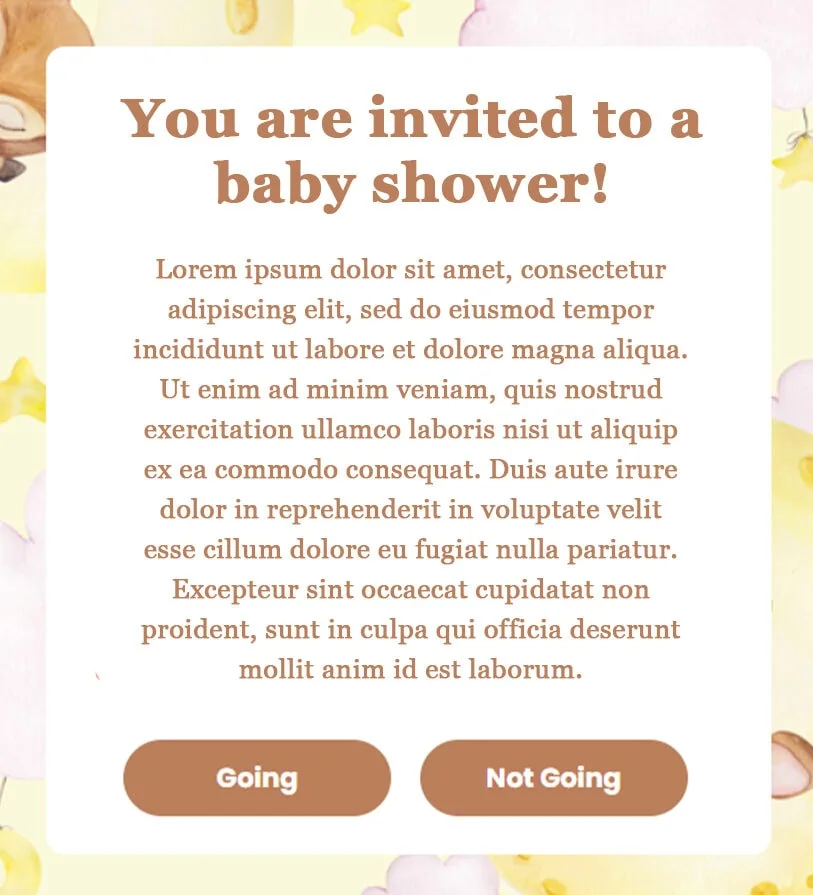 Try these invite ideas too:
A darling little baby is on the way. Please join us for this special day.
Our little peanut will be here soon!
Cute as a button he or she will be. Help us shower the mom-to-be!
Twinkie, twinkle little star. Do you know how loved you are?
A sweet little cutie is arriving soon!
Two tiny hands and two tiny feet. It won't be long 'til our baby we'll meet!
A girl dressed in pink, or a boy wearing blue? It'll be a surprise — for us and for you!
A sweet little princess, or a new cowboy? come celebrate our bundle of joy!
Will it be a boy in blue or a girl in pink? We don't know, what do you think?
Also Read: 12 Office Baby Shower Invitation Wording Ideas
Twin Baby Shower Virtual Invites
For a twins' baby shower, make this evident in the invitation wording. Use phrases like, "Double the fun coming your way, join us for our twins' baby shower on (date and time)." It's a cute way to let people know what to expect.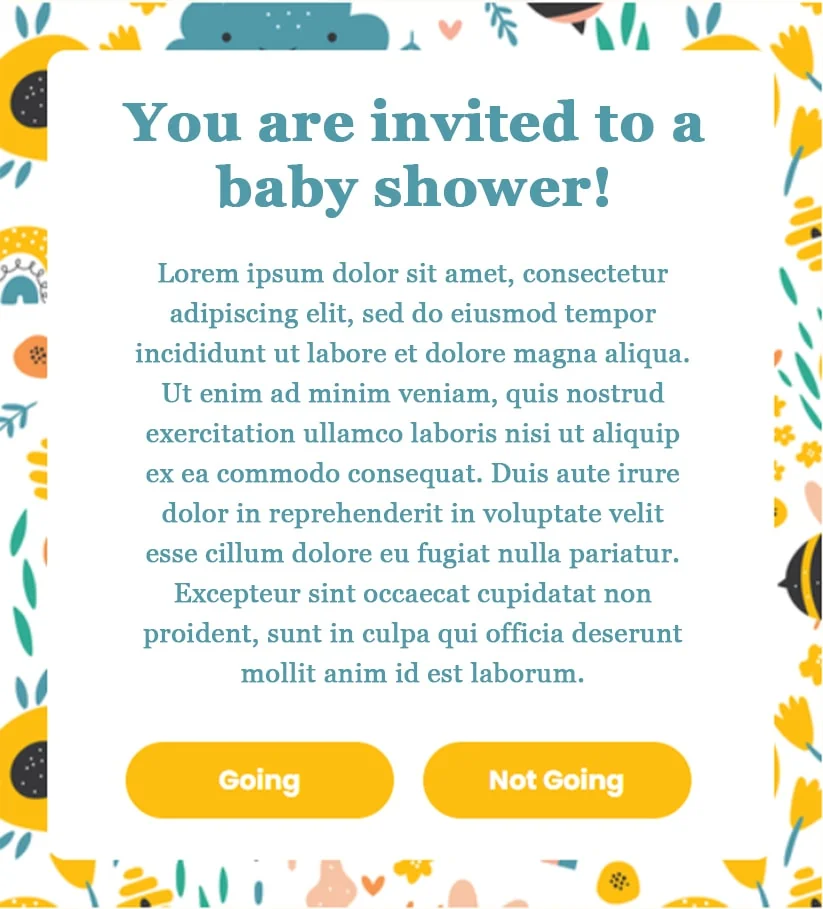 See these other fun twin baby shower invite wording ideas:
It's twins! We're celebrating double the joy with the parents-to-be.
Oh, babies! (parents' names) are expecting twins!
Two means more to love. Help us celebrate the arrival of twins.
(Mom & dad names) are preparing for twins. Let's shower them with love.
Talk about twinning! (mom's name) is expecting double the fun.
We're seeing double! Please help us celebrate the birth of our twins.
Double the trouble and double the joys. Come and celebrate our new baby boys!
It's two times the love. You are invited to our twins' shower.
Co-ed Virtual Baby Shower Invites
A co-ed party is a super fun way to celebrate! For wording, try out something that clarifies that the party will be inclusive for both genders. Even something as simple as, "We're having a baby, and we want everyone to join us for the party! Come enjoy beer, pizza, and awesome games!" will communicate that your event is co-ed and that a good time is certain.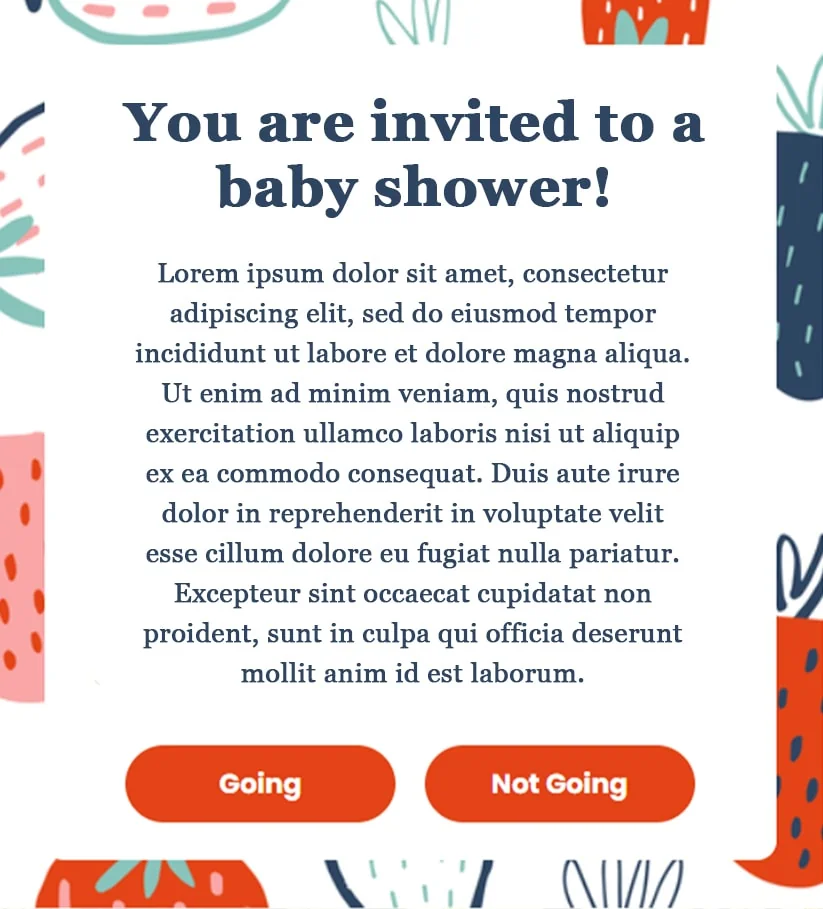 These invite wording ideas are also super fun:
Moms and dads are invited for the fun! Join us for a co-ed shower.
It's a baby shower BBQ! All are welcome to celebrate (parents' names) new arrival.
Happy hour baby shower! Join us for a couple's shower to honor the parents-to-be.
Adventure awaits for (parents' names). You're invited to a joint baby shower honoring the future mom and dad.
It takes a village. Join us for our co-ed baby shower.
Why should mom have all the fun? Everyone is invited to our baby shower!
Come one, come all! We're having a baby shower!
If you're a dad, don't be sad! All are invited to help us celebrate our baby's birth.
Virtual Sprinkle Wording ideas
A virtual baby sprinkle is a fun and casual event that celebrates with the parents-to-be online. You can let your guests know the nature of the party with the wording.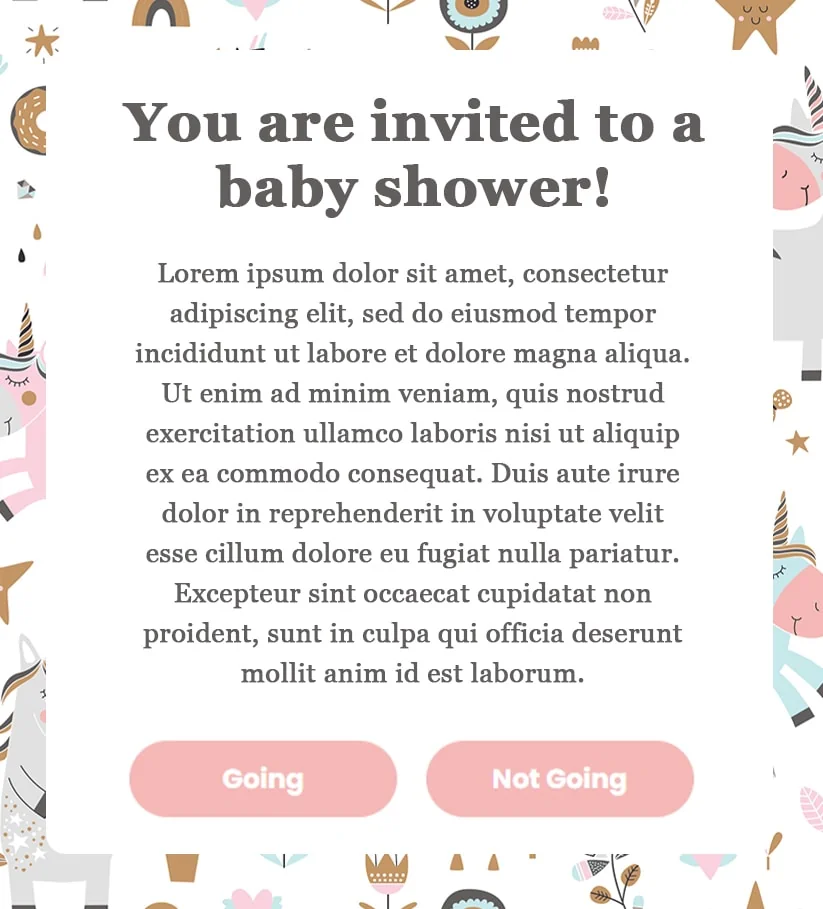 Check out these cute virtual sprinkle invite suggestions:
Baby smiles and giggles galore! (Parent's names) are having one more!
Join us for a donuts and diapers baby sprinkle
Sprinkle (mom's name) with love as we celebrate the arrival of her second child.
Babies are filled with so much fun, we decided to have another one. You're invited to our sprinkle.
Big brother/sister has plenty to share. Join us for a sprinkle to show that we care.
No need for a shower, a sprinkle will do! You're invited!
What do you do for baby number two? You have a baby sprinkle!
Let's sprinkle the family with love. Come celebrate with us!
Virtual Sip 'n See Wording ideas
A sip' n see event is a great way to socialize and allow friends and relatives to meet the newborn. Do a bit of explaining in your invite, so guests know what the event is about. Try, "Virtual sip' n see coming your way! Sip some drinks and see the new baby!"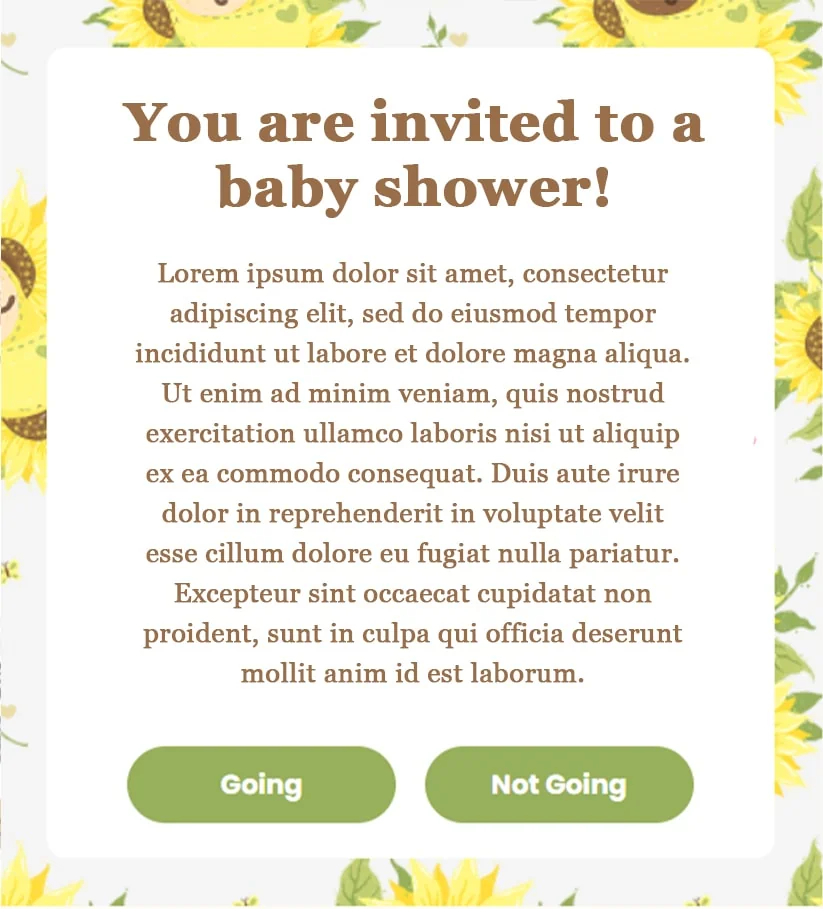 Check out How to Rock Spring-Themed Baby Shower Ideas in Any Garden!
Want more? Check out these other adorable invite wording ideas for your Sip' n See:
Grab your favorite drink and hop online to meet our new bundle of joy.
Our baby boy/girl is finally here! You're invited to our sip and see.
Meet baby (name) during our virtual sip and see.
Someone special has arrived! Raise a glass and meet our sweet baby boy/girl.
Hello baby! We're excited for you to meet our darling new addition.
We had our baby; she's doing fine. Come see her and toast with wine!
We'll have lots of fun welcoming baby, so dear. Come raise your glass and toast with cheer!
A bottle for the baby, and a bottle for you. You're invited to our Sip n See!
Please attend our Sip n See. Cheers!
Also Read: Long Distance Pregnancy Announcement Ideas to Share Your News in Style
Facebook Baby Shower Wording ideas
When planning a Facebook celebration, include extra information your guests may need if they're unfamiliar with the concept. "We're having a Facebook baby shower! Join us for a video chat on (date and time)." Be sure to tell guests what they'll need, like the Facebook messenger app, and include any other relevant information.
Read: Facebook Baby Shower – Invitation Description Ideas
Here are other suggestions for a Facebook event:
Log on to Facebook and take a look! You are invited to meet our new bundle of joy at our Facebook shower.
It's a party, and you're invited! Join us for our Facebook baby shower!
Make sure your cellphone has plenty of power. We hope to see you at our Facebook baby shower!
Also Read: Yes! You Can Decorate Your Virtual Baby Shower | Learn How