Baby shower websites have become more popular than ever before. They offer a fun and streamlined service that enables you to have a virtual baby shower. Many baby shower websites are more like an e-vite service which might not have everything you need. With a baby shower website like WebBabyShower you'll be able to gather together with friends and family from all over the world, play fun baby shower games, create a gift registry, and so much more. 
With this in mind, we've put together a list of the top free baby shower websites. Let's take a look!
Throw a Virtual Baby Shower so Everyone

Can Celebrate!

• Free Trial – 7 Day Refund for any reason
• Only 1 Minute Setup!
• 40+ Custom Themes & Matching Invites
• Use Any Online Registry
• Send Unlimited Invites and Updates
• Baby Shower Games with Scoreboards, Give Prizes!

Build Your Shower
---
Top Baby Shower Websites
There are quite a few different invite services that people think of to host a virtual baby shower online, but the common ones are not geared specifically for baby showers. For instance, Punchbowl.com or Basicinvite.com are both fine sites for arranging online invites for your celebration but are missing some of the elements you might like to include for your baby shower.
Punchbowl gives you a registry and some fun designs but locks you into an account with a 7-day free trial that automatically renews after that. On the other hand, Basic Invite is very easy to use and free to set up but has very few customization options.
WebBabyShower doesn't try to trick you in any way. We're entirely transparent when it comes to pricing, and a one-time payment provides everything you'll need for a fun and unique virtual baby shower experience you won't soon forget. We've just added a monthly plan for those not sure how long they need the service.
But before we get carried away, let's break down some of the supposedly "free" websites for hosting online events. Our goal is to honestly present each site's features so that you can decide if any of them are right for your shower.
Differences Between an Invitation Website and a Full Website
Most of these websites are designed to provide you with a free invite to an event and pressure you to buy the extras. For this reason, they're usually a single page with limited customization options.
Invitation companies' purpose is to sell invites, so they don't offer what a full website does. With a full website, for example, you can set up games, a video call, photo, and video galleries, and send thank you cards. Invitation websites only hold the kind of info you can put on an invite, and not much more. Then, they'll try to get you to buy more.
In other words, if you're looking to host a proper baby shower website, you're going to need a full website like WebBabyShower or understand what you are getting upfront from a freemium service. So let's get into each one.
Best Free Baby Shower Websites
1. Paperless Post
Takeaway
Easy RSVP tracking but "coin" payments system is very confusing. No fun games or gallery.
Features (or Description)
Paperless Post is a decent service, offering some invitation designs for free. The site also has RSVP tracking that enables you to keep in touch with your guests easily. That said, once you sign up for the service, you'll be provided with 25 "coins." These coins can be used for customizations and for inviting guests.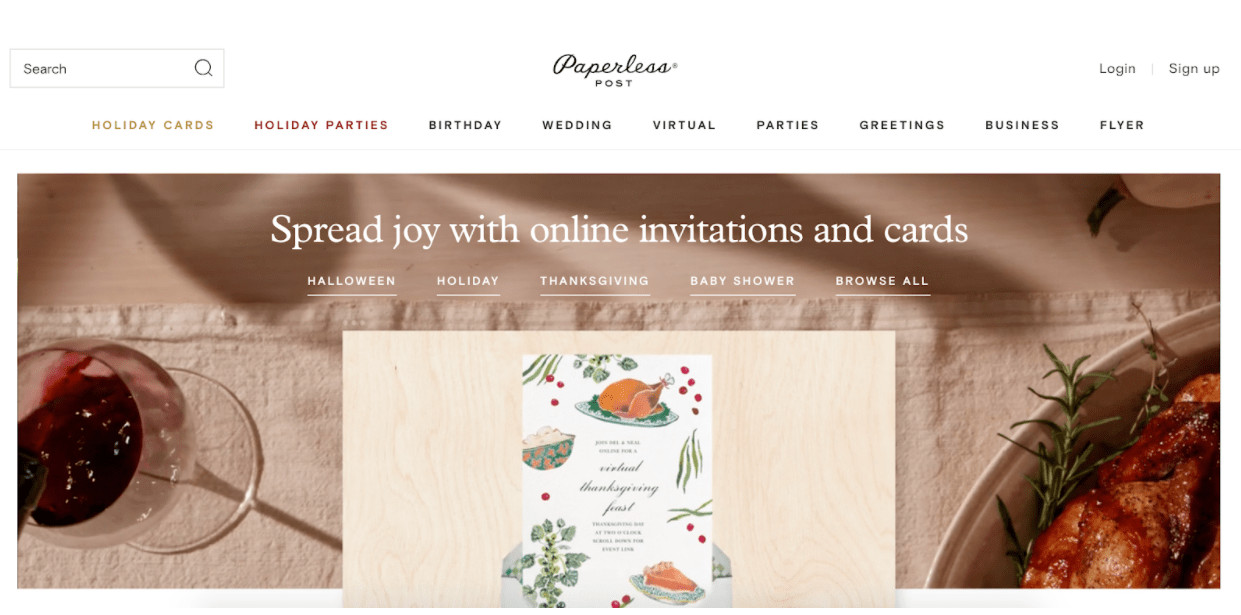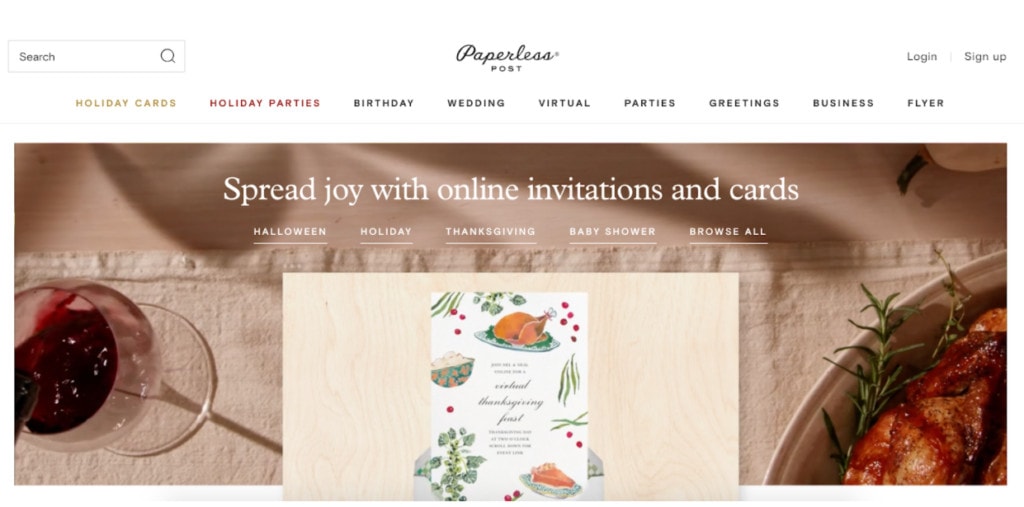 Cost
If you're using a premium card, it will cost you 1 coin for every guest you send it to. Right off the bat, this limits you to a maximum of 25 guests, at least if you're trying to keep it free. What's more, it will cost you another 1 coin to send out thank you cards.
After customizing your card and sending it to guests, you'll soon discover that 25 coins don't allow you to do very much. While you can spend these coins on premium features, you'll likely have to purchase more before you're happy with the final results. As for coins, here's Paperless Post's pricing
Real Live Example of Paperless Post Costs for 50 evites
Does the pricing of Paperless Post seem confusing? Yes, it purposely is, so let's do a real-life test. As an example, let's send 50 invites and try to keep costs down with a free card, to get the cool opening effect we will want an envelope, liner, & backdrop so it pops. All that equals 3 coins for each invite.
envelope x liner x backdrop = 3 coins
Send invites to list of 50 x 3 = 150 coins
You can't buy 150 coins, you must buy 200 coins for $30
So even using a free invite, it costs you $30 just for a single invite. Now if you want to use one of their premium designs then your cost for these 50 jumps to 250 coins or $50 for a single evite!
25 coins cost $10.00
100 coins cost $20.00
200 coins cost $30.00
400 coins cost $50.00
What you pay for with Paperless Post:
Premium Cards 2 Coins
All Insert Cards: 1-2 Coins
Any Envelope: 1 Coin
Any Envelope Liner: 1 Coin
Any Backdrop: 1 Coin
Premium Stamp: 1 Coin
Premium Reply Card: 1 Coin
Upload-your-Logo: 3 Coins
Pros
Nice designs
RSVP tracking
Cons
Confusing pricing system
Can't do much using "free" service
2. Punchbowl
Takeaway
Cute but only free for 7 days, just not enough time. No games.
Features (or Description)
Punchbowl is another invitation website that offers many of its features for free. Once you sign up, you'll get a 7-day free trial that enables you to build a registry, schedule invites, and invite up to 500 guests. You can also add a co-host and polls.
The 7-day free trial gives you RSVP tracking and the ability to remove advertising from their invitation template. The problem is, to get these features, you still have to sign up and provide your payment information. Once the 7 days are up, you'll automatically be charged.
Basically, it's not free at all, because 7 days is not nearly enough time for most events. You need to not only design your invites but also send them and wait for guests to respond. For this reason, you'll likely have to pay for at least the first payment.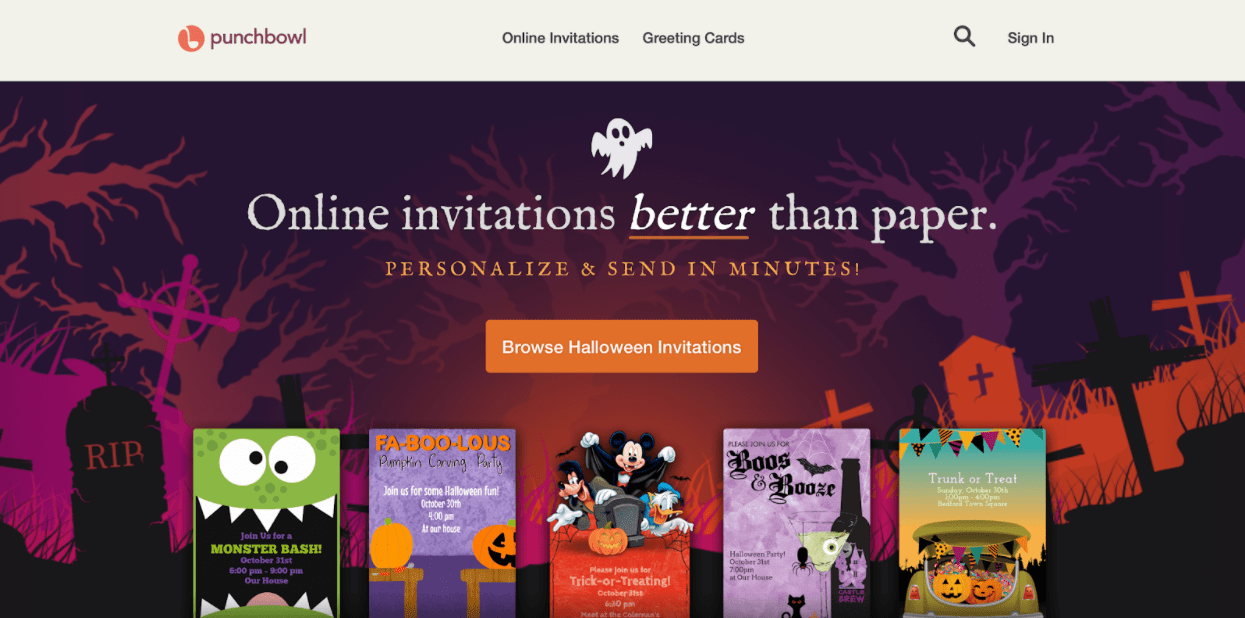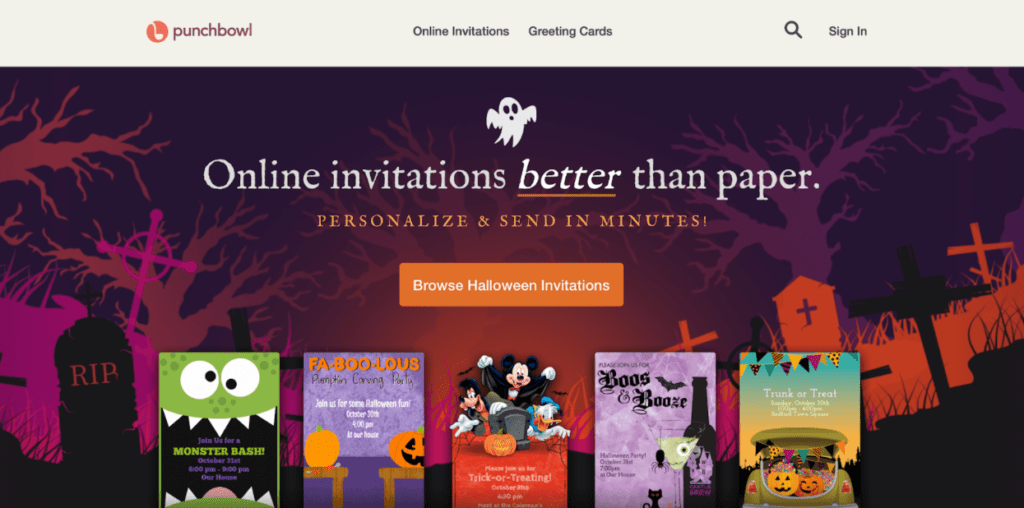 Cost
As for the actual cost for Puchbowl's service, plans are as follows:
Platinum plan: $6.99/month gives you up to 500 guests per event, unlimited events, delivery by text or email, rsvp tracking, polls, and is ad-free
Premium plan: $4.99/month gives you 100 guests per event with unlimited events with all the same features as platinum except it won't be ad-free
Plus plan: $2.99/month gives you 50 guests per event with unlimited events and has most of the same features as the platinum plan except no polls and, of course, you will have to deal with ads
Pros
Cute designs
Co-host feature
Polls feature
Cons
Auto charged once 7 days is up
Limited in what you can do – not a website.
3. Basic Invite
Takeaway
User friendly but ads everywhere, just an RSVP page.
Features (or Description)
Basic Invite is, well, basic. However, it does offer many of its features for free. The site offers free templates you can use to send to unlimited guests. The free service includes email and text message management from any device, RSVP, photo uploads, registry links, polls, and messages.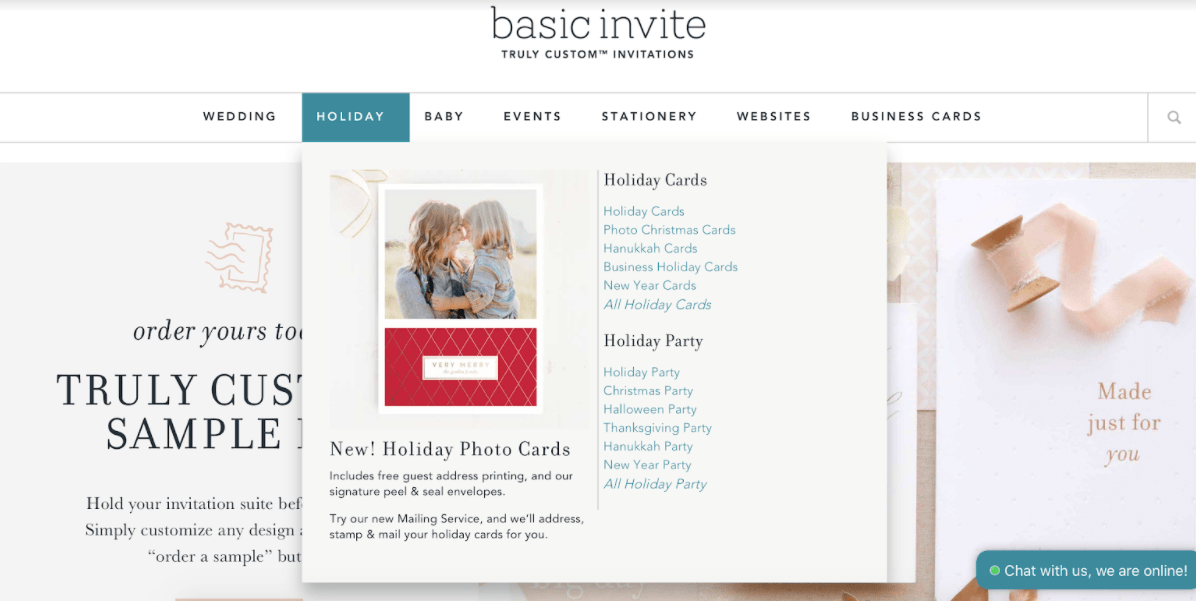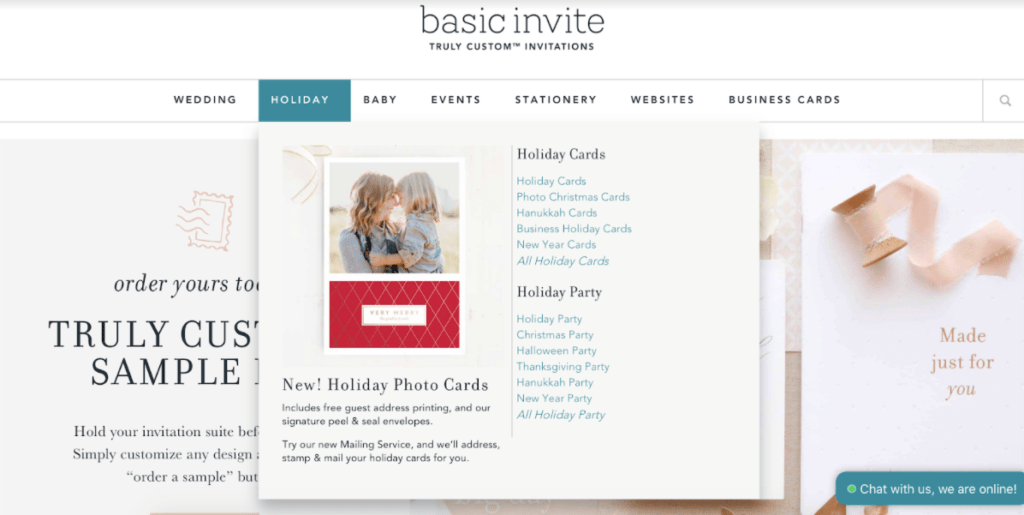 Cost
Basic Invite's plans range from $12.99 to $99.99. With the plans, you can finally be free of all of the ads, but the amount you pay will depend on how many people you invite.
Pros
Alot for free
Emails and text
RSVP, photo uploads, Registry, Polls and Message features
Cons
Not designed for baby showers.
Not user friendly
Free version has ads everywhere
4. Evite
Takeaway
This service really is free but has a horrible interface where you will be bombarded by ads.
Features (or Description)
Evite is a truly free invitation service. It offers invitations by email and text messages that can be managed from any device. What's more, it has some excellent features, like RSVP, a registry, polls, messaging, even an in-house video service.
It also caters more to baby showers than a lot of other sites. However, it's not very user-friendly and there are ads everywhere. With so many ads, it's almost impossible to finish an action smoothly without being bombarded.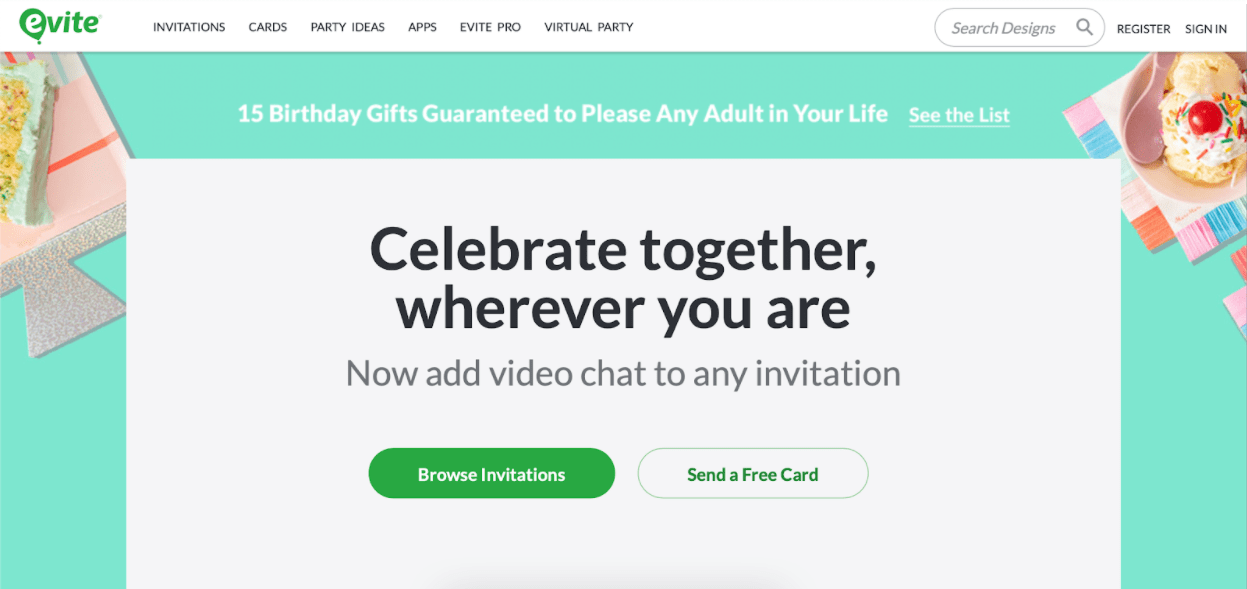 Cost
To get an ad-free experience, you're going to need a paid plan. Pricing ranges from $12.99 to $99.99, mostly depending on how many people you plan to invite.
Pros
Actually free
Cool features like RSVP, a registry, polls, messaging and even an in-house video service.
More baby shower friendly.
Cons
So many ads.
Limited in how much you can do.
Interface is not good.
5. Green Envelope
Takeaway
Beautiful designs, but free trial only allows invites to 10 guests. No games or interaction.
Features (or Description)
Green Envelope is another invitation website that offers a free trial mode. You can build your invitation using some nice designs, with the ability to add images and links. It also has a built-in tracker and RSVP features.
The problem with Green Envelope's trial mode is that you can only send your invites to 10 people. Beyond that, you'll have to sign up for a plan. You also can't share it as a website unless you have a plan, and you're locked out of many of the customization options.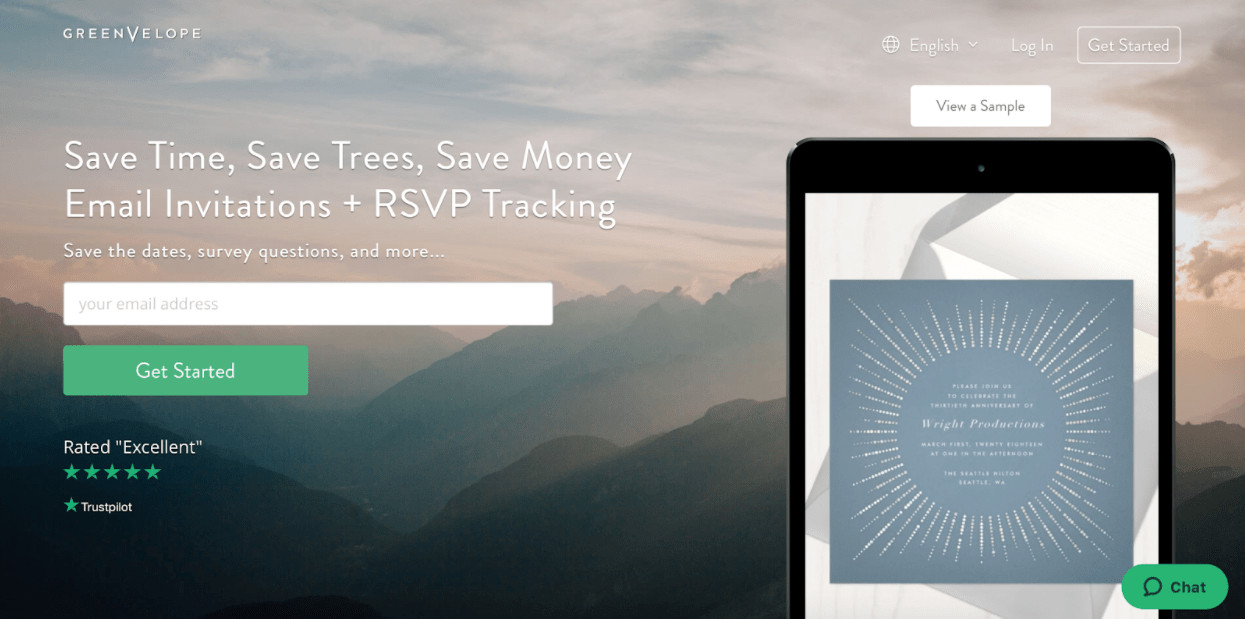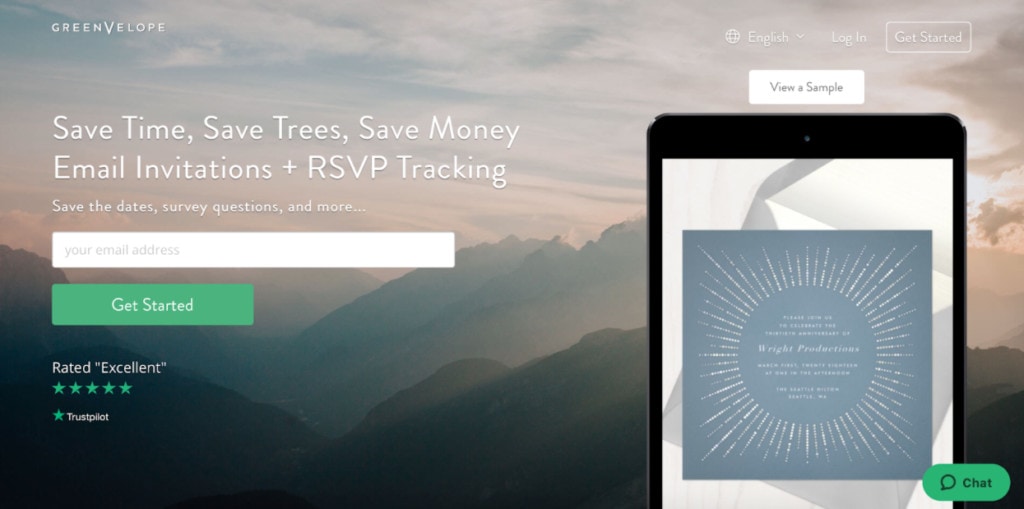 Cost
Paid plans range from $19.00 to $695.00. If you're wondering how you could end up spending so much for an invitation website, it depends on how many people you invite.
Pros
Amazing designs
Some customization
RSVP features
Cons
Free mode only allows invites to 10 people.
Can't share as a website unless you pay for a plan.
Free mode doesn't have many customization options.
6. Facebook
Takeaway
Easy to use but you can only really create a Facebook event, no website, no games, or matching invites.
Features (or Description)
Almost everyone has Facebook – even your Grandma – and it is really simple to create an event on Facebook and invite a big guest list.
Once you've invited everyone, your guests can talk on the event page and RSVP which is handy.
You can also use Facebook as a video call platform as it can host up to 50 people for free.
Cost
Completely free but has lots of ads.
Pros
User friendly.
Easy to invite.
Cons
Not easy to make private.
Not everyone has Facebook so is limiting
Is not a website guests can visit.
Best Paid Baby Shower Websites
1. WebBabyShower
Takeaway
WebBabyShower is an all-in-one package for your virtual and hybrid baby shower needs.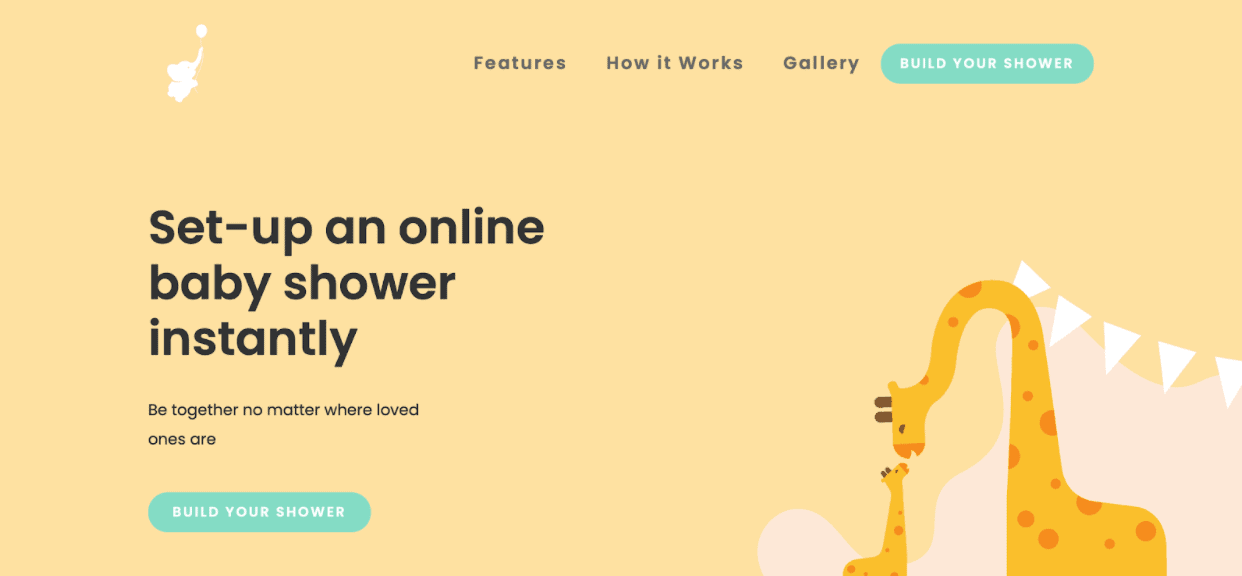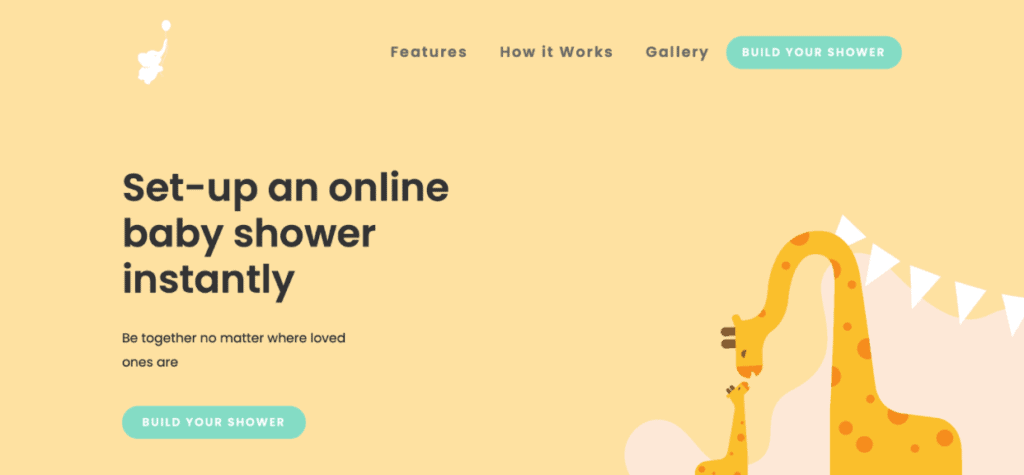 Features (or Description)
The great thing about WebBabyShower is that making invitations is only a small part of the service. In addition to an invitation system, WebBabyShower is a full baby shower website that offers the following features:
Games and Birthday Bets
Video Chat Scheduler
Printable Keepsake
Registry Links
Photo and Video Section
Guestbook
Transparent pricing
Why Choose Us Over Other "Free" Event Websites?
One of the best things about WebBabyShower is that it's not just a one-time event. Your online baby shower is the perfect place for baby updates and important news. It will keep going for as long as your family and friends continue to visit, all the way up until the baby is born.
WebBabyShower provides you with all of the features of an invitation maker website, but also a whole lot more. It's convenient, with everything you're looking for on one website. What's more, it's ad-free.
The truth is, we love baby showers! We've been helping families stay connected for nearly 20 years. We're experienced and truly enjoy celebrating this important milestone.
Are Free Baby Shower Websites Really Free?
A free baby shower website is never truly free. While some of them offer some impressive features for free, you'll either be stuck in trial mode or severely limited in options or the number of guests you can invite. Many of them are also limited to free templates and customization options.
Another thing that many of the free sites have is ads everywhere. These ads can get in the way and slow down the user experience.
Are Baby Shower Websites the Same as Invitation Maker Websites?
A baby shower website provides you with a range of features that you can't get from invitation maker sites. While many invitation websites have templates for baby shower events, a full baby shower website like WebBabyShower provides you with built-in invitation makers on top of a range of other unique features.
Common Features of Invitation Maker Websites
Invitation maker websites are designed to create and send invitations. They provide you with customizable card and envelope templates. Many of them also offer RSVP features, image uploads, and custom links, but do not offer the same services as a baby shower website.
See how a great online baby shower works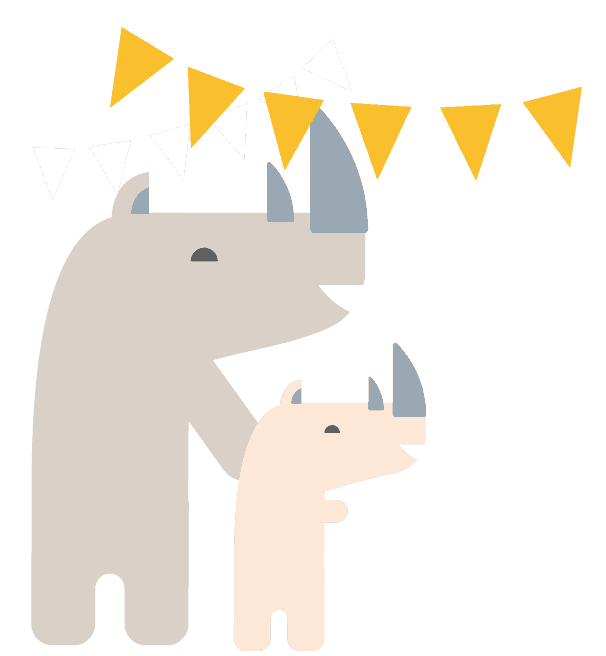 Reasons to Have an Online Baby Shower with WebBabyShower
WebBabyShower provides you with everything you need for the perfect online baby shower. You'll have fully customizable designs that are completely free from ads. It's also not just a one-off thing, and moms often use our service for several months up until the birth of the baby.
Having an online baby shower with WebBabyShower is also safer and cheaper than in-person showers. We offer our services and all features, including a beautiful printable keepsake, for a one-time payment.
The Best Baby Shower Website
When it comes to planning an online baby shower, there are plenty of free options out there. The problem is that many of them don't have everything you need, and their complicated price plans make it difficult to plan out what you need against what you can afford.
Did you enjoy the list? We hope that the information we've provided in this article has helped you decide for yourself what you need and the best service for you. It's essential to understand the limitations and the real cost of invitation websites before buying into them.
We also hope that you now see the value of WebBabyShower. We're transparent about our pricing and offer services above and beyond what other similar services provide. Choose us for your next baby shower every time!