So you've decided that virtual baby showers are a good idea and that's what's best for you and your family, right now! Wonderful, prepare to have just as much fun, save money, and create memories for years to come! But first! What virtual baby shower platform should you use for your party? Our list will help you decide on the tools you need to have a great baby shower.
There are several directions you can go in for your party, from building your own website or utilizing existing companies that deliver all of the services you need, wrapped in a nice little bow.
Whatever you decide, it's important to know the pros and cons of each option, so you can make an informed decision. As always, we've got you, your guests, and mom covered! Keep reading as we share with you the best platform for virtual baby showers!
Throw a Virtual Baby Shower so Everyone

Can Celebrate!

• Free Trial – 7 Day Refund for any reason
• Only 1 Minute Setup!
• 40+ Custom Themes & Matching Invites
• Use Any Online Registry
• Send Unlimited Invites and Updates
• Baby Shower Games with Scoreboards, Give Prizes!

Build Your Shower
---
Going Virtual, Features to look for in a Website: Games, Baby Registry for Gifts, Co-host Share, Baby Shower Ideas and Tips and More
When deciding on a website, you should be sure to look for new features that make planning your baby shower party as simple as possible! This will ensure that you save time, effort, and most of all, money!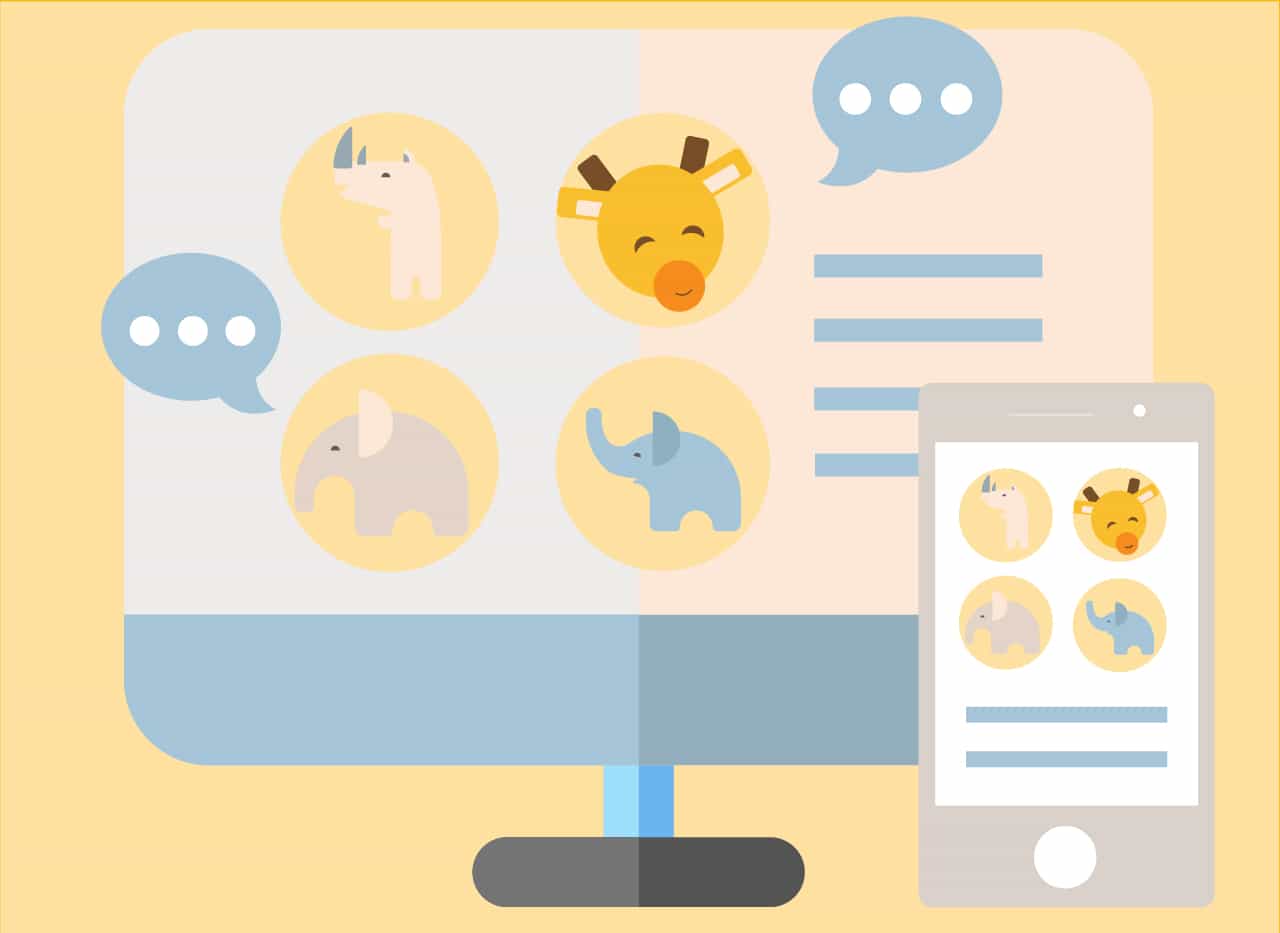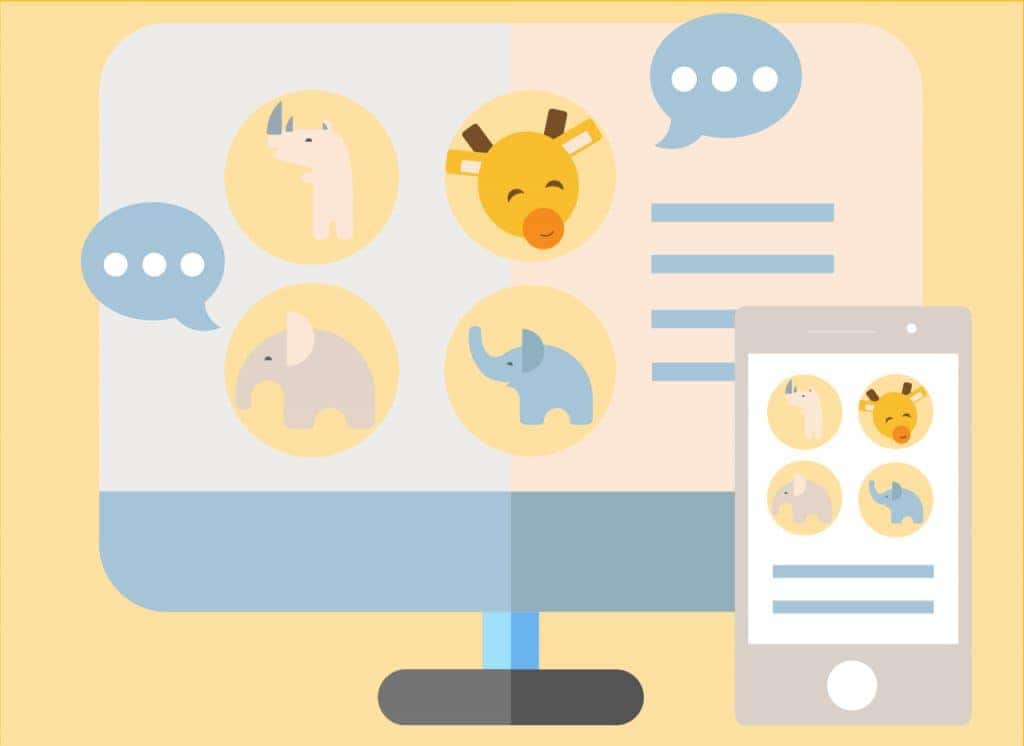 Invitation System
Invites are not just how you let people know, they are also you update tool. You need a a website that comes equipped with free themes and customizable templates, which can be sent to an unlimited number of guests. This is why we build our tool to have all of that standard for every plan.
You should easily be able to share everything on different apps like Facebook or Twitter and across devices if possible.
2. Gift registries
During her pregnancy, it's possible Mom already started her baby registry and has every gift a pregnant mom could need on it since she has time. Since mom needs a gift registry, it's important that the website has space to link to it so guests can easily purchase or get gift ideas from it. You can use it to track who sent gifts and get a head start on creating thank you notes for them.
3. Video chat service
Not everyone who has a baby shower utilizes video chat features, but if you choose to, make sure that it can integrate the video into the website you choose. You should make sure that popular services like Zoom and Skype are compatible with it or you can at least easily link to the video service you like.
4. Games
Virtual baby showers aren't complete without games; so a website that makes hosting games easy is definitely preferred. Guests love games and it's really not a party without them. BabyList suggests activities stop awkward pauses during the video call and make guests feel comfortable.
5. RSVP
To keep things running smoothly with your party planning, you should look for an RVSP feature, which can alert you of whether or not your invited guests will be able to participate. A week before the event, you will appreciate this especially when you know all of the guests who intend to share the day with you and the mom-to-be.
A feature that can let you know your guests' response if they can join the shower or not is also good.
6. Co-Host
Sometimes, moms will have a co-host to help facilitate things so she can enjoy more of her own baby shower. The website should allow co-hosts to access administrative privileges to help plan the party.
7. Easy to use
It's important to choose a website that is simple and straight-forward. Especially if you're a bit technologically challenged! It also needs to be straight forward for the guests, e.g. the games should not be complicated and you shouldn't need specific devices to use any of the services.
8. Reasonable Price
Above all, you should choose a website that is affordable. One big perk of having a virtual baby shower is the decrease in expenses; you don't want to spend all of the money you save on your website.
Should you use a Free Website Maker or a Virtual Baby Shower Platform for your Party?
Whether you choose to build your own shower with a free website maker, or go the professional route and pay a baby shower platform to do it for you, each option will come with pros and cons.
As the host or mom you need to review each one and choose which of these services you like.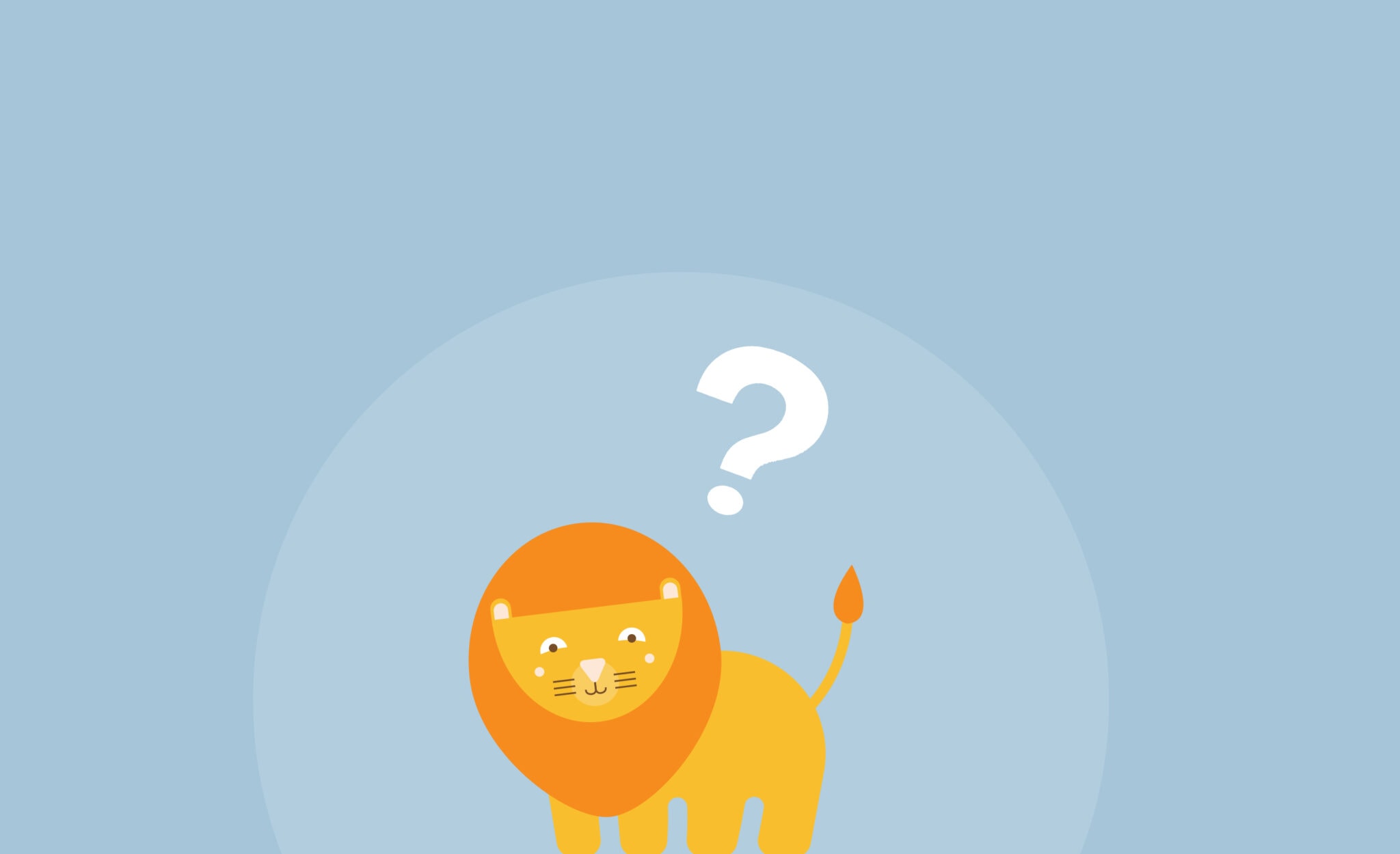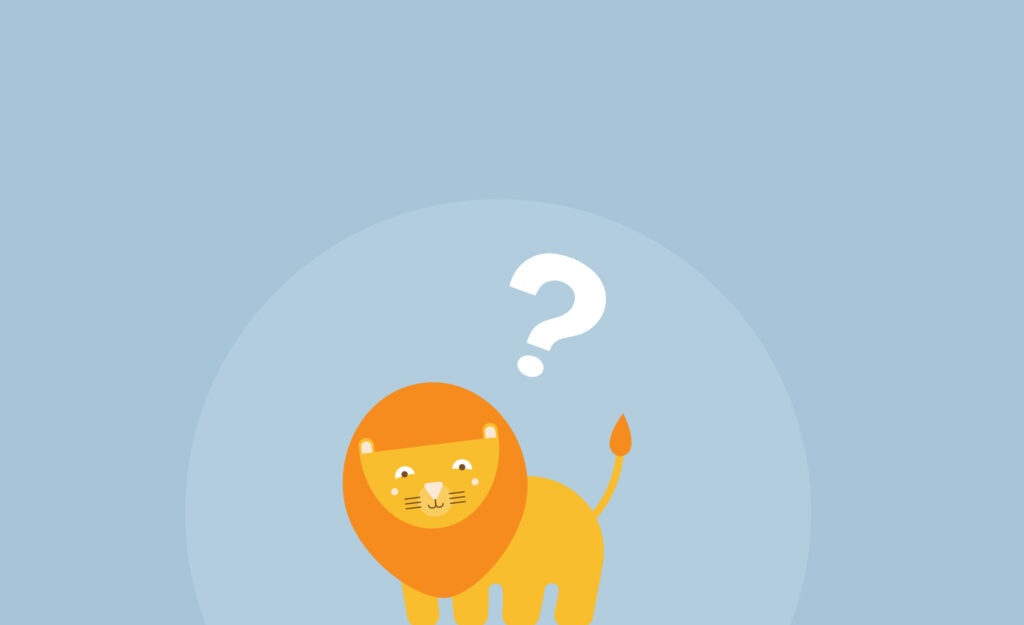 Which Is Cheaper?
There are free website options out there, but many are lacking in the features needed to create a truly unforgettable baby shower party experience. Free websites options are pretty bare-bones as far as aesthetics go, so be prepared for a bland meeting space that probably can't be customized.
To truly get a unique, immersive experience, with a website, you're going to have to pull out your wallet and pay a host, buy a theme, add-ons, and perhaps even a professional to put it together for you.
Save yourself some headache and choose a company like WebBabyShower, who've done all of the heavy lifting, and can supply you with everything you need for an affordable price!
Which Is Easier To Use?
If you have ever used one of these relatively new Website builders, you may have realized, they are pretty easy to use, but there's still a bit of a learning curve as a new user. You don't want your baby shower party to be the event that propels you into learning how to set up a website – there's too much at stake – you will find you used all your time up learning a new skill instead of throwing a party!
Plus, most baby showers aren't set up by the new parents, they're set up by one of their mothers, aunts, or older sisters. Older generations usually aren't as tech-savvy as their younger counterparts and aren't used to digital services, so it might not be realistic to expect them to throw a virtual baby shower at all.
Meanwhile, purchasing and customizing a package by WebBabyShower eliminates all of the guesswork that goes along with planning and saves time. The company was created with the user in mind!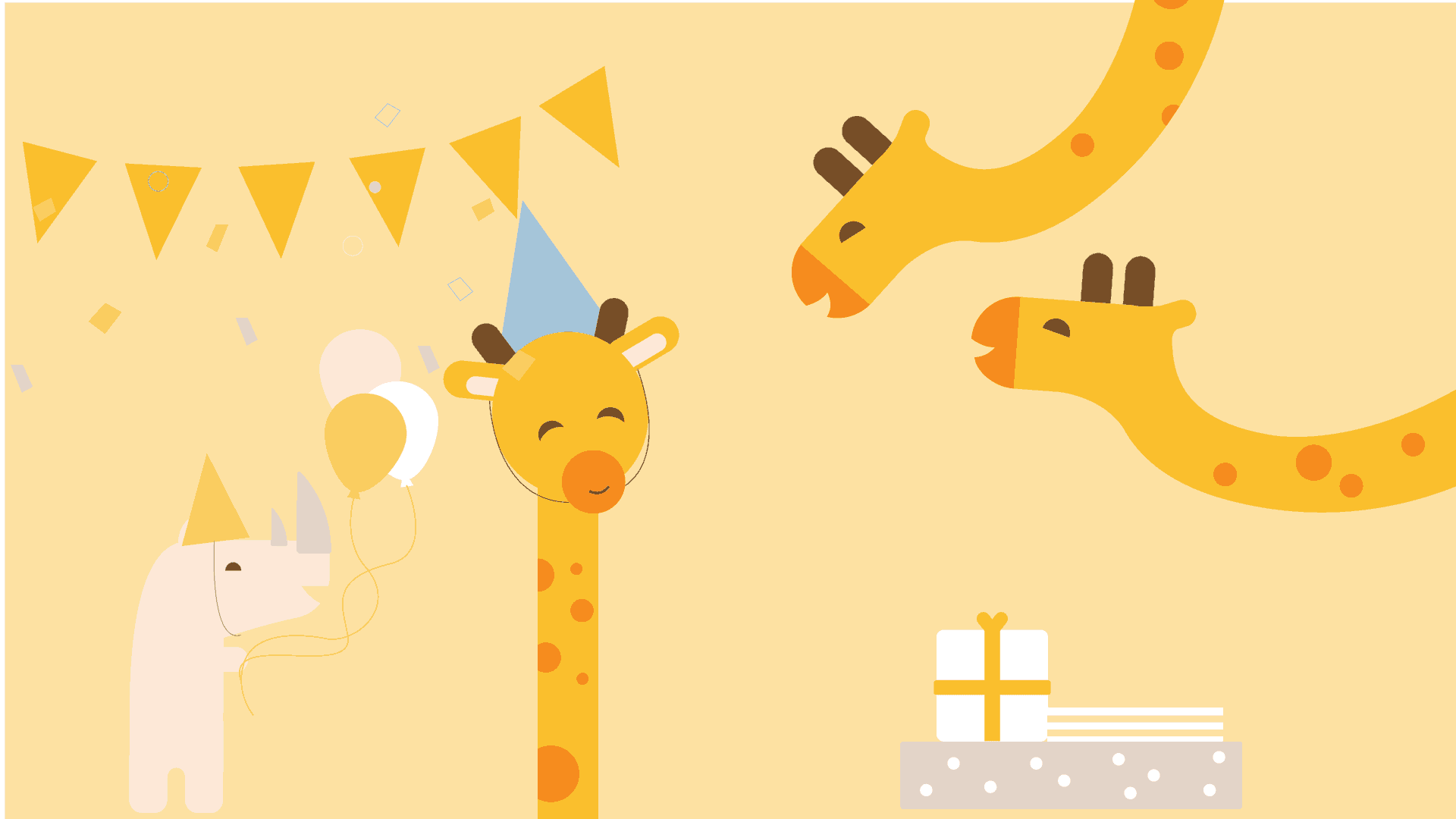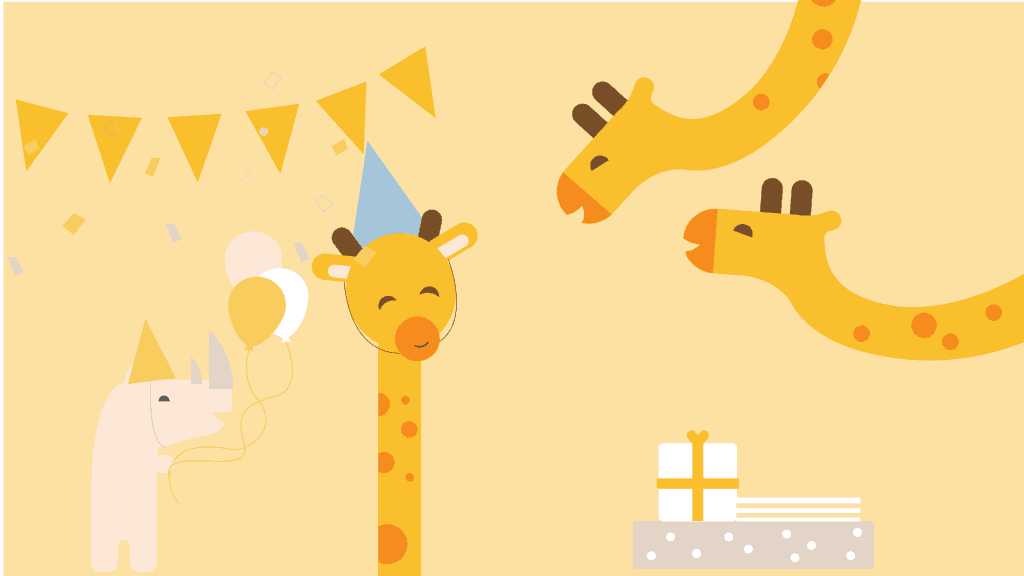 Which is more convenient- Especially for the Mom or Host?
Even if you decide that things like professional features and affordability aren't important to you, surely your time is! If you choose to use a free or paid website or website builder, you'll have to at least spend a few hours perfecting it, then invest more time as a user trying to maintain and keep it up to date.
A virtual baby shower platform like WebBabyShower already has it all, however. Everything from your invite system, shower themes, baby registry links, games, a guestbook to sign, and baby shower printables – if you need it, they got it! If time is against you and you only have a week, no worries, a new user can get this set up in 60 seconds!
Instead of having to purchase a website, and purchase additional themes and plug-ins, this platform comes with everything needed! You won't have to jump around between multiple websites and platforms, because it's all, conveniently, in one place.
What I like about Free Digital Website Makers – a quick review
Free website builders do have a few pros of their own. For starters, they're at least partially customizable, though some come with more features than others. And the end result usually ends up looking well-polished and professionally done.
What I like about Virtual Baby Shower Platforms likes Ours
Baby Shower Platforms, such as WebBabyShower, are built with the virtual shower experience in mind. Therefore, there is no guesswork or head-scratching involved.
Speaking for WebBabyShower, specifically, it comes packed with pre-made themes to satisfy every mood and temperament. It's also very user friendly, so setting up is easy! Since it is specifically for baby showers, you can choose not to customize or edit it anymore, and just let the whole design or theme of the website and other features stay the same. This is an advantage for non-techy people not used to going virtual for anything or those who don't have time to devote to setup. Guests don't need a login which saves them time and can easily take part in the shower, like buying a gift for the pregnant mom from the registry, for example, this can be done on any of their devices.
Most importantly, WebBabyShower is transparent about pricing and what features come along with each tier so a potential user can save time on budgeting and spend more time on baby shower ideas.
If you're interested in getting a closer look at some of the website builders like EventCreate and platforms available to host your baby shower, then check out our list!
Wix is a classic template website builder. It's been around for years and is a trusted option for millions of users around the world. With Wix, you can choose from industry-specific templates and the drag-and-drop editor.
There are free options available, but if you want a custom domain you must upgrade to a premium account.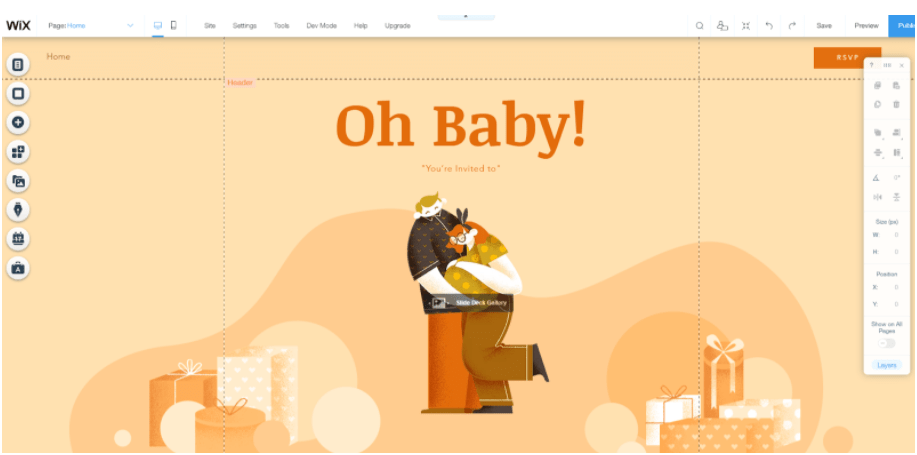 Example format of a free Wix Domain
Link opens in a new tab: https://sarahjacobs.wixsite.com/mysite
What I liked
Wix is a great option for people on a budget. It has free plans available, so anyone can set up a website for a party. It also has a digital RSVP feature – even for free plans. It's also jam-packed with features that make building complicated websites possible.
Cons
Unfortunately, Wix only has one baby shower template available so might stifle some of your big baby shower ideas. First-time users might also find it hard to understand all of the functions and applications, so it's not quite as simple as most drag and drops.
Many of Wix's add-ons are also expensive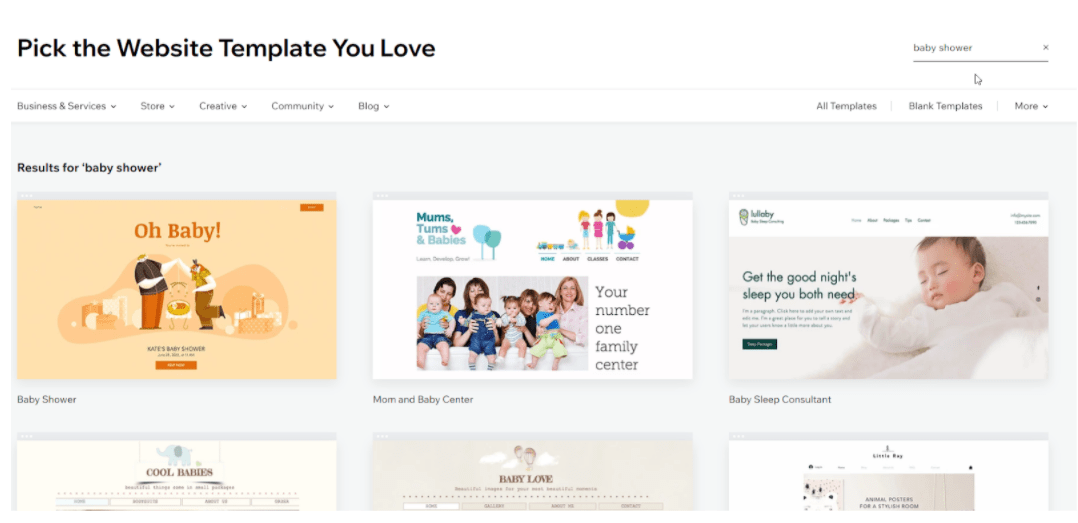 EventCreate is a digital event website maker that lets you create a free one-page website with limited features. It is much less complicated than Wix to set up, which might make it attractive to some.
This is what a free platform domain looks like:
Link opens in a new tab: https://sarahjacobs.eventcreate.com
What I liked
EventCreate is great for users looking for a free option that's easy to use and will save you time, though it does have paid tiers. It also allows you to send invites and collect RSVPs on your website with ease, and add links to your website. One unique feature I really love is the ability to view the analytics of site visitors.
Its drawbacks
If you want to utilize the invite system, you have to upgrade to the paid version – and you know what that means: added costs and added time. There's also no co-host feature or way to integrate a video chat service.
Of all their themes, there's only one baby shower option which the pregnant mom might not be thrilled about and no gift registry either. Is EventCreate right for your shower? Check this article!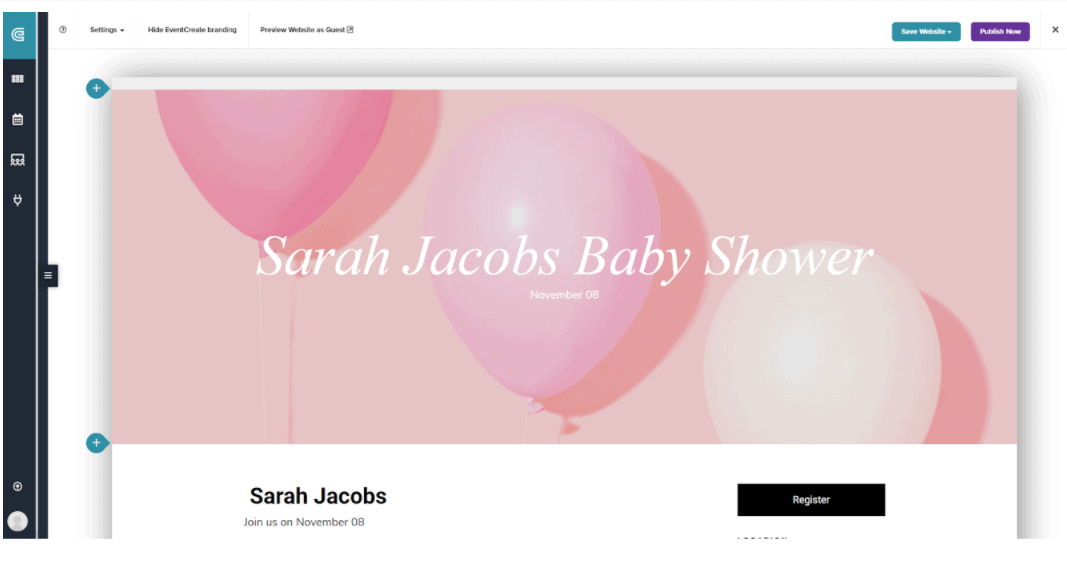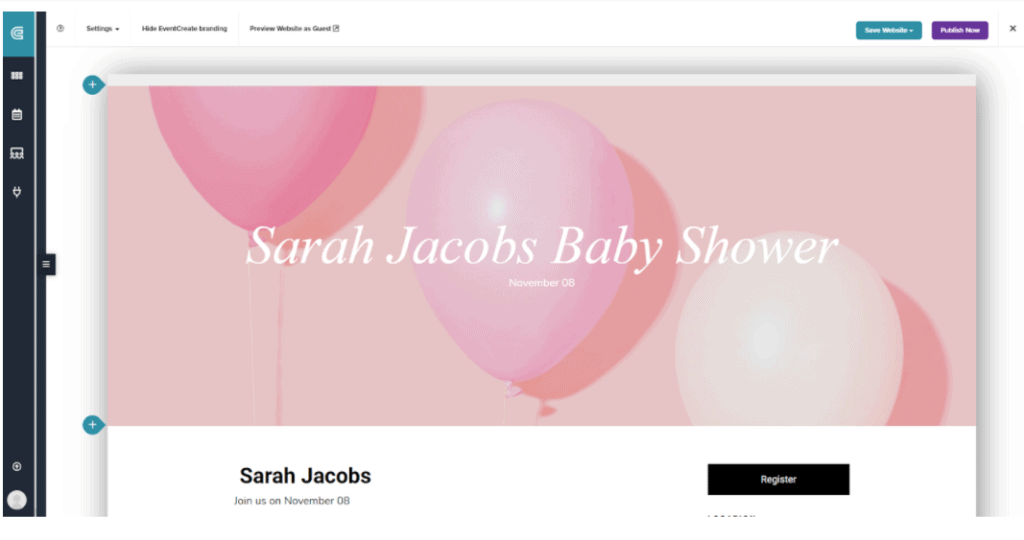 Basic Invite is not a website builder or virtual baby shower platform, but it is still a valuable resource. It is essentially an invitation maker website
This is how a free online baby shower domain looks:
Link opens in a new tab: www.basicinvite.com/site/sarahjacobs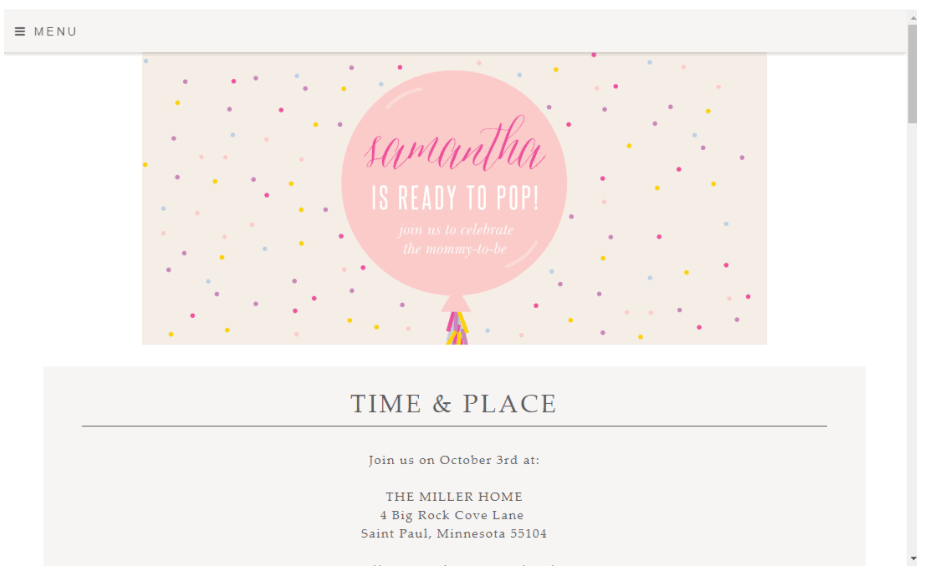 What I like
Basic Invite eliminates some of the headaches that come with sending invitations and awaiting confirmation. Each invitation comes with a response section that allows invitees to respond and let the parents know if they can or cannot make it. There are also extra goodies on the website, like printables, baby shower games, and thank you cards!
As someone who likes the minimalists aesthetic, BasicInvite has a sleek polished infrastructure.
What is not so good
Although BasicInvite has lots of baby shower themes, all of the themes have the same frame; only the header changes between themes so if you had a lot of baby shower ideas and are creative, this one likely isn't for you.
Evite is also an invitation maker, but it also has virtual baby shower features, which might come in handy. The invitation maker is free to use, though premium options are also available.
This is how the platform looks:
Link opens in a new tab: https://www.evite.com/event/0237TUXRXNL3RQGCQEPLAS34GIABR4/rsvp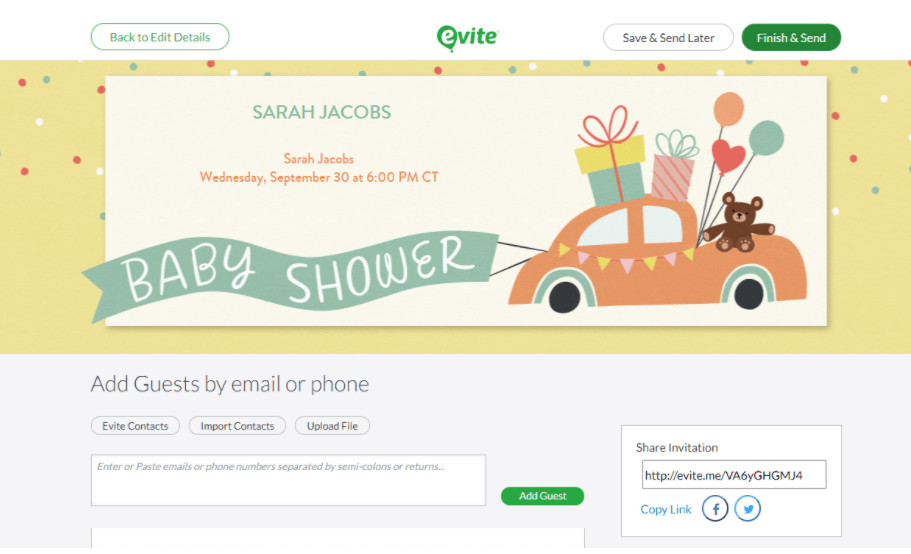 What I liked
Evite offers many fun features, the most convenient being a built-in video chat service. It also allows users to add a gift registry link and additional co-hosts. One area where it really measures up is the inclusion of fun polls!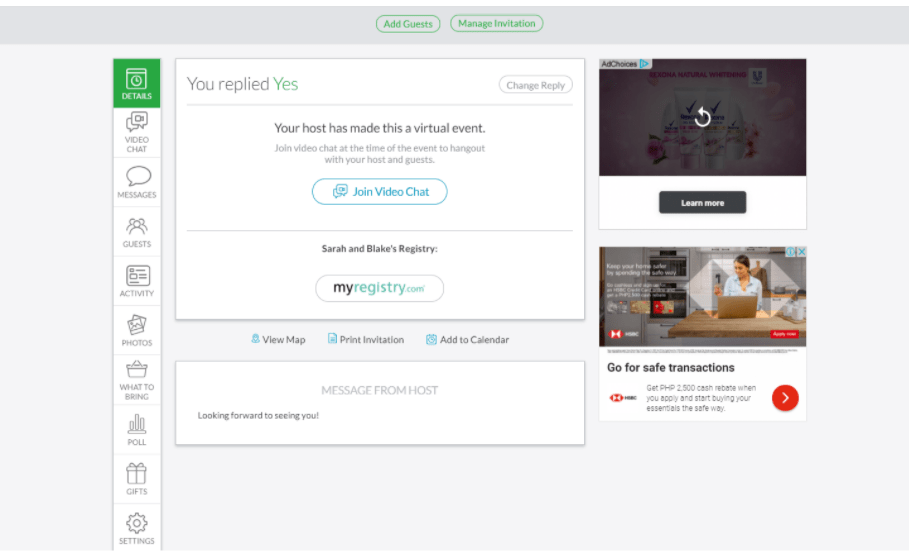 Its drawbacks
Like many websites, Evite makes money from running ads. And while they're harmless, they're not nice to look at and are a little bit distracting! So although there may be a gift registry, good luck with your guests being able to navigate to it among the flood of ads! You also don't get a custom domain for your party. In addition to those points, Evite isn't super user-friendly and is difficult to navigate. Plus, the designs of the invitations aren't anything to write home about.
5. Virtual baby shower platform – WebBabyShower
Last, but certainly not least, is WebBabyShower. The platform is packed with tons of features and ease of use that can't be beaten.
In just 60 seconds, you can have your entire baby shower website site up and ready to share with the world.
There are also three different plans available that you can choose from:
Monthly, six months and twelve months.
If for any reason you're not satisfied with their service, you can get a refund as long as your request is made within 7-days.
Plus, you get to set up a custom URL.
This is how the online baby shower domain looks:
Link opens in a new tab: https://mywebbabyshower.com/sarah-jacobs/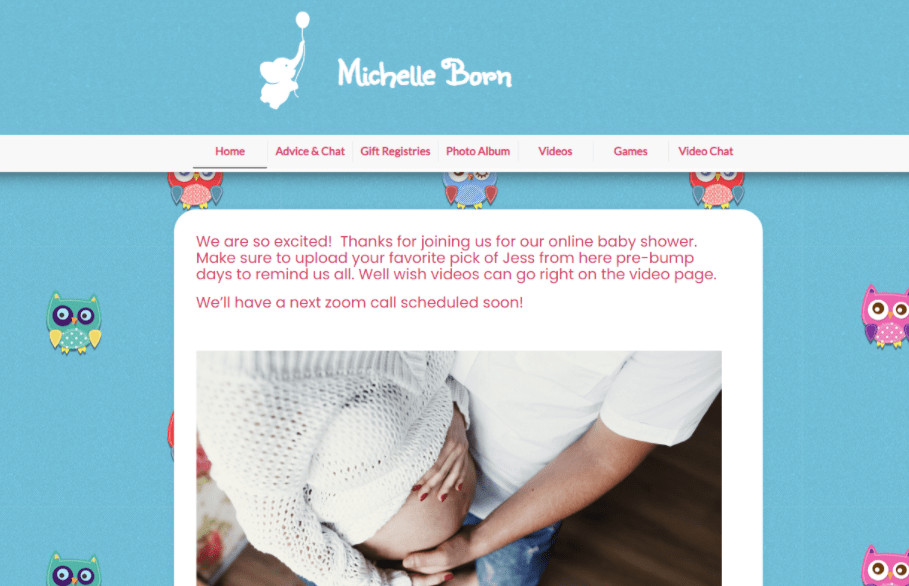 What we love-sorry to toot our own horn but…
One of the best aspects of WebBabyShower's platform is our clear pricing. Other website builders often advertise themselves as free, until the customer wants to access the fancier feathers.
WebBabyShower doesn't participate in false advertising. Our pricing model, is honest and transparent.
With a package from WebBabyShower, a customer can have all, not just some, of the things they need to make their virtual baby shower complete. That's the downside of choosing other platforms. They might have attractive qualities, all fall short in one area or another. WebBabyShower is the complete package! Here's a full list of some of the best features:
Has invite system
Unlimited guests
Can add baby registry links
Beautiful baby shower themes
Online games with a scoreboard
Video and photo albums
Guest book
free printables
downloadable keepsake after the shower
Each page is customizable
It's an ongoing event! Some of the options on this list are simply to alert people of the event. WebBabyShower service is the event, and it can last as long as the customer wants
In case you are curious, WebBabyShower games include
Famous Mothers
Famous Fathers
Nursery Rhyme Quiz
A Baby in Any Language
Baby Trivia
Baby Song
Baby Animals
WebBabyShower is the #1 market leader in virtual baby showers, as mentioned by SlumberPod
"WebBabyShower is the #1 market leader in virtual baby showers and has helped over 10,000 customers and happy families since 2006. With WebBabyShower you can set up a shower in minutes; the platform includes a guest book, a gift registry page, video and photo albums, a games page with a scoreboard, and even the ability to send and track personalized invitations from the platform itself." Says SlumberPod in their feedback.
See how a great online baby shower works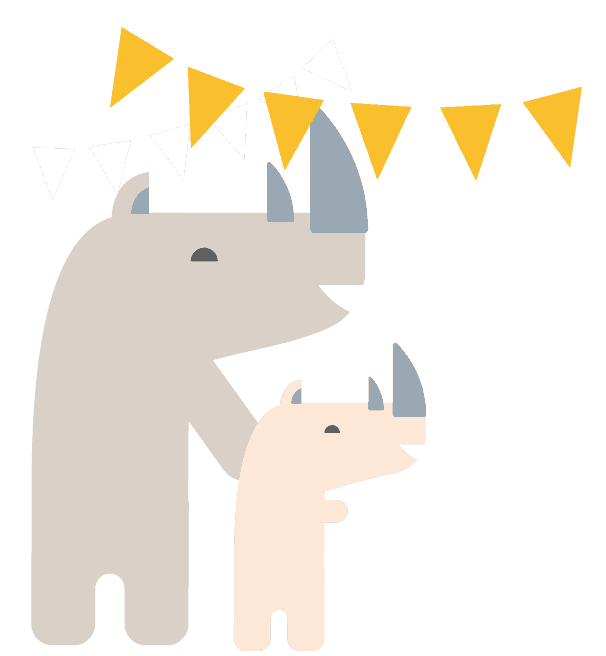 Choose what makes sense for you
Did you enjoy this list?
We sure hope you found value in learning more about the different options available when it comes to throwing a virtual baby shower. Planning a virtual baby shower may seem like a daunting task, but it doesn't have to be, and definitely isn't when you're able to make an informed decision.
Lastly, allow us to highlight what makes WebBabyShower stand out from the pack. Whereas some of these options offer one or two key features, WebBabyShower offers the complete package.
From setup to pre-made templates, invite, games to more; we have everything you need to create a memorable celebration.
This is all available at an affordable cost to the customer. Some of our competitors might be free to use, but choosing those options come at a great cost. Usually a basic, uncustomizable website to draw you in, before you shell out money for the better features and plug-ins.
With WebBabyShower, you'll never have to wonder what you're paying for or what's included, and best of all, your baby shower won't cost you an arm and a leg – you'll need your limbs to carry your baby!