Now that you and your sweet little bundle of joy have received gifts & a whole lot of love, it is time to send baby shower thank you cards to all your friends and family who have taken the time to celebrate.
Baby shower etiquette is a bit of a moving target, but thank you's are always welcome. We've got a set of free cards that have been custom designed by our team and you can't find anywhere else! So feel free to get busy downloading our free printables from WebBabyShower. All you have to do is print them and write a customized note. And yes these are all designed to work with standard A2 envelopes, they are 5.5″ wide x 4.25″ high.
Writer's block? So many to write you're looking for ideas? We've got a great post covering the key situations (office co-workers, group gift, etc) for great baby shower thank you card wording.
Looking for other free printables? Check out the baby shower bunting party flags we just published! Or get these cards now.
Throw a Virtual Baby Shower so Everyone

Can Celebrate!

• Free Trial – 14-Day Refund for any reason
• Only 1 Minute Setup!
• 80+ Custom Themes & Matching Invites
• Use Any Online Registry
• Send Unlimited Invites and Updates
• Baby Shower Games with Scoreboards, Give Prizes!

Build Your Shower
---
Free Printable Baby Shower Thank You Cards
1. Elephant & Baby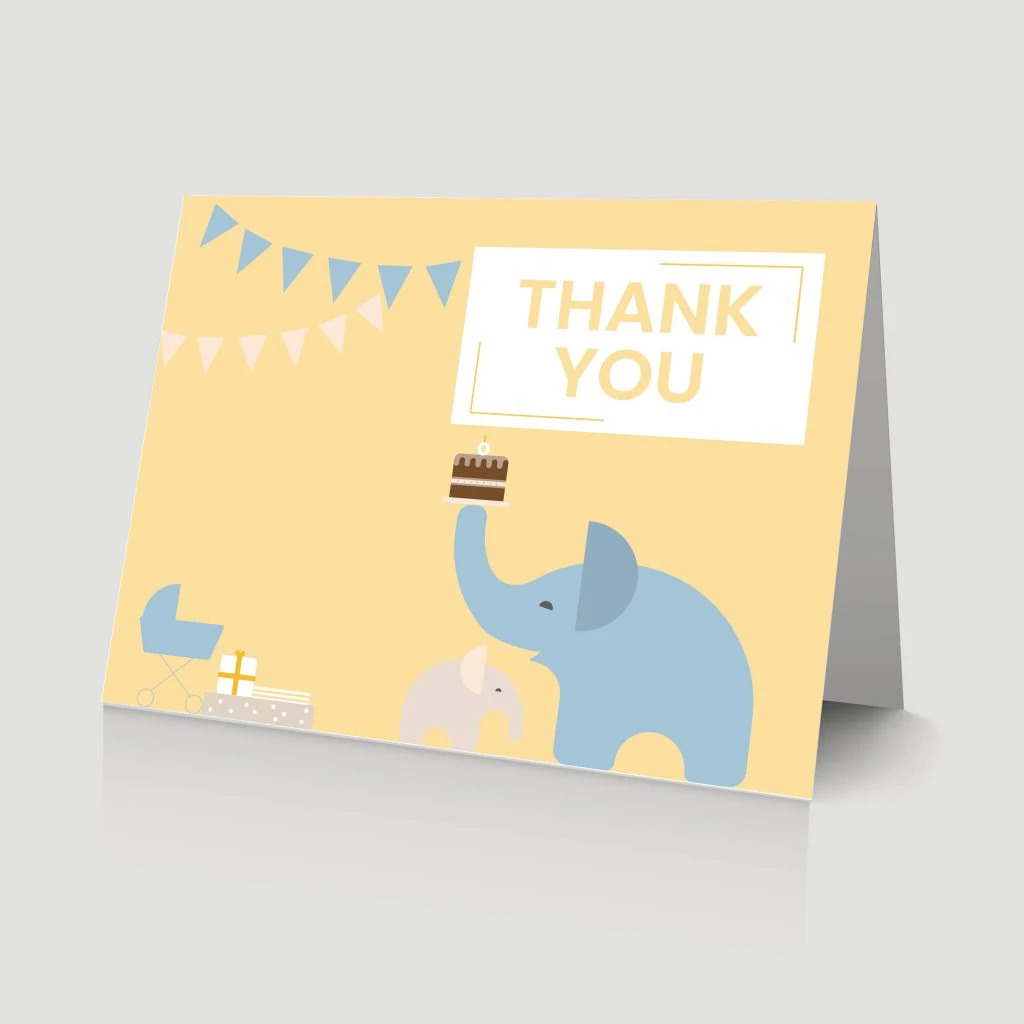 WebBabyShower has designed this cute free, printable baby shower thank you card using elephants, the majestic giants of the jungle on it. Elephants rule the wild & now they grace your baby shower thank you card with their calming presence. Ok so were kinda keen on elephants over here 😉
This free printable thank you card features a lot of space towards the left for writing custom messages. You can also print the thank you cards and then write down your thank you message while they are flat before folding and mailing it.
2. Thank You card with Balloons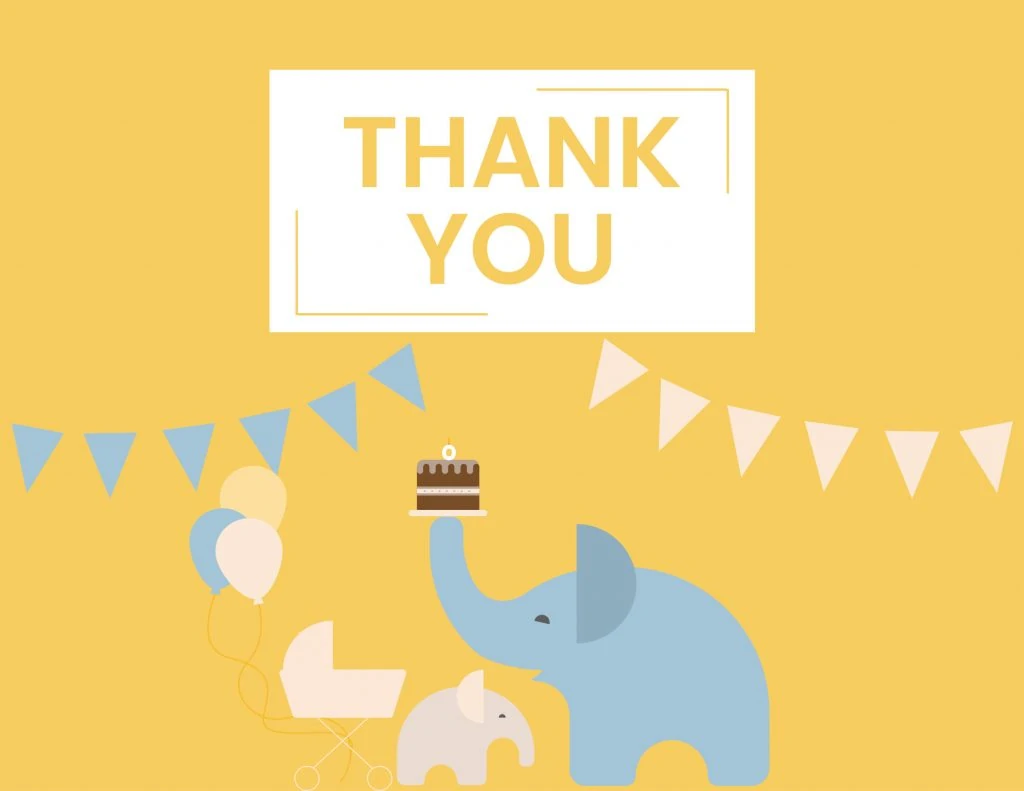 Here's another elephant design with cake, balloons and a crib! A charming thank you note that will look sweet, and stylish, featuring two elephants against a colorful backdrop.
3. Printable Baby Shower Thank You Card with Giraffe Mural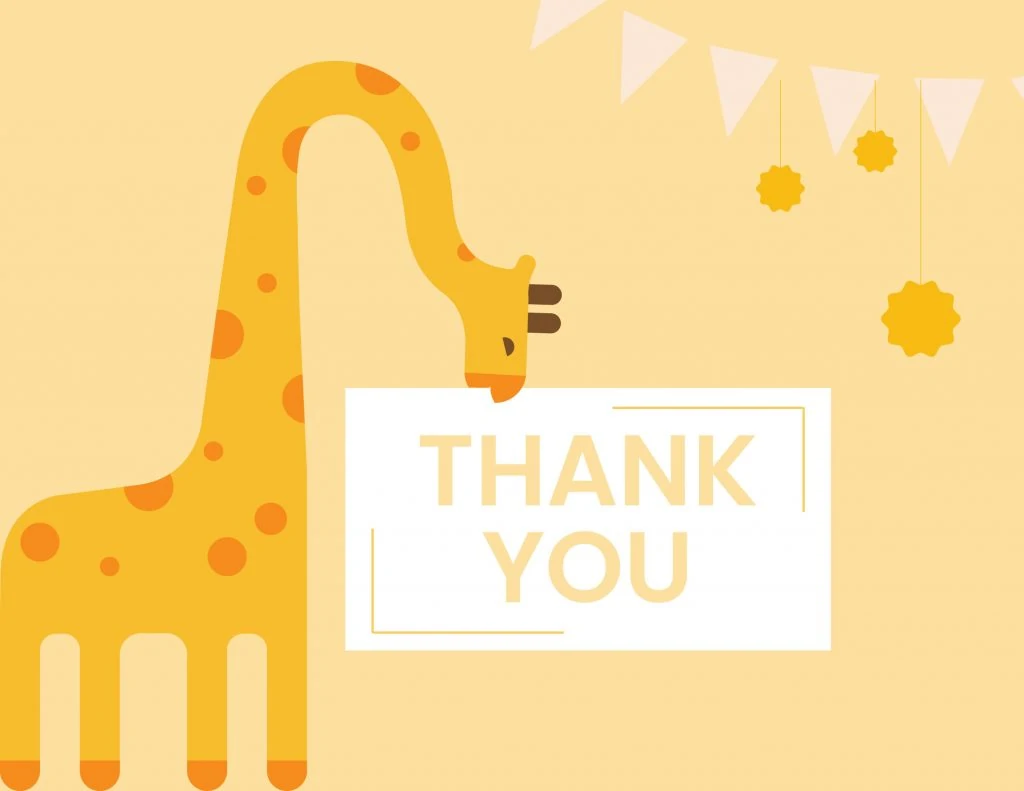 If you're loving the trend of giraffe prints and wish to create a modern thank you note inspired by it, why not try something bespoke and subtle, like this giraffe baby shower thank you card. The cool thank you print focuses on a giraffe holding a thank you note using his mouth! This cute giraffe print features an orange color palette throughout to help you add fun vibes to your thank you note.
4. Free Printable Baby Shower Thank You Note with Giraffe and Stroller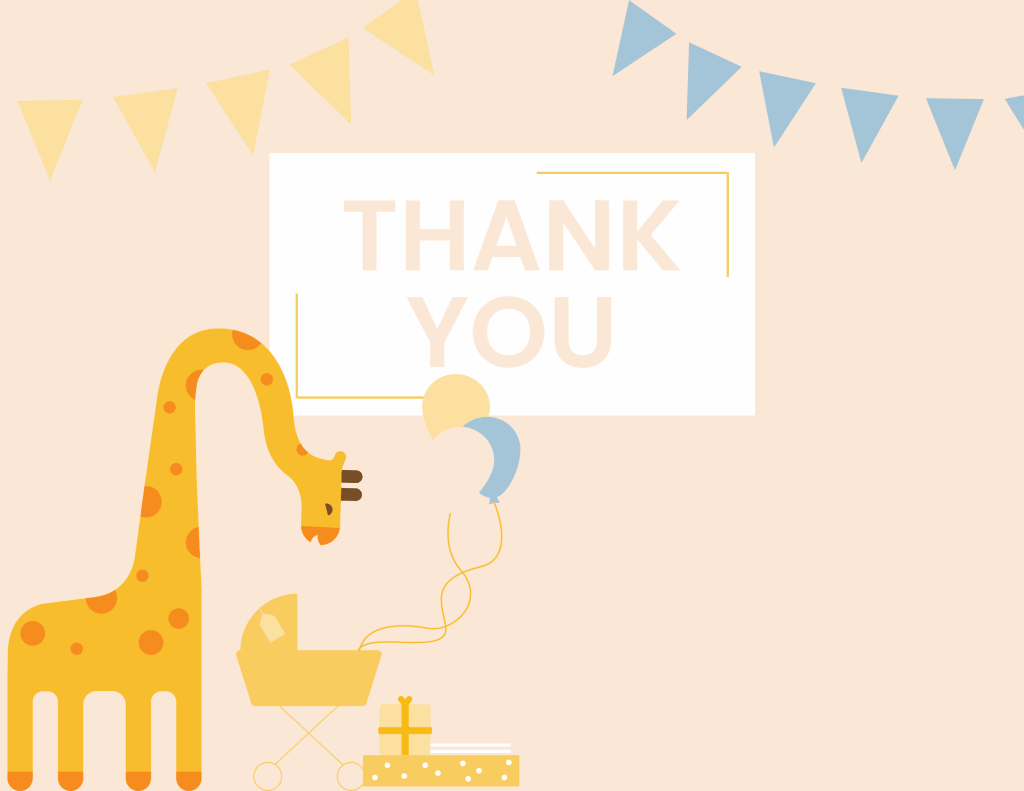 This favorite contains a cute scene of a giraffe peeking down on a baby stroller. In the background, some balloons can be seen floating away, making their way across the thank you note.
The simple peachy background color contrasts do well to help you if you want some gender-neutral artwork.
5. Mama Hippo and Baby Hippo Free, Printable Thank You Card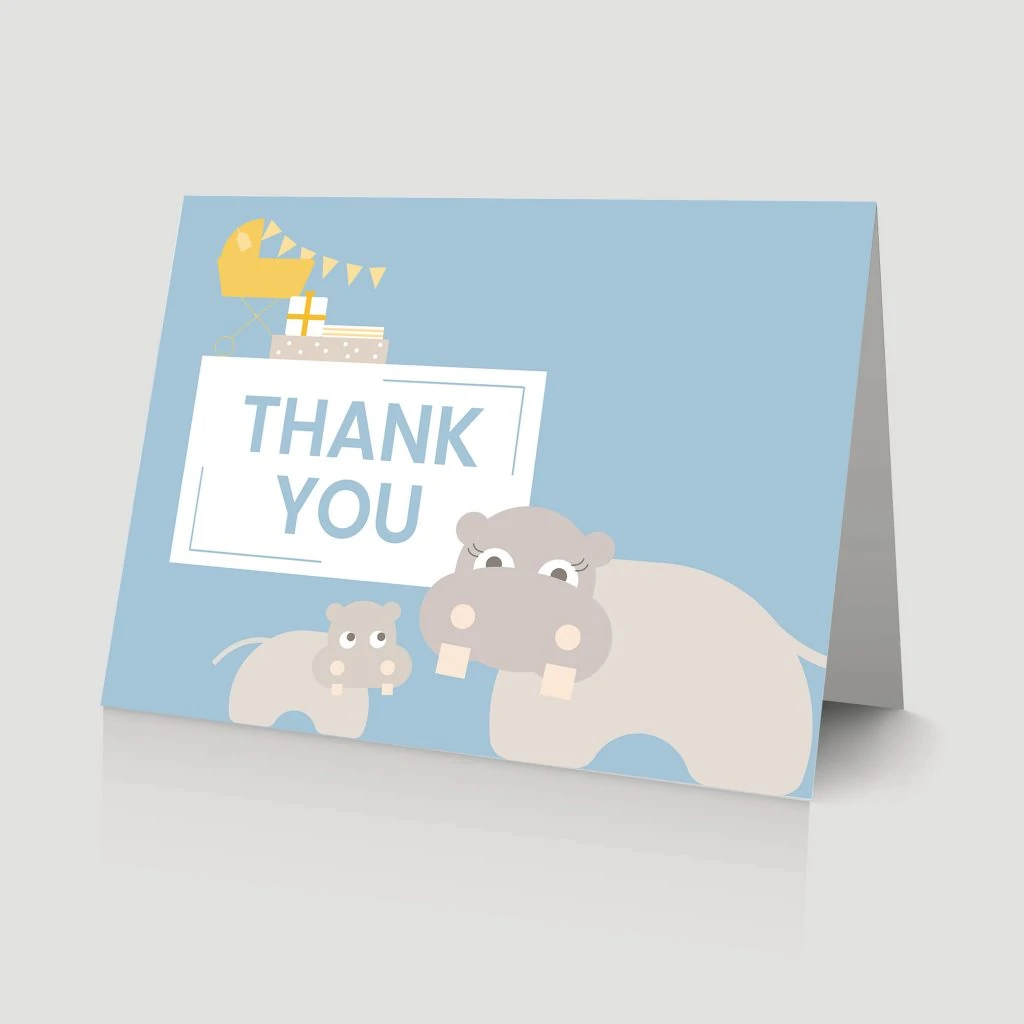 Ok enough, giraffes and elephants! lol. consider using this fun thank you card with cute and fluffy hippos. They are super adorable..
6. Free Printable Baby Shower Thank You Note Featuring Lions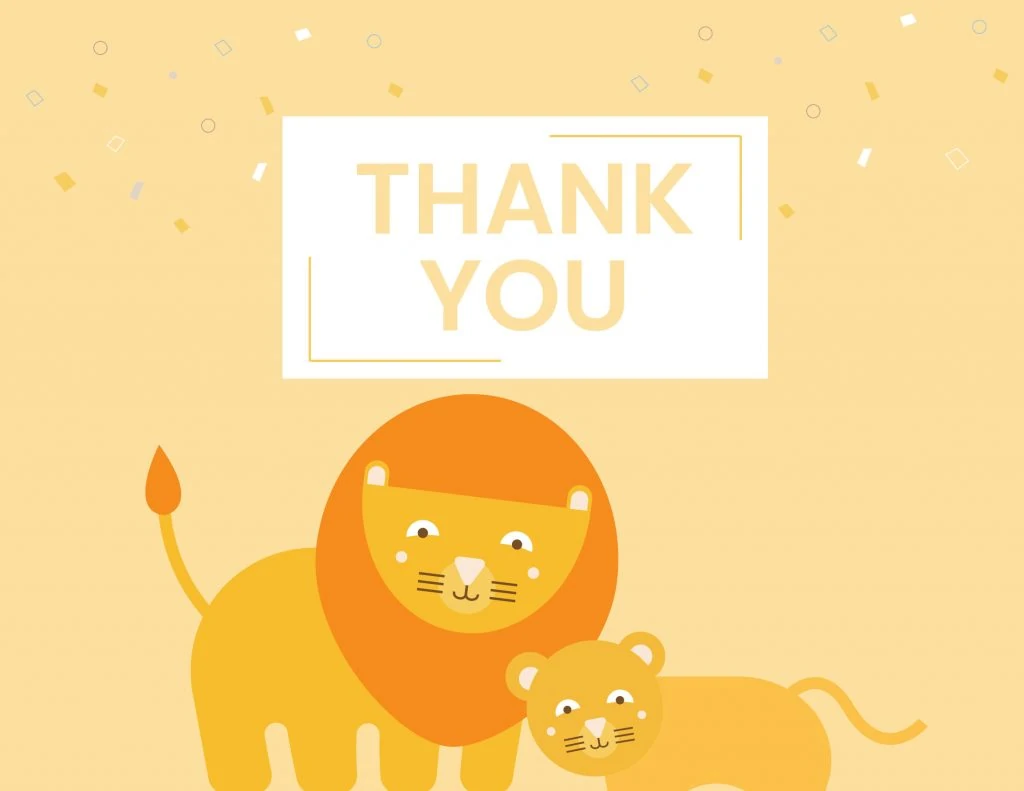 Time for the lions! Who says the king of the jungle has to be left out. These charming lions can work for boys or girls, and will make your baby shower thank you note look wholesome, sweet, and stylish.
7. Custom Hand Written Note Featuring Happy Rhinos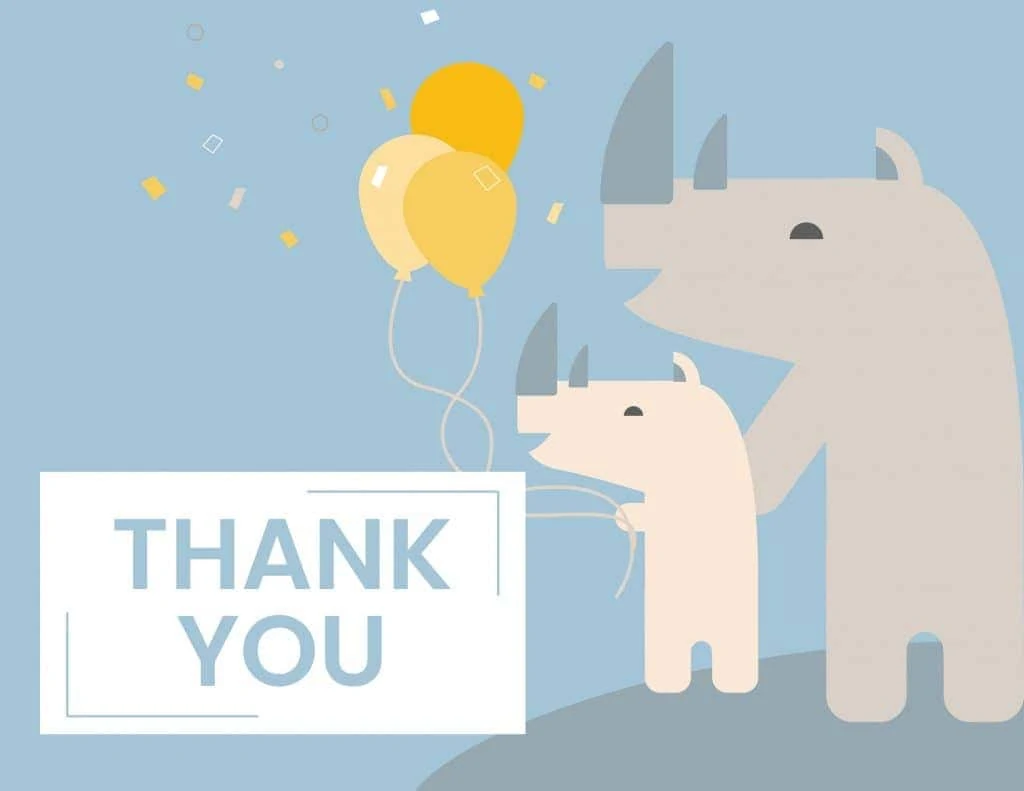 Rhinos are making a comeback, at least here at WebBabyShower. Grab a few balloons and this pale blue thank you note.
8. Elephant and Rhino Free Printable Thank You Note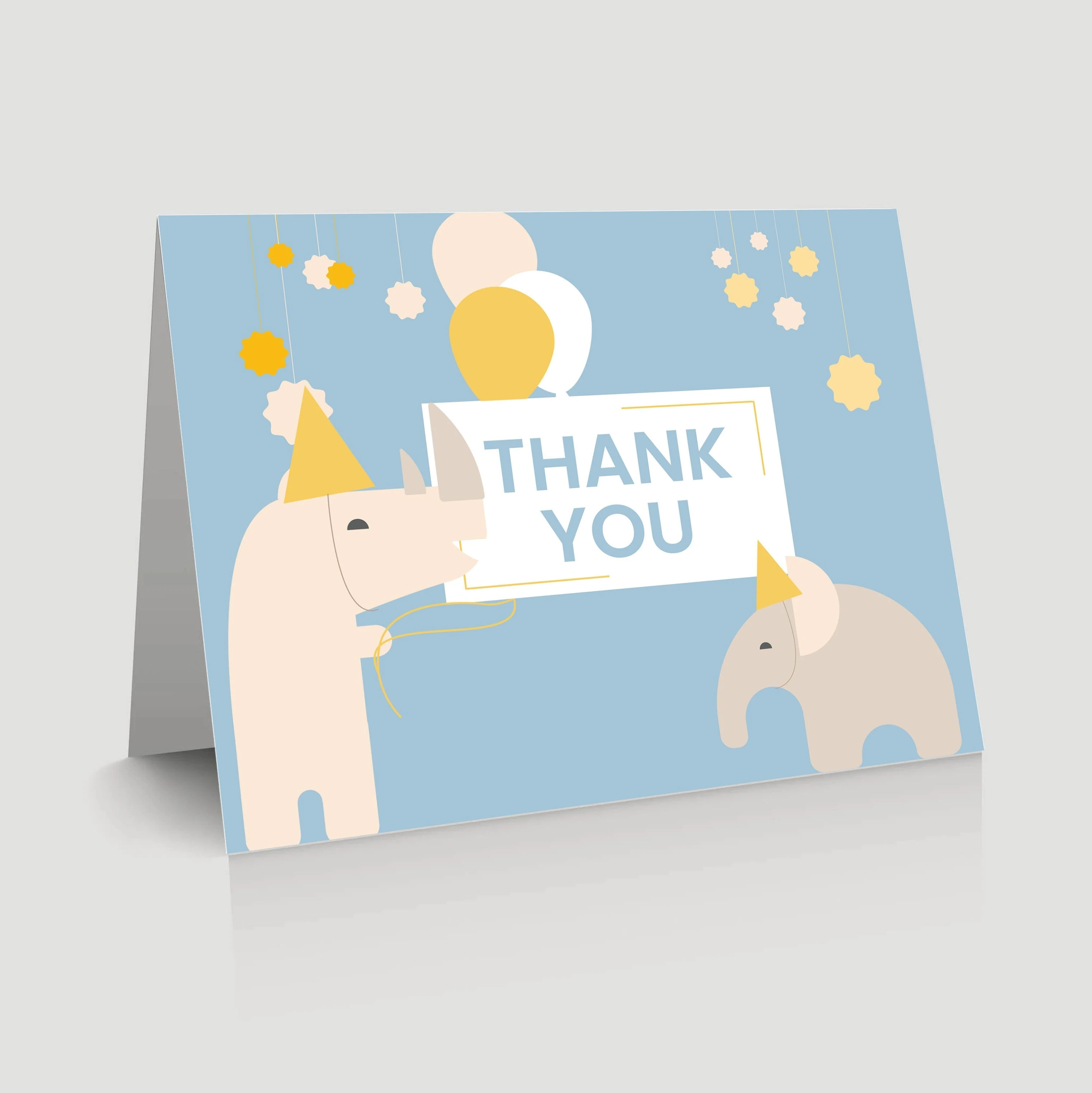 Elephant and rhino's might not always be playmates in real-life but we think these two will put a smile on anyone's face.
9. Safari Animals and Friends, Free Printable Thank You Note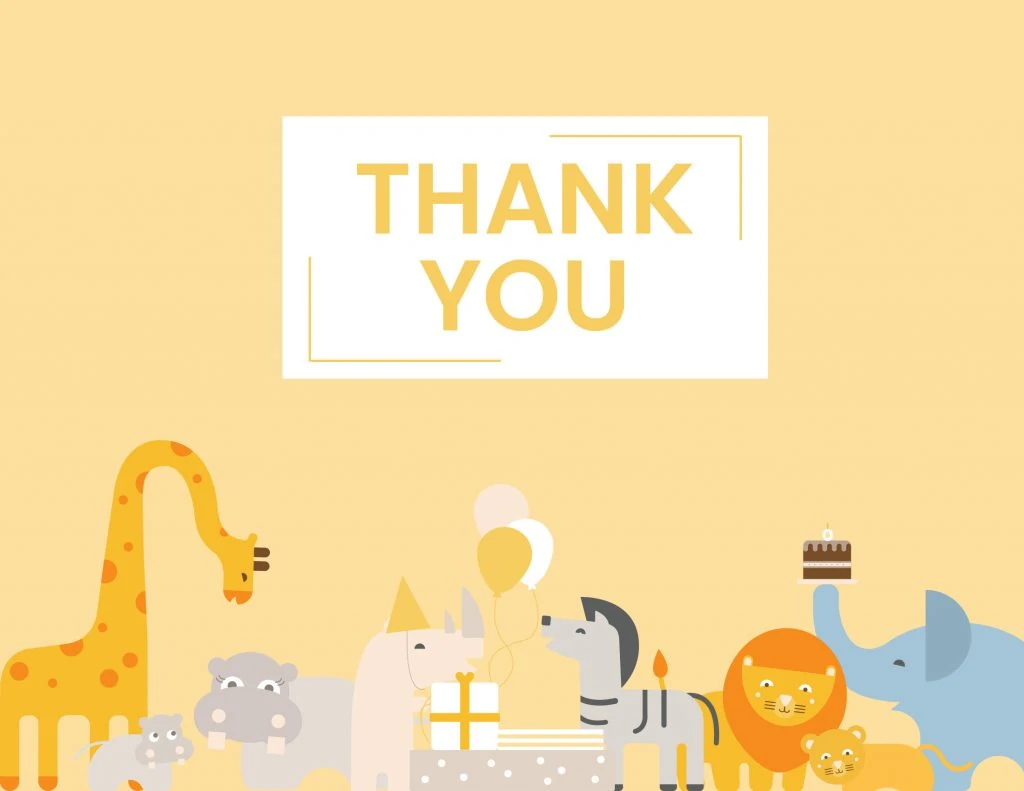 Is your life more like a zoo? Well get the whole group into the card. A collection of our hand drawn animals including lions, hippos, giraffes, and rhinos.
10. Zebra Baby Shower Thank You Note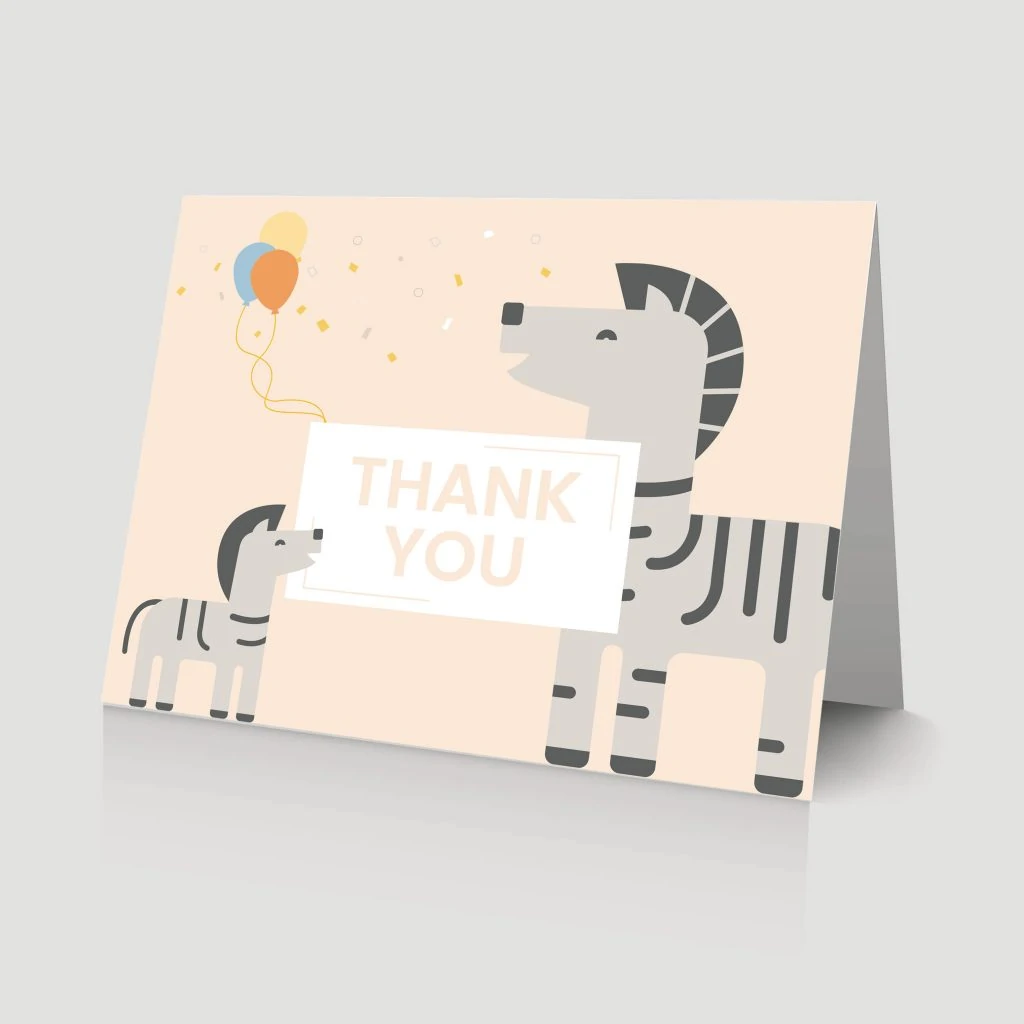 And to wrap it up appropriately at the end of the list, Zebras! A peachy color palette that can work with girls or boys, get some stripes going!
See how a great online baby shower works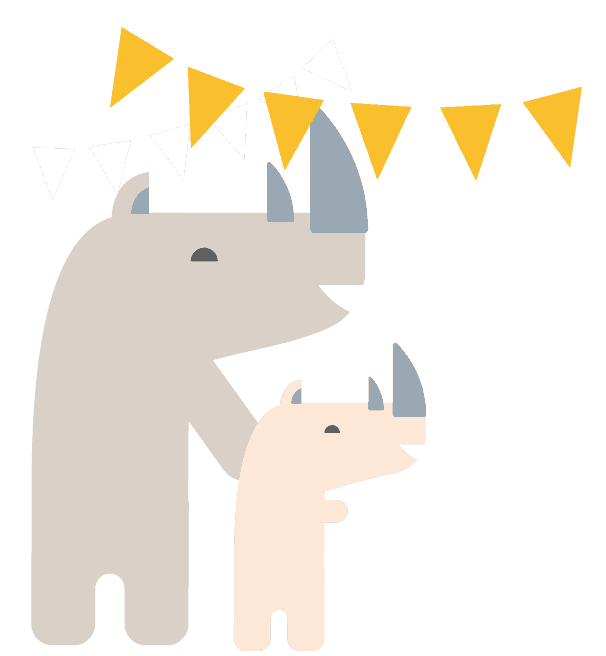 WebBabyShower helps expecting mothers plan their baby shower and send out invitations to their list of guests. It's better than social media and works exactly how you want it to. Celebrate with friends and family no matter where they are.