Ah, baby showers. A time to celebrate new life and shower the parents-to-be with love, attention, and gifts. Baby showers have several elements that everyone loves: the food, the gifts, rubbing mom's belly (with her permission, of course), and baby shower games. While many baby shower games are fun, some can be downright hilarious!
As the No. 1 market leader in online baby showers, WebBabyShower understands just how to make your baby shower unforgettable. So, forget everything you thought you knew about baby shower games. We're about to introduce you to our favorite hilarious baby shower games that everyone will be talking about even when the party's over.
Draw the Baby
Draw the Baby is an easy and fun baby shower game to play with minimal supplies required. Here's what you need, how to play, and even how to adapt this game to a virtual baby shower!
Draw the Baby Game Supplies
Paper plates
Pens or pencils
A timer
That's it! (We told you this required minimal supplies!)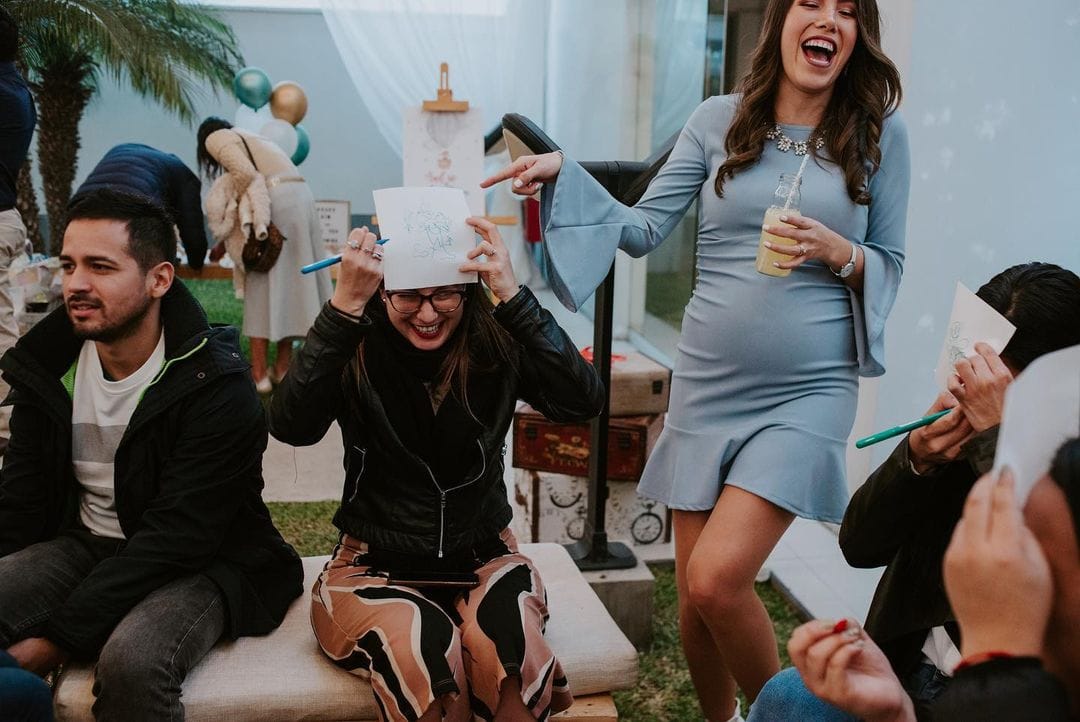 How to Play Draw the Baby
Pass each baby shower guest a paper plate and a pen/pencil.
Guests will write their initials on the back of the paper plate. (We'll explain why in a minute.)
Let guests know they'll have two minutes to draw the perfect baby on their paper plate — but there's a catch!
Instruct guests to put their paper plates on their forehead. That is how they must draw their baby — sight unseen! Set the timer for two minutes. When the time is up, the game host collects the drawings and places them drawing side up on a table.
The mom-to-be (or parents-to-be, if you're hosting a co-ed baby shower) will review all the drawings and decide which is their favorite.
The game host then looks at the back to see whose initials are on the plate and announces the winner.
You might want to have a box of tissues handy, because this game tends to result in tears from laughing so hard. It's absolutely hilarious to see what silly, crazy, and even scary baby drawings guests come up with!
How to Play Draw the Baby Virtually
This fun baby shower game is great for an in-person baby shower, but it can also be adapted to play at a virtual baby shower as well. Here's how:
Email your guests ahead of time and ask them to get some paper plates and have a pen/pencil handy. You can also mail virtual baby shower guests the supplies so they don't have to shop themselves.
Virtual baby shower guests will draw their baby the same way in-person guests would while on the video call.
Instead of your virtual baby shower guests placing their plates on a table, simply have them hold their plates up to their webcams so the parents-to-be can see.
If you choose WebBabyShower, your guests can upload their images to the gallery so everyone can crack up over their photos after the fun game is over, too!
Throw a Virtual Baby Shower so Everyone

Can Celebrate!

• Free Trial – 7 Day Refund for any reason
• Only 1 Minute Setup!
• 40+ Custom Themes & Matching Invites
• Use Any Online Registry
• Send Unlimited Invites and Updates
• Baby Shower Games with Scoreboards, Give Prizes!

Build Your Shower
---
Feed the Baby
For guests unafraid to get a little up-close and personal, Feed the Baby is a great, hilarious game that guests play at a baby shower. Supplies are minimal, but the laughter will be plentiful!
Feed the Baby Game Supplies
Jarred baby food
Small spoons
Blindfolds
How to Play Feed the Baby
Split guests up into teams of two.
Let them choose who will be the "baby," and who will do the feeding.
Blindfold BOTH players.
When you say, "Go," the feeder will try and feed the "baby" the food from the jar. Time the teams; the team that finishes their snack fastest wins!
Guess the Candy Bar Game
This next game is not for the faint of heart or the weak of stomach! Yes, ladies and gentlemen, it's the Guess the Candy Bar game. It's one of the classic baby shower games, and if the parents-to-be have a silly sense of humor, it's the perfect and fun baby shower game to play. Here's what you need and how to play.
Guess the Candy Bar Game Supplies
A variety of candy bars, melted
Cheap disposable diapers
Scarves or something else to blindfold guests with
Paper and pen/pencil for each guest
How to Play Guess the Candy Bar Game
Again, this game is not for the faint-hearted! It may be a good idea to check with the parents-to-be beforehand to make sure they're comfortable with this game. If they are, here's how to play:
Take the candy bars you've purchased and melt them. We recommend getting fun-size candy bars.
Pour a little of the melted candy in each diaper. (A different candy in each diaper.)
Line up the diapers.
Blindfold your guests.
Have each baby shower guest sniff the diaper to try and guess what candy is in it. (If your guests are really brave, they can taste the candy — though that's not super hygienic.)
Have your baby shower guests write down their guesses. The guest with the most correct answers wins!
Newsworthy Nursing Bra Game
Extra, extra, read all about it! This next baby shower game is hilarious and lets guests flex their artistic abilities. The Newsworthy Nursing Bra Game is sure to be a hit. This is another one that's easy to plan and doesn't require a lot of supplies. Here's what you need and how to play!
Newsworthy Nursing Bra Game Supplies
Scissors
Tape
Plenty of newspaper
Guests who are willing to have fun and be a little silly!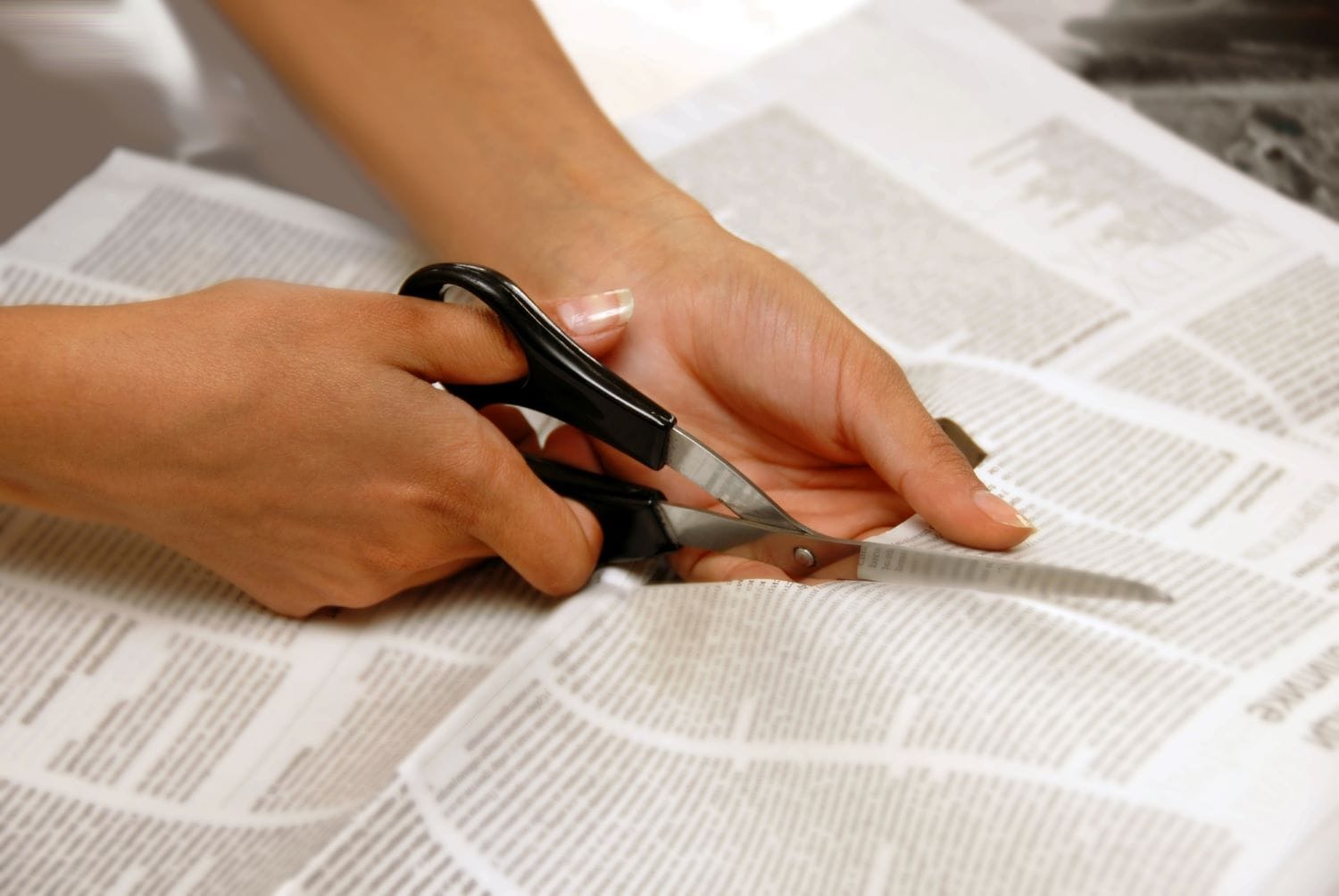 How to Play the Newsworthy Nursing Bra Game
Split your guests into teams. Team size will depend on the amount of guests at your party. 
Teams will then work together to fashion a nursing bra out of scissors, tape, and newspaper. 
When the teams are finished, one lucky team member will model the finished bra — OVER their clothes, of course. This is a baby shower. 
The team that creates the nursing bra that the mom-to-be likes best is the winning team!
Tip: For a really fun spin on this, make a playlist and have team models strut down a "runway" to show off their team's nursing bra.