4 Balloon baby shower games for a super fun Coed Party
It wouldn't be a baby shower without balloons! Sure, using balloons for typical decorations is sweet, but why not spice it up with some balloon baby shower games? They're a super fun way to add a bit of excitement, especially for co-ed baby showers.
These balloon games are seriously funny – they might even have your guests snorting their mom-mosas in laughter! Plus, they won't break the bank since balloons are crazy affordable. So, it's a win-win for your party and your wallet.
Keep reading to find out about some hilarious games that will be a hit with everyone at your party and have them "bursting" with laughter. Let's dive in!
Throw a Virtual Baby Shower so Everyone

Can Celebrate!

• Free Trial – 14-Day Refund for any reason
• Only 1 Minute Setup!
• 80+ Custom Themes & Matching Invites
• Use Any Online Registry
• Send Unlimited Invites and Updates
• Baby Shower Games with Scoreboards, Give Prizes!

Build Your Shower
---
Tinkle in the Pot
This fun game simulates how the mom-to-be has to go tinkle… a lot. It gives everyone the "pregnancy experience" where they have to "tinkle" without being able to see below their belly.
Materials Needed
Balloons
Quarters
Mason jars
How to Play
Gather your gang and have them tuck a balloon under their shirts to rock their baby bumps. Then, get them to grip a quarter between their knees and do the hilarious "waddle" over to a cup. Their mission? Drop the quarter in. Sounds easy, right?
Well, here's the twist – the balloon belly throws in an unexpected challenge, making it way trickier than it seems! And if you really want to up the ante, switch out the quarters for ping pong balls. Those little guys tend to bounce out of the cup, adding an extra level of difficulty. The first one to sink their quarter (or ping pong ball) into the cup is the champ.
This game promises non-stop laughter and unforgettable moments for everyone at your co-ed baby shower. Get ready for some seriously hilarious times!
Daddy Shoelace Race
Here's a game just for the guys at the party, daring them to tackle the challenge of tying their shoelaces with a "pregnant" belly.
Materials Needed
Balloons
Shoes with laces (or shoes and socks)
How to Play
To play, ask the guys in the group to take off one of their shoes, then tuck a balloon under their shirts, just like a pregnant momma. Make sure the balloons are blown up big enough to make it a true challenge. When the signal is given, their mission is to race to put their shoe back on and tie it without popping their "pregnant belly."
If they're not rocking laces, no problem! They will need to put on both of their socks and shoes instead. The first one to finish is the champion. Let the shoelace showdown begin!
Diapering the Baby Balloon Game
This is a hilarious twist on the classic diapering games, requiring guests to diaper a slippery balloon!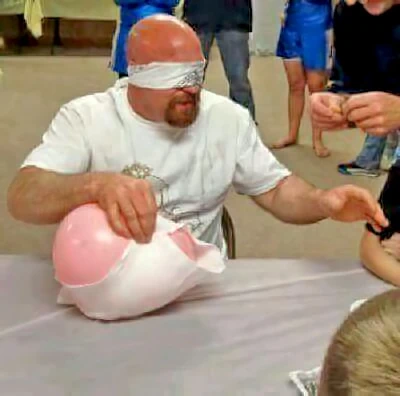 Materials Needed:
Cloth or disposable diaper
Diaper pins
Blindfold
Powder or baby oil
How to Play:
Get ready for a hilarious challenge that puts your guests' diapering skills to the test! To play, each guest will race to diaper their balloon baby. But, here's the catch – they have to do it blindfolded.
During the baby shower, gather your guests along a table, and hand out the blindfolds, balloons, diapers, diaper pins, and powder or baby oil. Once everyone's geared up, give them the signal, and let the diapering race begin! They've got to carefully apply powder or oil to the balloon and then expertly pin the diaper, all without popping their "baby."
But, the challenge isn't over yet. After everyone has finished diapering, the judge will go around and lift each balloon baby up, to see whether the diaper stays in place. This game is a fun challenge that'll keep your guests on their parental-skills toes.
Pop a Balloon and Get Rolling!
Balloon baby shower games are the most hilarious way to involve everyone, especially for co-ed baby showers. We have two versions for you, let's start with the one you want.
Men's Pop the Balloon Relay, let's just take a look and you get the idea. Seriously, imagine 5 husbands in your neighborhood a few drinks.
Pop the balloon using chairs, stools, etc. Co-ed or not. We hope you found some great ideas to get the balloons a-flowing!