Are you or someone you know expecting a new baby this autumn? If you want to plan the best baby shower ever but need fresh ideas, we've got them here! This article offers tons of fall baby shower ideas for the season, including themes, food ideas, and decorations that are all perfect for helping you create a cozy and inviting event that will leave everyone impressed. Grab a pumpkin spice latte, and check this list out!
A Virtual Baby Shower Means Everyone Can Celebrate!
Are you excited about throwing the perfect fall baby shower? Want everyone you love, near and far, to be a part of it? WebBabyShower has the ideal solution. We not only provide the services to help plan and organize the event, but we also have invitation options, game ideas, and helpful articles that explain all the steps of throwing a baby shower. We're here to help make the perfect day even better! Want to know more? Check out our webpage that explains all about how WebBabyShower works.
You might decide to gather a small group of family and friends together for this special day. And you can also include a video call so that guests who can't be there can say hello in person. With our services, it's easy to keep people informed virtually with pregnancy and shower updates. With a WebBabyShower, you can gather the entire family together, no matter the location.
Our website is devoted to making your virtual baby shower the best event ever, so we offer multiple resources to get you planning and on your way. With WebBabyShower, your virtual event is a guaranteed success.
Most Popular Fall Baby Shower Themes
A theme will pull the party together and help it look well-planned. It also creates a fun atmosphere and gives guests something to talk about. Fortunately, the fall season brings with it plenty of exciting baby shower ideas! Here are the very best fall baby shower themes to celebrate a growing family.
September Baby Shower Ideas
In September, it may still be warm and the leaves may just be beginning to change, so you can take advantage of the last bits of summer weather for the event. As long as it isn't raining, you might even choose to host the baby shower outdoors. You can also incorporate late summer colors like blues and reds with some autumn ones like orange, brown, and cream.
Fall in Love
This adorable invite offers a fall theme while including some of the brighter hues that summer is known for.
Pastel Pumpkins
Pumpkins are, of course, popular in the fall, but why not take a classic piece of seasonal decor and create a standout baby shower theme? Pumpkins speak to the autumn season, while the softer pastel colors are perfect for a baby shower.
October Baby Shower Ideas
October is truly the heart of the autumn months. Usually, it's the time that most of us break out the scarves and jackets, so an indoor event is probably the best option. Think hay bales and orange hues for the baby shower decor.
Halloween Fun
It can be fun to mix baby showers with other holidays — in this case, Halloween. This invitation is simple but cute, invoking the Halloween holiday and promising fun times at the baby shower! It will let your guests know that autumn is what the day is all about. You can easily create a Halloween theme by decorating with pumpkins, ghosts, scarecrows, and black cats. The key is to make sure the overall tone stays cheerful and cute.
Apple of My Eye
Nothing says fall like apple picking, so why not create a baby shower theme to reflect that? This "apple of my eye" banner on tan material is the perfect fall baby shower idea. When you hang this on the wall, it's easy to decorate for the rest of the party. A cute checkerboard tablecloth, some pumpkins, and a basket of apples will set the scene nicely. Another way to incorporate this theme is to use red balloons that match the color of the apples. It will help the party look bright and festive.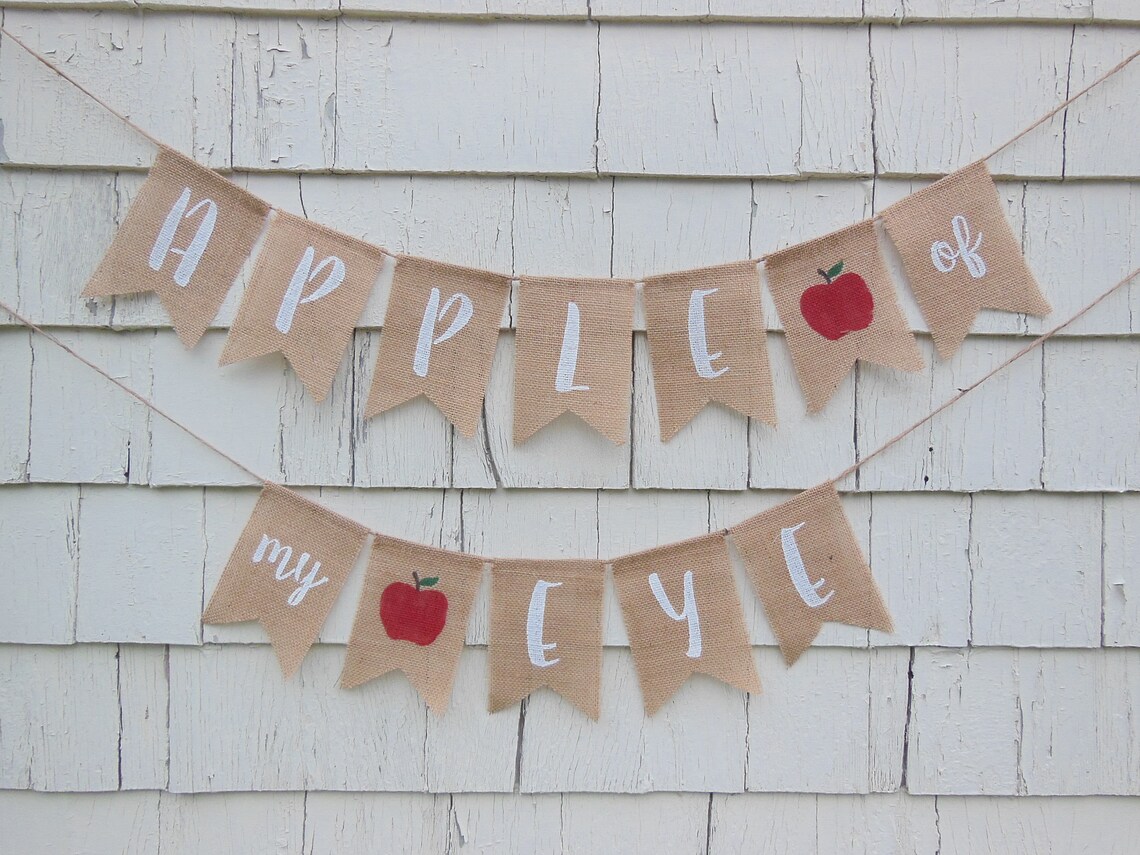 November Baby Shower
November possesses all the best parts of fall while also preparing us all for the long winter ahead. You may start adding in deeper colors like browns and purples for the color palette. You can also get away with a winter-themed baby shower at this point in the year. Here are some cute ideas for a November baby shower.
A Sweet Shower
Picture this: a rustic wood table piled high with autumn desserts like candied apples and miniature pies. This setting is perfect for November, as you can savor the last bit of the season while also celebrating a new little one.
Happy Thanksgiving
Thanksgiving is one of the best parts of November. If you love this holiday, plan for the baby shower to feature a Thanksgiving theme. For dessert, set out an adorable cake with a cute turkey cake topper and a circle of sunflowers. Notice the colors are more pastel than bright, which works well for a baby shower.
WebBabyShower Themes
WebBabyShower makes things easy for you to plan with our ready-made themes! There are so many to choose from, including animals, planets, rainbows, and more, and you can sort through different colors if you've already found the perfect palette. With a WebBabyShower, you have the chance to design something original without starting entirely from scratch. Find your perfect theme on our website.
As autumn weather turns colder, you might also consider a winter setting for a baby shower. We have a great article discussing ideas for a Winter Wonderland Baby Shower. It would work well for an event towards the middle or end of November. From snowflake decor to pajama parties, the article has some adorable options for baby showers thrown during cold weather.
Fall Baby Shower Food Ideas
Fall is well known as a season of incredible food, and we found some ideas that don't disappoint! The chill in the air calls us all to warm and cozy dishes that bring comfort, including a few favorites that will definitely wow any baby shower guest. Not only this but many of these delicious treats can be packaged up and sent out to guests if you opt for a virtual or virtual/in-person combo. Here are the very best flavors of the season!
These cranberry brie pecan wheels are a show-stopper. They're the perfect easy appetizer that your guests will keep coming back for. Make sure to make lots of extras!
When you want more of a main course item, try this bacon cheeseburger slider bake. This dish is comforting and delicious, and it will keep hungry party-goers happy at a fall baby shower.
What has more autumn vibes than the one and only pumpkin spice latte? This sweet treat is the perfect drink addition to your menu. Try making decaf and regular lattes, so guests can choose what's right for them.
Since pumpkin is the flavor of choice for fall, a pumpkin sheet cake could be the perfect baby shower dessert. It looks impressive, and it's an ideal way to celebrate the season. Plus, it's an easy dessert to make for a gathering.
Mini pumpkin pies aren't just cute; they make it easy for each person to have just the right amount of dessert. And, it's a fun way to incorporate a traditional fall staple that looks fantastic.
If you want a healthy option, try cranberry chicken salad on apple slices. It's a light appetizer, it looks pretty, and the apple flavor definitely says autumn. Your guests will appreciate this snack — don't be surprised if you get asked for the recipe!
How can so many good things be in one dessert? These Reese's apple nachos are the ultimate appetizer for a baby shower — or any party. Your guests will be back for seconds without a doubt. These also look nice on a dessert table and can add to a baby shower's fall theme.
Fall Baby Shower Decorations
Go ahead — get carried away by all the sweet and fun autumn harvest decoration ideas here! These are perfectly themed for a fall baby shower and include orange, cream, brown, and green colors. Your decorations, whether they're for a virtual or in-person shower, will make a huge difference. You can decorate an entire venue if guests join you for the event, or you can simplify things by decorating one wall as a background for a virtual baby shower.
Woodland Decor
Here's an idea that works well with fall and follows its own creative theme: woodland decor. Pinecones, small trees, and pink flowers grace the scene, complete with a dessert table piled high with fall foods. This theme's colors are very gender neutral, so you can add in whatever hues you'd like to make it unique.
Little Pumpkin
This one is especially great for October. Welcome the new little pumpkin with a banner, orange balloons, a blue-checkered tablecloth, and vases full of pumpkins. It's colorful and traditional while still being surprising and fun. Note the glass jars with decorations and the sunflowers that are on display with the balloons. The decor has detail, but it isn't overwhelming, making a perfect setting.
Mom-osa Bar
Every parent should be celebrated at a baby shower! Honor your mom attendees by creating this cool Mom-osa bar! This theme chooses a neutral palette of white and gray mixed with sage green and soft pink. The best part? Adorable wooden coasters for cups and decorations. A beautiful bouquet of flowers and a tiny chalkboard dress up this table and give it a little something extra.
Autumn Guest Favors
Friends and family will remember your fabulous fall baby shower with the sweet favor you give them. Themed presents add that extra flair that takes a party from good to great. From snacks to pumpkins, find the best options for thanking your guests here.
Pumpkin Favors
It's the most popular item of the harvest season, and it makes the perfect favor, too! Sprinkle some gold glitter across the top of a mini pumpkin, and add a sweet thank you note.
Tiny Pies
Pies are the go-to food for autumn, so why not give guests pies in tiny mason jars? It's a sweet treat your guests can enjoy later, and if they reuse the jar, it will remind them of the beautiful memories created at the fall baby shower.
Candy Corn Baby Bottles
Candy corn is another favorite for fall. Give your guests a snack for later by gifting them with a candy corn baby bottle! It's a super cute way to celebrate the new little one.
Save S'mores for Later
Miniature s'mores are a surefire way to impress the party-goers. Everyone loves this dessert, and making it miniature creates the perfect baby shower party favor. Place s'mores in small plastic containers for safekeeping, and attach a note thanking guests for attending the shower.
Takeaway Treats
For a refreshing treat, serve apple cider and a donut to guests on their way out. Place the cider in a small glass jar, and add a straw and a cute fall sticker for the perfect thank you gift.
Warm Wishes
Since the weather is getting colder, what about a warm throw blanket for each attendee? You can attach a thank you note letting them know how appreciative you are that they shared this special day with you. They'll be happy with such a thoughtful gift.
Throw the Perfect Fall Baby Shower
A baby shower celebrated in the fall months can be especially fun and inviting. It's a favorite time of year for many, and since it's such a joyful occasion, it's even more exciting! Use the autumn colors, great dessert ideas, and cute themes found in this post. From invitations to party favors, everything you need is included in this guide. Remember that WebBabyShower is here to help you plan your party and celebrate with loved ones all over the world.
Did you enjoy this list of fall baby shower ideas? What's your favorite way to incorporate a baby shower with the changing seasons? Be sure to look at more of our helpful articles before your next baby shower!