A baby and a new pregnancy come with lots of questions for both parents and host. Questions of baby shower etiquette are usually among the first that you will face. Of course, the other one we think about is why they call it a baby shower anyway? But that doesn't help with etiquette. Fortunately for you, things have changed in the baby shower world, it's 2021 and the modern parent has lots of options!
There are about a million ways to be a great parent and just as many variations on throwing a great baby shower. And as experts who have hosted thousands of baby showers, you can be sure that our advice on shower etiquette is tried and true. This handy guide will help you navigate the new, modern rules to creating a fun baby shower everyone is sure to love. Our article provides information and etiquette rules like who pays, how long they should be, what is the average number of guests and all the rest.  (but if you're looking for an alternative to a baby shower here's 9 ideas)
Skip Ahead to our Individual Tips for the Guest of Honor
Baby Shower Etiquette Tips for the Guest of Honor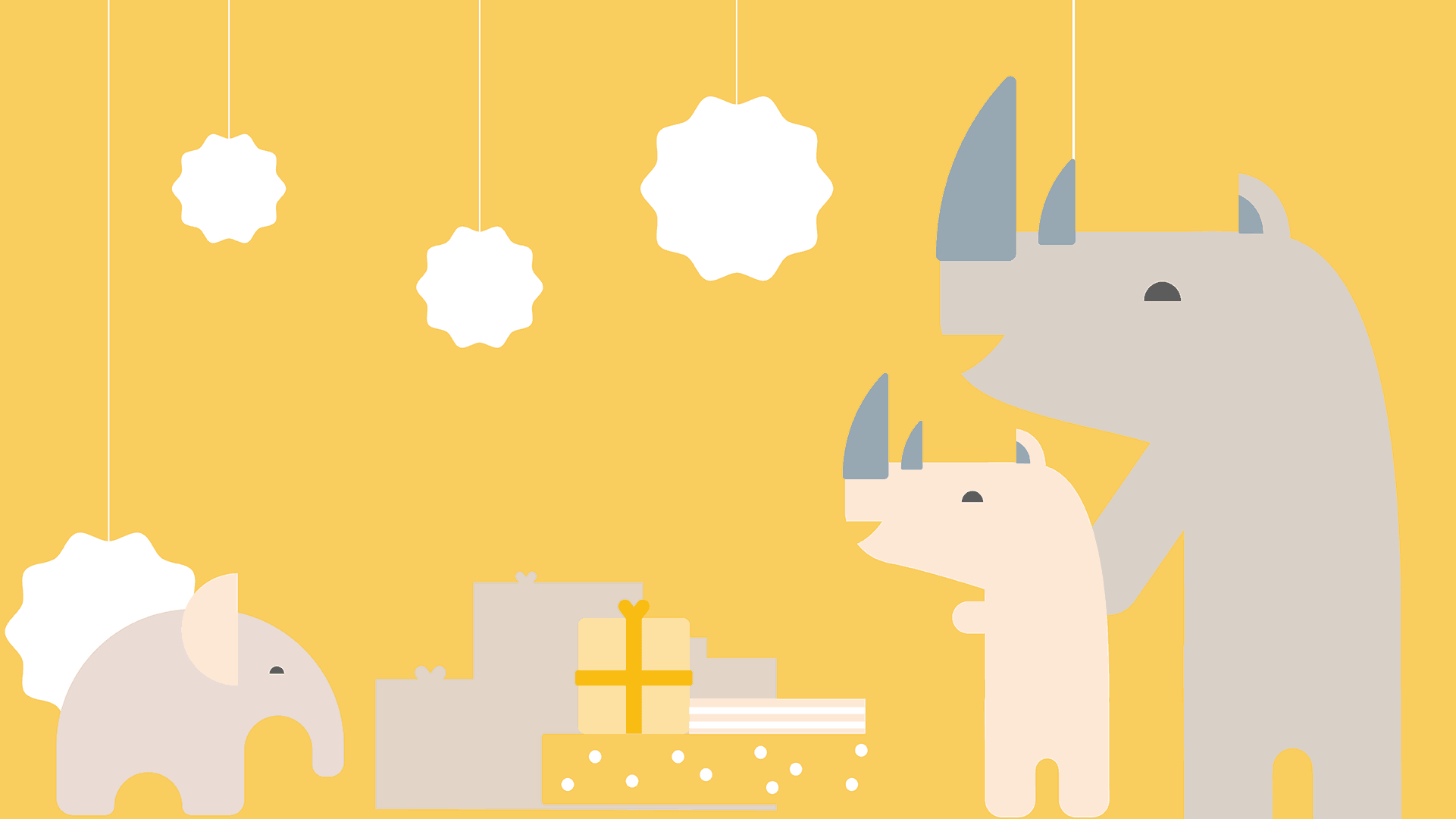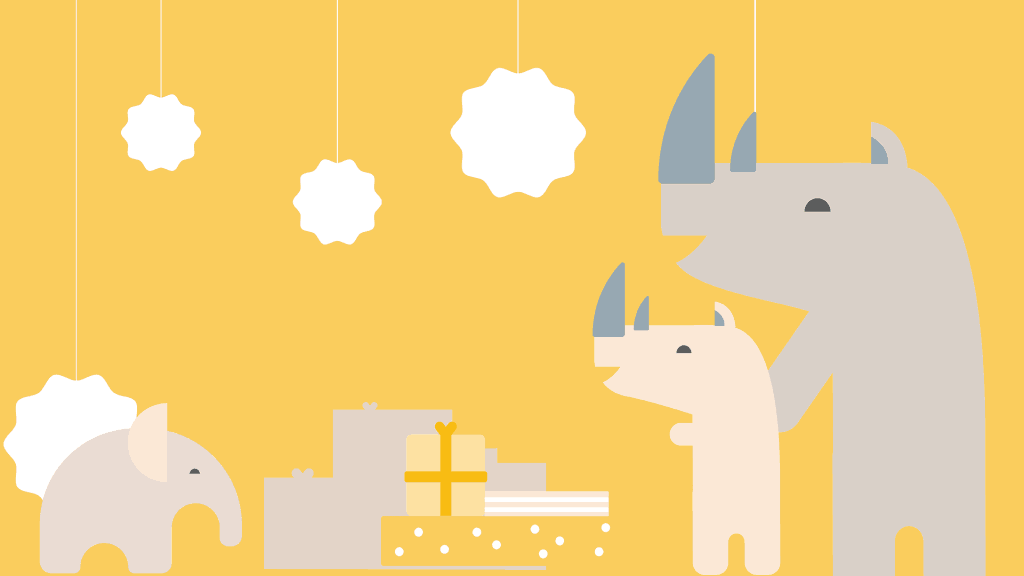 In this article, you will find all our etiquette tips and tools for any expectant parent or baby shower attendant. When it comes to baby shower planning, baby shower hosting, or simple attendance of a baby shower, it is a process that is so deeply rooted in tradition that it can be difficult to know what the rules are and how to act. Keeping up with any potential faux pas at this celebration can seem quite difficult at times.
This is precisely why we have written these tips on etiquette for both the host and expecting mom. Not only will we verse you in everything you need to know about traditions and social considerations, but we will also tell you what you need to know to create a fun and rewarding experience for everyone involved. The perfect shower is possible, it just takes a bit of care and work!
#1 Who should host the baby shower?
Traditional: Rules say that a close family member or friend must be the baby shower host. You can certainly follow this simple rule but a great idea is to think about the reasoning behind it. Ask someone to host who you feel comfortable with, even if that's a person who falls outside of the traditional rules. If you have a closer relationship with a parent, neighbor, or even yourself, feel free to ask that person to host.
Modern: When you move to online, who hosts, when it happens, and who pays, and especially how long they last, all become very different questions. We find most WebBabyShower are purchased by an expecting mother or grandmother to be but often managed by friends and family as co-hosts. Our simple system for any host makes it easy to email and invite people to help out 'behind the scenes'.
Basically, we are set up to help you run your baby shower your way. At the end of the day, baby showers should be great experiences for everyone involved. For this reason, the expectant mom can have anyone she wants to host. While it is "traditional" to have a close friend or family member be the host, that tradition was probably only started in the first place because it makes the most sense.
#2 Can I throw my own baby shower?
This is becoming more and more common, with more than 50% of virtual baby showers using our services being hosted by a parent-to-be. This is an area where the traditional rules are quickly changing in favor of flexibility. A virtual baby shower is a perfect way to allow everyone to participate in welcoming a new baby, and since it's not in your house, baby shower etiquette becomes much more flexible. Go virtual to include EVERYONE and make it a truly inclusive baby shower.
Of course there are so many types of baby showers, so this will also help you decided whether you want to throw it yourself or not.
Once again, it is all about what is most convenient and what works for everyone. Virtual baby showers simply offer the new parent more options and more flexibility when it comes to planning the party and deciding who is the host. Therefore, it often makes more sense for them to host it themselves. We are all about freeing people from the judgment associated with the "traditional" shower. So if you want to host your own shower, go for it!
#3 When should the baby shower be held?
Traditional: There are a few things to think about when selecting a date for your baby shower. You want to be far enough in your pregnancy along to enjoy the baby-themed treats, sharing names, and games. Many parents wait until they find out the gender of their baby so that they can incorporate it into the baby shower theme. But, you also need to consider how comfortable you will feel at the end of your pregnancy. Shutterfly recommends having a baby shower sometime between the sixth and eighth month of pregnancy.
Modern: A virtual baby shower is typically 'held' over the course of a few weeks and offers incredible timing flexibility. This allows for maximum participation from guests, as they can sign in to leave a heartfelt message, play games, or share photos throughout the duration of the shower. You can incorporate a zoom baby shower with an in-person no problem.
This is typically a much easier way to get around the problem of scheduling conflicts, as so many people these days have very tight schedules. This creates a more welcoming environment for both the host, the gift giver, and the guest. If people aren't able to make the live event, they can still show their support, or offer a baby gift at their own convenience.
do I to Give a Baby Shower Gift if I'm Not Attending?
There's less of an obligation if you are not attending the event to give a gift but if you want to send a present and not attend go ahead, just send it before the baby shower so they have it in time.
Most showers have a live video chat element that is scheduled and this is both much easier to fit into everyone's weekend plans and your invitation list just changed completely! BFF just moved to Iceland? No problem.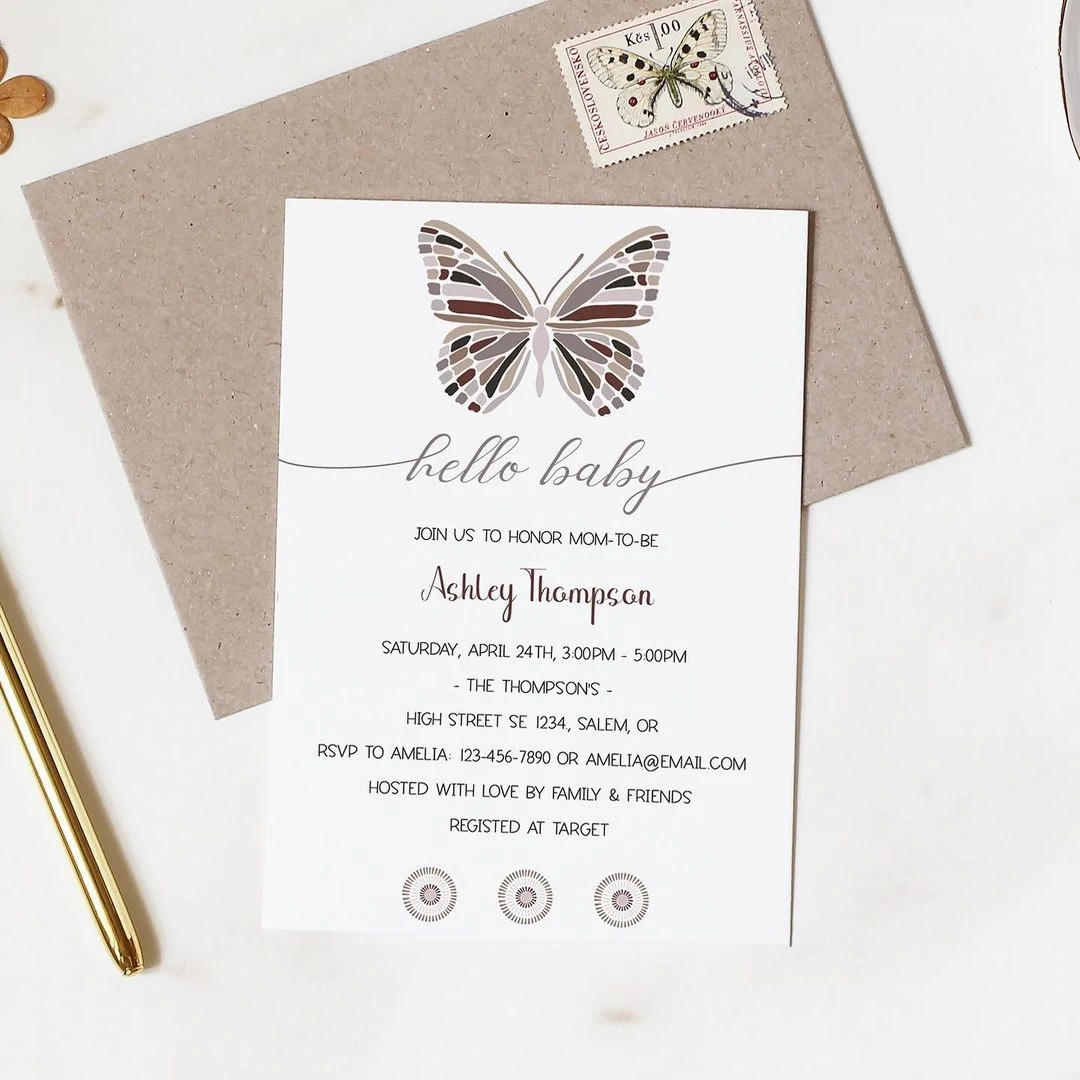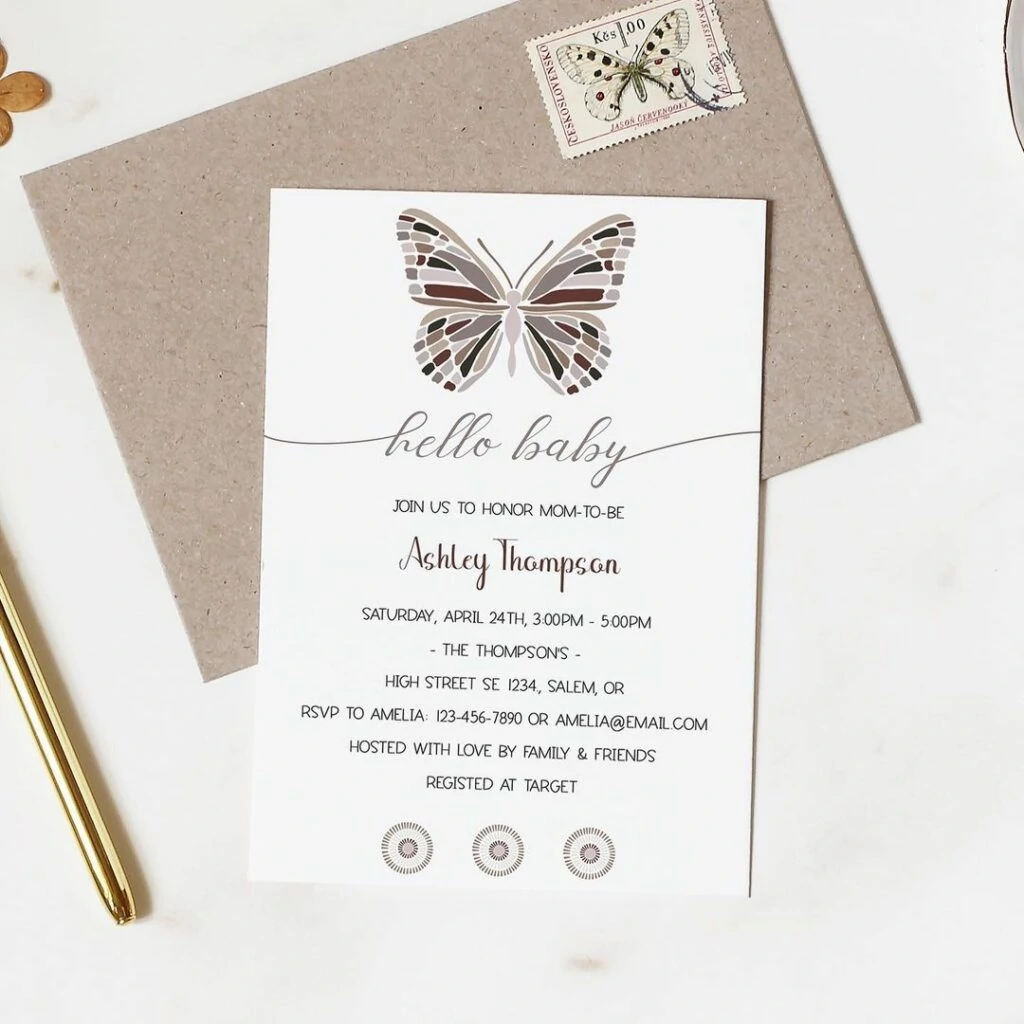 #4 Baby shower guest list– who should be invited?
Traditional: Start by making a list of people who you want to be a part of your baby's life. Close family and friends are a great place to start. You may be limited by space at your venue, so have that in mind when you think about the guest list length.
Modern: The guest list changes completely. Can't feed 119 people? No problem. A modern baby shower can even include family members and friends that are in remote locations or far away. Virtual baby showers provide the tools to allow out-of-town guests to participate, either through games, photos, timelines, guest books, or tuning in to a live feed of the shower. Invite everyone you want and skip the baby shower etiquette 'who gets invited' game.
Basically, virtual baby showers vastly increase the potential size of your shower. It's real simple – you can extend a shower invitation to as many people as you want. And since anyone is free to drop in and out at their own convenience, scheduling issues will become a thing of the past.https://webbabyshower.com/guides/out-of-town-baby-shower/
#5 Baby shower registry guide for gifts
Online registries are a new mandatory part of celebrations. If you're undecided, check out our article on the best baby shower registries including universal ones, which might surprise you.
Critics argue registries are akin to asking for gifts. But remember a baby shower is designed to shower mom and dad with love and help them prepare for a baby. The vast majority of your friends and family appreciate being directed to a specific registry list of what gifts will help the parents-to-be the most.
Registries also make it easy to ship gifts directly to the recipient, something that most people will appreciate. Parents.com recommends including registry information somewhere other than the invitation and not pressuring anyone to only use the registry when selecting a gift. WebBabyshower.com makes this easy as we have a dedicated page just for Gift registries!
Registries are also a practical tool for parents-to-be to use. Many have suggested registry lists of gifts that will help parents make sure they are prepared for the baby's arrival. Most offer discounts on items and gifts that are left on the list; this can be a huge financial help to parents-to-be who may still need essential baby gear and gifts off the registry after their shower is complete.
So next time you are hesitant on whether or not to include a registry for gifts, remember that it actually makes things more convenient for your guests. If you worry that you are asking too much, consider opening up your registry to some more inexpensive options.WebBabyShower has the option to add any online gift registry you want to your virtual shower or remove them completely. Looking for the most popular baby shower gifts, we've got that covered with real-life examples of registry items.
#6 To unwrap or not, that is the etiquette question: opening gifts at the party
Baby clothes and gifts are just the cutest! Everyone loves to see the adorable onesies, tiny socks, and little toys. Should you plan on opening the gifts at the party for everyone to fawn over? It depends, lets get into your baby shower gift etiquette questions.
If your shower is a small or even medium-sized affair, mom should go ahead and open presents if that's how you want to celebrate. For large groups, unwrapping presents at the actual shower may present a logistics challenge for both the expectant mom and the host, and some people choose not to open gifts at the baby shower. If you are hosting a virtual baby shower, opening presents is still possible and oh-so-much fun. Ask guests who want to send gifts to do so ahead of the event to shower the mother-to-be with love and gifts, with the instructions to wait to open them until the live event. You will love the anticipation that builds!
Etiquette for the Baby Shower Host
#7 RSVP 101
Traditional: Hosting a baby shower? You should expect to get the RSVPs from guests. Make sure to provide your contact info, whether phone, email, or both, to make it easy for guests to let you know if they are able to attend. Virtual baby showers or showers using electronic invitations make it easy for guests to mark if they plan on attending. It also makes it easy for you as the host to keep track of who to expect. Services like Evite, Minted, or Paperless Post have a variety of adorable electronic invitations!
Modern: Baby Shower RSVP sending is built right into the system, you can send great designs right from your account with our email tracking feature, or use your personal email, it's super easy and completely up to you.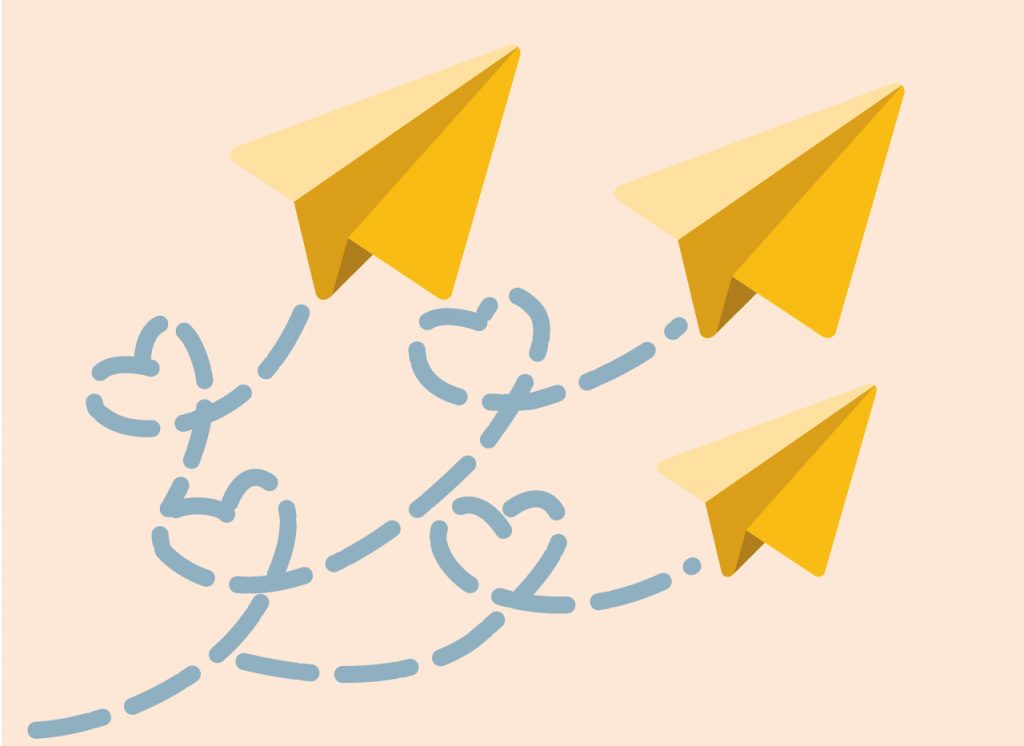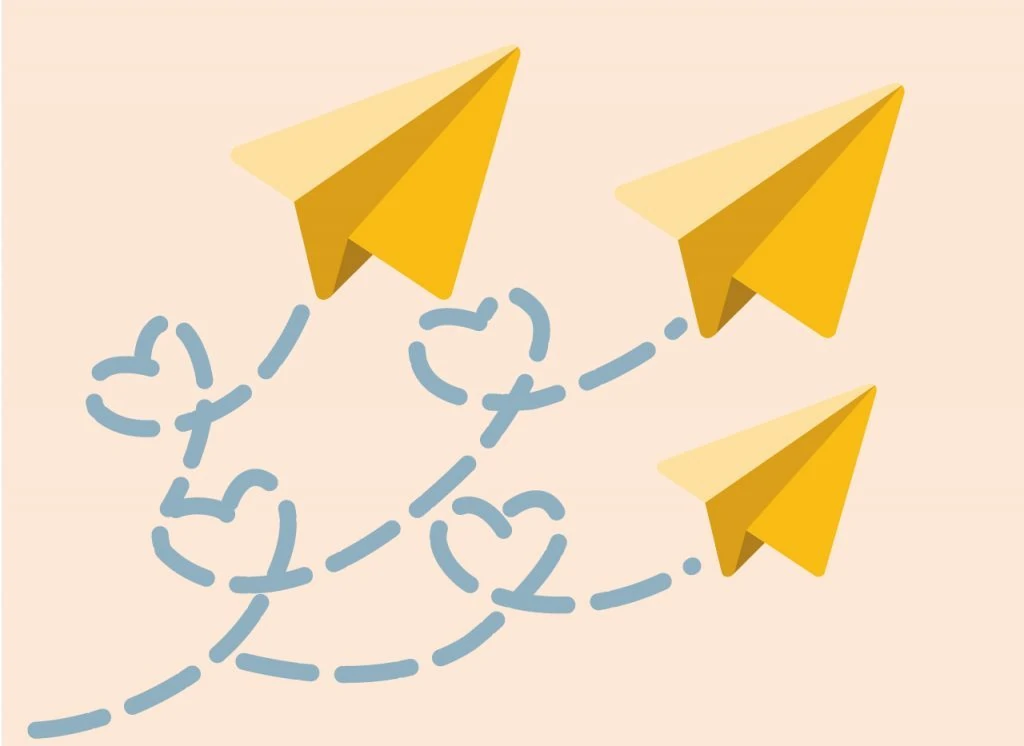 #8 Baby shower invitations
Traditional: Invitations are the first thing that your guests will see about your shower and offer the perfect chance to set the tone for a fun and festive event. You can choose to send paper invitations, electronic invites, or a hybrid. Sites like postable.com allow you to select and customize your cards online, then do all the work of getting them in the mail for you.
Need some inspiration for just what to write in your invitations? Check out our guide for more information on the perfect baby shower invitation wording.
Modern: Baby Shower RSVP and invitations are all wrapped into one service, though you'll still be in charge of your baby shower invite wording if you want to get flowery. (we tend to go with 'Having a Party!' lol). Basically, your shower invitation is as simple or creative as you want!
Want to know when guests are participating in games, uploading pics or videos? You can get alerts for that as well.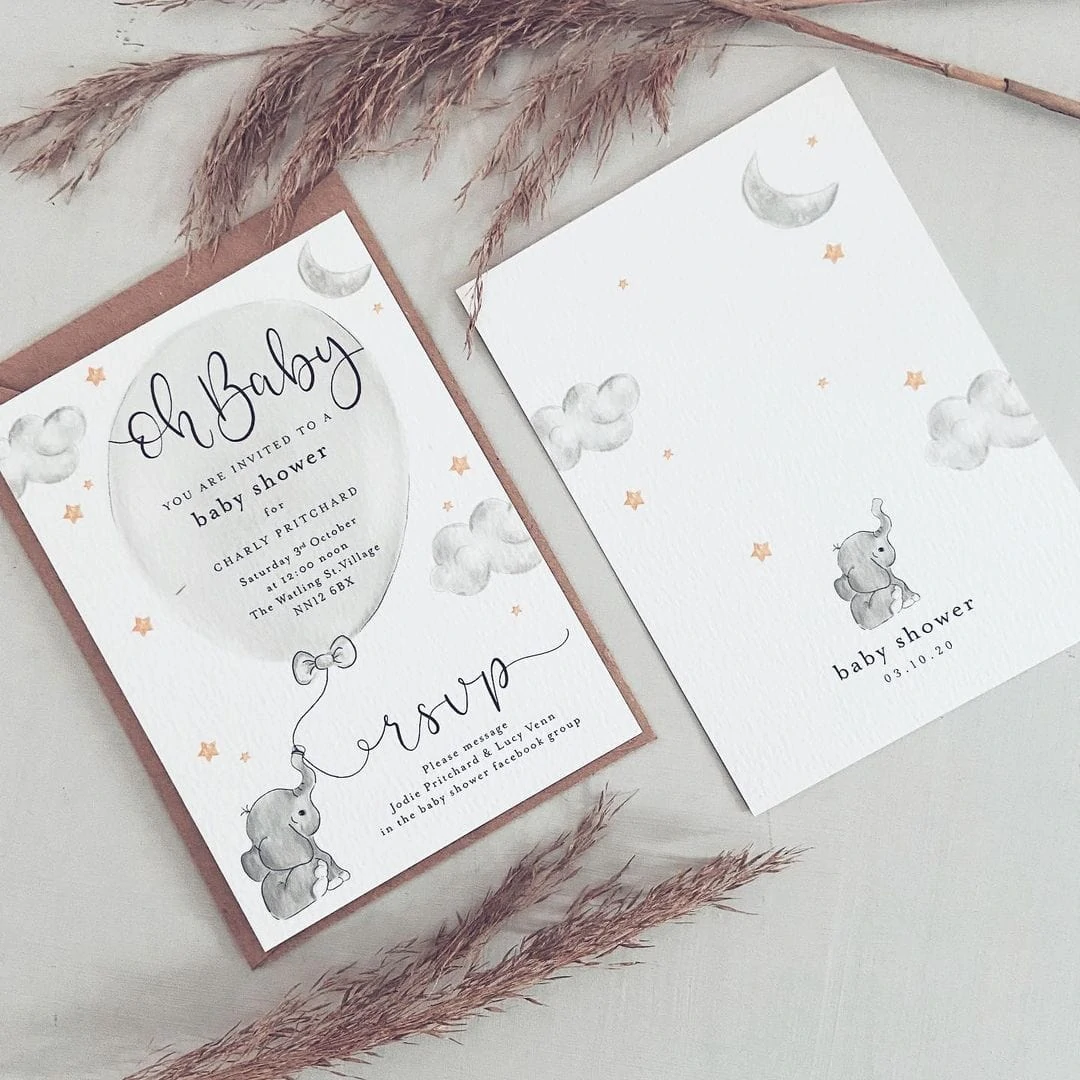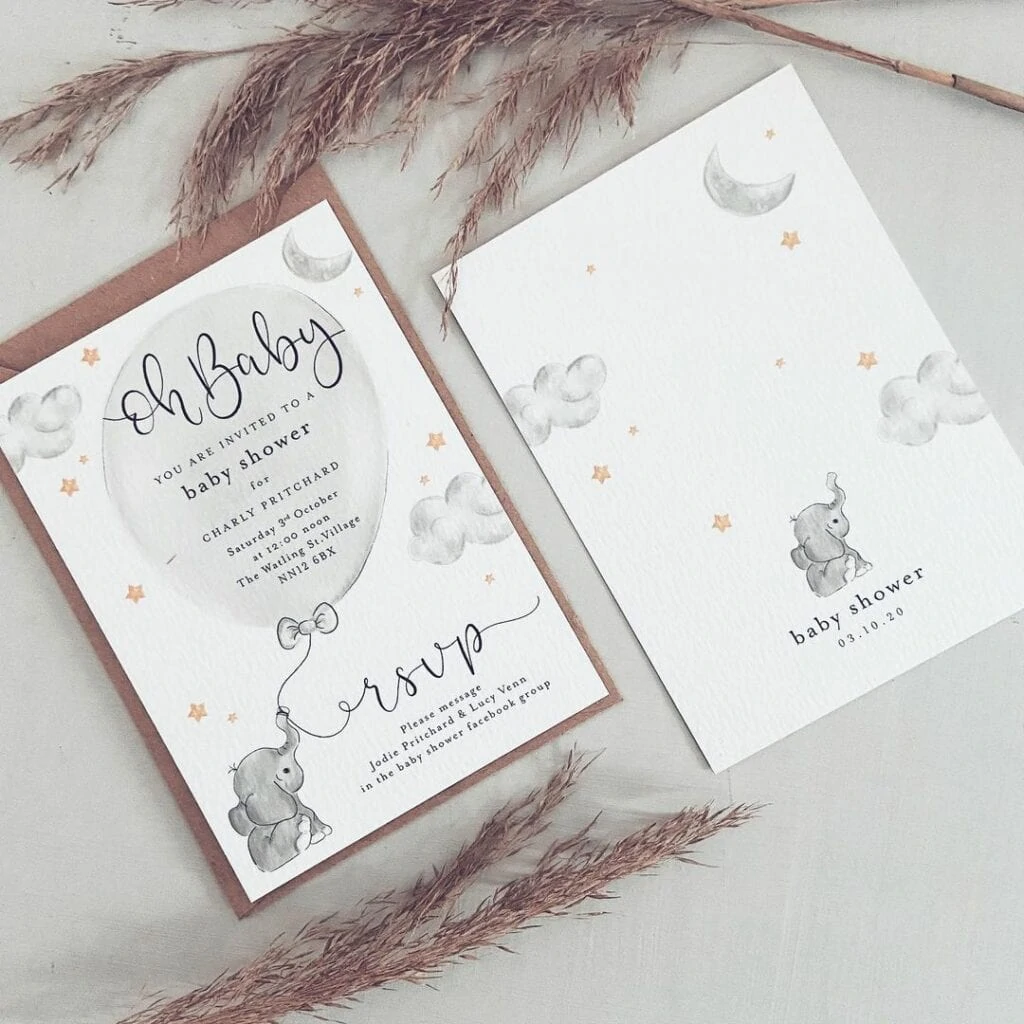 #9 When should I send the baby shower invitations?
Traditional: When to send baby shower invites? We recommend sending out your invitations four weeks in advance of the event, Thebump.com does as well. One month allows guests enough time to make plans to attend and is a guide to when the baby shower invites go out. If you're wondering when to have a baby shower, we've got you covered. Then, just walk the invite send the date back from there.
Modern: A web baby shower can be a little bit more flexible, as guests are able to log in over the span of days or weeks to participate. However, keep in mind the response to email invites is often immediate! So send them when you are ready, not 'about to be ready'. Any event with a live portion, whether in-person or virtual, should include invitations sent out with enough notice for guests.
#10 Food and bevies at baby showers
Food and drinks are a great place to showcase your baby shower theme. Whether you serve light bites or a full meal, let your creativity shine through with unique recipes! Delish.com has great recipes for appetizers that your guests are sure to love while they mingle and enjoy the party. Not sure if you should serve alcohol at a baby shower? If that's something that your guests will enjoy, go for it! Just make sure to include a few tasty mocktail recipes for those not indulging and you are sure to have a great time.
#11 Should I choose a theme?
Traditional: This is entirely up to you and the parent(s) you are hosting for; consider what is fun for you and for mom to put together. If you're having fun, so will your guests. Popular theme choices include jungle themes, safari animals, and, of course, elephants! If you'd like to use a theme but aren't sure where to start, you can purchase a package that has all of the things you may want and need– such as decorations, plates, and games.
If you're not into themes, don't feel like you have to force it. As long as you have a fun environment full of love, your party is sure to be a hit.
Modern: Themes are alive and well and easy to edit. No standing on ladders required!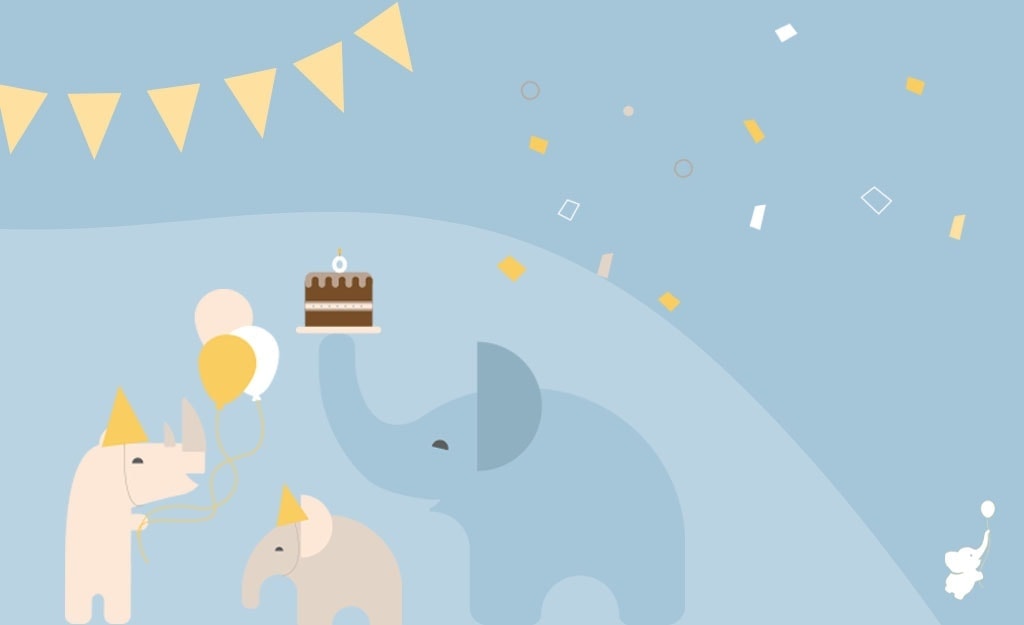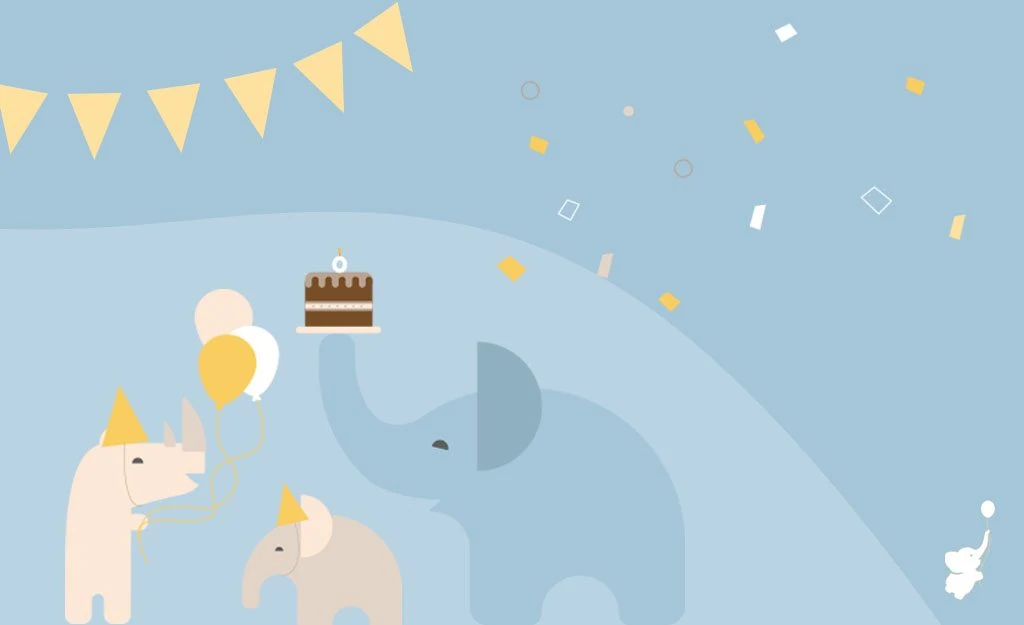 #12 Is it okay to throw a baby shower for a second child?
Traditional: New babies are always something to celebrate and a baby shower is a great way to do that. A baby "sprinkle" is becoming a popular choice to celebrate a second baby. With a smaller event, the focus can be on the parent(s) to be and their new baby. Instead of gifts off a registry, invite guests to bring meals for the freezer or gift them with babysitting or housekeeping help after the baby arrives.
Modern: Virtual baby showers are another way to keep the focus on family and close friends who are eagerly anticipating the baby's arrival. If you do want to throw a full, traditional baby shower for a second or third child, go right ahead! Any way that celebrates the pregnancy and arrival of the new little one is perfect.
#13 Is a surprise baby shower a good idea?
If the mama to be likes surprise parties, a surprise baby shower is a great opportunity to throw an epic event while letting mom-to-be relax and enjoy her pregnancy. A virtual baby shower can also be a surprise. Have guests send gifts ahead of time to the host, rather than the mom and dad. It's real simple – when it's time for the big surprise, all the host needs to do is bring the gifts over and let the party get started!
#14 What happens during the baby shower?
This is another question that is left entirely to the host and parent(s) to decide. Popular activities include playing pregnancy or baby-themed games, enjoying food and drinks, opening gifts, and just enjoying the company of friends and family. The important thing to remember is to have fun. Whatever helps your guests, and most importantly the parents-to-be, having a good time is a great baby shower activity.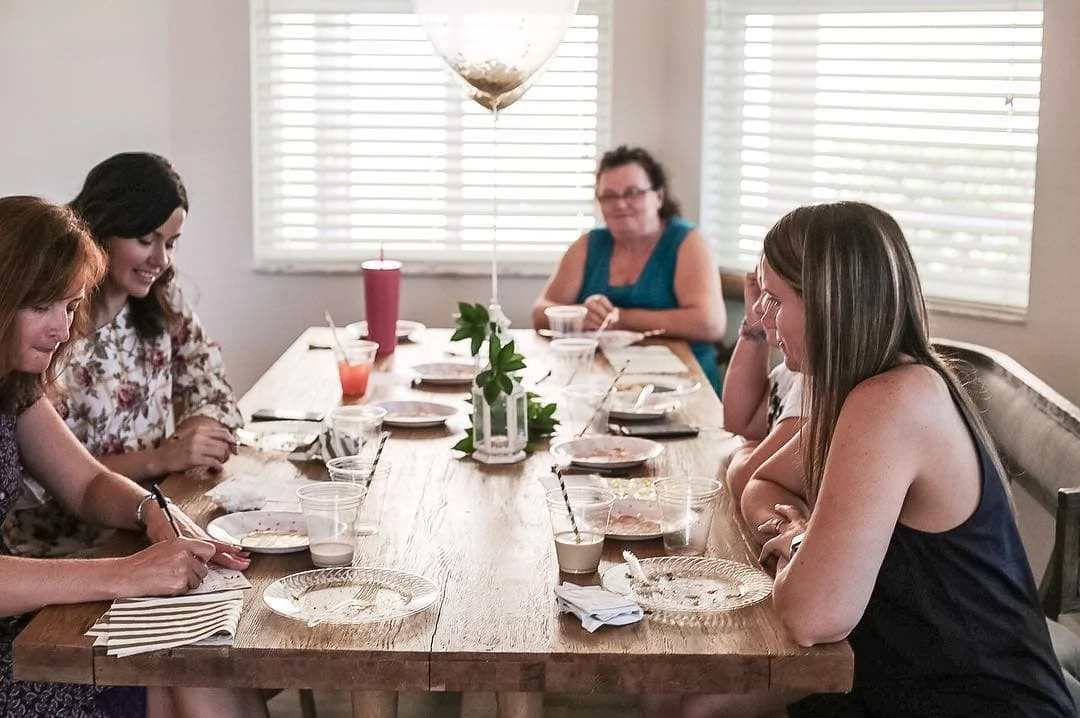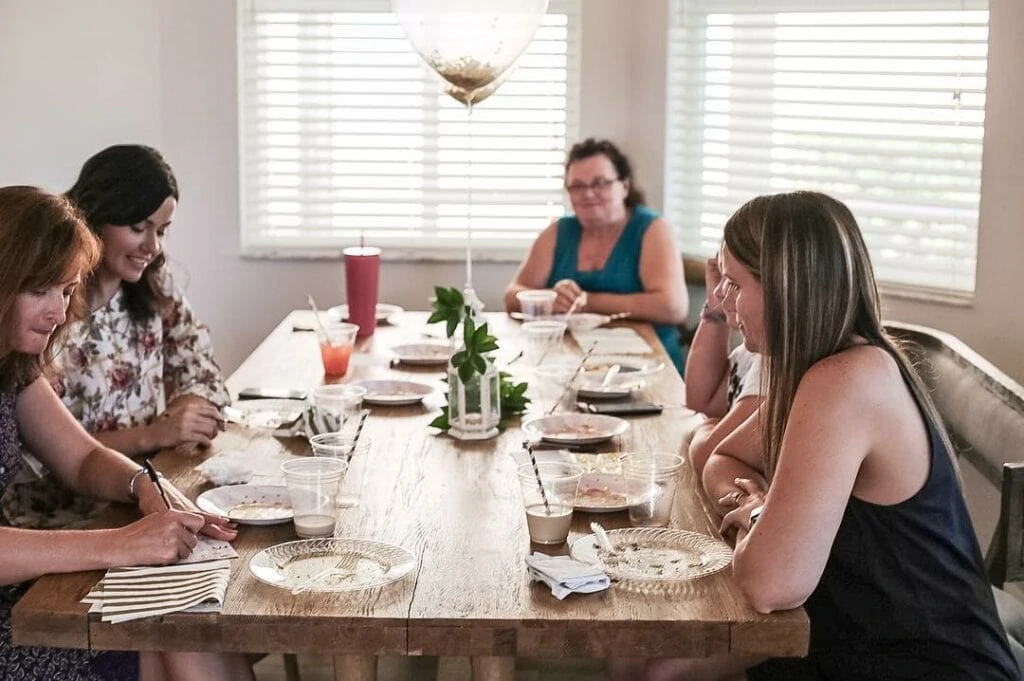 #15 Baby shower games
Many of your party goers will expect to play some games at the shower. But don't feel that you are limited to the "traditional" baby shower games if they don't seem fun to you and you don't want to play them. Any party game, such as charades or trivia, can be given a special "baby" spin. Fit Pregnancy has a list of fun games guaranteed to have your guests laughing. And we've got some printable games to get you started.
Make sure you check with the mom-to-be about what types of games she would like to play. Not all pregnant women appreciate guests using string to guess how big their belly has become or guessing baby names. Just like with most aspects of a baby shower, the most important rule of etiquette to follow when it comes to games is to have fun!
WebBabyShower has six ready-to-play games on the platform, you can toggle these on and off too if you want everyone playing the same game at the same time or to extend your shower for days. WebBabyShower also has fourteen printable games ready for you to play along with six interactive slideshow games perfect for in person and virtual events.
#16 Thank You notes
Thank you cards are always important, whether virtual or paper it's key to make sure friends and family members know that you appreciated their attendance especially if they live far away. Thank you notes can be simple but we suggest you make them personal and mention any baby gear or gifts the recipient may have given you. Stuck on what to say? Check out our thank you card examples here.
Baby Shower Guide for Guests: 4 Things Not to Do!
#17 Keep your hands to yourself – Pregnancy Etiquette
One of the most awkward and frustration-inducing scenarios for an expectant mother is the unwanted belly rub. Maybe she's self-conscious or not feeling well; maybe she's just plain uncomfortable during her pregnancy and does not want to be touched. No matter the reason, take care and assume that the expecting mom would rather not be touched unless she invites you. The same goes for comments about the size of her belly, including any that compare her to a large animal, no matter how cute. Trust us on this piece of etiquette advice, if you don't believe us, just check out our pregnancy shaming interviews, we asked real-life moms about these issues!
#18 Breastfeeding talk
Planning on nursing? Formula? On-demand? Mom-to-be has probably thought through all of these things, but that doesn't mean she knows the answer. The reality is that it will depend on a lot of factors and information that she may not know yet, including her delivery, her health, the needs of her baby, and her own needs.
If she wants to share her thoughts on the subject, listen as a friend and supporter. If expectant parents want to share, they will. Otherwise, take our etiquette advice and just let their personal choices remain personal.
#19 So, when is the baby getting a sibling?
Many people may be curious about mom and dad's plans to expand their already growing family. It's such a fun thought to imagine little tots running around. But it may be something that the new family doesn't have planned out yet. Most parents, especially first-time parents, are probably just getting ready to welcome one new bundle into their lives. Let mom and dad take it one baby at a time.
#20 Parenting advice for a new mom
If you're a parent now, remember the feeling you had when you were about to be one? Excitement, fear, general overload? One of the most basic rules of etiquette is that offering unsolicited parenting advice is a general no-no but is especially unwelcome at a baby shower, it's a party, not a stress-fest. Even WebMD warns others of giving parenting or pregnancy advice before they are asked.
If mom or dad asks for advice, feel free to give it. But be wary of overloading them with all kinds of scenarios, information, and advice that they may not want. Every baby is different and every parent has to make their own decisions regarding their parenting choices. The best thing you can do is shower everyone with love and support.
TOP TIP for Baby Showers: Consider the Mother
Before we wrap up this article, it's important to draw attention to our one single best piece of etiquette advice for planning your baby shower. You may have noticed it as a running theme through this article, and that is that your number one priority should be the preferences of the person who the party is actually for – the expectant mom!
These tips and tricks on baby shower etiquette are great as guidelines, for knowing the best way to throw a party, or for understanding the common practices that people expect. However, when it really comes down to it, it is all about creating an enjoyable experience for the mother during her pregnancy. That being said, a major consideration for the mother may be in ensuring that all the guests are happy!
We have written this article as a general set of etiquette rules and guidelines to make your decision-making process easier, but don't forget to put your specific circumstances into account first. So sit down, think about what you are really wanting to get out of your baby shower, and use that to guide your decisions!
Conclusion: Etiquette at Baby Showers
Thanks very much for reading our article on baby shower etiquette. As you can see, it is difficult to pin down "traditional" etiquette anymore, as things constantly change. And while the above is a set of commonly accepted practices, it is really just about creating a great environment for yourself and everyone in attendance. Was this list helpful in answering your baby shower etiquette questions? Whether you are the parents to be, host or hostess, or a guest, you can be sure that our tips will help you feel comfortable and confident at your party. If you're the grandmother, check out our baby shower etiquette for grandmother article for more specific info. After all, we've hosted all kinds of baby showers! Ready for your modern, virtual baby shower? Sign up to get started planning the party of your baby-filled dreams!