You may know the awkward feeling that comes with buying presents for a baby shower and the uncomfortable feeling you might get when mom-to-be is opening presents and you're comparing yours to everyone elses . What to buy is part of it, but there's also how much to spend on a baby shower gift. Many moms open presents at the party, which can make things uncomfortable if you are unsure of how much to spend or what to buy. You might also have questions about group gifts or unique present ideas.
The No.1 market leader in online baby showers, WebBabyShower understands the ins and outs of baby showers. In this article, you'll find advice for how much to spend, who pays for a baby shower, what big-ticket items to buy, and more. Here's our guide for deciding what amount is appropriate to spend on a baby shower gift.
How Much Should I Spend on a Friend's Baby Shower Gift?
This is the big question. If you're attending a baby shower, it's customary to bring a gift. It's difficult to decide how much to spend, though. How do you know what is appropriate to spend? What is the average amount? Here are some things to consider:
How close is the friend? Typically, if it's a close friend, you'll spend more than if the parent-to-be is an acquaintance. If you've known this person for many years, they may expect a bigger present. However, some other things matter, too.
Is this their first or second baby? If your friend is having their first child, they'll need all kinds of things for the newborn, so they might appreciate a more expensive present. However, suppose it's their second baby. In that case, they'll probably already have a lot of the big-ticket items like a stroller and a crib.
Do they have a registry? A registry is beneficial because it tells you exactly what the parents-to-be need. If the new parents don't have one, you can assume they aren't too concerned about getting big presents. But if they do have a registry, definitely get something from the list.
What does the mom-to-be need most? Think about what your friend already has and what she still needs. Typically, big-ticket items like high chairs are essential and everyday things like diapers, bibs, and bottles are also appreciated.
How much can you afford? Your friend won't want you to skip the electric bill to get her a gift. When selecting a present, remember that it's perfectly fine to pick up something small if you don't have much extra money, even if the parent-to-be is a close friend. If you can afford it, by all means, buy something expensive from the registry, but, if not, don't sweat it. What matters a lot more than the present is you being there for the new parents at their baby shower.You got invited to the party to share in their happiness, not because they wanted a gift.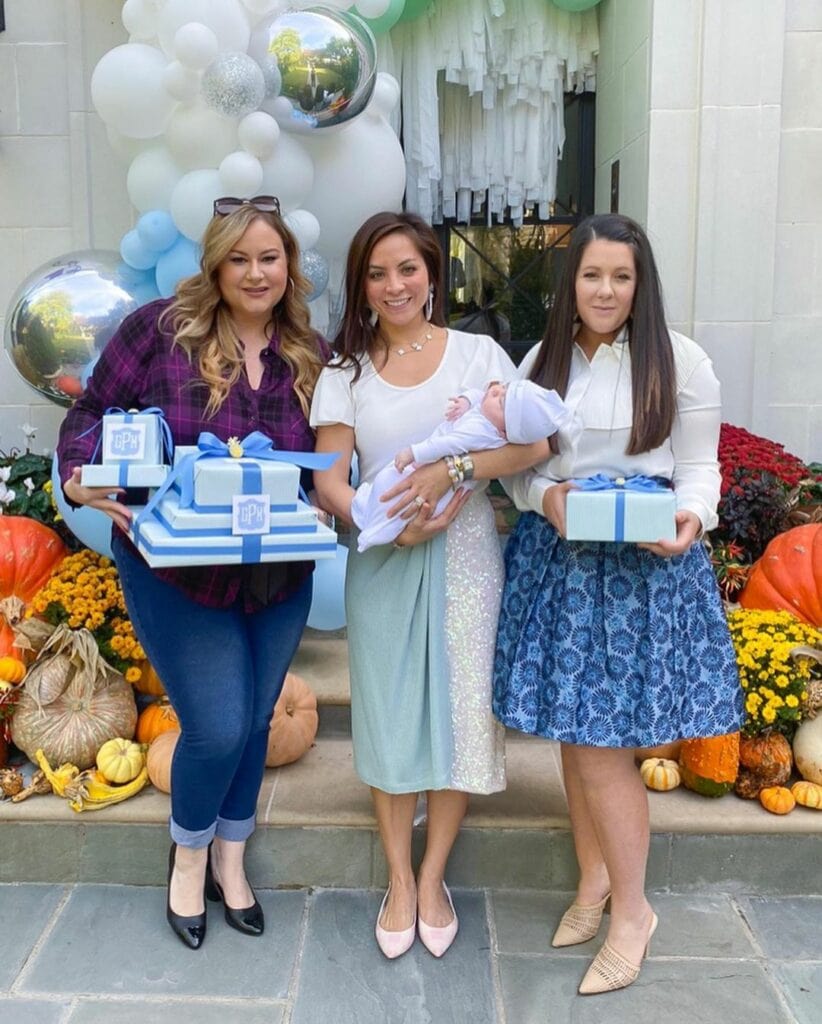 Throw a Virtual Baby Shower so Everyone

Can Celebrate!

• Free Trial – 7 Day Refund for any reason
• Only 1 Minute Setup!
• 40+ Custom Themes & Matching Invites
• Use Any Online Registry
• Send Unlimited Invites and Updates
• Baby Shower Games with Scoreboards, Give Prizes!

Build Your Shower
---
What Is the Average Price for a Baby Shower Gift?
Usually, a gift registry for a baby shower will contain some big, expensive items and some smaller, cheaper ones. You can often find something at any price point. You can even purchase a couple of less expensive items if you want to buy more from the registry while still saving some money.
What about if there is no registry to guide you? Just ask the parents-to-be what they need. They'll know better than anyone, and that way, you can be sure you're buying them a present they'll really use. Figure out what is most needed and start there. If they are unsure or make vague suggestions, you can also ask someone close to them, like the baby shower host, about what they might want for a present.
So how much should you really spend? What's a typical amount to spend on a baby shower gift? Usually, a normal range for spending is between $30 and $50 for a friend or relative. You can also spend more or less than this, but this is a good starting point. Suppose it's a very close friend or family member. In that case, you might consider spending a bit more, especially on a big-ticket item that they will use a lot.
WebBabyShower makes it super easy to find out what present to get. You can create a gift registry page on your website to help people find out precisely what shower gift to purchase. It saves guests a ton of time by keeping all the baby shower information they need in one place.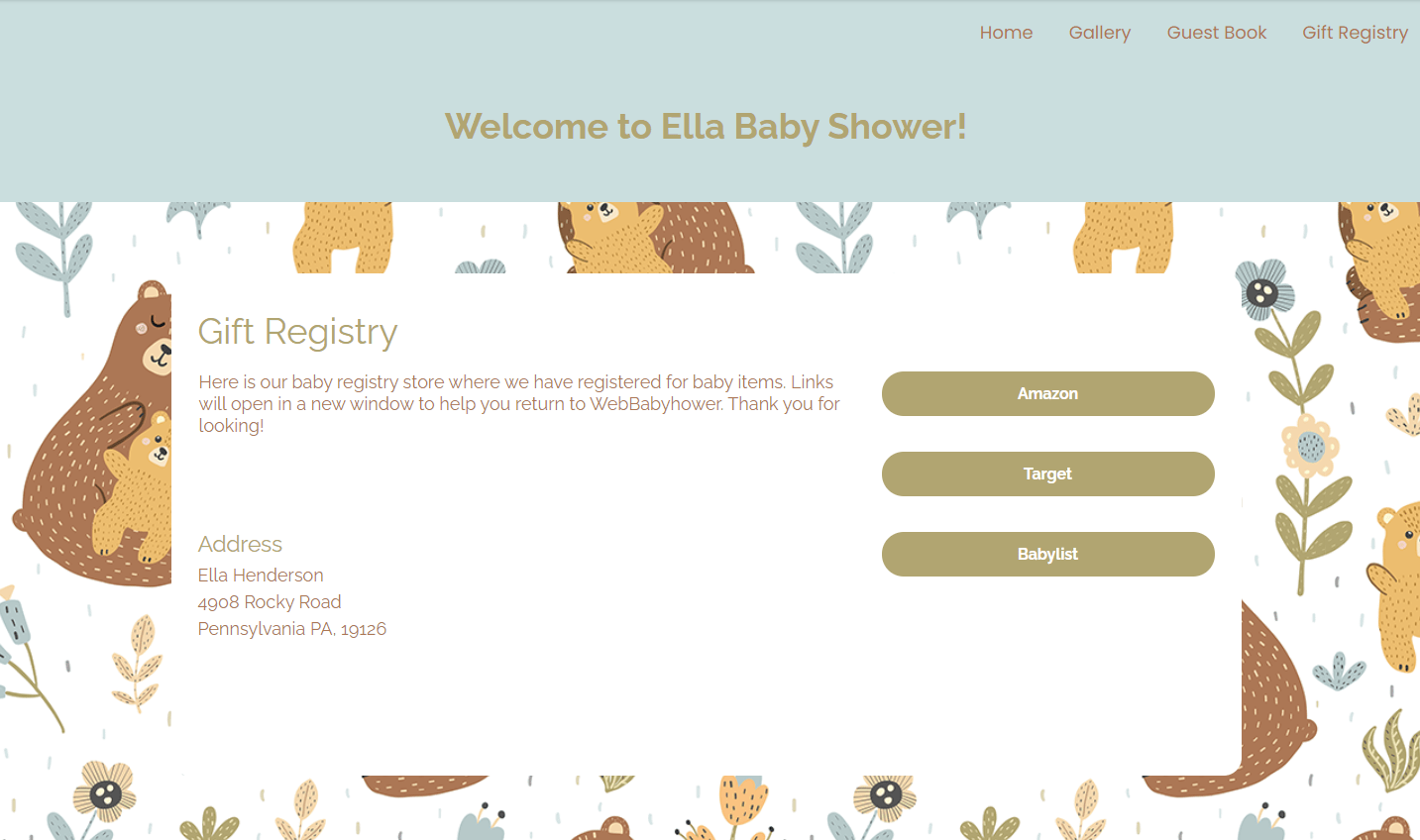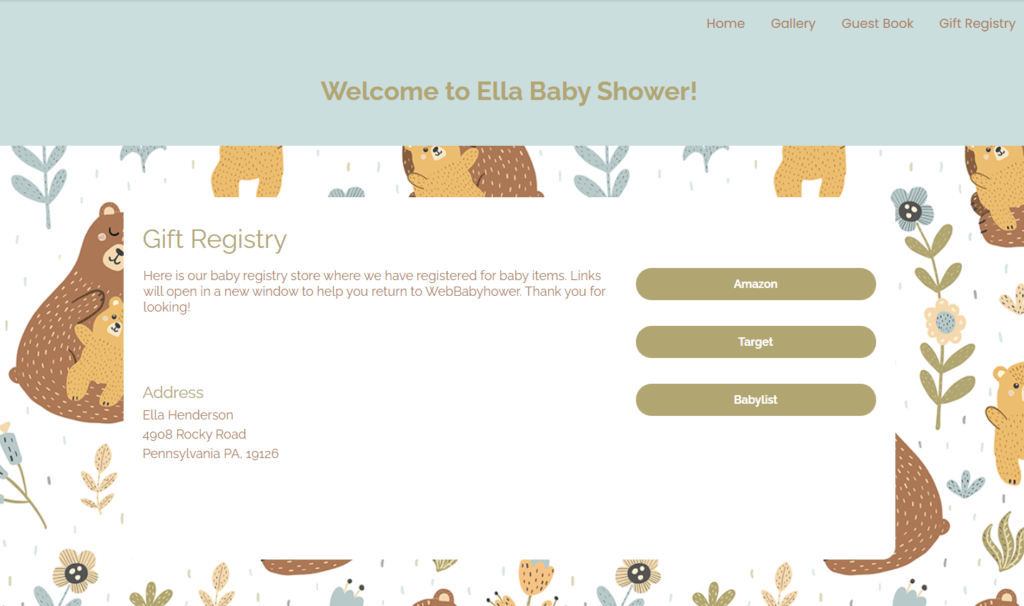 Who Pays for What at a Baby Shower?
Who handles the cost of a baby shower and buys gifts? Well, it's a very common tradition for guests to bring baby shower gifts for the new parents. However, guests shouldn't feel obligated, especially if a registry is not provided. This is also the case if the baby shower is for someone you don't know very well or if the parents-to-be have specified that they don't want presents.
As for who pays for what, it can vary quite a bit. With our WebBabyShower platform, many parties are funded by the new grandparents — around 60%. The other 40% are funded by a friend or the new parents themselves.
DIY vs. Buying a Baby Shower Gift
What if you are invited to a baby shower, but you cannot afford to bring a present? You might consider making a gift for the new parents rather than spending money. Generally, making a present won't cost as much, but the present can hold a lot of meaning. It tells the new parents that you spent some time thinking about what they would want.
Maybe the idea of a DIY gift appeals to you, but you aren't very crafty, or maybe you just need to get a present together quickly. An easy solution if you decide to go the DIY route is a diaper cake. Every new parent needs diapers for the new baby — lots of them. To create your own diaper cake, check out our How to Make a Mini Diaper Cake guide. Basically, you'll buy a bunch of diapers, use them to create a shape similar to a cake, and add whatever fun decorations you'd like. It's a unique present that the parents-to-be will remember, and it's simple to make.
If you happen to be a very crafty or creative person, try knitting baby booties, hats, or blankets. This is a sweet way to show the new parents that you took the time to prepare something meaningful. You can also offer to help prepare for the baby's arrival by doing something like painting the nursery. If you want some more ideas, Crafty Club has some excellent suggestions for DIY baby shower gifts.
Baby Shower Gifts $25 or Less
Don't want to show up empty-handed but need to keep things inexpensive? We have some ideas for baby shower gifts that are $25 or less. First of all, many times, parents will have $25-and-under gifts on their registry. If that's the case, you can just look at the registry and buy something immediately. If there are no cheap items on the registry, or if all of those items have already been purchased, you can try these suggestions.
Baby burp cloths: Usually parents can't have enough of these. It's a practical gift that they'll use daily, and they're inexpensive.
Baby onesies: These are often inexpensive and very useful. 
Baby bottles: You can usually buy these as a set, and they're a very practical present.
A keepsake journal: New parents can write down all of their memories of their newborn in a cute journal to treasure forever. They can even include pictures.
Plenty of diapers: You really can't go wrong here. Since this item is constantly needed, there's no fear of overbuying. 
Personalized newborn baby hat: This is a sweet and unique gift for the new little one. You can add their name and choose from different colors.
Group Gifts
A group gift involves several people getting together and pitching in to buy one big gift. This works well if you buy a big-ticket item, such as a car seat. It's perfect for those on a budget because the parents-to-be get something they need for the baby and everyone can save a bit of money by pooling their resources. Some other expensive items you might check out are a baby swing or rocking chair.
You can easily organize a group gift by contacting a couple of other people you know who are invited to the baby shower. A group gift is probably best for friends of the parents-to-be. The new grandparents, some relatives, and the host will most likely be purchasing multiple things from the registry or the more expensive items. But a few friends who want to buy something nice and save money can ask some people if they want to chip in and determine how much each person can contribute. From there, decide who will collect the funds and purchase the present. Then, make sure to get a card that everyone can sign.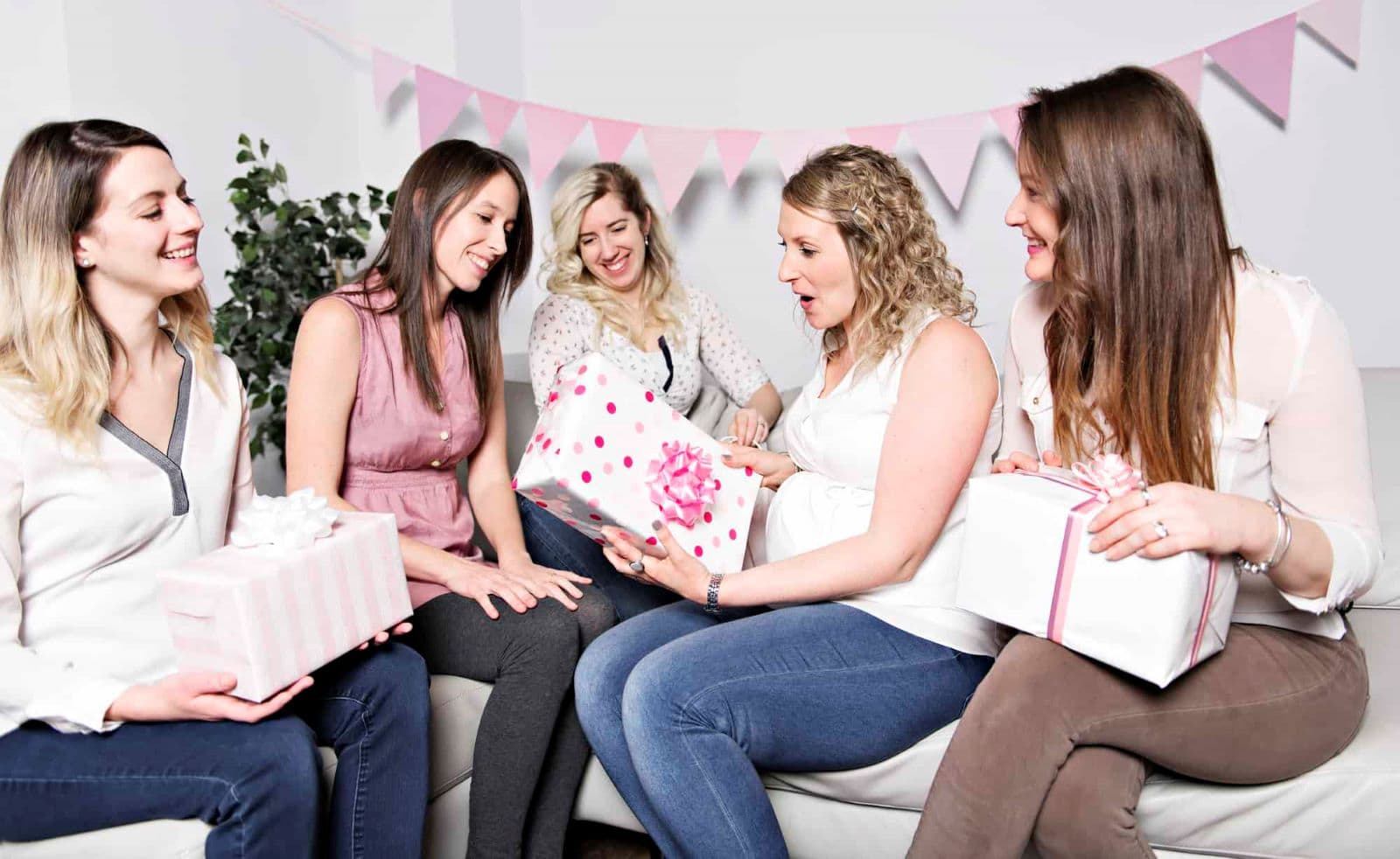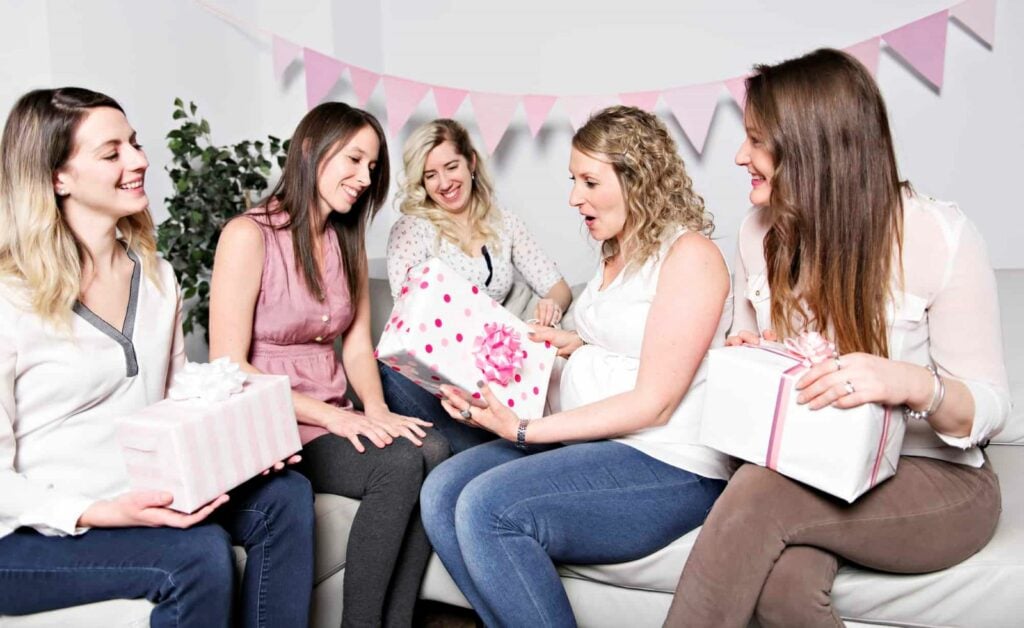 Conclusion
Now you know how much to spend on a baby shower gift. This article contains information about the typical amount to spend on a present, what group gifts are ideal, and how to give a great gift for $25 or less.
It's also important to remember that, even if you cannot give a baby shower gift, you should definitely still go to the party! It's outdated to assume that every guest has to bring a present for the baby shower. The host and the new parents would want you to be part of the event, even if you can't buy a gift. You can absolutely show up just to celebrate the new baby; no present required. At WebBabyShower, we're all about people enjoying inclusive baby showers that everyone can be a part of.
This article should help you when picking out a present and give you an idea of how much to spend on a baby shower gift. While gifts for the new baby are often part of the celebration, they're not the most important thing. What matters more than anything is that people gather to offer encouragement, advice, and support for the new parents.