Introduction
A baby shower is a fun celebration, but it can be a lot of work! There is certainly a lot to think about when it comes to planning a baby shower party. A major part of this planning is giving your guests something to keep occupied, and that often comes in the form of a fun baby shower game. In this article, we zone in on all the fun games that keep every shower guest happy and enjoying themselves! Specifically, we're looking at printable baby shower games.
Have you been scouring the Internet, searching for fun AND free printable baby shower games? After all, not just any game will do. Well, look no further! WebBabyShower has created a new spin on classic games – with you in mind! We think you and your guests are going to love them. And you'll love saving time and money on baby shower expenses!
So what are you waiting for? Go ahead and download them all for FREE right now! On a tight schedule? Read more about the easiest game ever, it's the don't say baby game and it's perfect for anyone to play!
If you choose WebBabyShower for your party, you will have access to six games to play within the app, six interactive Google slide games, and fourteen printable games!
Throw a Virtual Baby Shower so Everyone

Can Celebrate!

• Free Trial – 7 Day Refund for any reason
• Only 1 Minute Setup!
• 40+ Custom Themes & Matching Invites
• Use Any Online Registry
• Send Unlimited Invites and Updates
• Baby Shower Games with Scoreboards, Give Prizes!

Build Your Shower
---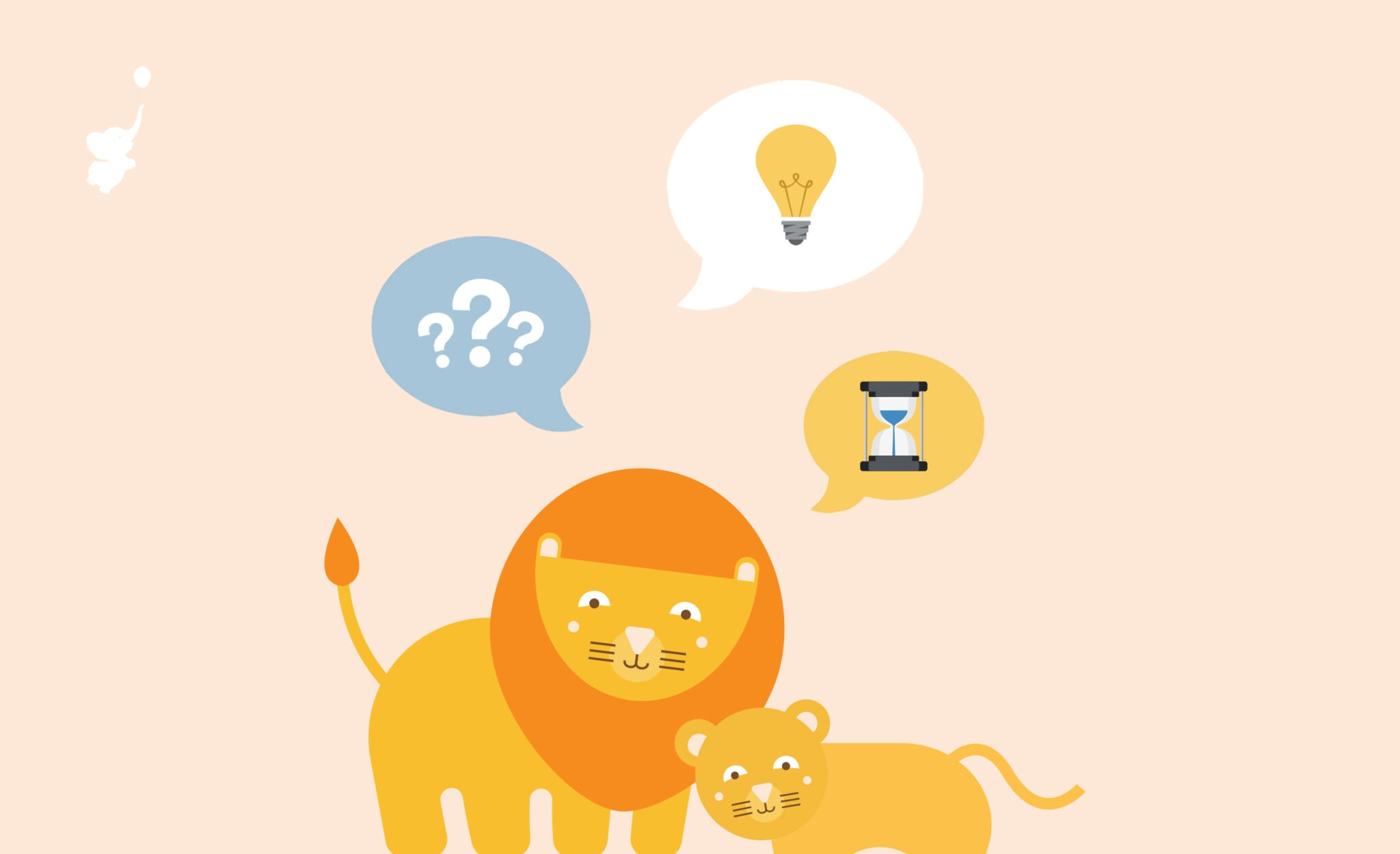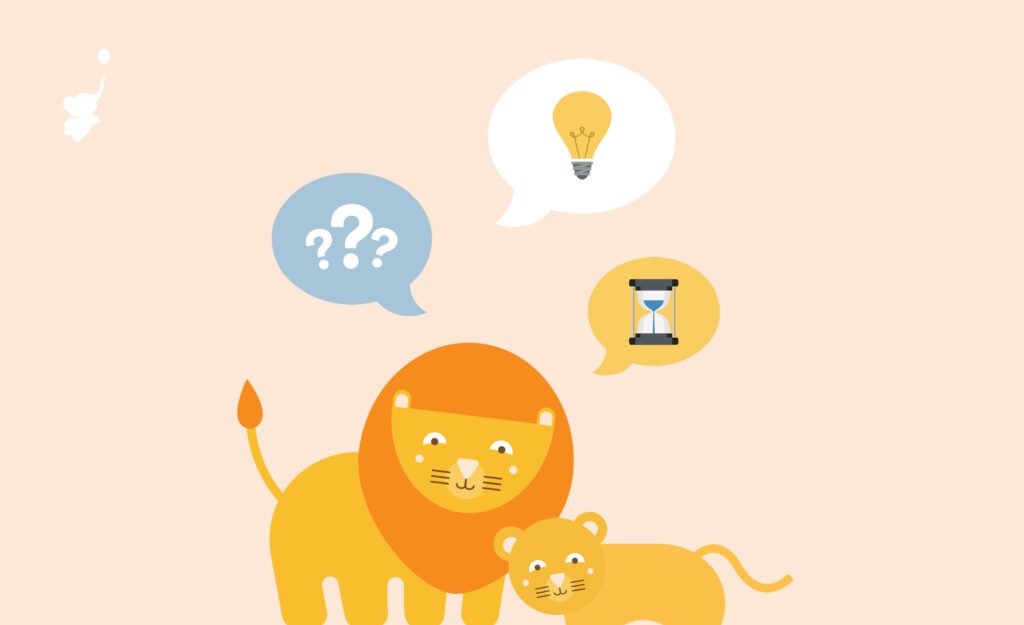 Why Choose Printable Games for a Baby Shower?
This article is all about picking the best printable baby shower game. But before we start, you might be wondering what all the fuss is about. Why should you opt for baby shower printables instead of choosing any old game? There actually are quite a few benefits to a printable game that might help you decide.
Firstly, they're simply a fun and easy way to keep all your guests entertained. Passing the time at a party can get kind of complicated when you have a bunch of people together and no direction. Games are a fun and simple way to streamline everything, and get everyone engaged toward a common goal. Printable games take it one step further and help to keep everyone organized and on the same page, allowing them to keep track of their own progress.
Another advantage of printable games is simply that they are cute and unique! Each free baby shower game on WebBabyShower gives each shower guest a fun card to keep track of their progress, and will provide a neat memento of all the fun they had at your baby shower. They can take it home, pin it on their fridge, or do whatever they want to remember this special day celebrating the mom-to-be!
Ideal for a Virtual Baby Shower
Printable games actually offer a special set of advantages for a virtual baby shower. As you might imagine, one of the common difficulties of hosting a virtual baby shower is in keeping all your guests coordinated. With printable games, each guest can print off their own materials at home. No need to get everyone together to hand out instructions!
Once everyone has their own printables, it is much easier to keep everyone on track. No need to constantly communicate instructions or keep score by yourself. Everyone has their own materials to follow along, and they can all keep track of their own results.
Play Don't Pay
We don't have to ask to know that you don't want to have to pay for the games at your baby shower! Finding free stuff is a major advantage in any situation, and that's what you'll get with the free printables at WebBabyShower.
If you search the web, you'll find plenty of services that try to sell these printables, but there's no need to buy them when you can find ones of equal quality for free. The printables that we offer are professional, organized, and visually appealing. Try a free baby shower game today!
Fun Baby Shower Printable Games
Word Games
The first category of printable baby shower games on offer is word games. These games are all based around fun with words. They offer fun competition to your guests, and they all stick to baby themes!
1. Baby Shower Word Search
The clock is ticking in this baby word scramble! Your guests must race to find words like Pacifier, Bottle, and, of course, Baby Shower in the word box. Who will be the first one to find all the words on the word search list before time runs out?
In an article on the Spruce, Stacy Fisher says this is "a great baby shower game to keep guests busy."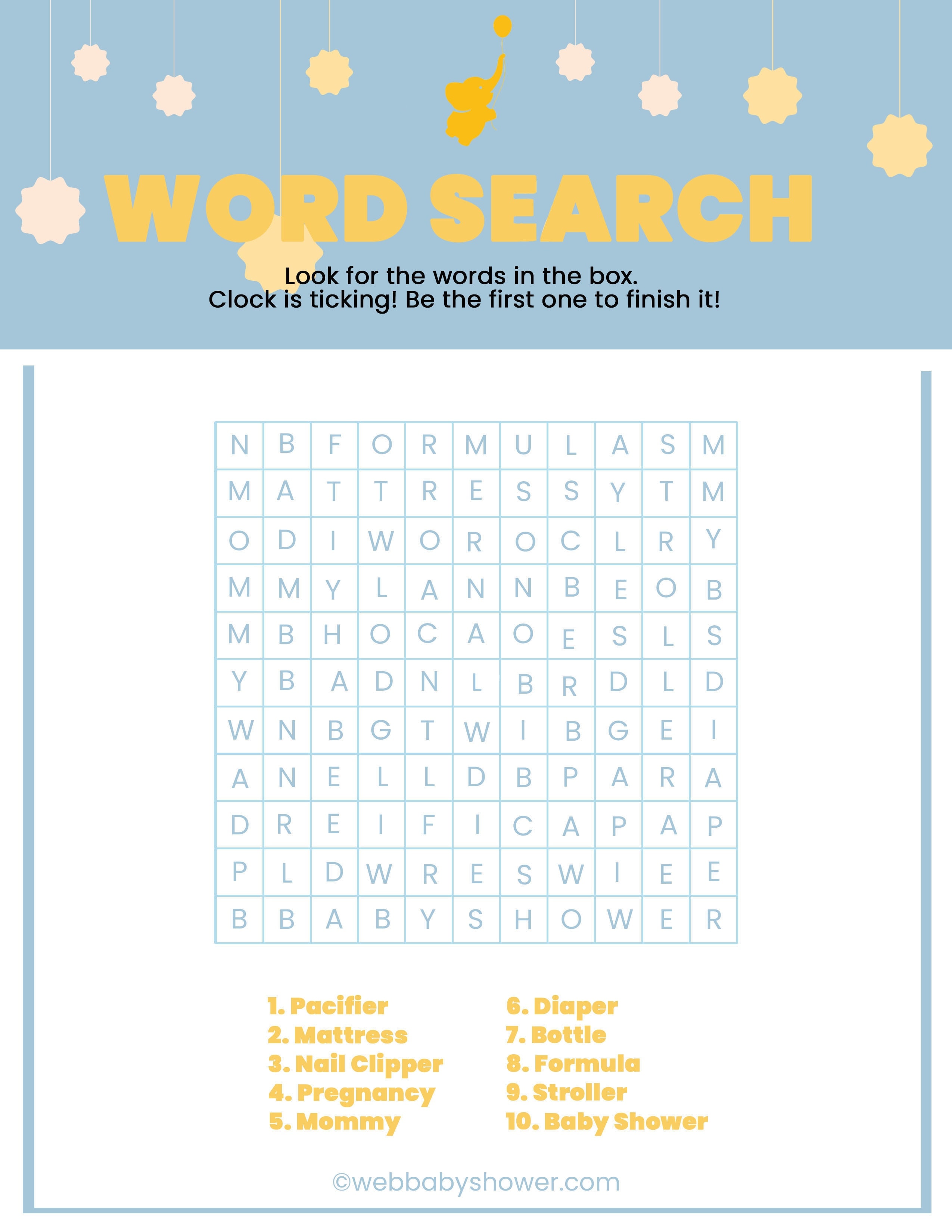 2. Baby Shower Scramble
Ready, set, scramble! Your guests are on a mission to unscramble a list of baby-related words. The first one to unscramble all of the words correctly wins. Good luck!
Want to provide a fun way for guests to interact? The Baby Aspen blog suggests dividing guests into small groups to turn Baby Shower Scramble into team play.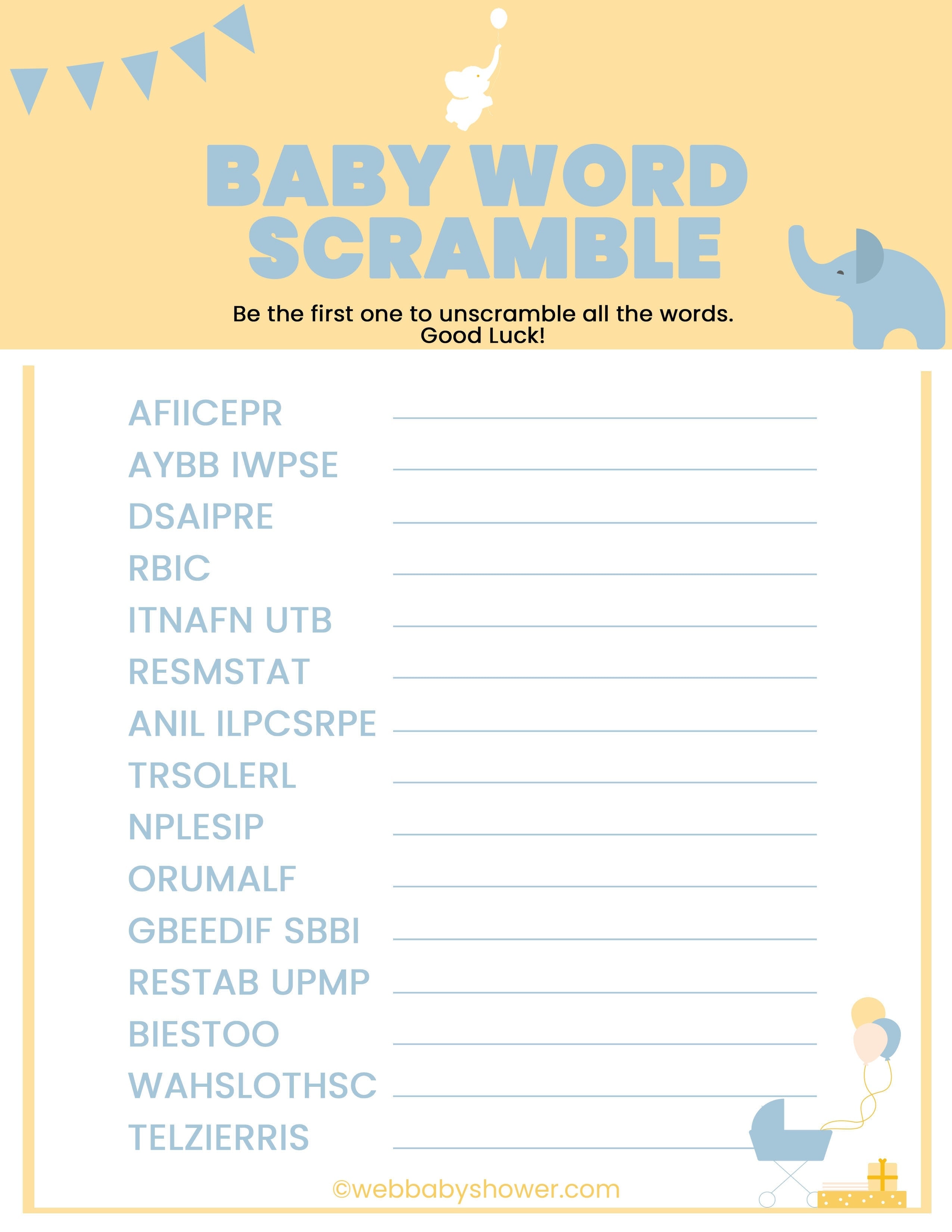 3. Baby Shower Alternative Names
Remember your favorite childhood storybooks? Alternative Names is the baby shower game with a twist. Your guests will receive a clue, like "Trifecta of Minute Swine." Then they have to figure out the name of the real children's book title or nursery rhyme (The Three Little Pigs!). Alternative Names is a baby name game your guests will love!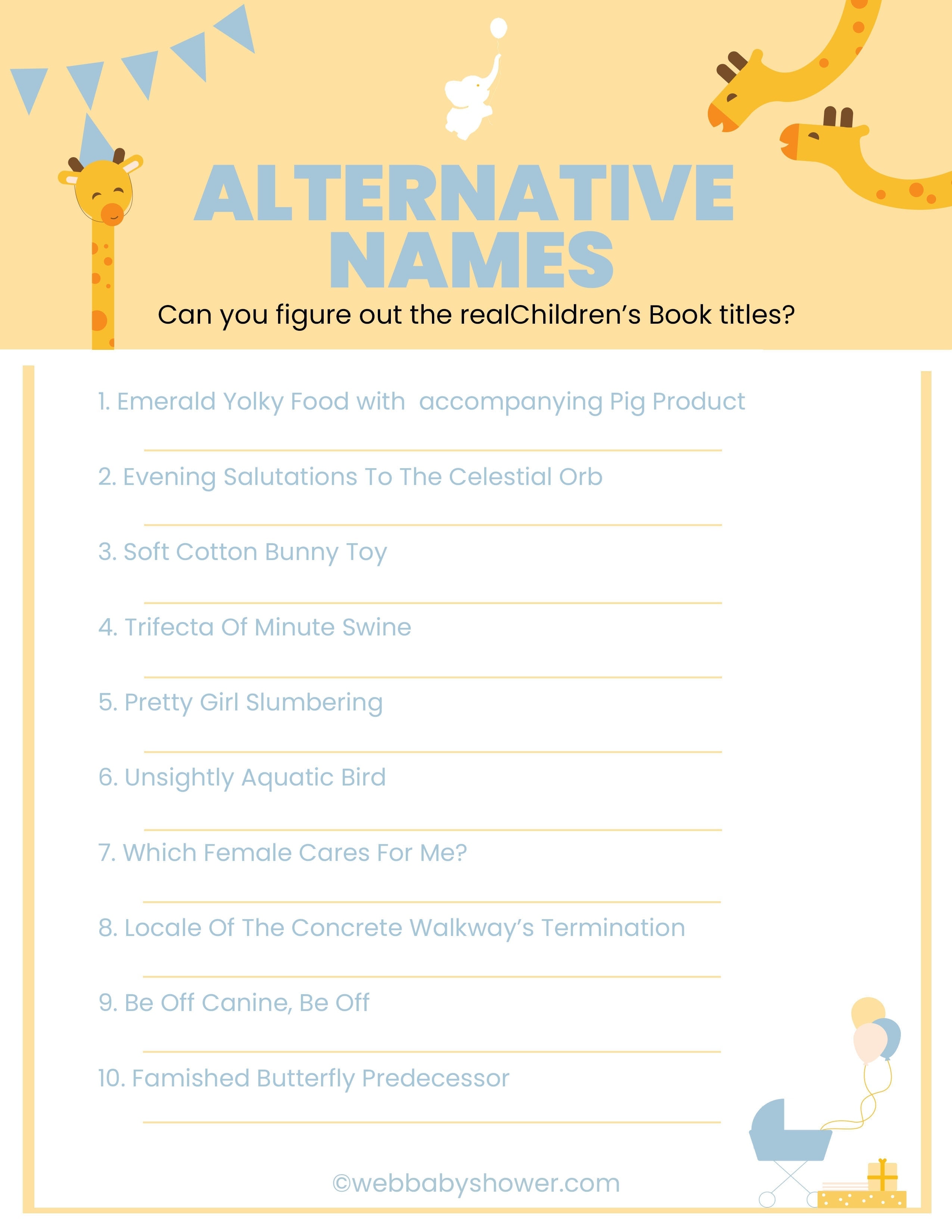 Match Games
Match games are another fun category that take some of the guess work out of games. All you have to do is match up the categories! Match games are trivia games that allow people of any skill level to get involved in the fun.
4. Baby Shower Animals Match
Everybody loves babies, and that includes baby animals! This baby animal game is great fun for anyone in attendance. Have fun testing your knowledge of the animal kingdom as you match the names of adult animals to the names of their cute (and sometimes cuddly) offspring.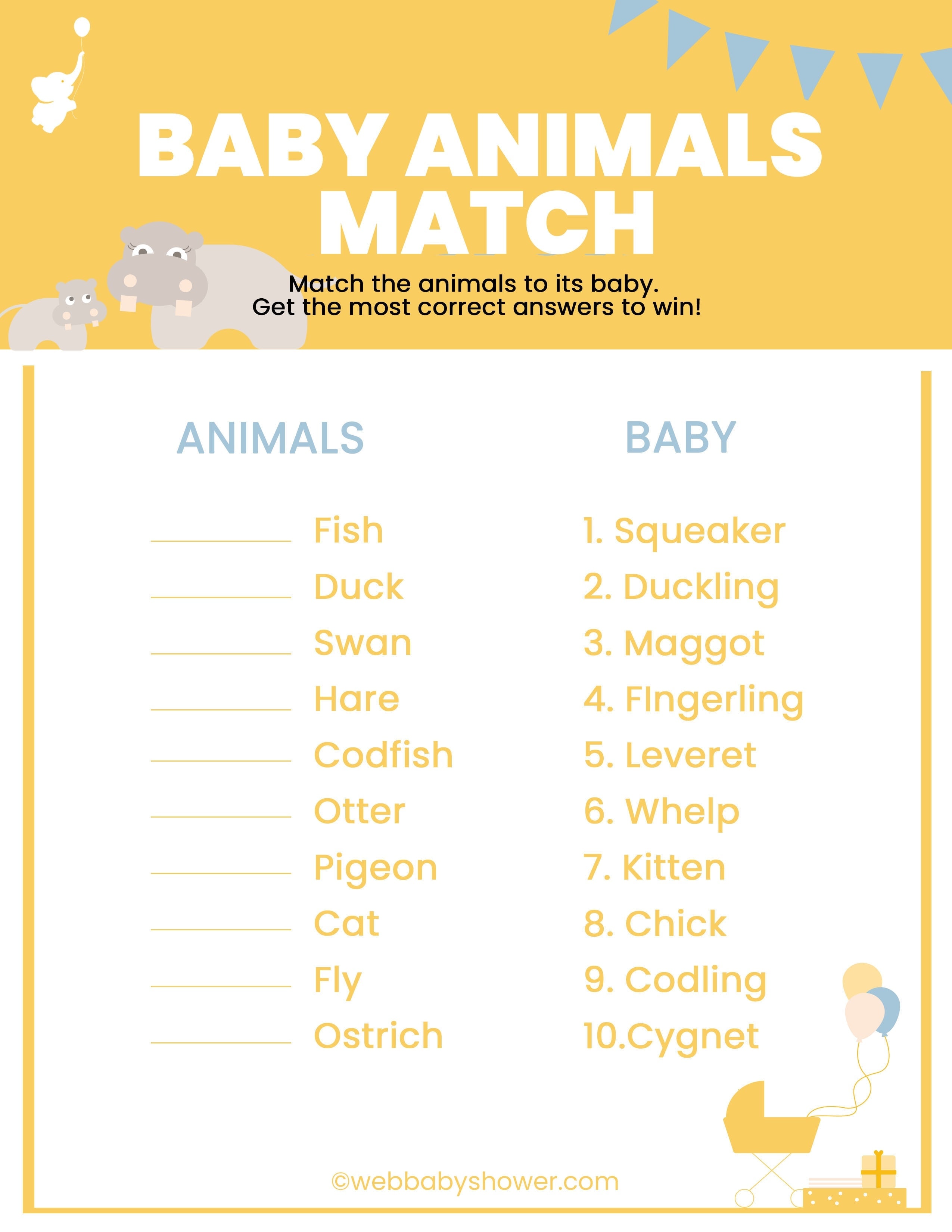 Race Games
Race games take the competition to the next level! These are high-energy games that really work to get everyone involved in the fun. These exciting games are sure to result in some excitement and some laughs.
5. Baby Shower Name Race
Your family and friends have 60 seconds to create a list of baby names, from A all the way to Z. Some names may be serious, some silly, and we're pretty sure there'll be a baby name that's completely made up. Prepare to laugh!
For a personalized flair, the game can be printed on different colored paper/cardstock. For those going for a gender neutral baby shower, decide on a color that works best for you and look to match your shower theme. And according to the blog, Oh My Baby Shower, expectant parents may even find this game inspiring when it comes to choosing their new baby's name!
A similar game to this is the baby shower alphabet game so feel free to check that out too!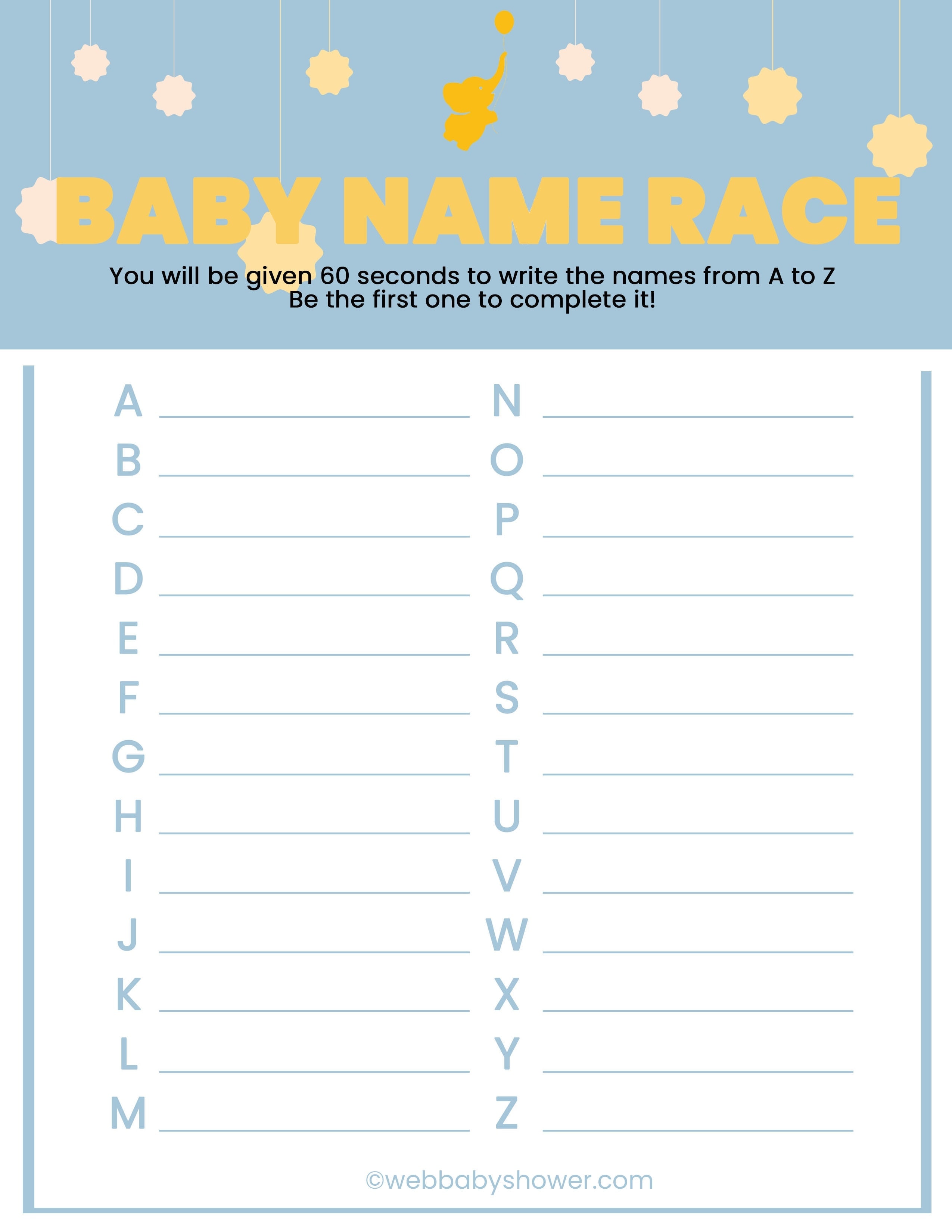 Fill-In-The-Blank Games
6. Baby Shower Karaoke Baby
At WebBabyShower, we think celebrating a new baby is something to sing about! And your family and friends will, too, when everyone gathers around to play Karaoke Baby! How do you play? It's easy! Just complete the missing song lyrics. Karaoke Baby is sure to be a hit with your guests!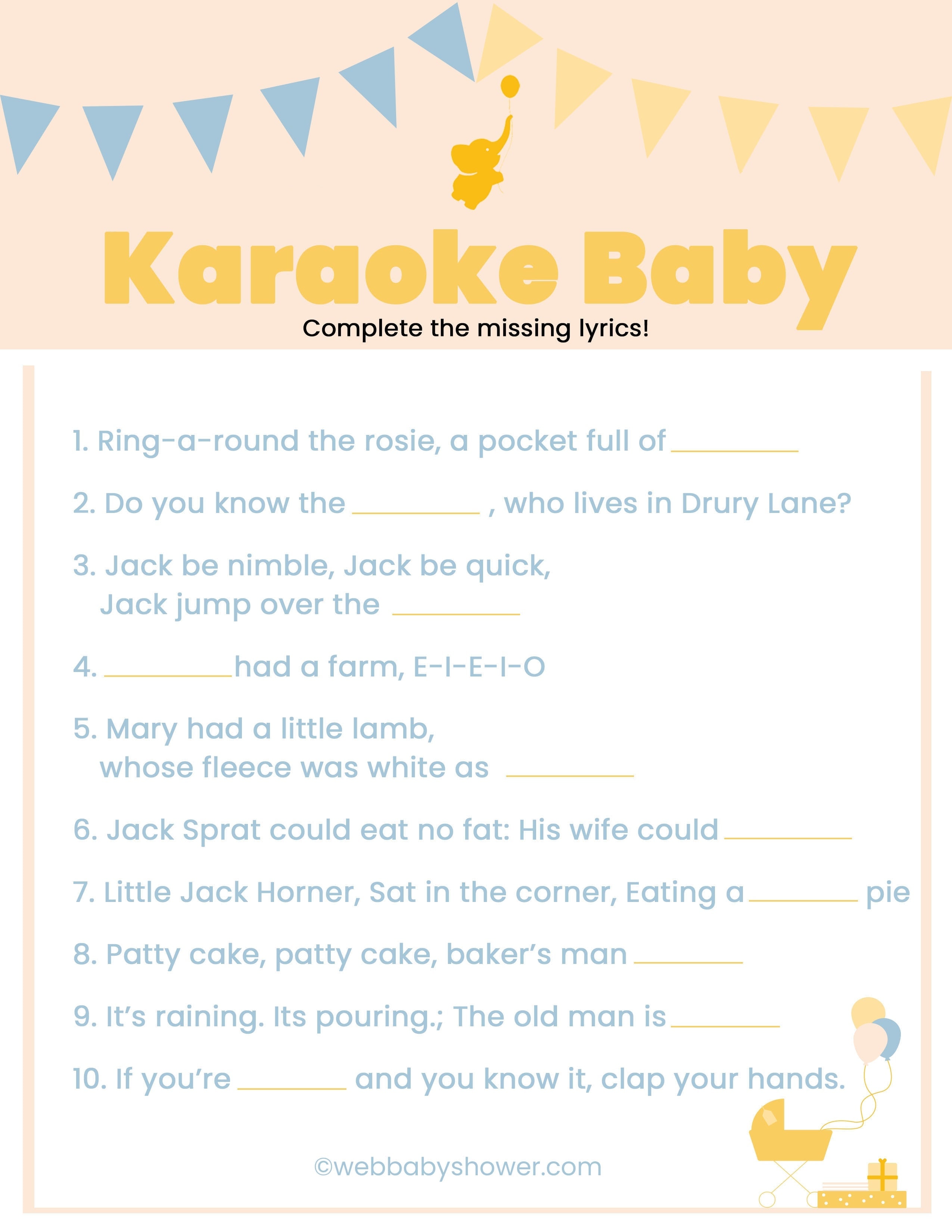 P.S. This game is tougher than it sounds. On the Unoriginal Mom blog, author Meredith, says at a friend's recent baby shower, "Everyone got stumped by at least one of them."
Have you enjoyed exploring this list of free printable baby shower games as much as we enjoyed creating it? If so, be sure to share the article with your family and friends! For all-things baby shower, remember to check out more fun, informative articles at WebBabyShower.
Celeb Games
Celebrity games are great if you have a group of friends who are interested in pop culture! These are all related to celebrities who are well-known parents as well.
7. Famous Mothers
In this fun game, you receive clues and info about a famous mother. Your shower guests have to guess who it is! This is a fun game which mixes an element of trivia and pop culture.
8. Famous Fathers
Just like the Famous Mothers game, but for fathers as well!
Picture Games
How about some games that let your guests get creative? Picture games are a great way to test everyone's drawing prowess.
9. Baby Shower Pictionary
This is a fun take on Pictionary, but with baby themed categories! Everyone will have fun guessing at drawings which are all related to babies and parents in some way. Pictionary is a great way to get everyone talking and guessing, and a great way to encourage some healthy competition.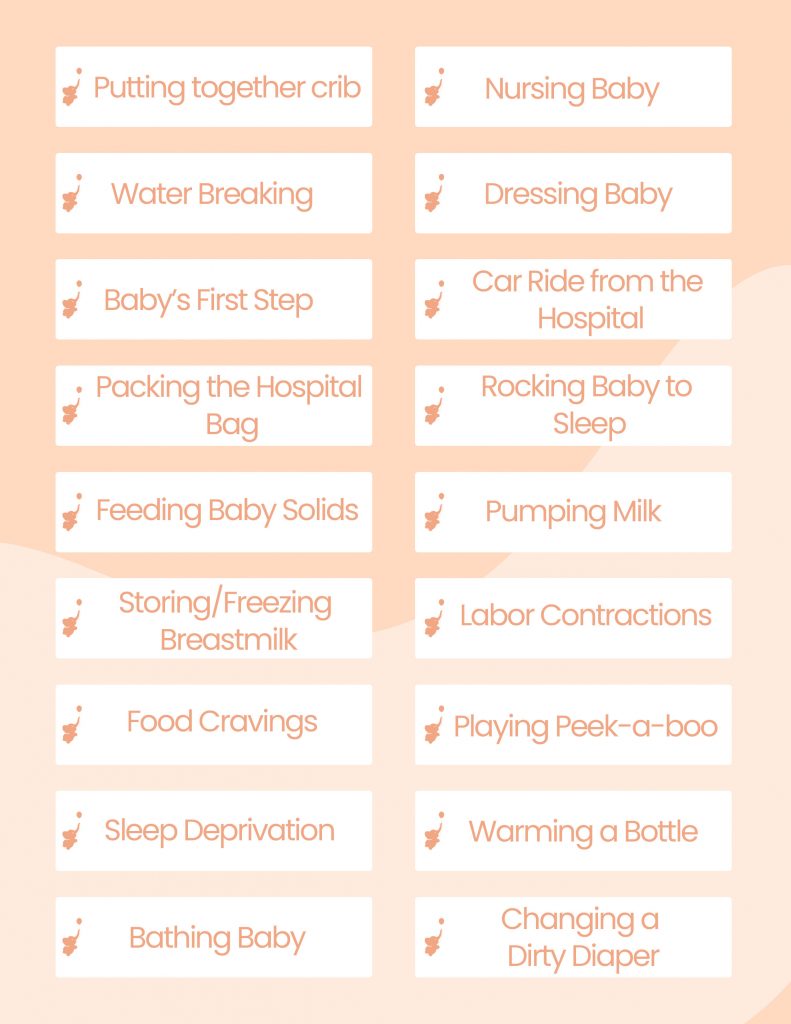 Chance Games
10. Baby Shower Bingo
Who doesn't love a classic game of Bingo? We sure do! Guests will fill their card with gifts they think Mommy-to-be will receive. Then, they mark their squares as the gifts are revealed. The first player to get 5 squares in a row—horizontally, vertically, or diagonally—is the winner. The best part? All ages can play. "Bingo!"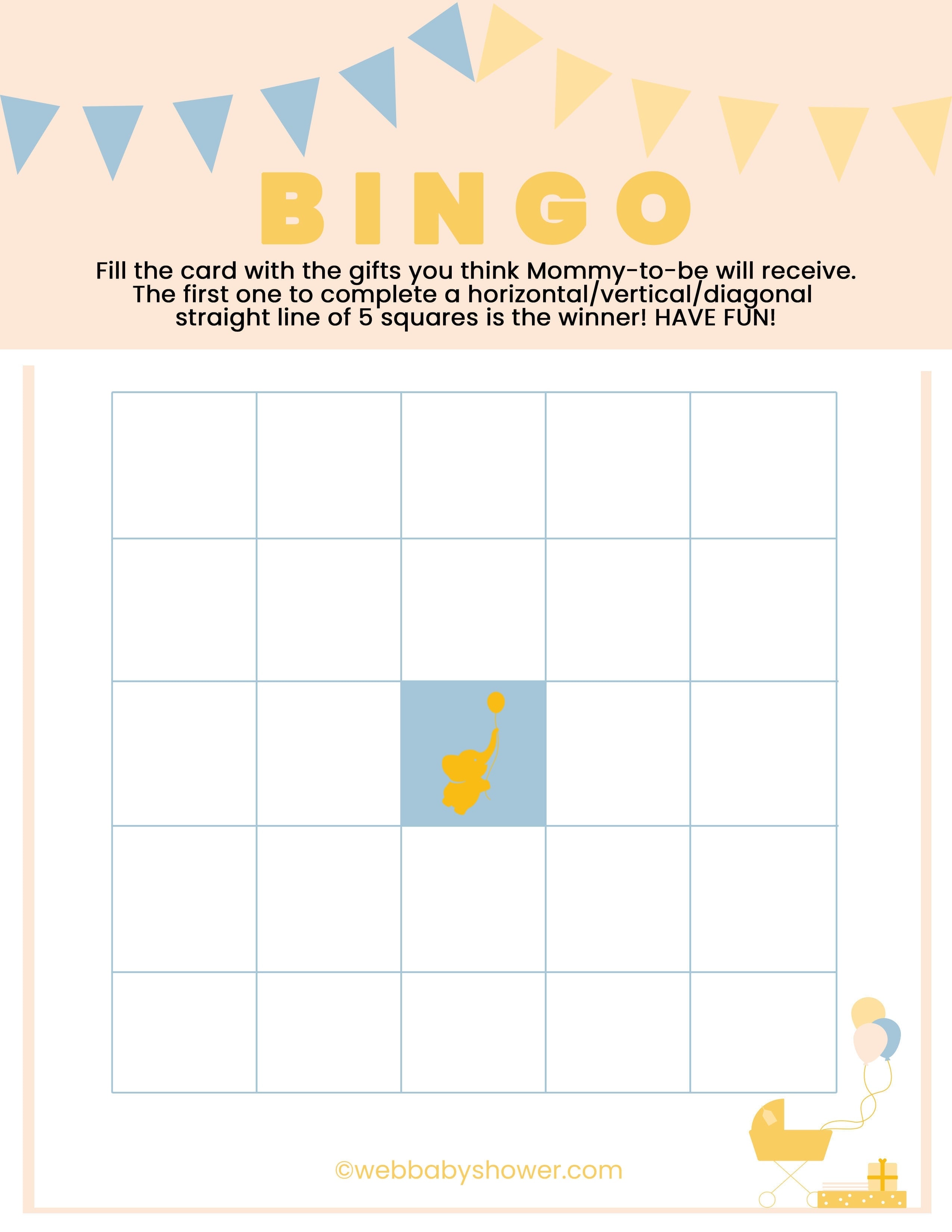 See how a great online baby shower works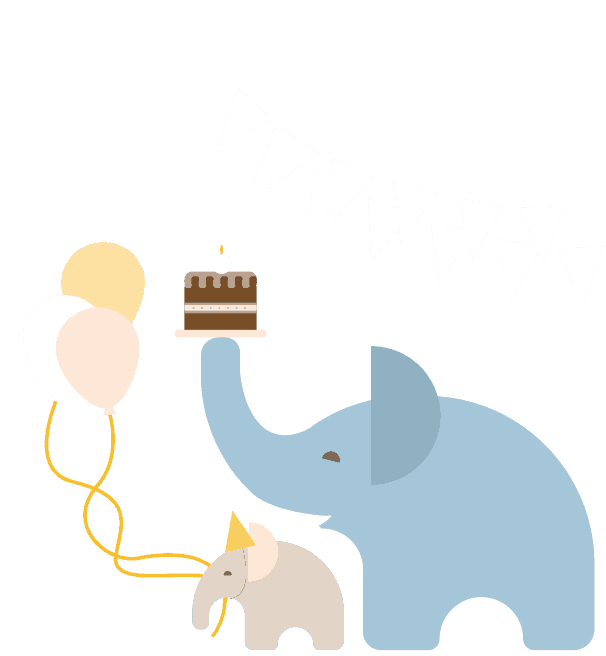 Conclusion
Thanks very much for reading through our list of fun baby shower printable games. Baby shower games are quite important to us at WebBabyShower. We want to make your next baby shower as fun as possible, and we know that games are such an excellent way to do that.
But be sure to consider the mother's needs first and foremost. Choose the games that mesh best with her personality, and the ones that will have everyone enjoying their time at this special occasion. Did you enjoy this list of games? Leave a question or comment below!
Did you enjoy this list of games? Leave a question or comment below!