The Baby Prediction Game
A baby shower is an opportunity to shower the expectant parents with love, blessings, and thoughtful advice.
Baby shower games infuse fun, excitement, and interaction amid the joyous celebration. One such beloved activity is the Baby Prediction Game, a perfect blend of anticipation, humor, and wisdom.
Throw a Virtual Baby Shower so Everyone

Can Celebrate!

• Free Trial – 14-Day Refund for any reason
• Only 1 Minute Setup!
• 80+ Custom Themes & Matching Invites
• Use Any Online Registry
• Send Unlimited Invites and Updates
• Baby Shower Games with Scoreboards, Give Prizes!

Build Your Shower
---
Unraveling the Baby Prediction Game
The Baby Prediction Game allows guests to speculate various aspects about the baby – from physical traits to personality characteristics.
It sparks intriguing conversations and playful debates and can often end with bursts of laughter.
But it doesn't stop there; you can adapt the game to incorporate advice for the parents-to-be, enriching it with heartwarming and practical insights.
Organizing the Baby Prediction Game
Gathering the Essentials
You will need a pen and a prediction card for every guest to set up this game. Each card should contain fields such as baby's date of birth, weight, length, hair color, eye color, resemblance to mom or dad, and a dedicated section for advice.
Setting the Stage
Kickstart the game by distributing the cards and pens. Explain the goal to the guests: They must predict the listed attributes and leave their advice to the parents-to-be.
Collecting the Predictions and Advice
Once everyone has filled out their cards, collect them. You can read them out loud for everyone to hear, which often results in shared laughter and agreement on certain predictions or advice.
The Essence of Advice in the Baby Prediction Game
The advice section of the Baby Prediction Game adds a thoughtful touch to an otherwise fun-filled activity. This is where guests can impart their parenting wisdom, share practical tips, or offer words of encouragement. For the parents-to-be, these nuggets of advice can prove invaluable in their upcoming journey, providing guidance, reassurance, and a shared experience.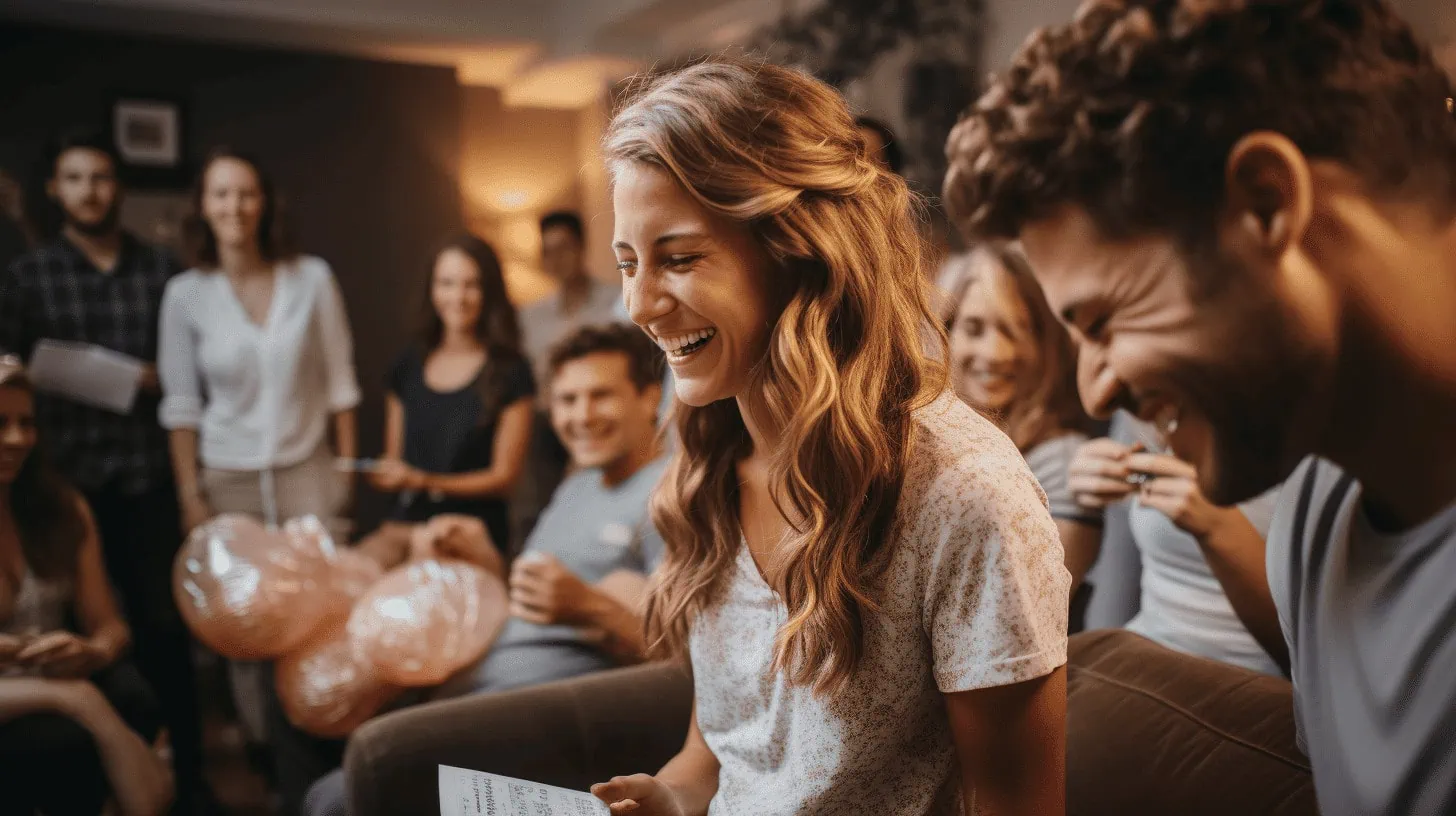 Post-Baby Shower: Revisiting the Predictions
Once the baby arrives, the parents can revisit the prediction cards. It's amusing to see how many predictions were spot-on or way off. But more than that, the cards become a keepsake – a reminder of the love and excitement surrounding the baby's arrival.
The Charm of the Baby Prediction Game
The Baby Prediction Game is more than just a baby shower activity. It brings people together in shared anticipation, facilitates fun, and offers a platform for guests to share their wisdom and experiences. By including this game in your baby shower, you ensure an atmosphere of joy, engagement, and shared wisdom, creating lasting memories for everyone, especially the parents-to-be.
See Related Games