It's easy to fall into the tradition of centering a baby shower around women. Baby showers have traditionally been attended exclusively by women — but we live in the 21st century when more and more couples are making new traditions by hosting co-ed baby showers or a baby shower for both men and women
At WebBabyShower, we live and breathe baby showers. Not only were we the first virtual baby shower service online, we're currently the market leader in virtual baby showers. Over 10,000 happy customers have enjoyed a virtual shower with us. When you host a WebBabyShower, you get a plethora of features like a fully customizable baby shower (including matching invitations!), unlimited invitation sending, RSVP and invitation open tracking, and SO much more. We aim to please from start to finish, and that includes offering baby shower planning ideas, game guides, and answers to frequently asked baby shower questions.
One question we get a lot is, "Can men play baby shower games too?" The answer to that is a resounding YES! Men absolutely can — and should — join in on the fun. Many women who plan a baby shower worry that playing classic games might make male guests feel excluded, so we developed a list of great baby shower games for men. These baby shower games will bring an element of fun and hilarity to your baby shower. Keep reading for our list of hilarious, fun baby shower games for men to play at your shower! If you want more baby shower games that are incredibly funny, check out our post on hilarious baby shower games.
Throw a Virtual Baby Shower so Everyone

Can Celebrate!

• Free Trial – 7 Day Refund for any reason
• Only 1 Minute Setup!
• 40+ Custom Themes & Matching Invites
• Use Any Online Registry
• Send Unlimited Invites and Updates
• Baby Shower Games with Scoreboards, Give Prizes!

Build Your Shower
---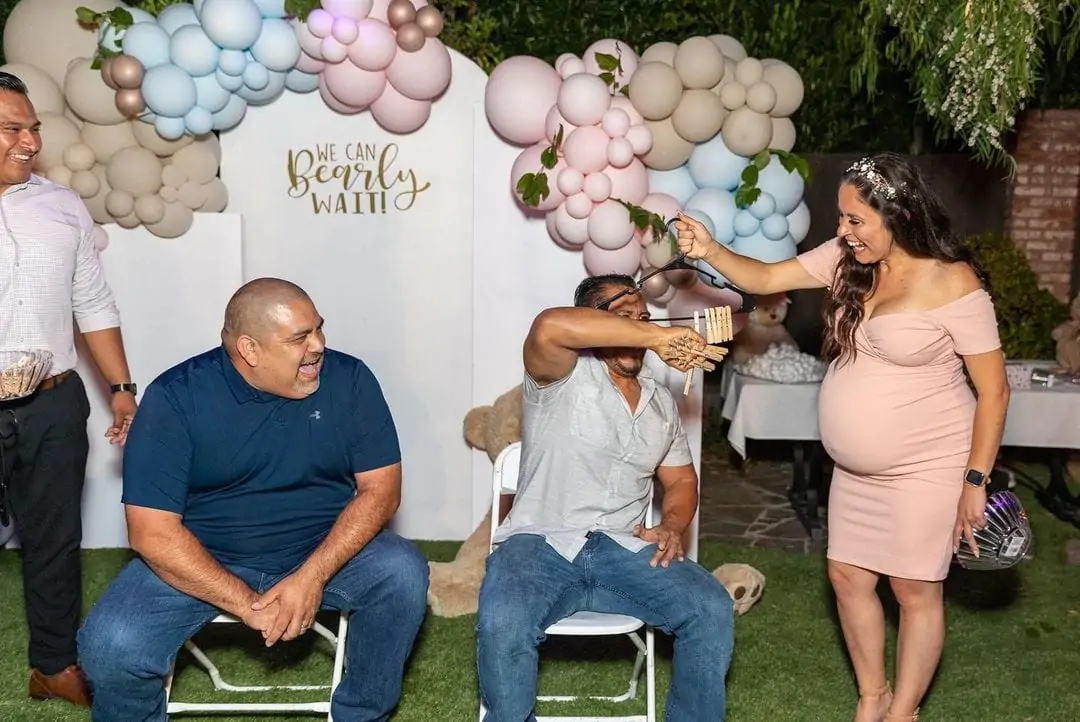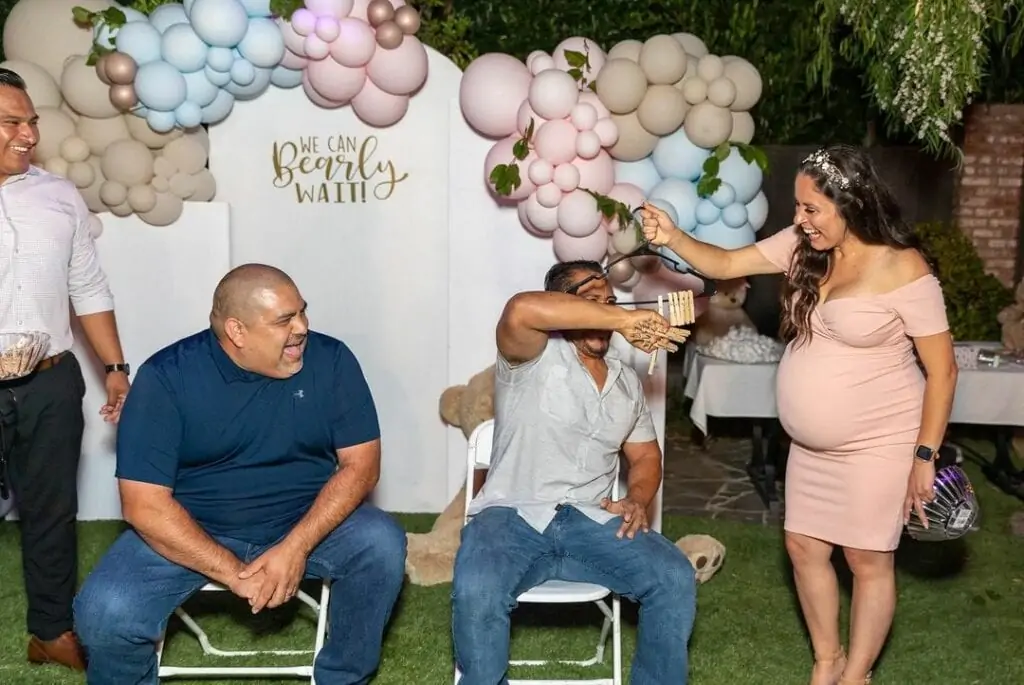 Men-Only Baby Showers
Gone are the days of estrogen-packed baby showers. Inviting men to a baby shower is becoming more common, with co-ed baby showers slowly becoming the new norm. Another rising trend is men-only baby showers — bro-by showers or dad-chelor parties, if you will. (We love a good pun.) A men-only baby shower is a great opportunity for the dad-to-be to let loose with his buddies, have fun, and get some valuable advice from veteran dads.
Playing games at a baby shower is a time-honored tradition. Whether an upcoming shower is co-ed or men-only, these baby shower games for men are fun and hilarious for everyone involved.
Don't Let the Water (Balloon) Break!
It's a familiar movie and TV scene: a pregnant mom is going about her business when suddenly there's a gush of water and a dramatic gasp. "It's time!" she declares as she waddles to the door while her flustered partner flaps about in a comedic show of nerves. You can recreate this with a funny twist by flipping the script and making men the stars of the show. Here is how to play the Don't Let the Water (Balloon) Break game.
Make TONS of water balloons ahead of time. (If you think you have enough, make some more just to be sure.)
Designate some goal spots and place obstacles in the way.
When it's time to play, give each guest a water balloon to put between their knees.
When you say, "Go," guests must race from one designated spot to another, dodging obstacles along the way.
Whoever completes the obstacle course first without "breaking their water" wins!
Watching people waddle around in a frantic rush is hilarious. Anyone can play this game, but it's extra funny to watch men navigating obstacles while trying not to break their water balloon. We recommend playing this game outdoors so you don't make an absolute mess of your living room.
Baby Bottle Chugging Contest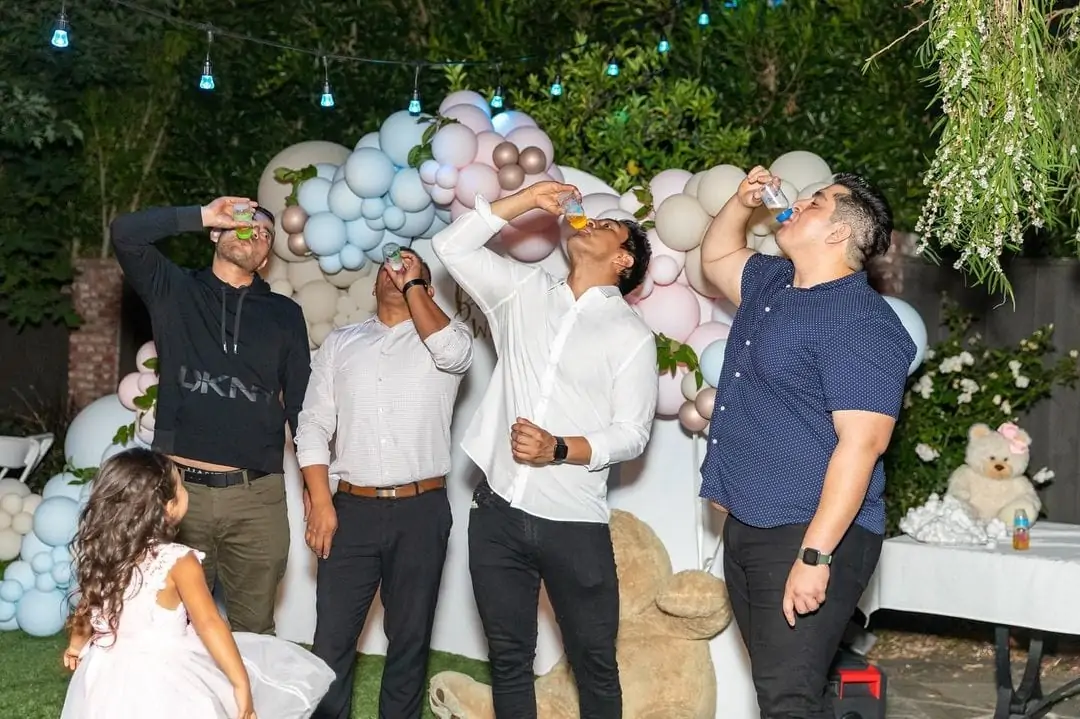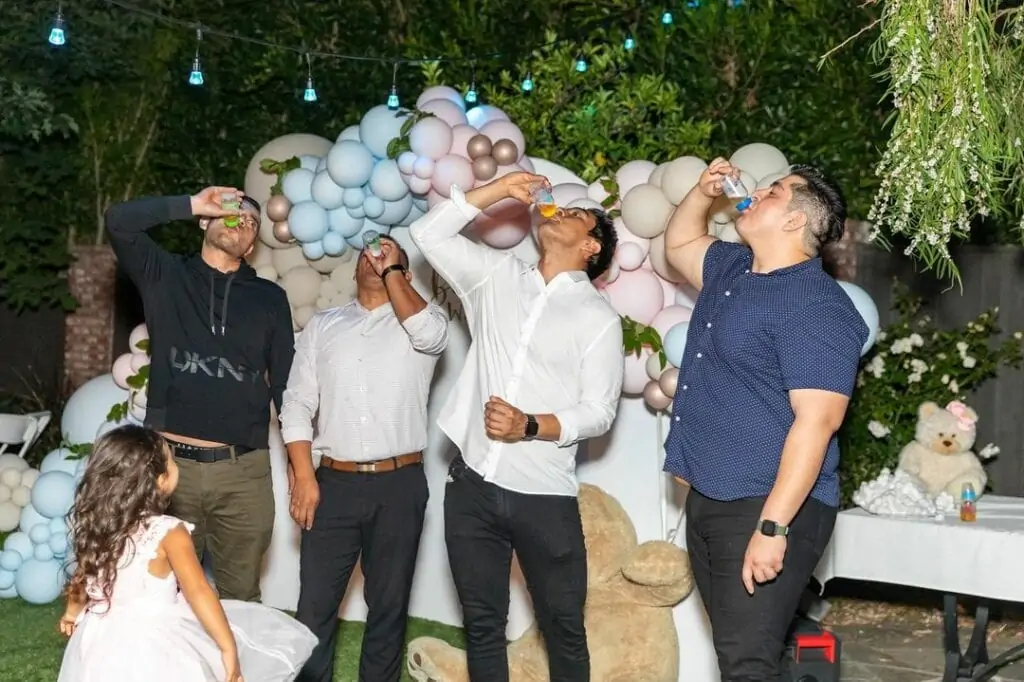 Just because your college days are behind you doesn't mean you can't still throw back a couple of bottles… baby bottles, that is. With the Baby Bottle Chugging Contest, guests will channel their inner frat guy in a way they've never done before. Here's how to play.
Give each guest a baby bottle filled with lemonade, water, or iced tea.
Set a timer (1 minute should do nicely) and see who can chug the baby bottle the fastest.
This game can also be played virtually! Before the shower, instruct guests to buy or find a baby bottle and fill it with their drink of choice. Your virtual guests can chug their drink on camera while on a video call. Alternatively, you could mail them a baby bottle before the shower.
Tinkle in the Pot
Video from: @nurse_steph_
For a slightly less messy and watery – but still hysterical — version of the Don't Break the Water baby shower game, try Tinkle in the Pot. If you thought watching your guests waddling around while they try not to break a water balloon was a hoot, just wait for this one. It's even tougher and funnier! Here's how to play.
Set up an obstacle course.
Small cups are set up at the end of the course for each participating guest.
Give each guest a coin that they must then hold between their knees.
When the game begins, guests must complete the course while holding the coin between their knees.
Guests have to complete the course AND release the coin from their knees into the cup.
The first guest to complete the course and successfully get the coin into the cup wins!
For added fun, have spectators place their bets on which participant will win. And since this game doesn't have water balloons, you can play several rounds for even more fun.
Rock The Baby Challenge
Any parent will tell you that one of the toughest parts of having a newborn is sleep deprivation. Many sleepless nights are spent pacing the house and rocking the baby. Test the mental strength and stamina of your male guests to see if they're up to the task with the Rock the Baby Challenge. Here's how it goes.
Have players line up and hold out their arms as if they were cradling a baby.
Tell them to start rocking their invisible baby. (Lullabies are optional, but encouraged for an added element of fun.)
The winner is the guest who can keep their arms up and rocking the longest. This is harder than you might think!
This game is great for a virtual baby shower. Simply have guests keep those arms up in view of the camera and you've got a great virtual baby shower game! If you really want to make it challenging, give guests something to rock: a baby doll, a small sack of potatoes, or something similar.
Spoon Fed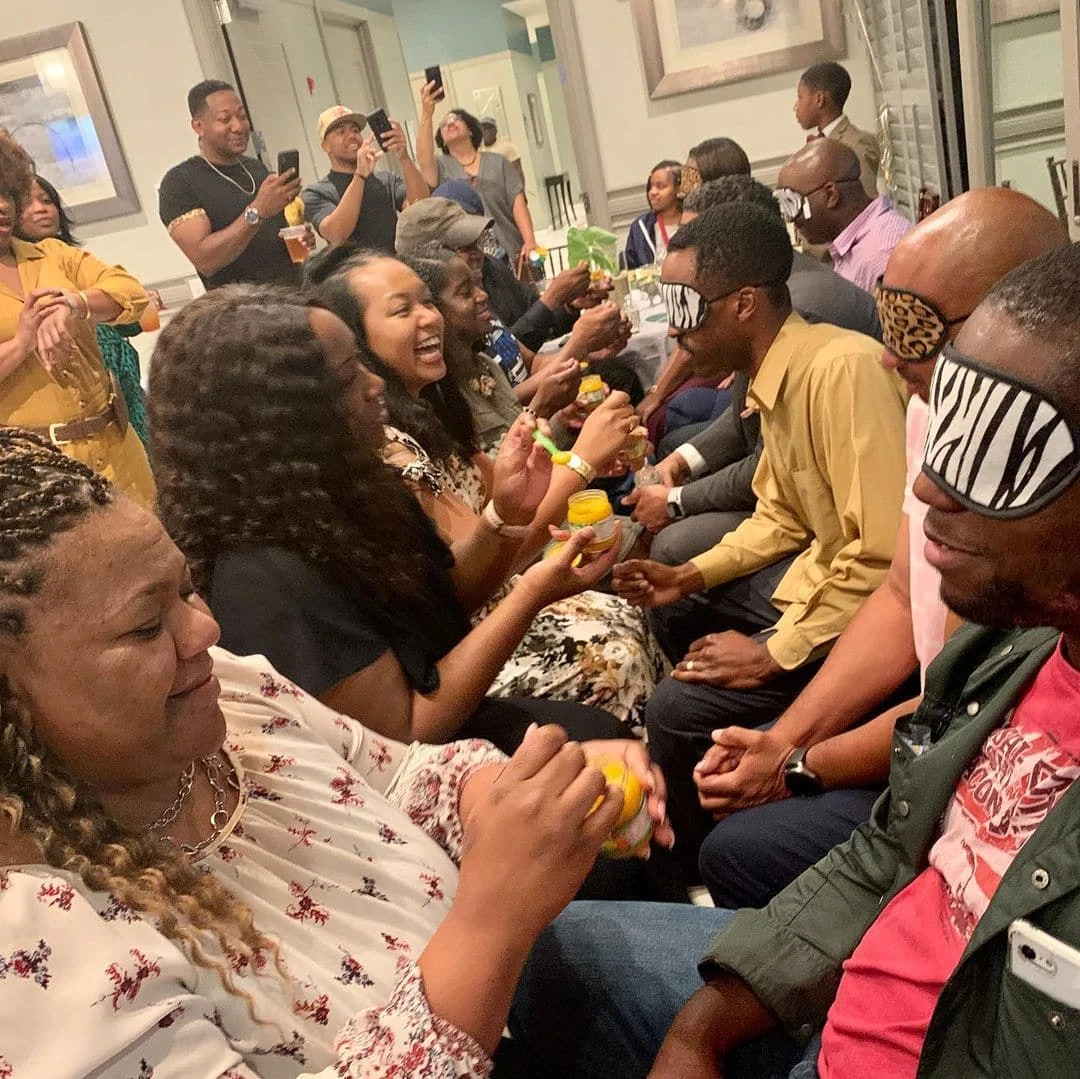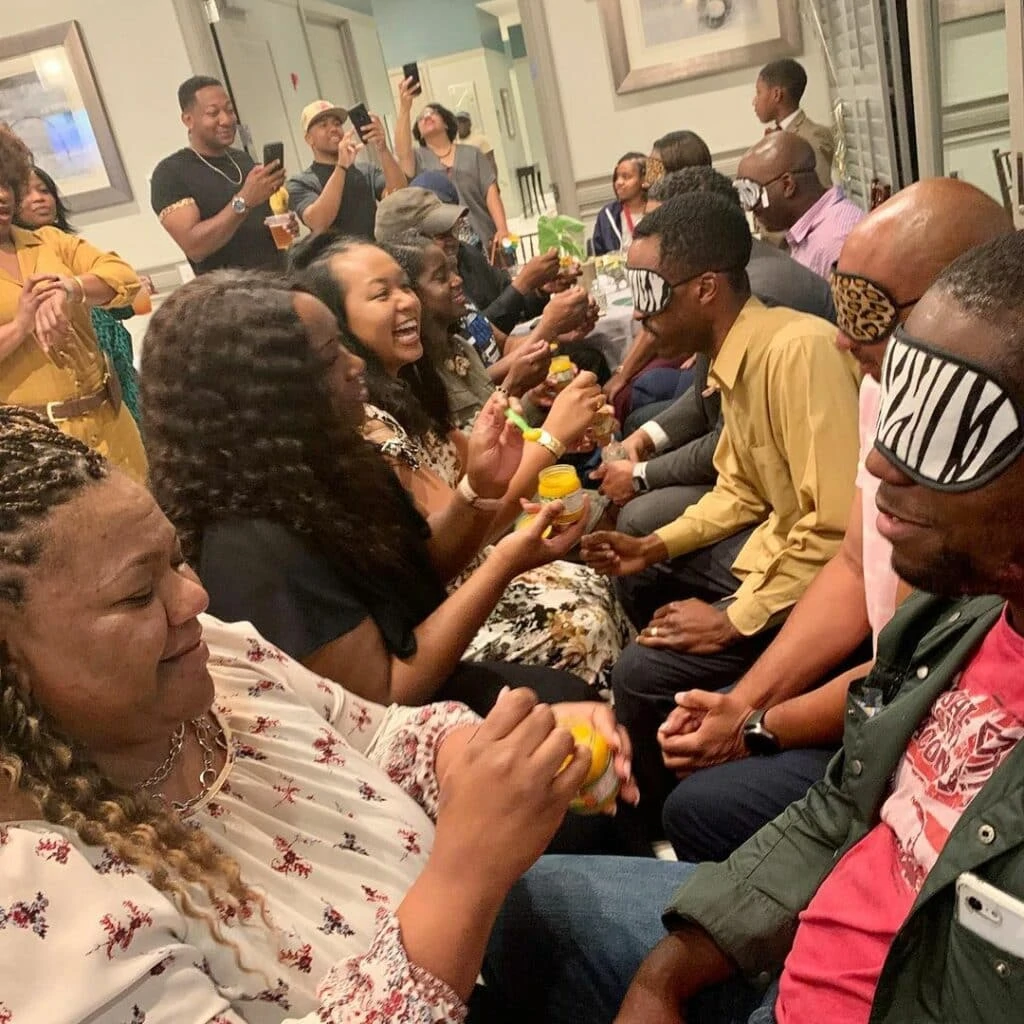 Feeding a baby is one of the cutest parts of being a parent. But let's be honest: It's also one of the messiest! To prepare the parents-to-be for what's in store at mealtimes — and for a game that's sure to make everyone crack up — try the Spoon Fed Game. This game is perfect for guests who are unafraid to get a little messy. Open wide and say, "Ahhhh!" Here's how to play.
Before the shower, get plenty of baby food jars and small spoons.
You'll also need several blindfolds or scarves (or anything else that can function as a blindfold).
To play, partner guests up in pairs of two. One partner sits on a chair while the other is blindfolded.
The blindfolded partner feeds their teammate baby food. (Bonus points for airplane noises.)
Whoever is the cleanest by the end of the game (set a timer for a minute or two) wins!
Tip: Make sure none of your guests have food allergies ahead of time to ensure a fun and safe time for everyone. This is just generally good advice, but since this game is food-focused, it's especially important!
Wipe Out
Don't worry, this isn't the kind of "Wipe Out" you see on TV with people jumping on giant bouncy balls and plummeting into the water. This version of Wipe Out is a lot simpler and quicker, and won't result in any broken bones or cringey fails. Here is how to play the baby shower game Wipe Out!
Before the shower, buy several large packs of baby wipes. (The cheaper the better; hit up a place like Costco or Sam's Club to buy in bulk.)
Hand a pack of baby wipes to each player and instruct them to pull out ALL of the wipes from the container… but the catch is, they can only use one hand.
The first player to empty their pack of wipes wins!
This game is easy to play virtually. Simply have remote guests get a pack of baby wipes before the shower — or mail them yourself, so everyone has the same size.
Should Men Play Baby Shower Games? YES!
With so many people used to traditional baby showers, it's easy to wonder just what is acceptable these days. We're big fans of doing what feels right to the parents-to-be, and for many couples, that means including dad. We say throw "proper" baby shower etiquette out the window and have fun! When men join in, everyone has a better time. Many men aren't used to being included in baby shower games, so watching them navigate this unfamiliar territory makes for a more enjoyable experience for everyone involved.
Once the baby shower is over, the fun doesn't have to stop. You can use the WebBabyShower gallery to upload the hilarious photos and videos (or screenshots, if you go fully virtual) from the baby shower games the guys play. Guests will love scrolling through the photos after the main event.
Hopefully, you've found some fun baby shower games for men to play at your next baby shower. Do you have more ideas for hilarious baby shower games for men? Give us a shout and let us know. And if you play one of these games at your next baby shower, make sure to share your photos on social media and tag us using the hashtag #WebBabyShower so we can see. Happy baby shower planning!