You can't have a baby shower without a selection of fun, easy games for guests to play. We mean, you could, but it probably wouldn't be much fun. Games, essentially, provide guests with entertainment, in between all of the eating, chatting, and gift-giving. 
The only problem is that many games traditionally associated with baby showers are seen as silly and/or a complete and total bore. But one game bound to keep your guests' attention throughout the event is a beloved classic: the Name That Tune baby shower game.
Bookmark this article, courtesy of WebBabyShower, the industry's premiere online baby shower company, as a reference for instructions on how to play the game. It also includes a free template and two playlists for your event.
What is the Name That Tune Baby Shower Game?
This game, as the name implies, consists of hosts playing snippets of various songs and the guests guessing the name. In the age of Covid-19, when more and more baby showers are being held virtually, this game is especially great because it involves almost no physical materials, other than the device used to play/cast the music and the template for the game.
Throw a Virtual Baby Shower so Everyone

Can Celebrate!

• Free Trial – 7 Day Refund for any reason
• Only 1 Minute Setup!
• 40+ Custom Themes & Matching Invites
• Use Any Online Registry
• Send Unlimited Invites and Updates
• Baby Shower Games with Scoreboards, Give Prizes!

Build Your Shower
---
Name That Tune Essentials
A Playlist Full of Songs With "Baby" in the Title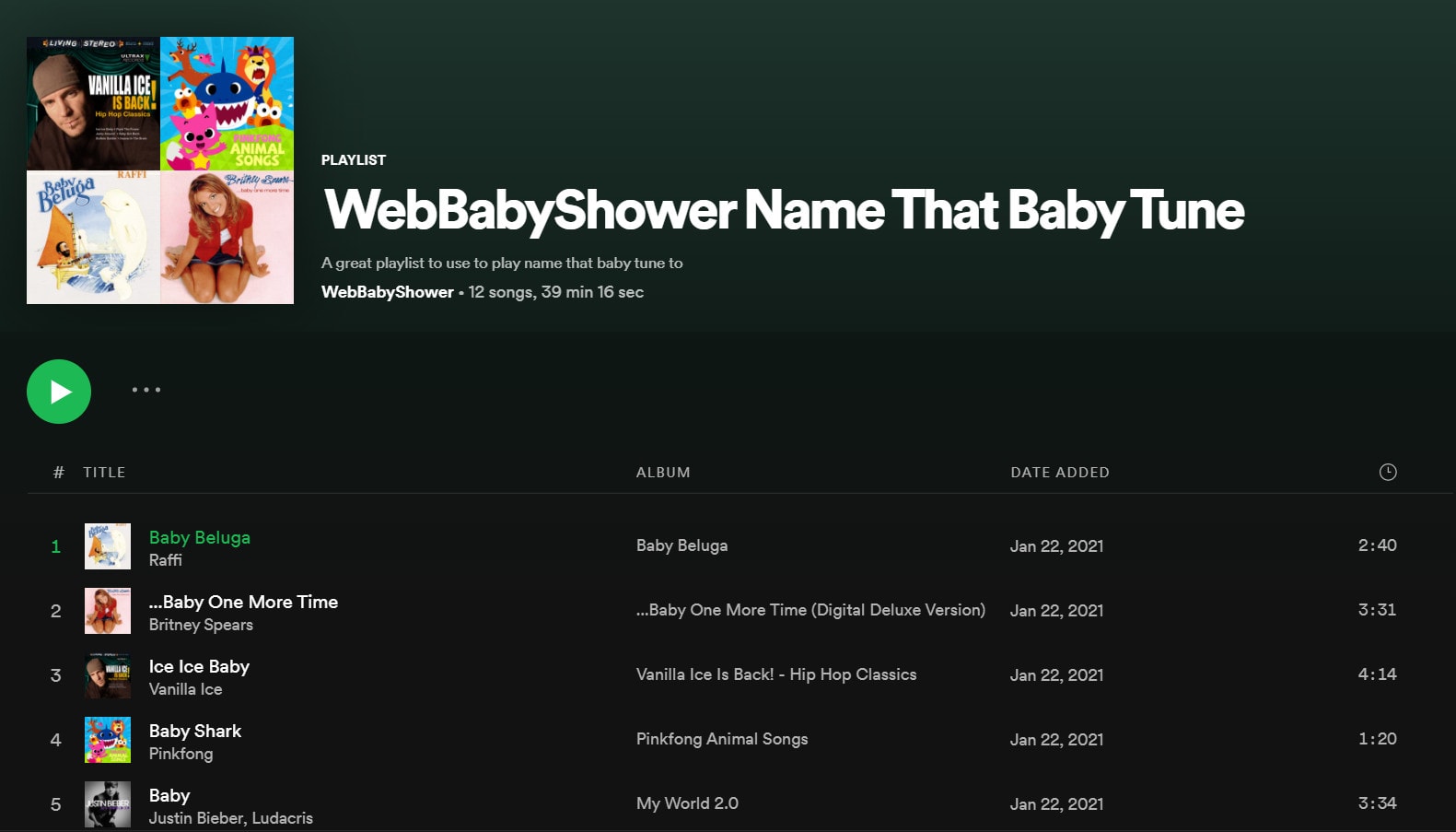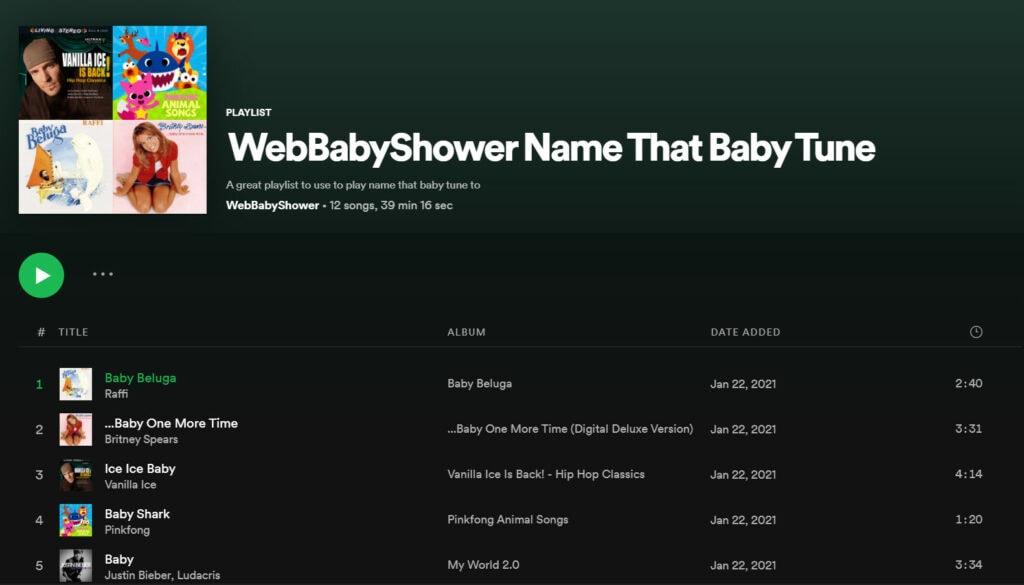 While you can totally pick your own list of songs, most people really lean into the beautiful cheesiness of baby showers and stick with songs with the song "baby" in the title. Think of universally-loved songs like "Baby Got Back" by rap legend Sir Mix-A-lot and "Ice, Ice Baby" by Vanilla Ice, and build from there.
Of course, you can use WebBabyShowers' pre-made playlists, created just to make your life a little bit easier.
Our Spotify Playlist can be found by clicking here, it is a mix of 12 pop, R&B and family friendly children's songs, which reference the term baby in one way or another. Using it for your baby shower is as simple as clicking the link and saving the playlist to your Spotify account until it's time for the event.
If you don't have a Spotify account, signing up for one is incredibly easy — it literally takes less than 20 seconds. Be warned, however, that the free tier of Spotify only allows six skips per hour, and the playlist might play out of order. Premium users can play songs in any order they wish.
Our YouTube Playlist is even more robust and offers even more options — 100 "baby" songs in all. Click here to check our YouTube playlist out. Whether your guests are fans of old school legends like The Temptations, 90's darlings like Mariah Carey, or mid-00's pop sensations like Justin Bieber, there is something on this list for everybody.
The beauty of YouTube is that there is no limit on the number of songs you can skip and no time limit to adhere to. However, free YouTube accounts are required to view ads (usually two before every video). To get around this, you can always opt for an ad blocker or sign up for YouTube Premium.
Finally, you can also put together your own playlist, though we can't imagine there isn't something in our list that will capture your ear.
Downloadable Templates
Enjoy this FREE downloadable template, courtesy of WebBabyShower. It's a pre-made worksheet for guests which they can print off on their end.
It takes only a few seconds, and access to a printer with ink (preferably colored). If you're the host, make sure to send it to the guests in plenty of time! Writing the answers on a blank piece of people would work too, but no one wants to be the odd person out!
Speakers Or Headphones
If you're having an in-person baby shower, then a good sound system is a must! You don't want to be that host who's plagued with technical difficulties because that's a sure fire way to lose people's attention.
But if you're hosting a virtual event, then external speakers aren't needed. You will just need to make sure that everyone who is participating with the video call has headphones so that the music isn't garbled together. 
See how a great online baby shower works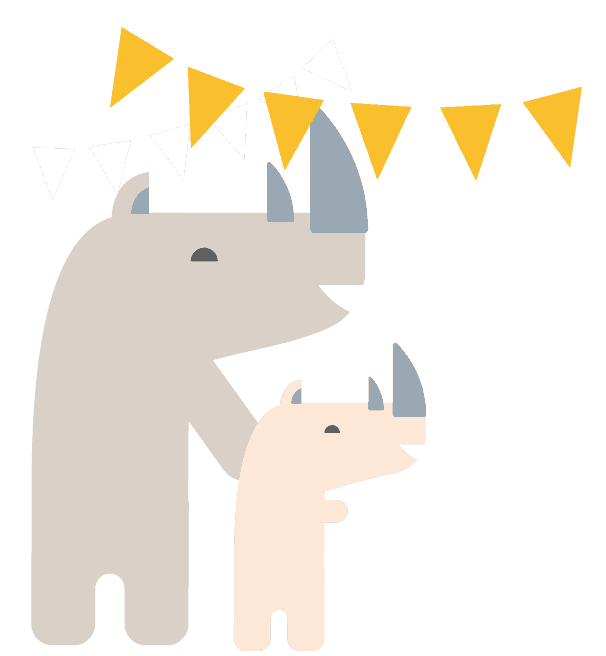 How To Share Sound if You are The Host
If you're hosting the game via Zoom, you'll need to know how to share the sound with the guests on the video call. Click here for a full breakdown of how to share the YouTube sound of your playlist via zoom.
How WebBabyShower Can Help
The key to having a truly successful virtual baby shower is experience is having your event in a centralized location, such as WebBabyShower.
By hosting your baby shower on the platform, you'll have all the tools needed to pull off your shower. As far as the Name That Tune baby shower game goes, you can use the platform directly to send out invitations which include the Zoom link.
You can also list information for the game on your baby shower's home page. And after the game has concluded, you can announce the winner and prize by emailing them directly from the platform.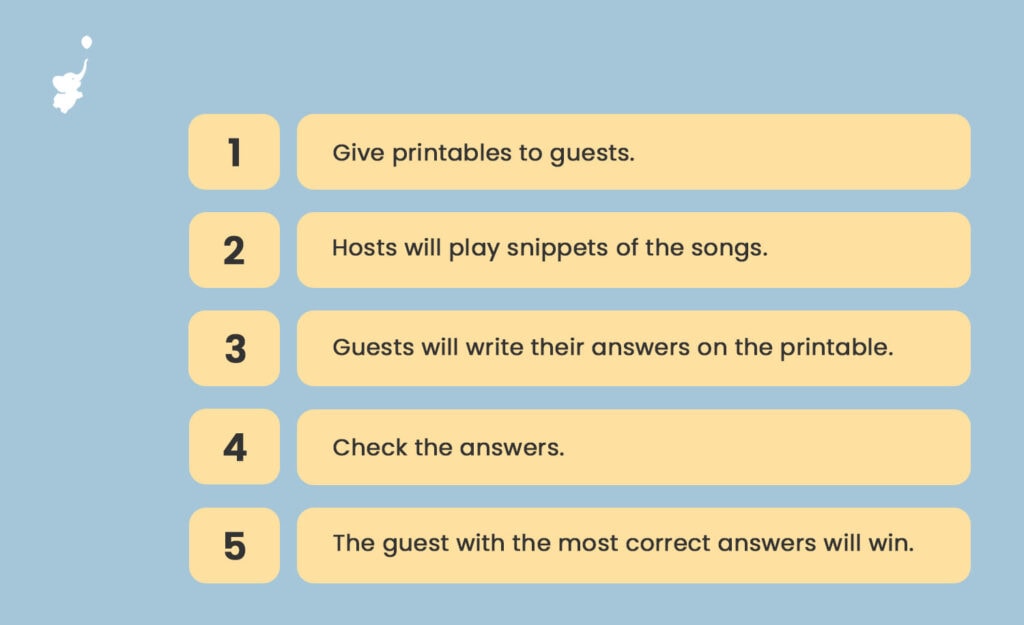 How To Play Name The Tune Baby Shower Game
So here's how to play.
Hosts will play snippets of a song, but withhold the title. Guests will then have to guess the song, based on the lyrics.
Once they have their answer, they should document it on the FREE template provided by WebBabyShower.
To make things especially challenging, hosts should refrain from playing the song's chorus, which will usually give away the title of the song.
And if you want to up the stakes even more challenging, you can consider imposing a time limit (which is probably good if your playlist is really long).
The person who comes up with the most correct answers will win!
Baby In The Title Song List
The most important aspect of the game is, of course, the music. As stated above, feel free to use our pre-made Spotify and YouTube Playlists, full of baby shower songs. Or, put your creative muscles to work and create your own!
You can include virtually any song within the playlist, but people will always respond to sentimental songs, like the song the mother and father played at their wedding, songs from their childhood, or any song that accompanied an important life milestone.
Did you enjoy this list? We sure hope so! It's more important than ever to center your baby shower around games which will hold guests' attention, and the Name That Tune baby shower game is perfect for that. Everyone loves music and will appreciate the callback to so many nostalgic memories that music will invoke. So go ahead, check out and bookmark our playlists and templates — they're not going anywhere!