Baby shower games are a great way to keep your party interesting.
But you need to be inclusive with how you plan your games. Ensure you include games that work for everyone invited – from your best friend to your great-grandmother! Good options are games that require minimal movement or that people can play from the comfort of a chair.
Not sure which activities to include during your baby shower? We've compiled a list of easy baby shower games anyone can play.
Have the Best Games for Your Baby Shower!
• All Games Included – In-app, zoom games & printables
• Free Trial – 14-Day Refund for any reason
• Only 1 Minute Setup!
• 80+ Custom Themes & Matching Invites
• Use Any Online Registry
• Send Unlimited Matching Invites and Updates
• Baby Shower Games with Scoreboards, Give Prizes!
Build Your Shower
---
11 Easy Baby Shower Games
We curated a list of easy baby shower games, from games that test your guests' baby animal trivia to those that bring on the giggles. Take a look at these games great for any crowd.
Baby Bingo
You'll hear many baby-related words and phrases at a shower, including diaper, pacifier, stroller, due date, and more. Create bingo cards with these common baby shower words and pass them out to guests. As each word is said during the shower, guests mark off the boxes on their cards to get a bingo and win a prize.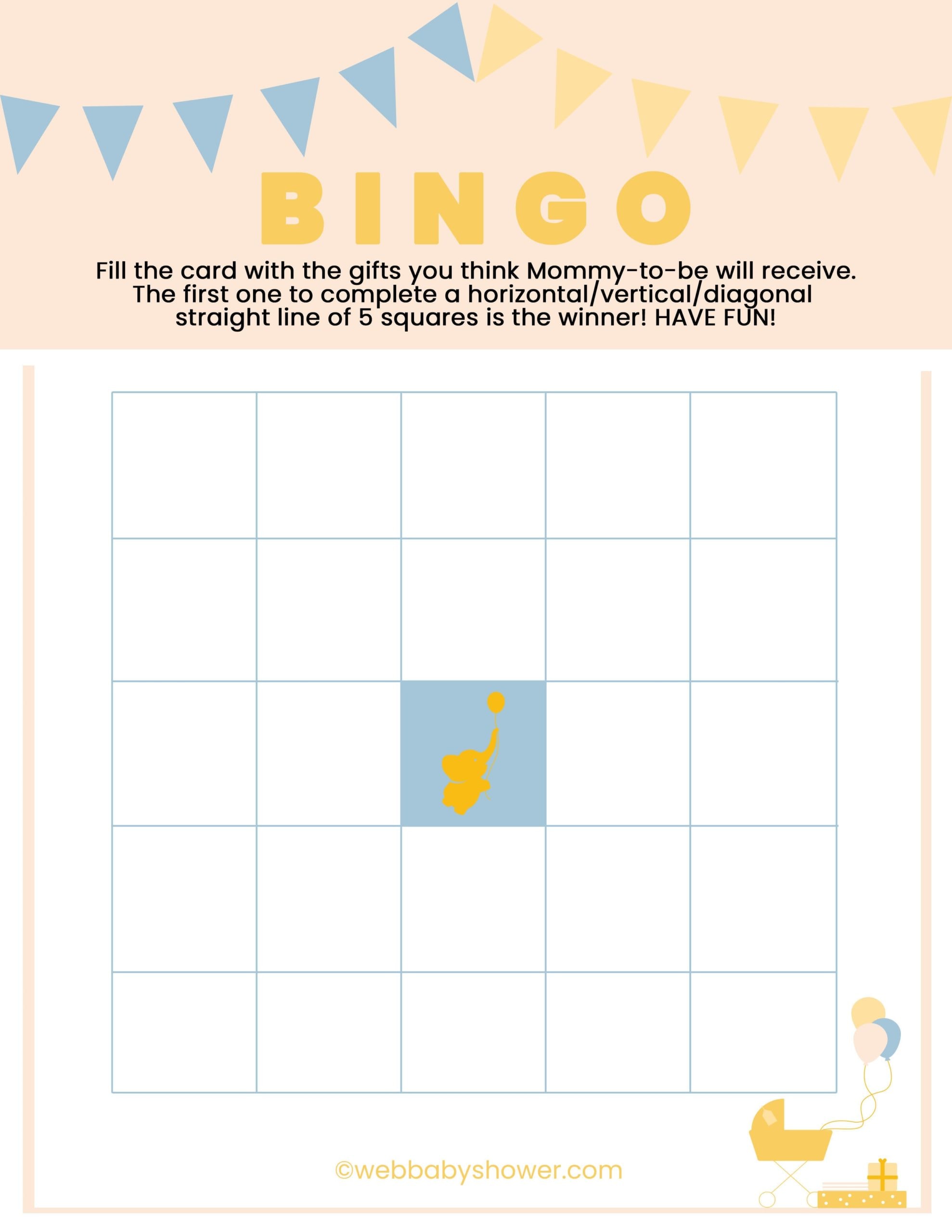 Baby Shower Gift Bingo
Make gift opening more engaging for guests with baby shower gift bingo.
Create bingo cards for each of your guests. The cards should include possible shower gifts in each box, such as 'diaper bag', 'bottle', or 'onesie'.
You can fill in the squares beforehand, or pass out blank cards so guests can guess what the parents-to-be will receive. As each gift is opened, guests will mark off their bingo cards to win a prize.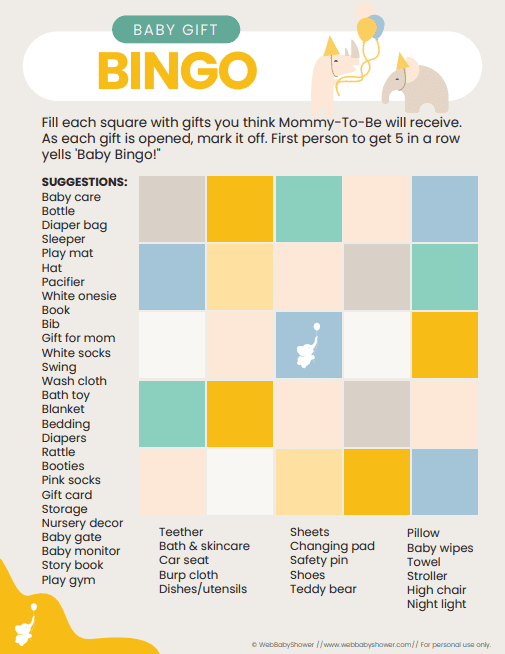 The Price is Right
Do your guests know the cost of a pack of diapers, baby food, or popular baby toys? In the Price is Right baby shower game, show slides various baby items, giving guests different price options to choose from. Tally up the correct answers as you go along. The guest with the most correct guesses wins.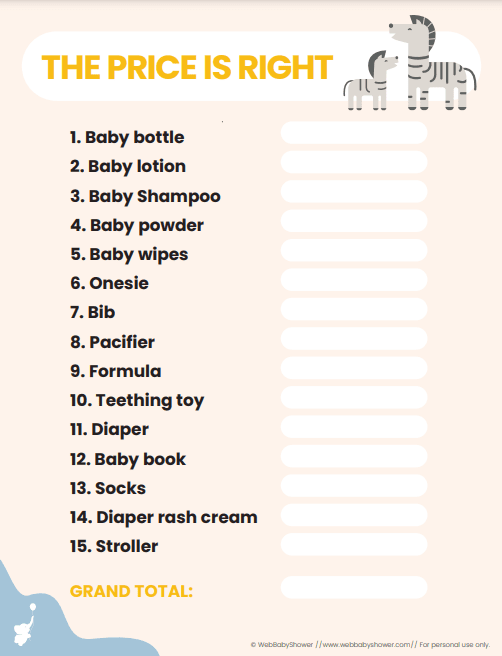 Baby Animal Game
Most guests will know a baby dog is a puppy, but will they know a baby oyster is called a spat? Hand cards to your guests featuring an animal name in one column and its offspring name in another. Set a timer and ask guests to match as many baby animal names as possible. The guest with the most correct matches is the winner.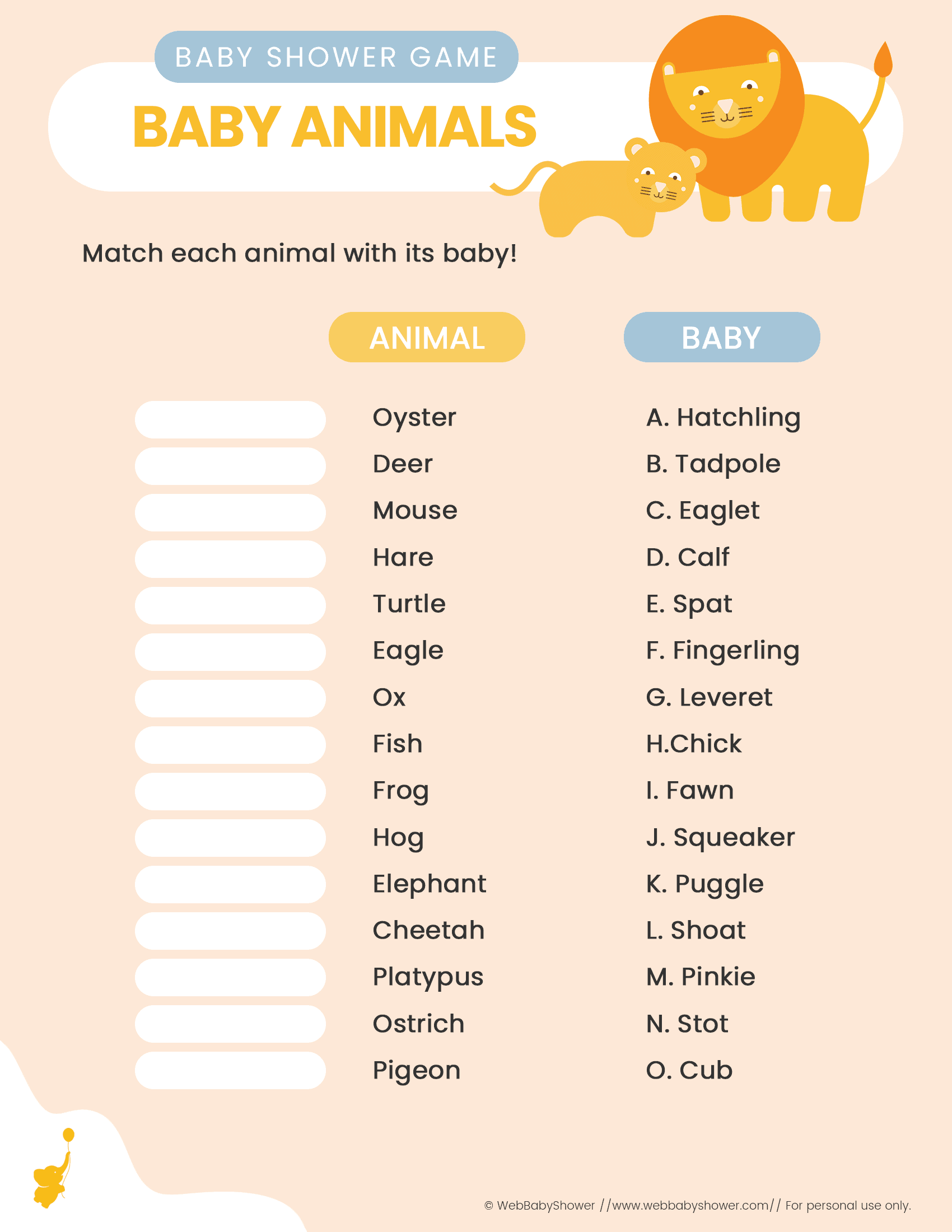 Baby Word Scramble
We love this easy baby shower game any guest can play. Provide each of your guests with a list of scrambled baby-related words, like diaper, feeding, blanket, and more. Set a timer, and guests will work to unscramble as many words as they can. The person with the most correct answers wins a prize.
Name that Tune
Name that tune is an easy baby shower game that gives guests a feeling of nostalgia. Play snippets of popular lullabies or nursery rhymes, and give guests a set amount of time to write down the song title or the remainder of the lyrics. Check answers at the end of the game to see who got the most correct.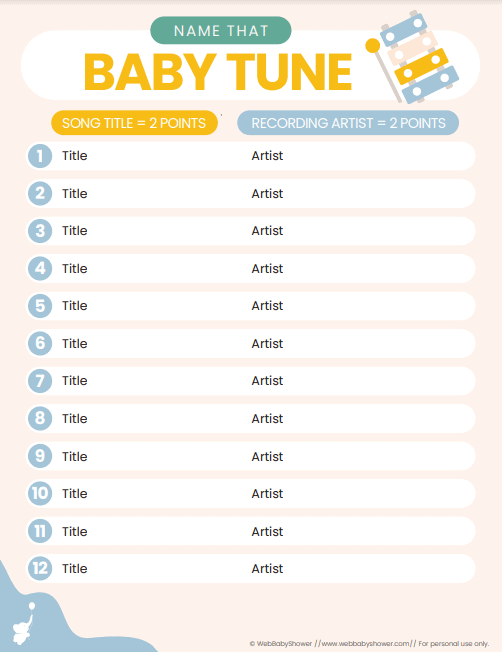 Diaper Raffle
Diaper Raffle is a great way for the parents-to-be to stock up on diapers before their baby arrives. Encourage guests to bring packs of diapers in different sizes to the shower for a chance to win a prize. Guests who bring two or three packs of diapers get extra chances to win. Draw a winner at random during your baby shower.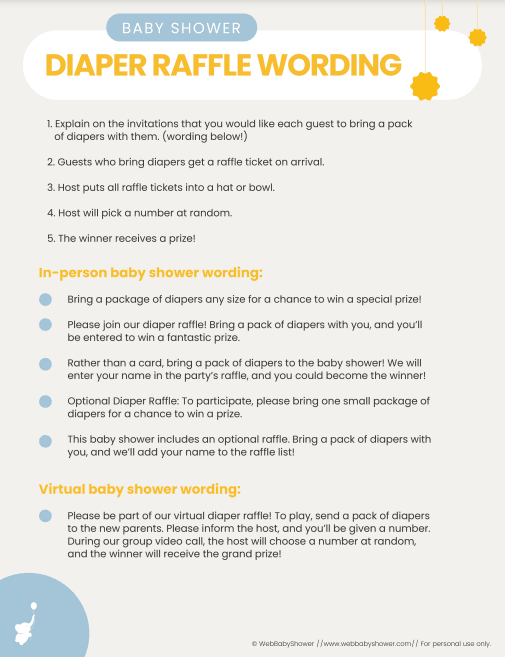 Baby Name Game
Give guests pens and paper and have them write down as many baby names as possible that start with a specific letter. Set a time limit and see who guesses the most names. With different generations at your shower, it's fun to see what your guests come up with—the guest with the most names on their sheet wins. You can also give extra points for creativity.
Guess the Baby Food
Remove the labels from several baby food jars, from bananas and apples to peas and green beans. Hand out a bunch of small spoons and have guests taste-test each of the baby foods, then write down their guesses for each flavor. The guest with the most correct guesses wins.
Baby Photo Game
Ask each guest to bring a baby photo of themselves to your baby shower for this easy baby shower game. Display each photo and have everyone guess which baby photo belongs to which guest. Award a prize to the person with the most correct answers.
Diaper Duty
This game of skill will bring out the giggles. Set up a table with diapers and baby dolls. Set a timer, and guests race to see who can change the diaper on their doll fastest. You can play this as teams or individuals. The fastest guests are the winners.