Believe it or not, I love writing thank you cards! Ok I know it sounds crazy.. but it gives me a chance to express how much I appreciate everything that my family and friends have done. After my baby shower, it was even more special because I was able to thank them for the love they showered on my growing family.
( Wait! Looking for baby shower invite messages instead? darn google 😉 )
But sometimes it can be hard to think of just the right baby shower thank you card wording that shows the gift giver how much their kindness meant. Check out these tips and wording examples for thank you cards that are sure to delight! We crafted these custom writing samples at WebBabyShower just for you.
Also Read: 25 Creative Ideas for your Baby Shower Card in 2023
Throw a Virtual Baby Shower so Everyone

Can Celebrate!

• Free Trial – 14-Day Refund for any reason
• Only 1 Minute Setup!
• 80+ Custom Themes & Matching Invites
• Use Any Online Registry
• Send Unlimited Invites and Updates
• Baby Shower Games with Scoreboards, Give Prizes!

Build Your Shower
---
Skip ahead to the section you want to read:
---
When to Send a Baby Shower Thank You Card?
The best time to send thank you notes is two to three weeks after your baby shower. That way, the shower is still fresh in your mind and Baby has still yet to arrive.
It may feel overwhelming to write 20 or more thank you cards in one sitting. Do some planning to make the process a breeze. Set a goal to write a certain number of cards every day so you're not doing it all at once.
Add a special touch with personalization. Include your favorite maternity photo or a sweet memory from your baby shower.
How to Send Baby Shower Thank You Cards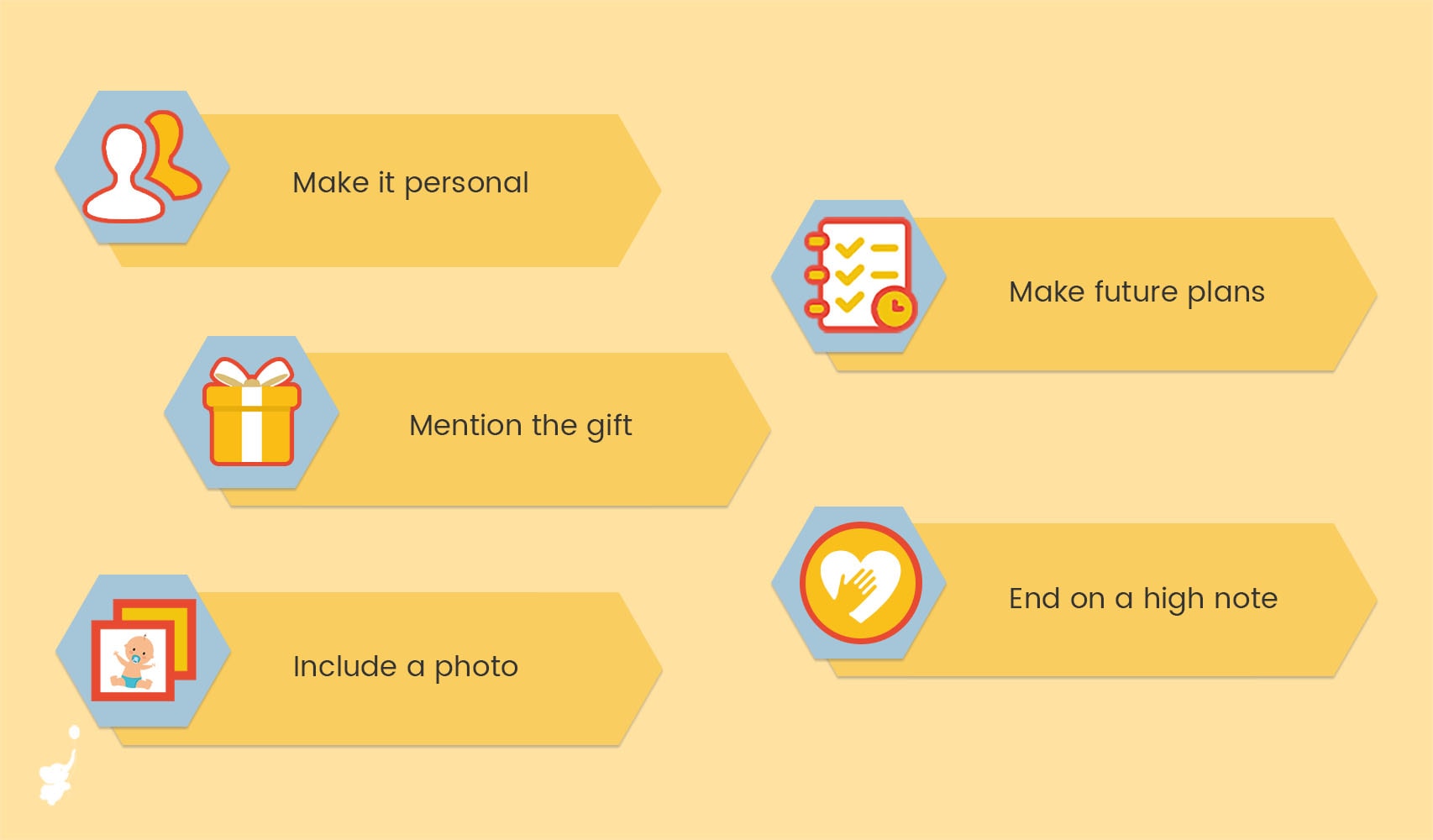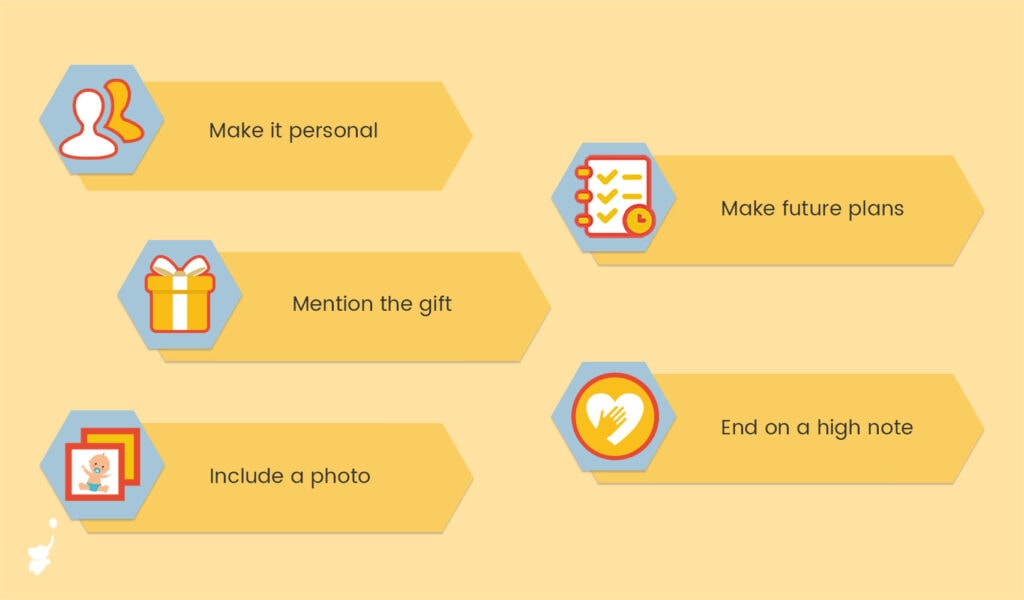 1. Make it personal
There are times for one-size-fits-all thank you cards but a baby shower is not one of them. When writing your thank you cards, start by addressing it to the individual you are thanking. Starting with a simple Dear and their name is a no-fail way to make your card personal.
You can also go the extra mile and purchase personalized stationery or thank you cards that match the theme of your shower. There are tons of creative options available at online craftsmen retailers such as Etsy or more traditional stationery available at Papersource, Shutterfly, or your local craft store.
2. Mention the gift
Another way to make the gift giver feel very special and know that their gift really meant something to you is to tell them how you will use it.
A diaper genie might not be the cutest present you will open, but it will become one of your most appreciated items when baby arrives. Let the person who gifted you one know how much you love the possibility of a stink-free future. Do you love the onesie supporting your favorite sports team? Tell the giver how you plan to take your new baby to a game next season.
Including this personal touch shows the gift giver that you took the time to think about how you will use their gift and that you truly appreciate their thoughtfulness.
3. Include a photo
If baby has made an early arrival or you had a baby shower at the end of your pregnancy, feel free to include photos of baby using the gift. Not only will they love that you went the extra mile to thank them, they will feel included in your family circle. This is an especially thoughtful gesture for those who may be far away and not able to see baby often.
Guests will likely display your photo in a prominent place where they can smile at your little cutie every time they see it. Photo services such as Shutterfly, Snapfish, or even drugstores like CVS and Walgreens make it easy to have printed photos sent directly to your home.
4. Make future plans
Guests who attend your baby shower are there to shower you and your new family with love and support. They are probably just as excited to do the same for your new baby. It is nice to mention a future opportunity for your guests to meet your little one in your note.
This can be as specific or general as you feel comfortable with; guests understand the sometimes unpredictable nature of parenthood. They will appreciate the invitation to follow up with you once you settle into your new role and meet the baby.
5. End on a high note
Just as including a nice personal greeting at the beginning of your note is important, ending with a thoughtful closing can go a long way to help show your appreciation. A common choice for baby shower thank you card wording that is always appropriate is to end with Sincerely and your name.
With Appreciation is nice for thank you cards and strikes the right balance between formal and personal for guests such as co-workers or more distant relatives. Fondly or even Love is personal for close family and friends. Hallmark's card writers have compiled a list of warm closings to help you end your card just right.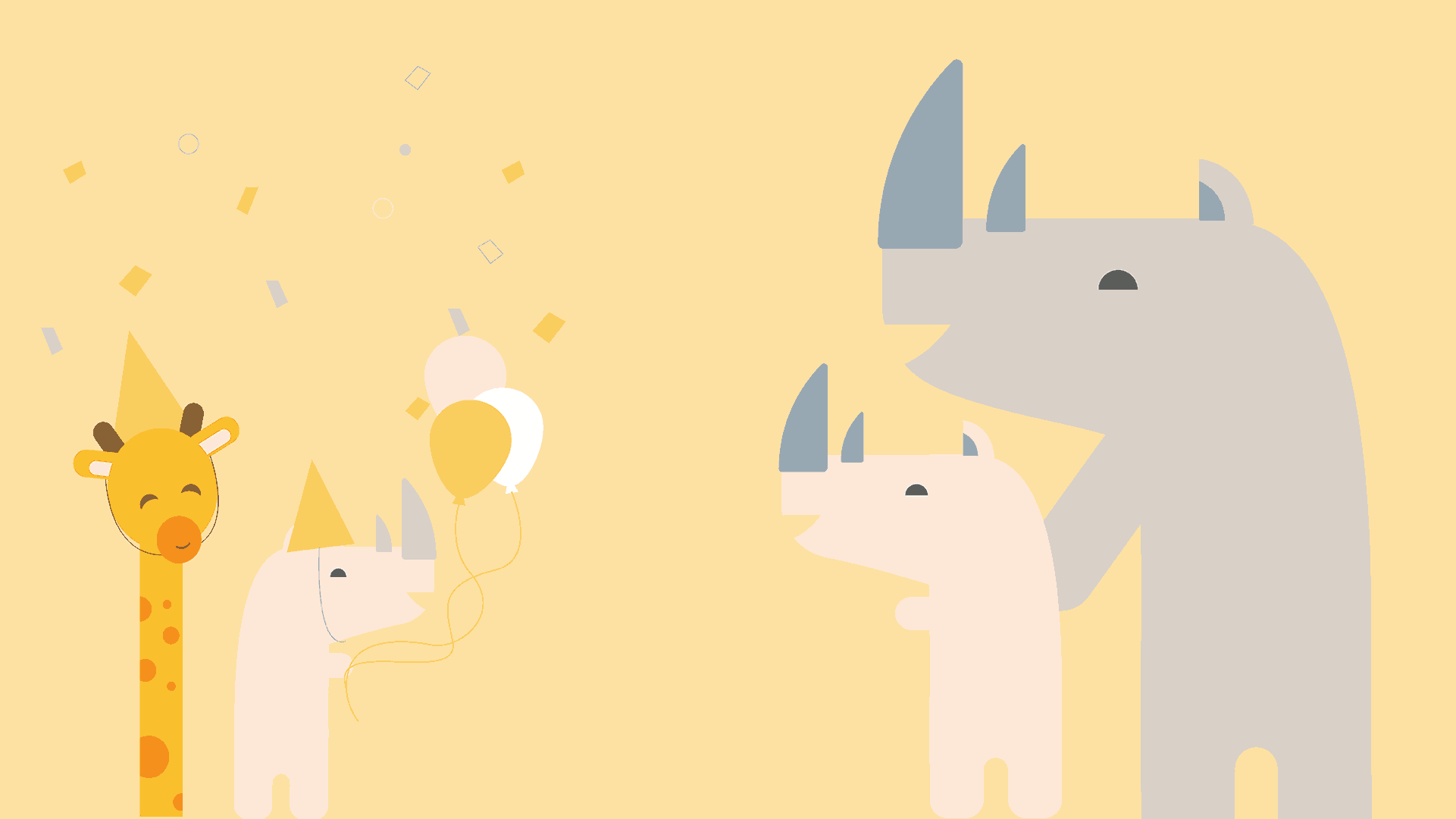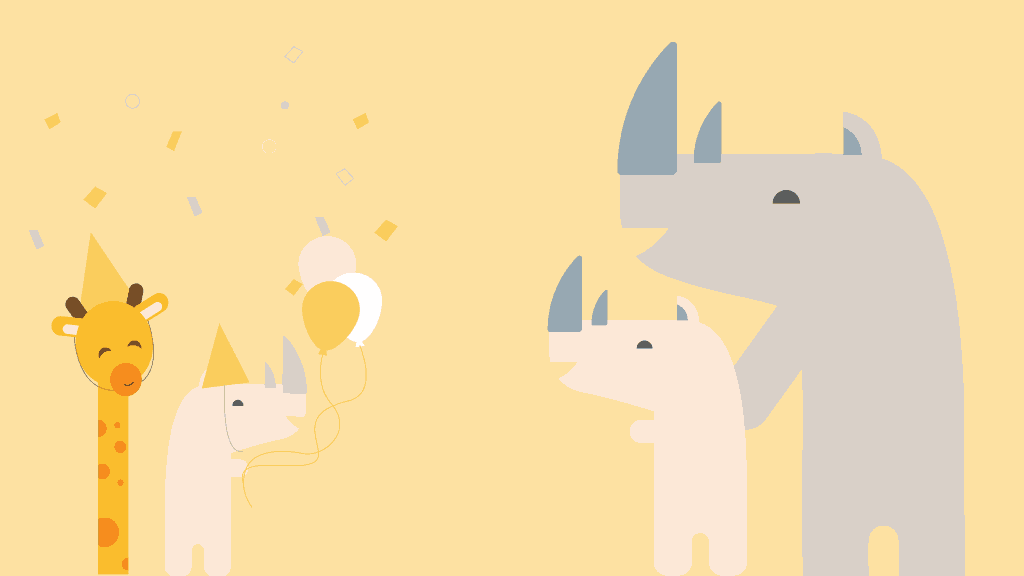 Read: 27 Baby Shower Invitation Wording Ideas for a Successful Party in 2022
Baby Shower Thank You Wording Etiquette
Who should write the thank you card?
In general, the person receiving the gift should be the one to write the thank you card. But even the most advanced newborn has yet to master the art of the thank you 🙂 The new parents are expected to thank guests, as they are the ones using the gift to care for and nurture their new baby.
If the new parents are experiencing a hardship, such as medical issues following the delivery, it can be appropriate for a close friend or relative to send out thank you cards. Make sure that the new parents are involved, even if it just means mentioning that they appreciate the support and understanding of the gift giver during a difficult time, as well as their gift.
Who should get a special phone call?
It is nice to thank people for extremely generous gifts with a phone call in addition to a thank you card. If a guest gifted you with an expensive gift, such as a high-end stroller or crib, a phone call is a good way to let them know how much you appreciate the gift as well as let them know you received it, if it was sent via mail.
Another instance where a phone call is a nice gesture is when the gift is extremely personal. It is hard to adequately express your thanks in a note for the gift of a family heirloom, such as a baby quilt made by a deceased relative or rocking chair that has been handed down through generations. A phone call will help you make that personal connection with the gift giver.
It should be noted that a thank you phone call does not take the place of a thank you note, which should still be sent to all guests. In Theknot.com's forum on thank you phone calls, posters overwhelmingly noted the benefits of thank you notes for the convenience of the gift givers and the opportunity to share them with everyone who was a part of the gift.
When to send a virtual thank you
If you have had your baby shower virtually, it may make more sense to thank your guests online. This is especially true when your shower was held over the course of a few days or weeks. Send an email to each guest, just as you would a handwritten note. Virtual thank you notes also make it easier to set up future playdates or get-togethers, as recipients can just reply to put plans in motion.
Consider your audience when choosing the best way to thank your guests. It is okay to send handwritten notes to those who would prefer them and go the email route for guests who are more tech-savvy. It is this attention to detail that shows your guests that you not only appreciate their gift– you also appreciate them and what they bring to both your life and your baby's.
Creative thank you cards
Think back to the theme of your baby shower when sending your thank you cards. If you had a luau-themed bash, craft thank you cards in the shape of Hawaiian leis. If you had a special character theme, such as a teddy bear or rubber ducky, look for ribbon with similar accents to embellish your cards.
Hand lettering is another popular option. It can take time and practice to master, so make sure you have some extra cards on hand in case you need a few re-dos. Clementine Creative Design has compiled a list of excellent hand lettering tutorials.
Shutterfly also recommends including photos from the shower in your thank you. Guests will love the reminder of the wonderful time they had celebrating. If you had a photo booth set up at the shower, a thank you card is the perfect opportunity to share fun (and funny) photos with guests.
20 Great Baby Shower Thank You Wording Card Examples
#1 Thank you to the host
Start your list of thank yous with the person who put it all together– the host! Show them how grateful you are for their kindness and generosity with a heartfelt thank you note. In this case, consider sending a small token of your appreciation such as flowers or a sweet treat that they can enjoy.
Thank you for the love that you showed to me and my new family when you hosted my baby shower. I am so grateful to have you in my life and with me to welcome my new baby very soon.
#2 Thank you from baby
It can feel strange to write a thank you card on behalf of someone who does little more than drool, but it is a good habit to model for your child as they grow up. Guests will get a chuckle from the card they receive from your newborn. Play it up and really get into "character" for a truly personal thank you note.
Thank you for my new outfit–I love it so much that I pooped myself! I made sure that my mom washed it right away so that I could wear it again as soon as possible. All of the other babies at the park thought I was so cool. Thank you again!
#3 Thank you for co-workers
Take your time when writing a thank you note to professional colleagues. If it is illegible, it will make it hard for co-workers to take you seriously when you return to work.
It is also nice to acknowledge your eventual return to work. Even in the most supportive of offices, your co-workers are probably eagerly anticipating your return. Don't make it an awkward omission in your thank you note. Rather, mention how much you appreciate this time you get to spend with your baby.
Thank you for the baby washcloths and towels for little Ben. So far, he is loving getting baths in the sink and we love to see him all wrapped up afterwards. I love that I get to spend this time bonding with him but am looking forward to seeing everyone back at the office when I return.
#4 Thank you for those who couldn't attend
You may think you should only thank those who attended your shower (zoom baby shower or traditional) but it is equally important to thank those who were unable to be there in person. Show that you understand their absence and are looking forward to seeing them at another opportunity.
Thank you for the stroller toys that you sent for Clara. We missed you at the shower but can't wait to get together soon. Hopefully you will be able to meet Clara soon when she makes her big arrival!
Yes, people missed the first party. But they don't have to miss this one!
Include everyone online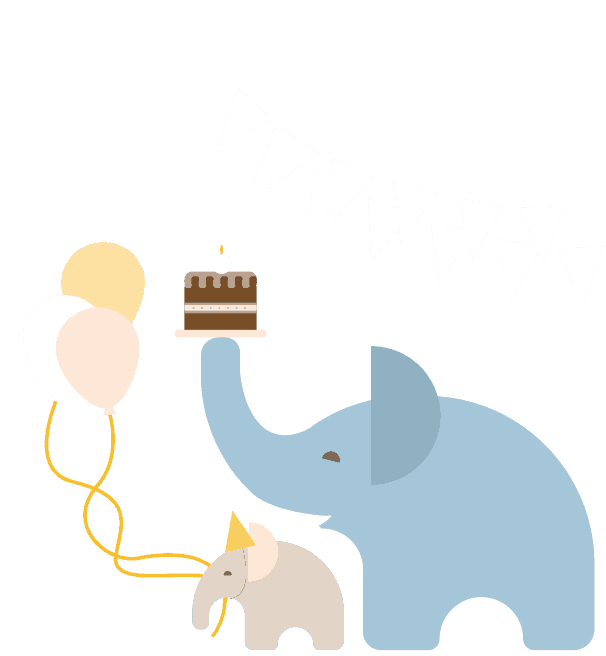 #5 Thank you for a group gift
It is nice to send individual thank you notes to everyone who went in on a group gift. It can get tiring to write out a lot of thank you notes but the effort and thought that each person put into the gift should be acknowledged.
The exception to this is when the group is especially large and shares a space, such as an office, where a thank you note could be displayed. Southern Living recommends using a pen that won't smudge or bleed. This is especially true when you know the note will get passed among many hands, such as a group gift.
Thank you for the Pack N'Play! It is such a generous gift and one that we will be sure to use often. We appreciate the time that everyone took to arrange such a wonderful gift.
#6 Thank you for a financial gift
The Emily Post Institute recommends including how you intend to use the gift of money when thanking the giver. The same is true of gift cards. If you don't have anything specific in mind yet, don't be afraid to let them know you plan to use it on everyday expenses. Any parent knows how diapers, wipes, and baby food adds up!
Thank you for your generous gift for our new baby. We have set up a college savings account for our little guy and are so thrilled to be able to make our first contribution to his future. Harvard, here we come!
#7 Thank you for diapers
As a new parent you will soon be going through more diapers than you ever imagined. That's probably why they are such a popular baby shower gift– you can never have too many! Don't be afraid to add a little humor when thanking someone for diapers. After all, there's no getting away from the eventual contents they will hold!
Thank you for the diapers! We have heard from other parents how reliant we will be on them very, very soon. If you would like to come give us a "tutorial" on how to use them after our baby arrives, feel free!
#8 Baby Shower Thank You for Attending
Whether your guests gave you a gift or not, you should still recognize their attendance at your baby shower. They took the time to celebrate with you and show you love – and that's what really matters. You might say something like:
Thank you so much for attending my recent baby shower. It was such a pleasure to be surrounded by loving friends who want the best for me and my family! And I can't wait for you to meet our little one, once she's safely here in our arms!
#9 Thank You for the Unexpected Gift
You don't always expect a gift from a loved one. This is especially true if this person wasn't able to attend the baby shower, or if they are someone you haven't seen in a few years – so an unexpected gift is very much appreciated.
Thank you so much for the diaper bag you sent – it came as such a delightful surprise! I know it will come in very handy once our little one makes her way into the world. I'm so excited for you to meet her soon!
#10 Thank You for Specific Baby Shower Gifts
You'll receive gifts in every category of your baby registry. As we mentioned earlier, when you're writing your thank you note, mention the gift that was given to show your acknowledgment and appreciation. It's also a nice sentiment to say how you are using or plan to use the gift.
Thank you for the beautiful swaddle blankets you gifted for Claire. They keep our little escape artist as snug as a bug at night.
#11 Thank You After a Virtual Shower
Hosting a virtual or hybrid shower means you won't see all of your guests face-to-face. Even though your great aunt who lives a few states away wasn't with you in person, she still took the time to attend virtually and send you a gift. Acknowledge your loved one's generosity, even if they didn't celebrate with you in person.
We appreciate the wonderful book set you gifted to our little one. We loved seeing your face and chatting with you during our shower. Hopefully, we can get together in person soon.
#12 Thank You to Out of Town Guests
It's always a pleasant surprise when out-of-town guests make the trip to your baby shower. Let them know how much it meant to you that they drove the distance to celebrate with you.
It was wonderful to see you at our baby shower! Thank you for coming all this way to celebrate the arrival of our baby boy with us. It means so much.
#13 Thank You to Family Members
It makes all of the difference to have the support of your family at your baby shower. From parents and grandparents, to siblings and your favorite aunt. Show your appreciation and let them know how much they mean to you.
It meant the world to us to have you at our baby shower. We're so blessed to have you in our lives. Thank you for your constant love and support. Our little one will look so adorable in her new dress from her great grandma.
#14 Thank You to Close Friends
It's a must to have your besties with you to celebrate the arrival of your sweet baby. Along with family, they are an important part of your support group. Add a special message to them when you write your thank you cards.
From college roommates to raising babies together, I'm so honored to call you a friend. Thank you for celebrating with me at my baby shower! Ben is going to love his giant teddy bear from "aunt" Sarah.
#15 Belated Thank You
We get it, sometimes things happen, and thank you cards don't go out as soon as you planned. Life tends to get in the way, especially if you just brought home a newborn.
It feels like my baby shower was just yesterday (but I guess it wasn't). The time got away from us, but we haven't forgotten about your generosity. Thank you so much for the sweet animal mobile you gifted our baby girl. She loves to watch it twirl around as she drifts off to sleep.
#16 Thank You for a Handmade Gift
A handmade gift from a loved one is something you should cherish. Share your gratitude for the time and care your friend or family member put into making a gift for your little one.
Thank you so much for the beautiful handmade quilt you gave us at our baby shower! We can tell you poured your love into it. We will cherish it forever.
#17 Thank You for a Subscription Gift
A subscription box is a gift that continues to give well after the baby shower is over. There are so many options, including diaper, clothing, children's book and hair bow subscription boxes.
Thank you for the amazing children's book subscription you gave at my baby shower. I'm excited to read to Liam every day and introduce him to new books each month.
#18 Thank You for a College or Savings Fund Donation
It's never too early to start thinking about college or a savings fund that will benefit your child after high school. Instead of giving a monetary gift slipped into a card, guests can donate directly to your fund via e-gifting.
Thank you for your donation to Dalton's savings plan. We're excited to start early when it comes to saving for his future.
#19 Thank You for a Parents Gift
Not all gifts have to be for the baby. New parents will greatly appreciate gift cards for takeout, a bottle (or two) of their favorite wine, or a spa day. Home-cooked meals they can freeze and eat later is also a plus.
We were so excited to receive the gift card to our favorite restaurant. There probably won't be much cooking going on in the first weeks we bring baby home, so they'll go to good use. Thank you for thinking of the future exhausted parents.
#20 Thank You for a Big-Ticket Item
Sometimes a loved one is extra generous and gifts a big-ticket item from the baby registry all on their own. Recognize their kindness in your thank you note.
We were blown away by your generous gift. The twins are going to love their double stroller (and mom appreciates the cup holders and storage compartments). Thank you so much.
Did you enjoy learning all about baby shower thank you notes and how to write them? You will love sharing your appreciation with your family and friends through thank you cards even more. With these ideas and your personal touch, they are sure to love receiving your gratitude as well.
Related Articles: