You need to include the name, date, RSVP info, and any extra information your baby shower guests might want to know, such as the dress code or books you'd like for the baby. How to fill out a baby shower invitation is not a science, but is often overlooked. That's why we bring you a detailed etiquette guide on how to do fill them properly.
Hosting a baby shower is a special privilege, whether hosted by the mother-to-be's friends, family members, or (in rare cases) the mother herself. Being the person who puts together the party to introduce a new life in the world is a role not many people will get to experience.
But it's also a huge undertaking that must be treated with respect.
On the surface, a baby shower might look like a simple party or get-together, but there are many moving pieces at play leading up to the wonderful celebration. Similar to the math of how many people you want to invite to your baby shower. You'll have to complete some little odds and ends before you can enjoy the party!
Above all, the baby shower invitations! Now you may be thinking, "Why? What's so special about these little rectangular cards?" Well, we'll tell you. Properly formatted invitations relay to the guests important information like the theme, venue, dress code, the gift registry, and, most importantly, the date of the event. It's all about the invitation wording.
Therefore, you should actually start your planning process for the party by perfecting your baby shower invitations and jotting down all the necessary details.
But before you dive into creating your invitations, know that there are certain etiquette practices that are still relevant today.
Keep reading to learn how to fill out baby shower invitations, choose the best theme, and make sure your party runs smoothly.

Related article: When to send out baby shower invitations.
Throw a Virtual Baby Shower so Everyone

Can Celebrate!

• Free Trial – 7 Day Refund for any reason
• Only 1 Minute Setup!
• 40+ Custom Themes & Matching Invites
• Use Any Online Registry
• Send Unlimited Invites and Updates
• Baby Shower Games with Scoreboards, Give Prizes!

Build Your Shower
---
One of our new themes with matching invites: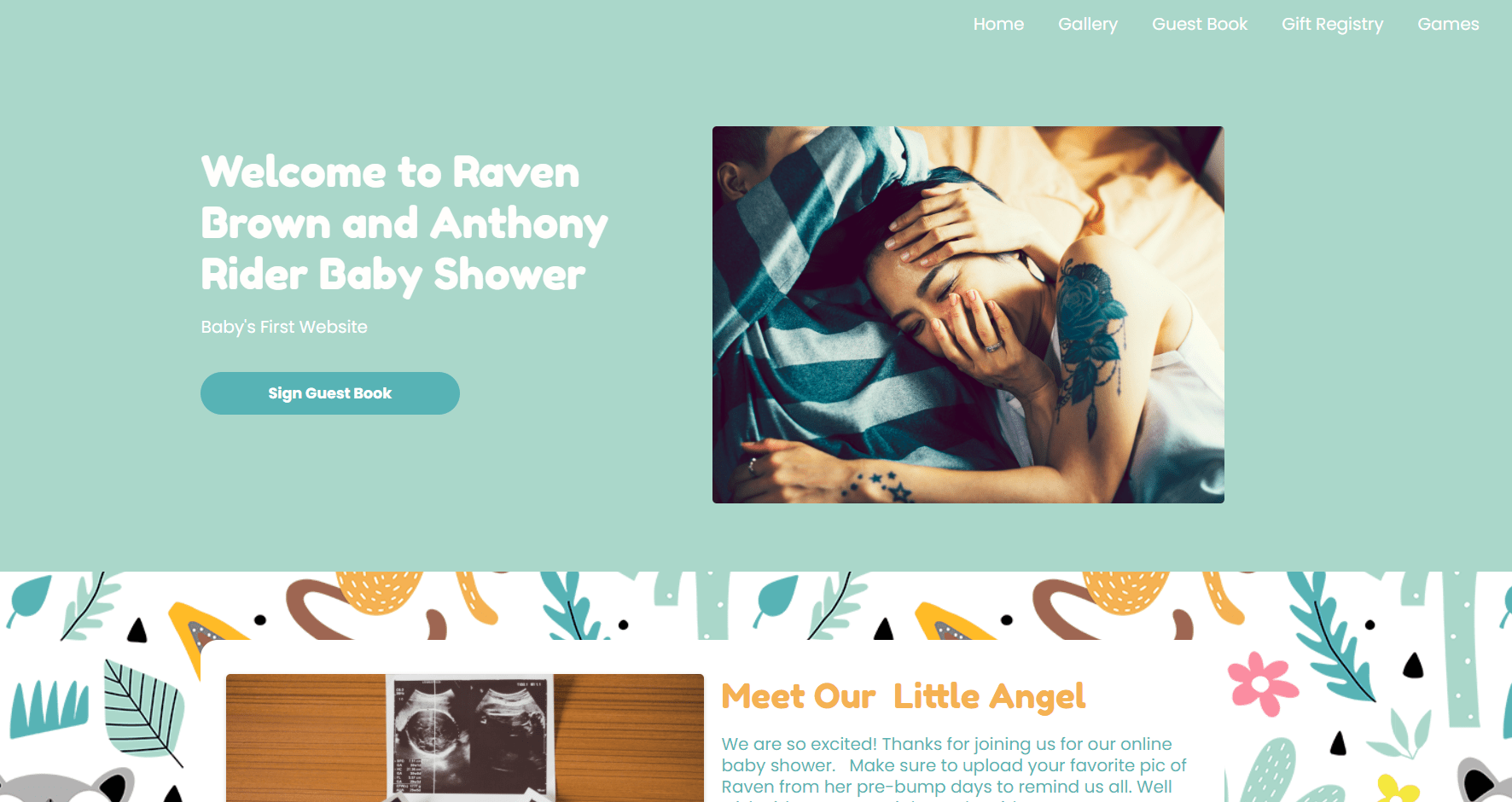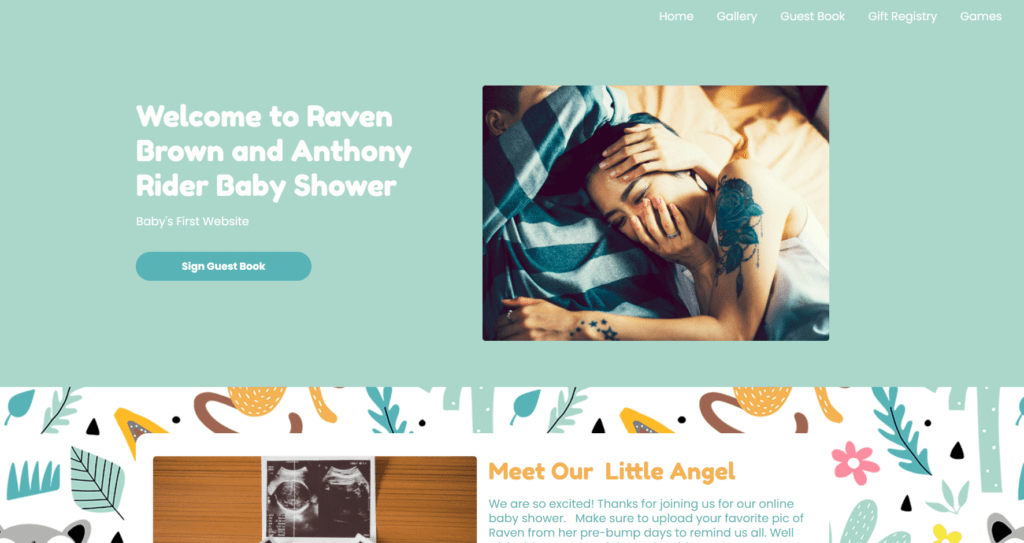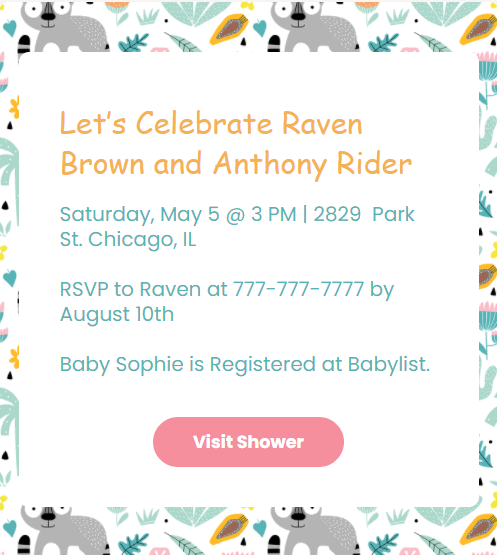 How to choose a format for your invites?
First things first – what kind of invitation will you be sending out? You have two options: paper and digital. There really is no best option, but there is definitely an option that's best for you.
For most of history, paper baby shower invites reigned supreme and not just because technology hadn't yet advanced to allow their competition (digital invites) to flourish. Paper invites served as an extension of the baby shower's decor. Then after the baby shower was over, guests kept the baby shower invitations as shower favors and/or keepsakes.
Not to mention, etiquette practices favored paper invitations for years.
But before you decide for sure if you want to go the paper route, consider the cons, with the biggest one being the cost. Whether your baby shower invites are plain or simple, ink is expensive – even more so now during the pandemic. Therefore, paper invites will be expensive to print out.
And then there's the added hassle of buying envelopes and stamps and then sealing each envelope by hand!
Digital baby shower invitations, on the other hand, are simple to create and only take a few seconds to send out, whether via email or another online tool. They're also incredibly versatile. For example, your digital invitation could just be the unprinted version of the paper invite you had in mind, or it could be a video or animation! And usually, it will cost very little to create your baby shower invitations – especially if you have basic graphic design skills. 
There are all kinds of templates out there and programs (Canva is, undoubtedly, the best) that will let you play around and customize your baby shower invitations to your heart's content – for very little money. (And in the process of saving money, you'll also be saving trees!) Given the pandemic we're currently in, anything that helps your pockets and the planet is a win-win!
If you purchased a package with WebBabyShower, your invitations can be sent internally through the platform with options for a beautiful theme and font.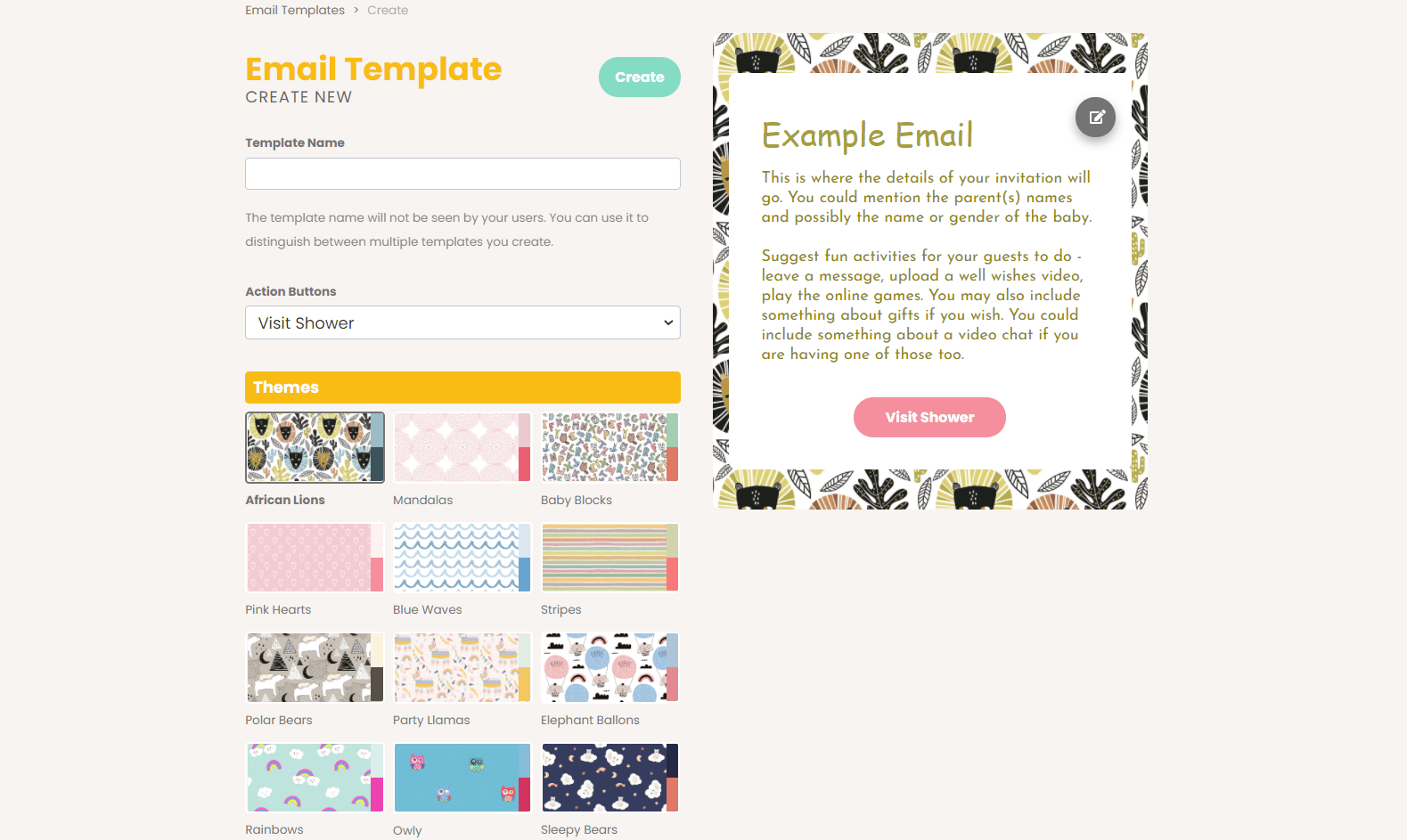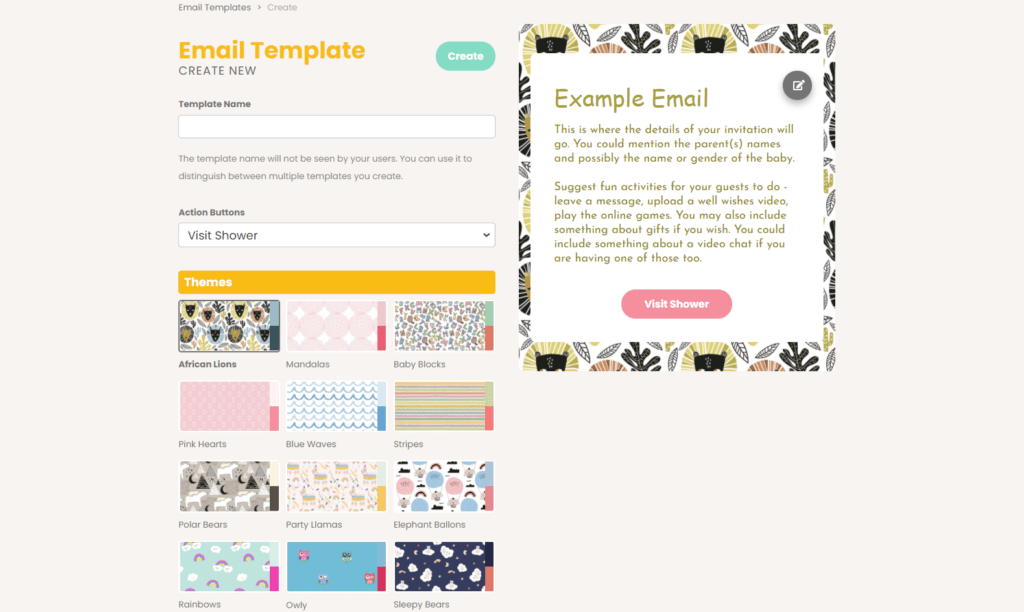 What Do You Write on a Baby Shower Invitation?
The reason that baby shower invitations are so important is that they serve as an important communication tool between the host and the guests. So you want to include as many details as possible on the invitation. Here's everything you ever wanted to know about how to fill out baby shower invitations.
Name(s)
A baby shower is technically a party to honor the mother, so her name goes on the baby shower invitation by default. But many modern baby showers are co-ed and also include the father. If that's the case, the mother's and father's names can both be included at the top of the card.
Some couples also include the name of the baby, if they're comfortable with their guests knowing the name so far in advance.
It just depends on what works for each family.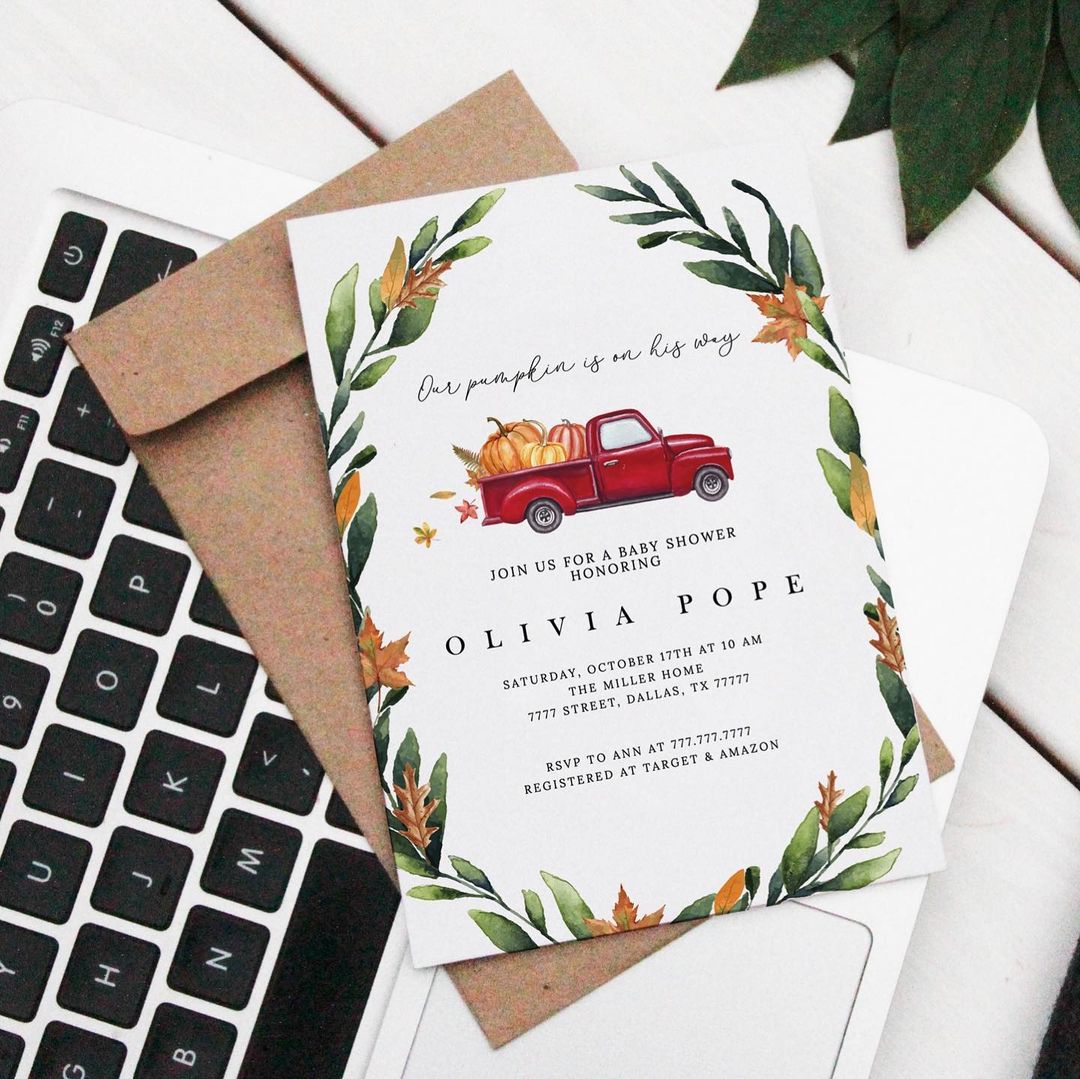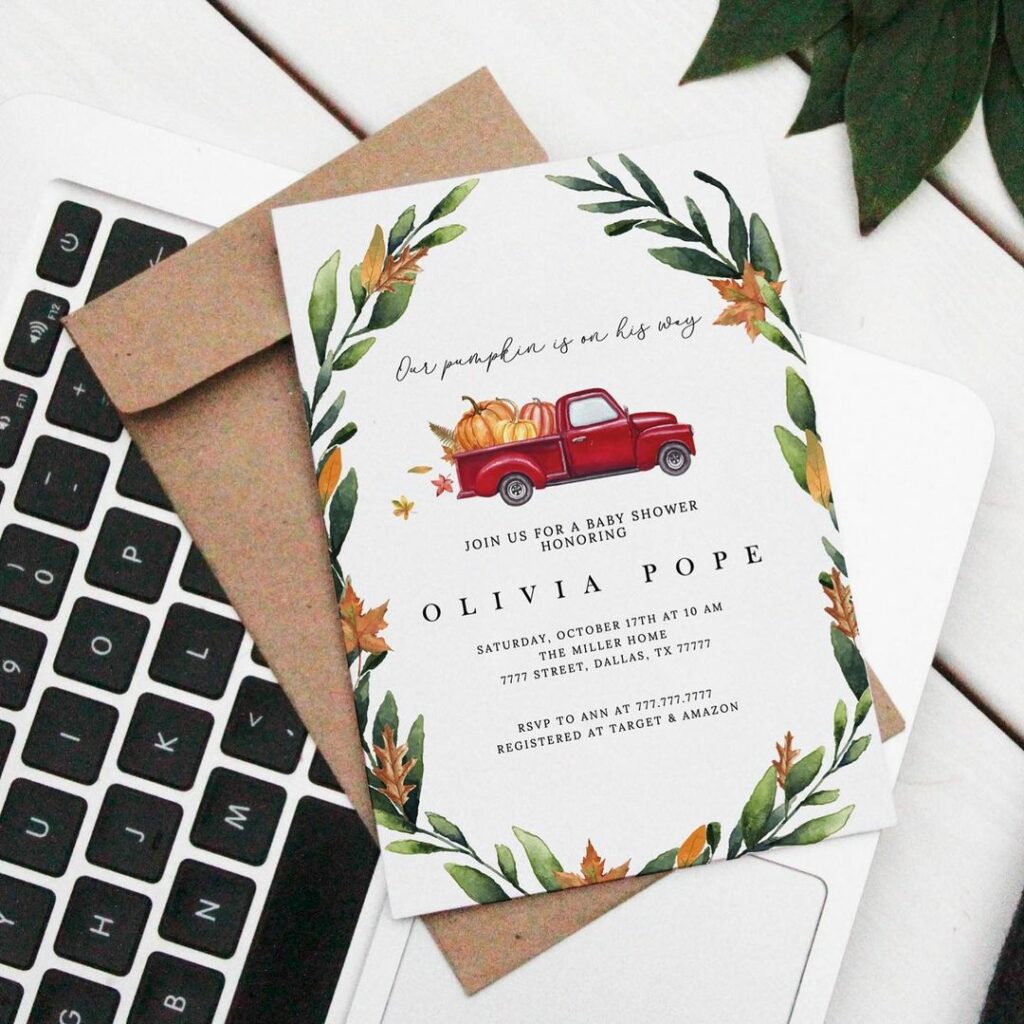 Date
Now that the guests know whose event this is, it's time to make sure they know when the party is. Underneath the name should be the date of the baby shower in a large, clear font!
Trust, you do not want to spend a ton of money on food and decor and have your guests show up on the wrong date!
Location
Providing the guests with the correct location is just as important as them knowing what date to show up! Make sure your location is listed clearly. If it's at your home or a friend's house, make sure to send instructions at a later date.
The same thing goes for if it's at an event space. And if you're hosting the baby shower in something like a hotel or other community property, make sure guests also know what room the party will be held in.
Of course, this only applies if the baby shower will be held in person. Virtual showers don't need a mention of the location — only that it will be held online! However, you should definitely include if you're using a platform, such as WebBabyShower, and/or any supplemental programs that are needed to attend (like Zoom or Google Hangouts).
How to RSVP
Baby Showers can be quite expensive, so it's important that you give guests the option to RSVP. This way, you won't end up spending money on people who don't have any intention on making the party! Each invitation should come with an RSVP card (and envelope), which will need to be filled out by guests. They should then be returned to the host to let them know whether or not they'll be able to make it.
With WebBabyShower, guests can easily RSVP, and the party's organizer can even check to see that guests have received and opened their email invitations.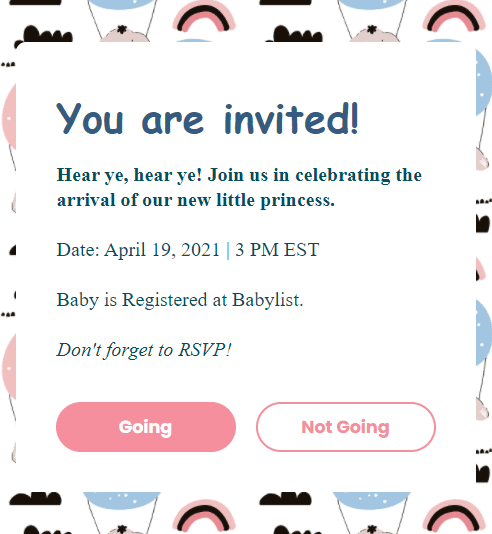 Mention the Registry
These days, most couples are registered somewhere. But a registry that no one knows about is a registry that can't be fulfilled. Be sure to include a link to the baby shower registry at the bottom of the invitation card.
If you use the WebBabyShower platform, you have the option of adding as many registries as you like to your registry page for your guests, making the process of buying a gift as easy as clicking a link.
Any Special Information
Every baby shower will be different. Different themes, different dress codes, different expectations for guests.
List any and all of these important details at the bottom of the invitation.
For example, if it's a co-ed shower, guests need to know, so make sure to include that. If you want guests to spoil your baby with books instead of toys, you'll have to tell them. Likewise, if you're forgoing gifts and would like guests to donate a small token to charity instead, you'll want to use the invitation to communicate that ahead of time.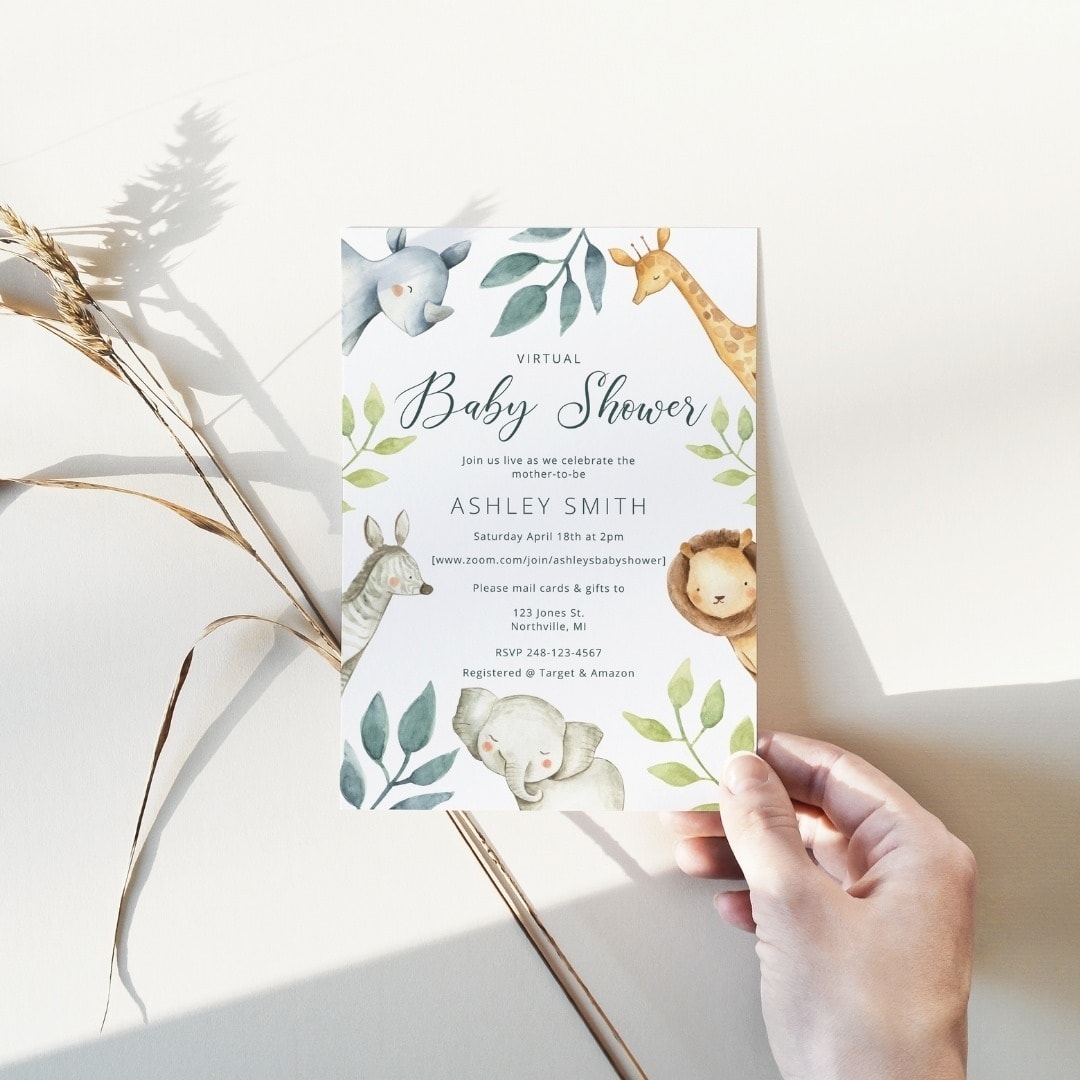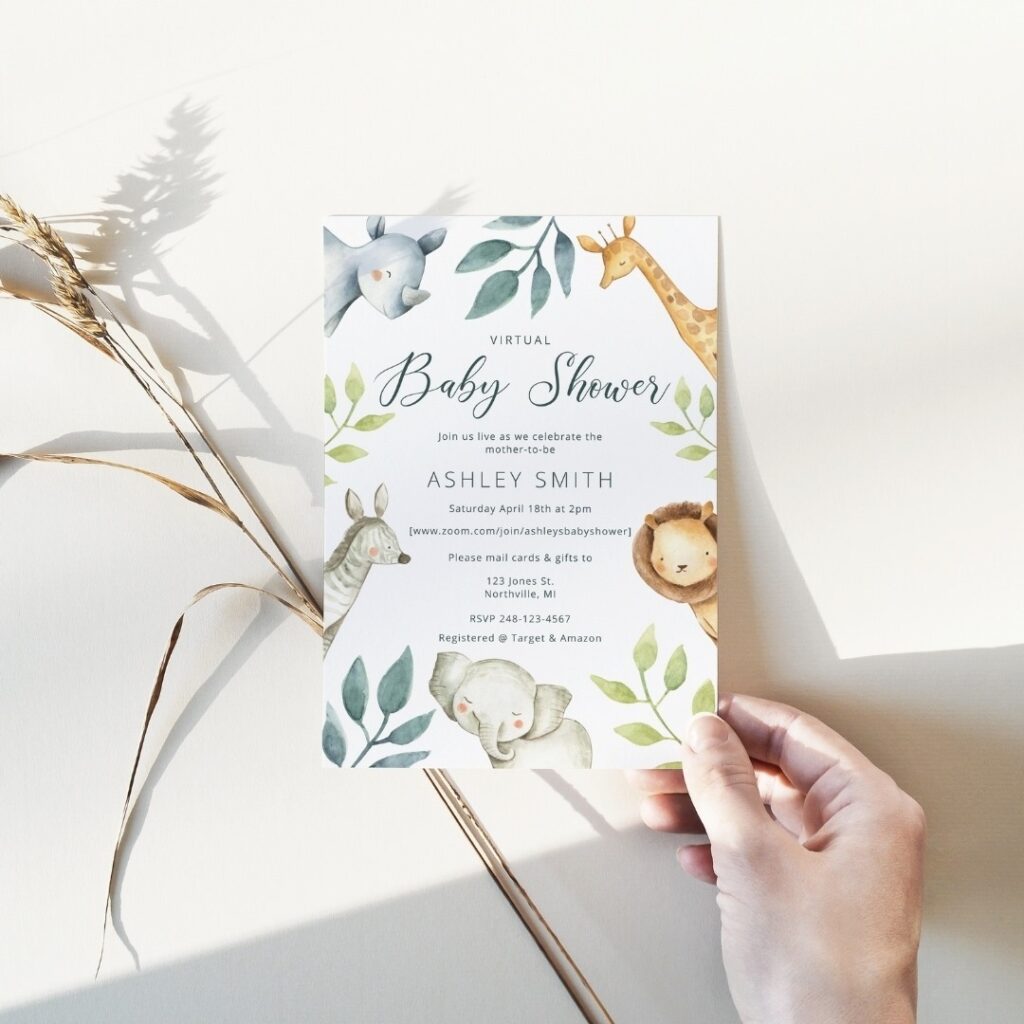 Baby Shower Invites Examples
Below are a few examples of baby shower wordings you can include in your invitation. These examples are pretty bare bones, so don't feel you need to use them, word for word.
But definitely take notice of the crucial information (name, date, location, etc.) that's included! Then build from there!
1. It's a Girl!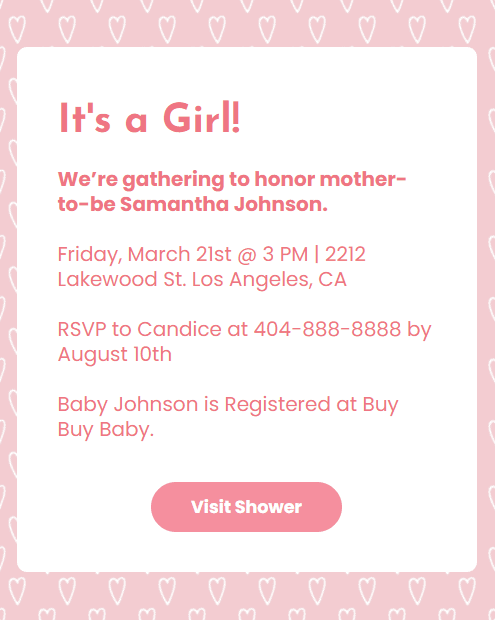 2. Let's Celebrate Raven Brown and Anthony Rider
3. It's Baby Sophie's Time To Shine! Celebrate her arrival with her mother, Angela Blanks and her father, Tim Blanks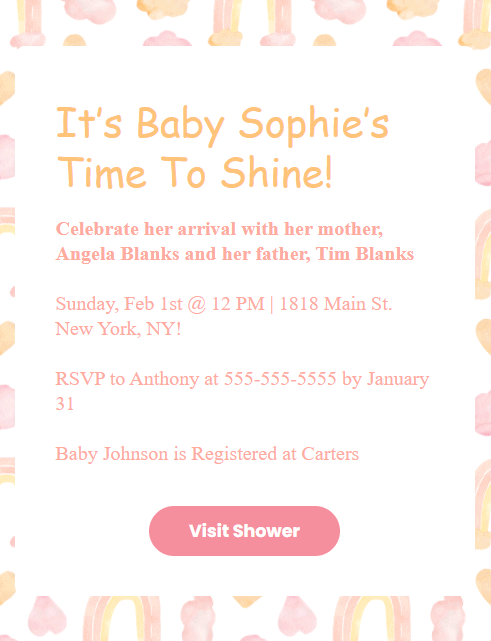 See how a great online baby shower works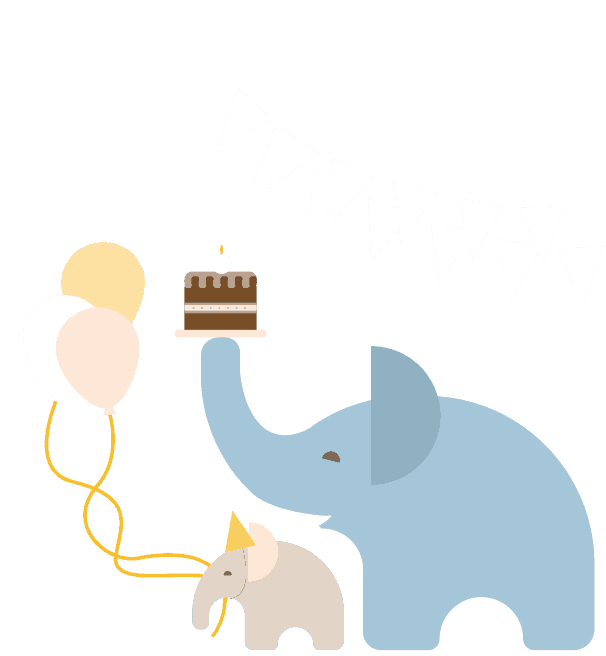 Is it Rude to Include the Registry?
There is still much debate about whether the baby's registry should be included on the baby shower invitation. Etiquette practices of yesteryear explicitly forbade mentions of a registry or gifts at all. But it's a new day, and many people don't mind the inclusion of registry information.
In addition to people trying to be less judgemental about families who express their needs publicly, knowing what the couple actually wants simplifies the gift-buying process and saves money.
With that said, it's still a good idea to include a line about how gifts aren't a requirement to come to the baby shower. People will feel less pressure and most will bring a gift anyway! A win-win situation!
How far in advance do you send out baby shower invitations?
Most baby showers take place in the middle of the mother's third trimester. Invitations should be sent out four to six weeks prior to that.
This will ensure that guests have enough time to request time off from work and find the perfect gift. Ultimately, however, this decision is best left up to the mother-to-be.
How do you make a baby shower invitation?
Now that you know what you need to include inside of the baby shower invitation, it's time to create the actual invitation.
If you're artistically inclined, you can create your own baby shower invitation cards by hand or you can hire an artist to do it for you online via a marketplace, such as Etsy. Handmade art takes time to do correctly, so make sure to purchase services two weeks ahead of the date the invitations should be sent out (not to be confused with the date of the shower).
And if you're going the virtual route, you can enlist the help of a graphic design program, such as Canva. Or you can buy an invitation from one of the numerous digital companies out there. PaperlessPost for example is one of our customers' top choices for e-vites.
Of course, if you're using WebBabyShower's platform, then you will have a built-in invite creator at your disposal!
Did you enjoy this article? We sure hope so! The baby shower invitation relays so much important information to guests, so it's a step of planning you definitely don't want to skip over or cut corners on.
Plus, designing the invitations and adding personal touches unique to the baby shower won't actually feel like work. And if done right, you'll feel a weight lifted from your shoulders, and you can shift your focus onto other party planning details.
So go forth, and create your own baby shower invitations, the first step to making sure the mother and her guests have the best time possible!