Where Does the Tradition of Baby Showers Come From?
There are many theories about the history of the baby shower. Some believe baby showers were started during ancient times, while others say it began in the 1940s in America. The various eras are probably due to the concept of a baby shower changing so much over time.
One idea is that baby showers started around or before 1500 A.D. with the Native Americans when people gave gifts to pregnant women. Another school of thought says that baby showers originated with the Egyptians and Greeks. They gave gifts, not to the mother but to their deities.
It may have taken some time, but baby showers eventually made their way around the world. Since there are many different cultures and places involved, it seems that these celebrations became a sort of world collaboration.
Baby shower history is not very straightforward. Still, we do know that it eventually evolved into what it is today. Family and friends have a chance to gather, give gifts to the new parents, and celebrate the birth of a child. As with many traditions, it is a mix of many ideas, traditions, and customs, which in turn means, there are many types of baby showers out there.
When Were Baby Showers Invented?
Baby showers began to develop into what they are today around the 1940s. They resulted from many families purchasing homes and having children once the war was over. This was when things became more modern, and these parties started to resemble what we're familiar with today.
Modern baby showers include everything from tea parties to virtual events. The guest list can still be women-only in some cases, but many times men are included in these celebrations. You may also have a cake and games to help celebrate the new parents.
Some modern baby shower party traditions include close family getting together, guests giving gifts, and hosts decorating for the party and putting out tasty food for all to enjoy. It's a chance for the new parents-to-beto be celebrated and for them to enjoy the day as they prepare for their baby's arrival. Of course, a baby shower usually occurs before the child's birth, but you can also host a party after the baby is born.
It's hard to remember a time before baby showers were a common celebration, but everything has an origin — including its name. So why do they call it a baby shower? This is a question that's been difficult for historians to pinpoint exactly, though it's believed that the term comes from guests showering a mother with gifts in preparation for the new baby. 
What Is the Purpose of a Baby Shower?
The main purpose of a baby shower is to supply a new mother with items she will need once her baby is born. But it's also a celebration of a woman's transition into motherhood.
A version of the baby showers women enjoy today is believed to have originated in Ancient Rome thousands of years ago, though it was around World War II that the modern baby shower started to take shape.
A renewed sense of family and community, born out of the war, led those around a mother to celebrate her. Traditionally, a mother's close female circle would gather to eat, drink, and "shower" her with things needed for her baby.
The community saw it as a push to get a mom prepared for the birth of her baby, but they didn't want to take on the role of main caregiver for her growing family.
New Baby Shower Traditions
Today, things are different and baby shower traditions are changing. Not only are more and more people shifting away from traditional etiquette practices altogether, but they're also embracing virtual baby showers as a way to celebrate!
A virtual baby shower is a baby shower held either entirely or primarily online, and it often contains the components of an in-person baby shower. More and more people have been enjoying them throughout the years. You might have heard of variations using Zoom or Facebook, but the gist is the same: It's a baby shower held online.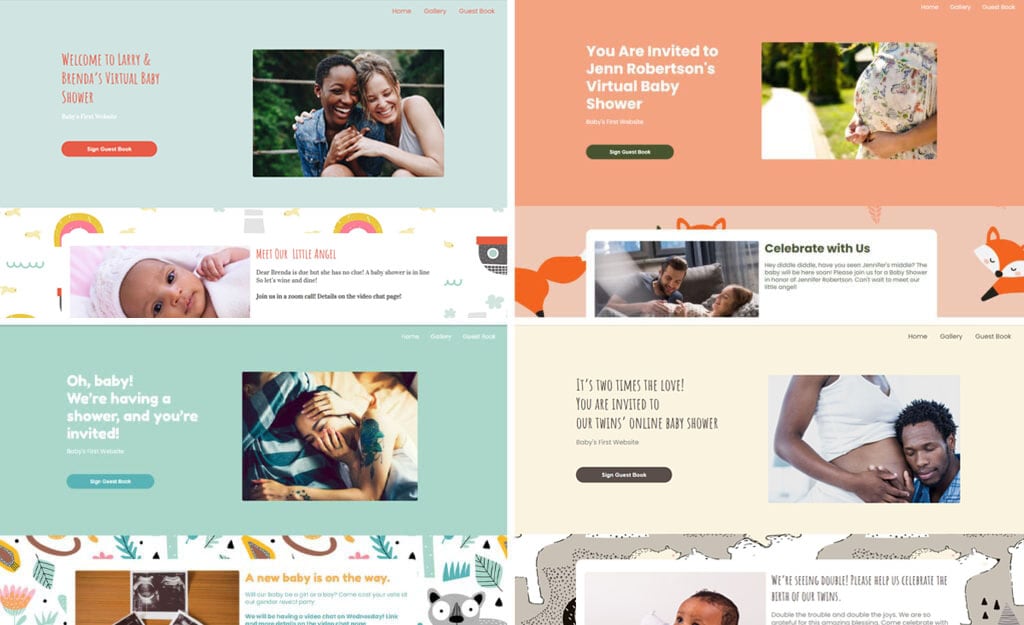 Build Your Shower
An online baby shower can be thrown using any number of apps. However, if you want a one-stop shop that will include everything you need to have a fun, successful event and is also affordable, consider WebBabyShower.
All you have to do is decide which package works for you (there are currently two options to choose from). You'll then choose from over 20 pre-made themes and invitations. You can even alert guests about the shower directly through the platform.
A WebBabyShower is unique in the sense that a mother-to-be can upload photos and keep guests updated on the baby's developments for up to a year. The host can also utilize a video service like Zoom for guests to use on an agreed upon date, so everyone can see each other and communicate.
Throw a Virtual Baby Shower so Everyone

Can Celebrate!

• Free Trial – 7 Day Refund for any reason
• Only 1 Minute Setup!
• 40+ Custom Themes & Matching Invites
• Use Any Online Registry
• Send Unlimited Invites and Updates
• Baby Shower Games with Scoreboards, Give Prizes!

Build Your Shower
---
Why Do They Call It a Baby Shower FAQ
So why do they call it a baby shower? Well, a baby shower is believed to reference a mother's circle gathering to shower her with gifts for her and her baby. as t
After all, a new mom needs a wide variety to keep herself comfortable throughout her pregnancy (especially during her third trimester) and during those early postpartum days. Babies, of course, also require plenty of bits to remain happy and healthy.
Who Usually Has the Baby Shower?
Baby showers are a wonderful celebration for all new mothers. They're meant to offset the costs and responsibilities that come with preparing a space for a new baby and to supply the family with things they will need.
A baby shower can be hosted by just about anyone who knows and loves the mother, while traditionally it would be a female family member, times have changed! Our data shows that the mother herself often throws her own baby shower and sometimes even the father to be will throw it for the mother.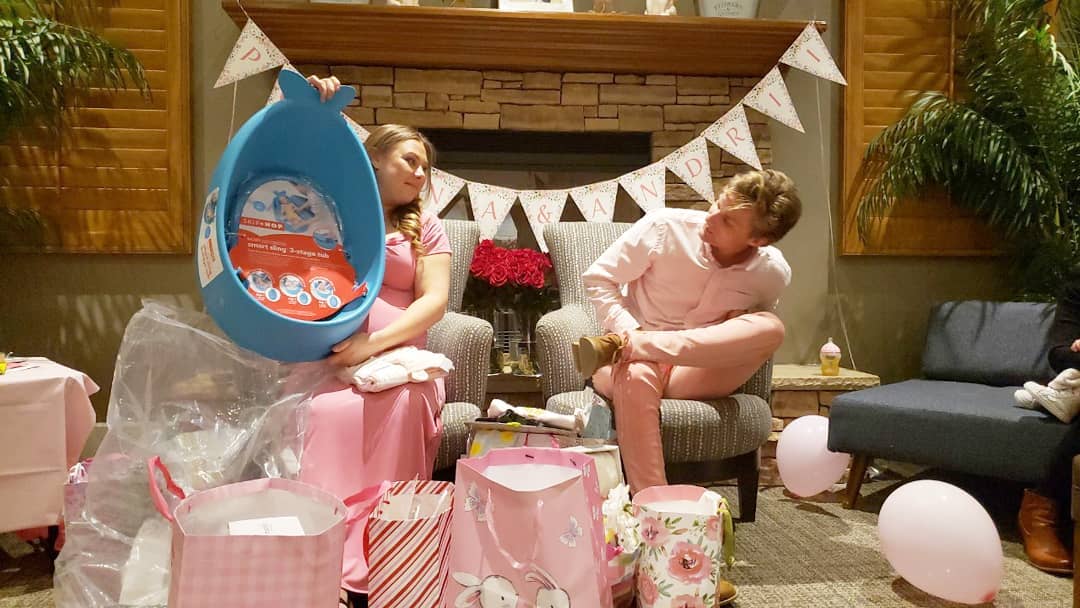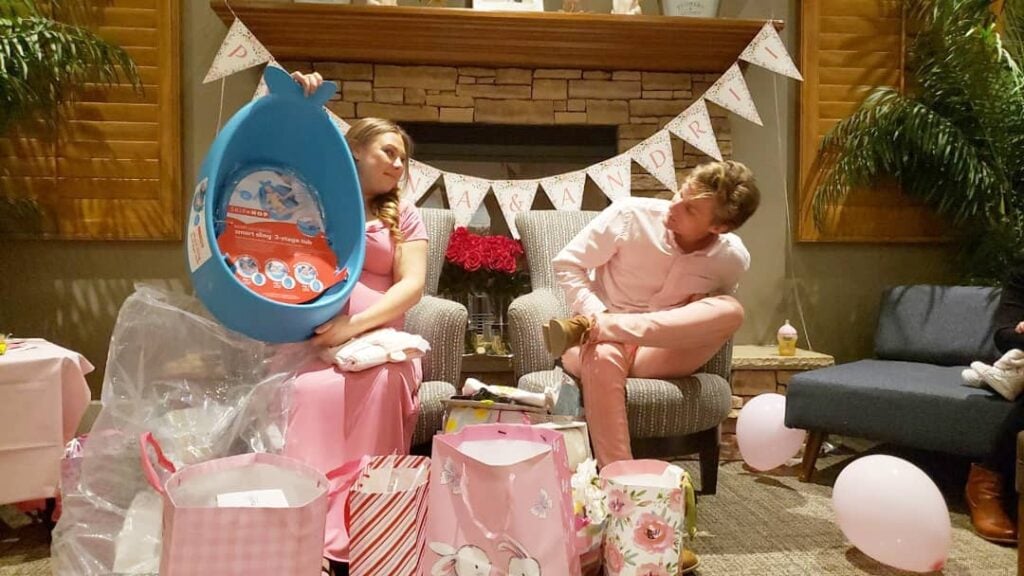 What Is a Sprinkle Vs. a Baby Shower?
In the same way a rain shower is stronger than a sprinkle, a baby shower is a larger celebration than a sprinkle, though there are some overlapping features.
Baby showers are traditionally for the mom's first baby. During a baby shower, a mother can usually expect a wide range of gifts for both herself and her baby.
This can include both smaller items like bottles, diapers, and blankets and larger gifts like car seats, cribs, and strollers. Usually the mom will have a registry of some sort where her requested items are listed.
A sprinkle is a smaller, more intimate event that focuses on the mom's second baby or any babies that may come after the first one. A sprinkle can also be hosted virtually or in person, but the event is usually less grand than a baby shower. For an in-person sprinkle, for example, the food menu is usually scaled back. Instead of heavy party food, there will probably be things like dips, finger sandwiches, punch or tea, and cookies or cupcakes.
And when it comes to gifts, moms usually don't expect big-ticket items like baby furniture and expensive clothes. Guests typically stick to purchasing things like baby toiletries, small or inexpensive toys, and books.
But no matter if the mom is having a baby shower or a baby sprinkle, the gift-giving is usually up to the discretion of guests. Still, most will splurge on a few luxuries, whether it's the mom's first or fifth baby.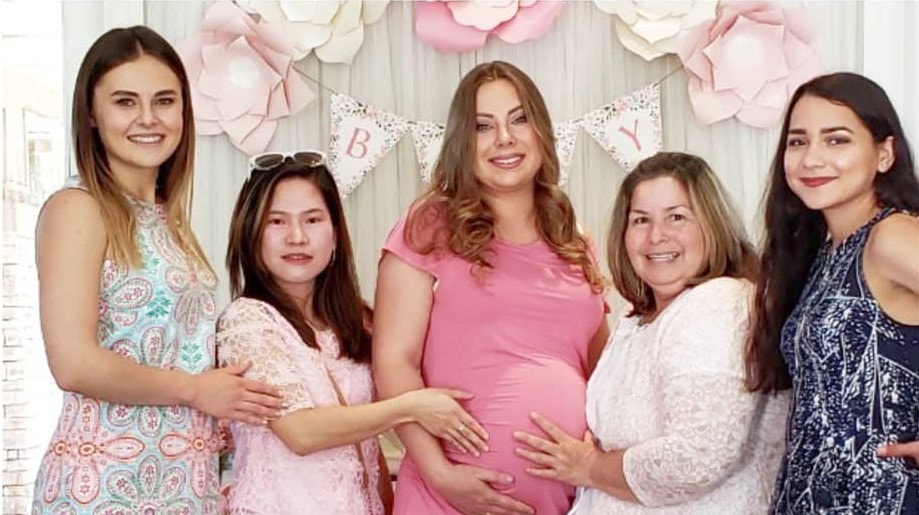 Why Are Baby Showers Female Only?
Traditionally, baby showers were only for women, and many of today's baby showers still are. This is due, in part, to the female-centric childrearing model of the past.
Around the time of World War II, anything related to raising kids and taking care of the home was seen as a woman's responsibility, so the women in the mom's life, naturally, fell into the role of baby shower planner.
However, many modern baby showers now include the mom's husband or significant other, and some are fully co-ed, meaning that men can attend. Given the way social standards are rapidly evolving, you can probably expect to see even more co-ed baby showers in the very near future.
See how a great online baby shower works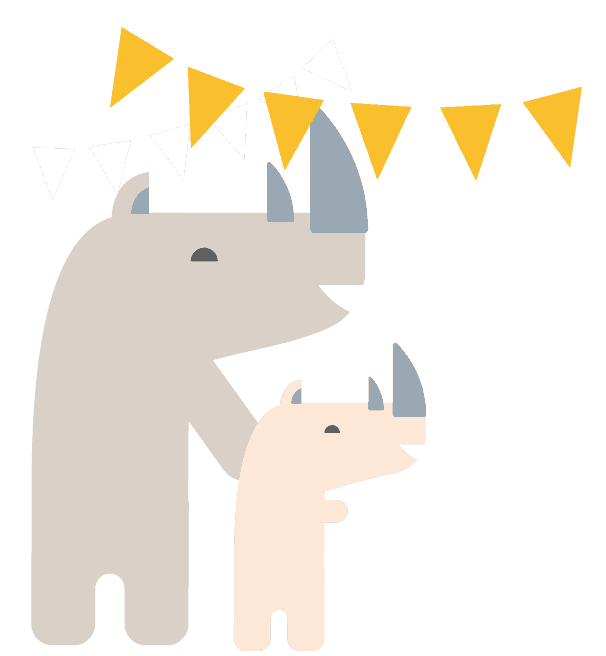 Conclusion
The origin of the baby shower isn't an easy thing to pinpoint, but historians believe that the first baby showers originated somewhere in Ancient Rome.
World World II helped shape the modern baby shower as we know it, but even that is ever-evolving. Take, for example, the shift away from traditional, in-person baby showers that's happening.
As technology evolves, virtual baby showers are becoming more prevalent and more people are opening their eyes to the benefits of online baby showers. As the cost of living increases in the U.S., having a lavish in-person baby shower doesn't seem economical for many parents. Mexican baby showers, for example, are more highly family-oriented and less about gifts. But still, from securing a venue to sending out invitations to ordering catering, in-person baby showers can come with a laundry list of expenses! 
Virtual baby showers are an affordable alternative that allow a mom to gather with the people she loves. Plus, there's no limit on who the mom can invite. It won't matter if the guests live a few states away or a few countries and an ocean away. They'll be able to participate as long as they have a stable internet connection. 
Did you enjoy this article? We sure hope so! There are so many traditions deeply ingrained in our lives, yet we never question where they come from or what they mean! We hope this article has served as a fun resource about the history of the baby shower and its origins.
Consider sharing this link with your friends on social media, and remember to bookmark it for yourself for later reading. You never know when it may come in handy!