As a soon-to-be parent, you probably know that babies require a lot of stuff. That's where the baby shower comes in – an event designed to "shower" you with all the necessities for your baby-to-be.
However, the items you consider "necessities" may not be the same as other parents. And, with so many baby products on the market, it's unlikely your friends and family will get you exactly what you want unless they have some guidance.
A great way to help your loved ones get the perfect gifts for your little bundle is to create a baby shower registry.
Baby registries are quite common (and even expected) at modern showers. However, navigating baby shower registry etiquette can be challenging. You have to ask for what you want without appearing rude or tacky.
Luckily, there are plenty of ways to do this without committing a social faux pas. For example, WebBabyShower allows you to add your registry link to your virtual invitations, so you can elegantly inform your guests of your wants and needs.
In this article, we'll explain all the ins and outs of registry etiquette, including what's appropriate, who to share it with, what it should include, and more. This guide is focused on helping you host an inclusive baby shower with thoughtful etiquette for modern parents. Don't worry. You won't find any decade-old rules here.
Throw a Virtual Baby Shower so Everyone

Can Celebrate!

• Free Trial – 14-Day Refund for any reason
• Only 1 Minute Setup!
• 80+ Custom Themes & Matching Invites
• Use Any Online Registry
• Send Unlimited Invites and Updates
• Baby Shower Games with Scoreboards, Give Prizes!

Build Your Shower
---
What, Exactly, Is a Baby Shower Registry?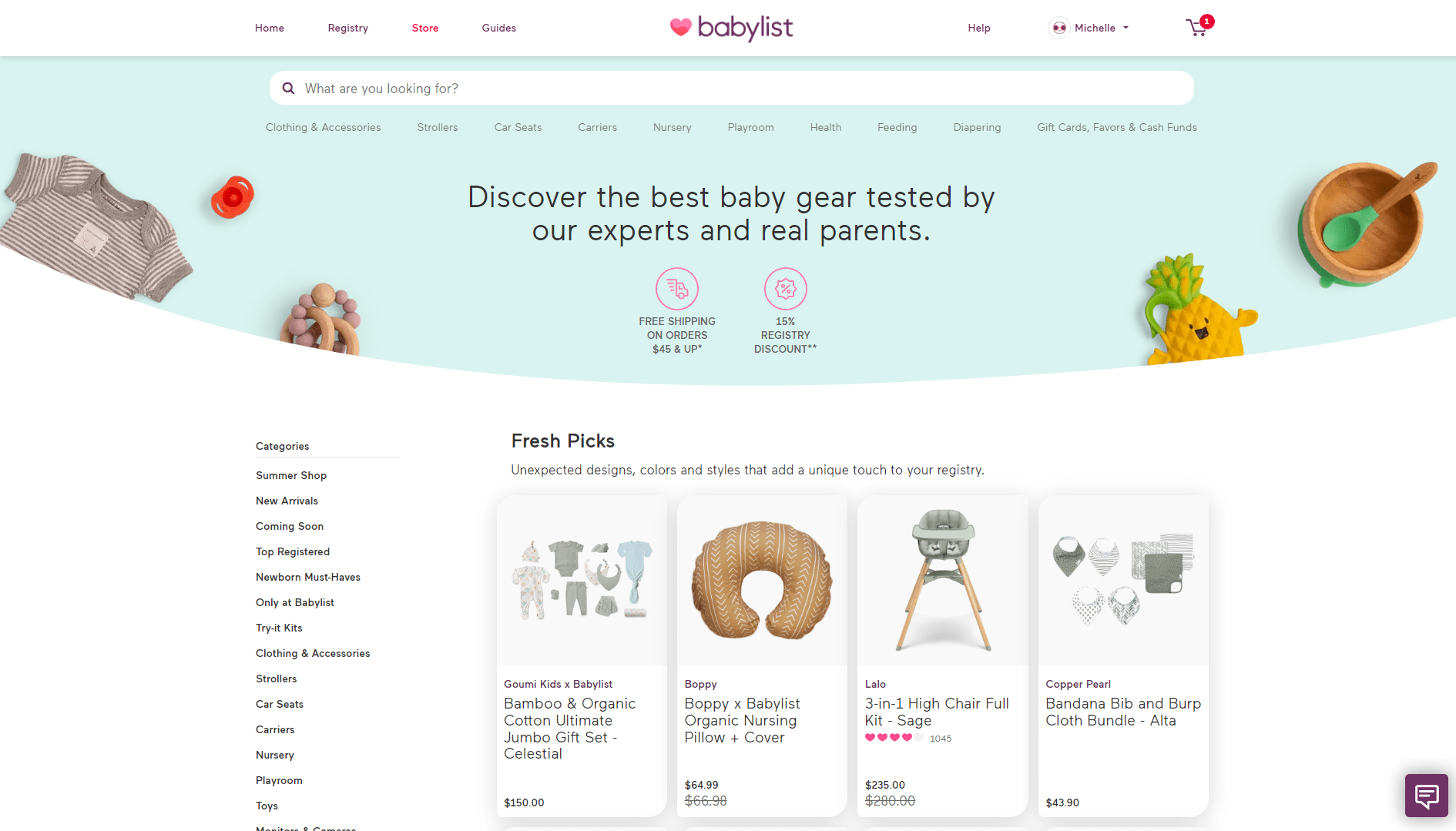 A baby registry is a list of items from a store or online shop you want to receive as gifts at your baby shower. You can register with specific stores – like Target or Buy Buy Baby – or create a general registry with items from various retailers.
Two of the most popular registry sites are Babylist and MyRegistry. Both allow you to add gifts from all of your favorite retailers and put them into different categories – such as feeding, bathtime, or diapering. Additionally, both sites mark off items bought, so you'll never receive duplicates.
Are you worried about how your guests will access your registry information? Well, if you make a website with WebBabyShower, you can add your registry site (or sites) on your homepage and virtual invites. So, your guests will only need one link to access your registry and baby shower info.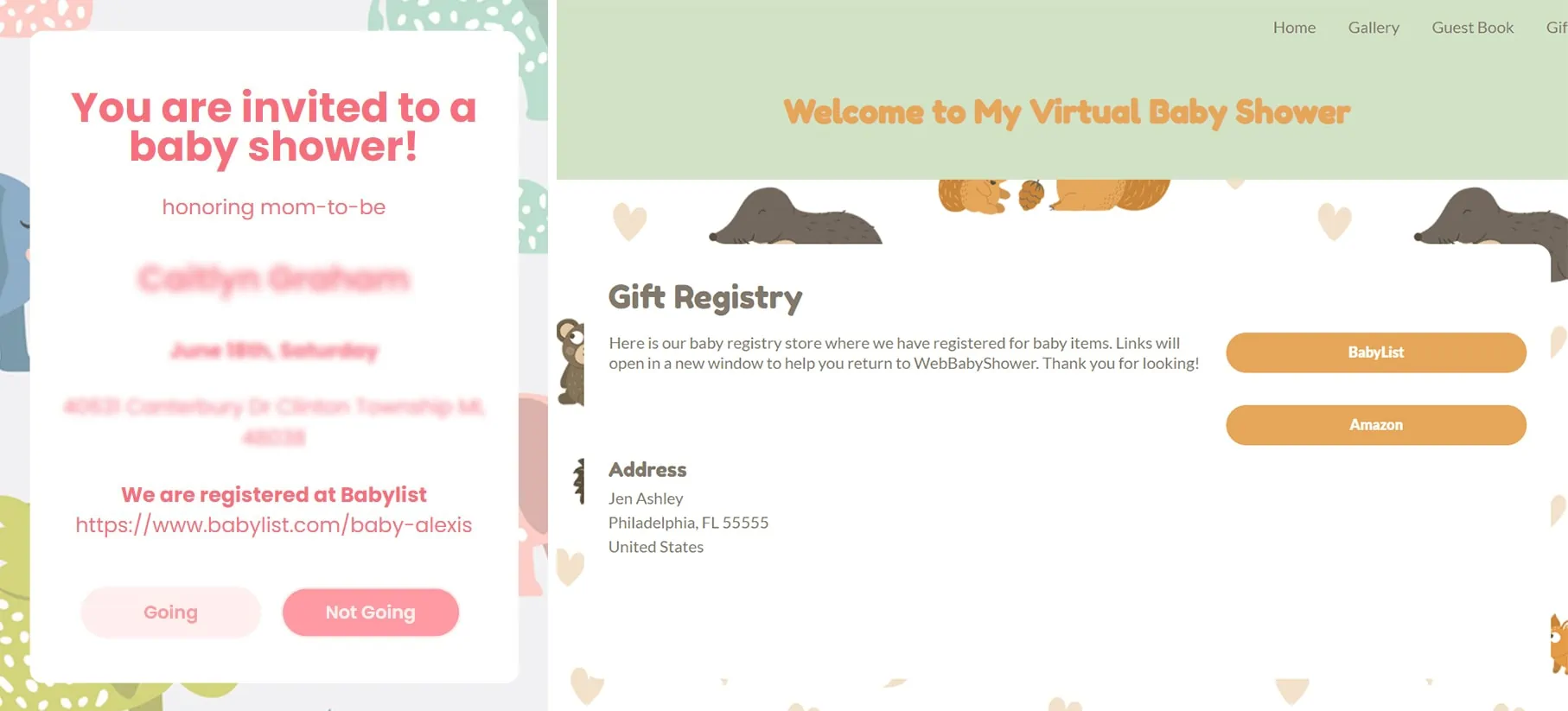 What Makes for Good Baby Shower Registry Etiquette?
Selecting gifts for your baby-to-be should be fun, not stressful. Next, we'll teach you everything there is to know about baby shower registry etiquette, so you can sit back and find the perfect gifts for your little one (instead of stressing about committing a social blunder).
Share Your Registry With Relevant People
Nowadays, baby shower registries are very common (and even expected) for baby shower or baby sprinkle guests. And for a good reason.
A baby registry is a super helpful tool to help guests get precisely what you want (instead of praying they aren't the third person to give you The Very Hungry Caterpillar).
So, who exactly should you share your registry with?
Most parents share their registries with guests they invite to their baby shower. However, if you are having an intimate event, feel free to share your list with close family, friends, and co-workers – even if they aren't attending your shower.
Posting your registry link on Facebook (or another social media page) may sound like a good idea at first. But, asking for gifts from random friends or strangers typically isn't effective (and may be seen as bad etiquette). So, we recommend keeping your registry link off your social pages.
Share Your Registry in The Proper Manner
As was previously mentioned, we don't recommend posting your registry link on your social media accounts.
A better option is to put your registry link on your baby shower invitations.
At WebBabyShower, you can create adorable virtual invitations that match your baby shower theme. You can include your baby shower info and registry link on the invites. All your guests have to do is click on the link to be taken directly to your gift registry. Pretty convenient, huh?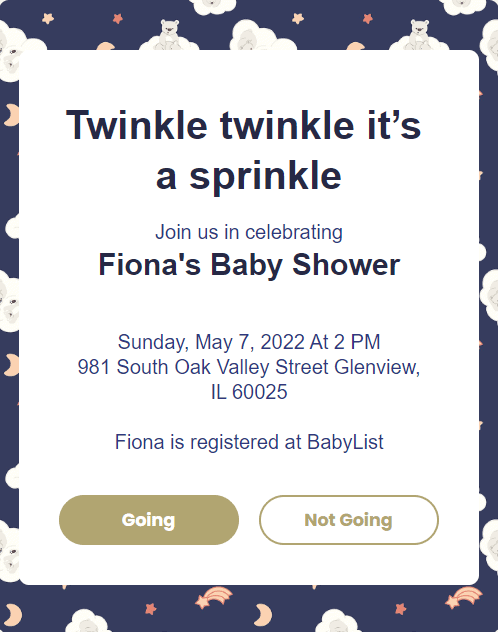 Choose A Convenient Store for Your Guests
Now that you know who to share your registry with and how to share it appropriately, the next big question is where to register. With so many stores to choose from, the options seem truly endless!
To help you narrow down your selection, we recommend only registering with stores that are convenient for your guests. This is especially important if you're hosting a virtual baby shower with loved ones from across the country since some may not have access to local or regional stores.
We recommend registering with a store that has multiple branches across the country or that sells their products online. This will allow everyone to buy exactly what you want, regardless of their location.
Be Mindful of Gift Prices
Your baby is going to be your entire world. So, it's perfectly natural for you to want them to have the very best stuff. However, for your guests' (and etiquette) sake, you shouldn't only register for expensive gifts.
Only asking for expensive items may put some of your guests in an awkward position since they may not be able to afford the things you want.
Instead, we recommend choosing a mixture of gifts of various prices. A good rule of thumb is to request one or two expensive items, with the bulk being more affordable.
Another great alternative is to choose an online registry with a "group gifting" option. This allows guests to contribute money towards expensive gifts without having to front the entire cost.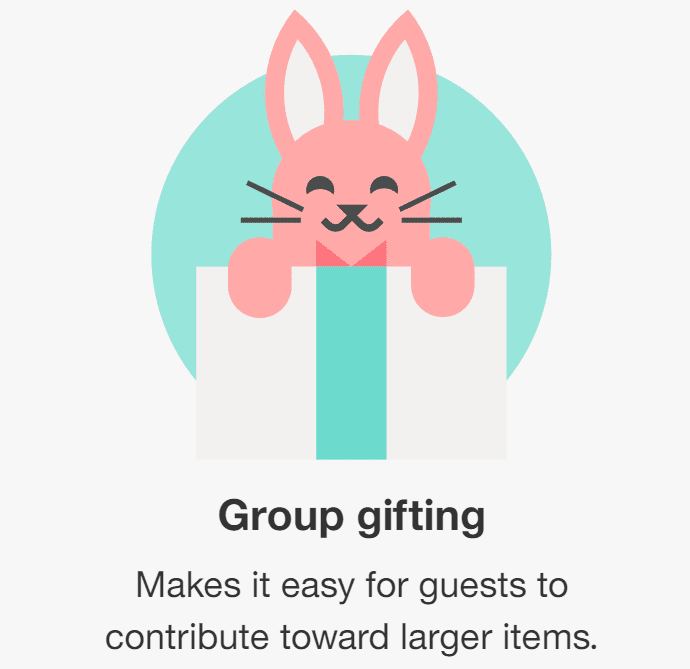 Makes Sure there is Something for Everyone
When it comes to registering for gifts, the more, the merrier! You want to add more gifts than guests you are expecting to attend your shower. This ensures everyone will have plenty of options and won't be left with something that's out of their price range. Creating an extensive gift list also gives last-second gift buyers a chance to find a gift they like.
Choose Items with Easy Returns
Even with a gift registry, things can go wrong. For example, a guest may accidentally buy something in the wrong size or color. Or, perhaps you thought you picked out the perfect bouncy chair, only to realize the song it plays drives you absolutely bonkers.
To avoid getting stuck with things you don't like, make sure your gifts have an easy return or exchange policy. This way, you can get a refund or swap out items that don't live up to your expectations.
Most stores only allow you to make returns and exchanges for a limited time. So, make sure you find out each store's return policy before registering.
Follow Our Advice for Perfect Baby Shower Registry Etiquette
Want a way to share your registry with your guests effortlessly? Then, consider making a website with WebBabyShower!
Our platform allows you to share your registry (or registries) on your homepage, along with essential baby shower details. So, your guests will only need one link to access all of your baby shower and registry info.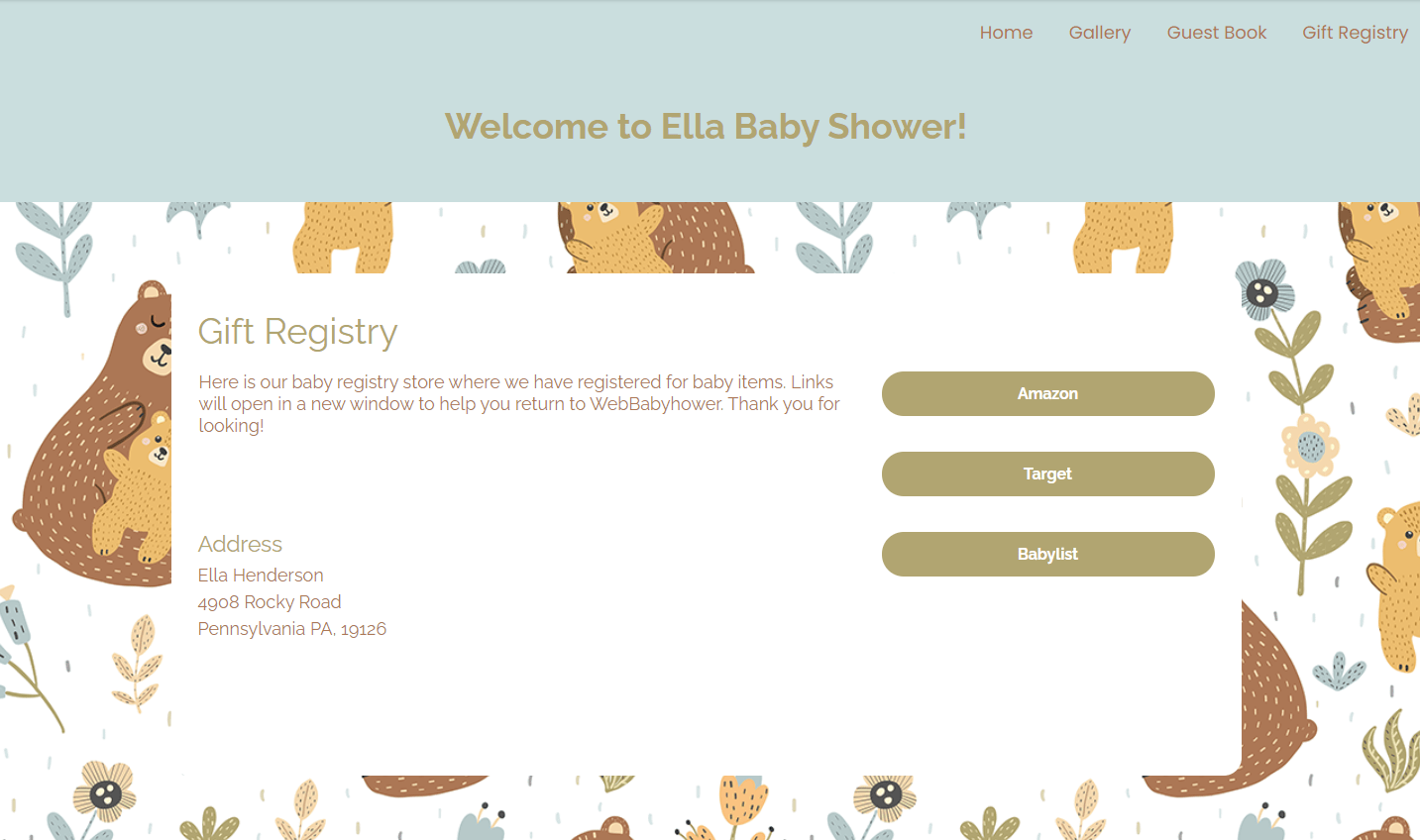 WebBabyShower is also a great way to share your registry if you aren't having a baby shower since it's more private than social media.
But, we recommend having a baby shower, if possible, since they are fun and allow you to thank all of your loved ones for the incredible gifts you receive.
Don't have the time or money to host an in-person shower? Then, consider hosting a virtual baby shower with WebBabyShower instead. To learn more about how to do this, click here.
14 day Money back guarantee