Target offers one of the best registry options for parents-to-be. From discounts and various products to the convenient one-year return policy, there's a lot to love. Family and friends can shop from the convenience of their mobile device or visit one of almost 2,000 locations around the United States.
As you search for a registry, consider what is important to you. This could include completion offers, ease of use for you and your loved ones, as well as gift tracking. Look for options that meet all or most of your needs. Creating a second registry for additional perks and item options is also totally OK.
Curious about the Target baby registry? We have all the pros and cons you need to know, along with how to get started.
The Main Benefits of a Target Baby Registry
Discounts, product variety, a stocked welcome kit, and a year-long return policy are just a few reasons to consider creating a Target baby registry. Keep reading to find out why this option might work for you.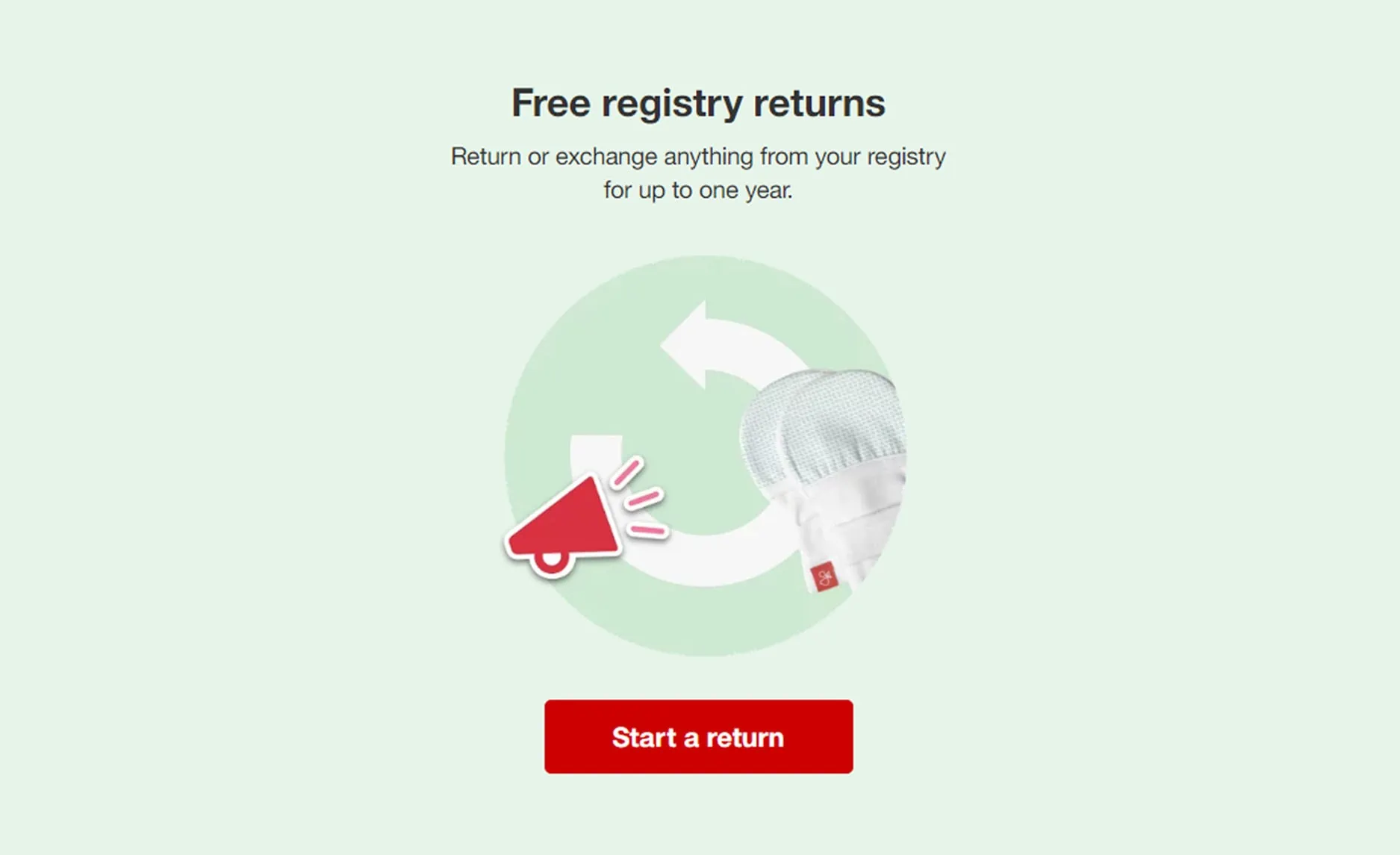 15% Off Completion Offer
The Target baby registry completion discount offers savings to parents-to-be who need to purchase any last-minute items right before or after their baby is born. This is handy if you didn't receive everything you needed at your baby shower. About eight weeks before your due date, Target will send a 15% discount coupon for any items remaining on your registry. The voucher can be used online and in the store and is redeemable twice. This discount expires six months after your due date.
Extra Savings For RedCard Holders
While the Target completion discount is among the highest we've seen, you can receive even more off your items if you're a Target RedCard holder. Use this perk with your completion coupon for 5% off your baby registry items. If you're a Target Circle member, there are extra savings for you as well.
Huge Variety
Target carries top brands for all of the baby items you need. This includes Pampers, Johnson's, Graco, Honest, Fisher Price, and many more. They also have exclusive children's products from Cloud Island and Cat & Jack.
Easy For Gift-Givers
Loved ones will like the competitively low pricing on Target's baby items. Online shoppers receive fast and free shipping on all orders of $35 or more or if they use their RedCard. Family and friends who prefer to shop in store have 1,900 locations to choose from. ​​
Welcome Kit
A Target baby registry bag full of goodies is a wonderful perk for any first-time parent. Full of $100 worth of samples and coupons, this welcome kit lets you see and feel products from various brands to give you an idea of what to include on your registry. Once you create your Target registry, you're eligible to receive this goodie bag. Stop at any Target store and head to the guest services counter to pick it up. It's recommended to call ahead to make sure the kit is in stock at your location.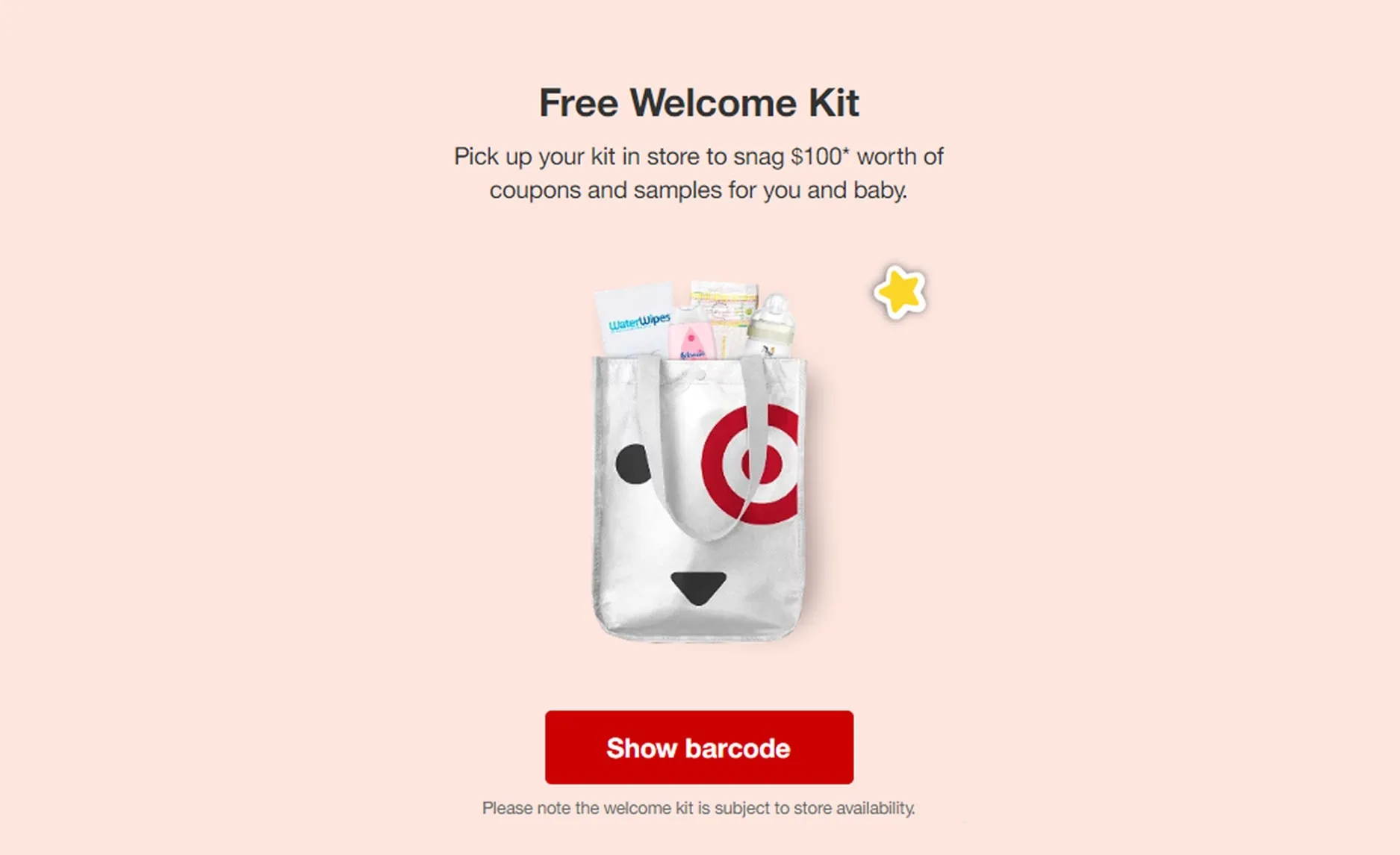 Year-Long Return Policy
New parents have up to a year after their baby's due date to return new and unopened items purchased from their registry. This gives them plenty of time for baby snuggles and settling into life as a new family. When you're ready, gather duplicate items and anything you know you won't need and head into a Target store. To return the items, present the barcode on your Target registry to a store associate.
Throw a Virtual Baby Shower so Everyone

Can Celebrate!

• Free Trial – 14-Day Refund for any reason
• Only 1 Minute Setup!
• 80+ Custom Themes & Matching Invites
• Use Any Online Registry
• Send Unlimited Invites and Updates
• Baby Shower Games with Scoreboards, Give Prizes!

Build Your Shower
---
The Additional Benefits of Target Baby Registry for You and Your Guests
Still on the fence about creating a Target baby registry? Check out a few more benefits you'll receive, including gift tracking, an easy-to-use mobile app, and a convenient checklist to help you create your wish list.
Comprehensive App
Enjoy the convenience of having your registry in the palm of your hand with the Target baby registry app. Use it to add items to your registry, return items, or make adjustments to existing items on your list. The mobile app is available for Android and iOS users.
Checklist
Not sure what exactly you want to include on your registry? With so many options available, it's easy to feel overwhelmed. Thankfully, the Target baby registry checklist is a great place to start. This checklist breaks down almost every item you might need for your baby. Categories include baby gear, diapering, feeding, bathtime, health and safety, nursery furniture, and more. Click on the drop-down menu for each category to see a list of suggested items.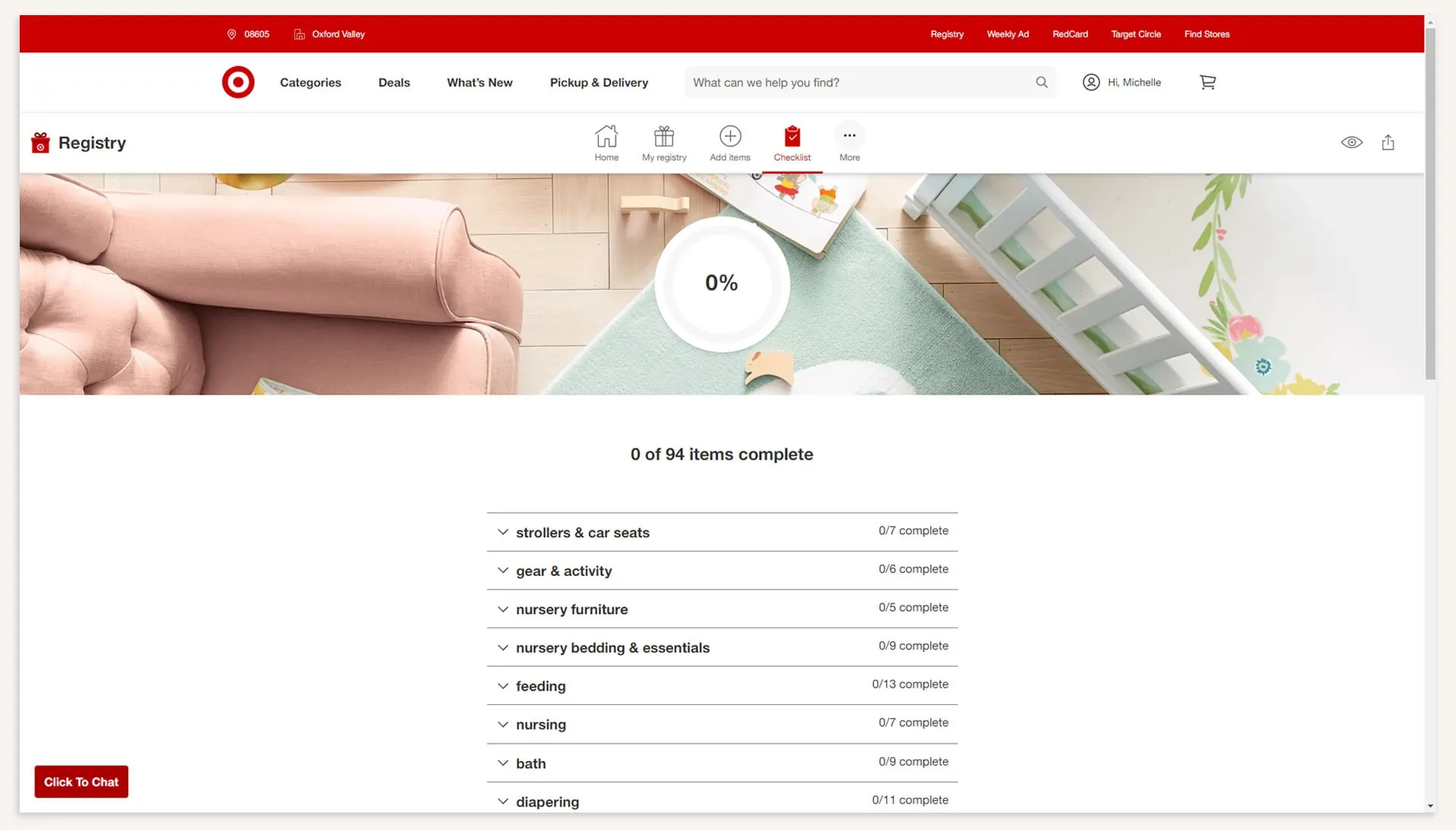 Gift Tracking
Use your Target registry app, or hop onto your computer to see which items were purchased from your registry, who gifted each item, and who you still need to thank. With so much on your to-do list before your baby arrives, this feature helps you stay organized.
Page Personalization
Add some character to your Target baby registry with page personalization. Add photos and create a custom URL to share with your loved ones. This feature is a fun way to make your registry stand out.
Convenience For Everyone
Not all of your baby shower guests are fond of online shopping. The beauty of a Target baby registry is that loved ones can shop from the comfort of their home, or they can visit one of the many Target locations across the country. Whichever they prefer, they'll have the convenience of shopping however they want. Free shipping, extra savings for RedCard holders, and price match on many items made it even easier to shop your registry.
Must-Haves and Special Notes
Mark your must-have items on your baby registry so loved ones know which items are your top priority. As you add products to your Target baby registry, mark the most important items as "most wanted." You can also add notes to guide gift-givers. For example, "This toy reminds me of one I played with as a child," or "I love these baby leggings in the purple leopard print."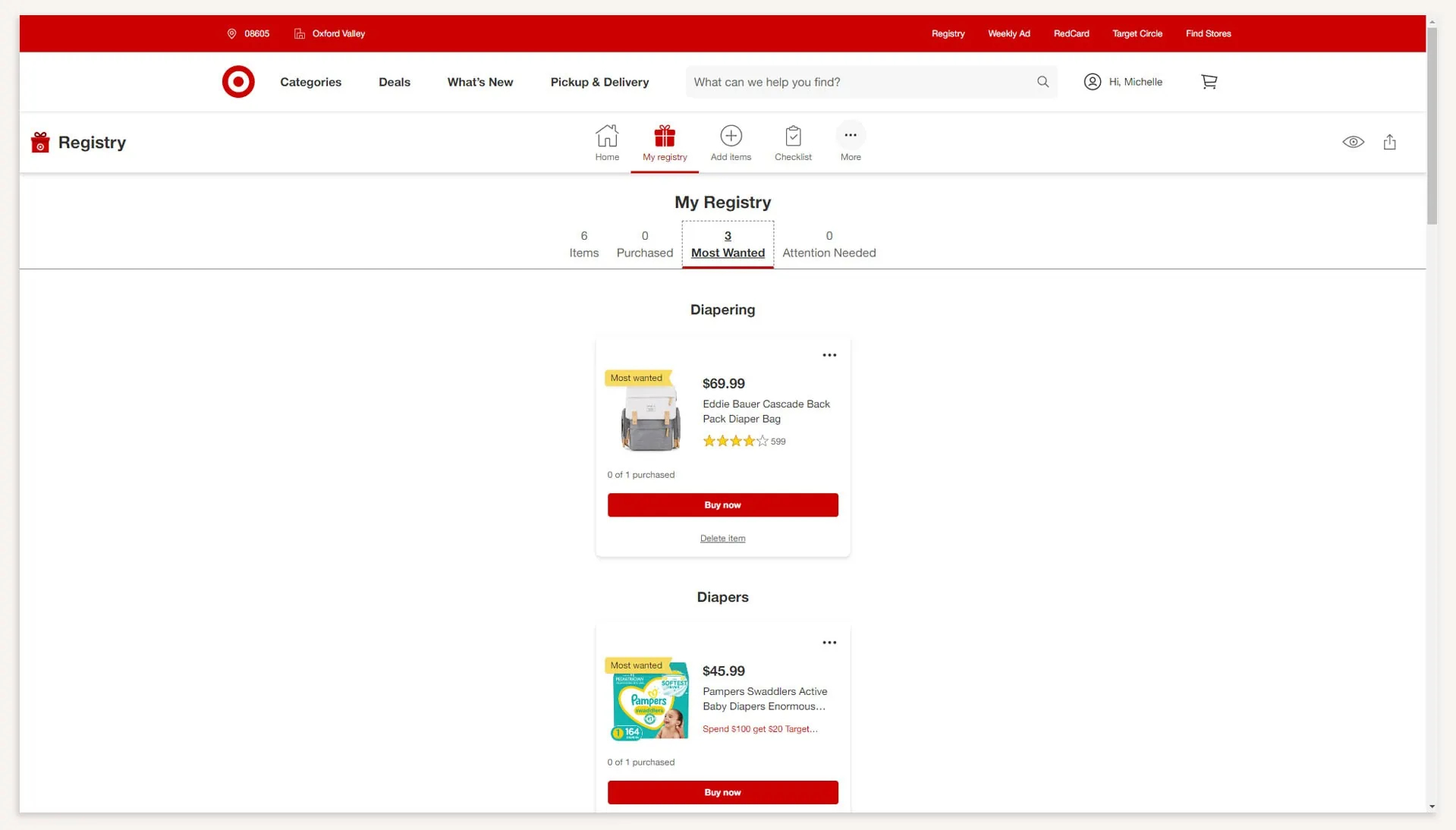 How to Create a Target Baby Registry
Now that you're ready to create a Target baby registry, you can do so online or at a Target store.
Creating a Target registry online:
Go to the Target registry page.
Sign in to your existing Target account with your username and password, or click "create your Target account" to create a new one.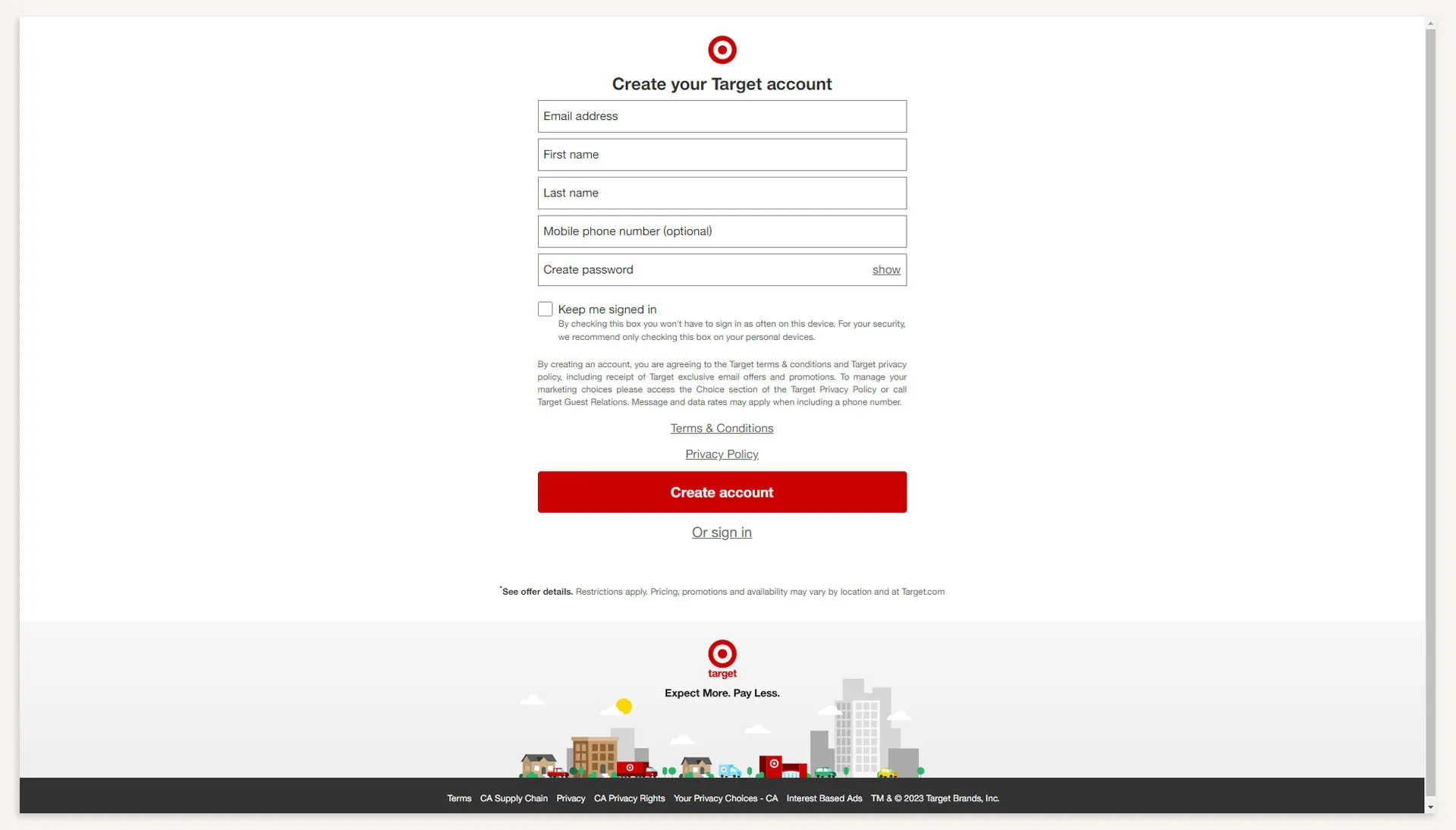 Once you've logged in or created an account, click the "Create a registry" button.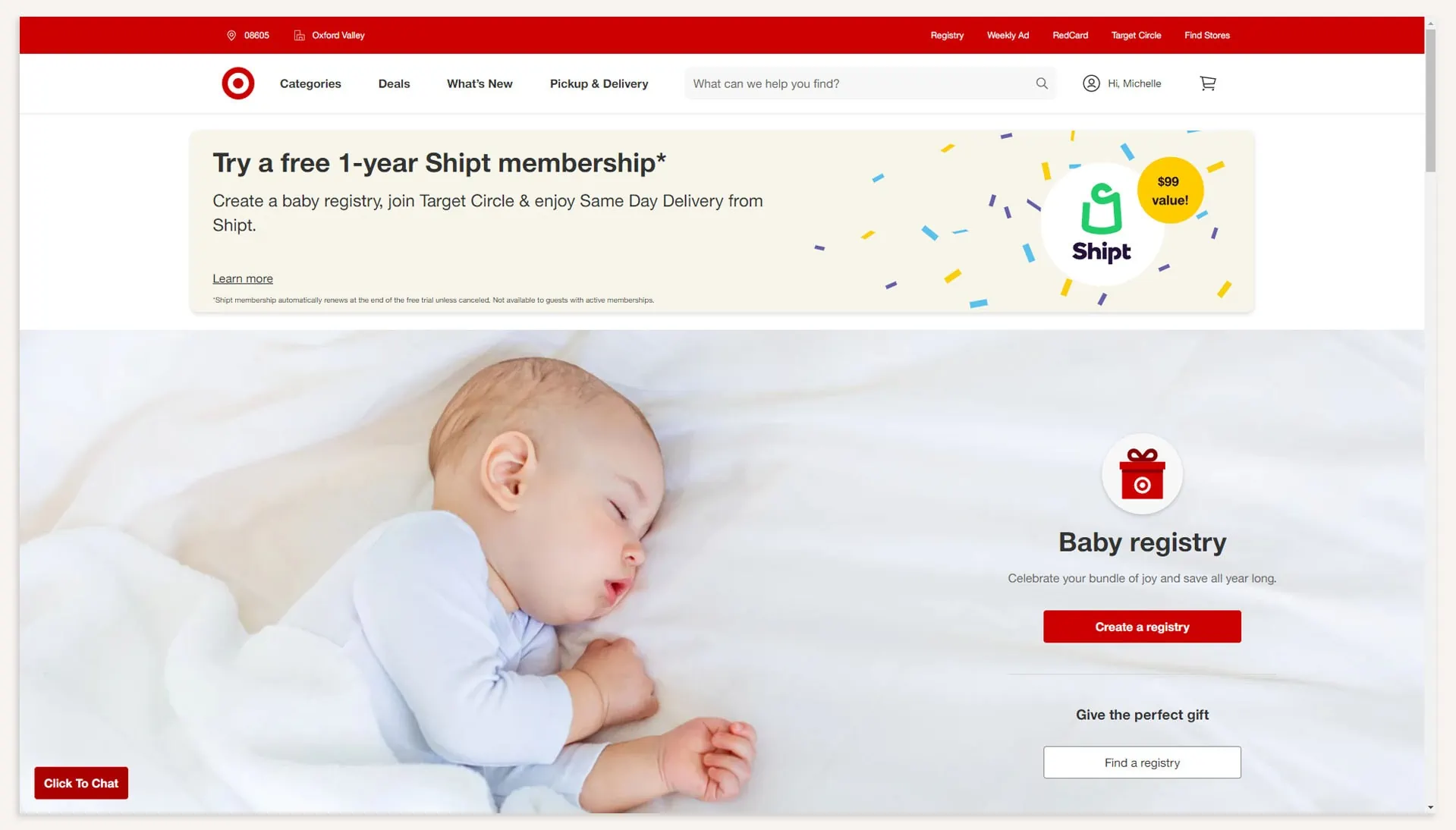 Follow the prompts to fill out important information, including your name and your baby's due date. You can also include your baby's gender or mark if it's a surprise. You'll also receive an offer to join Target Circle, for which you can sign up or skip.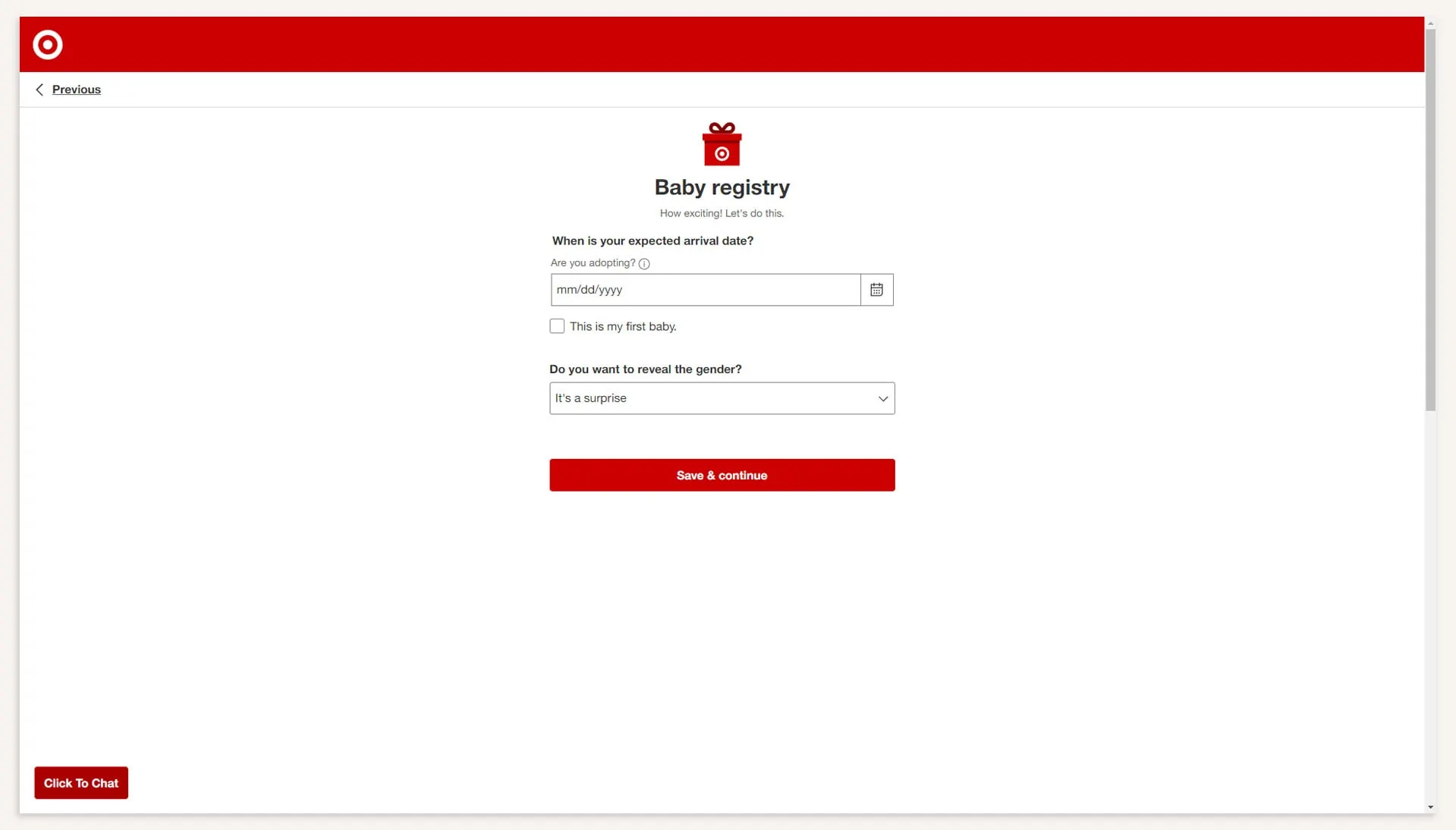 Now that you're officially registered click "manage baby registry" to add items.
While you're on your registry page, click "add items" from the top navigation bar. You can browse by category or search for items in the search bar.
When you find an item you want to add, simply click "add to registry." You can also adjust the priority, quantity, and size of each item.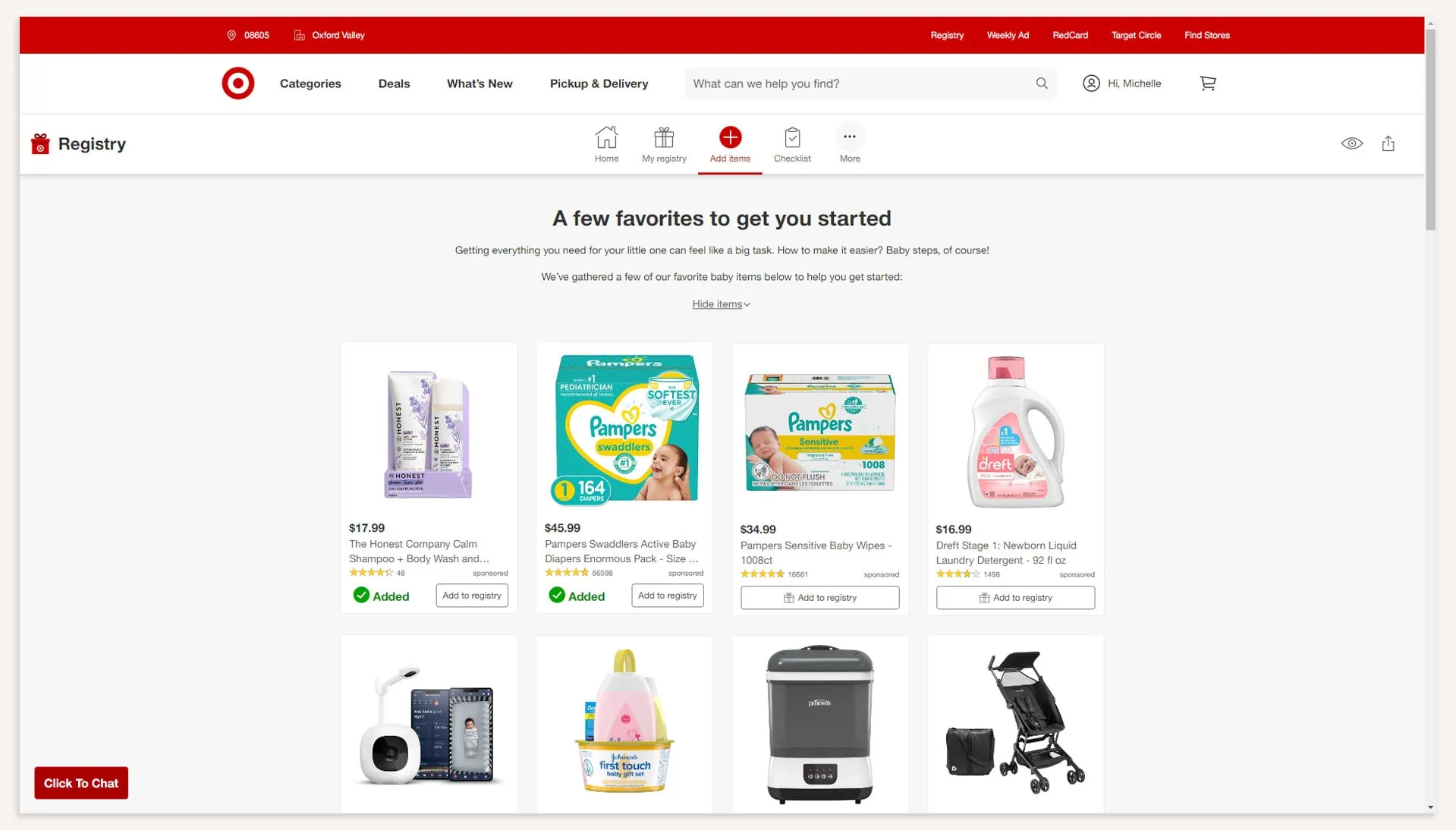 Creating a Target registry in-store:
Visit the guest services counter at any Target location.
A store associate will collect your information and walk you through setting up your registry, as well as answer any questions you have.
Once your registry is set up, you're free to start looking at baby items in the store. Scan items as you shop to add them to your registry.
You can also add more items to your registry online by following the steps above.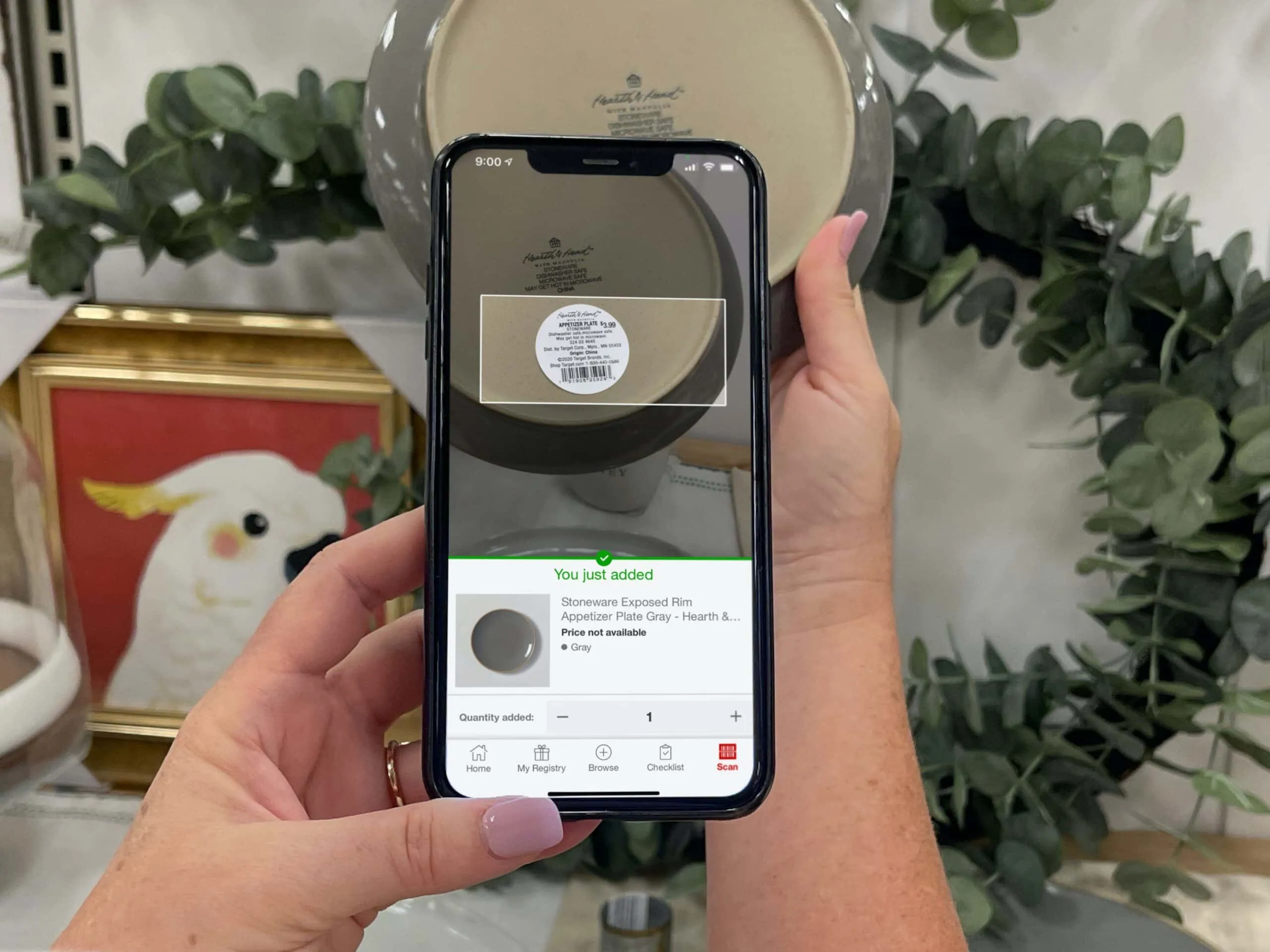 How to Use the Registry Checklist
The Target baby registry checklist is a fantastic tool for new parents who aren't quite sure what to include on their registry. The checklist consists of multiple drop-down menus, including strollers and car seats, feeding, diapering, bath, clothing, and more. Under each drop-down menu are suggested items – i.e. bath toys, lotion, hooded towels, etc. under the bath section. From there you can click on "view all" to see each item in that category. From there you can add items to your Target baby registry list.
How to Use the Registry Gift Tracker
So long as you don't mind spoilers, the Target registry gift tracker lets you see who has purchased gifts from your list. While on your registry home page, select "track your gifts" to see the items purchased, the quantity bought, and the gift giver's name. You can also track who you've thanked by clicking the checkbox under "thank you sent."
What Should I Put on My Target Baby Registry?
The most important items to include on your baby registry are the essentials, This includes diapers, a crib or bassinet where your baby can sleep, clothing, and more. Check out our list of the best baby registry gifts for ideas. We recommend adding the following items to your baby registry:
Clothing items: onesies, sleep n' plays, tops, bottoms, socks, baby bunting, and hats
Feeding supplies: bottles, breast pump, formula, and burp cloths
Nursery essentials: crib or bassinet, fitted sheet, mattress protector, swaddle blankets, changing table, dresser, sound machine, and mobile
Fun activities, books, toys, stuffed animals, tummy time mat, and activity gym
Bath: baby tub, body wash, shampoo, lotion, hooded towels, and bath toys
Diapering: cloth or disposable diapers, wipes, diaper rash cream, diaper pail, and diaper bag
Safety and first aid: baby monitor, cold medicine, thermometer, pacifiers, tummy medicine, and child-proofing tools
Baby gear: car seat, stroller, and baby wrap or carrier
Essentials for mom: breastfeeding care, postpartum essentials, nursing tops, and a nursing pillow

Pros and Cons of Target Baby Registry
While no registry option is perfect, there's a lot to love about the Target baby registry. A large selection of items and a one-year return window are great perks. But there is no universal registry option, and returning gifts in person can be a bummer. Check out the pros and cons of having a Target registry.
Pros
A large variety of items from popular brands, as well as brands exclusive to Target.
The convenience of shopping online or in one of Target's 1,900 locations.
15% completion discount that you can stack with your Target RedCard savings for an additional 5% off.
Year-long returns on new and unopened items.
Welcome kit full of samples and coupons.
Cons
Gifts must be returned in person.
You have to go to a store to pick up your welcome kit, and kits aren't always available.
As of February 2023, Target discontinued its universal registry option that allowed customers to add items to their registry from other websites. The store also removed its group gifting option in early 2023.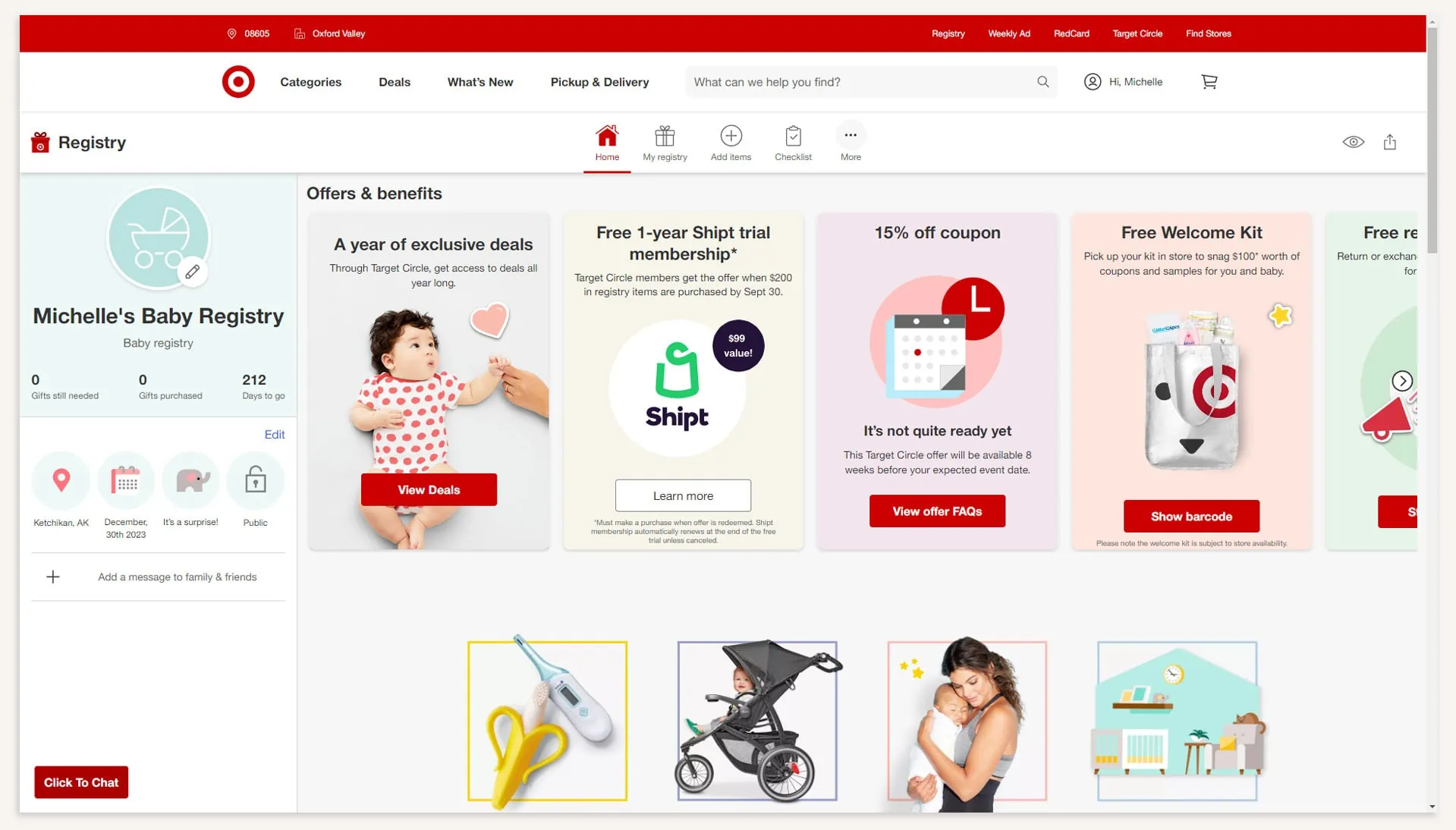 Target Registry For Babies FAQ
How do you find someone's baby registry?
To find a Target baby registry, search by name on the Target registry page by clicking "find a registry." Or you can use the Target baby registry lookup service in one of the retailer's brick-and-mortar locations.
How do I let people know about a Target registry?
Share your list with family and friends before your baby shower so they know exactly what you need. Visit your registry page and select the "more" option from the top navigation bar. Click the "share your registry" button, and you'll receive a link to your registry that you can share with your loved ones. Target also gives you the option to print free inserts to include with your baby shower invitations.
Does Target offer a discount on registry items?
Target offers a 15% completion discount that is redeemable starting eight weeks before your due date. Target RedCard holders also receive an additional 5% off orders, which you can combine with your completion discount for extra savings. Aside from occasional Target Circle offers, there are no other discounts on baby registry items.
How to add a gift card to a baby registry at Target?
Ensure you're signed into your account, then click on the categories drop-down menu on the Target website. Scroll down to the gift card option and select "gift cards." Select the type of gift card you want, then click "add to registry." There are lots of options, including gift cards for Target, restaurants, lifestyle, and more.
Can you return anything purchased from your registry?
The Target baby registry return policy states you can return most new and unopened items purchased from your registry within one year. Bring your return to the guest services counter at any Target location and present the barcode on your Target registry to make your return.
Can you register in person at Target?
If you have questions or simply don't want to create your registry online, a store associate can help you with your registry in person. Go to the guest services location at any Target store to create your registry.
Can you see how many people viewed your Target registry?
While you're not able to see how many people looked at your registry, you can see which gifts were purchased and which loved ones made the purchase.
What are the best baby registries?
There are several great baby registry options available. And the great thing is you're not limited to one. Register for additional baby registries from top companies, including Amazon and Babylist, for more baby registry options and additional discounts and perks. Make sure to check out our comprehensive review of the best baby registries.
Related Articles: