Creating a baby registry is a must when you're expecting a sweet baby boy or girl. But how do you know which platform to choose? Out of the many options available, Amazon's baby registry gets second place in our recent research on the best baby registries in the US.
While not a perfect registry, Amazon does come with several perks and discounts. The familiarity of the website and mobile app also makes it an easy shopping experience for your guests.
But is it the right registry for you?
The huge selection of products available and the ease of use make it a no-brainer. But there are other options like Babylist you can consider.
Let's dive deeper into our Amazon baby registry review to see if it's the right choice for you.
Throw a Virtual Baby Shower so Everyone

Can Celebrate!

• Free Trial – 14-Day Refund for any reason
• Only 1 Minute Setup!
• 80+ Custom Themes & Matching Invites
• Use Any Online Registry
• Send Unlimited Invites and Updates
• Baby Shower Games with Scoreboards, Give Prizes!

Build Your Shower
---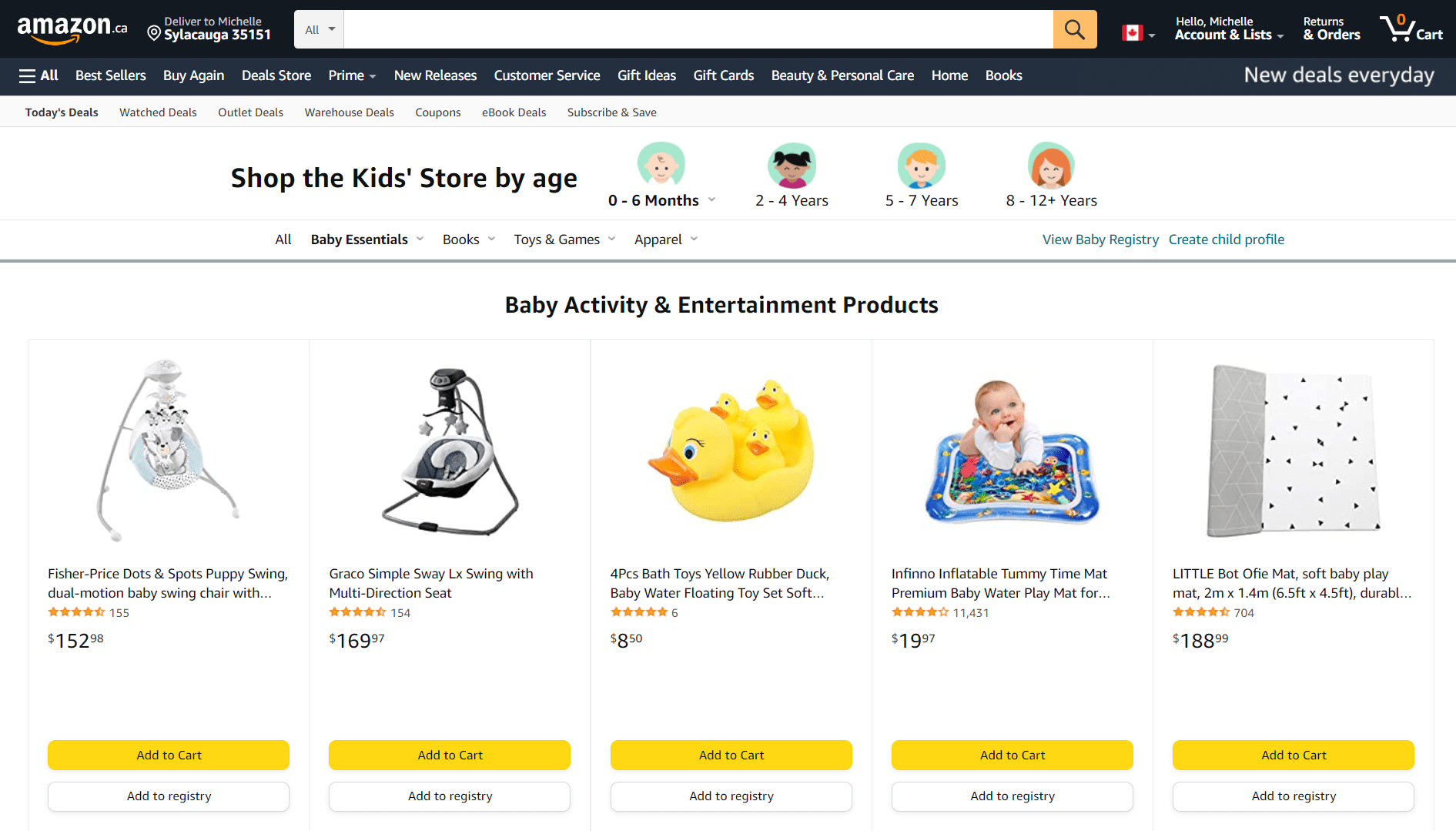 What Are The Pros of the Amazon Baby Registry?
There are many things to love about the Amazon baby registry. A familiar platform, group gifting options, and the ability to add items from any website make this a great option. But there are more features and selling-points that make this platform a good option to consider.
Ease of Use
Amazon's baby registry is located right on Amazon's website and mobile app. Many of your friends and family likely already use the platform, so it will be easy for them to navigate your baby registry. All they need is your name to find your registry.
It's easy to organize items by price, most wanted, and what is still needed, making it effortless for guests to choose a gift. Guests can shop from home or on the go from their phones. Prime members can take advantage of free shipping for an added benefit.
For loved ones who aren't as tech-savvy, or prefer to shop in a store, consider creating a secondary registry to make the process easy for everyone.
Discounts
When you create a registry on Amazon, you receive a 15% discount on any last-minute items you need for the baby. This completion discount may be used 60 days prior to your child's expected arrival and up to 90 days afterward. Snag any items you still need for your little one at a lower price.
Babylist also offers a 15% discount starting 60 days before your due date, but you have up to six months afterward to use the discount. This gives you plenty of time to take advantage of the savings.
Read – Amazon Vs Babylist – Which Registry should you Choose?
Can Add Items From Other Sites
Items on your Amazon baby registry can come from any site. Along with an abundance of available products on Amazon, you can add gift options from anywhere. Use the Amazon Assistant extension to add products from any site to your registry.
Checkout Experience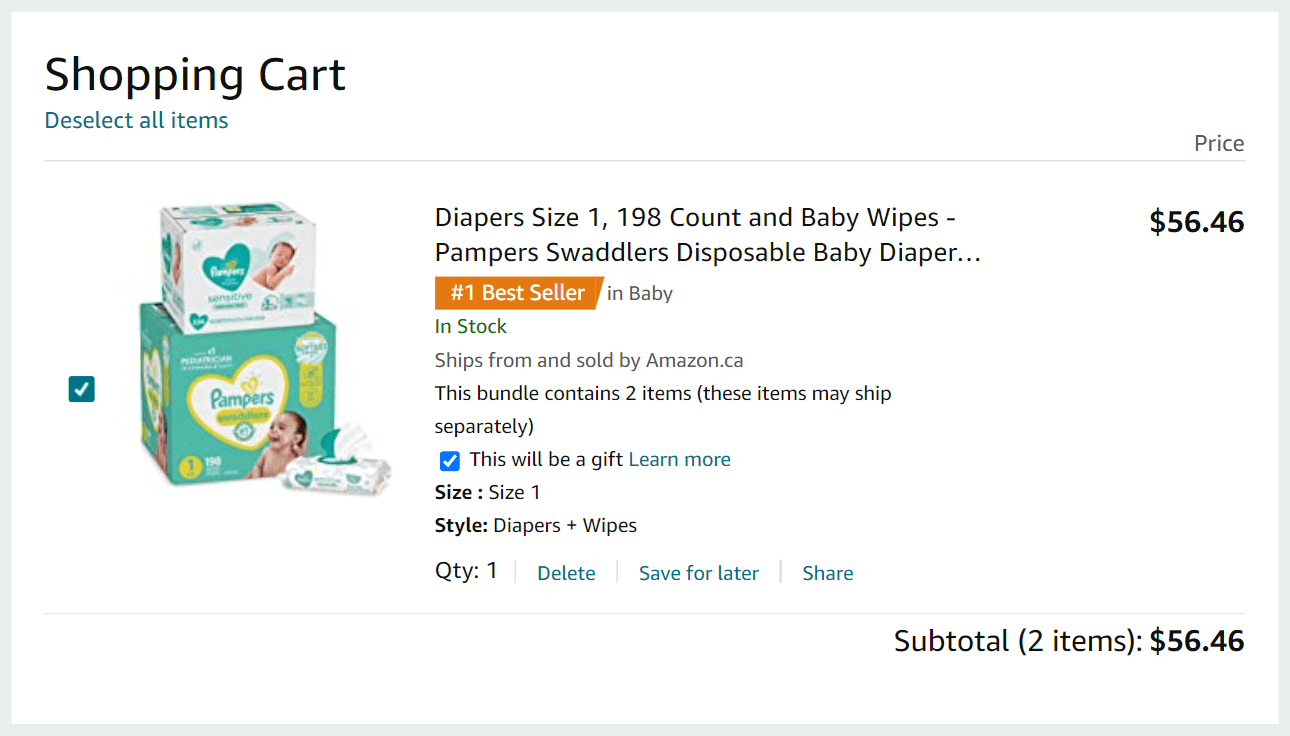 Amazon has one of the easiest checkout experiences out there. Guests can go online or use the mobile app to look up your gift registry. Once there, all they have to do is click "add to cart" to purchase any gifts from your list. Plus, many people are already used to using the Amazon site, which makes the checkout process a breeze.
Once gifts are added to their cart, guests can include a gift receipt, write a special message, and select gift wrap options to make gift-giving incredibly easy. The "buy now" button lets guests purchase an item immediately if they are already signed into their Amazon account. Gifts can also be shipped straight to the parents-to-be.
Group Gifting
Big-ticket items can be a large expense for some. That's why we love Amazon's group gifting option. Several guests can pool their money together to buy more costly gifts like cribs, strollers, and car seats. These contributions are sent to you as an e-gift card that you can use to purchase the item.
Family and friends can also contribute to a diaper fund. Stock up on your favorite diaper brands before your little one arrives.
Cons of the Amazon Baby Registry
There are a few reasons why our Amazon baby registry review places the platform in second place on our list. While Amazon has a lot of great features, there are a few ways in which it can improve.
Cash Gifts
Cash gifts are not an option through the Amazon baby registry. This is a downside for parents-to-be who want help with college savings, an adoption fund, or big-ticket items. However, loved ones can give gift cards to various stores and restaurants.
Welcome Box
Customers have commented the Welcome Box has no value near the $35 that Amazon advertises. Complaints include receiving small samples, not enough full-sized items, and damaged products.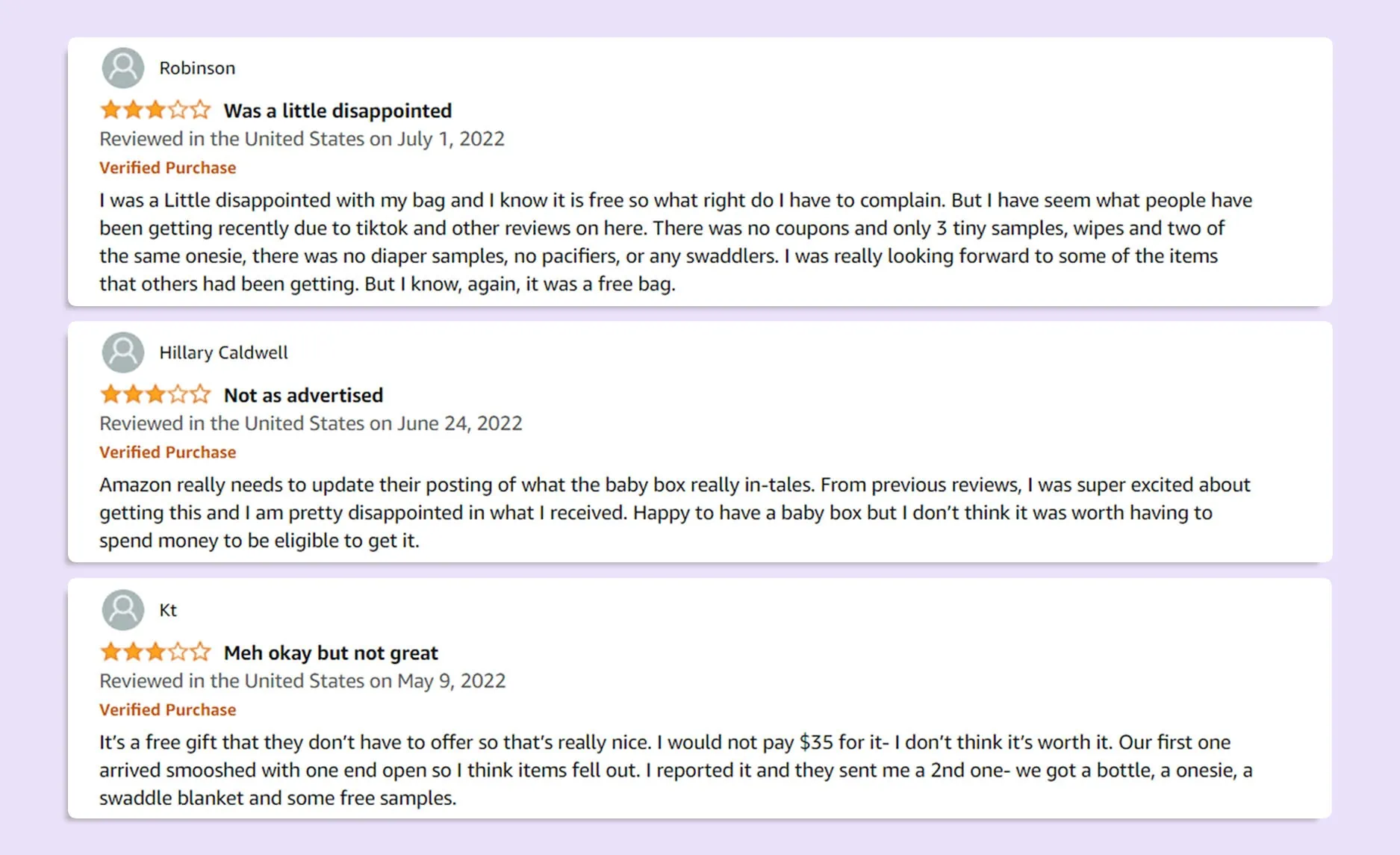 You Have to Be a Prime Member
To fully benefit from all Amazon's baby registry has to offer you need to be a Prime member. Only Prime members receive the Amazon baby registry welcome box and free two-day shipping. For some parents, this can be an unnecessary expense for a one-time registry. 
WebBabyShower's Review: Our Verdict on Amazon Baby Registry
When it comes to the ease of use and the ability to choose from a wide variety of products, the Amazon baby registry comes out on top.
If cash gifts are important to you, consider using Babylist's registry, or sign up for both. We also recommend creating a registry that lets guests shop in-store. This is especially helpful for loved ones who don't want to purchase online or aren't as tech-savvy.
Related Articles: