Amazon offers one of the best baby registry options for parents-to-be. Along with a massive selection of items, a convenient app interface, and a completion discount, you'll also receive an Amazon baby registry welcome box full of freebies. This box includes sample and full-size items and coupons for extra savings. Use the goodie box to inspire your baby registry checklist and narrow down your preferred brands. Getting your hands on these free samples is simple, and it's delivered right to your front door. Keep reading to learn how to get your hands on some great baby freebies from Amazon.
How Do I Snag a Free Amazon Baby Registry Welcome Box?
From onesies and swaddle blankets to bottles and baby wipes, there are a lot of fabulous items in the Amazon baby registry welcome box. Setting up an Amazon baby registry is the first and most crucial step to getting your box of great goodies. Here's how to do it:
Create or log in to your existing Amazon account.
Head to the baby registry page from the "gifting and registry" section.
Click on the button that reads "Create a baby registry."
Fill in the requested information, including your baby's due date, mailing address, etc. Then click "Create a baby registry." From there, you can start adding baby registry items to your list.
Along with your welcome box, Amazon's baby registry comes with extra perks including a 15% completion discount you can use up to 60 days before your baby's due date and up to 90 days after. It's also super easy to navigate the website and app, making it an excellent choice for you and your baby shower guests.
Many of your loved ones likely already use Amazon and are familiar with how to use it. You also get up to one year to return items from your baby registry, which gives you plenty of time to see what you like and what you might want to return.
Throw a Virtual Baby Shower so Everyone

Can Celebrate!

• Free Trial – 14-Day Refund for any reason
• Only 1 Minute Setup!
• 80+ Custom Themes & Matching Invites
• Use Any Online Registry
• Send Unlimited Invites and Updates
• Baby Shower Games with Scoreboards, Give Prizes!

Build Your Shower
---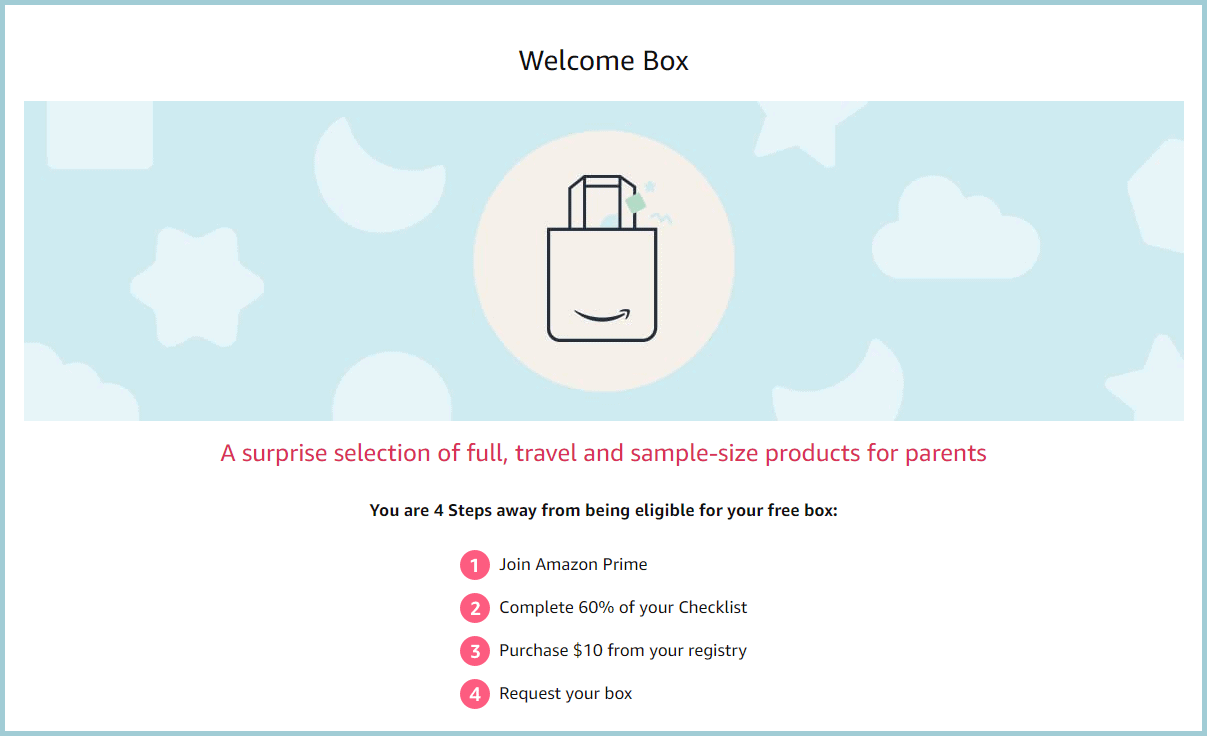 Easy Steps to Get YourFree Amazon Baby Registry Welcome Box
The Amazon baby registry box has many great samples and coupons to help you decide which brands to include on your checklist. Here's how to get your hands on those freebies.
Become an Amazon Prime Member
Only Amazon Prime members qualify for the free welcome box. If you're considering Amazon for your baby registry, you may already be a member or have a household membership. If not, you'll need to sign up before claiming your welcome box.
The membership cost is $14.99 per month or $139 per year. Perks include free, two-day, one-day, or sometimes same-day shipping, and on-demand movies and television shows through prime video.
Complete 60% of Your Checklist
After creating your Amazon baby registry, you can add items to your list. Amazon wants you to complete 60% of your checklist. Add items from each baby category to your registry. Check the category box to see if you've considered it.
Complete at $10 Purchase
Once you or a loved one purchases of $10 or more from your registry and that purchase has shipped, you can check off this part of the requirements. The fastest way to achieve this is by purchasing an item yourself. We suggest adding an item or two to your registry that you need now, like maternity clothes, stretch mark cream, a maternity bra, or a pregnancy pillow. Then buy that item for yourself. That way you get something for you and meet your $10 purchase condition.
Click "Claim Now"
Now you're all set to claim those fabulous freebies. Sign into your Amazon account and head over to the benefits tab under the registry section. If you've met all the criteria, you'll be able to click on the "Claim now" button under the "Benefits and welcome box." This will add the Amazon baby registry welcome box to your cart. It will show up as a $35 charge but don't worry. Make sure to click on "use $35 promotional balance" at checkout to get it for free.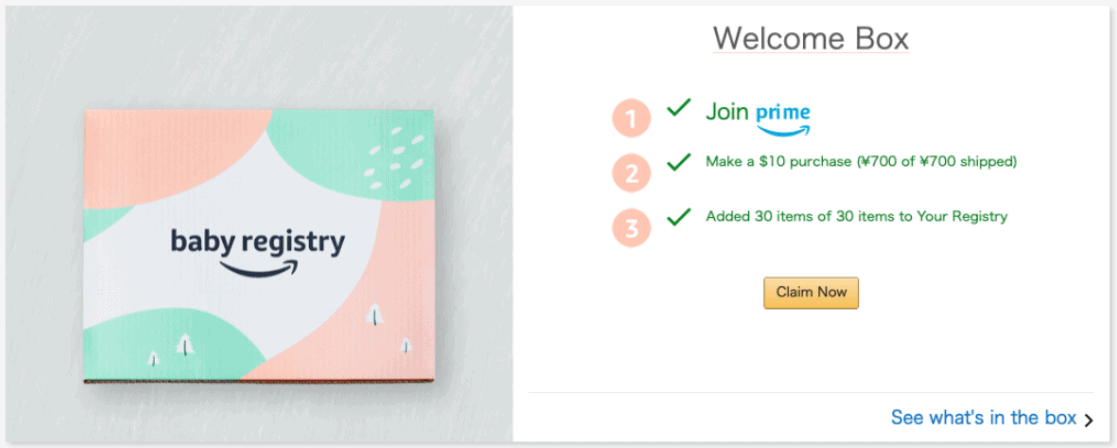 What Do You Get in the Amazon Baby Registry Welcome Box?
Your Amazon baby registry welcome box has $35 worth of goodies and includes full-size and sample-size products. You'll also receive coupons for savings on additional baby items. What you receive varies, but could include some of the following:
Prenatal gummy vitamins: Prenatal vitamins provide additional nutrients for both mom-to-be and baby. This can include extra vitamins A, B, C, and E, along with calcium, iron and more to aid baby's development.
Breastmilk storage bags and nursing pads: These items are sometimes in a sample pack. Breastmilk storage bags keep pumped milk safe and fresh until baby is ready to drink it. Nursing pads help breastfeeding moms stay dry between feedings.
Baby wipes: Check out different wipe options to see which works best for your famly. Some options contain no fragrance or are made of mostly water, making them safe for sensitive skin.
Laundry detergent: A baby's skin is delicate and harsh chemicals in regular laundry detergent may cause irritation. When washing your baby's clothing, a baby-safe laundry detergent is the way to go.
Baby wash and shampoo: Pack a sample size of baby wash and shampoo in your hospital bag for Baby's first bath. These sample-size items are also handy during travel.
Baby lotion: Keep your little one's skin hydrated with baby lotion after bathing. Throw a sample size in your diaper bag, travel bag, or hospital bag.
Bottle: You won't know which baby bottle your child will prefer until after they're born. That's why it's a good idea to have a few different brands on hand in case there's one or two they don't like.
Onesie: A cute onesie in an adorable, neutral print works for any baby. Babies sometimes undergo a few outfit changes daily, so having lots of onesies on hand is key.
Swaddle blanket: Keep your baby cozy at night and during naptime by wrapping them in a swaddle blanket. Swaddling gives babies the same feeling of coziness they had in the womb.
Diaper rash spray: Keep your baby's bottom happy with diaper rash protection in spray form. This spray reduces possible cross-contamination and is easier to apply.
Stretch mark butter: Growing bellies can itch and form stretch marks. Help your baby bump stay hydrated with stretch mark butter.
Diaper samples: Similar to wipes, there are many different brands and types of diapers available. Sample packs can help you decide which you like best. Sample packs are also handy when you stock your diaper bag for the first time.
Amazon vs Target Welcome Gifts 2023 – How Do They Compare?
Let's compare Amazon's welcome box to the Target baby registry welcome box. Both are similar in the types of items you receive, but Target's welcome box comes with $100 worth of products.
There is also no membership required to receive Target's box, unlike Amazon, which requires a Prime membership. With Amazon, your free samples are delivered to your door. However, Target requires parents-to-be to pick up their welcome box in person at Target, and they aren't always in stock (call ahead before going to the store).