If you're looking for a simple way to support a new mom, you've come to the right place! Amazon offers a terrific method for expecting parents to collect funds through gift cards for diapers and other baby essentials. This way, babies will have everything they need before and after they arrive. It's an excellent way to help with costly expenses that come with a new family member, allowing the parents flexibility to choose their gifts.
What to know about the Amazon Diaper Fund
An Amazon Diaper Fund has a limit of $550. So, anyone can provide an amount they choose, but it will always be within this limit. Amazon bases this amount on an estimate that a newborn will use 2,700 diapers in their first year while averaging the cost of $0.20 per diaper.
This amount will only cover diaper expenses for some parents, so having more than one diaper fund on different platforms can be helpful!

How to Set Up an Amazon Diaper Fund If you Have An Amazon Account Already
Setting up an Amazon Diaper Fund online is easy. Just follow these steps!

Menu > Baby Registry Settings
Create a Baby Registry on Amazon when your logged in
Choose Gifting & Registry from the left side menu bar OR when in Registry under "Baby Registry Settings"
Select Baby Registry and enter your details
Make sure you select the check box for a diaper fund under Gift Options
Pick private, public, or shareable access to your registry for loved ones
Save your choices
How to Set Up an Amazon Diaper Fund If you Don't Have An Amazon Account
Setting up an Amazon Diaper Fund from scratch.
Create a new Amazon account
Choose Gifting & Registry from the left side menu bar
Select Baby Registry and enter your details
Make sure you select the check box for a diaper fund under Gift Options
Pick private, public, or shareable access to your registry for loved ones
Save your choices
Once your Amazon Baby Registry is active, you can choose Share from the top menu. Here, you can copy the shareable link or use Amazon's built-in sharing option. It's easy to provide this link to others using email, Pinterest, FaceBook, or Twitter.

Throw a Virtual Baby Shower so Everyone

Can Celebrate!

• Free Trial – 14-Day Refund for any reason
• Only 1 Minute Setup!
• 80+ Custom Themes & Matching Invites
• Use Any Online Registry
• Send Unlimited Invites and Updates
• Baby Shower Games with Scoreboards, Give Prizes!

Build Your Shower
---
How to Contribute to an Amazon Diaper Fund
It's simple for family and friends to contribute to an Amazon Diaper Fund. When you provide the link to your baby registry, loved ones can select an Amazon Gift Card or Diaper Fund.
Once they click Contribute to Gift on the diaper fund icon, Amazon offers pre-set values to choose from, with an option for a unique amount. There is also space to add a personalized message to the receiver so that you can share your congratulations on their upcoming baby!
Amazon allows for Group Gifting for more expensive products on your registry. Be sure to set this up! This way, multiple people can contribute a personalized amount that you can put towards a big-ticket item you need. Just remember, Group Gifting only covers the cost of the product and isn't available to pay for shipping or taxes.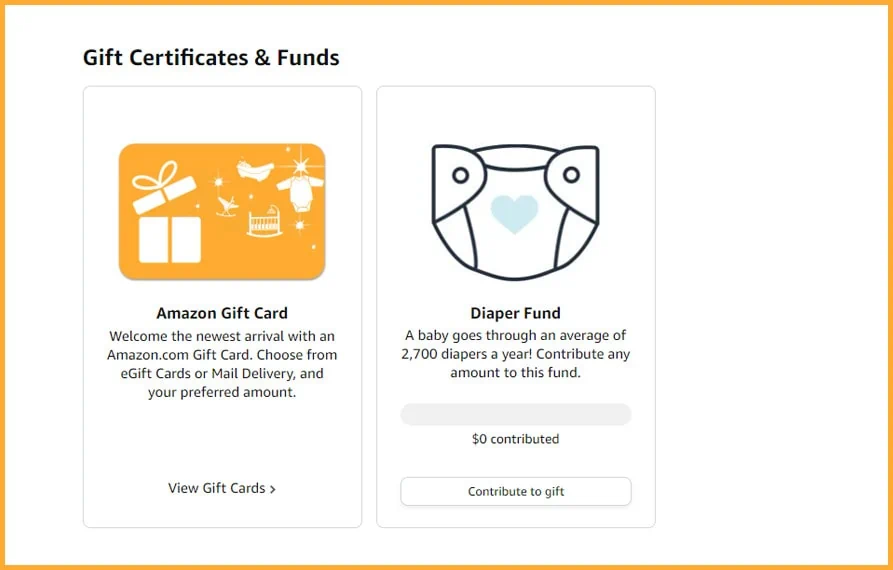 How to Redeem Funds from Amazon Diaper Fund
Amazon makes it easy to redeem funds from your Diaper Fund with the click of a button. You can select one or more contributions to use for diapers or essentials. Follow this step-by-step guide when accessing your Diaper Fund amounts.
Log into your Amazon Baby Registry
Choose Redeem or navigate to the Thank You & Returns option to view your Diaper Fund contributions
Select Redeem for one or more amounts or Redeem All
Once you go through this process, the available funds transfer to an electronic gift card balance to use with your Amazon account. Then, you can add items to your online cart and select the available gift card balance to cover the cost of your order.
Flexibility of Amazon Diaper Fund
Diapers can be a significant expense for new parents, along with other vital essentials. Thankfully, the Amazon Diaper Fund is not limited to only disposable diaper purchases. Some families use their Diaper Fund to offset the cost of reusable cloth diapers. You can also put the funds towards other things your baby will need, like wipes, baby food, and skin care items.

Additional Benefits and Policies
The Amazon Diaper Fund also offers additional benefits for expecting parents to help maximize the monetary gifts from loved ones.
The baby registry Completion Discount is a 15% reduction on eligible items and starts 60 days before your set arrival date in your registry settings. It will remain active on these items until 90 days after this date. The baby registry must be active for a minimum of 14 days before you can view eligible discounted products. Once your Amazon Baby Registry reaches 14 days, changing the arrival date will not alter the eligibility window for redemption.
Amazon's Completion Discount is available for purchases up to $2,000, giving you a $300 reduction on your cost. It will only apply to the first 50 items in your online shopping cart, and any additional products will automatically move to your Saved for Later list. You cannot use this discount with promotional offers, including Lightning Deals.
You must select the Promotional balance option at the time of purchase, or the discount will not apply. Once you use this 15% discount or it expires, you must wait another eight months before you are eligible for another Completion Discount. This offer is non-refundable for returned or canceled items.

Another terrific reduction Amazon offers for new parents is the Amazon Family program. First, you must be a Prime member to sign up for this free discount. Once you enroll, you can receive up to 20% off selected diapers for your little one. It also covers a variety of relatable products for families with children.
Commonly Asked Questions & Misconceptions
Q1. Can the Diaper Fund be used for other items?
Yes, it can! Amazon allows new parents to choose items they want to make life easier with a new baby. From diapers to baby food, a Diaper Fund is a terrific way to help loved ones care for their new family member.
Q2. What happens if you exceed the $550 cap?
If your online cart exceeds the $550 cap your Diaper Fund holds, you must cover the extra cost using a valid payment option. This can be in the form of additional Amazon gift cards or credit cards.
Q3. Can you combine the Diaper Fund with other discounts?
You can combine a registered Diaper Fund for other discounts through Amazon. The 15% Completion Discount is available for a set period based on your registry's arrival date in the settings. You can also use the Amazon Family program for other discounted benefits.
Conclusion
Amazon's Diaper Fund makes it easy for friends and family members to contribute monetary gifts for your new baby. These extra funds help ease the financial burden, while door-to-door delivery and 2-day shipping options provide convenient ways for new parents to receive essential baby supplies.