Having Two Babies Doesn't Mean You'll Need Two of Everything
Creating a baby registry for twins can feel overwhelming, but fear not! With the right approach, it can be much easier than you'd think.
Start by using a twin baby registry checklist to determine what you'll need for both babies. Next, research and select the best registry items, considering options for twins. Then, choose a registry platform that suits your needs and allows for a smooth registration process.
Before doing any of that, however, take a second to read this article. We go through all the must-have items for twins, such as double strollers, bathtime essentials, cribs, and more. When you're done reading, you'll know exactly what you need for your dynamic duo.
Basic Registry Items for Twins
Infant Car Seats for Twins
Infant car seats are necessary for safely transporting newborns, meaning you'll need two for twins. Try to find car seats that are easy to install, with adjustable harnesses and comfortable padding for a secure and cozy ride. Additionally, look for narrow seats since you'll need to fit two in the backseat of your car.
We also recommend seeking out stroller-compatible seats to make car-to-stroller transitions a breeze. One excellent option is the Chicco KeyFit 30 car seat, which pairs perfectly with a wide variety of twin strollers, including the Chicco Cortina, allowing you to go from riding to strolling with your twins in minutes!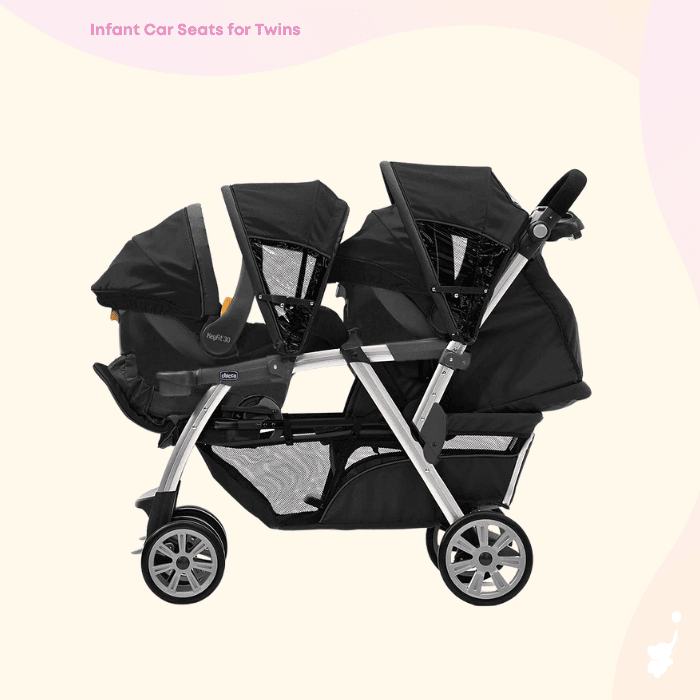 Dual-Strollers for Twins
There are two types of twin strollers: side-by-side and tandem. Side-by-side strollers are fantastic because they give you excellent visibility and access to both kiddos, making it easier to attend to them simultaneously. They also have lots of extra storage space and excellent maneuverability.
However, they tend to be broader and heavier, making them unideal for narrow sidewalks or plane travel. Tandem strollers, on the other hand, are more compact and lighter, making them the better option if you plan to travel a lot.
Whichever style you choose, ensure your stroller has an easy folding mechanism and is compatible with your car seats for quick transitions. Additionally, try to find one with adjustable recline positions and a sun canopy to keep your little one's cozy and protected from the elements.
When your twins get a little bigger and start sitting up independently (around the 6-month mark), you may want to transition from a stroller to a wagon. One of our favorites is The Wonderfold since it's heavy-duty and can fit up to four kids, making it a safe and spacious option for outdoor adventures.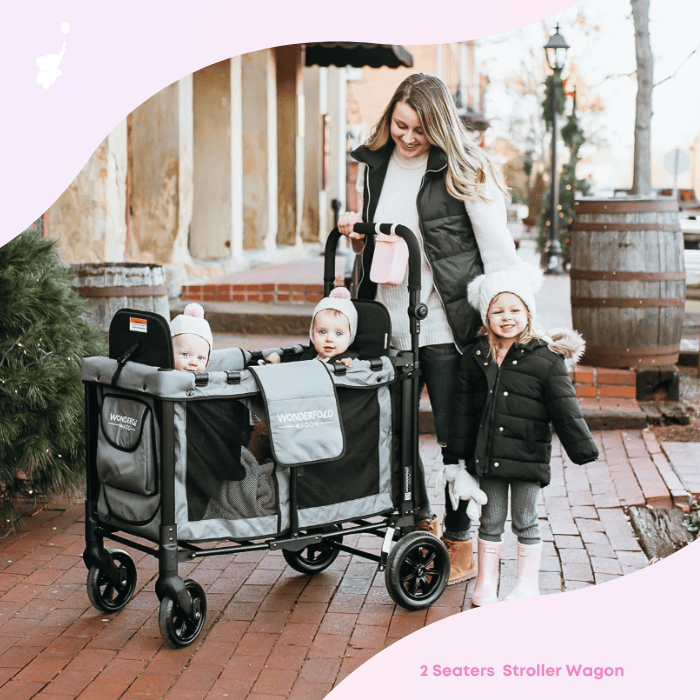 Bath Time Essentials for Twins
Bath time with twins can be a fun bonding experience if you have the right tools! Some must-have twin bathtime items include a baby bathtub and a secure baby bouncer. These will allow you to bathe one twin while the other sits safely nearby.
Add soft hooded towels, gentle baby wash, and shampoo to make the experience more comfortable for your little cuties. While bath toys aren't necessary, they are a lot of fun, so feel free to register for a few!
With these items, you'll create a soothing and enjoyable routine for your twins.
Twins Sleeping: Safety and Options
Regarding sleep, both safety and comfort are key! Experts advise against twins sleeping in one crib together since this can increase the risk of accidental suffocation or overheating.
If you don't have space for two cribs, consider the Halo Bassinest Twin Sleeper Sleeper. It has two sleep areas, so each baby can sleep safely apart while remaining close to their twin. It's adjustable and swivels 360 degrees, making accessing each twin during late-night feedings and cuddles easy. The bassinet also features a nightlight, two vibration modes, and a lullaby function.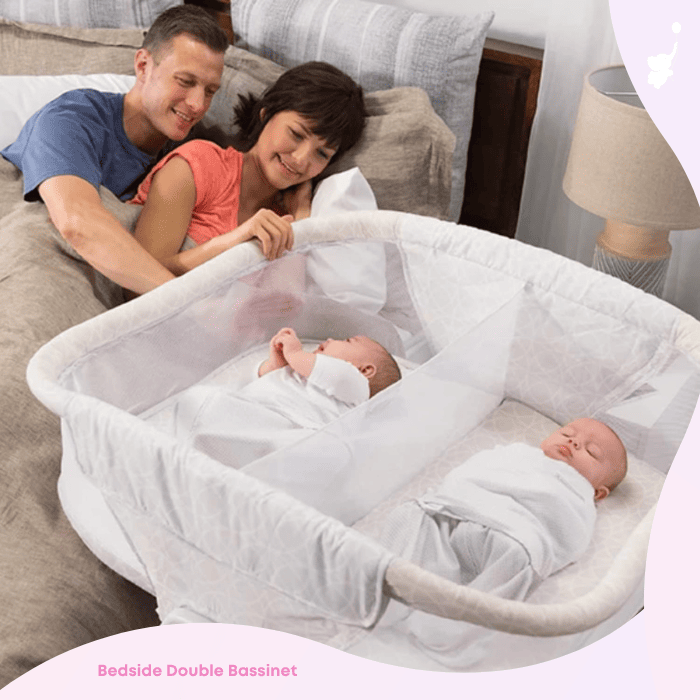 Throw a Virtual Baby Shower so Everyone

Can Celebrate!

• Free Trial – 14-Day Refund for any reason
• Only 1 Minute Setup!
• 80+ Custom Themes & Matching Invites
• Use Any Online Registry
• Send Unlimited Invites and Updates
• Baby Shower Games with Scoreboards, Give Prizes!

Build Your Shower
---
Diapering Essentials for Twins
There are a few diapering essentials that should make it onto your twin baby registry. First and foremost, stock up on diapers in various sizes. Twins go through diapers quickly, so having a good stash on hand will save you from frequent trips to the store.
Consider getting a diaper pail (or two) to contain unpleasant odors. Remember to include plenty of wipes, rash cream, and diaper-changing pads. Having a spacious diaper bag with multiple compartments is also essential to keep you organized when you're on the go.
Feeding
You may think you need more nursing supplies since you're feeding two mouths instead of one. But luckily, many of the items you'll put on your twin baby registry are the same as for one baby.
Start by adding a high-quality, hands-free breast pump (if you plan to breastfeed). This will help you maintain a good milk supply, so some will always be available when needed.
Bottles, bottle nipples, and bottle brushes are also must-haves, regardless of whether you're going the formula or breast milk route. A bottle drying rack can also be helpful but isn't necessary. We recommend registering for at least seven to ten burp cloths and bibs to handle those food-and-drool situations.
One twin-specific feeding item is the Twin Z Pillow. This versatile pillow perfectly positions both babies, making tandem feeding a breeze. We highly recommend this nursing pillow to make feeding sessions more comfortable for you and your twins.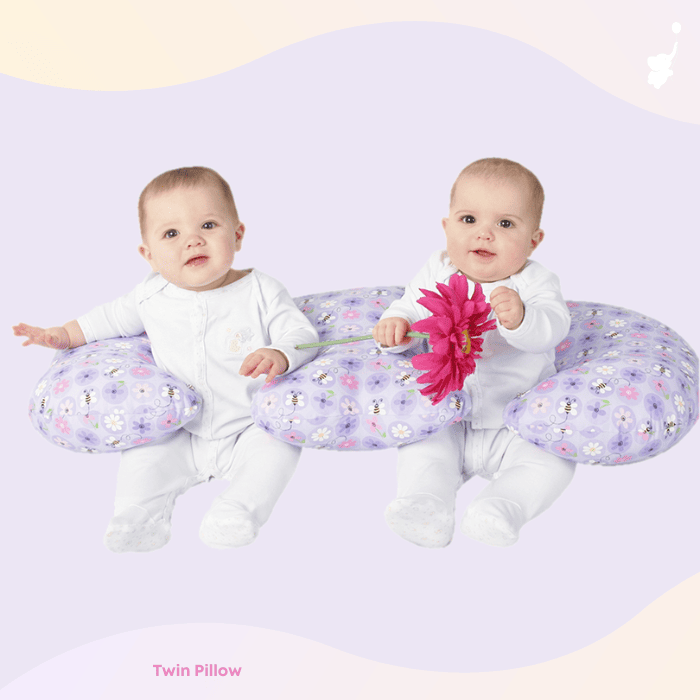 Clothing Essentials for Twins
When deciding how many clothes to put on your twin baby registry, you should consider several factors, including how often you do laundry, whether you're maximalist or minimalist, and what climate you live in. If you don't do laundry frequently, are a maximalist, or live in a cold climate, you'll require more clothing.
As a general guideline, aim for at least 7 to 10 onesies, sleepers, and bodysuits for each twin in newborn, three-month, and six-month sizes. You'll also need 10 to 15 pairs of socks, four hats, and a few pairs of mittens to keep your twins cozy and protected. This is enough clothes for daily wear, with a few spares in case of accidents.
If you live in a cold climate, you'll also need warm jackets, sweaters, and pants to keep your twins nice and toasty during those cold winter months. If you plan to take your little ones outdoors often, consider getting sun hats to protect their faces.
Additional Baby Gear for Twins
When selecting baby gear to add to your twin baby registry, pick functional items to make your life easier. For example, a twin baby carrier could be useful since you'll have both hands free to perform daily tasks.
One twin baby registry must-have is a dual baby monitor with two camera lenses, allowing you to watch both babies simultaneously. A great option is the Split Screen Video Baby Monitor, which has two cameras and a split screen for dual viewing.
A baby bouncer or swing can be a lifesaver for soothing and entertaining the babies. These devices provide gentle and rhythmic motions to calm fussy babies, giving you a much-needed (if short-lived) break.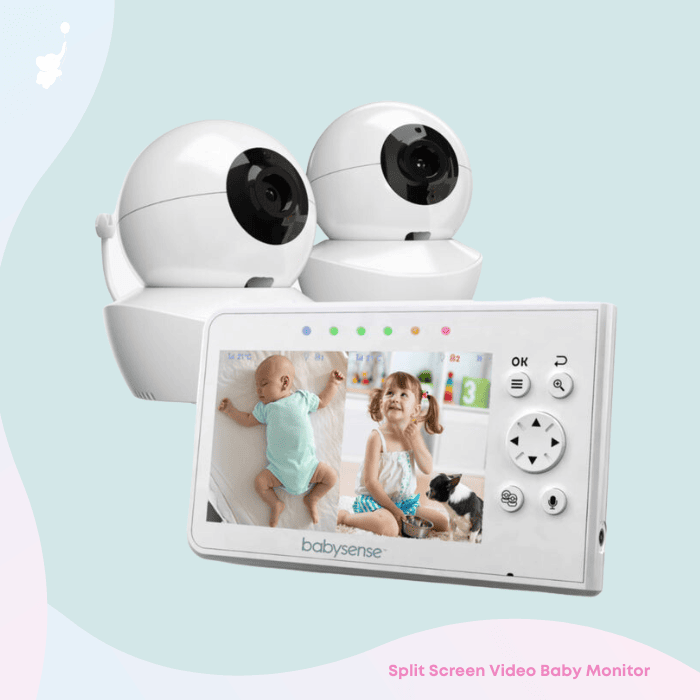 Miscellaneous
When curating your twin baby registry, adding a section for miscellaneous must-haves that didn't fit into any other category is important. Here are some ideas:
Baby-proofing supplies, such as outlet covers, cabinet locks, and corner guards, to create a secure environment for your little ones to explore.
A white noise machine or sound soother to drown out disturbances for a restful night's sleep.
Stock up on extra crib sheets, mattress protectors, and waterproof pads. This way, you can quickly change your twin's bedding without running a laundry load if there is an accident.
Include several pacifiers and pacifier clips so you always have a way to calm and soothe your little ones.
If you're breastfeeding, nursing pads and nipple cream are essential. Nursing two babies can take a toll on your body. But luckily, these items can provide support and relief, making your breastfeeding journey more manageable.
We hope adding these twin baby registry must-haves will help you navigate the unique challenges of twin parenting!