What is a Diaper Fund?
Interested in a diaper fund but not certain what it means? Look no further, we have all the answers you need!
A diaper fund is a collection – a pool of money – contributed by friends and family to help out with the costs of a new infant. It's also a smart, subtle method for collecting cash gifts for expecting parents at a baby shower!
Traditionally, individual friends or family members might present money to expecting parents as a gesture of support. A diaper fund easily includes the whole, wide circle of support – friends and family near and far – by pooling resources into one place for expenses like diapers and other necessities for the baby. It's as if the whole tribe has your back – and trusts you to know how best to use their support.
Just looking for Amazon Registry Instructions? View our specific guide.
Modern diaper funds are a great way to help parents cover immediate expenses like diapers and baby essentials. Yet the simple practice of a diaper fund is flexible enough so parents can apply it to the most vital items right now or other unanticipated items later on.
Parents can access their diaper fund at their convenience to purchase what they need when they need it!
Why Diaper Funds Are Popular
Diaper funds are more popular than ever with new parents for several reasons. Raising a baby in the first year can cost between $10,000 and $20,000 or more. An average baby will use between 2,000 and 2,200 diapers in the first year.
Additional finances are vital for some families to help cover these necessary expenses. New parents will often have significant purchases beforehand, like a crib, car seat, and stroller. These major items can create a need for extra funds to cover diapers and daily essentials.
Friends and family who want to help minimize the financial stress parents face with a new baby can easily set up a diaper fund. This helpful monetary collection can put an expecting mom at ease, knowing that it's one less thing she has to worry about after the birth.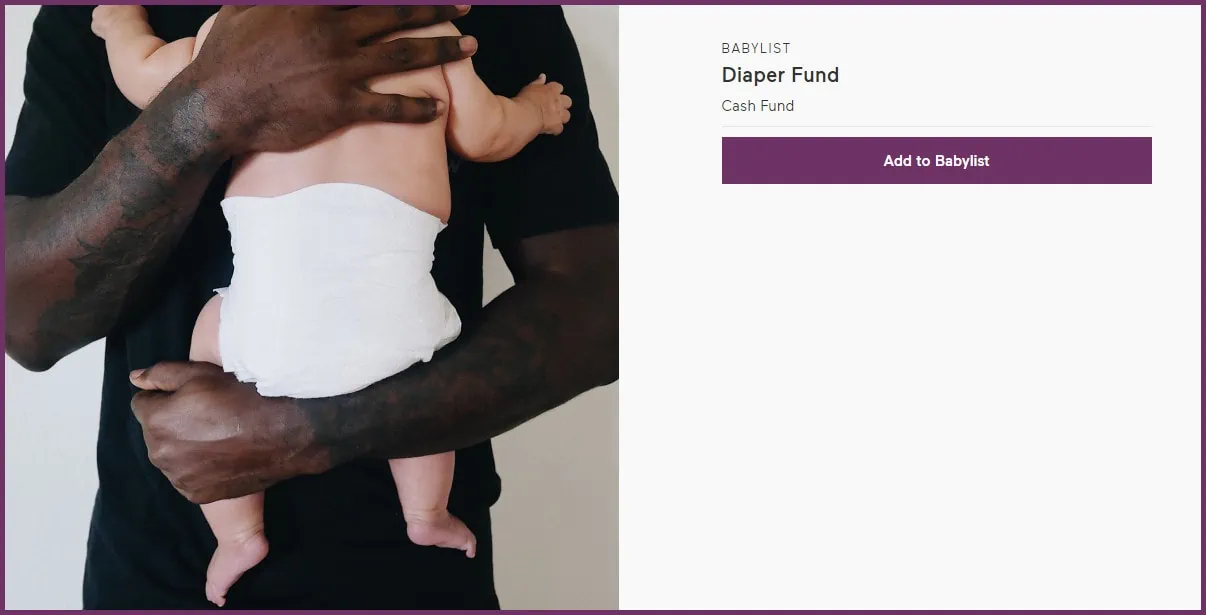 Throw a Virtual Baby Shower so Everyone

Can Celebrate!

• Free Trial – 14-Day Refund for any reason
• Only 1 Minute Setup!
• 80+ Custom Themes & Matching Invites
• Use Any Online Registry
• Send Unlimited Invites and Updates
• Baby Shower Games with Scoreboards, Give Prizes!

Build Your Shower
---
How to Set Up a Diaper Fund
Setting up a diaper fund is simple. Several popular platforms support diaper funds and are relatively similar to create. Follow this step-by-step guide to create a diaper fund for your next baby shower.
Choose the baby registry you want to use
Create a registry account
Navigate to the registry settings
Choose to enable a diaper fund
Share the link with friends and family
Amazon Baby Registry Settings View
We suggest you click all three boxes, gift cards, diaper fund, and group gifting.

Today's technology makes it easy to have a diaper fund through several providers. Expecting moms can choose one or more platforms to collect monetary gifts for their new little ones. This flexibility ensures loved ones can select their preferred provider when pooling money together.
Some popular diaper fund platforms include:
Some are brick-and-mortar retail stores, while others are strictly online shopping. Expecting parents can register for one of these. or a combination of several at their convenience. This strategy makes it simple for friends and family to contribute towards diapers and other essentials.
Popular Online Diaper Funds
If you want a diaper fund that operates strictly online, there are numerous choices:
When choosing an online diaper fund, the expecting parents can save time by having all their diapers and essential items delivered right to their door. Adding a diaper fund to an Amazon registry is easy and similar to other online platforms.

Compostable Bamboo Diapers Delivered
Many flexible diaper funds can include customized subscription services to simplify shopping and delivery. This way, new parents will always have supplies on hand.
The diaper market has grown through the years, making caring for a new little one easier and more convenient. From disposable to cloth diaper selections, expecting moms can choose modern designs and environmentally friendly options.
One terrific eco-friendly diaper company is Dyper. Their products are eco-friendly by creating plant-based materials which are charcoal-enhanced. Diaper ensures that all their items are disposable so they avoid landfills.
In some major centers, Dyper also has a weekly pickup service so they can responsibly compost your little one's soiled diapers and wipes. But, if you aren't in one of these eligible cities, parents can also use their mail-away service to ensure their baby's diapers stay out of landfills.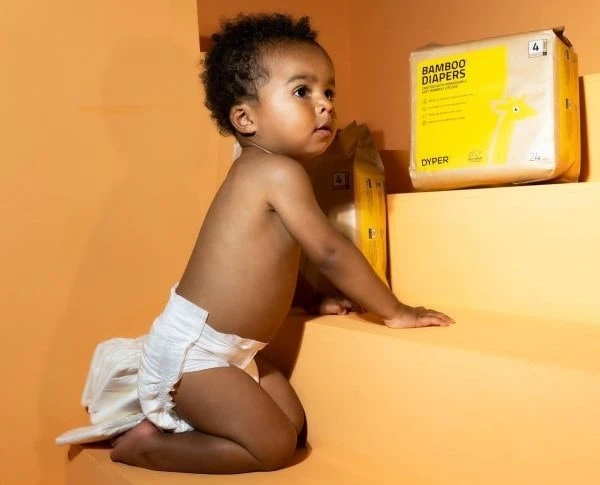 Can I Do Cloth Diaper Delivery Options with a Diaper Fund?
If expecting parents want to avoid disposable diapers entirely, cloth diapers are a popular diaper fund option. Supporting a local company is one of the best features of using a cloth diapering service for parents. This close proximity ensures that new moms receive their diapers on time.
Cloth diaper companies understand the benefits of having a diaper fund for new parents, and many offer this option. Setting one up is easy, but you must choose the company before registering for a diaper fund. The only restriction is that this diaper fund will only be available to that specific company, unlike other baby registries that offer other necessities besides diapers.
How Much Should You Aim to Save?
The cost of diapers for a new baby can quickly add up. Knowing how much a diaper fund should be will help friends and family members contribute and reach a set goal to cover this significant expense.
On average, new parents will spend between $75 and $150 monthly, depending on the brand and type of diapers. As a result, moms and dads will face a cost of $900 to $1,800 in their baby's first year. This total is separate from wipes, creams, and other essentials the little one will need.
Some diaper funds have a set limit, while others have no restrictions. It's important to recognize the limitations of a diaper fund when deciding which platform to choose.
Alternative Uses for Diaper Funds
With a generous collection, new parents can also use a diaper fund for alternatives to benefit their little ones. Some options include:
Wipes
Diapers and wipes go hand-in-hand. Some diaper funds have the flexibility to include wipes with your diaper order, saving parents time.
Creams
Taking care of a baby's skin is critical. Many little ones require rash creams and lotions to create a healthy skin barrier or help heal a sore bottom. New parents should always have some on hand to use if necessary.
Soaps
Baby soaps, shampoos, and other cleaning options are excellent ways to use diaper funds. These specialty items are usually fragrance-free, hypo-allergenic and safe for regular use on a baby's skin.
Education Funds
Some diaper funds allow for withdrawals that parents can use as they wish. This collection can sometimes go towards a child's education later in life. These diaper funds are terrific for parents when their immediate needs are covered, but loved ones want to contribute a gift for the future.
Large Ticket Items
Significant purchases like a car seat, stroller, or crib can be very expensive. When parents have access to a diaper fund collection, it helps decrease the impact on their bank account. If you have a specific stroller in mind, let everyone know so they can help!
How To Ask for Contributions Politely
Some people are nervous about asking for monetary gifts at a baby shower. A diaper fund takes the stress out of this request! Many family and friends are more comfortable contributing to a collection of funds than handing over cash individually.
If you are unsure how to ask for diaper fund contributions, try one of these approaches:
Provide a link to your diaper fund registry for monetary gifts
Inform others that you have specific needs already covered (clothes, blankets, etc.)
Let people know how you would use the funds (diapers, wipes, etc.)
Leave the amount up to the giver
Most people will understand when you are honest and transparent about your desire (and need) for monetary gifts. This way, friends and family can avoid duplicate presents.
Creative Ways to Collect Contributions
Make gift-giving easier for friends and family when you set up a diaper fund with one or more of these creative methods.
Baby showers
Money pools
Group gifts
Baby Showers
A baby shower is a festive gathering for family and friends to celebrate an expecting mother while helping with much-needed baby supplies. Today's technology makes having a virtual baby shower easy so that everyone can participate, regardless of location.
Money Pools
Money pools are a terrific method to collect funds anyone can contribute to for expecting parents. Several platforms are available, and most will accept debit and credit cards for payments. This way, moms and dads can avoid envelopes with cash, making it easier for gift-givers.
Group Gifts
Group gifts are excellent ways to meet the needs of a new baby while following a budget. Many friends and family members want to help new parents but cannot purchase expensive presents. When a group of people participate, parents can get big-ticket items without one person footing the bill.
Bottom Line
Hosting a diaper fund for a baby shower is a simple, loving way to help set up expecting parents before their exciting new family member arrives! Start planning a diaper fund today so everyone can contribute and celebrate the new baby's arrival.
WebBabyShower makes it easy to plan a virtual baby shower that anyone can participate in, no matter where they are in the world. This smart online platform allows everyone to celebrate the pregnancy together by showering an expecting mama with much-needed support – and all those baby necessities!