WebBabyShower Reviews & Customer Testimonials
At the conclusion of their online baby showers, hosts are given the opportunity to participate in the WebBabyShower Customer Satisfaction Survey and/or write a WebBabyShower review or customer testimonial.
Reviews on Google
Throw a Virtual Baby Shower so Everyone

Can Celebrate!

• Free Trial – 14-Day Refund for any reason
• Only 1 Minute Setup!
• 80+ Custom Themes & Matching Invites
• Use Any Online Registry
• Send Unlimited Invites and Updates
• Baby Shower Games with Scoreboards, Give Prizes!

Build Your Shower
---
Anonymous web baby shower reviews for our platform:
"We are so sad not to be celebrating my daughter-in-laws shower in person, but realize it's just not possible at this scary time when we are all sheltering in place. Thank you for creating this site so we 'virtually' celebrate the coming event! You even had a llama style to choose from, similar to the paper invitation we had already sent."
"Our venue cancelled on us on account of the Coronavirus so once again we had to change plans. I was so happy to find WebBabyShower because it is allowing all of my friends and family to be involved in welcoming the boys, and it is even letting more people be involved than we were originally planning, since distance is no longer a factor for participation. I was very happy to see how easy the site was to setup, and being able to personalize it has been fantastic. Thanks for making my baby shower happen, third time's the charm!"
"I googled how to throw a virtual baby shower and a link from babypalooza.com stated it. I really appreciate this you have no clue! Thank you so much. So many things are being taken from us first time moms right now, and stress and anxiety and so high. You're really doing a great thing!"
"this is exactly what I needed! Most of my friends, including the first two friends I've told about my pregnancy, my bestie and the one who immediately said they want to plan the shower, live in other states and probably won't be able to visit me. This is ideal for me, even without all this Covid crap going on."
Our platform has helped even more moms during Covid-19
Many of us have been affected by the pandemic and although WebBabyShower has been helping both host, mom, and parents for a long time; we have been even more sought after now than ever before. Our tech allows more ways to make connections than just a video chat or Facebook app. That's why the host and guests love our platform and choose us to make their online baby shower special and a day to remember even in current circumstances. It is still fun to play games with your guests even if you are at home. Read on if you don't believe us!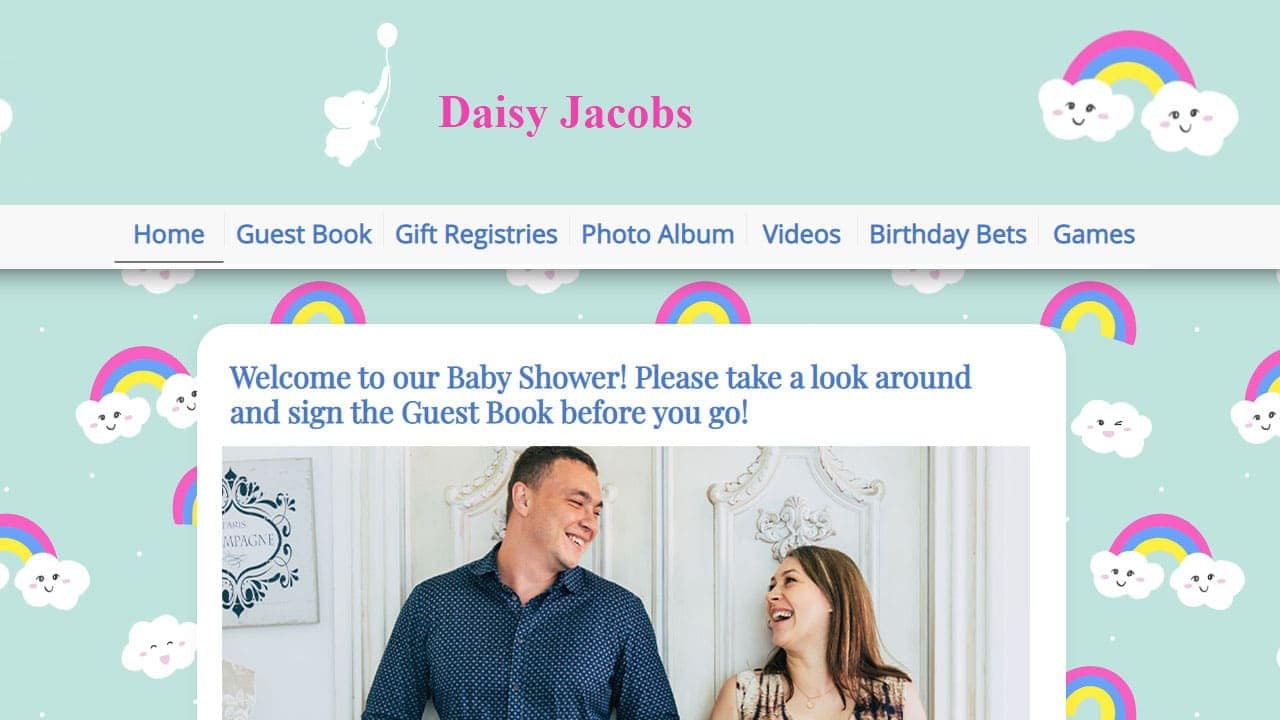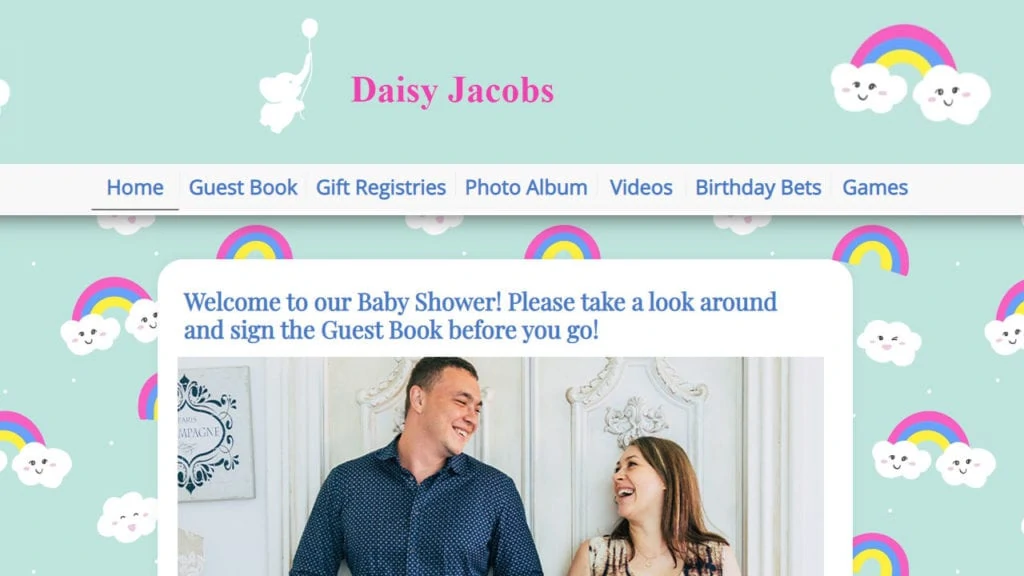 "I am due to have my first baby in May and my baby showers were scheduled for this month and next. With the onset of COVID-19 and all the precautions that we have taken as a nation, all of my showers were cancelled. Webbabyshower gave me the option to still conduct a baby shower without everyone physically being able to gather. After years of struggling with infertility, I have been looking forward to the day I could have my very own baby shower. This option has been a great assistance to me and really is playing a vital part in continuing life with some semblance of regularity in an unknown time. Thank you WebBaby Shower!"
"We had to unfortunately cancel our in-person baby shower due to the current circumstances. It was very heartbreaking to do since this is my very first baby and would be my first shower. I also will miss out on having a work shower as well I'm a Kindergarten teacher and was looking forward to celebrating with my colleagues as well. However, since this is out of our control we have decided to do a virtual baby shower. Hopefully family and friends will understand and will join in with us. I'm due in Early June and hope I'll have enough supplies for the baby. Glad we have found an alternative and can't wait to use WeBabyShower."
"First time mom here and I was so looking forward to my shower on April 5th to celebrate my baby boy Riley. Never in my wildest dreams did I expect it to never happen. I've been talking about it for months. I've held off on cancelling, giving myself false hope that I wouldn't have to. But it recently became apparent that I had no choice but to cancel. I was immediately devastated, feeling robbed. Not only would I be missing out on fellowship with my friends and family during this special time, but almost all the items on my registry are still there! The possibility of getting to do some sort of alternative has truly lifted my spirits!"
We are so happy to give our customers the gift of a virtual baby shower
There are plenty of reasons why parents cannot have an in-person baby shower but you also have plenty of ways and options to try. We are here to make things super easy for the mom and host, even if they are not tech-savvy- who says planning an online baby shower event has to be hard? Parents get to choose to make the platform completely private (unlike Facebook) and get to customize their event using our easy tech-friendly tools. Facebook might be free and more familiar, but it is not the best choice especially for parents who want their online event to be exclusive. This is one of the many reasons parents choose us. Read more reviews in this post below:
"Infertility has robbed us of so much for years and when we finally got the chance to celebrate being pregnant we felt like we couldn't. WebBabyShower gave us back the opportunity to still celebrate our pregnancy in leu of an in person shower. The more we thought about, it was almost for the best because now those who are in other states can still join without having to travel or being upset that they couldn't attend. We're looking at it as a win win!"
"We began to realize that an in-person shower would not be available to us because of health guidelines due to COVID-19. Therefore, we began researching creative ways that we could have a virtual baby shower. We discovered WebBabyshower and it was a great solution for a changing situation! It provided an immediate calm knowing we could make it work no matter the changing scenario while keeping everyone healthy and the ability to reach further beyond the original invite list of local guests. It's given folks something to do while being stuck at home. Thanks for this creative celebration tool!"
"We are grateful for our health of friends and family, and grateful that we can build a central place for everyone to gather and come together to keep everyone involved."
"WebBabyShower is a Godsend right now! I'm due in June and my shower was scheduled for May 9th, however, thanks to covid-19 my venue had to cancel all events until Memorial Day weekend, but that may be extended as well depending on the state of the pandemic. A friend of mine who is an Army wife suggested a virtual shower to me because she had one when she moved to Japan at 32 weeks pregnant last year. I would have never thought this was an option before but I am super thankful that WebBabyShower is here to help give us a way to make a beautiful memory despite everything that's going on in the world right now. Every baby deserves to be welcomed and celebrated by loved ones even if they are miles apart!"
"Being pregnant during this pandemic has made me feel like I am missing out on so many of the exciting and enjoyable times of pregnancy and I've been distraught over not being able to have a baby shower now too. I don't even care about the gifts, I just wanted to feel special and celebrated for all the hard work I've been putting in making a human being. And to be honest, the thought of "drive by" showers makes me totally cringe. When I discovered WebBabyShower, I found some hope!"
"I LOVE this site! Thank you for it."
Giving mom an amazing online baby shower is our specialty
As the first virtual baby shower service online we pride ourselves in being able to help families make memories using our platform. There are other untraditional baby shower options out there a host might choose like a mail in shower where guests send gift boxes to the mom or even choose a drive-by shower where gift boxes are dropped off. We have a more long-term option for a host to choose from. Since users access their shower sites over time the platform is more like an ongoing event and less like a one-off occasion. Go on, you know you want to read more about what people are saying about us…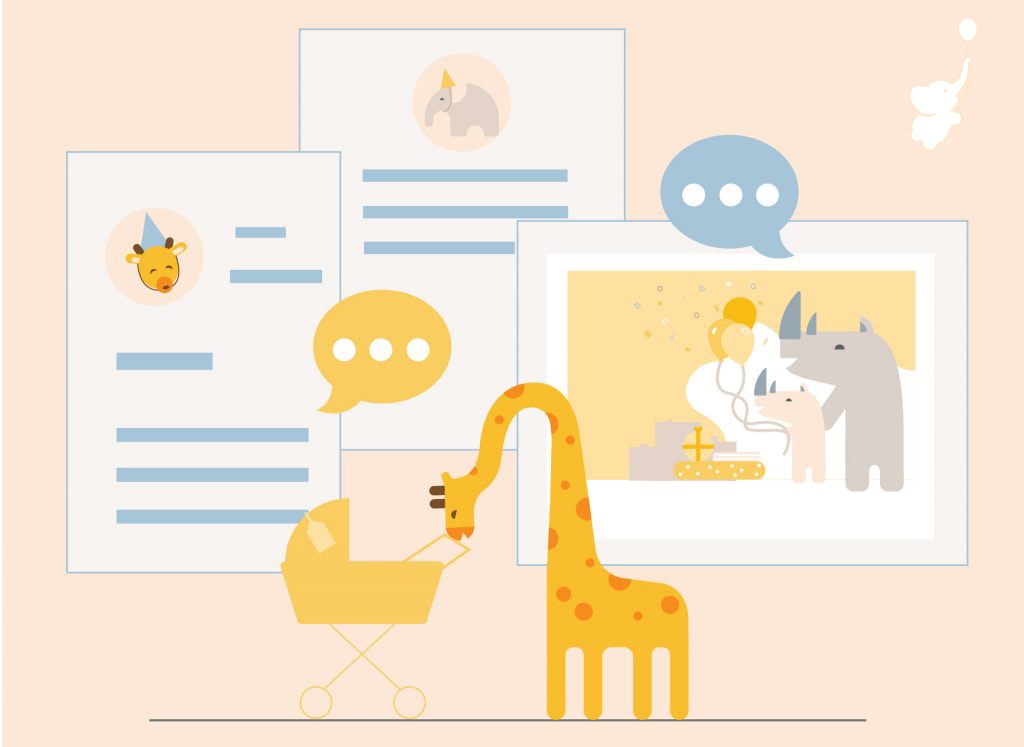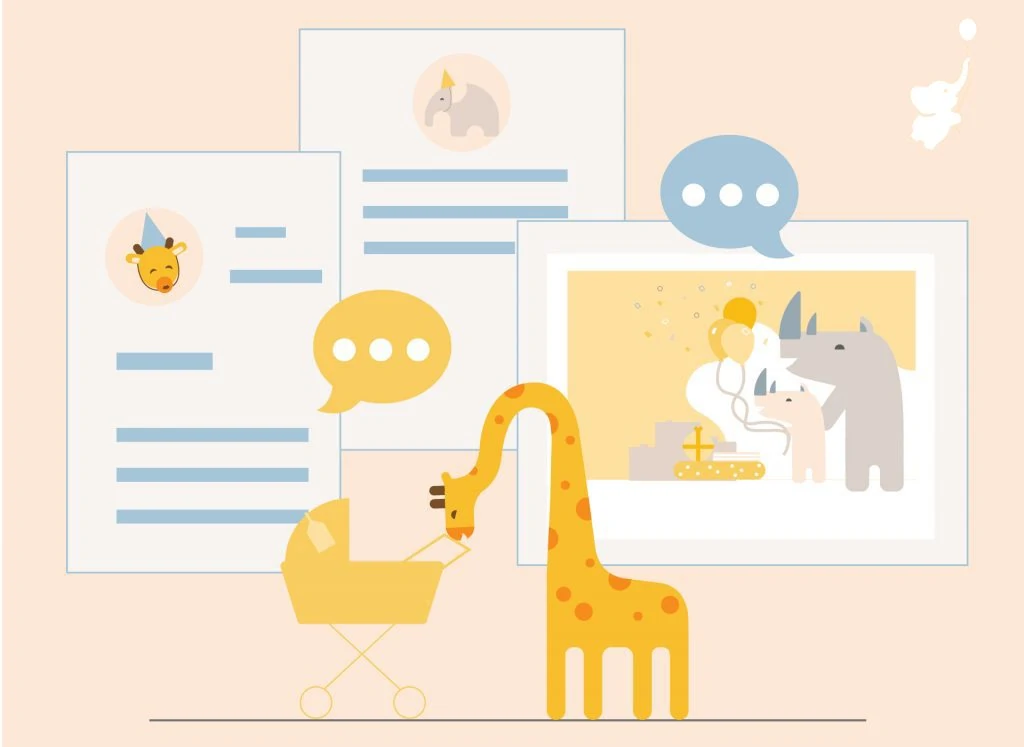 "Thank You! Thank You! Thank You! WebBabyShower for having a place for expecting "Grandma's & Grandpa's" to get to go to to help create & plan a very unique, special & certainly memorable Baby Shower for our daughter who is expecting her first baby in August of 2020! I keep thinking how grateful we are to have all been able to attend live and in person the Baby Reveal party when we saw the pink powder shoot out of a rocket and we new without saying a word, "It's a Girl! We are having a granddaughter!" Her other grandma's planned that party and it was amazing! I was feeling anxious praying and hoping our world quarantine would lift so I could help plan am amazing baby shower! When we learned this would not happen I learned about your site through a teacher co-worker! Outstanding! Amazing! Thank you WebBabyShower from a couple of pair of grandparents who aren't the most up to date in technology you have created a place to guide us through to make our granddaughter's welcome to the world party a party and day we will all remember! Much appreciated!"
Darol & Lori
"Thank you so very much for this service. As with the rest of the world, we have been affected by this awful crisis. Lives are upheaved as we learn to work from home (I'm a high school teacher), social distance (haven't been with any of my five children and four grandchildren for a month), and hunker down at home until the curve is flattened. My daughter is expecting in August. Her husband, her sister, a brother and a brother-in-law are all on the frontline. Amidst the stress we are trying to find joy! And that is what has brought me to you. We are going to joyfully plan and celebrate this coming birth. Thank you very much!"
"Thanks again for all of your help with everything with regards to our site / shower! We had our shower last weekend, and it worked out great!"
"It works perfectly and my mother-in-law texted me "What a beautiful website and what a beautiful friend you have to do this for you both!"
Stay Safe, Go Virtual AND play games!
These families didn't want to risk it and we don't blame them at all, their guests clearly had just as an amazing time, with games and more, hosts can't go wrong with our platform. Some fun games we have:
Birthday Bets
Baby Animal Matchup
Nursery Rhyme Trivia
"I live in Wisconsin and my main family is in new Jersey. My first borns baby shower was set up to be in new Jersey with family. By doing a web baby shower this time round, I'm able to invite anyone to my shower now matter where we live! I'm excited to do so especially with the current circumstances as I'm determined to not have it affect the happiness of our second child!"
"I will be a first time grandma. My daughter is due September 8th. We have been planning to have her shower in July, but we live in a heavy hit area of COVID-19 in southeast Michigan. We started thinking about doing a virtual shower and didn't have any idea about your wonderful service until we started doing some research. We are really happy we found you and looking forward to using your platform."
"I just got a compliment on how I am managing the baby shower, but it wouldn't be as easy if it weren't for your awesome website! This baby shower has been SUCH a success. I wish there was a way to host them all because it really takes communication for it to work to perfection. Thanks again"
Our Online Games Really Help Make it like an in-person baby shower
Nothing says to the guests this is a fun event like lots of games! We have plenty of games guests can play with one another and even a scoreboard for some friendly competition. If you think that an online baby shower doesn't let you play games as traditional baby showers do, then you are totally wrong. Going virtual has plenty to offer. With this, among other amazing features like a guest book and video upload for guests to leave well wishes, the host is bound to make a very happy Mom-to-be.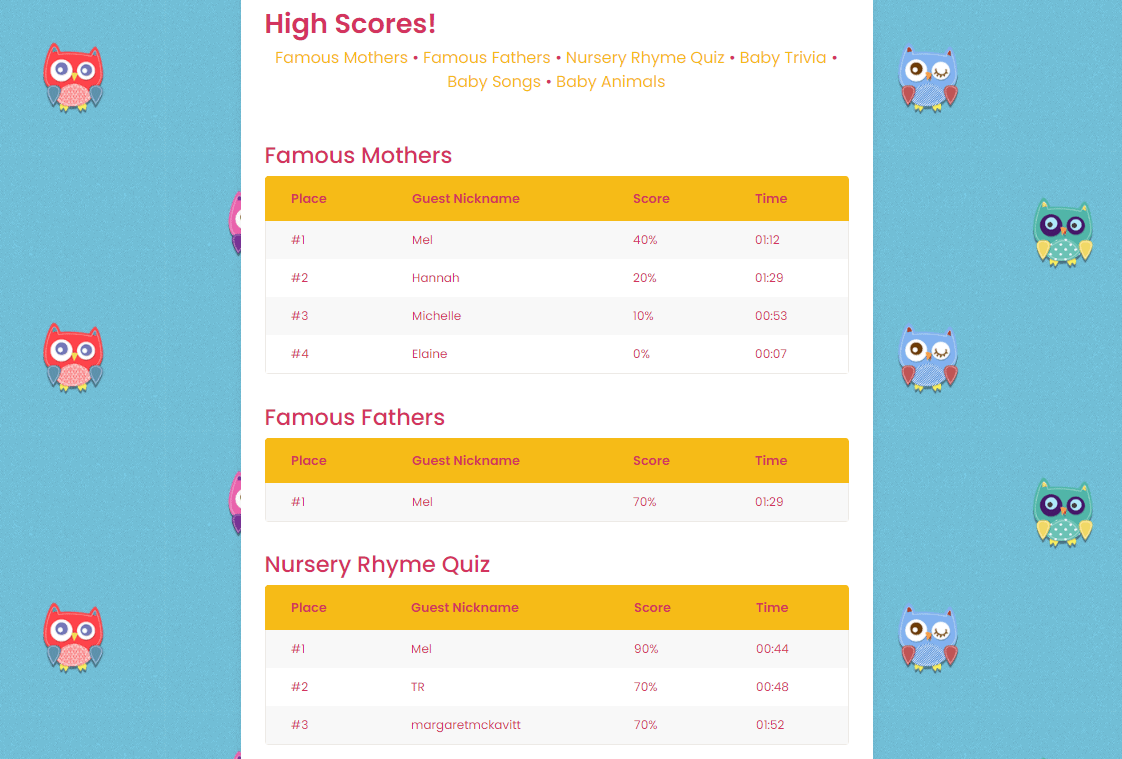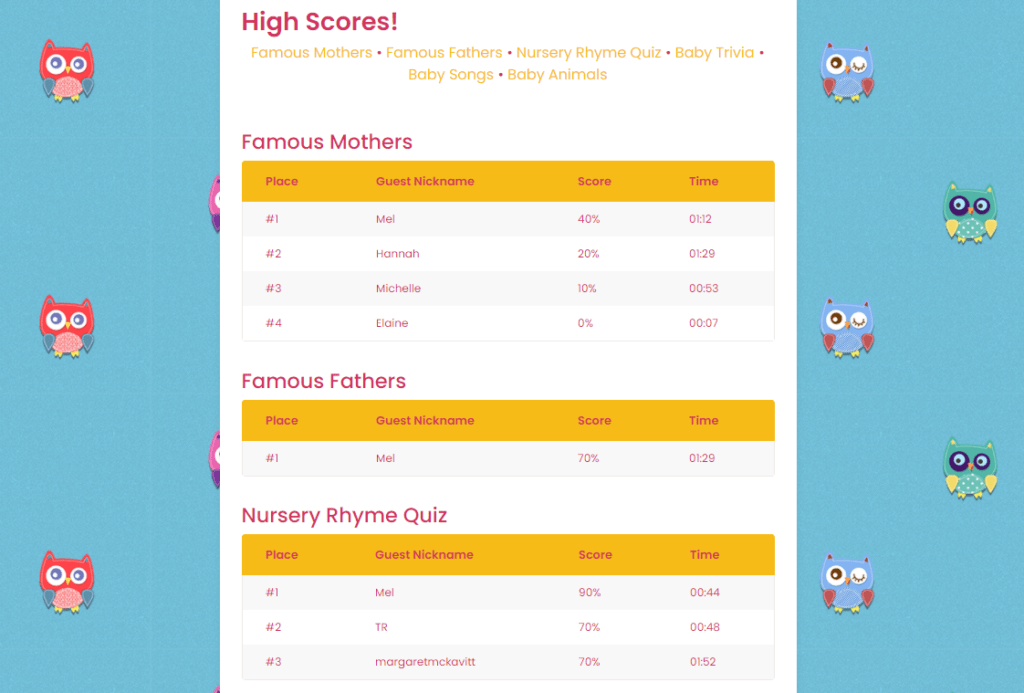 More reasons to choose us:
"just wanted to say thank you for a great experience. The webshower was great, it was fun and easy. We were able to have family from all over join in on the fun."
"My son's family & friends live all over the country and this was really helpful!"
"Thank you for the Web Baby Shower! It was so easy to set up/use (even with limited knowledge of technology), cute, fun, and interactive. I like the keepsake option and how the shower is private unless you are invited. The customer service was great as well."
See how a great online baby shower works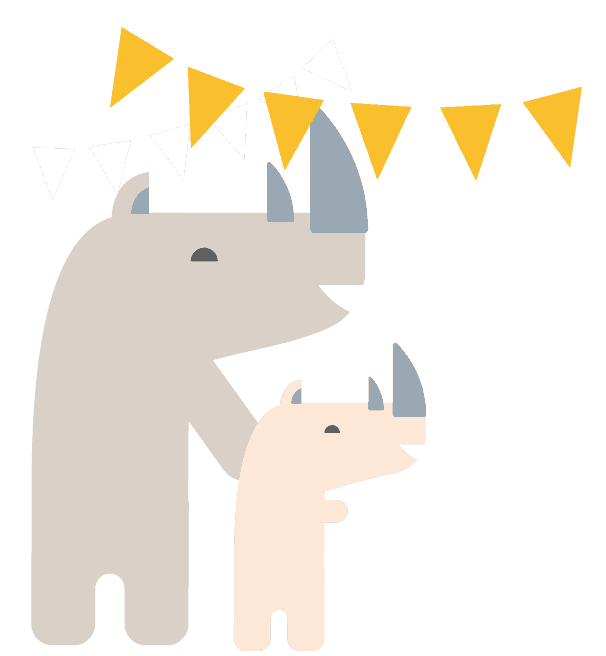 "We loved this online format and it really helped us to host and have a baby shower for my #7 grandbaby. Thank you and hope you continue to get business. I am sharing this experience with many!!!!"
"My daughter-in-law was expecting twins and with it being fall and busy schedules and family scattered… this was the perfect way to give her and my son a wonderful baby shower! Everyone loved it and we updated it often. What a great idea! I am now the Grandma of twin boys and everyone in the family was able to join in the fun!"
Do you believe us now when we say we're pretty awesome?
"WebBabyShower was great- just what I was looking for and easy to use. I received a lot of very positive feedback from all the guests, including the guest of honor!"
"What a wonderful tool. We are a military family and are all located in different parts of the world. My daughter was able to share information, pictures and have a registry in one location. Awesome!"
"My daughter lives far away and this was the perfect medium to have friends and family be involved."
"It was wonderful so easy to use! Just the best idea"
Thank You, Everyone, For the Positive Online Baby Shower Reviews!
Still undecided if we're for you? Check out our awesome features:
• Free Trial – 7 Day Refund for any reason
• Only 1 Minute Setup!
• 40+ Custom Themes & Matching Invites
• Use Any Online Registry
• Send Unlimited Invites and Updates
• Baby Shower Games with Scoreboards, Give Prizes!
Build Your Shower
---
A Web Baby Shower Reviews goes a long way!
Please help us out and leave us a review! It not only says a lot for our brand and helps us but it helps a mom-to-be who might be looking to choose a virtual baby shower platform just like WebBabyShower.
Want to leave a Review or Feedback online?
If you have any comments, suggestions or just want to give us the gift of an amazing review, you can go ahead and reach out to our customer support team with your feedback. Or simply leave a Google review.