Every successful baby shower features some fun games, and everybody knows that games need prizes! But how many prizes is a reasonable number to give out at a baby shower – and what sorts of prizes should you even buy? How much should you spend? And how can you find prizes that your guests will actually like?
WebBabyShower is here to answer all of your burning questions when it comes to baby shower prizes, and how to include them in your next shower.
How Many Baby Shower Prizes Should You Get?
Before answering this, you need to decide how many games you want to play at the party. A good amount is between 2-4 games, depending on how many guests there are and how long the baby shower will last.
If the baby shower is short, stick to just a couple of games. If it's going to be a few hours and you have many guests, you could play more games to take up more time. It also allows more guests to win prizes.
You should get at least two prizes per game. That way, you can give a prize to the winner and the runner up or play multiple rounds. When in doubt, have a few extra prizes on hand. That way, you can give them out at the end of the event if there's any left, and you can be sure you won't run out in the middle of the party.
How Can You Give Out Prizes?
This depends on what type of baby shower you're hosting. For in-person parties, you can give out the prizes at the party as usual. This is the easiest way, but you can do plenty of things to make receiving prizes simple. If your event is virtual or a hybrid baby shower, you can mail them out.
Play the games on the day of the party, and then keep track of who wins, so you know whom to send prizes to. You can easily keep track of any game-winners of games played on the WebBabyShower site – as each player's high score will be visible during play, the website shows everyone the high scores on the games page.
Virtual Baby Showers
Maybe you have more questions about playing games during a virtual baby shower. How do you set up games? How do you keep score and make sure everyone gets the chance to participate?
To start, head over to your WebBabyShower games page. Your guests can play the games on the page, and the high scores will show up, letting you know who is winning in real-time.
To pick your winners, you can look at the high scores and see who has the most points, and then send out an announcement to the winners using the invite manager. You might also choose to wait until a video call to tell people who won; it's up to you. But when you use WebBabyShower, everything is contained in one place, making it easy to stay organized.
In-Person Baby Showers
With WebBabyShower, your guests can play games at any time- they don't have to wait for the party. You could have game-winners before the event even starts if you choose to go this route.
If you decide to play games in person, you can still use WebBabyShower to announce your winners. Use the invitation manager to send out notifications for your prize winners after the event. This is especially helpful if you had an event that some people could not attend in person. They'll still feel like they're part of the party.
Best Prizes for Your Baby Shower Guests: WebBabySHower Recommends
Prizes are never a requirement, you can still play games and host a fantastic party even without them. But they're definitely fun, and your guests will appreciate the time you took to pick out some presents for them. Giving out prizes also instills some fun competition, makes games more fun, and is also a great way to thank people for coming to the party.
Health and Beauty Prizes
Self-care is something that everyone appreciates. This means that health and beauty prizes are a great option for a baby shower These prizes are inexpensive yet thoughtful, so your guests are sure to love them.
This Burt's Bees Tips and Toes kit isn't too pricey, but it's definitely a great prize that guests would actually appreciate. But, if you'd rather mix things up – health and beauty is a pretty easy category to shop for. You can pick up a few great items like face masks, lip balm, or lotions from a local store. If you want to create a "grand prize," you can group several of these items and put them in a basket.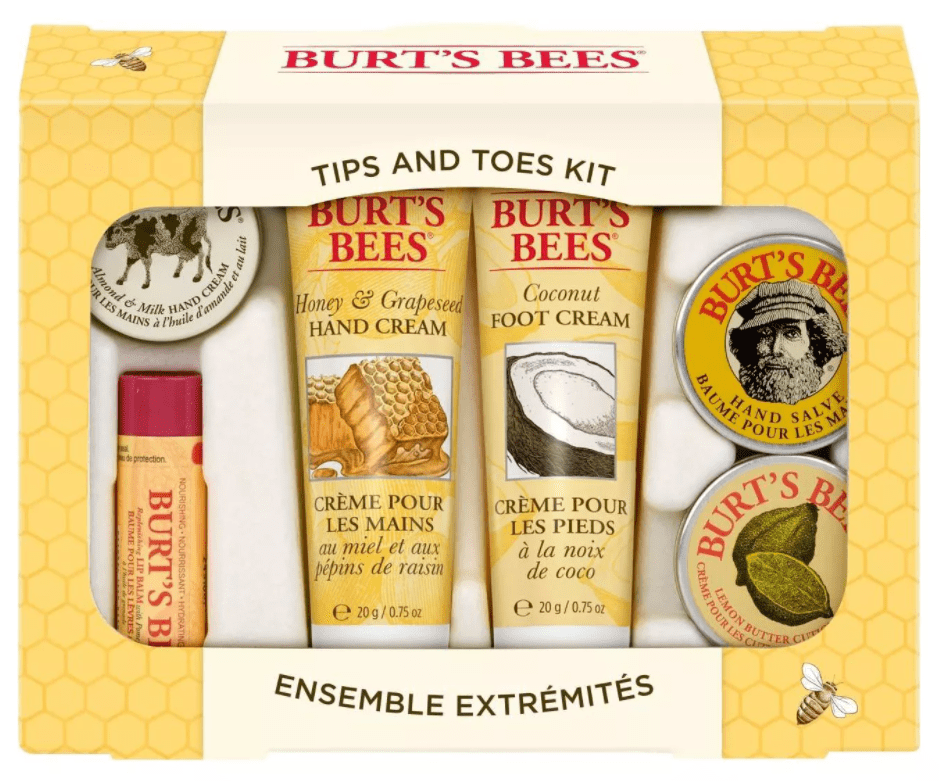 Mani-Pedi Gift Set
This is an easy gift, and you can easily DIY one yourself like this one. With a DIY mani-pedi gift set, you just need to add a couple of nail polishes, some nail clippers, and a nail file, and then put it all together in a cute bag or glass jar. Then you've created the perfect present.
If you don't have the time or you aren't interested in making your own mani-pedi set, you can also buy one premade. That way, you save time and can still give a gift to your guests that they'll love.
Scented Candles
Scented candles are one of the easiest gifts you can give, and they're almost guaranteed to be a hit with your guests.
Candles come in a variety of shapes, sizes, scents, and colors – so you can get a variety to appeal to all your guests and even let them pick their own from a basket. Scented candles are also very low cost, so they're great when you're on a budget. But even though they don't cost a fortune, they're still considered a lovely gift. You can even get custom-made candles with personalized labels and scents.
Bath Gift Set
This would be a great gift! Bath gift sets are relaxing, and everybody likes receiving a present like this. It's an awesome way to unwind if you've had a long day!
For this prize, you can either DIY a gift basket with a bubble bath, candles, a great book, and a face mask, or you can buy one, like this lavender bath spa gift set.
Food and Drink Prizes
This type of prize is a great route to go, especially if the baby shower is co-ed. Everybody loves food and drinks! Baked goods make people happy, and it can be fun (and inexpensive) to bake something for your family and friends..
You might try creating a cookie gift box, like this one, for your guests. You'll need to bake a lot of different treats, so the box has a variety of cookies. It looks impressive and pretty, making this a fun prize, especially if it's around the holidays.
Ready to Make Margarita or Sangria Kit
How fun! Your guests may want to win this prize for the next party they host or keep it all for themselves! There are a lot of DIY alcohol-based kits, but these ideas are especially fun.
If you're going to include alcohol as a prize, first make sure that no other guests are pregnant besides the mom-to-be, and also check whether there are any non-drinkers on your guest list. After you've cleared this with the guests, have fun adding in this prize!
Wine and Chocolate Hamper
Wine and chocolate are more of a luxury item than some other food and drinks prizes, and as such can be a little more pricey. But if you have the budget for it, a wine and chocolate hamper could be the perfect thing.
You can buy a nice set like this, or you can make your own. You need to find a good bottle of wine and add a pack of chocolates to go with it. This prize is one that guests are going to want for sure.
Home and Garden Prizes
There are many options for this type of prize; you could make a coffee basket for a home-themed gift with some unique coffee blends, a mug, and teaspoons. For a garden theme, maybe something like gloves, some small gardening tools, and seed packets.
Home and garden prizes are an excellent gift for a co-ed baby shower, too. There are many different gifts for home and garden, and almost everyone will like something like this.
Fancy Coasters
These are great items for decorating around the house, and they're also extremely useful, making coasters one of the best baby shower prizes. You can go for some neutral but luxurious ones made of ceramic or wood, and they also serve as a cute gender-neutral gift if you have a co-ed baby shower.
Photo Frame
Photo frames are a sweet gift for the prize winner to use. You might even include a photo of the baby shower to help them remember the day.
A photo frame is an inexpensive gift, but you could buy something a little more fancy (like a digital photo frame)! . There are tons of options, and it's something that guests will definitely use and appreciate.
Potted Plants
Potted plants are a cute gift that everyone will like! Plants are a nice prize for any type of baby shower, especially if you're hosting an outdoor event or a garden party.
Mini potted plants are inexpensive and can fit on windowsills or bookshelves (but medium or large are just as cute). Choose something like an aloe vera plant or a cactus that is easy to care for, which would probably be best for most people, especially if they're new to taking care of plants. You can also get a pot with a cute design or color. This plant from Etsy is adorable and not too expensive.
DIY Baby Shower Game Prize Ideas
Homemade gifts are sentimental, and everyone appreciates the time and effort a DIY gift takes. It's a sweet way to thank your guests for being part of the baby shower and congratulate them on winning the game.
There are plenty of DIY ideas for baby shower prizes, many of which can be found on Pinterest – but we've pulled together some easy ones here that we think you'll love
Homemade Pashmina
A pashmina is a wrap or scarf that you can wear for style or comfort. If you're crafty or have a small group of friends that can help you out, you can make some of these as prizes.
If you want to try this out, this guide can help you make your own pashmina. You could even get material that matches the baby shower colors if you want. That way, it will be a sweet reminder of a fun day.
Bath Bombs
Bath bombs are a fun present, and you can easily make some yourself. They can serve as a stand-alone gift or even part of a "spa day" present. There are a ton of how-to guides online that can help you make your own bath bombs, and you can be really creative with it, making them however you like. Include whatever scents and colors you want to make them unique.
Brownies in a Mason Jar
Brownies in a mason jar are one of the best baby shower prizes. Everyone will be fighting over this one! If you prefer something else, it doesn't even have to be brownies. It could be any type of dessert or food that you want. But this is basically a jar that you add a ready-to-go mix to. If you add several layers, it looks beautiful, and it's easy for the prize winner to make a dessert later.
Co-ed Baby Shower Prize Ideas
Since co-ed baby showers are for men and women, you may need different prizes that appeal to everyone. Some of the gifts that we've mentioned will work well for a co-ed event. Potted plants, coasters, or food are all excellent baby shower prizes for a co-ed party. Some other ideas you can include are:
Cookbook – find something with a lot of great recipes, and you're good to go. Most people appreciate a good cookbook, whether they make meals at home often or just need ideas for special occasions.
Lottery tickets – who knows? You could buy a winning ticket, and it's a fun gift.
Coffee cups – a lot of people drink coffee, and most can always use more coffee cups. Find one for home or the office.
Wine glasses – every home needs a few fancy wine glasses for nice dinners and when company comes over.
Gift baskets of any kind – any themed basket with multiple gifts in it is a great prize. You can do a theme like movies, outdoors, camping, or anything else you can come up with.
Gift Card Ideas
Gift cards work for every guest, no matter what their interests. A gift card is an easy gift for the host, especially if you don't have much time to plan or gather prize ideas. And gift cards are popular because people can buy whatever they want with them. Gift cards that are just Visa ones are great because people can use them anyplace they want to go.
One downfall of a gift card is that it's hard to decorate or package it as nicely as your regular baby shower prizes. But you can quickly fix this by placing the gift card in a decorated envelope.
You can use envelopes that match the baby shower colors and add bows, stickers, or decorations to the envelope to dress it up.
Some other ideas for gift cards:
Local restaurants – if there's a local favorite everyone loves, you can't go wrong with picking up a couple of gift cards so the winners can eat out for free.
Local cafe – if there's a coffee shop or cafe nearby, check out their gift cards. It's a great way for the prize winners to grab a morning meal without spending a fortune.
Movie gift card/ticket – everyone loves movies, so see if you can get a movie gift card, or just tickets to the movies if you prefer. It's a great way to give a gift that allows people to keep celebrating even days later.
Amazon – most people can find a ton of stuff they want to buy on Amazon. A gift card will be much appreciated and definitely get used.
iTunes or other app store cards – for the music lovers out there, try an iTunes card. If you want, you can also get an app store card or a gift card for something like Netflix.
Tips for Choosing and Presenting Prizes
Remember that prizes do not have to be expensive or difficult to find.. But, it's important to think about your budget when buying and collecting prizes for the party.
When deciding what prizes to get, try to think about what would be useful, not necessarily expensive. The last thing people want is a prize that costs $50 that they have no use for. Make it something they can use around the house, garden, or for an evening out.
Even if you are keeping your costs low, a prize that is packaged well is appealing. Try your best to decorate the prizes by wrapping them or placing them in bags or envelopes. And use the colors of the baby shower to keep to the theme.
If you're in a hurry or want to make things more convenient, go for gift bags. Gift bags are easiest for guests to carry as they leave the party, and they're a simple way to decorate, too, which saves you time.
If you're hosting a virtual baby shower, take a picture of the prizes and add them to the gallery page of your baby shower website. That way, the guests can see the prizes and get excited about playing the party games.
Lastly, if you plan to mail your prizes, make sure you package them nicely and carefully, and be sure to decorate the prize by wrapping it because that's part of the fun of getting mail. Plus, it adds extra flair and fun to a virtual event.
Baby Shower Prizes: Final Thoughts
WebBabyShower can help you to give out prizes for the event easily. Our gallery page will help you display the prizes in advance. Your virtual guests can play games online, and you can even allow people to play games before the event if you want.
If you can't decide what prize to give for your baby shower, feel free to use some of the solutions mentioned here. We have ideas for co-ed baby shower prizes, gift baskets, DIY presents, and more. By using WebBabyShower, you should have no problem keeping everything organized for the event, either.
Baby shower prizes used to be difficult or confusing to buy, but not anymore. These solutions will help you to create the perfect day, and your guests will love the fantastic prizes you've come up with. They'll remember how much fun they had playing the games, and they'll love getting a prize that is useful and fun.