Amazon offers one of the best baby registries for new parents when it comes to discounts and perks. Additionally, they give Prime members a box of freebies and offer additional discounts and subscription programs to help parents save money.
This article will review all the benefits of making a baby registry with Amazon. By the end, you'll understand all the Amazon registry perks and decide whether it's the right choice for you and your family.
Amazon Prime Members Get a Free Welcome Box
Amazon gives those who register with them a free Welcome Box containing goodies valued up to $35. However, there are some criteria you have to meet to receive the box.
Firstly, you must be an Amazon Prime member. Secondly, you need to complete 60% of your Amazon registry checklist. If you're unfamiliar, the Amazon registry checklist has baby items – such as nursing, diapering, and feeding supplies – new parents will need. Add products from the checklist to your Amazon registry to fulfill this requirement.
Amazon gives more product suggestions than you need, which can be overwhelming. Please don't feel pressured to add every item they suggest to your list. If you want additional guidance, check out this article, where we interviewed Katie Montell, founder of Baby Planner, to find out which checklist items new parents genuinely need. Hopefully, this article makes you feel informed and confident in your registry decisions.
After completing 60% of your Amazon registry checklist, the last requirement is to purchase a registry item costing at least $10 (not including tax or shipping). You can purchase it yourself, or someone else can buy it for you.
Once these tasks are complete, you will see a "claim now" button on your Baby Registry Benefits and Welcome Box pages, where you can acquire your Welcome Box.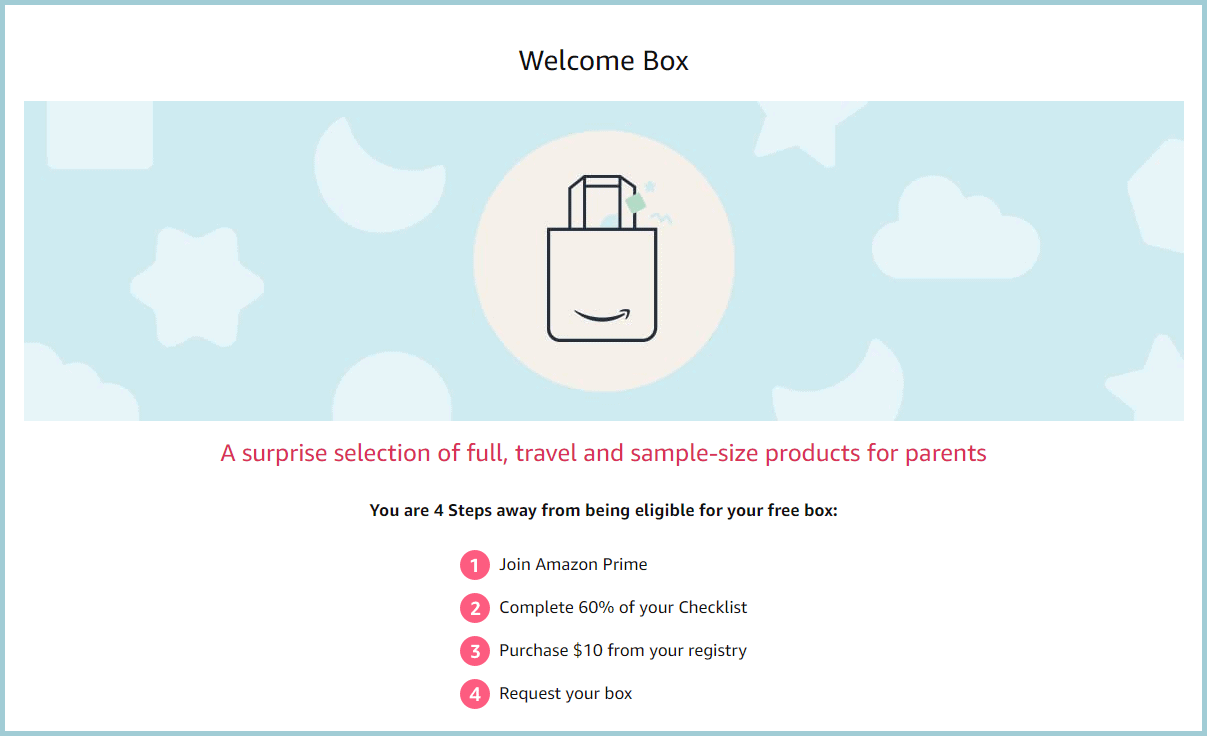 Throw a Virtual Baby Shower so Everyone

Can Celebrate!

• Free Trial – 14-Day Refund for any reason
• Only 1 Minute Setup!
• 80+ Custom Themes & Matching Invites
• Use Any Online Registry
• Send Unlimited Invites and Updates
• Baby Shower Games with Scoreboards, Give Prizes!

Build Your Shower
---
What Products Are Included in the Baby Welcome Box?
Amazon sends various product samples for mom and baby, such as diapers, rash cream, pacifiers, prenatal gummies, baby laundry detergent, and more. The samples change regularly, so you won't know exactly what you're getting until your box arrives.
The Welcome Box is beneficial since you can try various popular baby products to determine which ones you love and would like to buy again. However, you don't have to rely solely on the Welcome Box to find the best products. Check out our handy guide to learn about some of the most popular baby items you don't want to miss out on.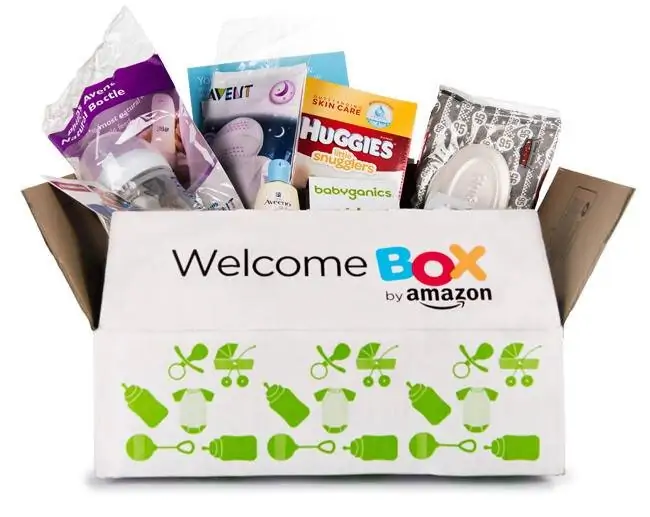 Your $10 Purchase Doesn't Have to Be a Baby-Related Item
If you want to try out the samples in your Welcome Box before deciding on the baby items you'd like to buy, add non-baby-related products to your Amazon baby registry – such as light bulbs, garbage bags, or any other items you need.
If the item costs more than $10, you'll be eligible for the Welcome Box, even if the product isn't "baby-related." This method is a great way to meet Amazon's requirements without investing in baby products you aren't sure you want.
Gift Cards Are Not Eligible Purchases for the Welcome Box
Unfortunately, you cannot purchase a $10 gift card to receive the Welcome Box. Only physical items are eligible.
Is the Baby Welcome Box Only for Prime Members?
Only Prime members are eligible to receive the Welcome Box. Additionally, the box can only be shipped to the address associated with the owner of the Prime account.
If you don't have a Prime account, now could be a great time to get one. Prime makes you eligible for free shipping, which could save you money on all those diapers, wipes, and other baby products you'll be buying on a monthly basis.
Amazon Offers a 15% Completion Discount on Baby Registry Items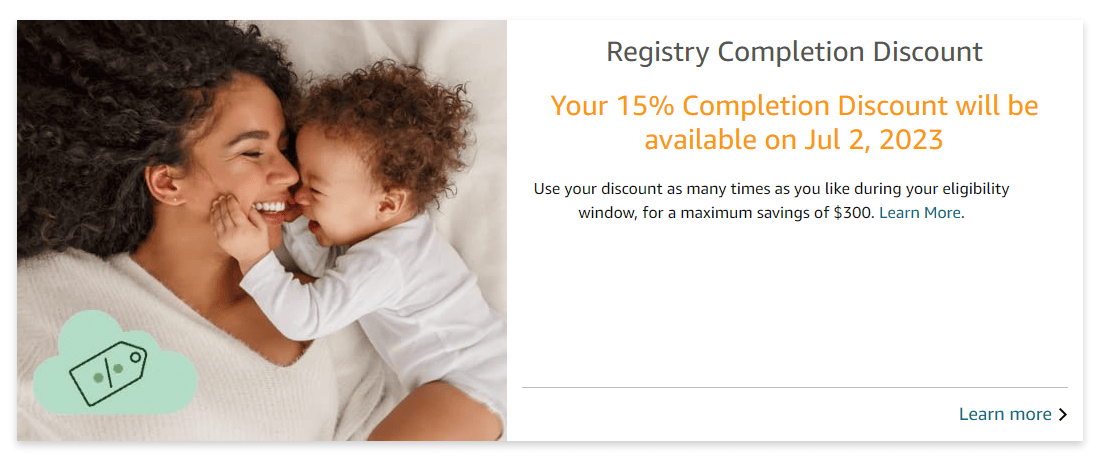 Amazon offers a completion discount, which gives you 15% off of registry items that still need to be purchased. This discount is helpful because you can buy big ticket items – like strollers, cribs, or car seats – not purchased by your friends and family for a reduced price.
The 15% discount can be used for up to 50 registry items with a combined value of up to $2000. The maximum discount is $300, which is a good chunk of change (especially for new parents)!
Amazon Baby Registry Returns Are Eligible for an Entire Year
Eligible gifts purchased from your Amazon baby registry can be returned for up to 365 days after their initial purchase. So, you'll have plenty of time to try out products to determine if they are a good fit.
The easiest way to make a return is to go to the Thank You List on your Baby Registry, select the item you'd like to return, and follow the prompts to return your gift. Amazon makes the return process effortless.
Save Money on Baby Items With the Amazon Family Discount and Subscribe Save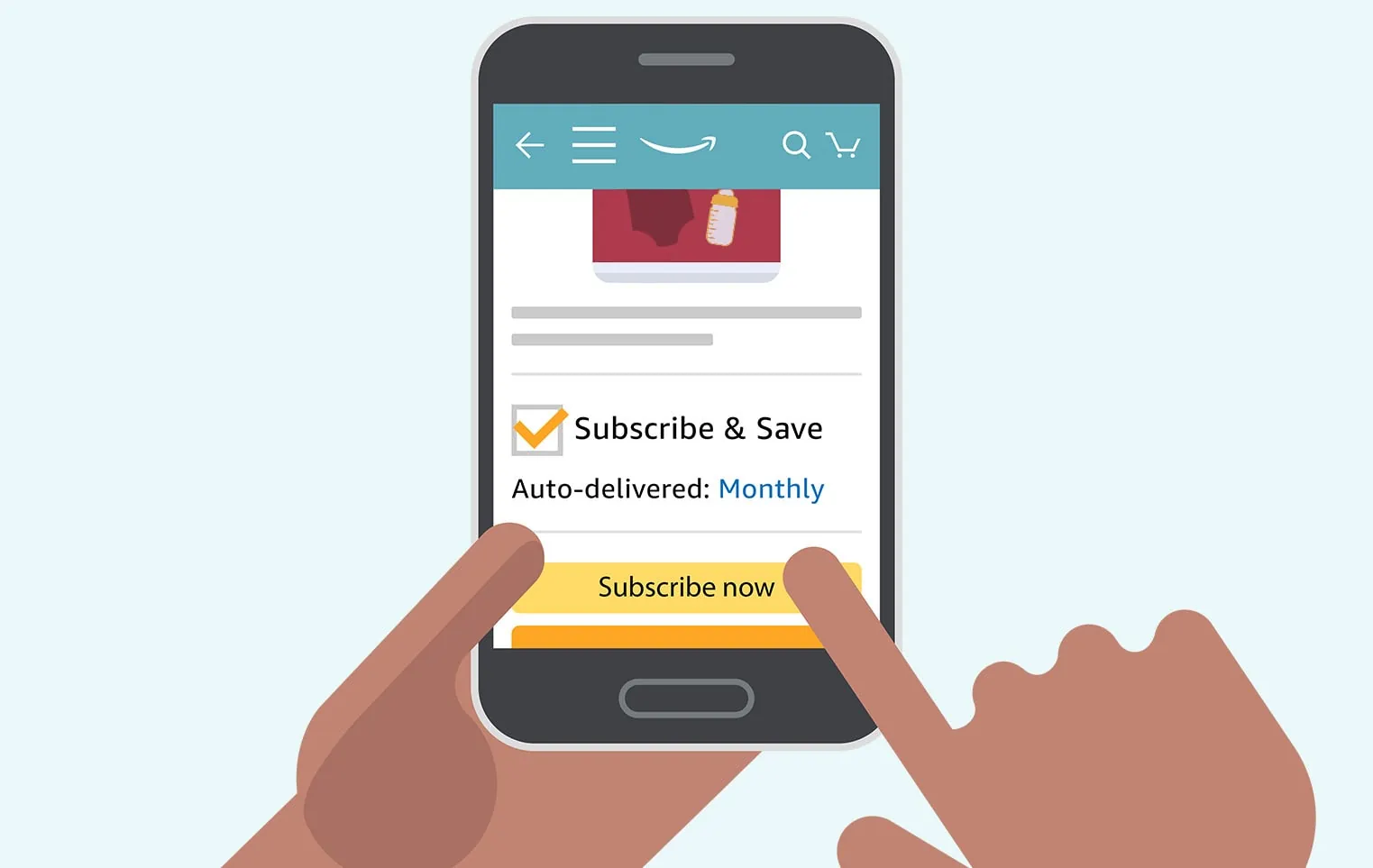 Amazon Prime Members can get regularly used baby items for less by signing up for Subscribe and Save. This feature allows you to schedule when you want to receive certain products, ranging from once every two weeks to once every six months. Subscribing will enable you to acquire these products at a discounted rate.
You can save up to 15% when subscribing to five or more products. While five products sound like a lot, you'll need plenty of things for your baby every month, such as formula, diapers, wipes, and baby food. You can also subscribe for non-baby-related items like toilet paper, toothpaste, or vitamins.
Some Amazon family products get an additional discount when you Subscribe and Save. For example, the Amazon diaper discount gives you an extra percentage off on your first order of diapers when you sign up for Subscribe and Save. The diaper discount ranges from 10 to 40% off. Discounted products change regularly, so the Amazon diaper discount in 2023 may be different from in years past.
Frequently Asked Questions
How many times can I use the Amazon completion discount?
You can use the Amazon registry completion discount on several orders if the items exceed the $2000 limit. Once you reach the limit, you can no longer use the registry discount.
What percentage off do you get from the Amazon baby registry?
You get a 15% completion discount on eligible registry items. Only some items are applicable, so double-check your product's eligibility before using your discount. Amazon puts a note saying "item is eligible for completion discount" underneath qualified items.
How long is the Amazon baby registry discount good for?
The discount is eligible for 60 days before your baby arrives and 90 days after, for a total of 150 days. So, you'll have plenty of time to get in on those savings!