You're expecting your second baby and probably already started making a list of the things you need. Whether you're having a different gender this time, there was a considerable gap between your two children, or you simply need a few more items, you may consider creating a new baby registry.
Read: Second Baby Registry Checklist
If you're registering with Amazon for a second time, you'll need to know how to create a second Amazon baby registry. While the process might seem complicated, we've got you covered. Check out our guide to creating a second Amazon baby registry, and what items to include on your list.
How to Create A Second Amazon Baby Registry
In a few steps, you're on your way to creating your second Amazon baby registry. Keep in mind that you can't have two active baby registries under one account. Your first baby registry will become inactive by default. You can still access it privately, but you'll need to create a new account to have two active registries simultaneously. No matter what you decide, making your second Amazon baby registry is easy. Follow the steps below to get started.
Create or log in to your Amazon account.
Visit the baby registry page via the "Gifting and Registry" section.
Click on "Create a Baby Registry" to start.
Enter your information, including your due date and mailing address, then click "Create a Baby Registry."
Start browsing items on Amazon to add to your baby registry. To add an item to your registry, select the item, then under the "Add to Cart" button, select "Add to Baby Registry."
Share your registry with family and friends via the link provided by Amazon. Select the "Share" option from the top navigation menu. You'll receive a link to your registry and options to share on social media.
Manage and update your registry as needed. Select items that are high priority, and request multiples of certain items, like swaddle blankets and socks.
Throw a Virtual Baby Shower so Everyone

Can Celebrate!

• Free Trial – 14-Day Refund for any reason
• Only 1 Minute Setup!
• 80+ Custom Themes & Matching Invites
• Use Any Online Registry
• Send Unlimited Invites and Updates
• Baby Shower Games with Scoreboards, Give Prizes!

Build Your Shower
---
Can You Have Two Amazon Baby Registries?
The simple answer is yes, but your first list will become inactive. But don't worry, you'll still have access to your first registry for inspiration or if you want to move specific items to your second registry. You have a few options for deciding how to handle two baby registries on Amazon.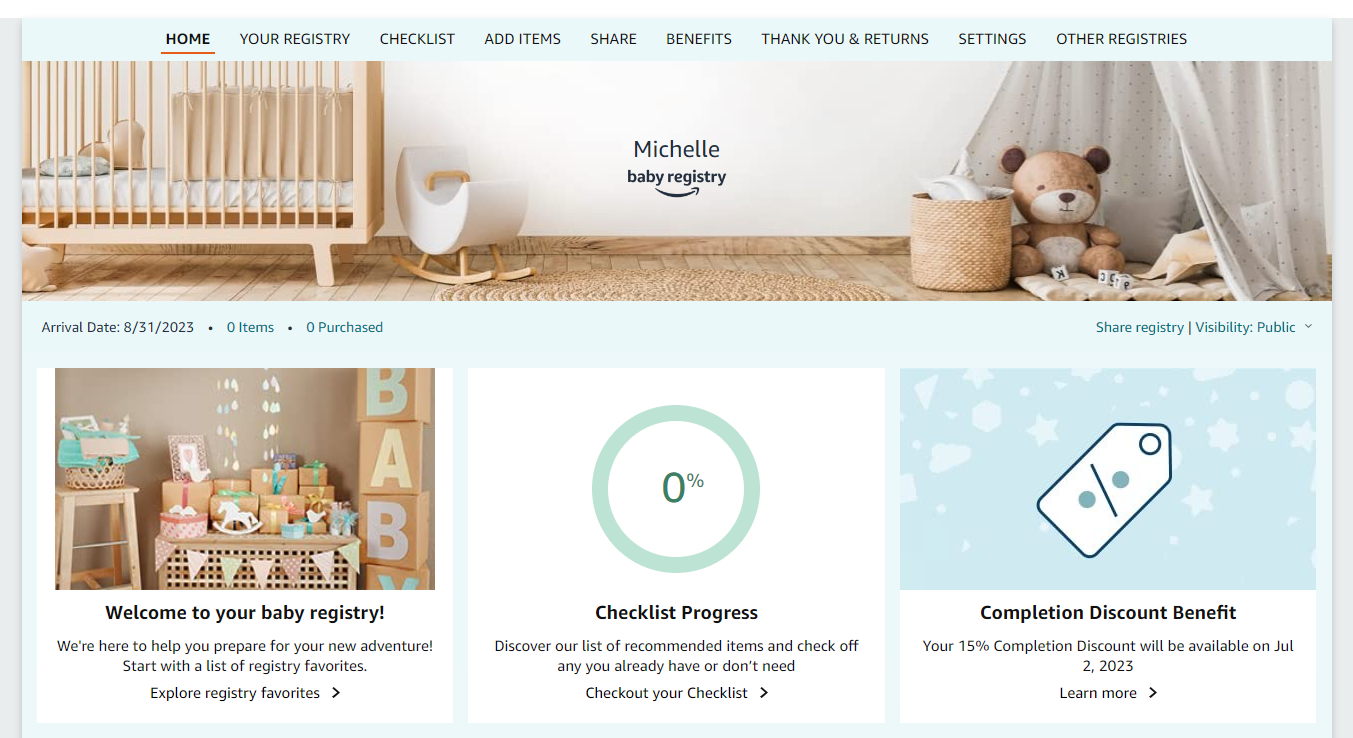 First Option: Create an Active Registry and Archive Your Original Registry
This method is a great option if you want to start fresh with a new registry but still want access to your first one. Follow the instructions above to create your new baby registry. Once this is complete, your previous registry will become inactive. Through this process, you can also receive another welcome box with baby samples and coupons.
Second Option: Update Your Old Registry
You also have the option to not create a new registry at all and simply update the registry you created with your first baby. Find your list under your "Account and Lists" dropdown page and click on your baby registry. Update your due date and start adding new items. The downside to this option is you don't qualify for another Amazon welcome box.
Third Option: Delete Your First Registry and Start Over
If you don't need access to your first baby registry or don't want to see two registries on your account, simply delete the first registry before creating a new one. Find your registry, then head to the bottom of the page and click "Delete Your Registry." It will ask you if you're sure you want to delete your registry. Click yes, then create your second registry. Keep in mind any unredeemed benefits or promotions will be disabled, including any completion discounts.
How to Have Two or More Active Amazon Baby Registries
When you create a second registry, your first registry will become inactive. If you want to have two active baby registries you'll either need to create a new account through Amazon or use the account of a loved one. Having two registries means you won't lose any benefits from your first registry, but you can still have a second list for your arriving baby.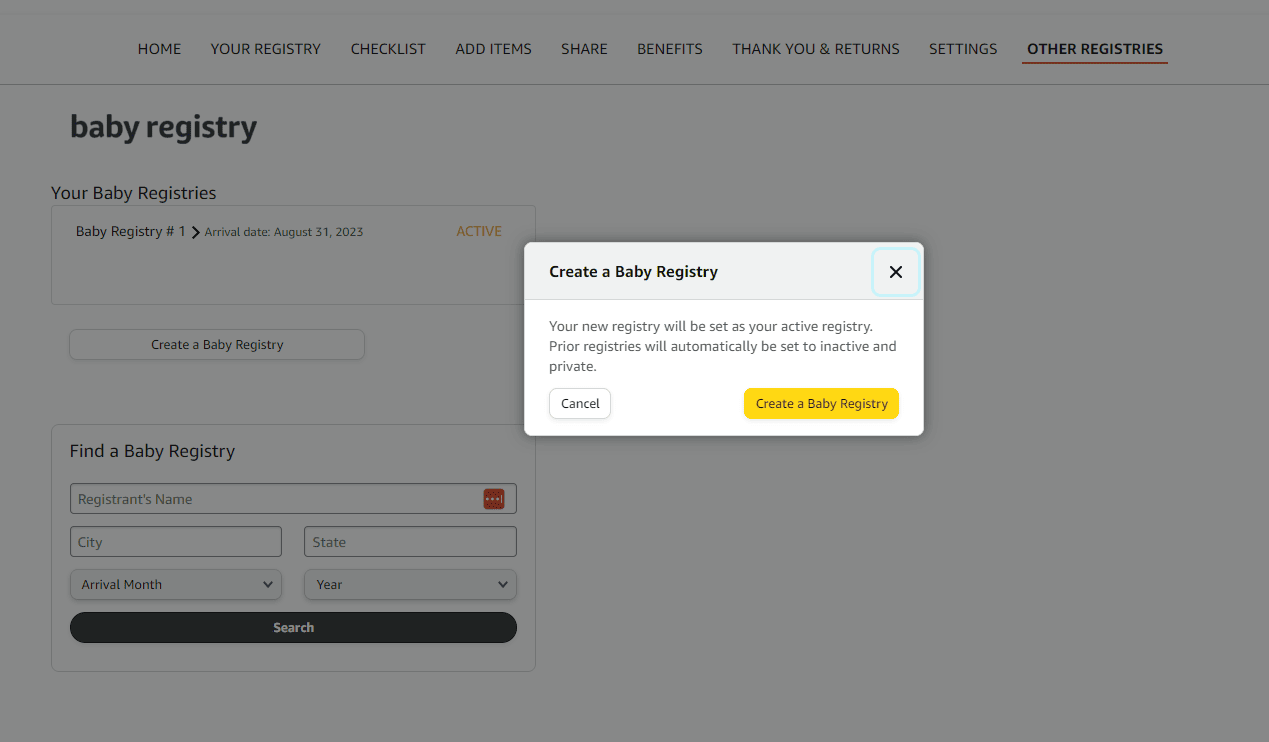 Creating a Second Amazon Baby Registry
If you used Amazon to create your first baby registry, you're already a pro! Follow the same steps to create a baby registry on Amazon for your second child.
What to Add to Your Amazon Baby Registry
As you create your Amazon baby registry checklist for your second baby, reference our suggestions below. Don't forget you can reuse any items you already have from your first baby.
Onesies
Pajamas or sleep n' play outfits
Disposable or cloth diapers
Baby wipes
Convertible car seat
Burp cloths
Crib or bassinet (if your first child is still using theirs)
Baby shampoo, body wash, and lotion set
Nursing pads and nipple cream
Post-birth care essentials for mom