Welcoming a second child into your family brings on butterflies of excitement, along with new challenges. Ensuring you have all the gear, diapers, and onesies you need for your second baby can help you feel better prepared. Creating a second baby registry is a great way to organize everything you need and let family and friends know what's on your wish list. But what should go on a second baby registry? Check out our list of the best items to include on your second registry.
Do I Need a Registry for a Second Baby?
Depending on the gender of your second child and the amount of time that's passed since you had your first baby, you might already have many hand-me-down items ready to go. This could include clothing, a car seat (check the expiration date), books, and toys. However, you'll still need essentials, including diapers, nursing supplies, and a fresh set of burp cloths. Stay organized with a baby registry checklist for your second child.
Read: Easily Create a Second Baby Registry on Amazon – A Simple Guide
If a loved one throws you a baby shower for a second baby (often called a sprinkle), you'll want to create a registry so guests know what to gift. Because family and friends don't know what you already have, a second baby shower registry lets them know which new items you need. Share this list with your loved ones, and include the information on your baby shower website.
Throw a Virtual Baby Shower so Everyone

Can Celebrate!

• Free Trial – 14-Day Refund for any reason
• Only 1 Minute Setup!
• 80+ Custom Themes & Matching Invites
• Use Any Online Registry
• Send Unlimited Invites and Updates
• Baby Shower Games with Scoreboards, Give Prizes!

Build Your Shower
---
Items to Consider for Your Second Child
As you make your list of baby registry items, include baby basics (diapers, wipes, etc.) and upgrades to any existing gear (a double stroller). While you may own clothing already, new outfits for your second baby are also lovely to have. Depending on the age of your children, a second bath seat and double-duty diaper bag might also make your list. Reuse as many items as possible, but don't be afraid to register for a new breast pump that will make your life easier.
1. Diapering Needs
Whether you use disposable diapers, cloth diapers, or a combination of both, you'll need to register for these items in multiple sizes to accommodate your growing baby. As you already know, you'll also go through wipes quickly, so put several packs on your registry. The beauty of registering for these items a second time around is you probably already have a favorite brand that works well for your family.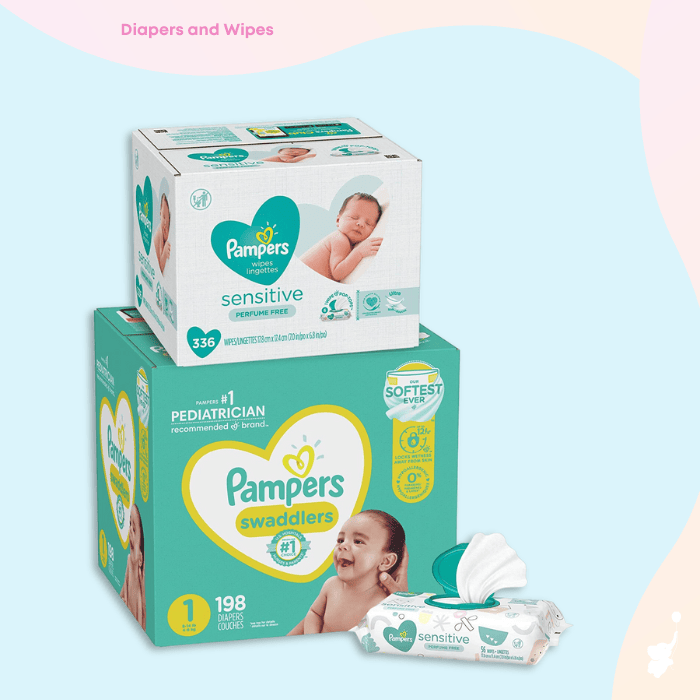 2. Additional Baby Toiletries
Register for a fresh set of toiletries, including baby body wash, shampoo, and lotion. Products in a soothing lavender scent help your baby feel calm and relaxed in the evening before bedtime. Also include diaper rash cream, a new hairbrush, and a comb on your second baby registry checklist.
3. Bibs and Burp Cloths
Your previous set of bibs and burp cloths also come complete with their own spit-up stains. Register for a fresh set of these items for your second baby. Look for fun and updated patterns and styles, as well as types that worked well for your first child.
4. Bottles, Pacifiers, and Bottle Nipples
While you can reuse baby bottles you already have, we still recommend asking for a few different brands to see which one your second baby will prefer. Every baby is different and has their own bottle preference. Just because your first child loved a particular brand doesn't mean the same applies to your second baby. You'll also want new pacifiers in various brands and new bottle nipples for any bottles you already own.
5. New Clothes
You may already have a lot of clothes if your second baby is the same gender as your first child. But it is still nice to register for a few new outfits and onesies for your arriving little one. If you're having the opposite gender this time, consider asking for more clothing and accessories. Register for easy one-piece options like sleep n' plays, along with tops, pants, and special occasion outfits. Did you end up with a ton of mismatched socks after having your first child? Then you'll probably need a few new pairs on your registry too.
6. Car Seat and Car Accessories
You'll need a second car seat to accommodate your new arrival unless you have a seat you no longer use for your first child. Just check the expiration date first. Car seats wear down and weaken over time. Manufacturers include an expiration date on every seat to ensure your child's safety.
If you're still using a car mirror for your first baby, you'll want to register for a second to see both children in the back seat. Car toys, window shades, and a seat protector for a second car seat are also great options.
7. Feeding Essentials
Stock up on milk storage bags and extra pumping parts if you plan to breastfeed. You can also choose to upgrade to a newer model breast pump for your second child. Pump designs are upgraded constantly with mom-to-be's comfort and ease of use in mind. If you research a model with more bells and whistles that you think might work for you, include it on your registry. Don't forget to ask for formula as well, whether that is your primary feeding method or as a backup. Include a few different types of formula, as you don't know which will work best for your second baby.
8. Second Baby Monitor
A second baby means the need for a second baby monitor. Unless your babies are far apart in age, you're likely still using a monitor for your first little one. While it might not seem necessary at first, having an eye on both of your children at the same time will give you peace of mind. This is especially true if they're sleeping in different rooms. Like breast pumps, baby monitor features are constantly improving. Higher tech options include clearer screens, tracking your baby's breathing and heart rate, and monitoring with accompanying mobile apps.
9. Double Stroller
Strollers aren't just for babies. Little legs get tired too, and your toddler sometimes needs a ride. That's where a double stroller is handy. There are several different styles to accommodate newborn and young-aged children. Some double strollers feature a comfy place for your newborn, a larger second seat for a toddler, and a riding board for an older child. Look for models that also offer ample space to store all of your belongings, including an extra large diaper bag.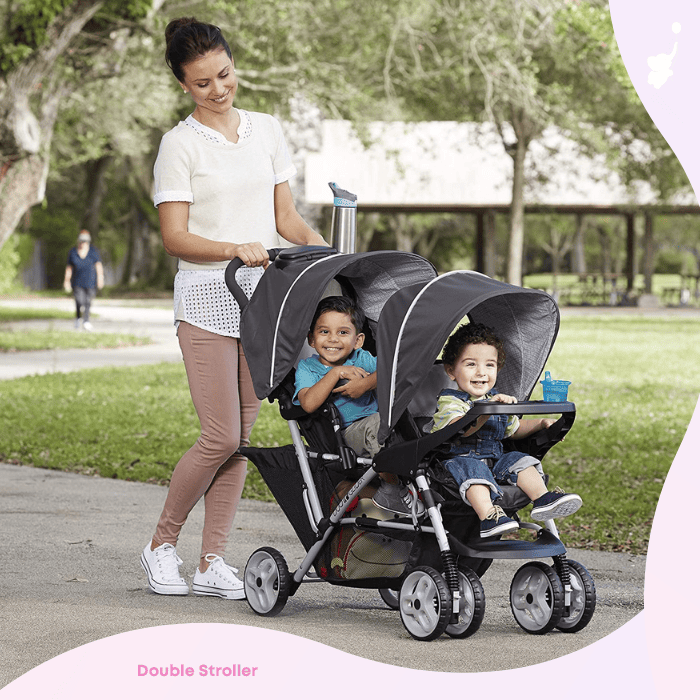 10. Second Bath Seat
You'll probably find it's more convenient to bathe both of your children at the same time, as opposed to opting for two baths. Purchase a second bath seat that accommodates a newborn so both little ones can enjoy some good clean fun together. You can also register for a few new bath toys your children can play with together.
11. Baby Carrier and Wrap
It's a lot easier to give hands-on attention to your toddler when your baby is wrapped close to your chest. Baby carriers are a great way to help parents keep their little ones close while also doing things around the house. A baby wrap is wonderful for newborns, while a carrier works best as they get older.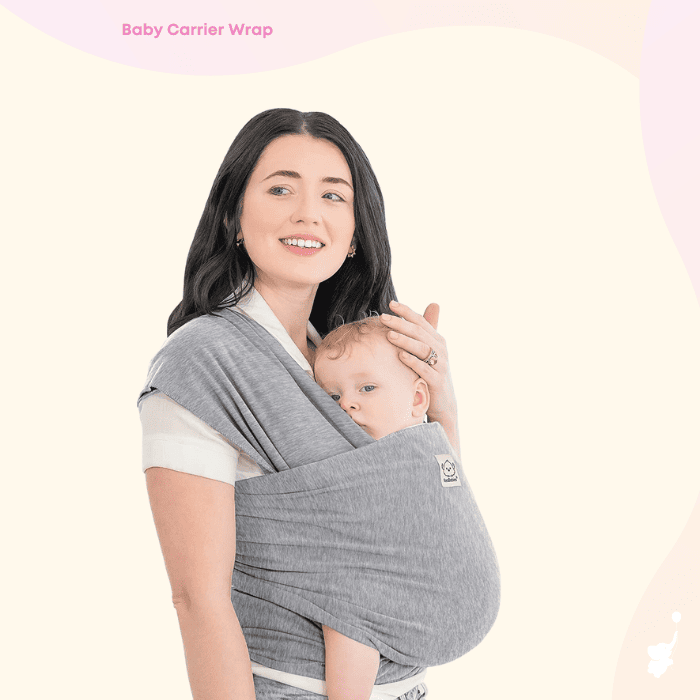 12. First Aid Items
You'll want a new set of medicine and first aid items for your newborn. Stock up beforehand so you're prepared for that first upset tummy or sniffle. Include a new nasal aspirator, baby fever reducer, gas relief medicine, and cold medicine. Also, register for new teethers, as your first child likely left plenty of bite marks on theirs.
13. Large Diaper Backpack
More babies mean more stuff to carry around when you leave the house. Register for a large diaper backpack that can accommodate multiple changes of clothes, diapers in different sizes, bottles, sippy cups, and mom's necessities. Look for options with lots of pockets to fit everything you need. Some options also include a cooler pocket for storing milk and bottles.
14. Crib, Crib Mattress, or Bassinet
Register for a bassinet or new crib and crib mattress for your second baby. If your first child is ready to move to a toddler bed and their crib is still in good condition, you can reuse it. Again, this depends on the age gap between your children. Don't forget a fresh set of mattress protectors, and fitted sheets, especially if you'll have two cribs in your home.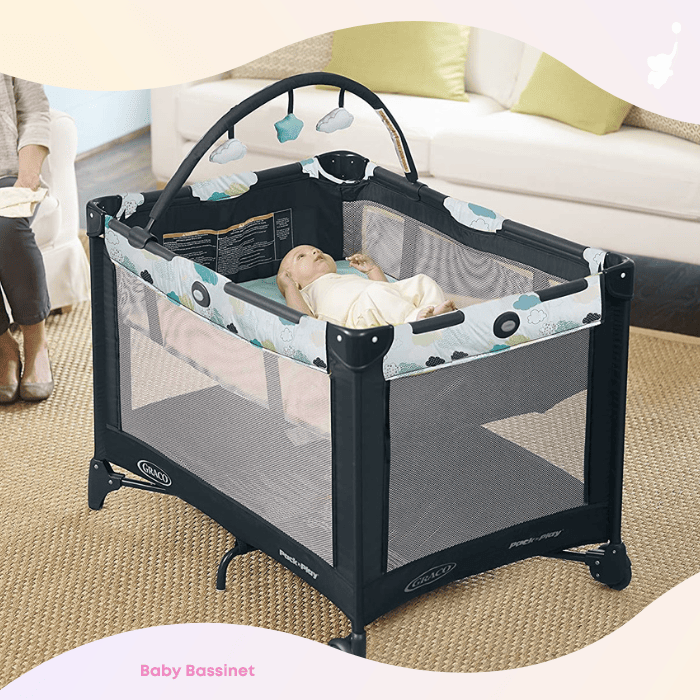 15. Additional Nursery Essentials
Some parents choose to have their children share a room, while others prefer each child has their own space. Depending on your decision, you may need additional nursery items, including a dresser, rocking chair, and changing table. You may also need a new mobile, stuffed animals, and a second diaper pail. Decide what you need to double up on and what your children can share.
Best Gifts for Mom on a Second Registry
While it's easy to focus on everything your second baby needs, don't forget care items for mom too. Nursing supplies, including nipple cream and nursing pads provide comfort for breastfeeding mamas. Recovery care is also essential, including postpartum underwear, a peri bottle, witch hazel pad liners, and more.
New nursing tops and a luxurious bathrobe are an excellent way to feel a little more like yourself when caring for two little ones. Also, a new coffee maker will bring sleep-deprived parents back to life.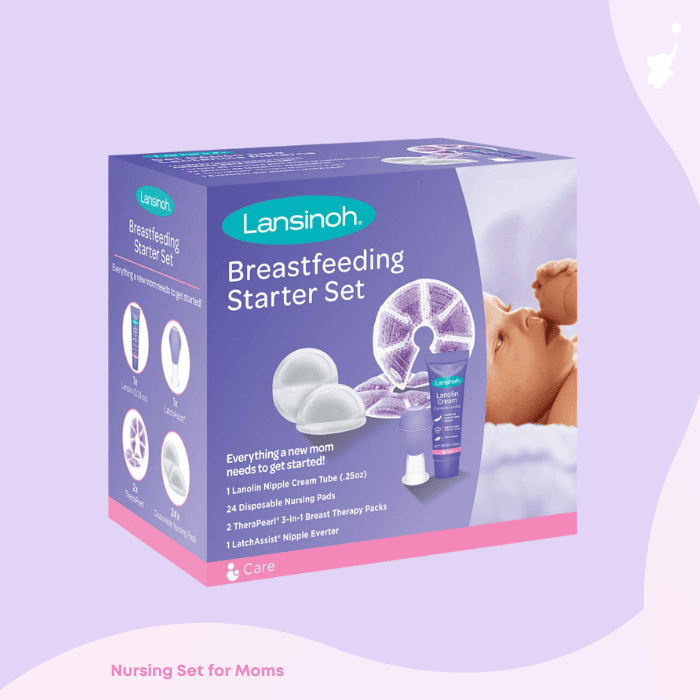 Frequently Asked Questions
Q. Do people make a baby registry for the second baby?
Lots of people make a registry for their second baby. This could look like starting a brand new registry to benefit from any perks and discounts or revamping existing ones. A second registry helps you organize what you want and still need for your arriving baby. Although you already have a child, that doesn't mean your arriving second baby won't need new items just for them.
Q. Is it tacky to make a registry for a second baby?
Not at all! Whether you have a sprinkle or not, family and friends will likely want to gift you something for your second baby. A second registry lets them know what you need instead of making them guess what to purchase. Avoid the constant question of, "What do you need for your second baby," from loved ones, and create a second baby registry listing all of your necessities.
Q. What should I put on a baby registry?
Add any baby basics, one-time-use items, and upgraded gear to your second baby registry checklist. This can include diapers, wipes, a double stroller, a new breast pump, and clothing items. It's also a good time to replace any items used by your first baby that are now a little worse for wear. Throw away stained burp cloths, teether toys with chew marks, and worn-out clothing. You should also properly dispose of a car seat past its expiration date.
Q. How do you share a baby registry?
Once you create your baby registry, you should receive a shareable link to send to family and friends. Include this on your WebBabyShower website, share with your invitation information, or simply send it to any loved ones who ask where you're registered. If you're registered at multiple retailers, don't forget to include links to each registry to give gift-givers different shopping options.
Q. Which baby registry site do you recommend?
As you hunt for the best baby registry, look for perks and amenities that are important to you. Some offer completions discounts, a welcome box full of samples, group gifting options, and the ability to add items from different websites. Decide what will work best for you and look for registries with those options. Amazon and Babylist offer superb online shopping options, while Target and Walmart are great for loved ones who prefer to shop in store. Don't be afraid to register with multiple retailers if one option doesn't meet all your needs.