How Many Items Should Be on a Baby Registry?
When creating a baby registry, it's essential to balance having enough items for your guests to choose from without overwhelming them. A good rule of thumb is to have various items at different price points, so guests can choose what they feel comfortable buying. Generally, 100 to 120 items is a good range.
You can include practical items, like diapers and wipes, and "fun" items, like nursery artwork or a personalized baby blanket. Don't forget to regularly update your registry as you receive gifts or as your needs change throughout your pregnancy.
There are many great online baby registries for a variety of budgets and styles, that will track what you receive and remove bought items to ensure you don't get duplicates. We've written a comprehensive article reviewing the top 7 baby registries to help you find the best one for your growing family.
Throw a Virtual Baby Shower so Everyone

Can Celebrate!

• Free Trial – 14-Day Refund for any reason
• Only 1 Minute Setup!
• 80+ Custom Themes & Matching Invites
• Use Any Online Registry
• Send Unlimited Invites and Updates
• Baby Shower Games with Scoreboards, Give Prizes!

Build Your Shower
---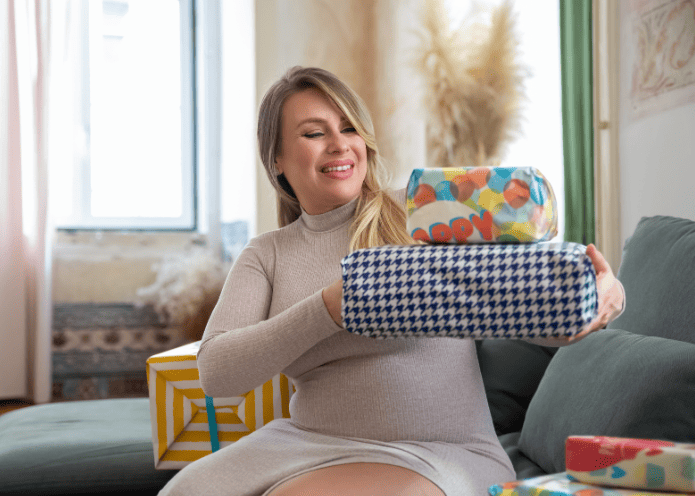 Factors That Affect How Many Gifts You Put On Your Registry
Whether You Are a First Time Mom
Being a first-time mom can significantly affect the number of items you put on your baby registry. First-time mom "registry must haves" include big-ticket items, like a crib, stroller, and car seat, and smaller items, like bottles, bibs, and pacifiers. Therefore, you will likely need more stuff if this is your first baby.
However, if you're an experienced mom, you likely already have many needed items, resulting in a more concise registry list. Therefore, you can register for the basics – like diapers, wipes, and formula – and "fun" items – like a baby photography session or cute nursery decor – that you didn't ask for the first time around.
Season or Location in Which Your Baby Will Be Born
The season and location in which your baby is born can significantly influence how many gifts you should have on your registry.
In colder climates where winter lasts longer, you may need to stock up on warm clothing, like long-sleeved onesies, hats, jackets, booties, and gloves. You may also require other cold-weather essentials, like blankets, baby sleeping bags, and humidifiers, to help soothe the baby's dry skin and airways when the heater is blasting non-stop.
On the other hand, if your baby is born in a warmer region, you will require lightweight clothing and outdoor gear such as sun hats, sunglasses, and sunscreen. You may also want bathing suits and swimming diapers if you live near the water.
House Size and Budget
If you live in a smaller house or apartment, you will likely need to prioritize functional registry items that maximize space. However, if you live in a larger home with more disposable income, your list of baby registry items may be longer and include more high-end products.
If you're on a tight budget, you'll want to be selective about what you include on your baby registry. This will help ensure you receive the items you'll truly need. For example, you might prioritize getting a crib and stroller over small, more affordable items like bottles and bibs.If you need help determining baby registry must-haves, check out this article, where we discuss the items you'll need (and the ones you can do without).
Whether Your Child Has Special Needs
If, during prenatal screening, you discover your baby will have special needs, you may require specific equipment and accessories not ordinarily found on a standard registry. These items may include specialized feeding systems, adaptive strollers, sensory toys, and other assistive devices. Therefore, you may need to create a more comprehensive and customized baby registry to ensure you have the necessary tools and resources to care for your child.
What Items Shouldn't Be Included in a Baby Registry?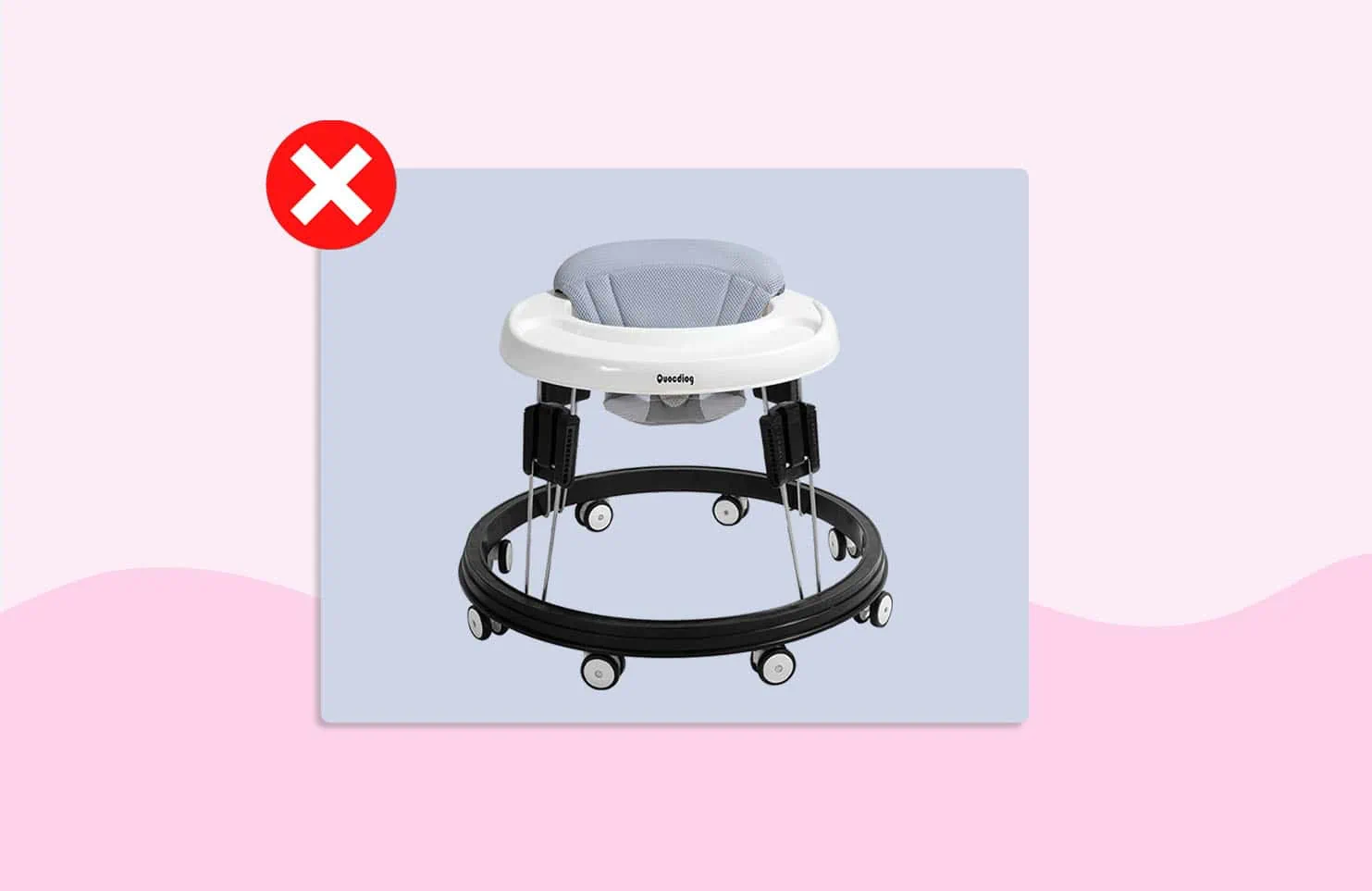 First-time parents have many questions about what to include on their baby registry. Should you put a crib on your registry, or is it too expensive? How about non-necessary items, like nursery decorations or a babysitter fund?
Ultimately, you can add whatever you want to your baby registry. If you add the recommended number of registry items, your guests will have plenty of options, so they don't have to get you expensive or "unnecessary" items if they don't want to.
The only things that should be avoided are unsafe items for your baby. For example, baby bedding sets that contain blankets, bumpers, and other similar items are not recommended due to the risk of SIDS. Similarly, baby walkers should be avoided since they discourage crawling and can be dangerous for curious little ones.
Some items, such as bottle and wipe warmers, are fun but unnecessary. If you are a first-time parent or are on a tight budget, avoid registering for items like these. Instead, select baby registry must-haves like diapers, car seats, strollers, baby carriers, and clothes appropriate for the season.
Not sure what you should include on your baby registry? Don't worry, we've got your back. Check out this article to learn the most registered baby items in 2023.
How Many Gifts Should You Have On Your Registry for Twins?
Twins influence many things about your baby registry, such as how many diapers to put on your registry and how many wipes to register for. You will need to double up on these essential items since you will have two babies to feed, clothe, nurse, and change.
Additionally, you'll need two of the "big ticket" items, like cribs, high chairs, and car seats. You may also want to register for two baby carriers and two strollers if you plan on taking your twins out together frequently.
Luckily, many companies sell cribs, strollers, carriers, and other items specifically designed for twins. So, you can register for these specially-made products instead of registering for two of everything, saving money and space.
Ultimately, your twin baby registry can include anywhere from 120 to 200 items, depending on what you need and how much space you have.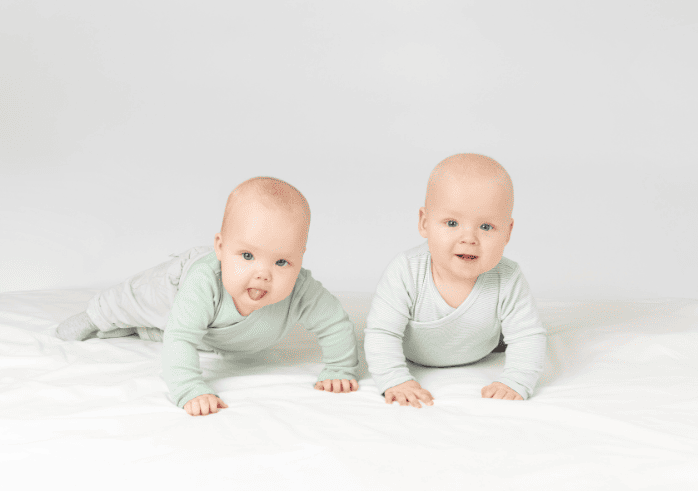 How Many Items Should Be on a Baby Registry for a Second Child?
When creating a registry for a second baby, it's essential to consider what items you already have. You likely still have many baby essentials – like a crib, stroller, and highchair – that you can reuse.
However, creating a registry is still essential to ensure you have everything you need for your newest addition. Generally, a registry for a second baby can be smaller than the first and includes necessary items such as diapers, wipes, clothes, bottles, and any other specific needs for your family. Aim to keep the registry around 25 to 50 must-have baby registry items.
How Many Items Should Be Included in a Minimalist Baby Registry?
When creating a minimalist baby registry, it's important only to include the essentials. While adding every cute accessory or gadget may be tempting, sticking to just the necessities can save you money and eliminate clutter.
Ideally, a minimalist baby registry should include only 15 to 25 items, such as a car seat, stroller, clothes, diapers, and a few necessary healthcare items. Avoid adding things you may not need, like a diaper genie or a baby swing. Consider adding practical items like a baby carrier or swaddles and items that grow with your baby, such as a convertible car seat or high chair.