Setting up a baby registry is a great way to let your baby shower guests know what you need. But let's be honest, getting a bag full of freebies is pretty sweet too. Deciding which brands and items to include on your registry is a little easier when you have a kit full of samples you can check out beforehand. The Target baby registry welcome kit gives parents-to-be $100 worth of samples and coupons. All you have to do is set up your Target baby registry and pick up your kit at any Target location. Then you're ready to create your Target baby registry checklist full of all the necessary items.
How to Snag Your Target Baby Box Welcome Kit
The Target baby registry welcome kit is an amazing perk for first-time parents who want to check out baby registry items before adding them to their list. The kit includes about $100 worth of full-size items, samples, and coupons for future purchases. Once you sign up for the registry, you're eligible to receive your goodie bag. You'll receive a barcode that you can print out and take to the guest services counter at one of Target's 1,900 locations in the U.S. Show the barcode, and a guest services member will give you your bag full of freebies. Target recommends calling your store beforehand to ensure the kit is in stock.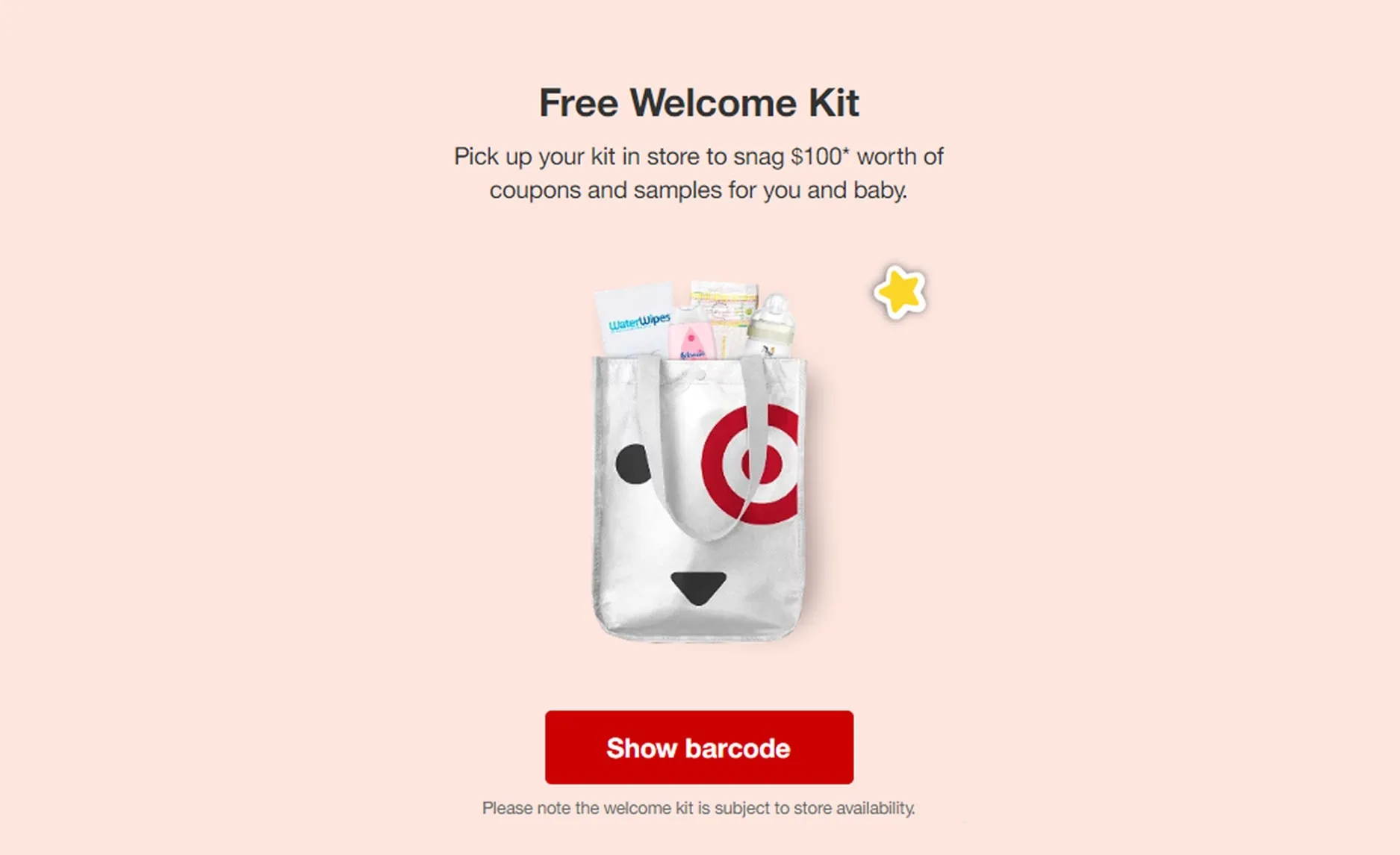 Throw a Virtual Baby Shower so Everyone

Can Celebrate!

• Free Trial – 14-Day Refund for any reason
• Only 1 Minute Setup!
• 80+ Custom Themes & Matching Invites
• Use Any Online Registry
• Send Unlimited Invites and Updates
• Baby Shower Games with Scoreboards, Give Prizes!

Build Your Shower
---
What's in the Free Target Welcome Bag?
Full-sized items, including bottles, sample packs of diapers, and coupons for baby products, can be found in your freebie bag from Target. You'll get to see and touch a variety of items, and it's a great way to find out what you want to add to your baby registry checklist. Below is a list of what you might find in your Target baby registry welcome kit.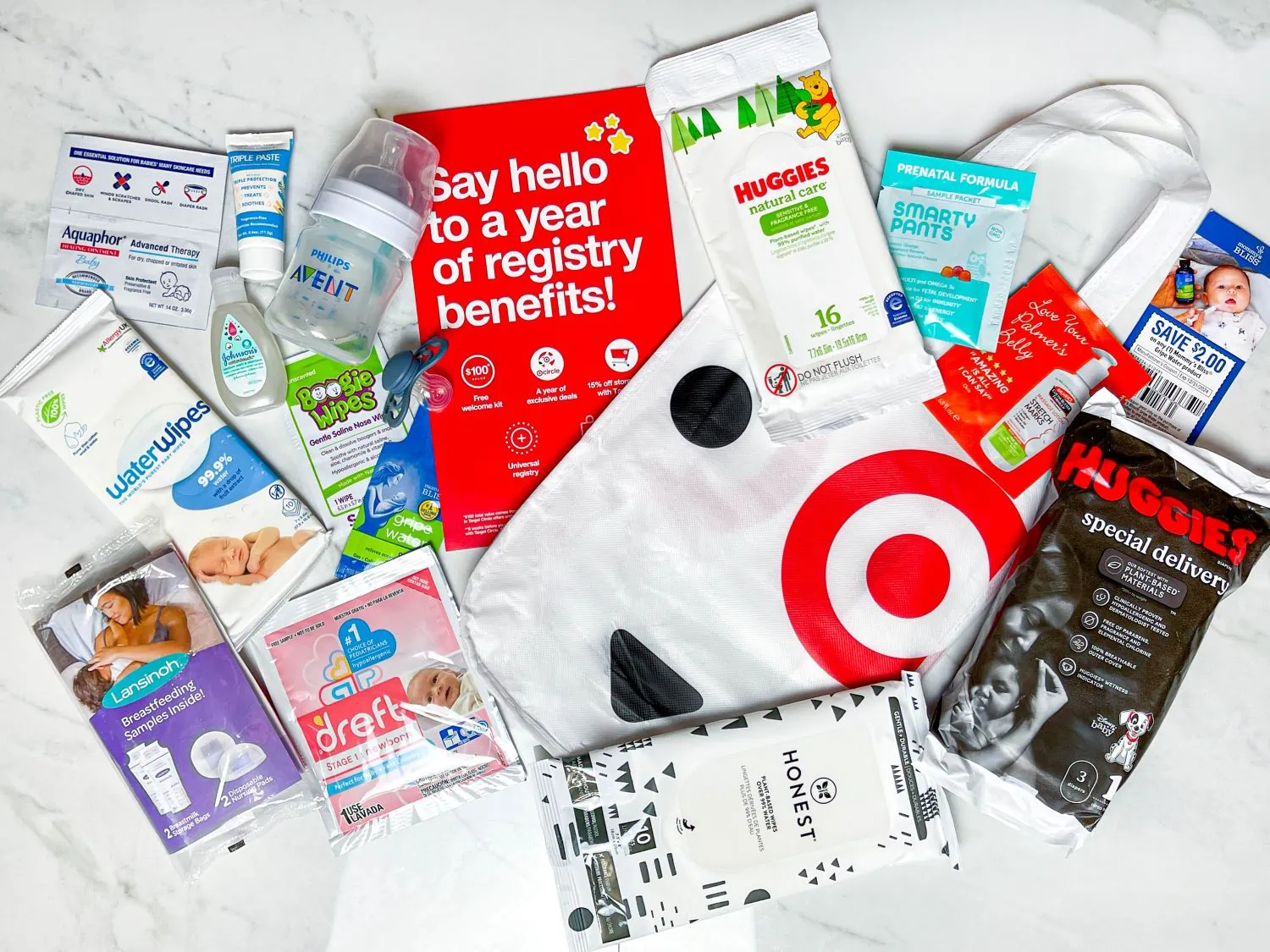 Baby bottles: You won't know which type of baby bottle your little one will prefer. That's why it's great to have a few different types available in the beginning.
Diaper rash cream: Essential for preventing and treating diaper rash from wet diapers.
Baby wipes: Sample packs of baby wipes are great to throw into your diaper bag. Not just for diaper changes, wipes also clean sticky fingers too.
Diaper sample pack: Usually in a pack of three or four diapers, it's also an easy addition to your diaper bag as you stock it for the first time.
Stretch mark cream: Mom-to-be can start using this cream right away as her belly grows to heal and prevent stretch marks.
Prenatal vitamins: This is another essential that helps mom and baby get the necessary nutrients.
Gentle laundry detergent: A newborn's skin can be sensitive to fragranced detergents. Wash baby clothing in a mild detergent made for delicate skin.
Pacifiers: Just like bottles and bottle nipples, your baby may prefer one pacifier over another. It's a good idea to have pacifiers from a few different brands to see which one your baby likes best.
Baby bottle dish soap: This soap is made specifically for baby bottles and nipples to keep them clean and sanitized.
Baby body wash: A gentle body wash is important to have on hand for your baby's first baths at home.
Gripe water: Gripe water helps with gassy tummies, colic, hiccups, and fussiness.
Nose wipes: Nose wipes help clean your baby's nose when they have a cold and help to prevent irritation compared to regular tissues.
Coupons off full-sized baby items: Extra savings on other baby items are a big plus on top of all the samples in your welcome kit.
What are the Benefits of Creating a Target Baby Registry?
As one of the best baby registry options available, there's a lot to love about registering at Target. In addition to the welcome kit, perks include a convenient shopping experience, discounts, and a one-year return policy.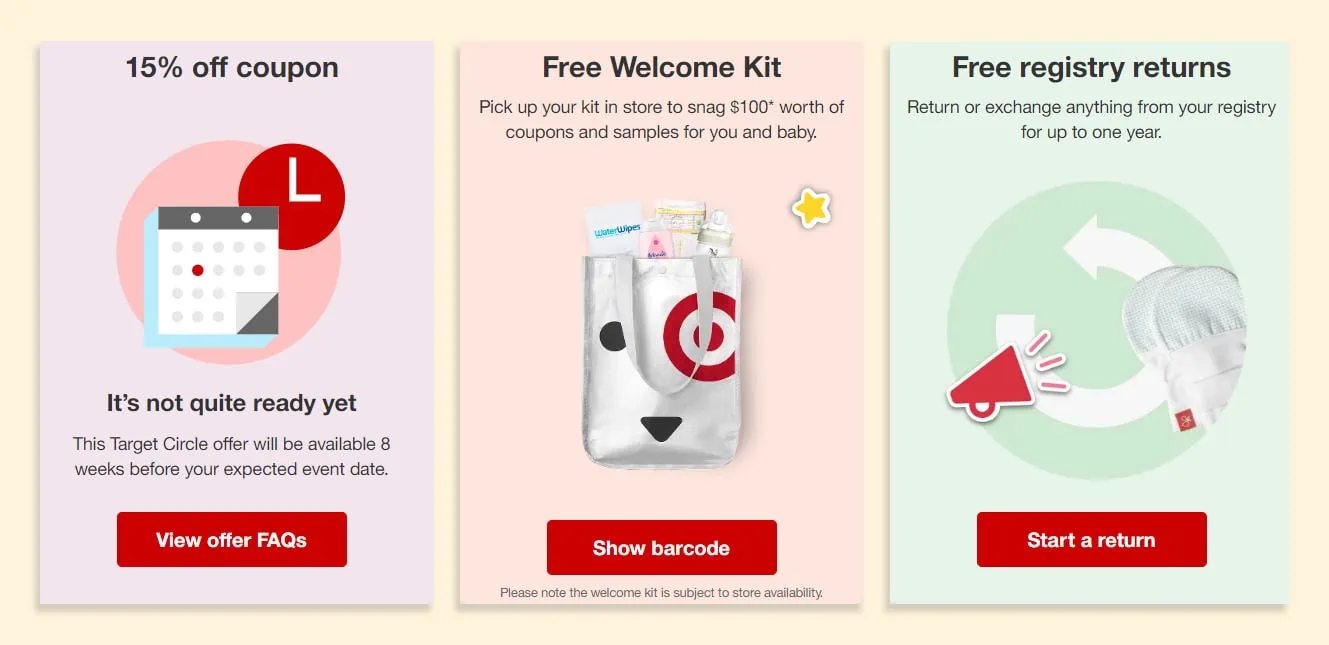 Discounts and extra savings: The Target registry completion discount gives parents 15% off any last-minute purchases for their baby. A discount coupon is sent about eight weeks before your baby's due date and expires six months afterward. The coupon can be used for online and in-store purchases and can be used twice. Target RedCard holders receive an additional 5% off purchases, and Target Circle members receive extra savings.
Variety of products: In the store and online, Target carries a large selection of products from top brands, including Johnson's, Pampers, Huggies, Honest, Graco, and Fisher Price. You'll also find exclusive brands Cloud Island, and Cat & Jack.
Easy shopping experience: Gift givers who shop online receive fast and free shipping on orders of $35 or more, or if they use their Target RedCard. Loved ones who prefer to shop in person can choose from 1,900 Target locations.
One-year returns policy: Taking the time to trek to the store isn't always convenient for new parents. That's why Target gives you up to a year to return new and unopened items purchased from your registry.
Add items from anywhere: You don't have to visit a Target store to add items to your registry. The comprehensive app lets you add and change registry items from your smart device. The mobile app is available for iOS and Android users.
Extras that make your life easier: Need extra help figuring out what to add to your Target baby registry? Target's checklist breaks down baby items into categories: baby gear, feeding, diapering, and toys. Click on the drop-down menu for each category to see a list of suggested items and start building your registry. Target also offers gift tracking so you can see which items were purchased from your registry and by which loved one. Page personalization allows you to add photos to your registry page and create a custom URL to share with family and friends.
Mark Your Must-Haves: Let family and friends know which items are your top picks on your registry. Once you add products to your Target baby registry, mark your favorites as "most wanted." You can also add notes on your registry if you want a specific color or design of a particular product.
How to Grab More Great Baby Offers
You don't have to tie yourself down to just one registry option. One registry might not have everything you need, and you might want a few extra perks. Along with Target's baby registry, consider signing up for Amazon's or Babylist's registry. With each registry, you'll receive an additional welcome kit full of goodies and discounts. Babylist also sends parents-to-be a box full of freebies when they register. Other perks include giving cash gifts, group gifting, an easy-to-use app and help and serve coupons for things such as a home-cooked meal or dog walking.
Amazon also has a list of perks, including having one of the largest selections of products from large to small businesses. The site is also easy to navigate, and they offer group gifting. Those who sign up for an Amazon baby registry also receive a welcome box of samples.