Before you create your baby registry, it's important to research which retailers have the best options, as well as come up with a baby registry checklist of must-have items. If you want the option to shop online as well as in person and enjoy welcome kits and discounts, the Target baby registry is a great option. We've broken down why Target's baby registry might work for you, as well as provided our checklist of items you'll need for your little one, and yourself.
Target Baby Registry Checklist
It's easy to feel overwhelmed by all of the baby items out there. Before you randomly start adding things to your must-have list, take a look at our checklist of items to add to your Target baby registry. From onesies and swaddle blankets to strollers and essentials for the mom-to-be, we've curated a Target baby registry checklist you'll need for the newborn stage and beyond.
Baby Clothes in a Range of Sizes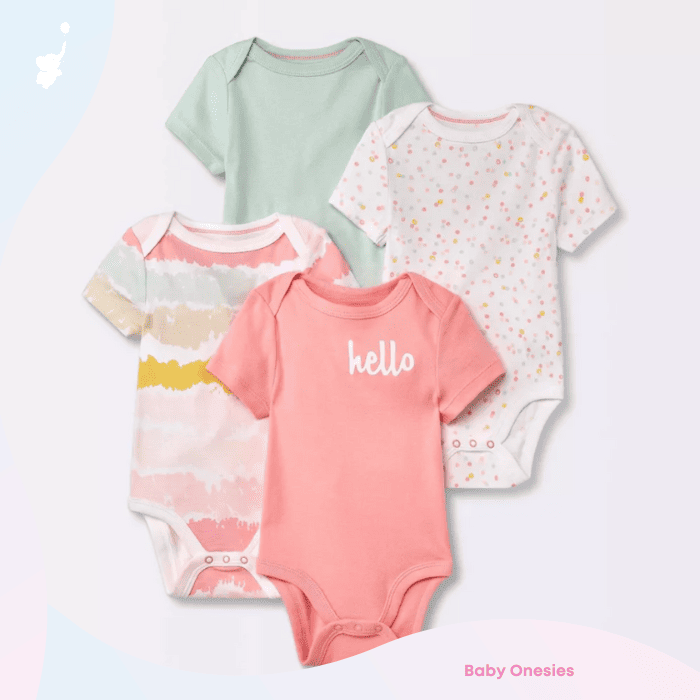 Baby Bottles and Feeding Supplies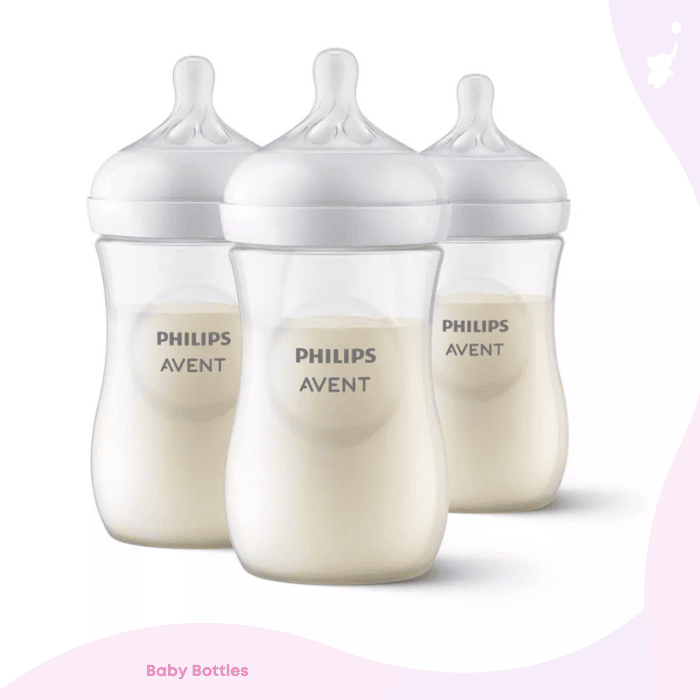 Needs for the Nursery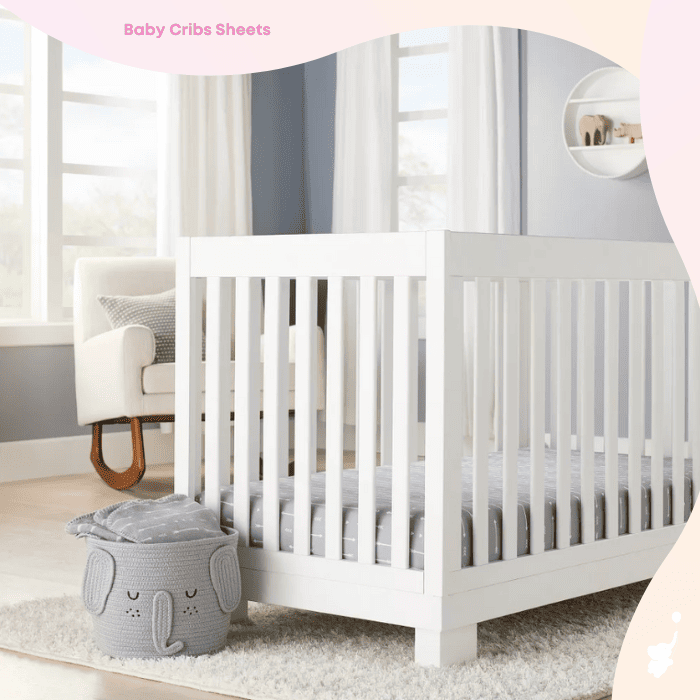 Tub Time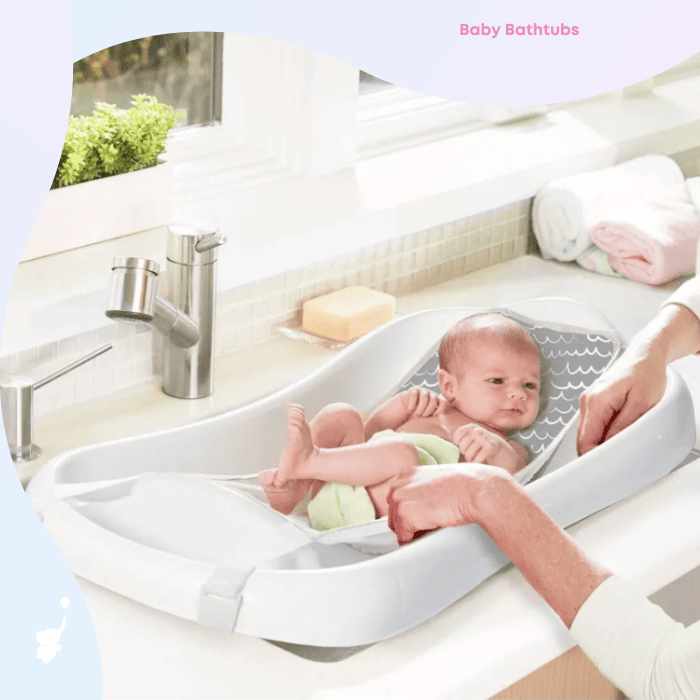 Diaper Essentials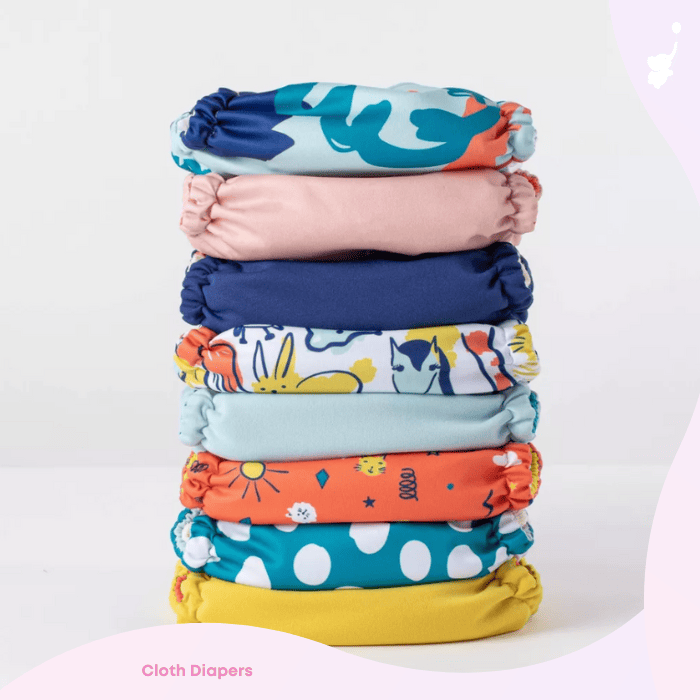 First Aid and Safety
Baby Toys and Fun Activities
Baby Gear for Getting Around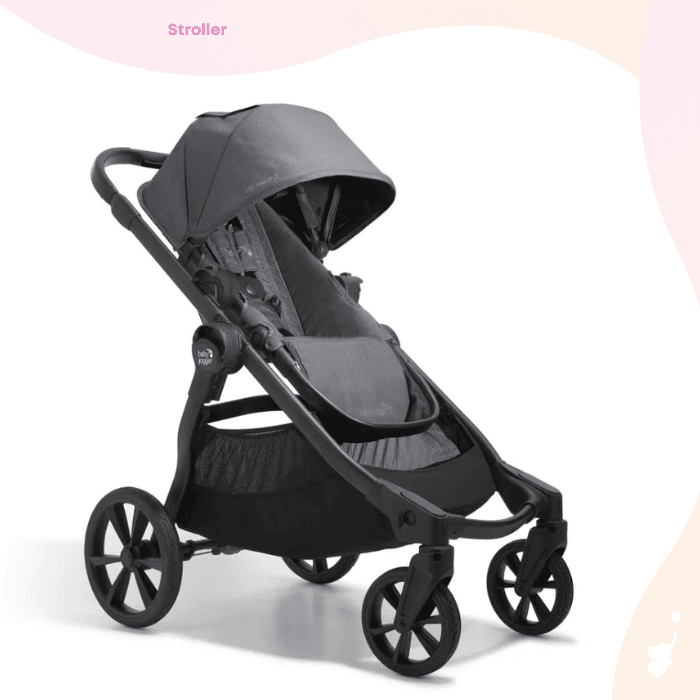 Must Haves for Mama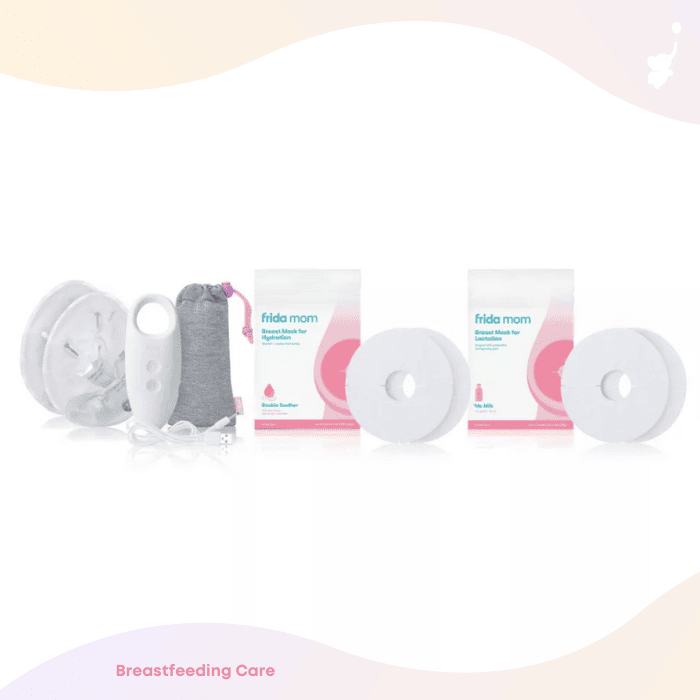 Throw a Virtual Baby Shower so Everyone

Can Celebrate!

• Free Trial – 14-Day Refund for any reason
• Only 1 Minute Setup!
• 80+ Custom Themes & Matching Invites
• Use Any Online Registry
• Send Unlimited Invites and Updates
• Baby Shower Games with Scoreboards, Give Prizes!

Build Your Shower
---
Why Create a Target Baby Registry?
From the convenience of shopping online or in-store to discounts and freebies to help you stock up on baby essentials, there's a lot to love about Target's baby registry. Easy returns and free shipping make it even sweeter. As of February 2023, Target discontinued its group gifting option as well as the ability to add products from other websites. However, there are still tons of benefits to using this registry.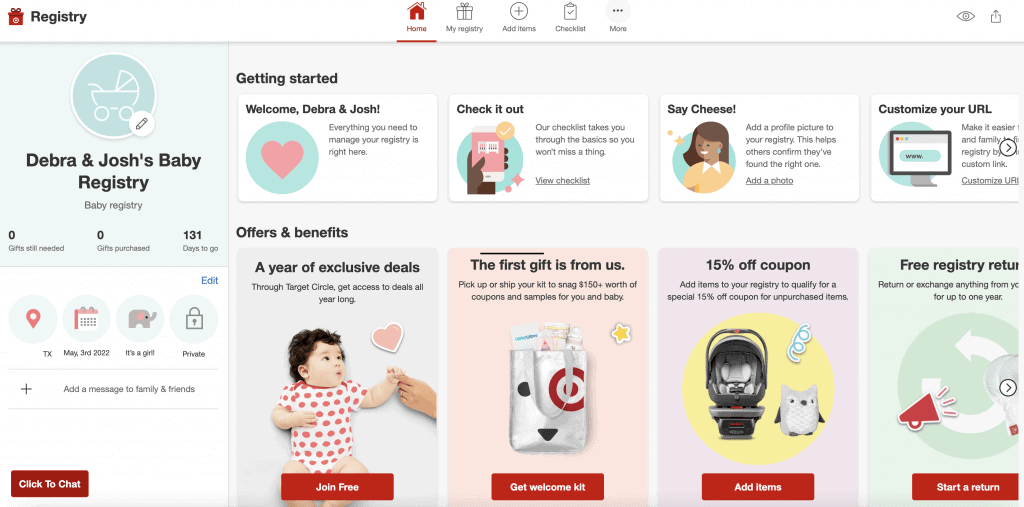 Shopping Convenience
Whether you prefer to build your registry online or shop in person, you can do either, or both, through Target. It's also convenient for your loved ones to purchase items from your registry. Family and friends who love online shopping will enjoy selecting items from the comfort of their homes. Others who are more comfortable shopping in person can stop by one of more than 1,900 locations in the U.S. Target also carries a variety of brands, along with exclusive options including Cat & Jack, and Cloud Island.
Welcome Kit of Freebies
When you create your Target baby registry you're eligible for a welcome kit filled with $100 worth of samples and coupons. Simply stop by the guest services counter at any Target location to pick it up. Target recommends calling ahead to make sure kits are available.
Free Shipping
You and your loved ones can enjoy free shipping when making a purchase from your registry. Simply spend $35 or use your Target RedCard to qualify. Gifts can be shipped to family members or straight to you.
Easy Returns
Target gives you up to a year after your due date to return items from your baby registry. That gives you plenty of time after your baby is born to return any items you don't need. Present the barcode on your Target registry to return items to the store.
Completion Discount
Eight weeks prior to your due date, Target will send you a 15% discount coupon for items still left on your registry. Coupons can be used for in-store or online purchases and the offer is redeemable twice. This lets new parents buy any last-minute items they didn't receive for their baby. Target RedCard holders receive an additional 5% off. The coupon expires six months after your due date.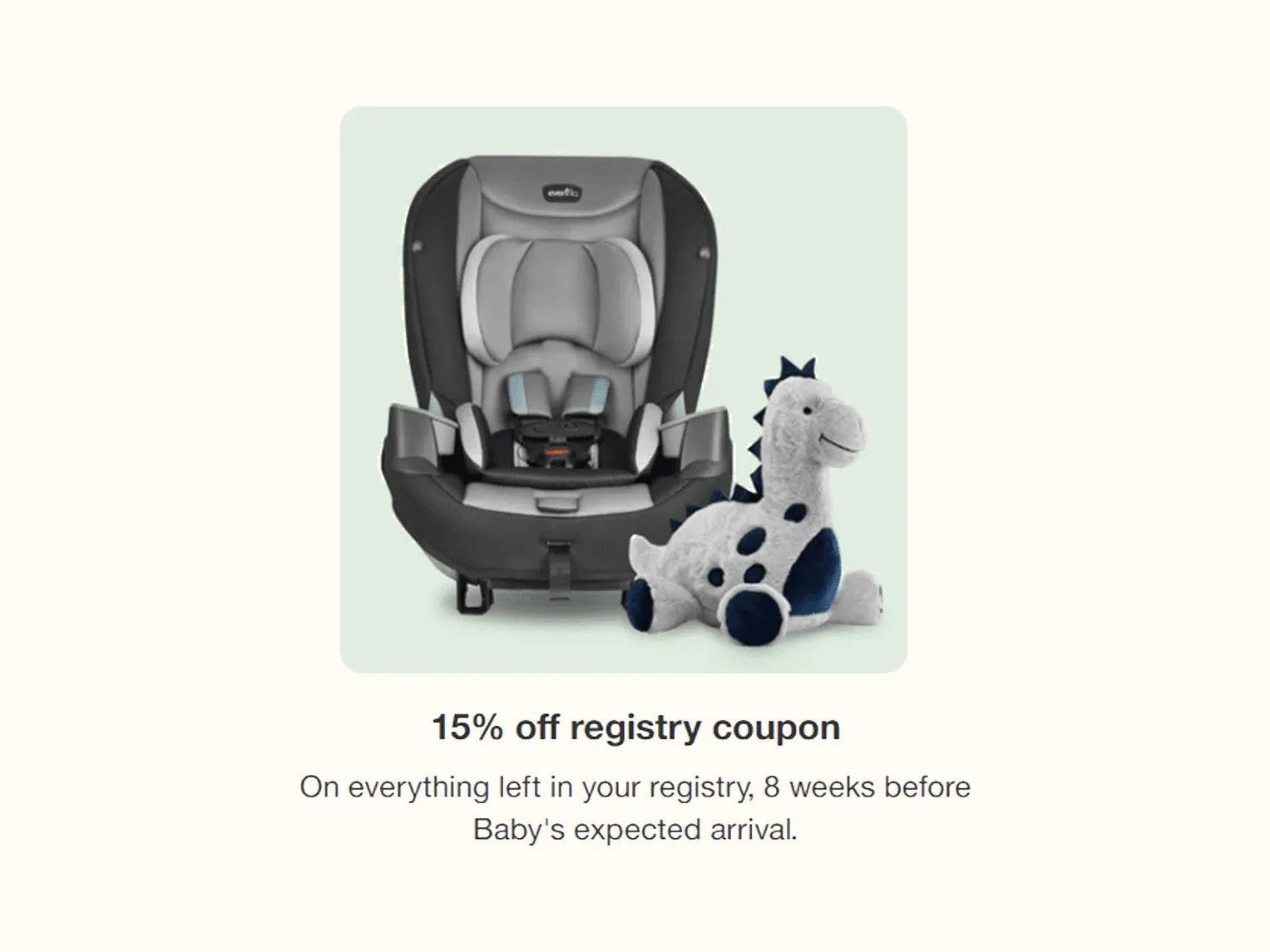 How to Set Up a Target Baby Registry
Now that you know you want to use Target for your baby registry, we've put together a few tips on how to start. The great thing about Target is you can set up your registry online or in the store.
How To Set Up a Target Baby Registry Online
Set up your registry online in a few clicks. Head to the Target registry page, sign in or create a Target account, then click the "create a registry" button. Follow the prompts and you'll soon have your registry up and running. You can start adding items right away and share your list with friends and family.
How To Set Up a Target Baby Registry In-Store
Visit the guest services counter at your neighborhood Target location to get started. The store associate will collect your information and walk you through setting up your registry.
How to Add Items to Your Target Baby Registry
Now that your registry is set up, it's time to start adding everything you'll need for your baby. Don't forget to reference our list above for ideas.
How to Add Items to Your Target Baby Registry Online
When you're on your registry page, click "add items" from the top navigation. Browse by category or search for items in the search bar. Once you find an item you want click "add to registry" and it will appear on your list. You can adjust the quantity and prioritize certain items as your most wanted.
How to Add Items to Your Target Baby Registry In-Store
To add an item to your registry when you're shopping in the store, head over to the guest services counter. Scan items as you shop to add them to your registry. This is a great way to see the items in person before adding them to your list.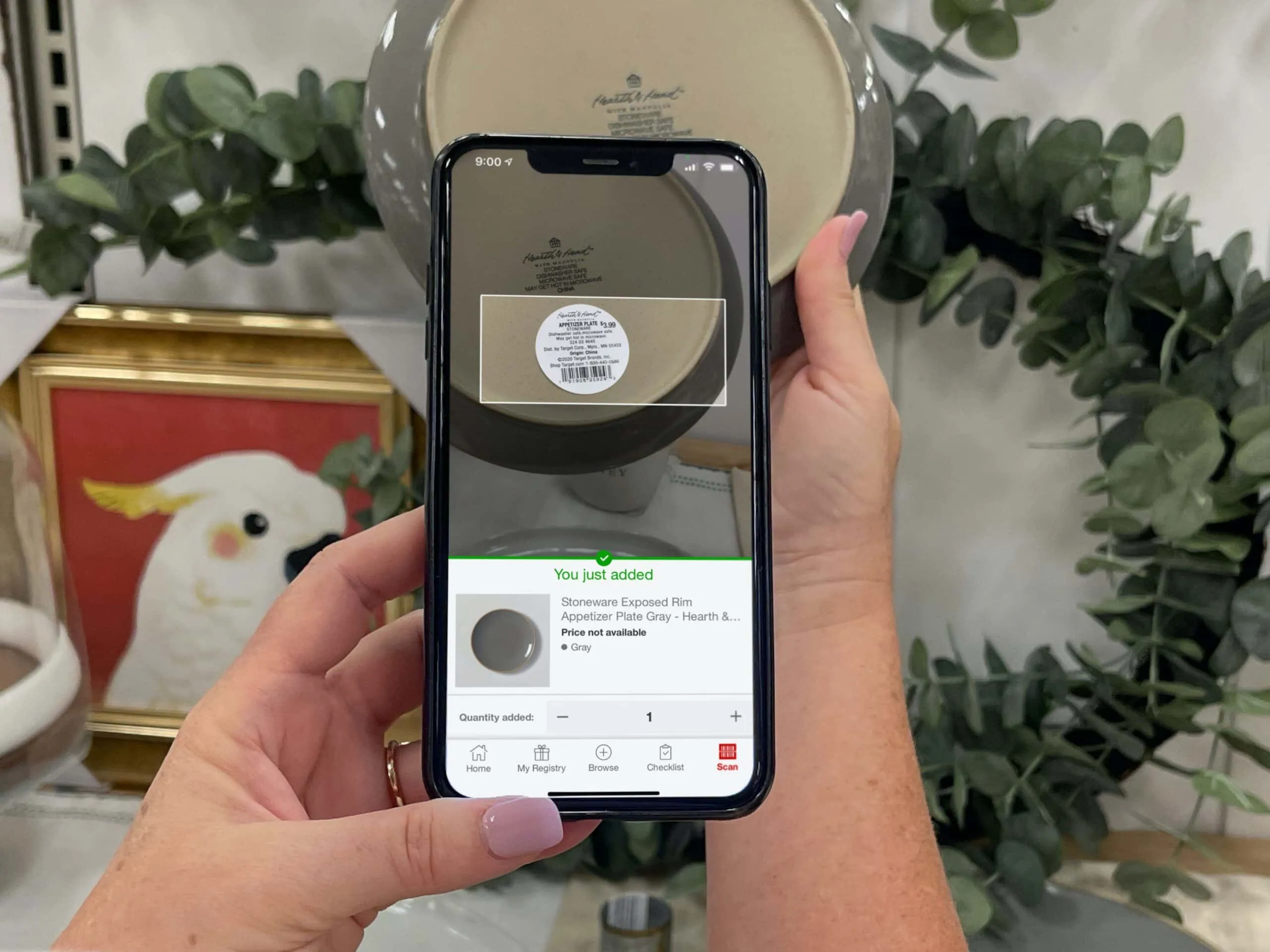 Other Popular Places to Register
It's totally OK to register at multiple locations. One store might not have everything you're looking for, and it's also nice to have a couple of options where loved ones can shop. We personally like the Amazon baby registry as well as the Babylist baby registry for additional options.
Frequently Asked Questions
How do I find my friend's baby registry at Target?
Find a gift registry by searching on Target's registry page for your friend's name. Head to guest services when you're shopping in-store for a printable list to reference when you shop.
How to use the 15 percent off coupon for my Target baby registry?
Once you're eight weeks from your due date Target will send you a 15% coupon to use online or in-store. When you're shopping in person, present your coupon to the store associate at checkout. When shopping online, enter the coupon code before completing your purchase.
What are the perks of a Target baby registry?
If you like the convenience of shopping in person or online, love freebies, and appreciate discounts the Target baby registry is a great option. They also carry exclusive brands like Cat & Jack and Cloud Island, along with popular options Graco, Seventh Generation, and Evenflo. With more than 1,900 stores in the United States, it's easy to find a Target nearby if you need help setting up your registry.