Creating your baby registry is an exciting time filled with adorable baby blankets, tiny clothing, and lovable toys. But it can also feel overwhelming, especially with so many baby registry options available. Simplify the process with a registry that's easy to use, efficient, and allows you to add all of the items you want for your new arrival.
We took a look at several well-known registries and put together a Babylist registry review. There are plenty of stores selling baby products, each with its own registry option. But you want a platform where you can add a variety of brands sold at a myriad of stores. Thankfully, with Babylist, you can do that and more.
Keep reading for our review of this popular registry option.
Also Read: Amazon Baby Registry Review
Throw a Virtual Baby Shower so Everyone

Can Celebrate!

• Free Trial – 14-Day Refund for any reason
• Only 1 Minute Setup!
• 80+ Custom Themes & Matching Invites
• Use Any Online Registry
• Send Unlimited Invites and Updates
• Baby Shower Games with Scoreboards, Give Prizes!

Build Your Shower
---
What Are The Pros of the Babylist Registry?
From an easy-to-use phone app to price comparisons at your fingertips, let's take a look at a few of the features that make the Babylist registry a great option.
Ease of Use (You Can Add Items from Anywhere)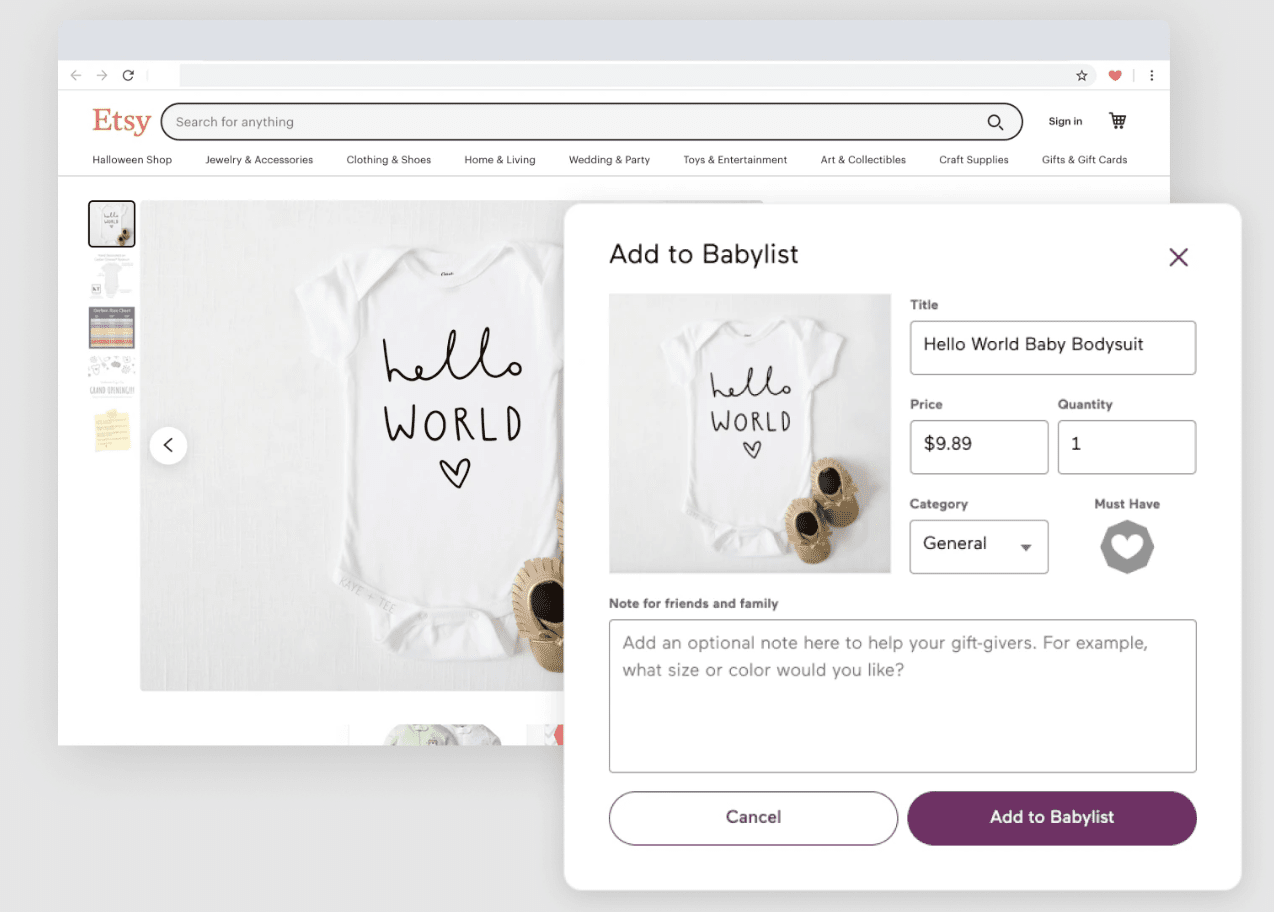 You can add any item from any site to your Babylist registry whether it's the high-end stroller you've had your eye on or a set of custom baby blankets on Etsy. Use Babylists' browser extension on your computer to add anything to your registry with the click of a button. Create a custom registry that is unique to you and your growing family.
Folks on the Baby Bumps thread on Reddit chimed in on their experience using Babylist. Several people praised the platform for its ability to add items from multiple places. One person commented, "We liked Babylist …it gives multiple options for stores to buy from."
We can't give a Babylist registry review without mentioning their easy-to-use phone app. Add items from any store while you're on the go. A search section within the app shows you popular baby items from various stores. All you have to do is hop over to the store's website while using your Babylist app and click the "add to Babylist" button on your screen.
The mobile app also allows family and friends to shop your registry from the comfort of their couch, or while they're out and about running errands.
On a computer or via the app, your family and friends will see a beautifully laid out registry website with every item you need for your little one. Shoppers can sort by price, store, and which items are on the top of your must-have list.
One drawback is older relatives sometimes have trouble navigating the registry. One Redditor said, "None of my family members over 50 can figure out how to work it."
In this case, it's a good idea to have a second registry that allows loved ones to shop at a physical store. You can also connect that registry to your Babylist account, so guests can choose their preferred way to shop.
Read – Babylist Vs Amazon Registry
You Can Create Cash Funds
Ask for more than physical items in the Help and Favors section of your Babylist registry. Create cash funds to help with big-ticket costs including a college fund and adoption costs.
Family and friends can contribute any amount they wish via your registry. Once they pay with their debit or credit card, Babylist transfers the funds to you via your PayPal account.
Need help with meals or keeping things tidy after the baby is born? Add a home-cooked meal or house cleaning to your registry. Loved ones can promise to help you out with anything you need so you can focus on your sweet baby.
This helpful addition to your registry is unique to Babylist. You won't find this available on other baby shower registry sites.
You'll Receive a Discount
Most parents don't receive every single item on their registry, which means they'll need to purchase a few things themselves. With your Babylist registry, you'll receive a 15% discount on any last-minute items.
The discount is available starting 60 days before your baby's due date. You'll have up to six months after your baby's expected arrival to use the discount.
This perk from Babylist can only be used one time and is only eligible for items sold through the Babylist store. It also doesn't apply to gift cards, shipping and handling fees, and certain brands.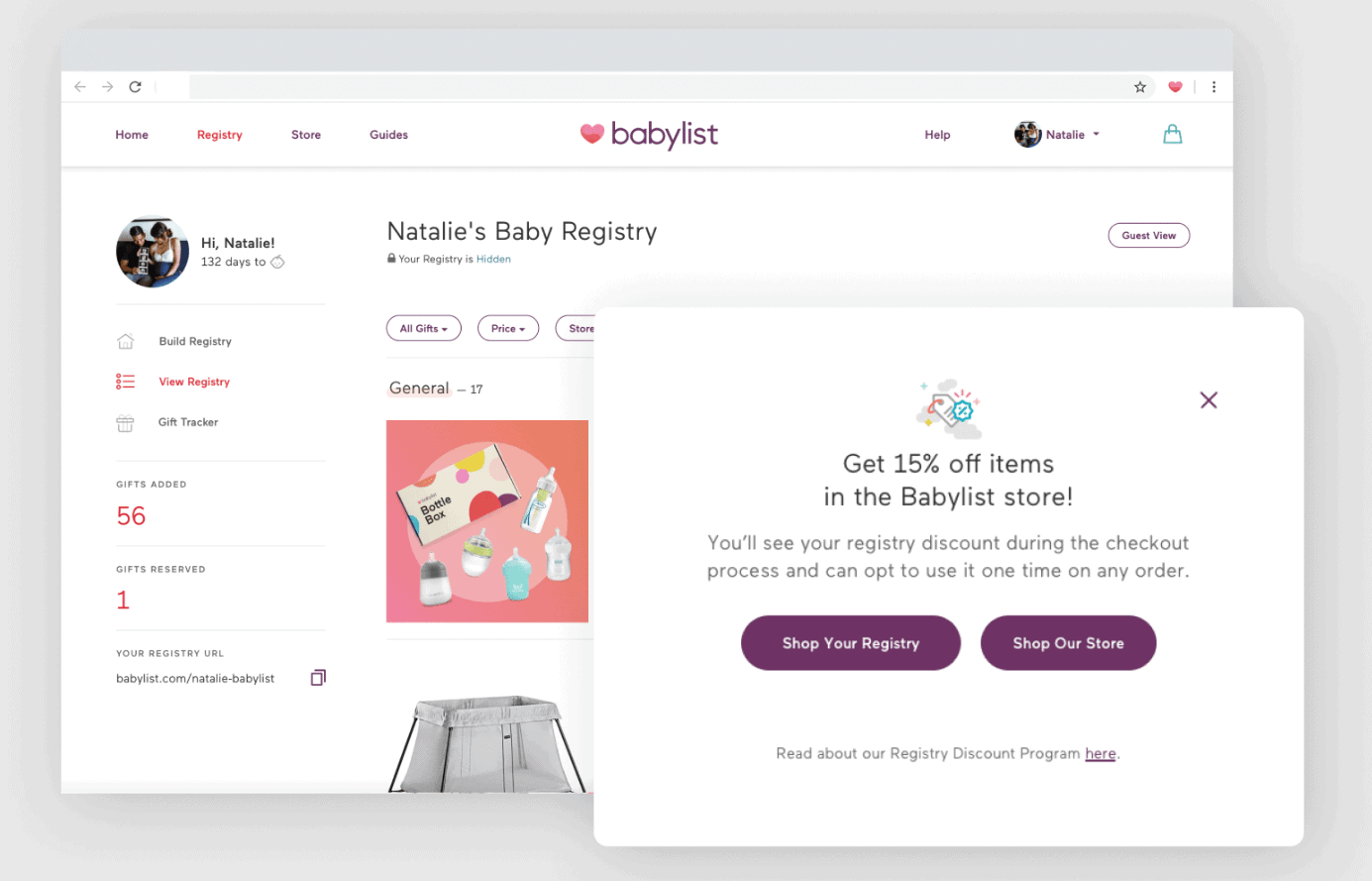 Price Comparison
Give your loved ones a chance to snag the best deals when purchasing items from your registry. Babylist will show various buying options for the items on your list, some with lower price points. Gift givers will save money on their purchases, and you still get the items on your registry. That's a win-win for sure.
Babylist's price comparison feature also sends you email alerts when an item's price changes. You'll also be notified if something is no longer available or becomes available on your registry. That way you can keep your list up to date.
Cons of the Babylist Registry
While Babylist has a lot of great features, no registry is perfect. There are a few downsides to using the platform. In our Babylist registry review let's dive into a few areas that need improvement.
Checkout Experience
Gift-givers are sometimes frustrated by the checkout experience on Babylist, specifically when purchasing items from other sites. Customers reported if they purchase a gift from another store, they have to go back to Babylist and mark it as purchased. This can be inconvenient for purchasers, and some may forget to go back to Babylist in the midst of their busy lives.
An integration that allows users to purchase baby gifts via the registry would be helpful in the future.
Releasing Reserved Items
Buyers can also mark an item as "reserved" if they plan to buy it from another site. But they still have to go back and mark it as purchased on Babylist. Babylist doesn't show you if the reserved item was purchased from another website.
Return Policies
Babylist's return policy is more strict than other baby registries. You can only return items purchased directly from the Babylist shop. Items on your registry purchased elsewhere should be returned to that specific store.
Gifts purchased from Babylist can be returned up to nine months after the purchase date. Items must be unopened and in their original packaging.
Babylist gives the parents-to-be a store credit unless they personally purchased the item. In that case, they are refunded via their original method of payment. Shipping fees and gift cards are non-returnable.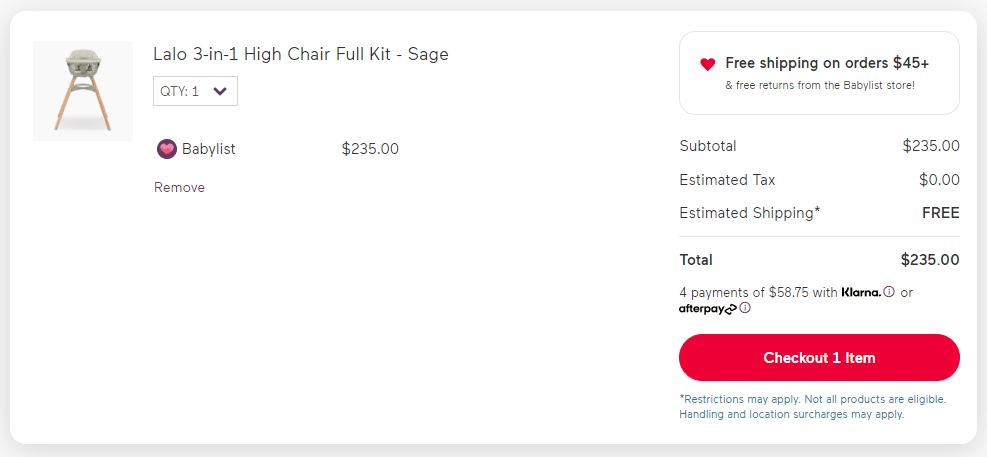 WebBabyShower's Review: Our Verdict on Babylist
In our Babylist registry review, the platform comes out on top in regard to personalization and a visually appealing site. It's easy to add items from any website to your baby wish list and connect your Babylist account to any other registries you created.
The ability to contribute to a cash fund or offer a home-cooked meal is a unique addition every parent will appreciate.
The Babylist registry has a few drawbacks, but not many. It's a little inconvenient to go back to the site after you've purchased an item elsewhere. Also, the return policy might not be ideal for everyone.
Loved ones who aren't as tech-savvy might have trouble using the platform. To solve this, we recommend having a secondary registry that gives guests the option to shop in a physical store.
Related Articles: