What Are the Perks of the Target Baby Registry?
There are many online baby registries nowadays, making it difficult to decide which is the best baby registry for you and your family. Should you pick Amazon or Target, Buybuybaby, or Pottery Barn Kids?
In today's article, we'll go through all of the perks of the Target baby registry, including the Target registry completion discount, Target Welcome Kit, and more, to help you decide if it's the right choice for your expanding family.
Target Gives a 15% Registry Completion Discount
Target's registry completion discount gives you 15% off on items left in your registry eight weeks before your expected arrival date. The 15% applies to everything already in your registry and the items you add. You can use the coupon twice, online or in-store.
If you aren't sure what items you need for your newest addition, check out this article. We discuss some of the best baby registry items for parents in 2023 that are safe and follow the latest trends.
Free Target Welcome Kit
One of the biggest perks of making a Target baby registry is the Target Welcome Kit, including various goodies for mom and baby valued up to $100. Simply create an account and add at least one item to your registry to qualify for this offer.
The Target Welcome Kit constantly changes. However, it often includes everyday baby essentials, like diapers, wipes, bottles, and other samples from popular baby brands. This allows you to test out different products to find your favorites. The kit also includes coupons and discounts for future Target purchases.
Stop by Guest Services to request your Welcome Kit during your next Target visit. We recommend calling the store beforehand to ensure the kit is in stock.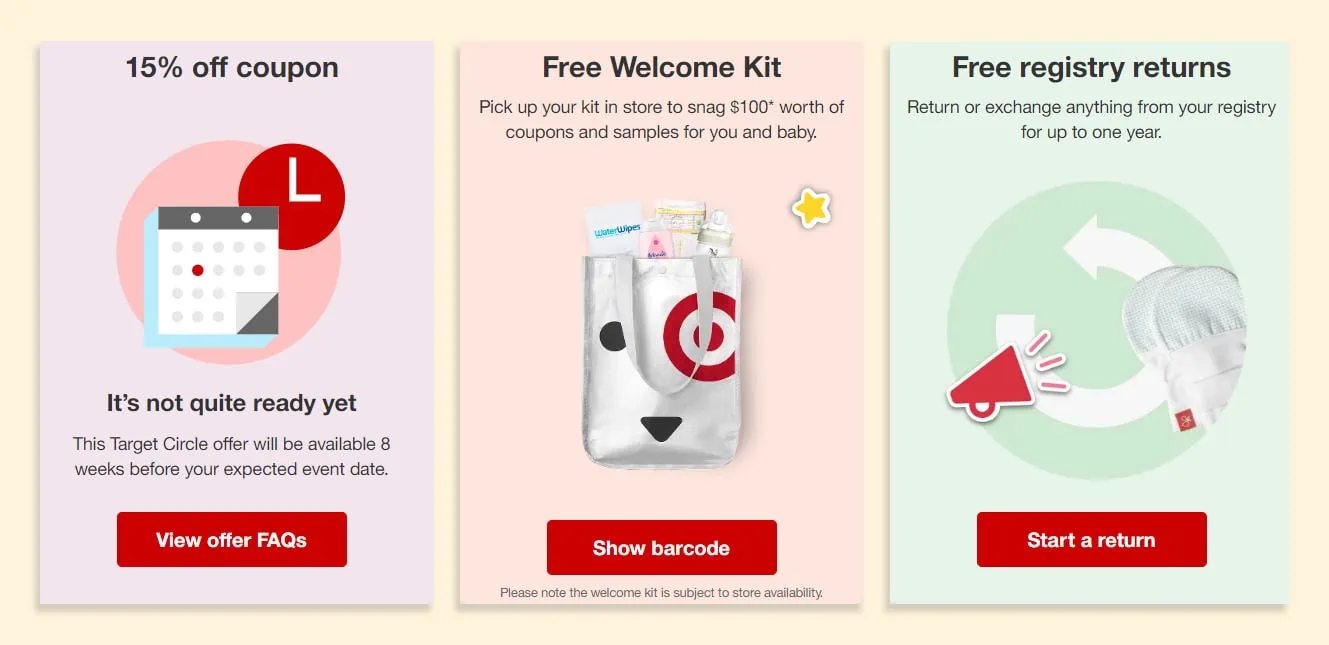 A Year-Long Return Policy
Target's registry return policy is simple and hassle-free, permitting you to return items you don't want for up to a year after the initial purchase. However, the items must be new, unused, and in their original packaging. So, if you aren't sure about something, don't open it!
Target Price-Match Guarantee
Have you ever bought something, only to realize hours later you could've bought it on a different website for a much better price? Target helps you avoid buying regrets by price-matching items within 14 days of purchase. You can price-match in-store or online by showing the entire printed ad, digital ad, or listing price on an approved retailer's website. If approved, Target will refund the price difference. Pretty cool, huh?
Throw a Virtual Baby Shower so Everyone

Can Celebrate!

• Free Trial – 14-Day Refund for any reason
• Only 1 Minute Setup!
• 80+ Custom Themes & Matching Invites
• Use Any Online Registry
• Send Unlimited Invites and Updates
• Baby Shower Games with Scoreboards, Give Prizes!

Build Your Shower
---
How Do Your Loved Ones Benefit From the Target Baby Registry?
The Target Baby Registry lets your loved ones easily find and purchase pre-selected items for your new arrival, taking the guesswork out of gift-giving. This saves them time and effort in figuring out what you need and ensures you receive items matching your style and preferences.
Additionally, Target offers a wide range of products, from nursery decor to baby monitors to clothing and accessories. By creating a registry at Target, you allow your friends and family to choose from a diverse selection of items that fit within their budget.
One downside is Target doesn't have a group gifting option for expensive items. So, loved ones will have to purchase costly gifts individually or contact other guests to make buying arrangements independently.
Getting the Most out of Your Target Baby Registry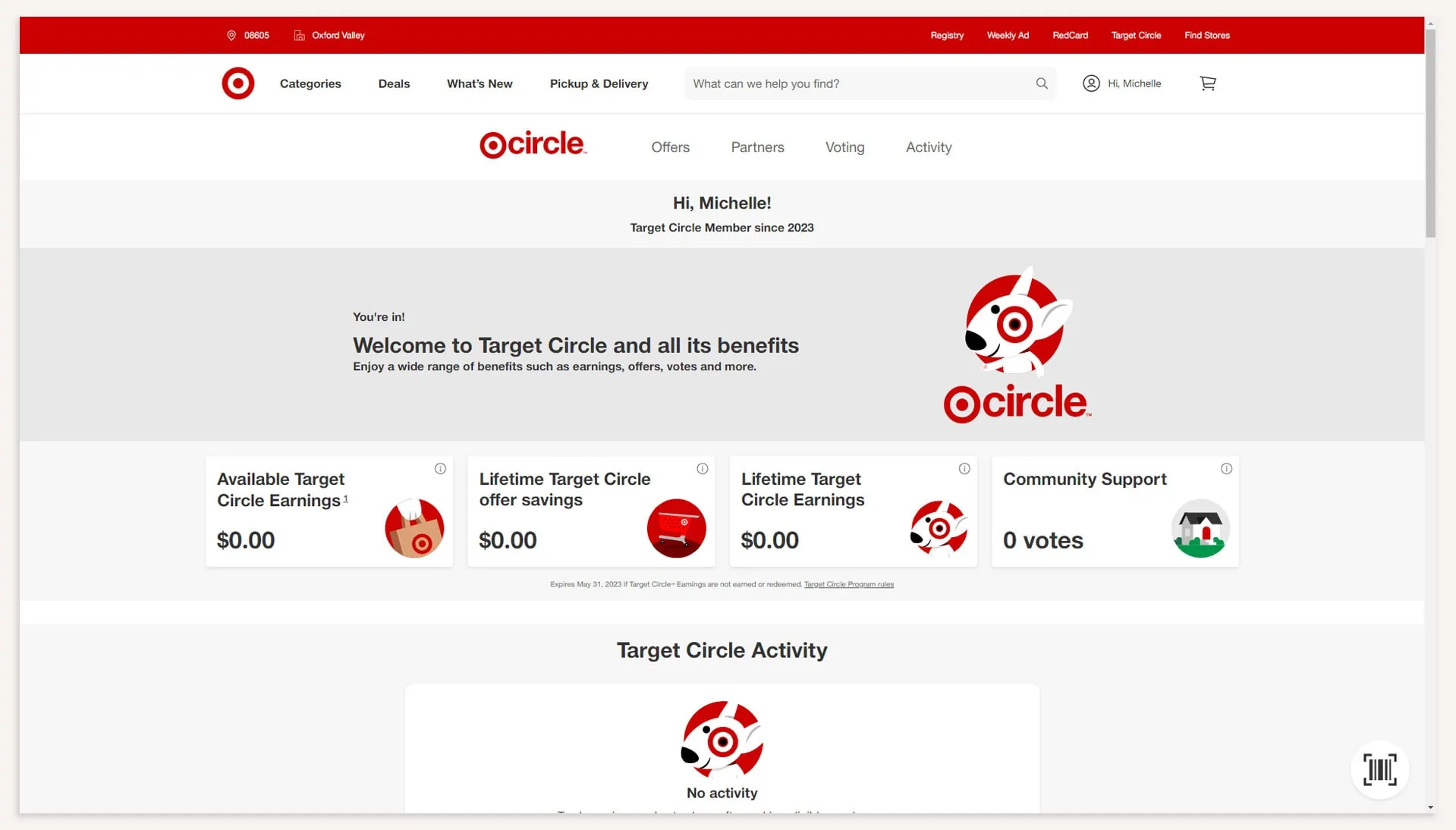 Get Coupons (and More) with Target Circle
Target Circle is a free loyalty program that allows you to receive exclusive offers on essential baby items, like lotion, diapers, and wipes, for a year after your baby is born.
Even after your baby's first year, Target Circle is still helpful, offering exclusive offers and discounts on thousands of Target items. Members also earn 1% back on qualifying purchases every time they shop at Target. So, becoming a part of Target Circle is beneficial during your pregnancy and beyond.
You can create a Target Circle account on Target's website to receive these awesome perks.
Keep Track of Who You Have Thanked
Target's baby registry has a gift tracker to help you keep tabs on what gifts you've received and from whom. You can also check off who you've thanked, so you won't forget to tell anyone how much you appreciate their gift. This feature makes it easy to send thank you notes as you receive gifts, so you won't have to write them all at once.
Get Two Welcome Kits for Twins
Are you expecting two little cuties instead of one? No problem! Target permits you to get two Target Welcome Kits for each of your babies. However, you must create two separate baby registries to qualify for the second kit.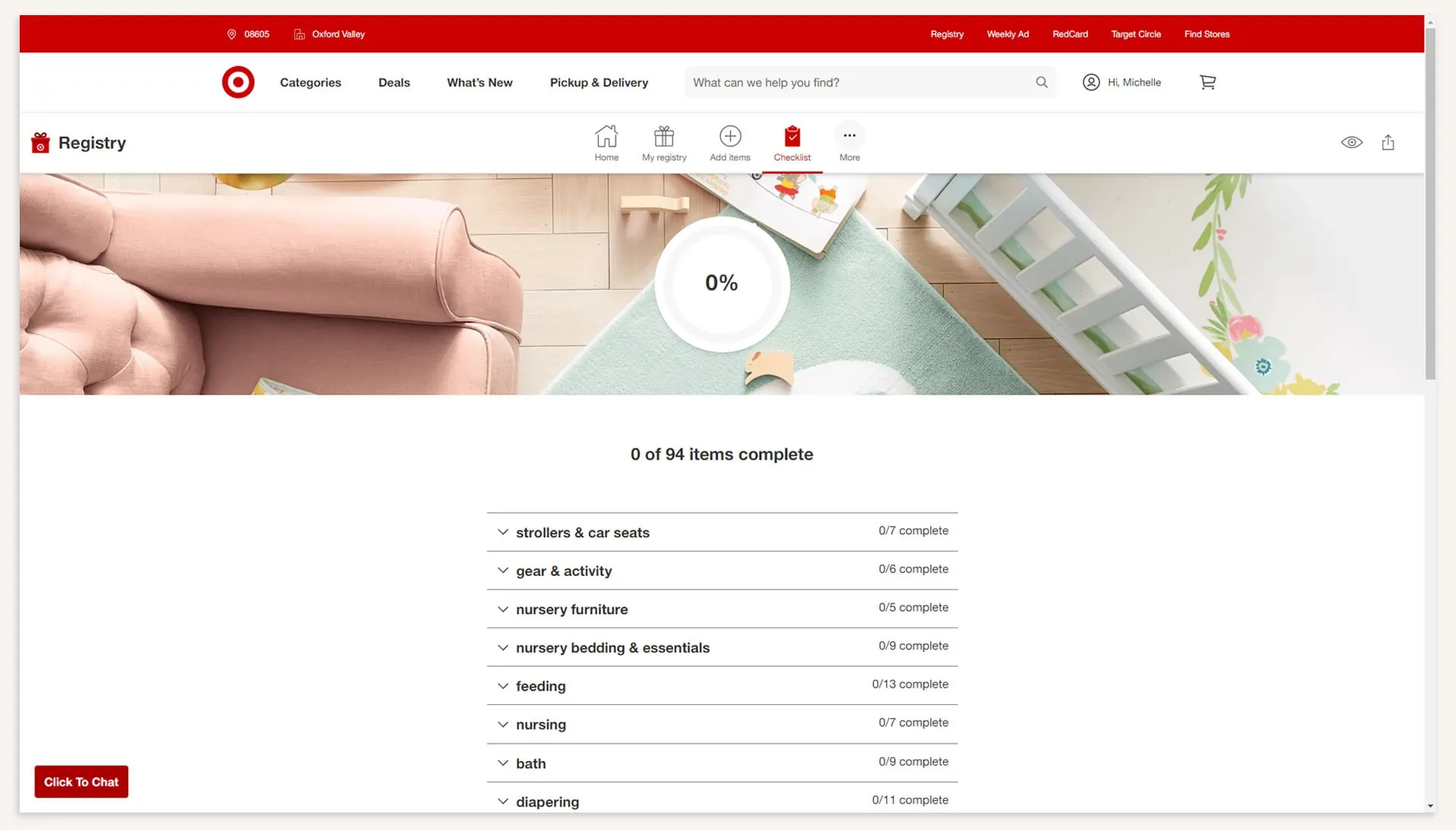 Use the Checklist Feature to Create Your Target Registry
Another awesome thing about the Target baby registry is the built-in checklist, listing various baby items you'll need for feeding, nursing, clothing, and more. As you add items to your baby registry, Target will automatically update your checklist, which helps you avoid adding duplicates.
Target's extensive checklist includes some items you may not need immediately (or at all). To help with this, our team at WebBabyShower has written an article distinguishing the must-haves from the good-to-haves from the don't needs, making it easier to choose the best items for your family.
Personalize Your Target Baby Registry Homepage
Target allows you to add photos, a message for your friends and family, and a customized registry link, giving your Target baby registry a personalized touch.
Do you want even more personalization options? WebBabyShower allows you to create a themed website where you can add photos, adjust the font and text, message guests, send adorable invites for your baby shower, and much (much) more. To learn more, click here.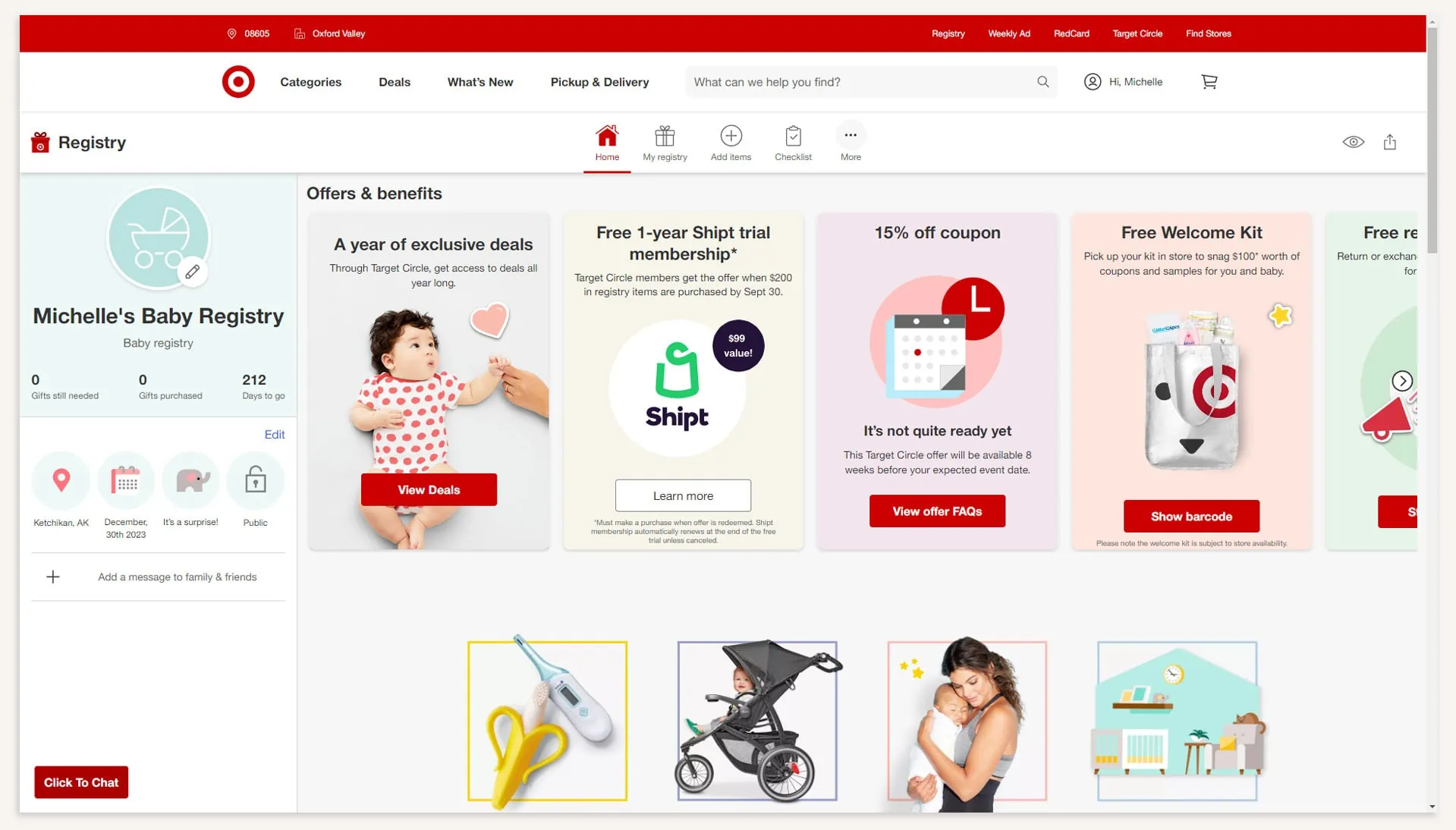 Important Things To Know About the Target Baby Registry
Some Items May Not Be Eligible for the Target Registry Completion Discount
While most of your baby registry items should be eligible for Target's 15% discount, they do exclude some brands and products. While the non-eligible brands change regularly, they often include products from Apple, Sony, and Google. So, make sure you check your items' eligibility before applying for the Target registry completion discount.
You Don't Need a Receipt to Make Target Baby Registry Returns
With Target, you won't have to awkwardly ask your loved ones for receipts to return gifts you don't want. Instead, you can start the return process online on your registry's home page. Simply go to the Offers & Benefits section and select "Start a return." This will generate a barcode, which you can show to a Target representative when you return the item in-store.
Only You Will Know What Items You've Returned
Don't want to hurt your loved one's feelings by returning the registry items they bought you? Don't worry – your secret's safe with Target! Target doesn't inform your friends and family when you return their gifts. So, feel free to add registry items you aren't 100% sure about. If you do not want something, you can discreetly return it for up to a year after its initial purchase.
Your Target Baby Registry Expires 6 Months After Your Due Date
The target registry discount lasts six months, so you'll have plenty of time to buy all those last-minute items for your newest addition. You can use the discount twice, either online or in-store, within this time frame.