You're expecting a baby. There's a global pandemic. The in-person baby shower you always wanted has flown out the window.
But do you need to ditch your baby registry, too? No way!
We will show you how to announce your baby registry without a baby shower — in a way that will make sure your friends and family feel excited, involved, and ready to welcome your little one!
Let's be honest. We've all had to find creative alternatives for many traditional customs. Along with working from home and things like Zoom weddings, having a baby registry without a baby shower is becoming completely normal.
Tip #1: Own It! Why Guests Will Love a Baby Registry Without a Baby Shower
Consider sharing your baby registry without the baby shower. Does that idea make you cringe?
Do not be nervous! Confidence is key.
Stop wondering, "Is it tacky to have a registry without a baby shower?" We can assure you it's not — especially in today's day and age.
The world looks very different than it did 100 years ago, and your shower will look different too. As a society, we are less focused on tradition and more focused on supporting parents and babies.
As you consider how to share your baby registry without a baby shower, remember that family and friends want to support you, and technology makes it easy. Your loved ones can participate, regardless of distance, budget, or vaccination status.
As you write your registry announcement, including the following details will help everyone understand the reasons for having a baby registry without a baby shower:
You're thrilled to include everyone — far and near — in the big event.
You've decided to follow social distancing guidelines by avoiding a big baby shower.
In these tough economic times, virtual events allow everyone to save on travel costs.
Your family and friends have been so kind and excited about the new baby, and you're thankful to have a loving social circle to lean on at this important time.
Ultimately, focus on confidence, gratitude, and bonding when sharing your baby registry without a baby shower.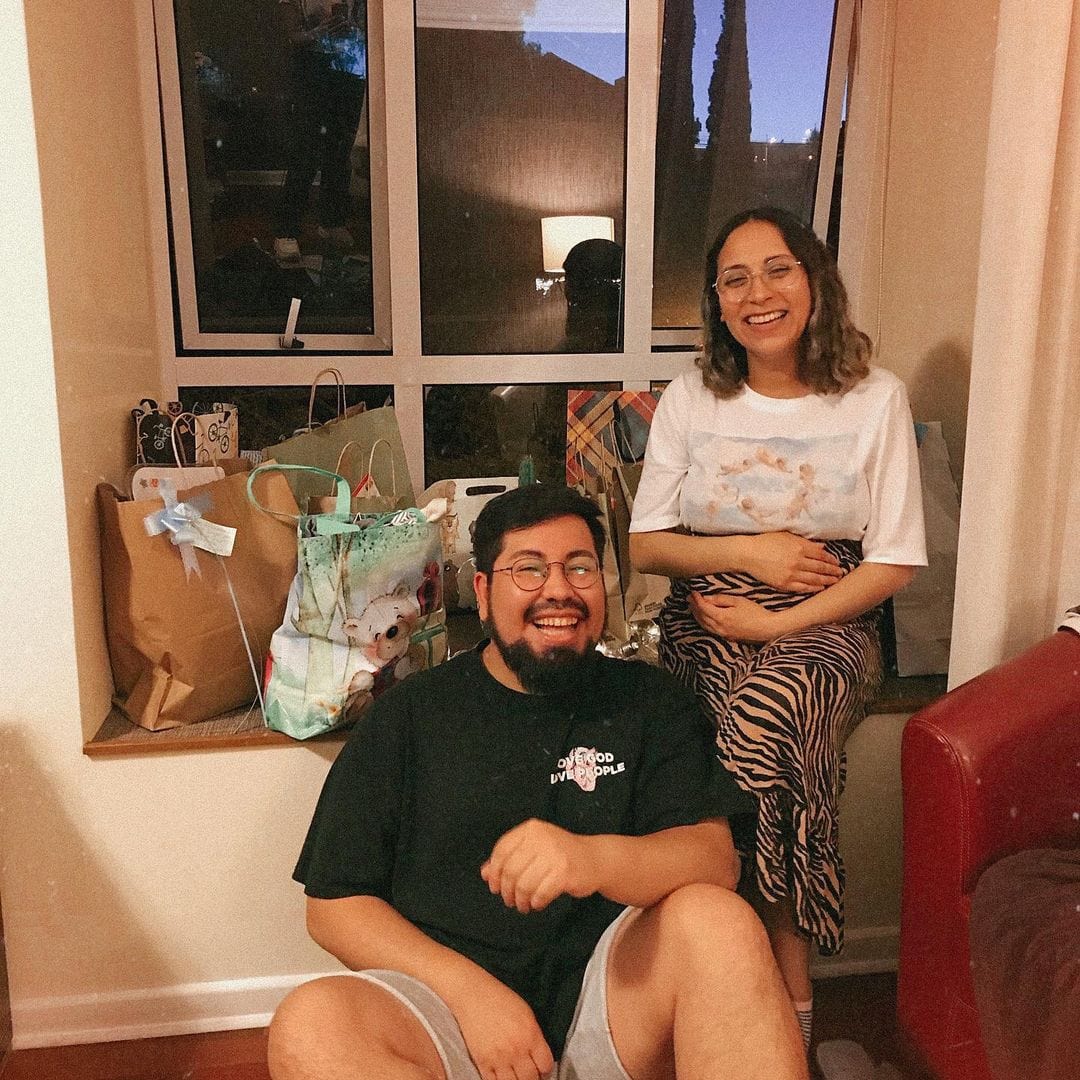 Tip #2: Get Creative! How to Send a Baby Registry Without a Baby Shower
Let's look at the actual logistics of how to notify people of your registry without throwing a baby shower.
As you think about each option for announcing your registry, consider what your family and friends will enjoy. Keeping your loved ones in mind will help you decide how to get everyone to the registry.
Create a Virtual Baby Shower Website to Bring Family and Friends Together
A virtual baby shower website is a subtle, guilt-free way to distribute your registry link. Your guests will love seeing your pregnancy updates, gender reveal, shower games, and bump photos along with your registry information.
WebBabyShower helps you quickly customize a website that will keep everyone and everything in one place. Your custom website will be up and running quickly with automatic site setup, a simple theme editor, and easy sharing options.
Share Your Registry on a Baby Announcement
Stick a registry link on your baby announcement — it's a cute way to announce your baby registry without a baby shower.
Some expecting parents choose to share the news through a postcard in the mail, while others prefer Facebook or Instagram. Regardless of your approach, feel free to add a link to your registry.
Combining the registry information with your baby announcement this way is quick and efficient. And, although this approach doesn't offer the same level of engagement as a website, it is still a convenient and subtle way to share your registry.
Build an Amazon Baby Registry
Amazon's baby registry offers great perks for new parents, and is accessible for everyone.
You'll love the welcome box of goodies, discounts options, and easy returns. Plus your registry guests will love the group gifting options and the massive selection!
Once you create an Amazon baby registry, you can distribute the link to your friends and family. If you need to share the link and you are feeling shy, ask a friend to do it for you!
Throw a Virtual Baby Shower so Everyone

Can Celebrate!

• Free Trial – 7 Day Refund for any reason
• Only 1 Minute Setup!
• 40+ Custom Themes & Matching Invites
• Use Any Online Registry
• Send Unlimited Invites and Updates
• Baby Shower Games with Scoreboards, Give Prizes!

Build Your Shower
---
Tip #3: Be Honest! Tactful Ways to Ask for Cash Instead of a Gift
Sometimes monetary gifts make more sense than physical gifts. If you need to raise money, that's okay.
Keep in mind that some people may find requests for cash distasteful, but this can be avoided if your request is polite and discreet.
If you host a virtual baby shower, asking for money gets easier. Your request will blend into the fun and excitement, and you can weave asking into your virtual baby shower invitation or your baby announcement.
Be sure to keep your tone light, with wording like this: "Thank you for celebrating with us as we welcome our newest family member! If you are thinking of a gift for our little one, a contribution to our baby fund would be much appreciated."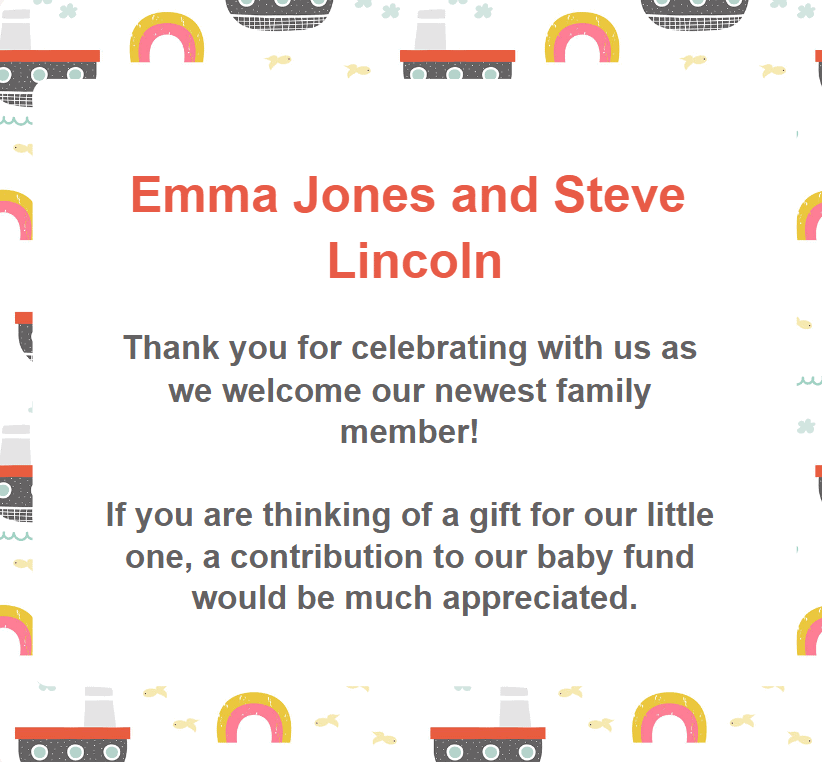 As an added bonus, your family and friends will enjoy knowing how you plan to use the funds. Consider including those details, whether it's decorating the nursery, paying for childcare, or covering medical costs.
Still feeling wary? Pick a baby registry that has the option of a monetary gift or gift cards.
Tip #4: Be Unique! Choose These Amazing Alternatives to Baby Showers
Now that we've looked at how to share your baby registry without a baby shower, let's explore alternatives to throwing a traditional baby shower.
In today's time of quarantines, masks, and social distancing, your friends and family will have various emotions and opinions about in-person gatherings. Give choices to accommodate differing levels of comfort.
As you consider whether you'd like an event that's big or small, virtual or in-person, inside or outside, or a hybrid combo of these options, remember that there's no "correct" answer — choose the approach that works best for you.
Rest assured that you will find a solution to fit your needs and preferences.
There are many alternatives to traditional baby showers, and you can find a few options here.
1. Throw an Online WebBabyShower
A virtual baby shower gives your guests a fun experience without the stress of an in-person event.
WebBabyShower gives you an easy, customizable website with email invitations and reminders, a guest book, built-in games with fun scoreboards, a photo and video gallery, and a gift registry.
If you've been worried about sharing your baby registry without throwing a baby shower, WebBabyShower takes the pressure off with a proven approach that has been used by tons of moms-to-be.
2. Have a Sprinkle
A Baby Sprinkle is a lighter version of a baby shower. With this, you can hold a low-key event for a small group that brings your loved ones together without the fuss of a formal shower.
You can also take a blended approach to your sprinkle by combining a small in-person gathering with a virtual option for those who want to participate but are too far away or hesitant to attend events due to COVID.
3. Host an Open House
An Open House is a flexible scheduling option that allows your guests to stop by your home on a certain day within a specific timeframe.
For example, you could send out an invitation to stop by on a Saturday, anytime between 12 p.m. – 5 p.m., for an informal visit to catch up, share stories, see the nursery, and enjoy snacks or dessert.
As you decide how to share your baby registry without a baby shower, consider this option if no one has offered to host a shower and you would like to have a fun, simple, in-person celebration.
4. Hold a Sip and See
A Sip and See is like an open house but it's held after the baby is born. This event creates an opportunity for your loved ones to see the baby and drop off a gift. In today's times, parents may decide to hold a Sip and See outside or invite guests to see the baby through a window.
A Sip and See gives visitors the chance to bring a gift from your baby registry without having a baby shower. If throwing one of these events, be sure to include your registry information on the invite!
Tip #5: Love Your Registry! Everyone Else Will Too
Still wondering, "Can I create a baby registry without a baby shower?" We'll get super honest — yes, you can, and you should be proud of it!
These are items for your baby. You're excited to prepare for your little one's arrival, and your family and friends are excited, too.
Let's resolve any lingering concerns.
Is It Rude to Share a Baby Registry Without a Baby Shower?
It is not rude to share a baby registry without a baby shower, especially if you use the strategies that we shared in this article. Rest assured that your loved ones want to help!
Think about your family and friends, their needs and preferences, and the options provided in this article. Which approach feels most comfortable? Make your choice and run with it!
Can I Put My Baby Registry on the Baby Shower Invitations?
If you still have concerns about putting the registry on your baby shower invitations, know that this has been a long-accepted practice for in-person showers.
Likewise, it's perfectly normal to put your registry link on a virtual baby shower invite. And, you may also want to include it on your baby announcements.
How Can I Share My Baby Registry Without Being Tacky?
You can share your baby registry by including the link on a baby shower website, a baby announcement, or an invite.
Beyond that, remember that it's okay to ask for help.
The saying "it takes a village to raise a child" exists for a reason. Don't be afraid to kindly ask your friends and family to look at your registry to see if they would like to contribute.
Ultimately, remember that your enthusiasm and love for your baby will shine through. Your desire to care for your little one will be apparent, and your loved ones will share those feelings.