It's a tough choice: an in-person baby shower or a virtual baby shower.
Parents who want in-person showers are challenged by a pandemic and a depressed economy. On the other hand, parents who want virtual showers may worry about disappointed friends and family who would have liked to attend in person.
So, how can a parent-to-be tackle these issues and dazzle their guests?
Ta-da! A hybrid baby shower!
What Is a Hybrid Baby Shower?
A hybrid baby shower is simply an in-person shower with an option for guests to attend virtually.
Just like a traditional shower, a hybrid shower will be held at a physical location such as a house, restaurant, or other event venue. Some guests will travel to the physical location to attend in person, while guests who cannot will attend online.
Recently, hybrid showers have grown in popularity, and guests better understand the concept of attending an event remotely. In fact, your friends and family may be relieved to attend virtually if they live far away or have Covid concerns.
Since this is a relatively new approach to baby showers, you may think a hybrid baby shower sounds complicated. But don't worry, we'll make it easy for you.
Who Can You Include When You Combine Virtual and In-Person?
A hybrid baby shower gives you the opportunity to invite everyone to the big celebration.
Your relative who lives several states away? Put them on the list! Your unvaccinated friend? Send them the virtual event info! Everyone can come to a hybrid shower!
Here's a pro tip: throw multiple small baby showers. Believe it or not, this is already a common practice — 72% of registrants on Babylist have more than one shower.
When taking a hybrid approach, you can throw one shower for your in-person guests and then host another shower for the virtual guests. You can also host both in-person and virtual guests together at the same event — and we will share helpful tips in this article on how, but you may find it easier to manage them separately.
Why Do You Need a Hybrid Baby Shower?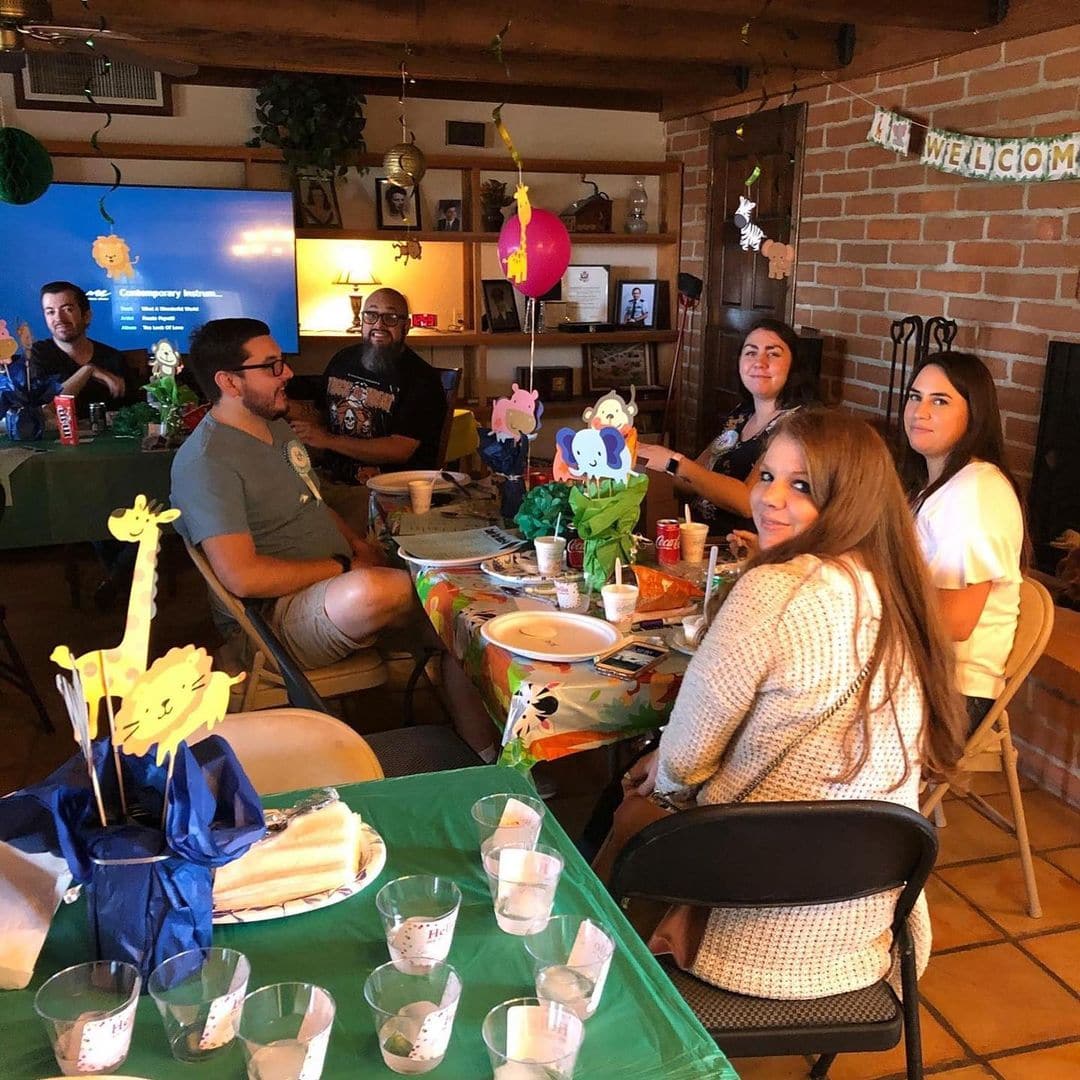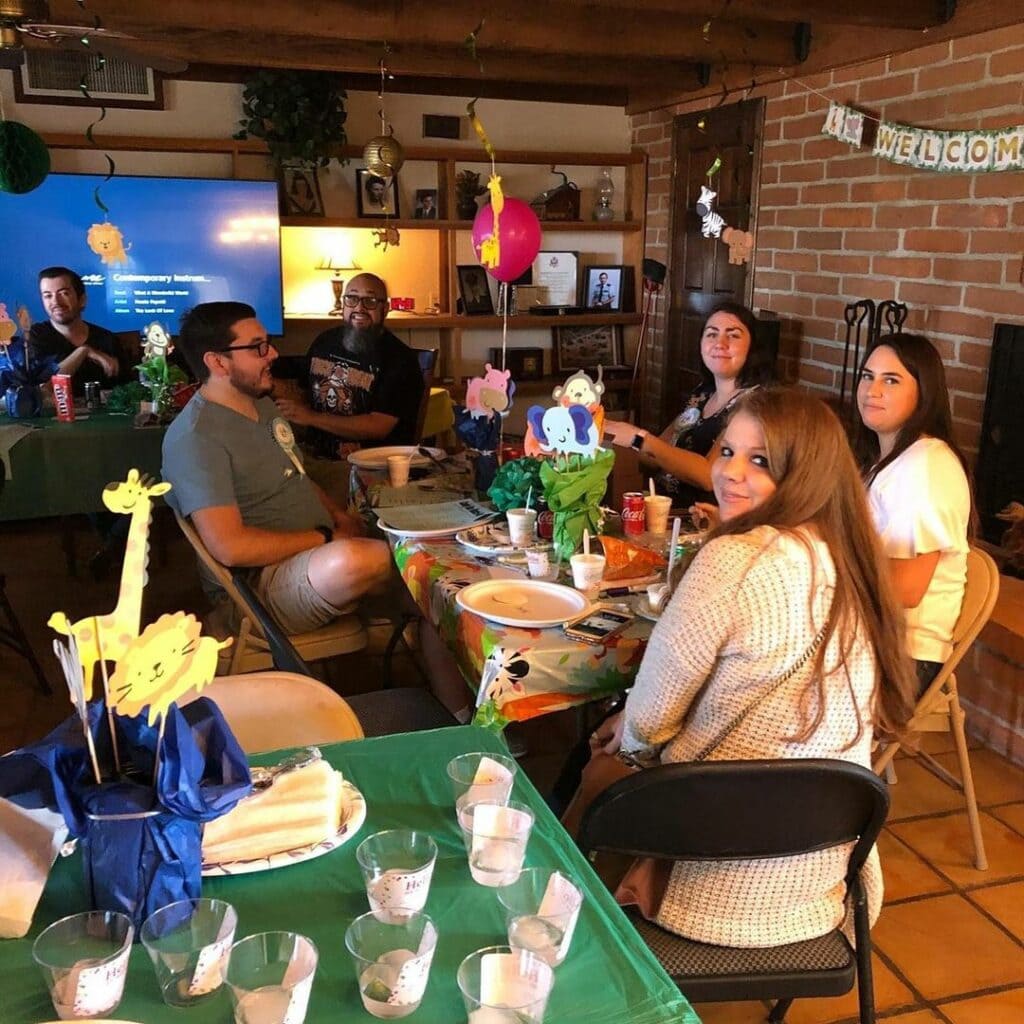 Parents-to-be and their guests love the hybrid approach. It's inclusive, flexible, and convenient.
A hybrid baby shower gives your loved ones the chance to celebrate your baby, regardless of their location or ability to travel. Many local guests will choose to attend in-person, but don't make any assumptions — some locals may still prefer to party virtually.
You may also have guests who postpone their RSVP until close to the event. With a virtual option, this becomes less of a hassle. Your hybrid shower gives a fun and flexible last-minute option for last minute guests.
Hosting a large in-person party is not always an option, especially in these turbulent times of government mandates and guidelines that limit the size of gatherings. "Making cuts" to your guest list is hard — maybe even impossible. In this case, a hybrid baby shower your "everyone's included" solution. No need to make cuts!
And, a hybrid baby shower is easy to create, especially when you use a platform like WebBabyShower. With our service, you can keep guest lists organized, share shower information on your easy-to-access website, and communicate quickly using our digital invitations and reminders.
Thousands of WebBabyShower customers have impressed their guests with a fantastic virtual or hybrid event, and you can too!
Throw a Virtual Baby Shower so Everyone

Can Celebrate!

• Free Trial – 7 Day Refund for any reason
• Only 1 Minute Setup!
• 40+ Custom Themes & Matching Invites
• Use Any Online Registry
• Send Unlimited Invites and Updates
• Baby Shower Games with Scoreboards, Give Prizes!

Build Your Shower
---
WebBabyShower Makes Hybrid Showers Easy!
Using WebBabyShower, your guest list can include everyone you care about — regardless of their physical location. You're not limited to just locals and neighbors (although they are welcome, too), as you can also include distant family and friends in the celebration!
Just like with any big event, a website can help keep everyone up to date with important information.
You can create your own baby shower website using WebBabyShower, then add details about the event, upcoming games, photos, and more. Everything your guests need will be in one convenient place — no wondering about times and dates, activities that are planned, or what to expect.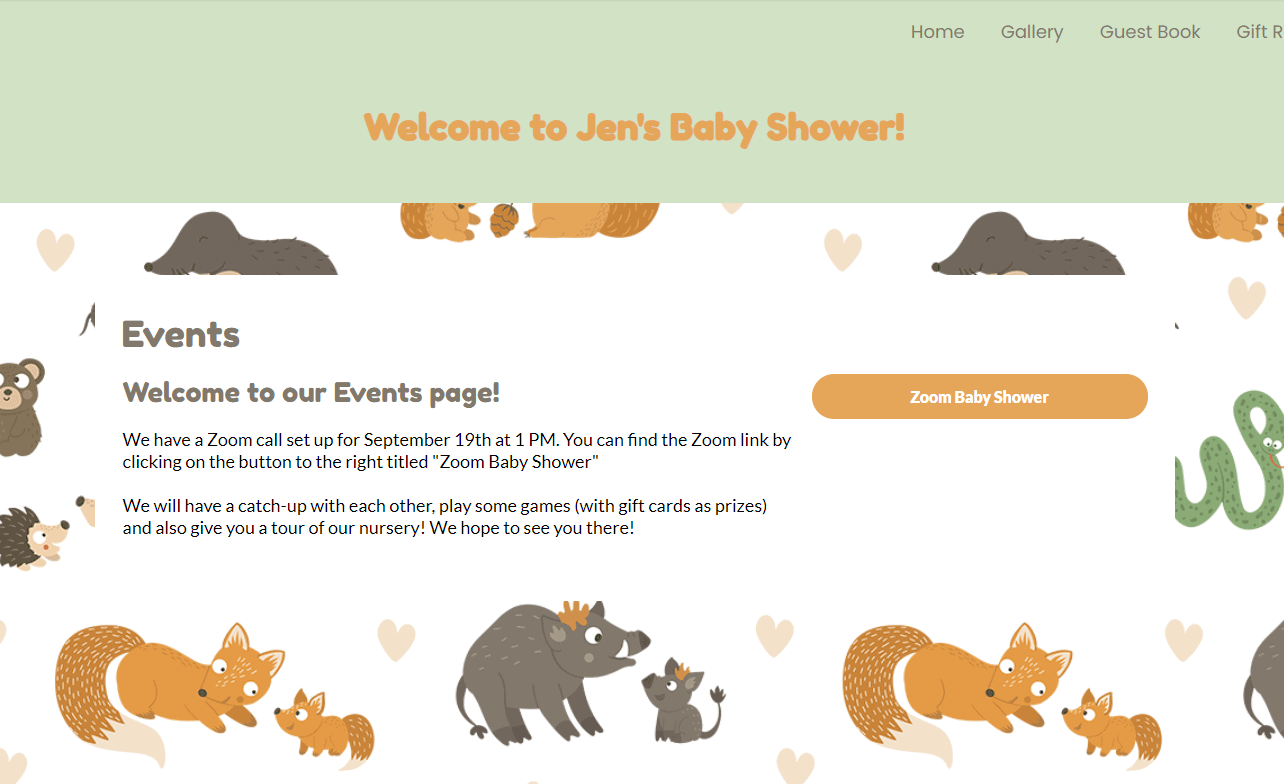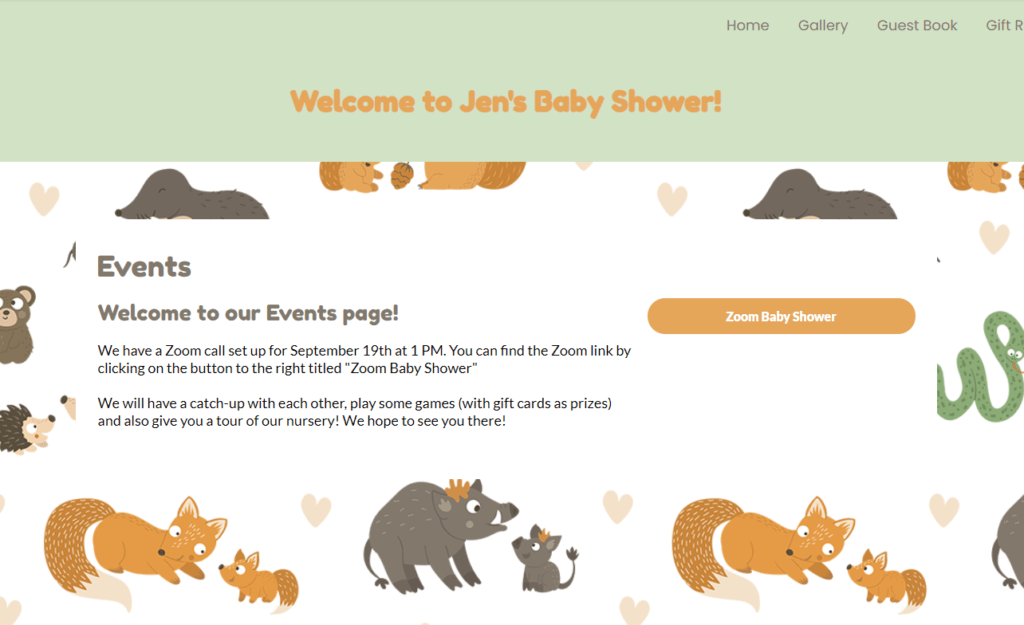 It will keep everyone on the same page and may save you from answering a lot of emails with questions about the party.
When you use our invitation system, you'll find that it's a super easy way to keep track of everything. You can send invitations via email, and only send invites to part of your list (if you wish) — which is particularly useful if you're dividing in-person and virtual baby showers.
You'll also see if your emails have been received, which is helpful for planning purposes.
Another simple aspect of a WebBabyShower party is your gift registry — it's located on your website, making it easy for guests to find.
Your guests will also notice the virtual guest book. There, they can leave a note for the new parents either before or after the baby shower date, which is a great way to create a memory!
Last, the gallery page is a fun way to show off pregnancy photos and pictures of the party. After the baby shower, upload the photos to the site and easily share them with all the guests.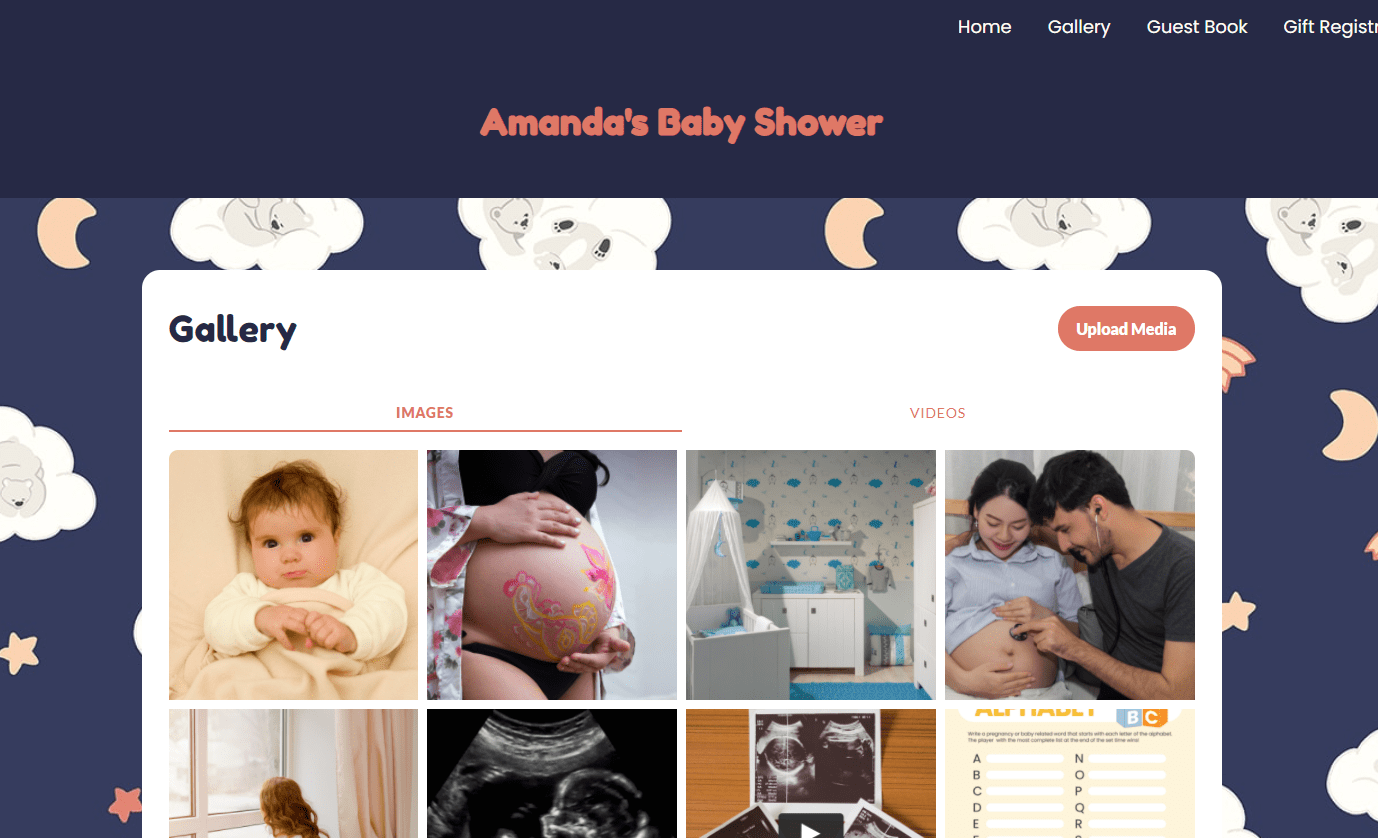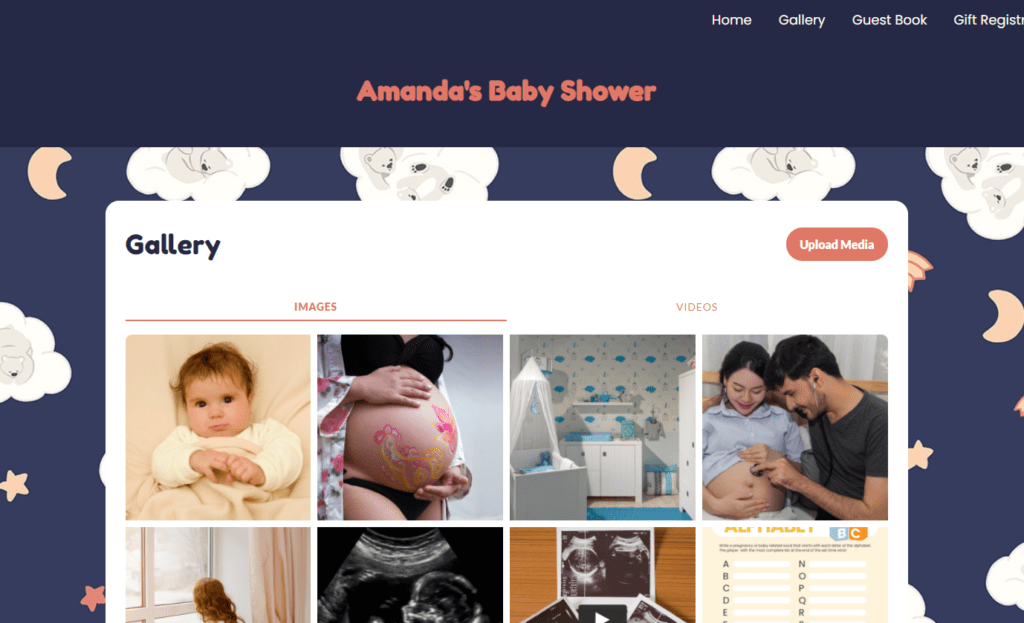 There are plenty of reasons why WebBabyShower is both the simplest way to create an unforgettable event and the most comprehensive. We've thought of everything, so you can quickly plan a hybrid baby shower that will amaze your guests and help to create wonderful memories.
The Easiest Ways to Throw a Hybrid Baby Shower
While a "hybrid shower" might be a new term for you, it isn't complicated. Putting together a baby shower with virtual and in-person components is easier than you'd think.
Include these things for the best baby shower ever.
Divide Up Your Guest Lists: In-Person and Virtual
Split your invitation list into two parts: in-person guests and virtual guests. This will help you stay organized on the participants for each portion of your baby shower.
WebBabyShower allows you to create multiple lists, so sorting and managing your guests is simple.
Next, decide whether you will hold the in-person and virtual portions of your shower on the same day or on different days.
If you decide to hold the event on the same day, you may want to notify guests of the shower format using a message like this:
"Our baby shower will include both in-person and virtual guests. We are thrilled to be able to celebrate with everyone! We hope you will be able to join us _____________. Here are the details."
Fill in that blank space with "in-person," "virtually," or "via Zoom."
If you decide to hold the events on separate days, there is no need to mention that you will be holding both in-person and virtual events.
WebBabyShower allows you to have as many guests and guest lists as you like. Plus — to make things even easier — we have an events page so you can create multiple events.
Spread the Word! Send Invitations for Your Hybrid Baby Shower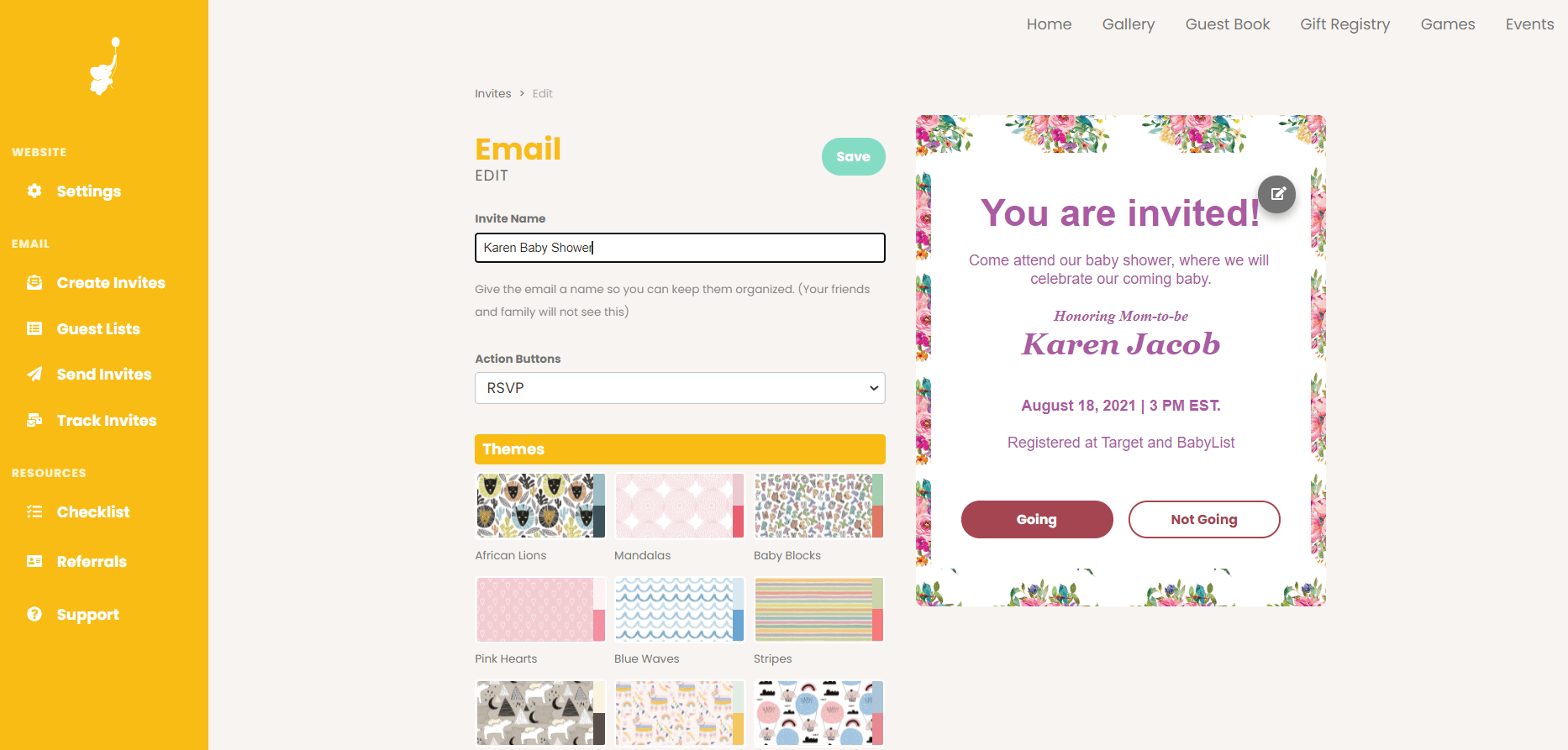 Once your guest lists are organized, you're ready to create and send invitations!
You may decide to use paper invitations, or you might opt for digital invitations.
For a hybrid shower or a virtual shower, digital invitations are usually more convenient for your guests. You can add clickable links to the invite, making it easier for them to find the website and the video conference platform for your event.
There are many services that help you send digital invites for your baby shower. As you review your options, be sure to consider:
Customization options
Built-in tracking
RSVPs directly from emails
Option to include a baby registry link
WebBabyShower gives you all of these features for your invitations and more. Our invites have tracking so you can see who has replied — plus, you can "remind" guests, and they can use the RSVP button to reply right within the email invite.
WebBabyShower invitations are a hassle-free way to invite your friends and family to your special event. Your information will stay organized, and your guests will love whichever super cute digital invitation design you choose!
Take Care of Virtual Guests: Assign a Dedicated Co-Host for Virtual Participants
If you plan to hold your in-person and virtual shower simultaneously for a truly hybrid shower, be sure to choose a co-host to be responsible for the virtual participants.
This person will be in charge of opening the video conference, helping virtual guests with any technical issues, managing the webcam to ensure virtual participants can see the action, and so on.
Entertain Your Guests With Party Games!
Just like a traditional shower, your hybrid baby shower should have games to keep your guests entertained. Consider adding two or three games to your party agenda.
As you choose your games, be sure to pick activities that both in-person and virtual guests can fully participate in.
Browse through our full list of baby shower games and look for options that will fit well with your hybrid party plan. Games that are easy for in-person and virtual guests to play together include Candy in a Bottle, Baby Emoji Pictionary, Baby Shower Alphabet Game, Baby Shower Scattergories, and Baby Name Race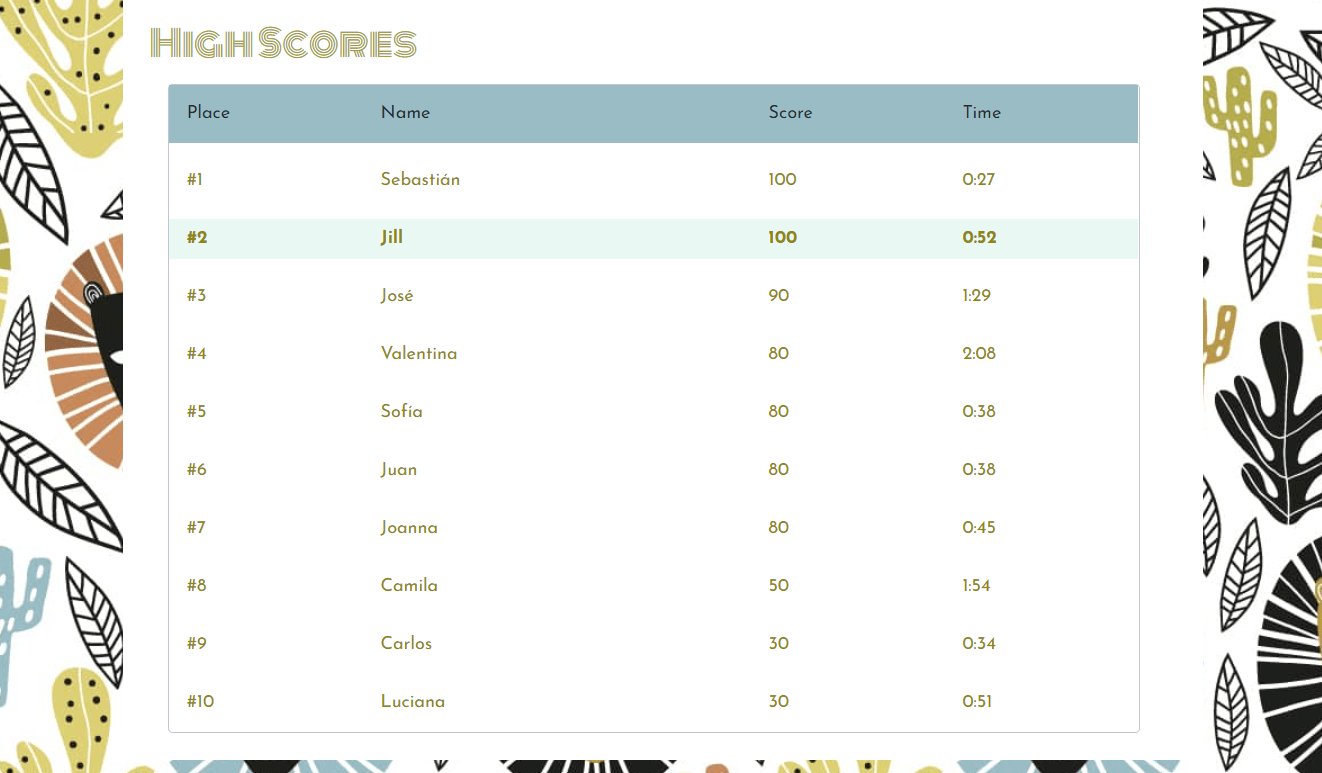 Remember the Registry!
Be sure to include your registry information on the baby shower invitations and the baby shower website (if you create one).
You can easily add a link to your gift registry when you use WebBabyShower. And, if you want ideas about what items to put on the registry, check out our helpful article about How to Choose the Best Baby Registry.
Add Glitz and Glam! Decorate for Your Big Event!
Whether you're throwing an in-person, virtual, or hybrid baby shower, you'll need decorations! For a hybrid baby shower, you'll want to decorate the entire room where the party takes place and make sure that virtual guests can see the decor, too.
Check out our article on the best baby shower themes to choose from.
Plan Virtual-Only Activities
There will be times during your hybrid shower when the virtual guests and the in-person guests will need to be doing different activities. This is totally fine. Plan some activities just for the virtual guests, and ask your virtual co-host to facilitate those activities when the timing feels right.
Virtual-only activities might include video well wishes, online quiz games, and polls, which work best in a virtual setting.
Identify Activities for In-Person Guests
Some portions of the shower will work best for in-person participants. It's good to recognize these activities in advance so you can plan accordingly for your virtual guests.
For example, perhaps you plan to serve food only to the in-person guests. You may wish to do that at the beginning of the shower, and have the virtual guests join afterwards. If you plan to serve food from 12:00 P.M. to 12:45 P.M., ask your virtual guests to join the shower at 12:45 P.M. to participate in the games, gifts, and so on.
Find the Perfect Webcam and Computer Screen Location
Before the shower, try out a few different locations to set up the webcam and computer screen. Make sure that the room is bright enough without any light shining directly on the screen or webcam.
Put the camera and screen in a prime location. Your virtual guests will want to see the decorations, parents-to-be, other guests, and gifts. Keep in mind that your in-person participants will want to see the virtual guests, too!
Sound Check!
A virtual event with audio issues puts everyone on the fast track to frustration. Stop this from happening by working out the audio in advance. Using the standard microphone on your computer will probably pick up too much background noise and possibly create an echo.
Instead, consider using a wireless headset, a stand-alone microphone, or even something like an iPhone headset.
Keep the Party Going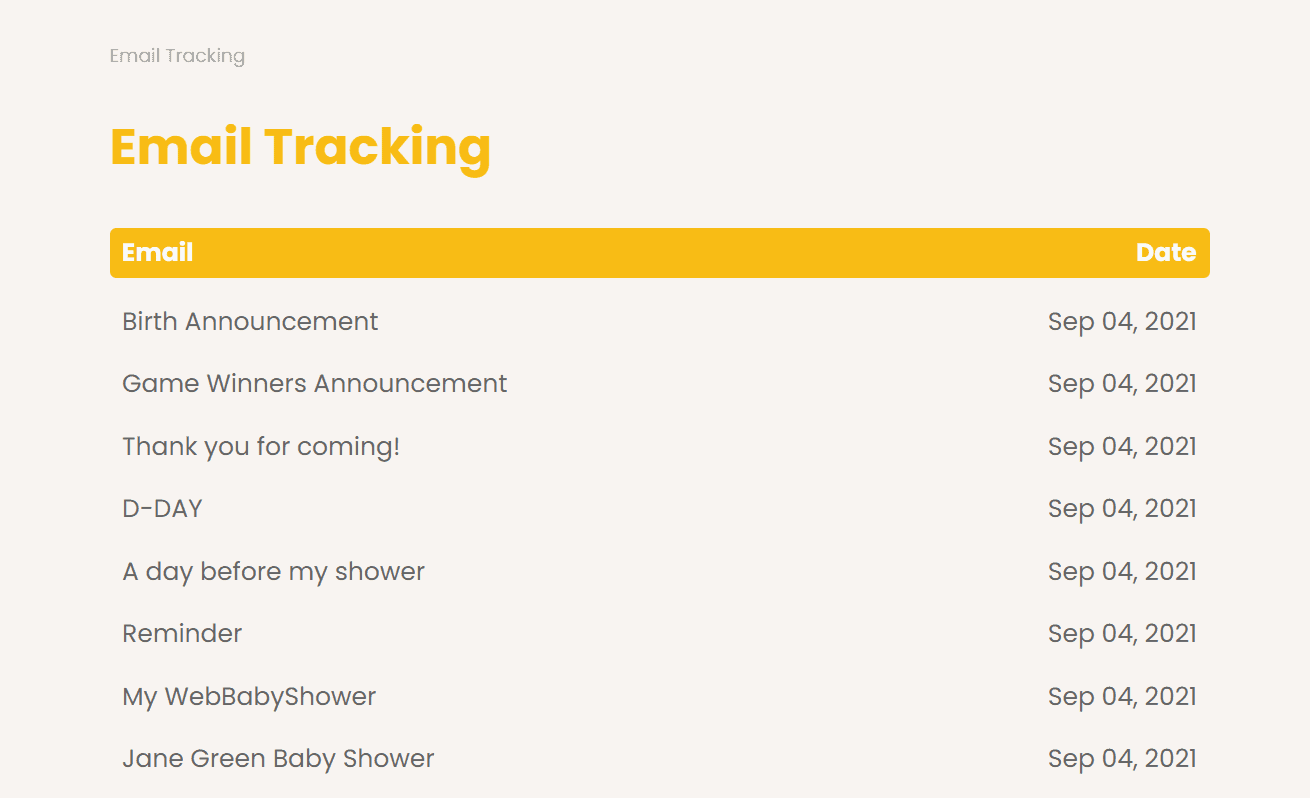 Use WebBabyShower to keep the celebration going long after your hybrid baby shower comes to an end.
You can use the invite manager to send out pregnancy updates and bump pics, and — once your little one arrives — you can email out a cute birth announcement and post photos to the gallery for everyone to enjoy!
Testing, Testing, 1-2-3!
Preparation is essential for a successful virtual event. Do a run-through with a couple of friends or co-hosts before the actual baby shower. That way, you can handle any technology problems before the party.
This will also help you to think through your timing to make sure the virtual portion and the in-person portion of the shower stay aligned.
Outdoor Hybrid Baby Shower
Outdoor baby showers are so fun, and they provide an excellent setting for a party. From gardens to patios, there are many ways to host an outdoor baby shower. Still, there are a few unique challenges that accompany a hybrid outdoor baby shower.
But, as long as you know of potential problems in advance, it should be easy to maneuver around them and make this a great event!
With hybrid baby showers, there is, of course, going to be a virtual element. Therefore, you'll need electronics like laptops, power cords, and possibly speakers. This means you'll need to think about the weather — if it rains, electrical equipment can be a problem.
Make sure you have some form of shelter to keep electronics dry in the event of a rainstorm and have a backup plan (an indoor space) that you can move the party to if necessary. And, believe it or not, sunshine can also be a problem — so you'll need some shade so that your laptop screen is still visible during the event.
You'll also need extension cords to have more freedom with where you can place laptops and electronic devices.
Also, be aware that sound doesn't carry well outside. You'll want to bring some speakers so that it's easy for your in-person guests to hear your virtual guests. This will make everyone feel more included in the event.
Since you'll be outdoors and the weather should (hopefully) be nice, some cocktails or mocktails are a good way to celebrate. Check out these fun cocktail and mocktail ideas to help you get started.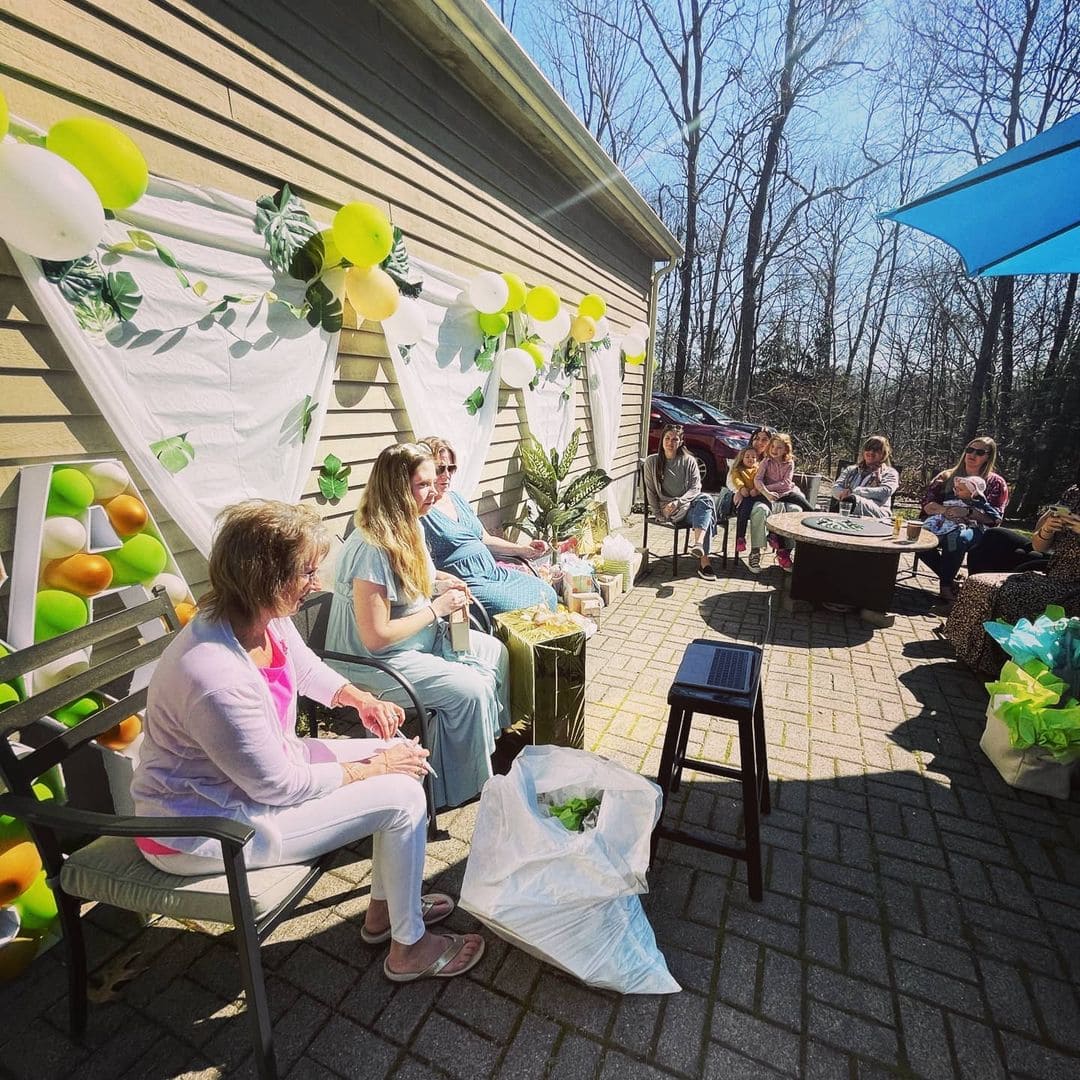 Indoor Hybrid Baby Shower
Worried about the weather? An indoor event is a good idea, as you won't have to worry about rain, wind, or cool temperatures. Plus, it can actually be pretty easy to host a cozy, hybrid shower indoors — you just need to plan for it.
Make sure that the laptop or camera you're using is set up in a way that your virtual guests can see the entire space. You want them to be able to check out the decorations and interact with in-person guests and the mother-to-be.
Depending on your location, there are a few more things to keep in mind.
When you pick out your venue, walk around and imagine what you will need for that day. Where will the camera be? Will you need speakers? Are there wall outlets to plug everything in? Where can you set up decorations and centerpieces?
If you ask yourself questions like that, it should help you figure out if a venue is a right place or not.
How to Do a Virtual and In-Person Shower on the Same Day!
There are a few ways to approach your hybrid shower with virtual and in-person guests attending on the same day.
You can do this by having a Zoom call before the in-person party starts, letting the online guests see the decor, play games, and talk with the new parents.
Although some hosts like to break up their hybrid shower this way, you might also decide on doing everything at once by having a virtual Zoom call and an in-person baby shower at the same time. It depends on preference and the size of the guest list.
The size of the guest list can affect the virtual baby shower if you keep it separate from the in-person one.
For example, if you have a large number of virtual guests for the Zoom call — say, 50 or so — then there won't be much one-on-one time with each guest. It will feel more like a live stream than a time to interact with the new mom.
This can work fine if the mother-to-be and the guests don't mind, but if this isn't the way you want the event to go, you might consider some individual calls instead, or at least Zoom calls in smaller groups.
You can use WebBabyShower to plan as many separate events as suits you on the event page. It's a great way to stay organized and make sure both baby showers are set up well!
You can send out invites to every guest, regardless of the event, using the invite manager And, you can also use separate lists for your virtual and in-person guests to keep things simple.
In addition, guests can play games using the WebBabyShower app before the main party happens — a great way to make sure all guests experience being part of the party, while also keeping things easy for the host.
Techy Tips for the Big Day
If you're going to be using a camera or a laptop to host virtual guests, getting the technology stuff right is super important. No one wants the screen to freeze or a computer to turn off in the middle of the event.
Here are some ideas to keep your tech working correctly.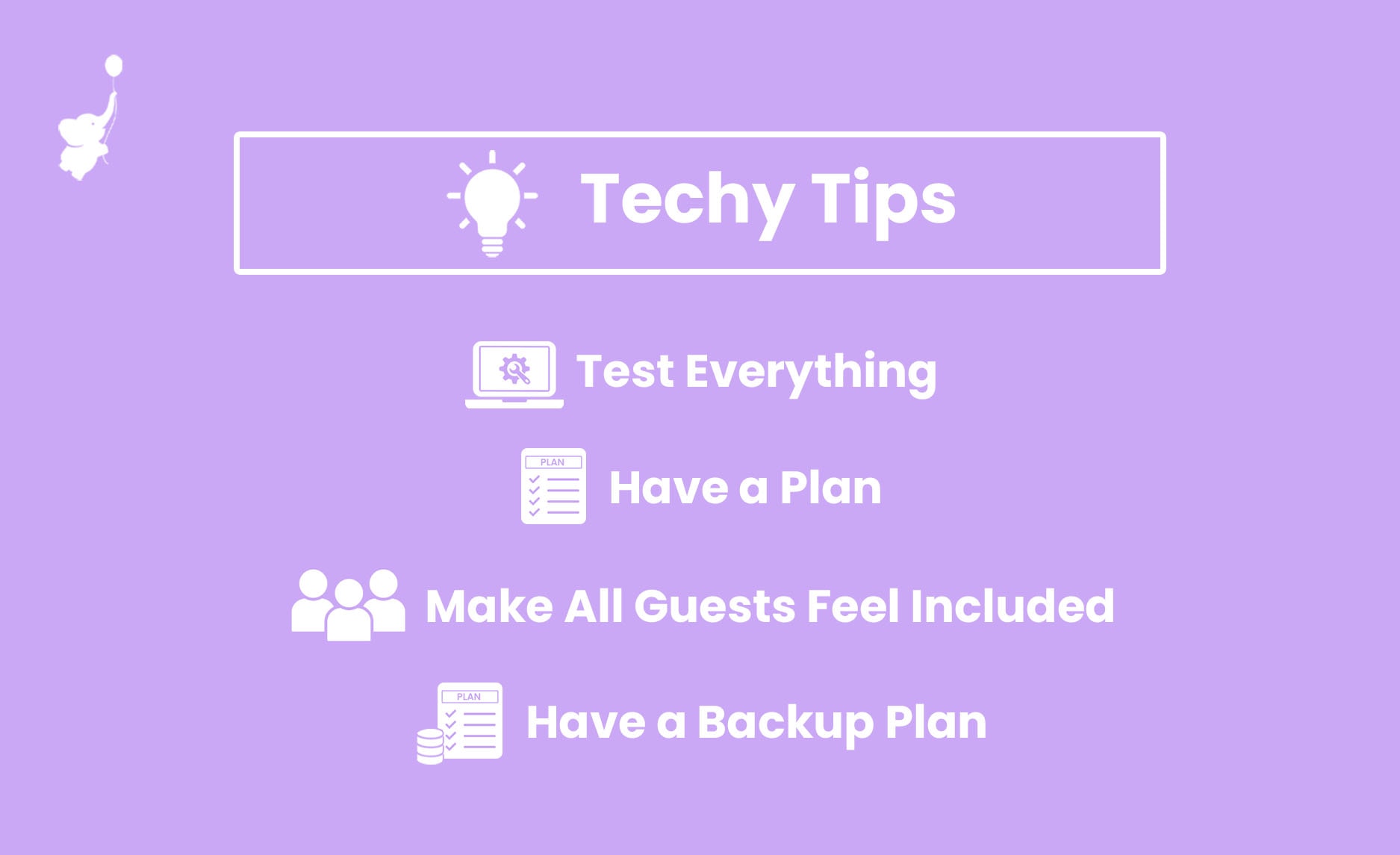 Test Everything
Double and triple-check everything!
The best way to be prepared for anything is to practice, so this is super important. It would help if you did a couple of test Zoom or video calls, as well as have your co-hosts practice playing any virtual games.
This makes it easier to troubleshoot and help your guests handle any issues on the day of the party.
Have a Plan
You need to have an order of events planned out. When will you play games? Will there be a chance for everyone to talk to the other guests and the mother-to-be?
Knowing what order things should happen in will keep the event on track, stop people from being bored, and keep the things from moving too quickly.
It's a good idea to add your agendas to a Google slide so that you can share it with your guests — that way they will know what's going on as well.
That's what Lisa did during the super successful baby shower she hosted through WebBabyShower.
Make All Guests Feel Included
If your virtual and in-person parties are going to take place simultaneously, be sure to plan activities that include everyone, including games that you can play virtually and in person.
That way, no one feels left out.
Have a Back Up Plan
Sometimes technology fails. Your video conference software might go down in the middle of the call. The audio might drop. You might lose the internet connection.
Consider in advance how you will handle each of these scenarios, and plan the messages you would send to virtual guests in the unlikely event that one of these issues occurs.
If you plan in advance, you will be ready to tackle and conquer anything on the day of your event!
Hybrid Baby Showers Combine the Best of Both Worlds
Organizing a baby shower that everyone you love can enjoy, regardless of location, is a challenge. Luckily, hybrid baby showers provide you with the option of combining an in-person shower with a virtual party that far-away guests can still attend.
Fortunately, WebBabyShower makes this easy with our customizable websites, invites, and game solutions — helping you to plan two different types of events and easily merge them together.
Even if a hybrid baby shower is a new concept for you, you'll be prepared, organized, and ready for anything!