A baby shower should be a day of celebration, and you want everyone you love to be part of it. But this can be a challenge because sometimes our relatives and friends live in a lot of different places. Maybe your grandmother lives 300 miles away, and your best friend is in a whole other country?
Fortunately, there's a way to gather everyone together for a hybrid baby shower.
WebBabyShower has helped thousands of customers throw perfect baby showers whether virtual, in-person, or a combination of the two, and we can do the same for you! Here's what you should know when planning a hybrid baby shower and how to get started.
What is a Hybrid Baby Shower?
A hybrid baby shower is a combination of an in-person and virtual baby shower; some guests attend in person and others online. While WebBabyShower makes this easy to do when you choose to use our service, there are many different ways to host a hybrid baby shower. 
Read on for our recommendations on how to organize this type of event, as well as a checklist to make everything easier.
Throw a Virtual Baby Shower so Everyone

Can Celebrate!

• Free Trial – 7 Day Refund for any reason
• Only 1 Minute Setup!
• 40+ Custom Themes & Matching Invites
• Use Any Online Registry
• Send Unlimited Invites and Updates
• Baby Shower Games with Scoreboards, Give Prizes!

Build Your Shower
---
How to Throw a Hybrid Baby Shower: A Quick Checklist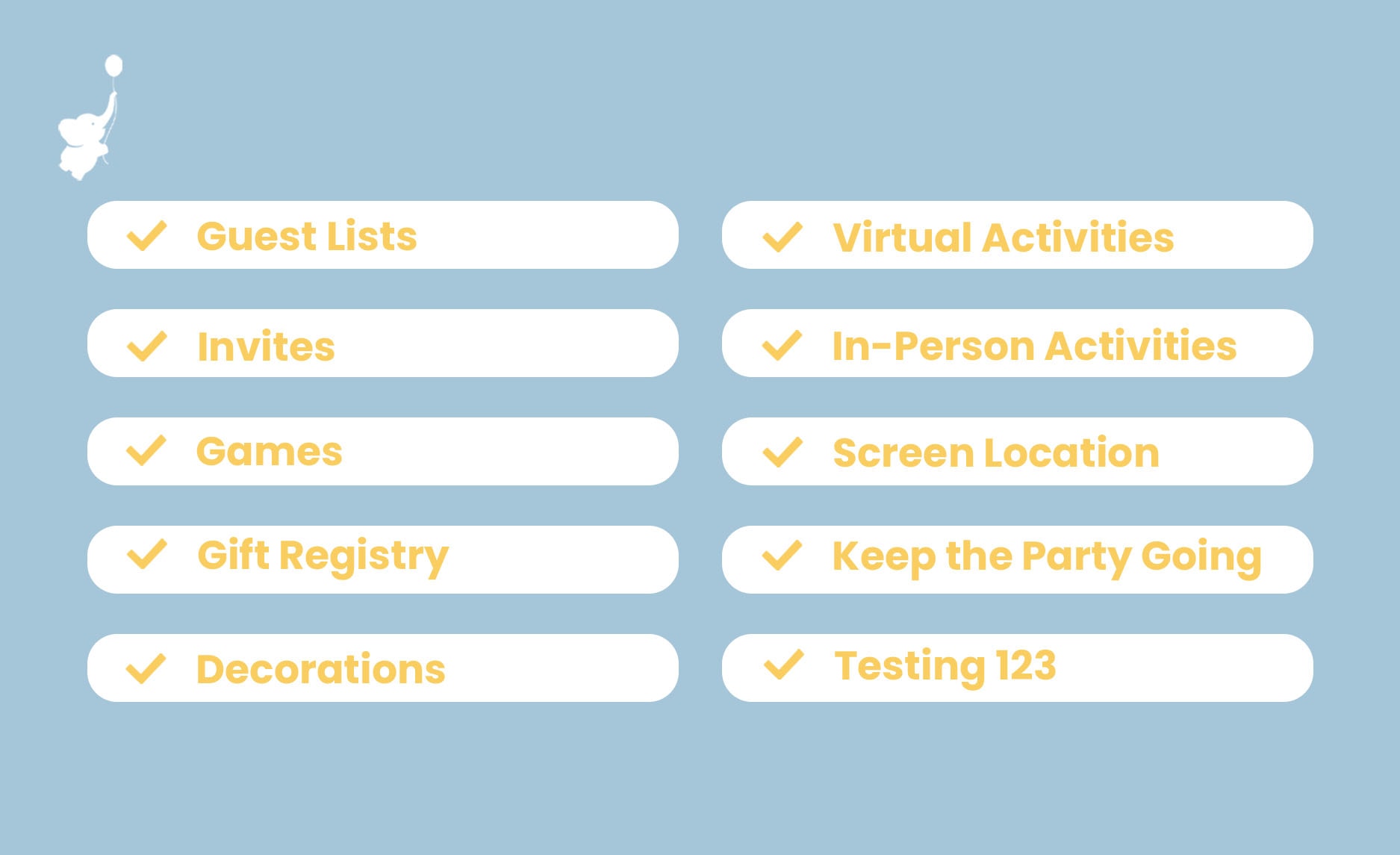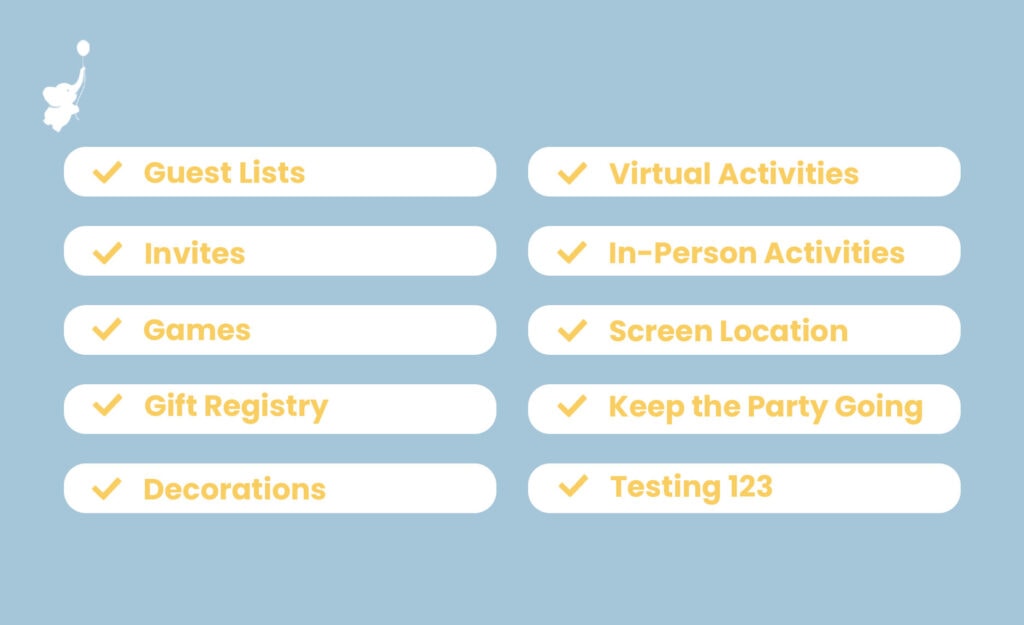 While a hybrid shower might be a new term for you, it isn't complicated. Putting together a baby shower with virtual and in-person components is easier than you'd think. Include these things for the best baby shower ever.
1. Guest Lists:. WebBabyShower allows you to have as many guests and guest lists as you like. Plus -to make things even easier – we have an events page so you can create multiple events.
2. Invites: Use the WebBabyShower platform to invite everyone on your guest list and keep all the information in one convenient place.
3. Games: You'll need at least a couple of games, or maybe three. Make sure that these include activities that everyone can participate in, both in-person and virtually.
4. Gift registry: You can easily add your gift registry when you use WebBabyShower. And if you want ideas about what items to put on the registry, check out our helpful article about How to Choose the Best Baby Registry.
5. Decorations: Whether you're throwing an in-person, virtual, or hybrid baby shower, you'll need decorations. For a hybrid baby shower, you'll want to decorate the entire room where the party is and make sure that virtual guests can see the decor, too.
6. Virtual Only: It's perfectly fine to leave some activities just for the virtual guests. Things like video well wishes or online quiz games work best in a virtual setting.
7. In-Person Only: Some games are better as in-person only (guessing the belly size of the mom to be, for example). It's good to have a few activities that are specifically for those who are attending the baby shower in person.
8. Screen Location: Set up your device in a spot that makes sense, with no direct light on the screen. You'll also want the screen to be in a prime location where virtual guests can see the decorations and the other guests.
9. Keep the Party Going: Use WebBabyShower to keep the celebration going long after your video call, use the invite manager to send out pregnancy updates, a cute birth announcement, and more.
10. Testing 123: Do a run-through with close friends/co-hosts before the actual baby shower. That way, you can handle any technology problems before the party, and you can find time-saving solutions.
WebBabyShower Makes Hybrid Showers Easy!
Using WebBabyShower, your guest list can include everyone you care about – regardless of their physical location. You're not limited to just locals and neighbors (although they are welcome, too) – you can also include distant family and friends in the celebration.
Just like with any big event, a website can help keep everyone up to date with important information
You can create your own baby shower website using WebBabyShower. Then, add details about the event, upcoming games, photos, and more. Everything your guests need will be in one convenient place -no wondering about times and dates, activities that are planned, or what to expect. It will keep everyone on the same page and may save you from answering a lot of emails with questions about the party.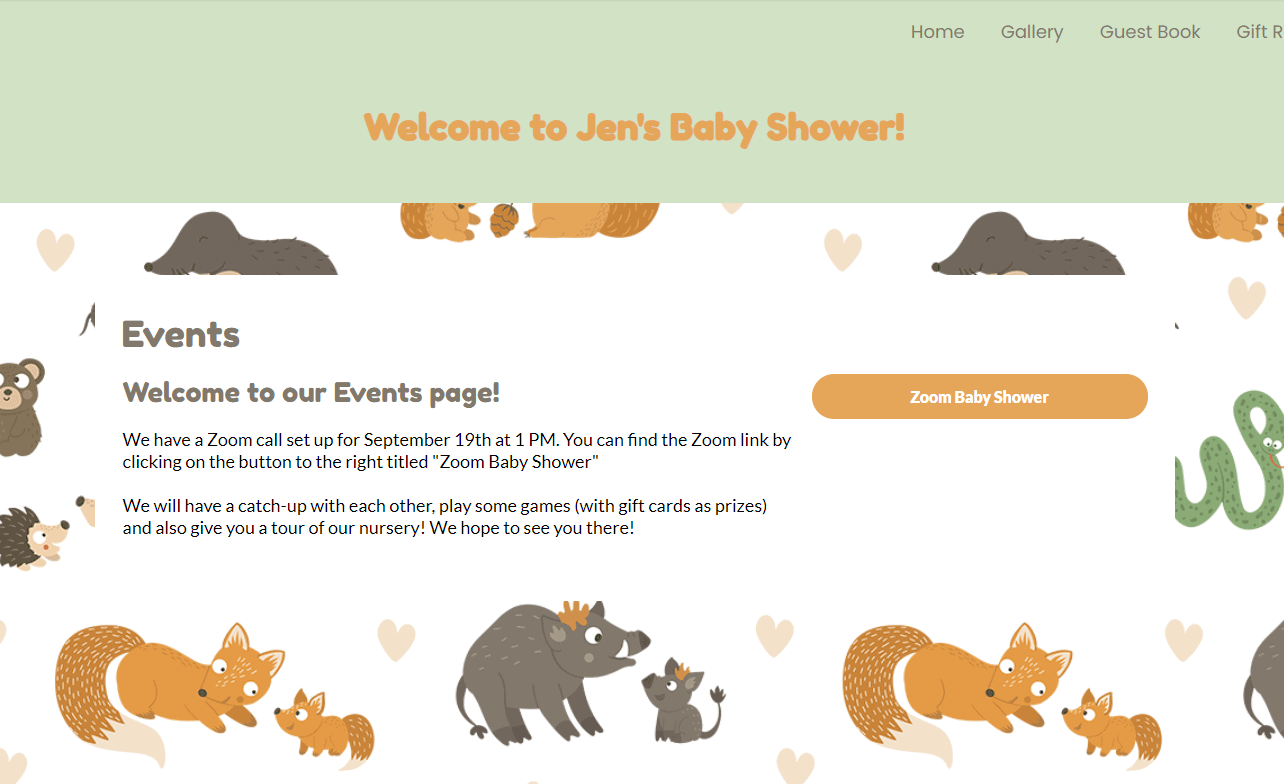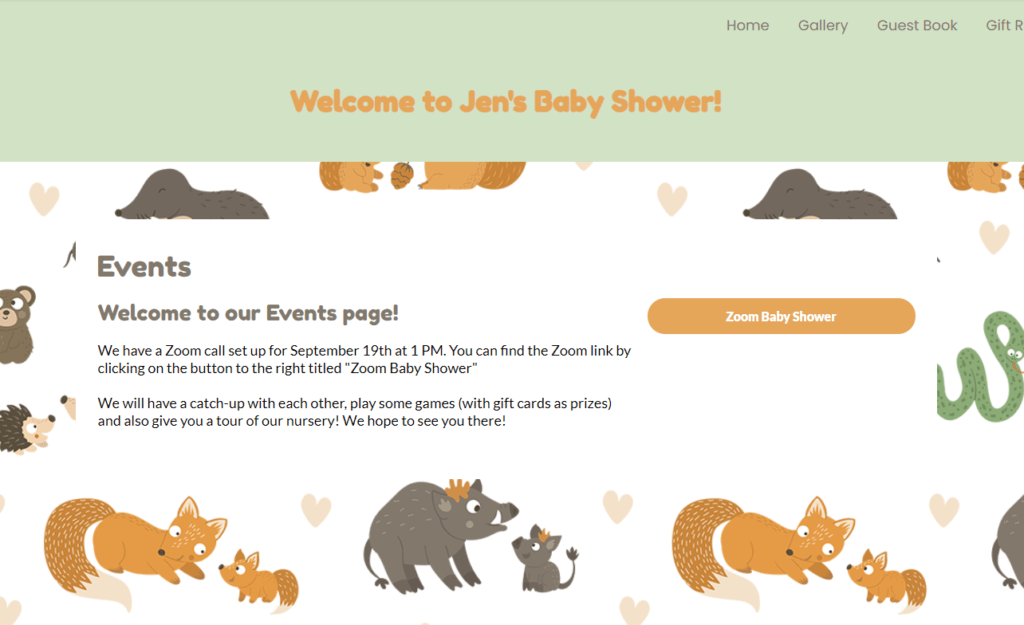 When you use our invitation system, you'll find that it's a super-easy way to keep track of everything. You can send invitations via email, and only send invites to part of your list (if you wish) – which is particularly useful if you're dividing in-person and virtual baby showers. You'll also see if your emails have been received, which is super helpful for planning purposes.
Another simple aspect of a WebBabyShower party is your gift registry. It is located on your website, making it easy for guests to find.
Your guests will also notice the virtual guest book. They can leave a note for the new parents either before or after the baby shower date, a great way to create a memory!
Last, the gallery page is a great way to show off pregnancy photos and pictures of the party. After the baby shower, upload the photos to the site, and you can easily share them with all the guests.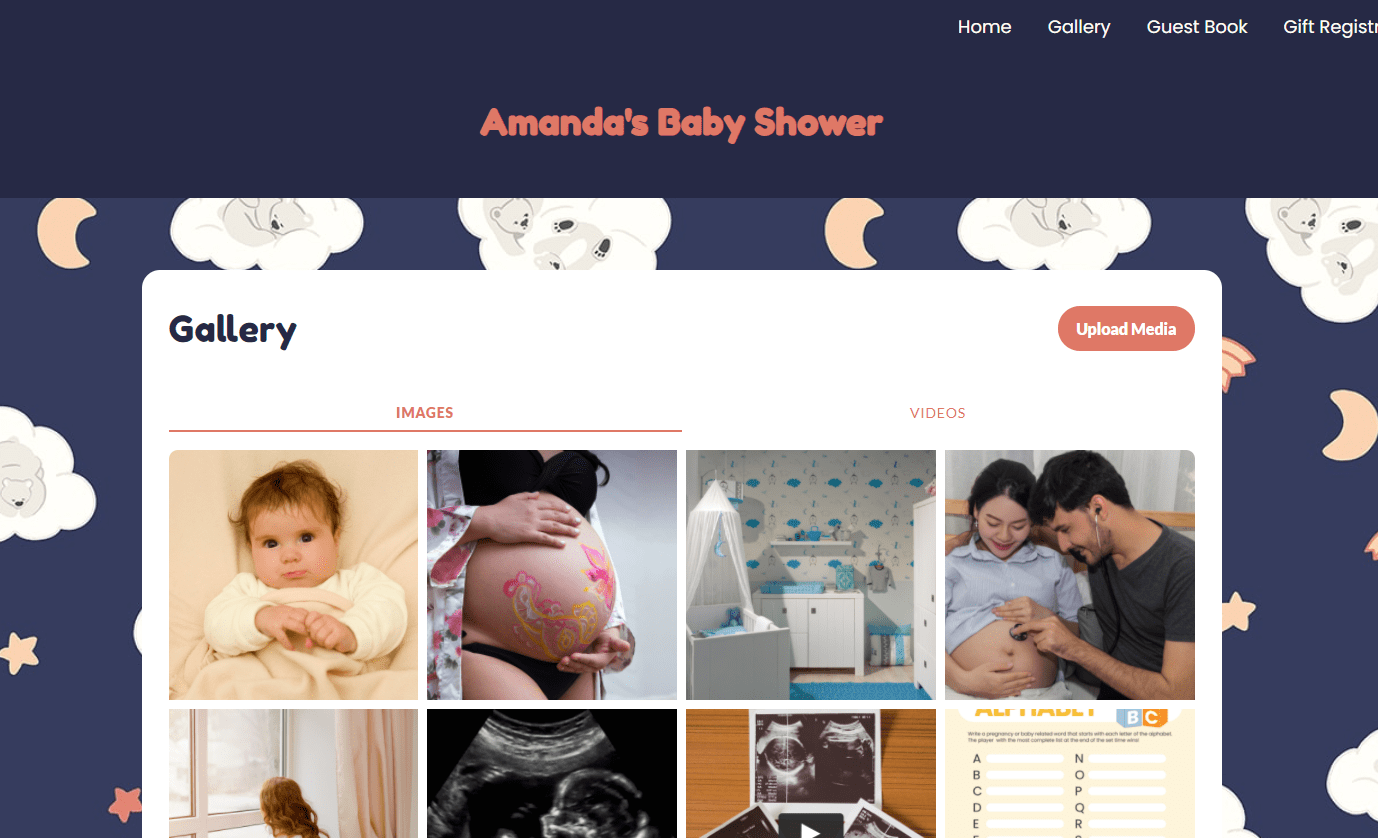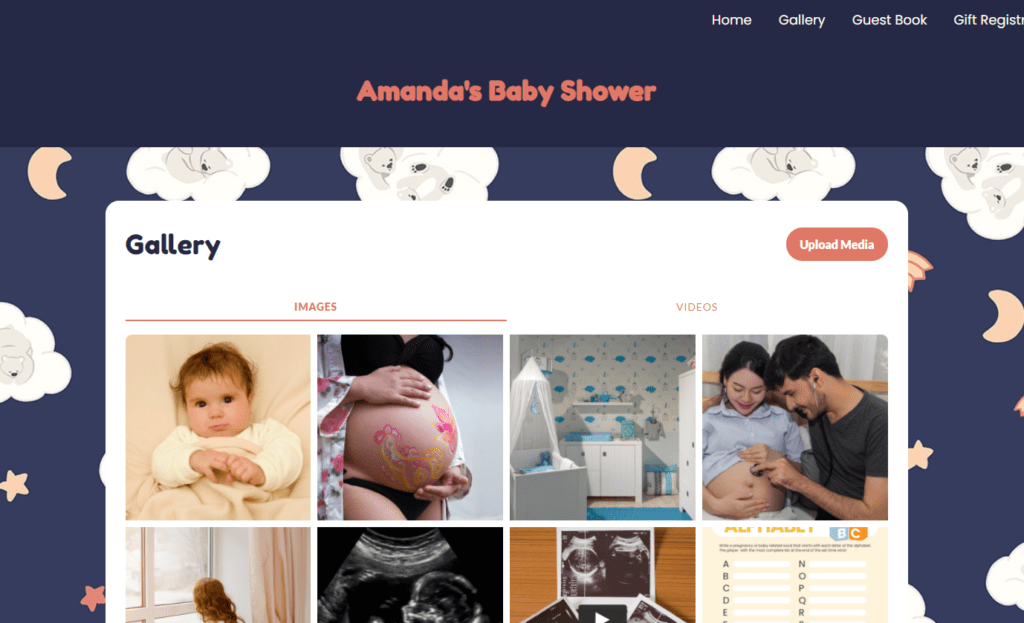 There are plenty of reasons why WebBabyShower is both the simplest way to create an unforgettable event and the most comprehensive. We've thought of everything, so you can quickly plan a hybrid baby shower that will amaze your guests and help to create wonderful memories.
Outdoor Hybrid Baby Shower
Outdoor baby showers are so fun, and they provide an excellent setting for a party. From gardens to patios, there are many ways to host an outdoor baby shower. Still, there are a few unique challenges that accompany a hybrid outdoor baby shower. As long as you know of potential problems in advance, it should be easy to maneuver around these and make this a great event.
With hybrid baby showers, there is, of course, going to be a virtual element. Therefore, you'll need electronics like laptops, power cords, and possibly speakers. This means you'll need to think about the weather – if it rains, electrical equipment can be a problem.
Make sure you have some form of shelter to keep electronics dry in the event of a rainstorm and have a backup plan (an indoor space) that you can move the party to if necessary.
You'll also need extension cords to give more freedom with where you can place laptops and electronic devices. Believe it or not, sunshine can also be a problem – so you'll need some shade so that your laptop screen is still visible during the event.
Also, be aware that sound doesn't carry well outside. You'll want to bring some speakers, so it's easy for your in-person guests to hear your virtual guests. This will make everyone feel more included in the event.
Since you'll be outdoors and the weather should (hopefully) be nice, some cocktails or mocktails are a good way to celebrate. Check out these fun cocktail and mocktail ideas to help you get started.
Indoor Hybrid Baby Shower
Since fall is just around the corner, an indoor event is a good idea, as you won't have to worry about the weather. It can actually be pretty easy to host a cozy, hybrid shower indoors – you just need to plan for it.
Make sure that the laptop or camera you're using is set up in a way that your virtual guests can see the entire space. You want them to be able to check out the decorations and interact with in-person guests and the mother-to-be.
Depending on your location, there are a few more things to keep in mind. If you are renting a venue, you should take some time to check for plug sockets and make sure you have a good place to set the camera up.
When you pick out your venue, walk around and imagine what you will need for that day. Where will the camera be? Will you need speakers? Where can you set up decorations and centerpieces? If you ask yourself questions like that, it should help you figure out if a venue is a right place or not.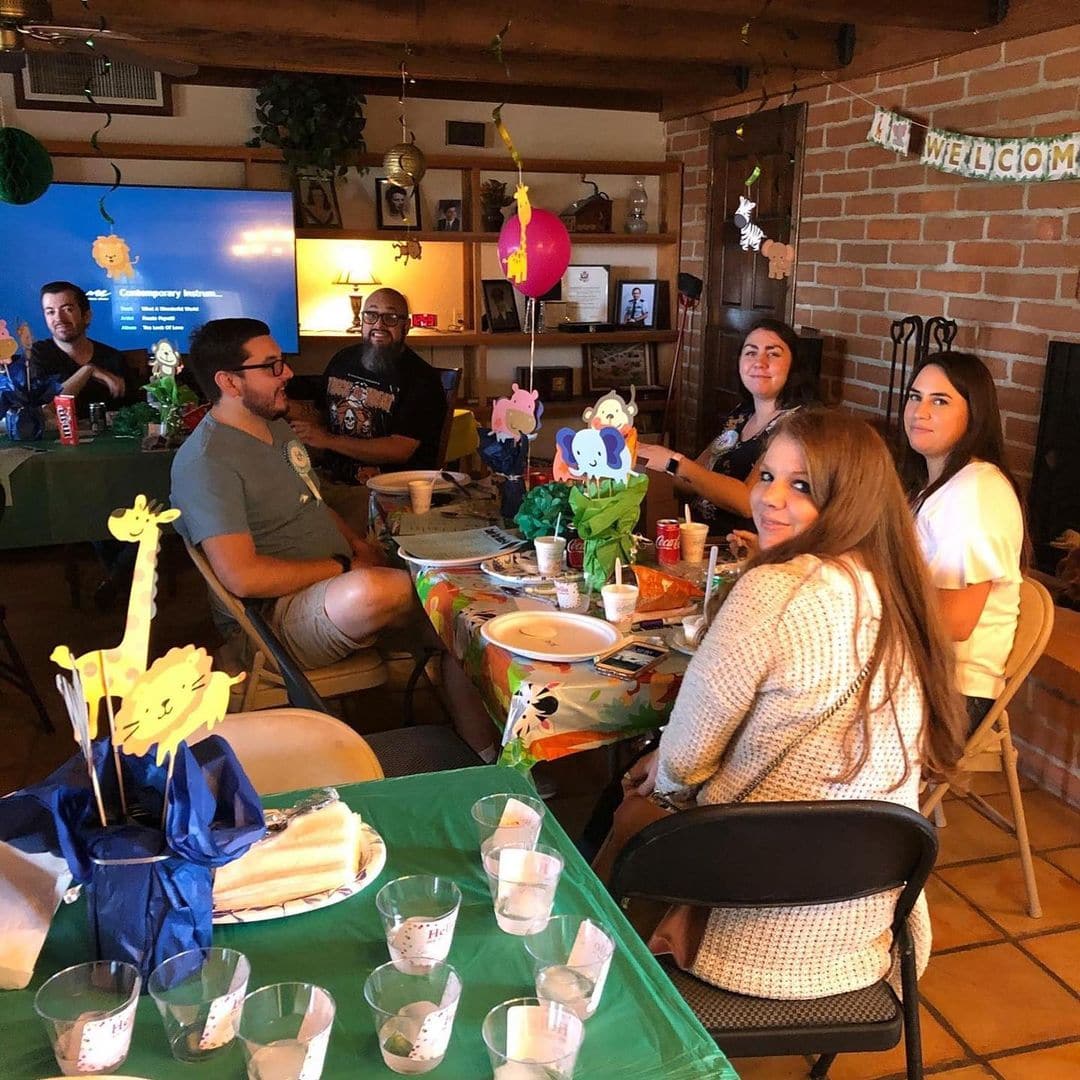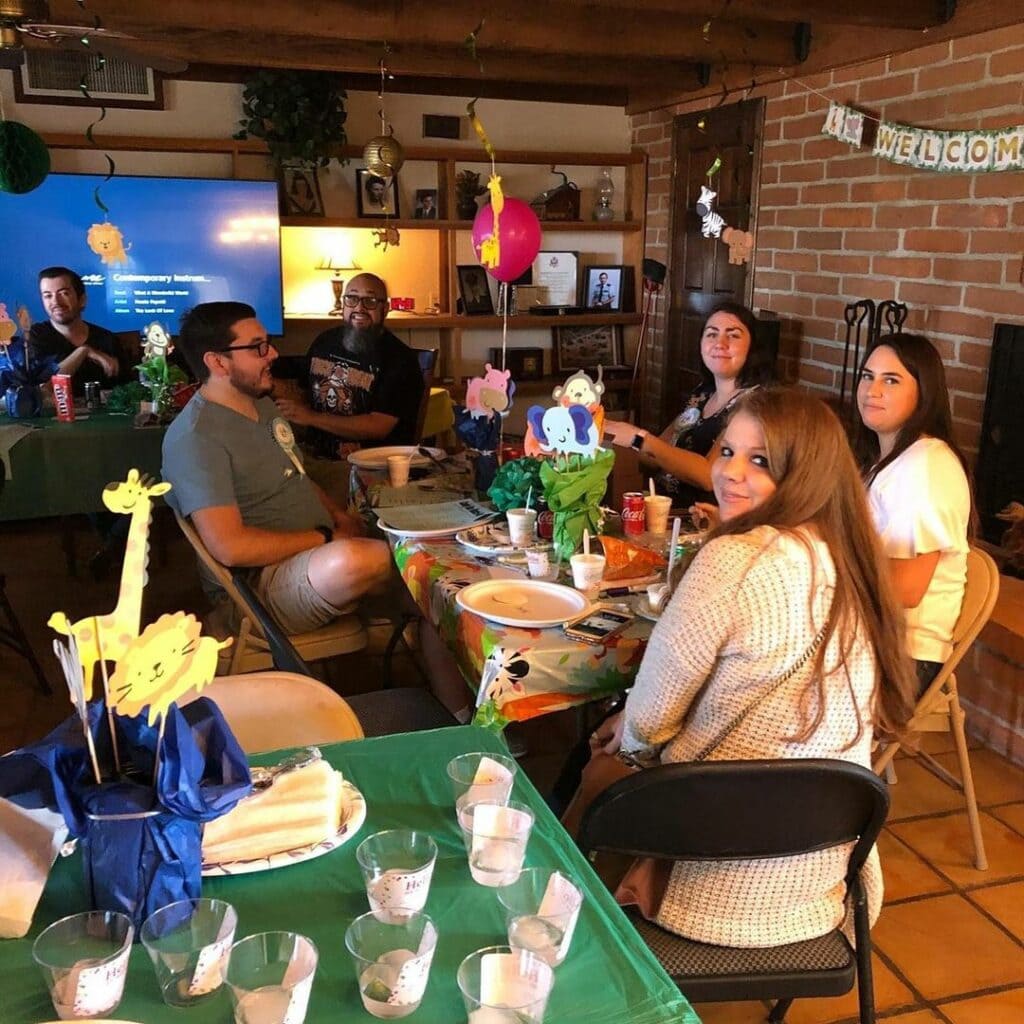 How to Do a Virtual and In-Person Shower on the Same Day!
This is another hybrid event that can help you make sure every guest gets to be part of the party, even if they can't make it in person to the baby shower. You can do this by having a Zoom call before the in-person party starts. The online guests can see the decor, play games, and talk with the new parents.
Although some hosts like to break up their hybrid shower this way, you might also decide on doing everything at once by having a virtual Zoom call and an in-person baby shower at the same time. It depends on preference and the size of the guest list.
The size of the guest list can affect the virtual baby shower if you keep it separate from the in-person one. For example, if you have a large number of virtual guests for the Zoom call – say, 50 – then there won't be much one-on-one time with each guest. It will feel more like a live stream than a time to interact with the new mom. This can work fine if the mother-to-be and the guests don't mind, but if this isn't the way you want the event to go, you might consider some individual calls instead, or at least Zoom calls in smaller groups.
You can use WebBabyShower to plan separate events on the event page. It's a great way to stay organized and make sure both baby showers are set up well.
You can send out invites to every guest, regardless of which event, using the invite manager And you can also use separate lists for your virtual and in-person guests to keep things simple. In addition, guests can play games using the WebBabyShower app before the main party happens – a great way to make sure all guests experience being part of the party, but it also keeps things easy for the host.
Techy Tips for the Big Day
If you're going to be using a camera or a laptop and hosting virtual guests, getting the technology stuff right is super important. No one wants the screen to freeze or a computer to turn off in the middle of the event. Here are some ideas to keep your tech working correctly.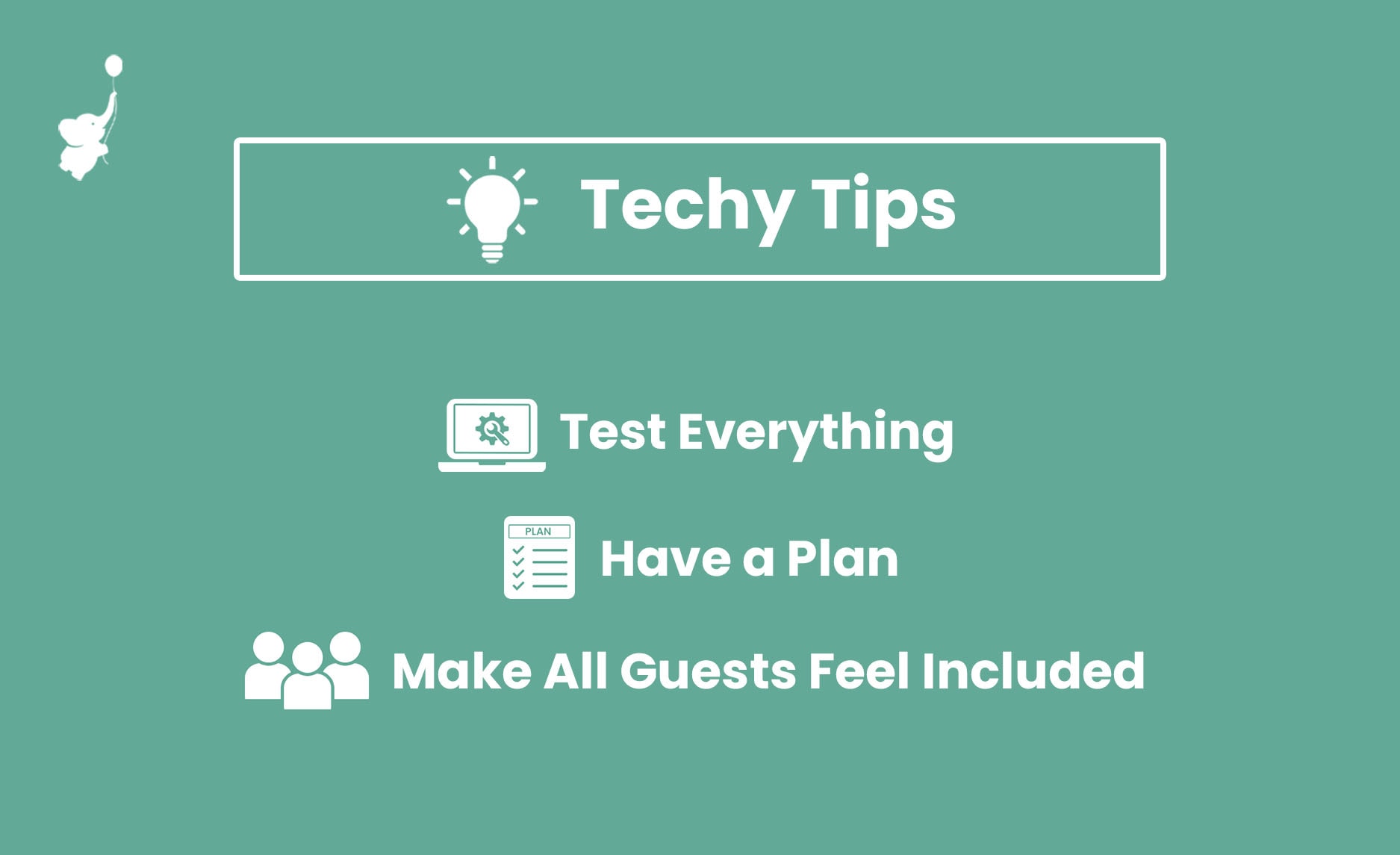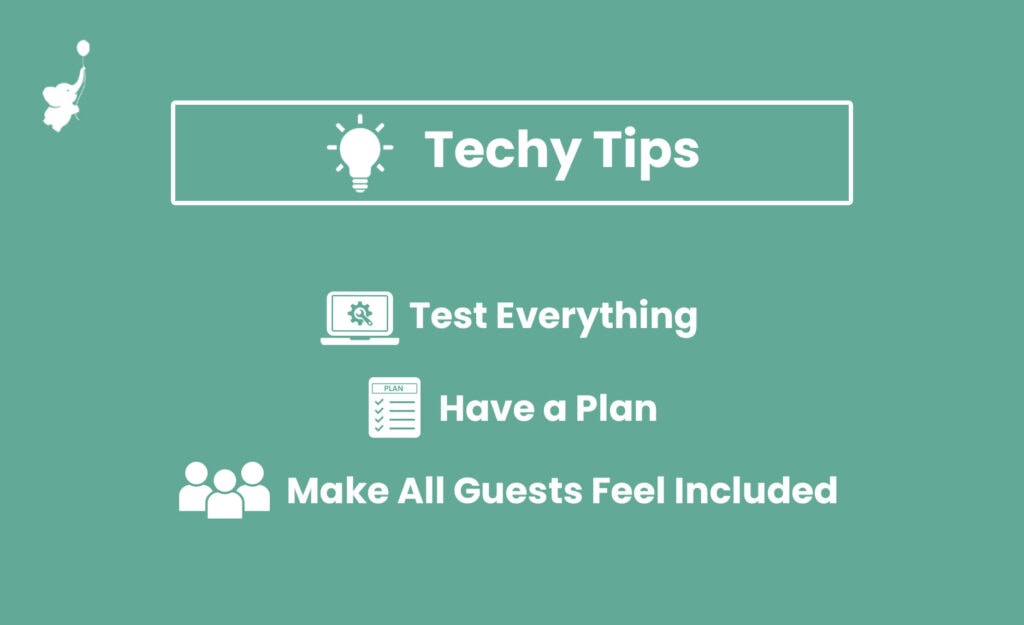 Test Everything
Double and triple-check everything!
The best way to be prepared for anything is to practice, so this is super important. It would help if you did a couple of test Zoom or video calls and have your co-hosts practice playing any virtual games. This makes it easier to troubleshoot and help your guests handle any issues on the day of the party.
Have a Plan
You need to have an order of events planned out. When will you play games? Will there be a chance for everyone to talk to the other guests and the mother-to-be? Knowing what order things should happen in will keep the event on track, stop people from being bored, and keep the event from moving too quickly.
It's a good idea to add your agendas to a Google slide so that you can share it with your guests – that way they will know what's going on as well. . That's what Lisa did during the super successful baby shower she hosted through WebBabyShower.
Make All Guests Feel Included
If your virtual and in-person parties are going to take place simultaneously, be sure to plan activities that include everyone, using games that you can play virtually and in person. That way, no one feels left out.
Hybrid Baby Showers Combine The Best of Both!
Organizing a baby shower that everyone you love can attend, regardless of location, is a challenge. Luckily, hybrid baby showers provide you with the option of combining an in-person shower with a virtual party that far-away guests can still attend.
Fortunately, WebBabyShower makes this easy with our customizable websites, invites, and game solutions, helping you to plan two different types of events but merge them easily together. Even if a hybrid baby shower is a new concept for you, you'll be prepared, organized, and ready for anything.