It's springtime, it's 2021, and it's time for baby showers! Want to create something memorable while also working with a limited gathering size? We can help with that. If you're planning a spectacular outdoor baby shower, we've got plenty of creative ideas to help you plan out a picturesque celebration.
Can You Have a Baby Shower Outside?
You're probably wondering how to gather a small group of people together while still maintaining some social distancing and keeping everyone safe. An outdoor baby shower is a solution to your problems.
You can have a small, intimate gathering, follow local restrictions, and also give everyone plenty of space to move around and not be too close together. If you have family and friends who cannot make it to the shower, you can combine a virtual baby shower with an in-person baby shower. In-person guests can maintain social distancing, while everyone who couldn't physically attend can still be included. WebBabyShower has helped party hosts include over 1 million guests in their virtual baby shower festivities, so we know precisely how to combine virtual and in-person parties so everyone you love can be a part of the event. Check out WebBabyShower's articles and guides to help you with your big day.
How to Set Up a Virtual Baby Shower Outdoors
To start off, pick your location carefully. Take into account the equipment set-up you'll need like laptops and speakers. You'll also want to make sure you choose a day with good weather. Hosting a virtual outdoor baby shower is a bit different than an inside celebration. You'll want a backup plan in case the weather doesn't cooperate and you can't hold the party outdoors.
When you're setting up for a virtual shower, it's esseprojential to know the number of guests ahead of time. You'll want to be sure that you can safely have room for people attending in person, and you'll also want to keep track of anyone who may be joining the group via video chat.
WebBabyShower offers the perfect platform for hosting a combination in-person and virtual baby shower — and you can easily host both at the same time! This will save you time and help you include everyone, both near and far, on the special day.
Outdoor Baby Shower Equipment Required
If you're planning on hosting a virtual event outdoors, there are a few things you'll want to have with you:
A laptop
Cables
Speakers (preferably cordless Bluetooth)
Projector and screen (optional)
You'll want to make sure you set up in an area where it isn't windy (this can mess with the sound) and where you have some outlets for power cords. Also, remember that doing a test run the day before or even earlier on the same day is a good idea. It's better not to have surprises happen when people are trying to enjoy the event.
As for the set-up, if you're doing a video chat using your laptop with a built-in microphone, that may be all you need. Just remember to use a hotspot from a phone if the WiFi isn't good. But since outdoor noise can be loud, you may want to add a microphone and speakers, as well.
If you decide to use a projector, you'll need a few more things. First, a sheet or blank wall on which to cast the screen. Next, according to the event technology company Meeting Tomorrow, you'll need to hook the laptop up to the projector. You can begin by turning off your devices and plugging in the video cables from the computer to the projector. Then plug in the projector machine to a nearby outlet, and turn on your computer. You may need to sync up the two devices and connect sound.

How to Have the Best Outdoor Laptop Experience
Laptops are highly portable, which makes them ideal for an outdoor virtual baby shower. In order to make sure you don't run out of battery, you'll want to find an area to set up your laptop that has a nearby working outlet. If you have a device that boosts WiFi, you should keep this next to the computer.
To avoid glare from the sun, you'll want to set up in a shady spot. Test your video picture to see if there's too much sun or light streaming in from any direction. It's important that everyone can see each other's faces, so correct lighting is crucial. If you turn towards the sun while on your computer, you can keep glare away from the laptop. That way, it's much easier for you to see people while you're on video chat.
Another thing you can do is increase the brightness of the screen to match the brightness of the outdoors. It will make it easier to see guests' faces while on video, and they'll be able to see your face and the setting around you better.
Sometimes the sun is unavoidable and a laptop shade is a perfect solution for your outdoor shower, like this one below from WooShades, it'll take away the glare no problem and help protect it from the sun.
Outdoor Baby Shower Ideas
Before you send out the invitations to your outdoor baby shower, you should come up with a theme and ideas for decorations. Here are a few top choices that are sure to make your outdoor baby shower special, whether you're throwing it on a patio or in a garden.
Balloon Arch
Balloon arches are the perfect focal point for an outdoor baby shower. You can customize them to fit your color scheme, and you can make the area with the balloon arches the spot where you open gifts — perfect for photos!
If your baby shower is in a large community area, balloon arches can also help guests know where the main gathering spot is and will guide them to the event's location if they're lost.
You can also set up a balloon banner instead. It won't take up as much space as an arch, but it has the same effect.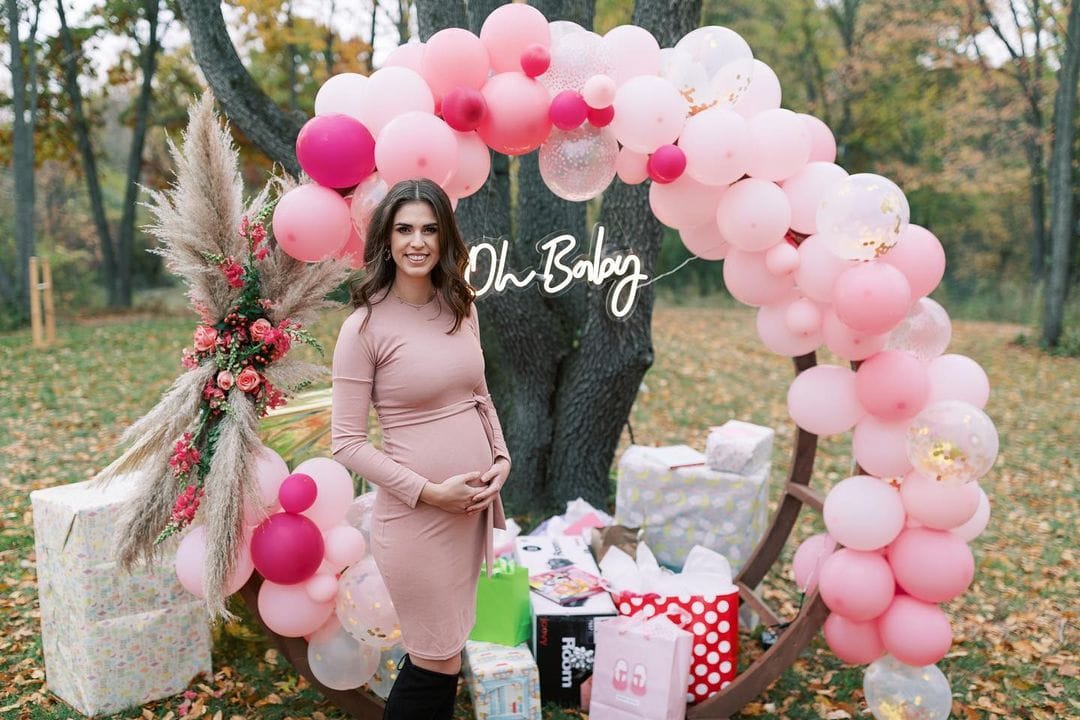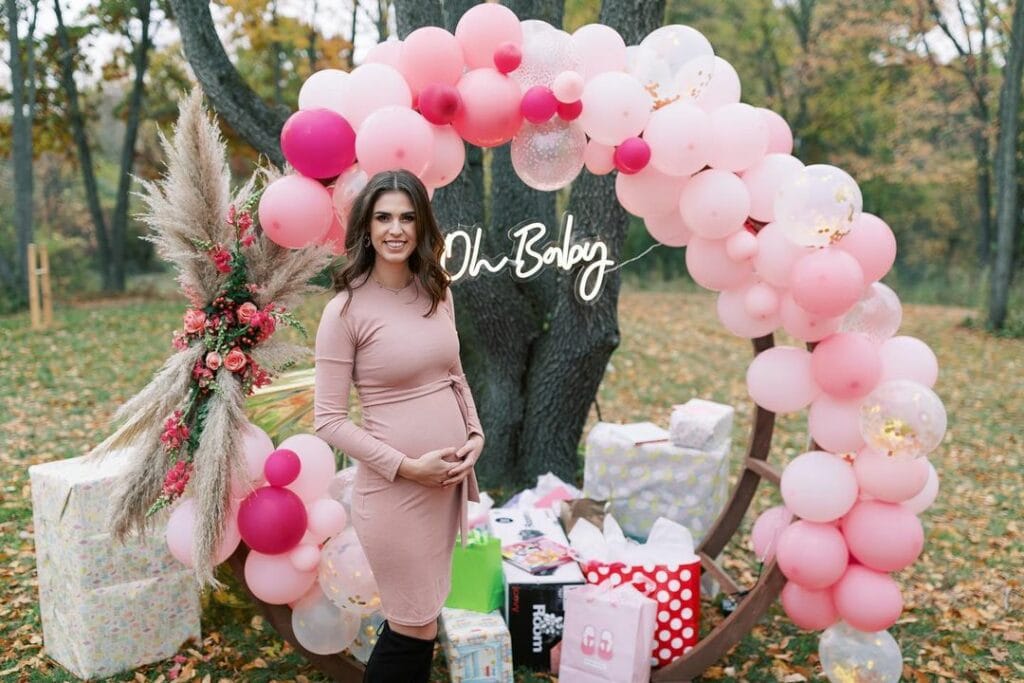 Teddy Bears
Teddy bears are a classic theme for baby showers; they never go out of style. You might consider adding stuffed bears to the dessert and gift tables and making them a key part of the invitations. What a cute way to celebrate a baby boy or girl!
Check out our adorable bear themes below!
Include bears on everything from the napkins to the desserts. You can even put teddy bear stickers on the food and drink boxes and include a teddy bear cake topper! Try finding jars shaped like bears (like honey jars) that you can use for drinks.
Since teddy bears tend to be brown, you can use brown and other warm colors for the shower. Try some balloons in brown, orange, and gold shades. If you don't like those colors, you can pick other ones and find teddy bears in non-traditional colors.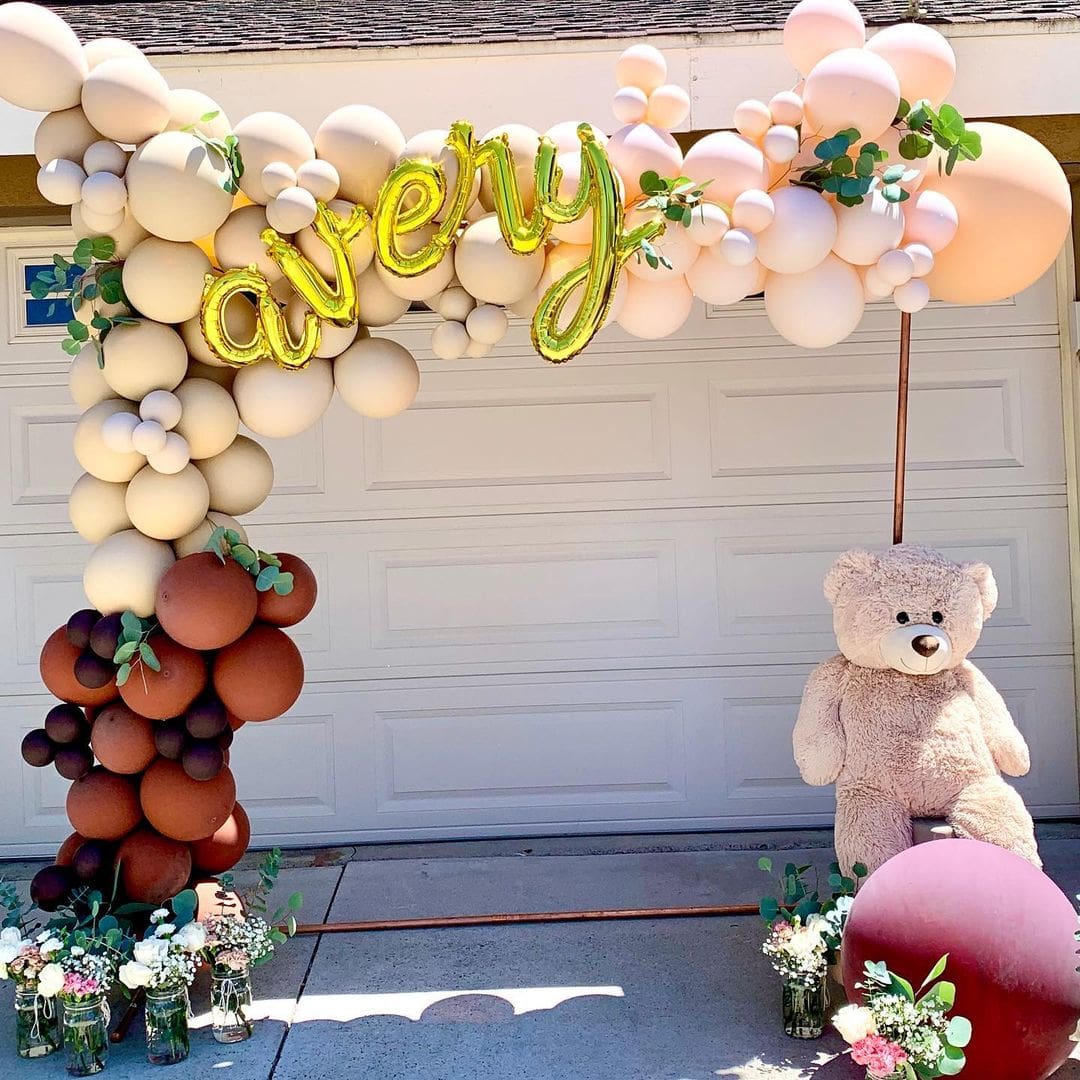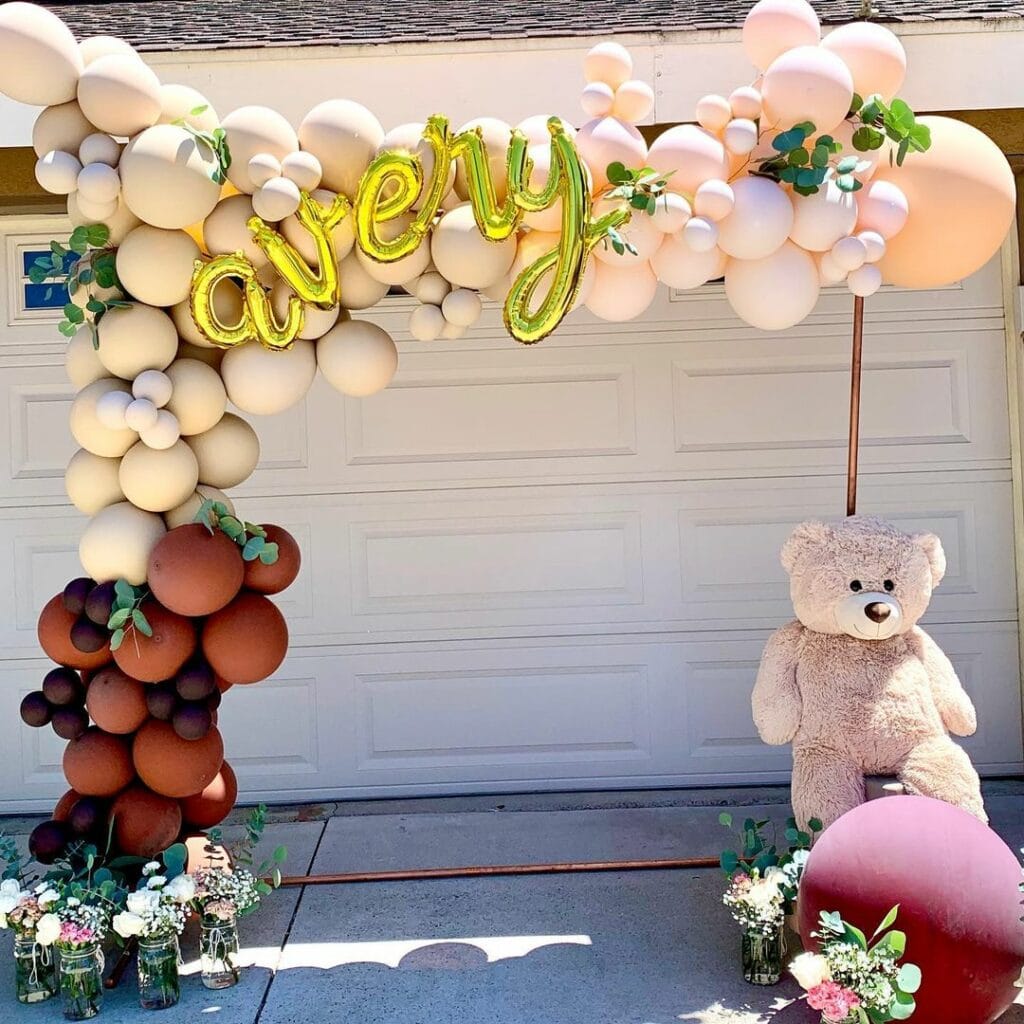 Balloon Decor Boxes and Banners
Banners are an excellent touch for outdoor parties. They can direct guests to your event, and they make a great backdrop for photo ops if your venue doesn't have walls. You might also add some adorable decoration boxes. Try clear ones that have balloons inside that match your baby shower's color scheme. Consider decorating a balloon box with the first letter of the baby's name as a table centerpiece. And of course, everything's better with sparkles, so don't forget to add some!
One Main Decorating Color
Choose a favorite color, and then get all the decor in various shades. Everything will go together because it's all one color, just different hues. Flowers, balloons, and even the cake can match. If you want the shower to be gender-specific, you can go for all pink or all blue.
Another fun idea to consider for a centerpiece or main decoration is oversized baby blocks in all one color. They can spell out the baby's name or the word "BABY" or "CONGRATULATIONS." If you can find a spot above eye level to add this decoration, it will help people find the party in a large outdoor setting. Consider hanging this decor from a tree if possible.
Baby style letters are an adorable theme too, and our "baby blocks" theme works perfectly to combine with your outdoor baby shower, just look at the little critters in the letters!
A Day at the Lake
Learn to make the most of the scenery around you; if there's a lake or pond nearby, make this the baby shower's location! You can set up a simple but beautiful display with a low table for food, cushions for guests to sit on, and a lovely cake table. Try to set up a few different areas to take pictures, keeping in mind that you'll want the water in the background.
If you're combining your outdoor shower with virtual our waves and summer baby theme match the location of the lake perfectly!
Add elegance to the affair by placing flowers and matching place settings on a table outside. Attach some balloons to the parent-to-be's chair to set the scene perfectly.
Flower Centerpiece
When outdoors, finding a good spot for photos can be challenging. Instead of wondering where the best place is, create it by setting up a small table with a huge flower centerpiece or another decoration if you prefer. Use the colors that reflect the theme.
If you live in a hot climate, you may want to avoid flowers all together so they don't wilt. In this case, the flower centerpiece can be made of material rather than flowers. It could even be made of diapers and counted as an extra present later. You can add small flowers or decorations here and there to spruce it up.
In front of the flowers (whether real or fake), you can add sparkling cider bottles bearing the letters of the baby's name. It's elegant, and it makes a refreshing drink for your guests later on.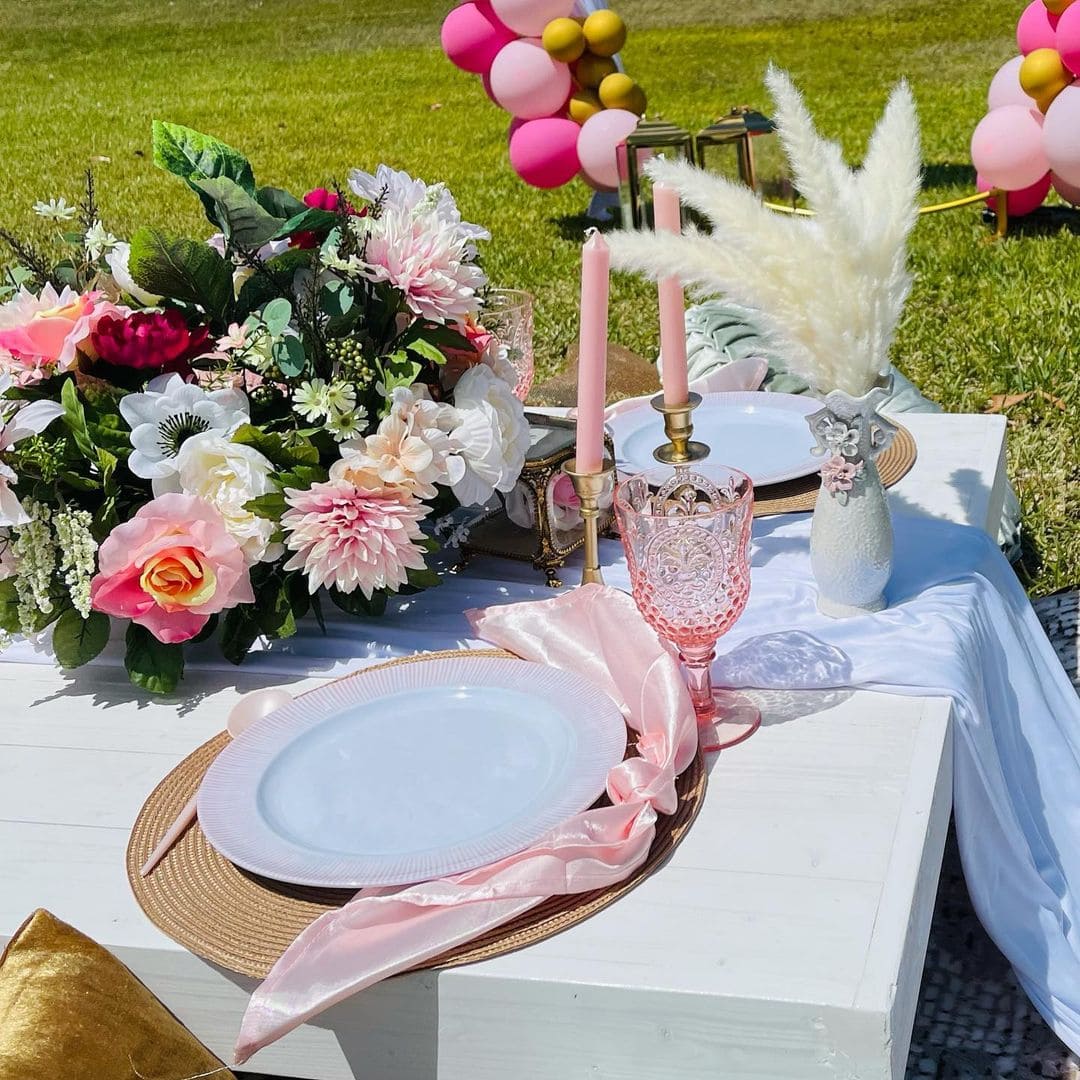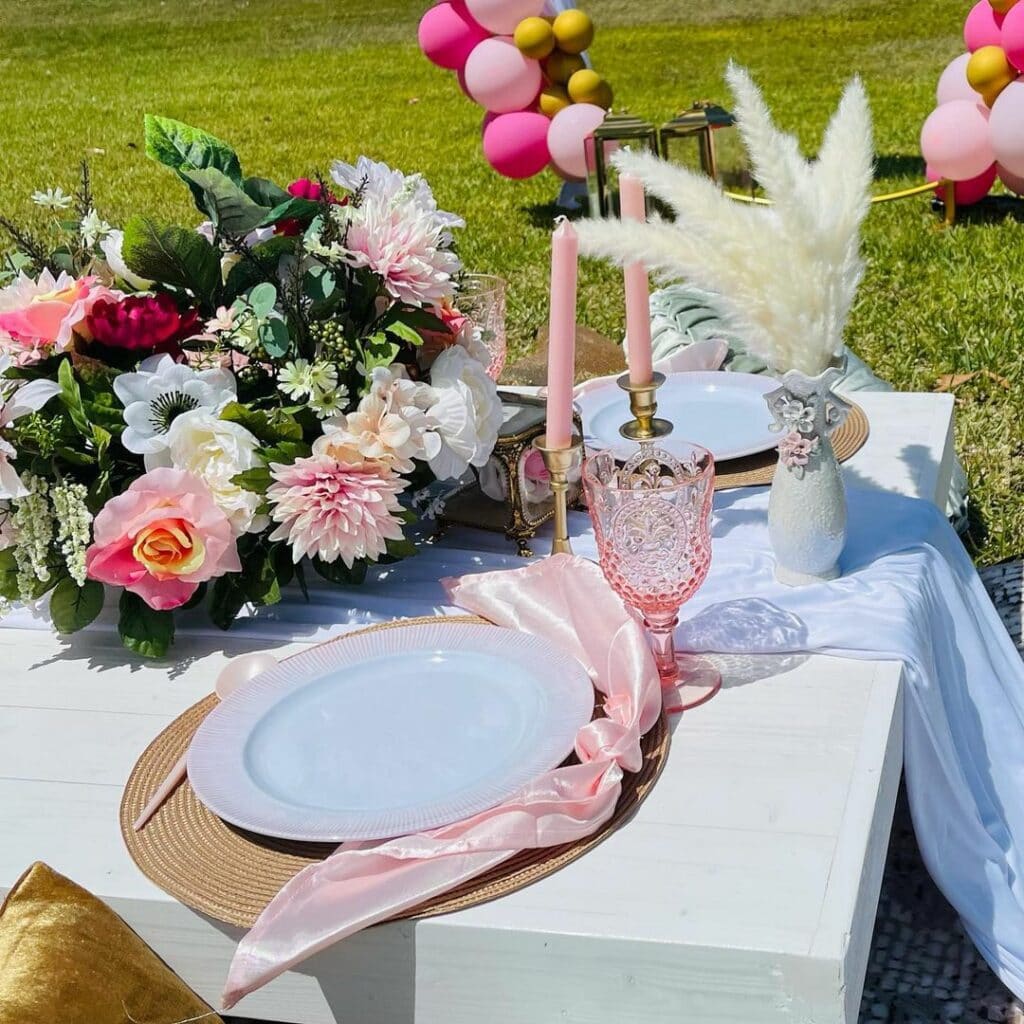 A Little Cutie
What's better for a backyard baby shower than an orange, cutie-themed party? To create a backdrop, you can set up a wall divider that's painted for the occasion. Various shades of orange, pink, and white are the perfect hues. Add balloons and beautiful greenery to the top of the backdrop. Then, bring a chair where the parent-to-be can sit during pictures.
For the rest of the group, a low table surrounded by cushions and blankets makes for the perfect place to relax. For some added interest, use golds and bright white furniture and dishes.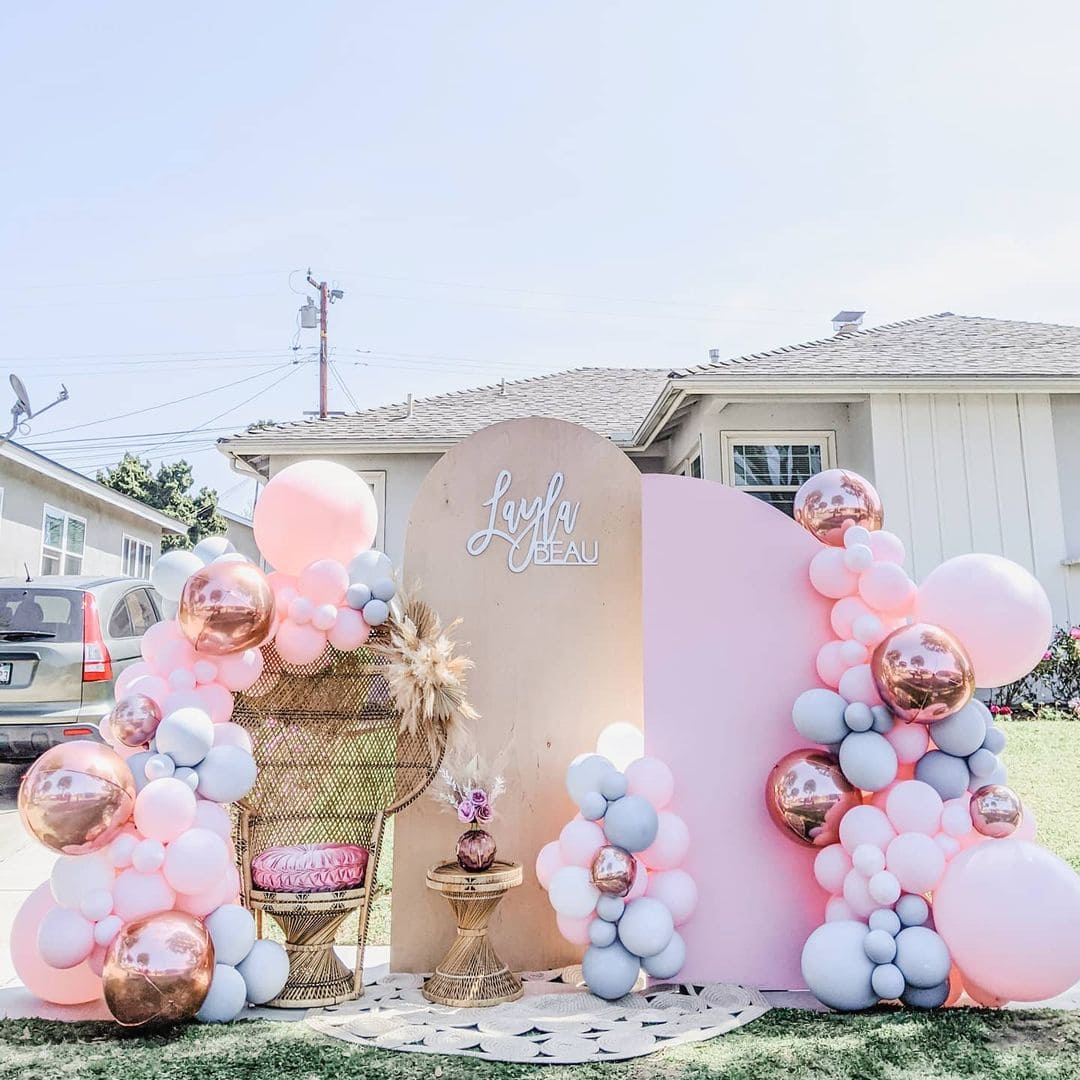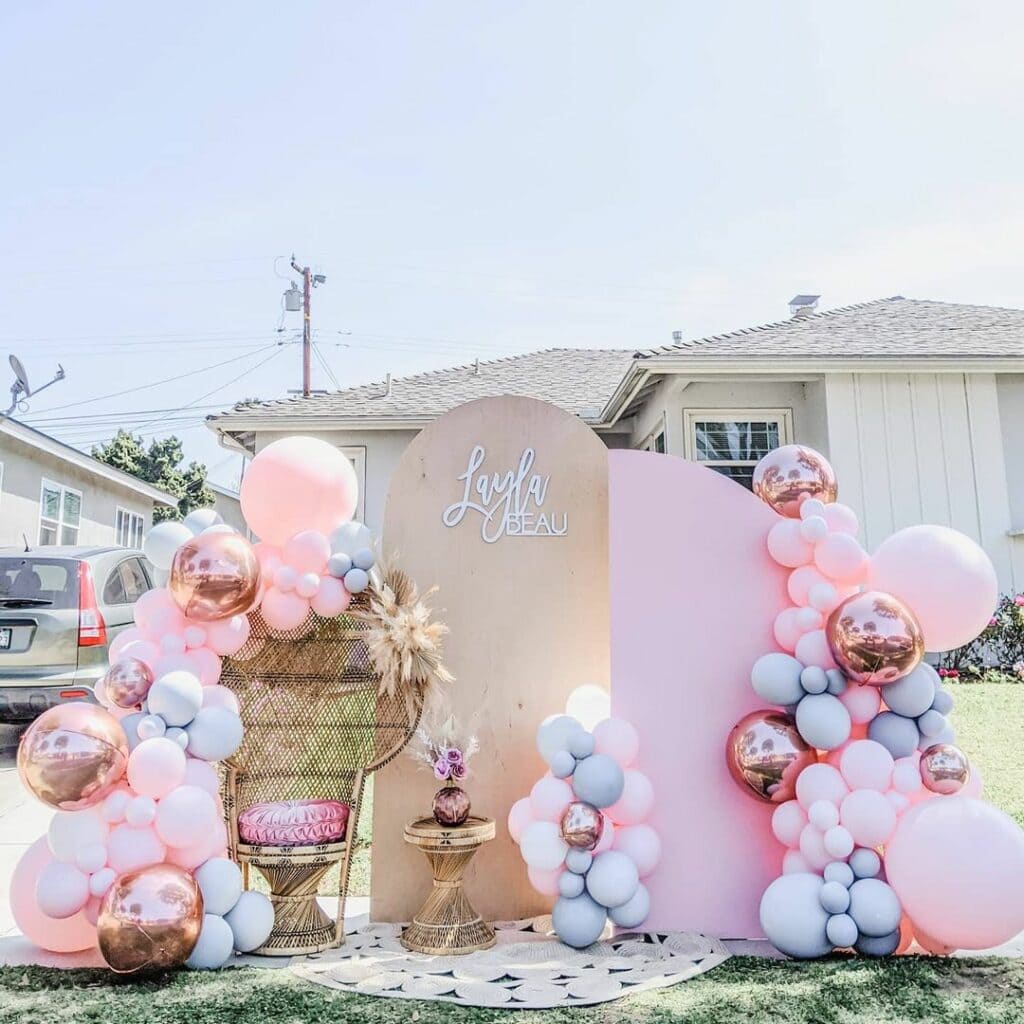 Want a sweet and healthy treat? A little cutie is the perfect little snack in honor of the upcoming little cutie, just look how it was incorperated at this outdoor shower below.
Fairy Tale Forest Theme
This theme works very well for outdoor baby showers because it's all about the forest, greenery, and baby animals. Start with some fun decorations for the tables, like round wood slices topped with flowers, stuffed animals, and pinecones. Try baby's breath in mason jars, a themed cake, and a hot drink table for added coziness.
The parent-to-be or host might also include an oversized homemade card for the guests to read upon arrival, saying thank you for the presents. Small tables with flowers, greenery,, and other adorable woodland accents can also add to the scene. Check out our article on our favorite woodland baby shower themes.
Rainy Day Ideas
This is always a big question when planning outdoor parties: What if it rains? Ask guests to bring umbrellas, and carry on! If you set up a balloon arch outside, move the party into a garage or under a covered porch if possible.
Bet you didn't know that rainy day pictures have excellent lighting! So make sure to get in a few photos first thing. There are balloon arches that stand up on their own and include cute sayings for baby showers, so look into this idea if you want a great place to take photos outdoors.
Props for Fun Photos
Set up a box of props for guests to take pictures with. Include some fun baby shower-themed props on sticks. Pacifiers, bottles, and "congratulations" messages are perfect! You might also add things like hats, glasses, scarves, costumes, signs, and anything else that people will enjoy.
Park Baby Shower
Don't want to use your own backyard? You might be wondering how to throw a baby shower in a park, but don't worry — it's easy and this idea is definitely making a comeback. Park baby showers are the perfect option for a socially distanced gathering outdoors. Everyone has space to move around, and parks make beautiful settings. Plus, the natural light a park will have will work great for photos.
And you'll probably have your pick of the venue since there's no shortage of parks and outdoor spaces in most towns and cities. Depending on your area, you might not have to make any type of venue reservations. That is, unless you're reserving a covered patio area or want a particular spot in the park.
If you want this to be a virtual event too to keep your shower inclusive, be sure to have a hotspot set up on a device so you can connect to the internet.
Park baby showers are easy to throw together and are a great way to enjoy the outdoors! Make sure that you're clear on directions and parking so that there's no confusion about where to meet. You might also try tying some balloons near the parking area and party spot to help guide guests to the shower. You can also use signs to give directions along the way.
Picnic Baby Shower
Picnics are fun and easy to plan. All you need are blankets to sit on, a few decorations, and some food, and you've got a party! A picnic makes a wonderful spring baby shower too!
Consider finding a spot where the natural beauty will take care of most of the decorating for you. Climbing ivy and colorful flowers make for a great setting. You might want to set up next to a stone or brick wall or a water feature in the park like a fountain. This will provide a good background for the event.
Drive-By Baby Shower
A drive-by outdoor baby shower involves guests stopping by to give presents to the parent-to-be but not staying for an actual party. They basically just "drive-by" for a few seconds in order to say hello and congratulations.If you decide that a drive-by shower is the best option, you'll need to do a few things. Start by sending invitations for a date and time, although you might want to include a time window instead, so people can show up at any time within certain hours.
If you don't do this, you may run the risk of everyone coming to the party at once and forming quite a line of traffic. Make sure your guests know what to expect. Are they just dropping off a present? Do they stay for pictures? Address these questions in the invitation.
Make sure to thank your guests for coming. Try to have a snack or favor prepared to hand out, and send thank you notes soon after the party.
One more tip is to ensure that you have all the things you need to be outdoors for a bit. Comfortable shoes, sunglasses, sunblock, or an umbrella can make time spent outdoors more comfortable.
Decoration Ideas
If you choose to host a drive-by outdoor baby shower, you'll need a few decorations that are visible from the road in front of your house. A giant balloon pattern spelling out "BABY" is a cute way to draw attention to the celebration. You could also decorate an area of the lawn, so guests who come by for a few minutes can take pictures.
Start Planning Your Outdoor Baby Shower
Hosting a combination virtual and in-person outdoor baby shower is a fantastic way to celebrate while maintaining social distancing, too. You can use the beautiful scenery of the trees, water, or mountains as part of your decor and enjoy time with family and friends. Using a laptop and video equipment is easier than ever, and there are plenty of options for decor, colors, and themes from which to choose.
WebBabyShower has plenty of cute themes to choose from which can easily compliment your outdoors in-person baby shower- after all, you want your virtual guests to be just as much of a part of the day as your in-person ones.
While setting the scene and decorating well is essential, there is also planning and preparation for other parts of the day. Remember to always include the basics for a baby shower — invitations, cake and drinks, games, and, of course, party favors and thank you notes for all the guests who attended the event. You want them to understand that their presence, whether virtual or in-person, matters to you.
Sign up for a trial WebBabyShower and see how simple our process is and what we can do to make your virtual shower incredible.
Did you enjoy these tips and tricks for hosting your baby shower? What else should people think of when planning a spring-themed baby shower outdoors?