When it's time to plan a baby shower, there's so much to be done. From choosing the games to ordering the food, making sure the day is absolutely perfect takes a lot of work. One of the most fun parts of planning a baby shower is deciding on a theme. There are SO many to choose from, just check out our article on the latest baby shower themes, but one of our absolute favorites is a woodland baby shower theme.
Now, you might be asking yourself, "Is planning a woodland baby shower hard?" After all, this type of baby shower theme includes imagery of trees and cute little creatures… cute little wild creatures! Since you can't exactly welcome a scurry of squirrels into your living room, how can you throw an incredible, authentic, adorable woodland-themed baby shower?
Even if you aren't planning a strictly virtual baby shower, you can still take advantage of WebBabyShower to perfectly plan the woodland-themed baby shower of your dreams. Let's take a look at woodland baby showers, including how to use WebBabyShower for yours, some imagery ideas, and much more!
Why Are Woodland Baby Showers So Popular?
Woodland-themed showers have become increasingly popular in recent years, and for good reason! With a woodland theme, you get lovely, soft colors and adorable creatures. Popular color palettes for a woodland baby shower include earthy browns, deep reds and oranges, greens, and yellows—think anything you would find in nature!
Woodland baby showers are a great option for anyone wanting a gender-neutral theme. If the parents-to-be aren't finding out the sex of their baby or are straying away from conventional pink or blue themes, a woodland shower is a great fit.
Possibly one of the biggest reasons woodland-themed baby showers are so popular is because they're both minimalistic and rustic—an aesthetic that is very on-trend right now. Thanks to the rising popularity of "cottagecore" and other similar, soft aesthetics, more and more parents-to-be are choosing woodland themes for both their baby's nursery and baby showers.
Try Out All Our Themes In Our New Free Demo
Free Demo
Choose Your Perfect Woodland Baby Shower Theme
Now, let's get to what we know you've been wondering: just what do WebBabyShower's woodland baby shower themes look like? We have the best themes that will pull your woodland theme together perfectly.
Foxes
Who doesn't love little fox-themed things for a new baby? (We know we do!) This playful theme includes a palette of oranges, peaches, and greens and featured frolicking foxes. Pair this with a cute tagline like, "Celebrate Our Sly Little Guy!"
Nursery Jungle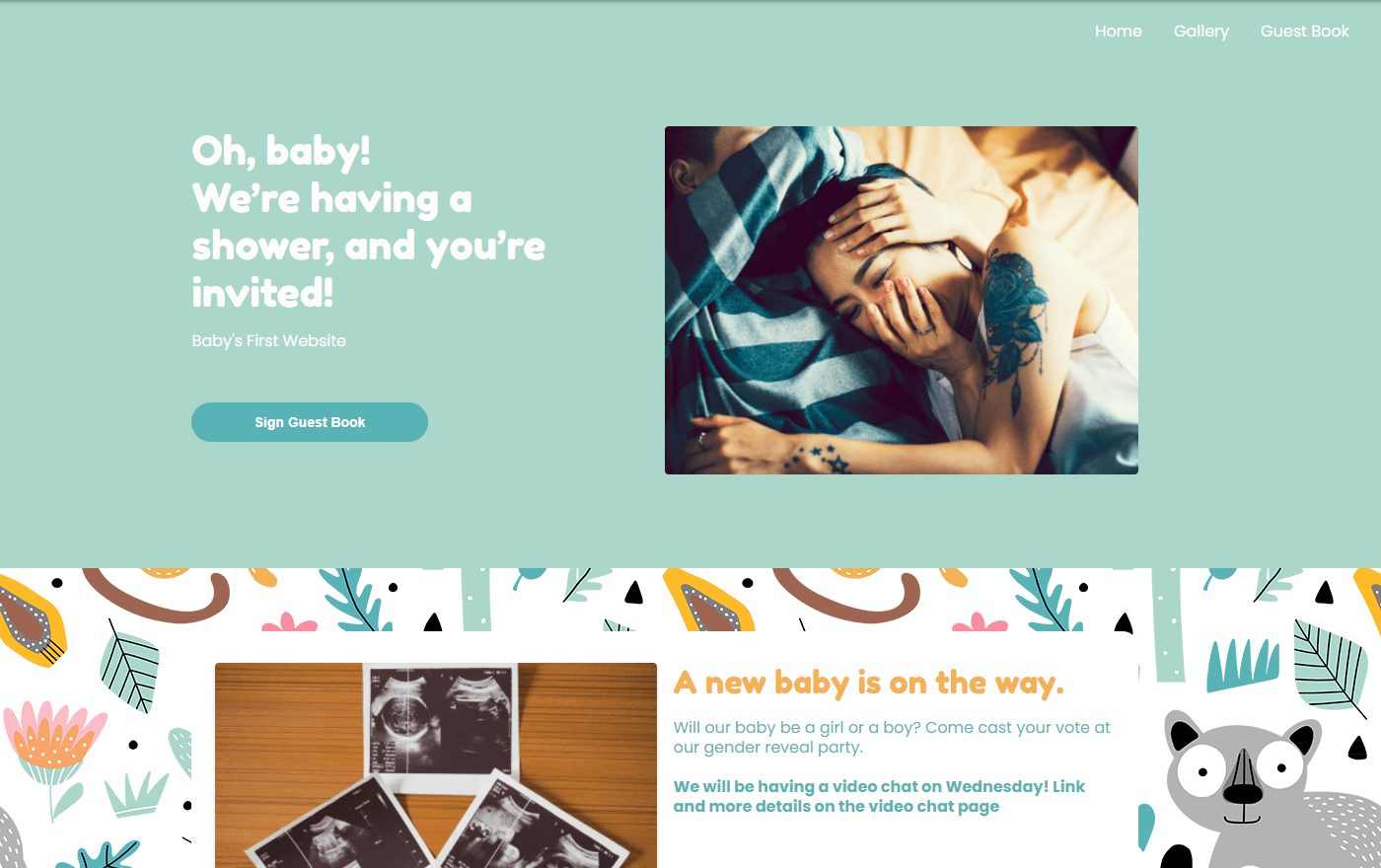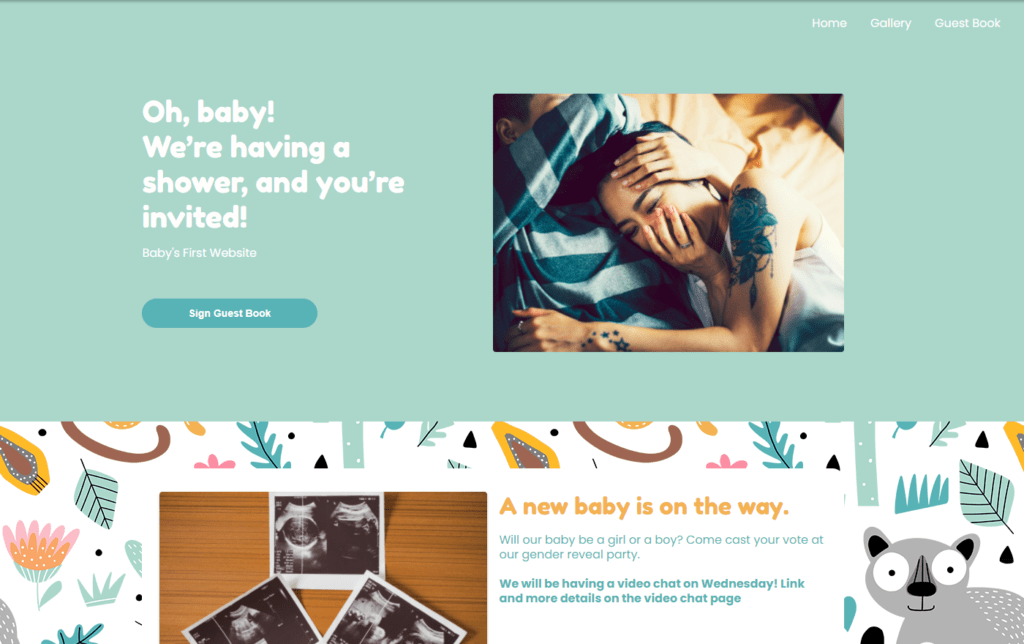 It's a jungle out there with our "Nursery Jungle" theme. This whimsical theme features a soft color palette and eye-catching elements. Pair this with wording like, "Help Us Welcome Our Wild Thing!"
Bunnies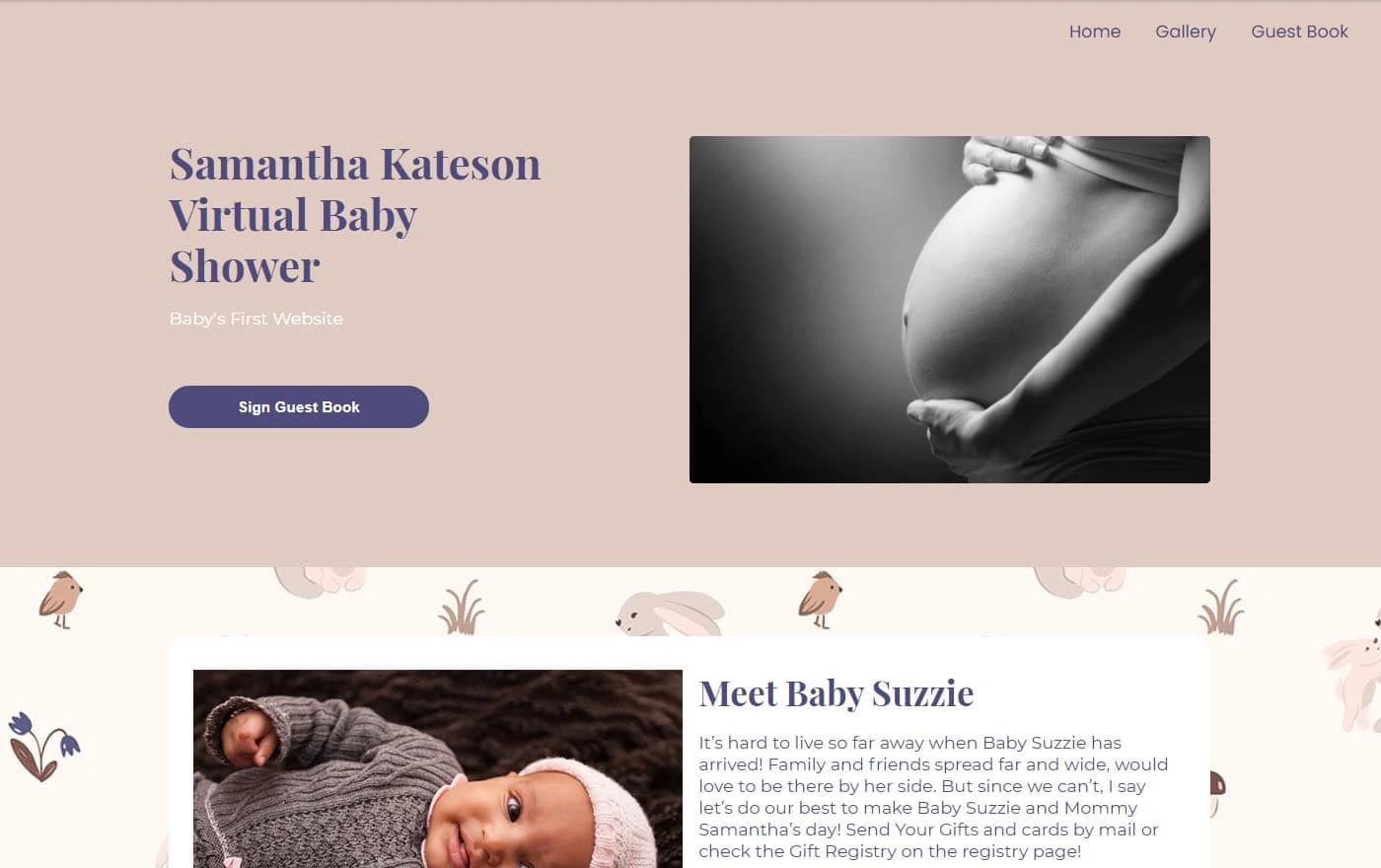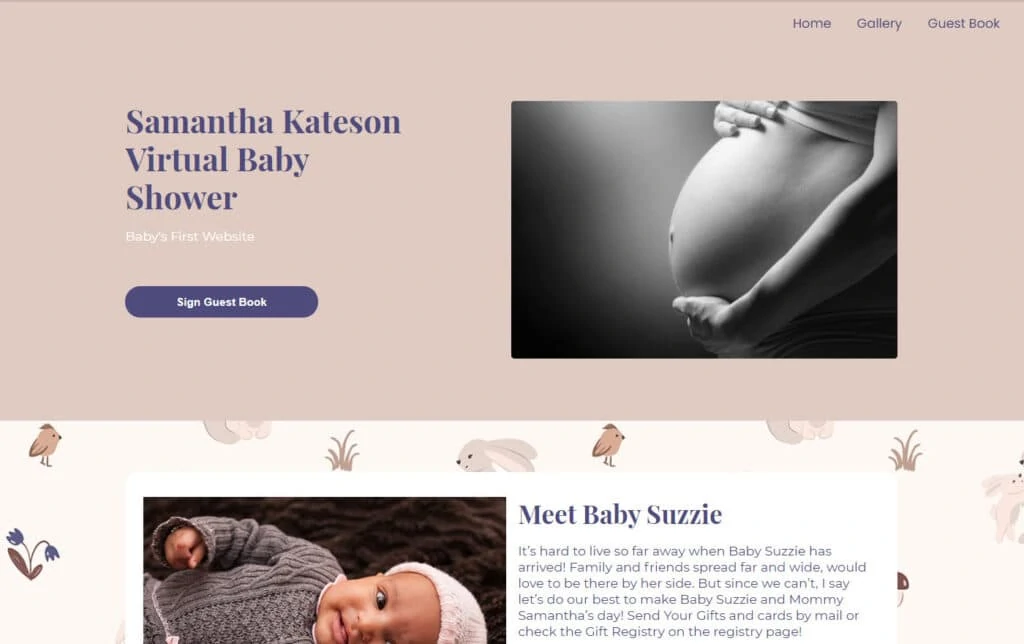 Our "Bunnies" theme features several woodland elements: flowers, acorns, and of course, bunnies! One thing we love most about this is it includes a mommy and baby bunny—making it an absolutely precious theme for a woodland baby shower. Try some sweet wording like this on your invitation: "Baby Colette is HOPPING This Way October 2021!"
Mommy And Baby Bear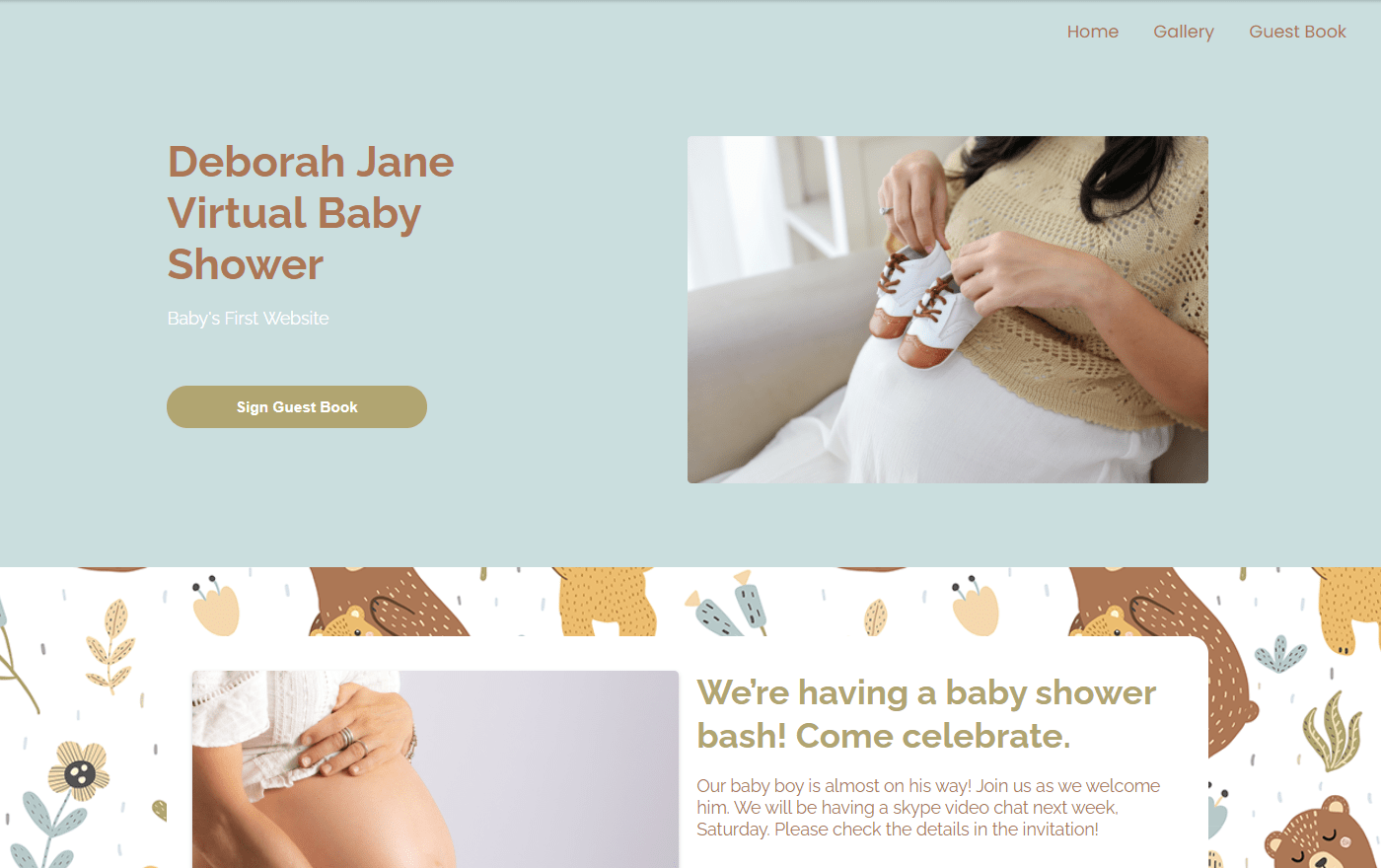 The "Mommy and Baby Bear" theme is another one of WebBabyShower's gorgeous woodland shower themes. This theme features soft blues, browns, and yellows and is perfect for a gender-neutral shower. It pairs perfectly with an invitation that says, "We're Expecting a Cub Soon!"
Koalas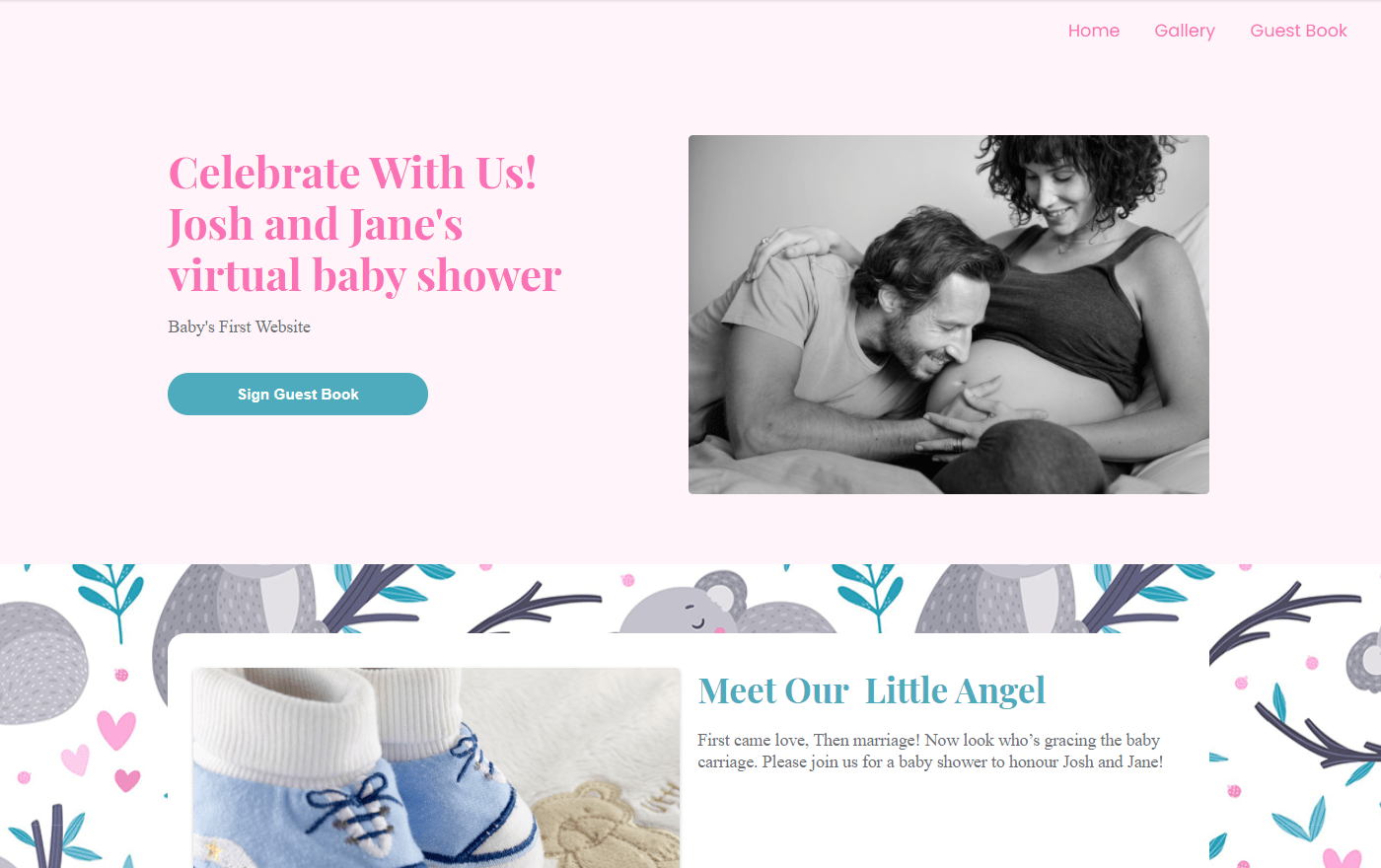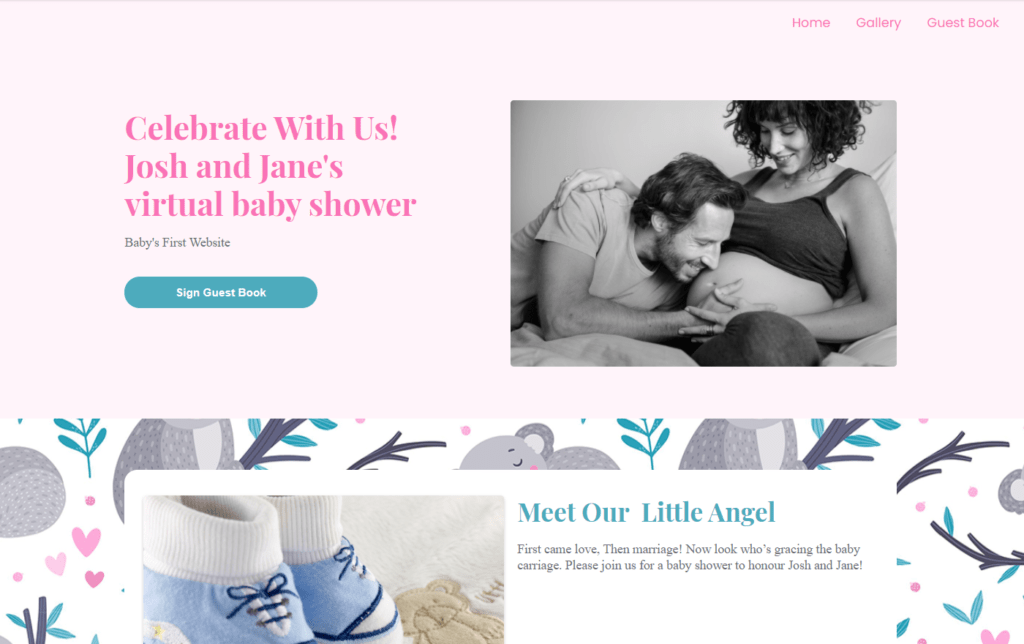 "Koalas" is another sweet mommy-and-baby theme that we're crazy for. This baby shower theme features a color palette of pinks, teals, and grays—easy to pair with decorations. Try invitation wording like, "Let's Hang Out! Join Us For a Baby Shower Celebrating Baby Kayla."
Mommy And Baby Forest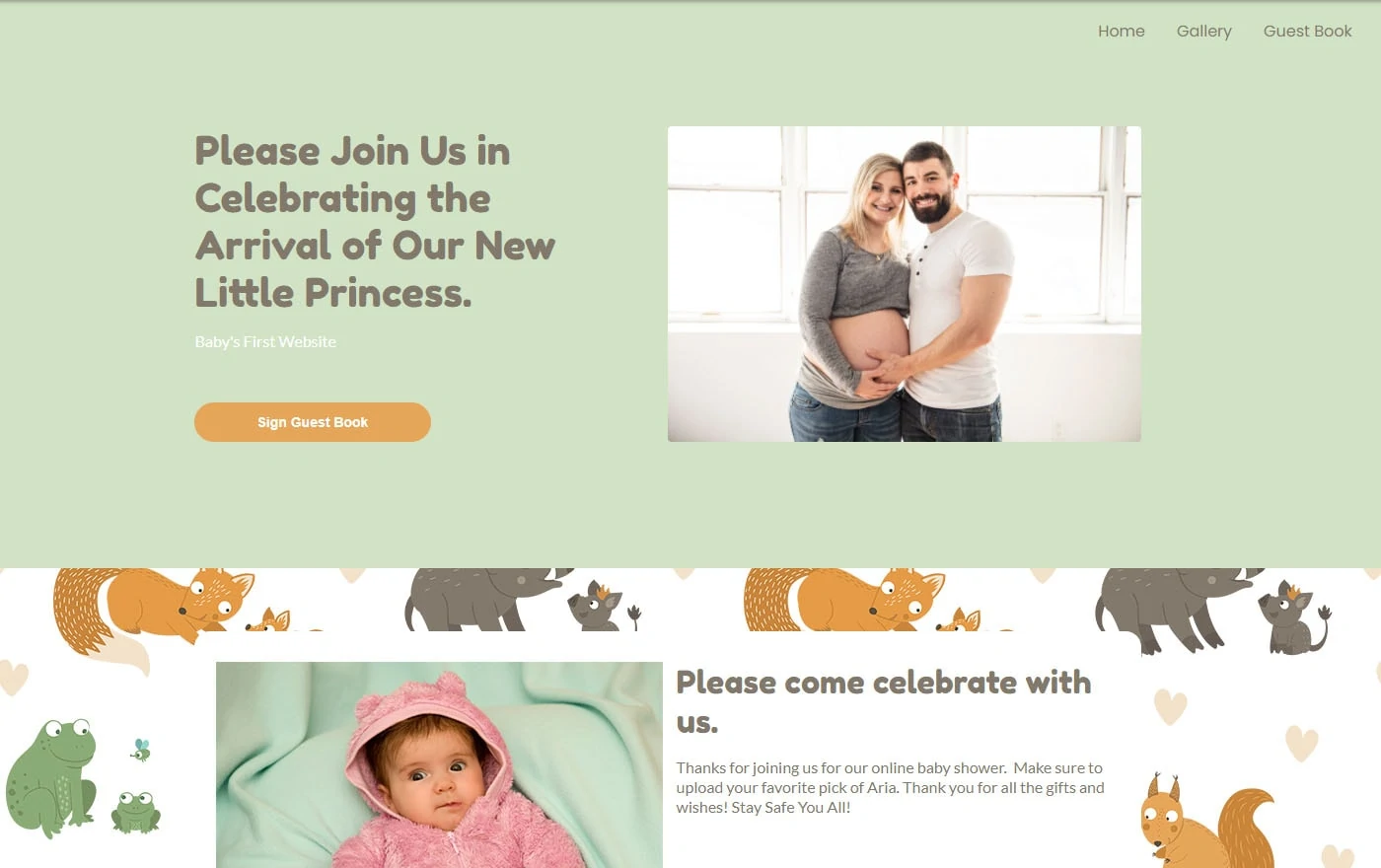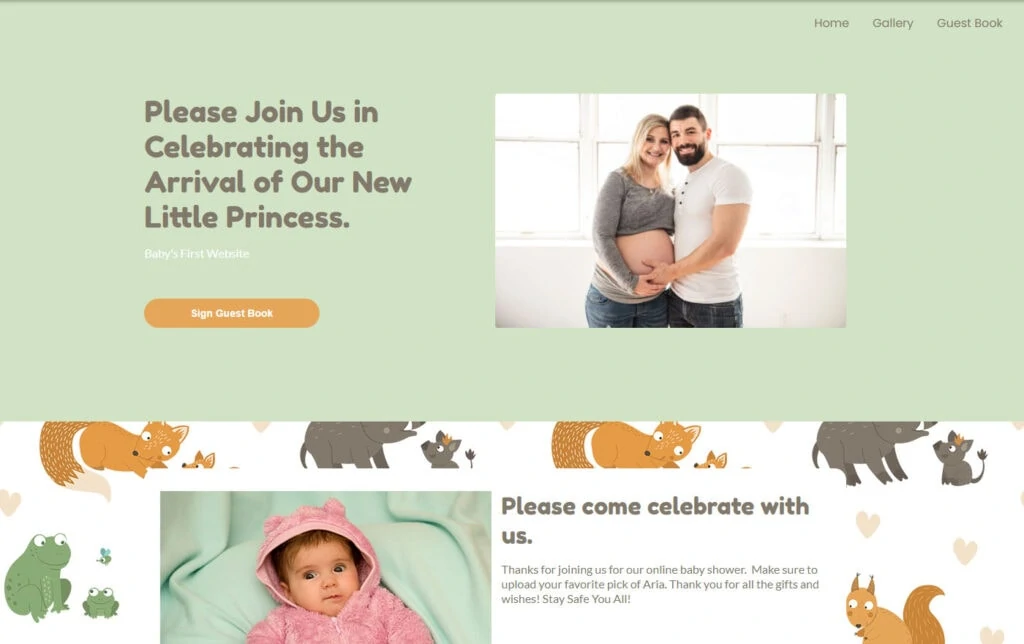 Can't decide on just one woodland creature? Check out the "Mommy And Baby Forest" theme. This one features mom and baby foxes, bears, hedgehogs, and even adorable little snakes. Spark guests' curiosity and excitement with wording like, "Let The Adventure Begin" on the matching invitation for this sweet woodland baby shower theme.
Also Read: 5 Garden Baby Shower Theme Ideas your Guests Will Love
Woodland Baby Shower Invitation Ideas
These woodland baby shower invitations are definitely in keeping with any woodland theme or forest-themed baby shower. We've selected a mixture of rustic, sweet, cartoon and generally cute woodland theme invites to give you some serious inspiration
Oh Baby Woodland Baby Shower Card
This gender-neutral woodland baby shower card is perfect for any baby-to-be, featuring elegant animals, trees, and flowers in a watercolor design. A great choice for a woodland baby shower hosted in the springtime!
Rustic Boy Woodland Baby Shower Invitation
If you have a boy on the way, this adorable rustic baby shower card could be an excellent choice for your little adventurer. It features the phrase "let the adventure begin," celebrating the start of your most extraordinary journey.
Mommy and Baby Deer Baby Shower Invitation
Celebrate your and your little one's special bond with this adorable mommy and baby deer card. It features two deer snuggled up together – could it be any cuter? The card is elegant and simple, appealing to parents who prefer a minimalist style.
Bunny Field Baby Shower Invitation
This adorable bunny card is perfect for a little girl, featuring two bunnies hopping in a field of flowers. The card's yellow, pink, and orange color scheme could be ideal for parents who want to incorporate bright colors into their woodland baby shower rather than the typical green, white, and brown.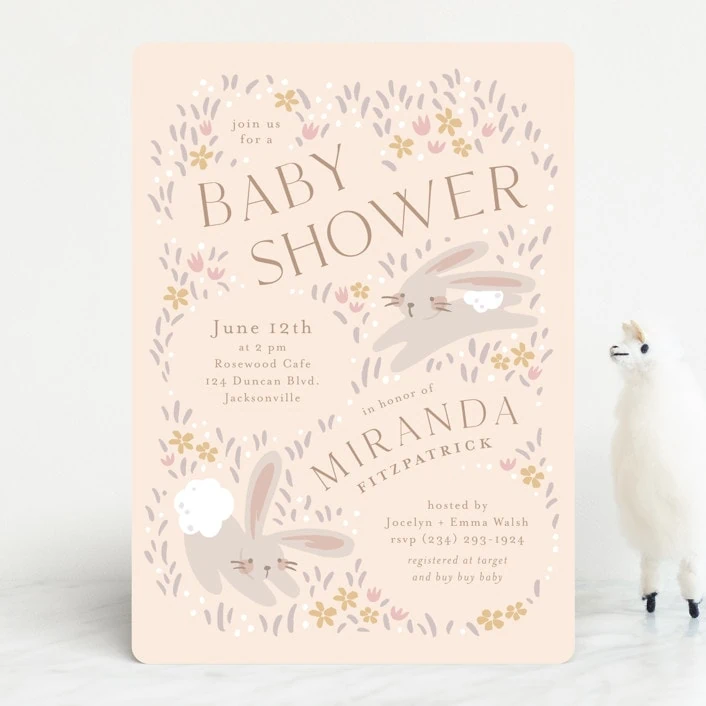 Adventure on the Horizon Baby Shower Invitation
Your little explorer is about to begin their most incredible journey yet. What better way to celebrate this special moment than with this Adventure on the Horizon card? The card has a compass, binoculars, a water bottle, wooden hiking signs, and other survival gear, making it ideal for a woodland/adventurer baby shower theme.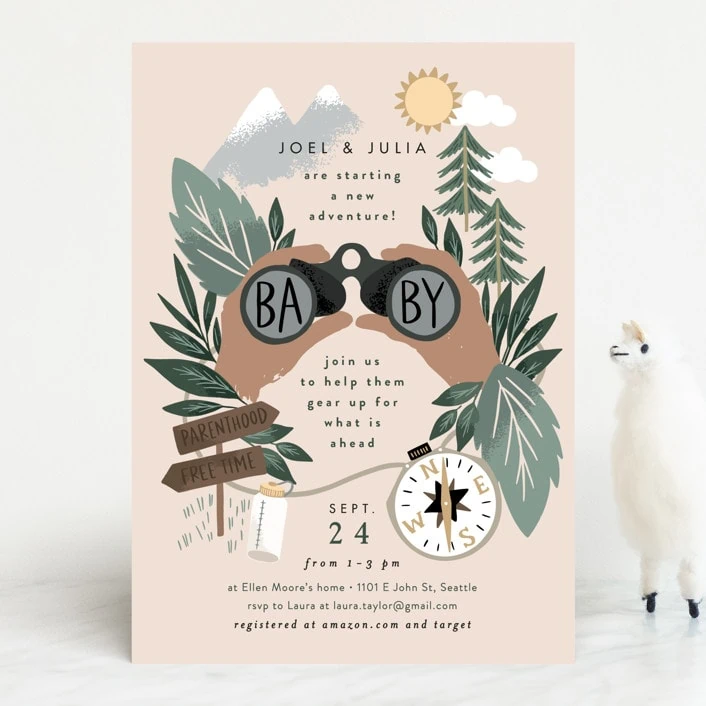 Woodland Animal Baby Shower Games
What sort of games would you play at a woodland-themed baby shower? We've got you covered! Check out these suggestions to make your party an instant hit.
Gummy Bear Guessing Game
This game is simple, making it ideal if you're short on time. All you'll need is a jar, water bottle, or bear-shaped container filled with gummy bears. Your guests must guess how many gummies they think are in the container. Whoever guesses the closest (or gets it exactly right) wins!
Baby Shower Emoji Game
If your guests are bigger texters than hikers, this may be the perfect baby shower game for you. To play, your guests will get a list of emojis correlating to different phrases. For example, two baby emojis would mean "twins." Whoever can decipher the most phrases is the winner.
Woodland Baby Shower Bingo
Baby shower bingo is fun, easy to play, and ensures everyone will be focused on mom as she opens her gifts. To play, each guest will get a woodland-themed bingo card, like these from Etsy. Every time mom opens a gift they have listed on their card, they mark it off. Whoever is first to get five in a row is the winner.
Who Knows Mommy Best?
If you want to know just how well your guests know the future mom-to-be, this is the game for you! Each guest will get a handout with questions about mom, like "what is her middle name" or "what is her favorite food." Whoever answers the most correctly is the winner (and gets bragging rights)!
The Price is Right
Do you love the T.V. show The Price is Right? Then, this baby shower game will definitely strike your fancy. To play, you can use WebBabyShower's free game slides, featuring a variety of different baby products and four price options. Your guests will look at each product and guess which price they think is correct. Whoever guesses the most correctly is the champion!
Read: Baby Shower Games for all Types of Showers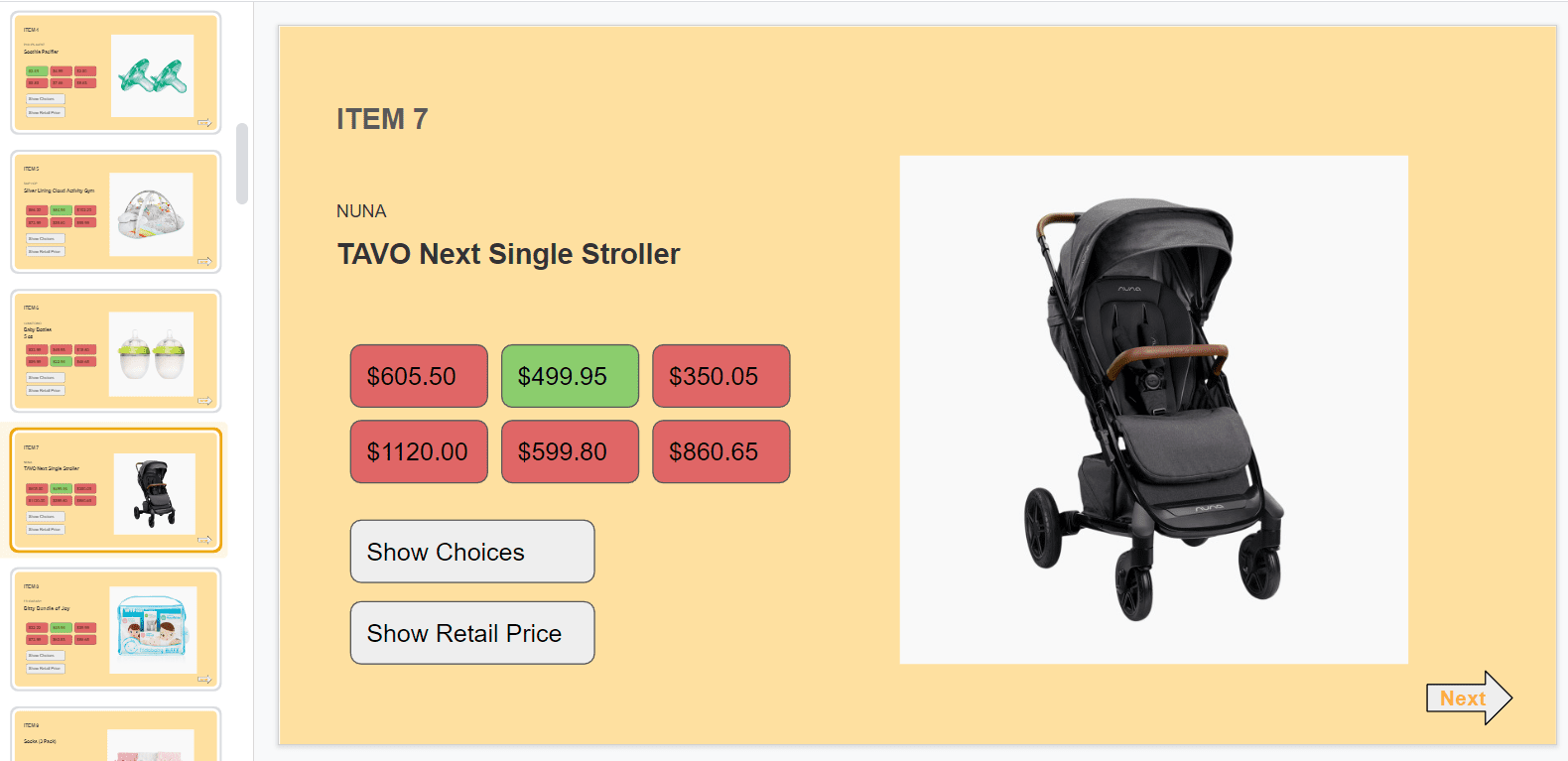 Woodland Animal Baby Shower Decorations
When it comes to creating a cohesive themed baby shower, it's all about ensuring that the decor is on point. There are plenty of different ways you can decorate for a woodland-themed party, so take a look at some of our favorites below.
Woodland Balloon Garland
Woodland balloon garlands are adorable and make great photo ops. Try to find a garland with nature-inspired colors, such as green, brown, and white. Some kits may even have balloons shaped like woodland animals, such as deer, bears, or raccoons.
Wooden Stumps
Bring the woodlands to your home by incorporating wooden stumps into your decor! You can use them to hold serving platters, display signs, or incorporate them into your table's centerpieces. You can use actual stumps if you live in a wooded area or buy them online.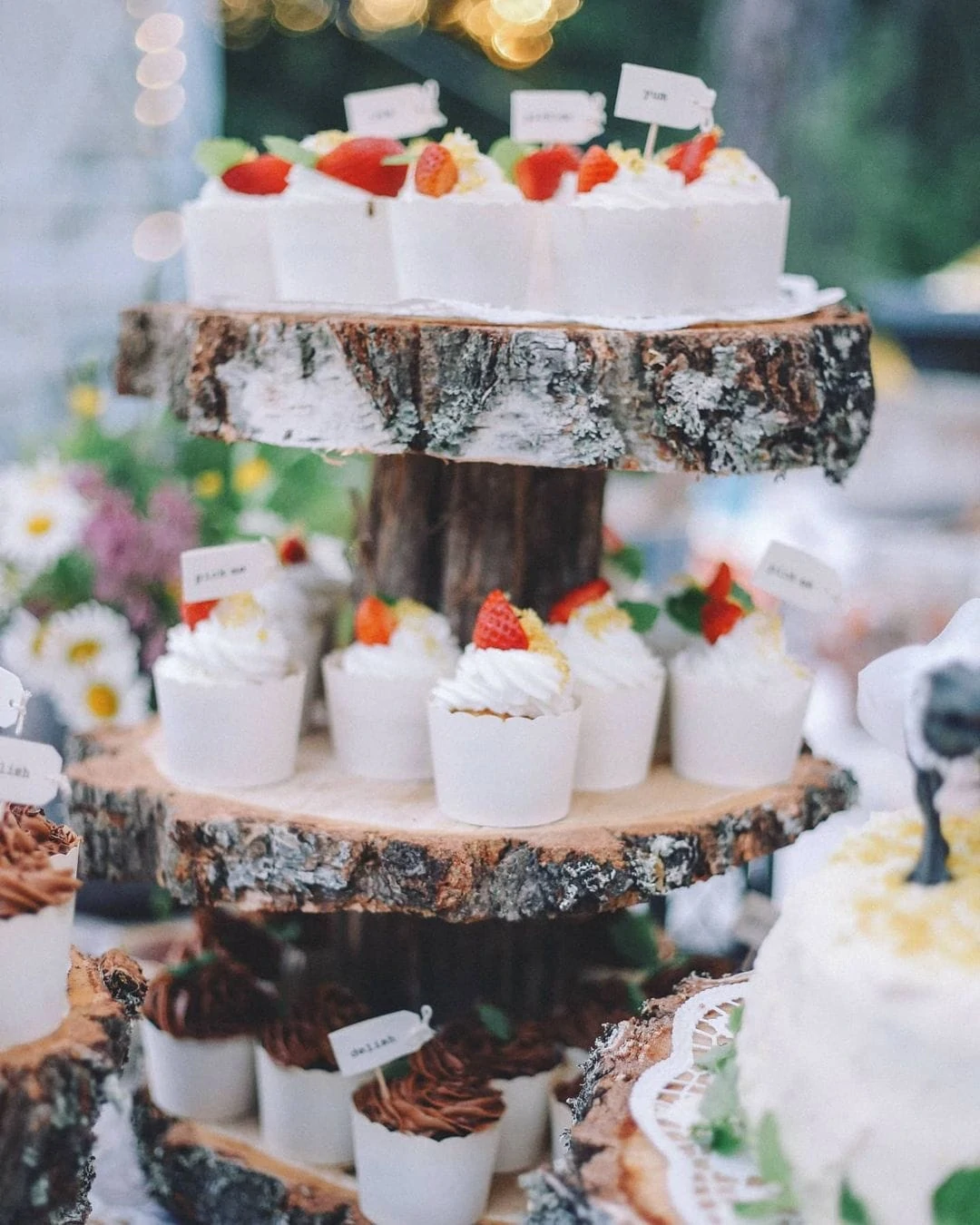 Dried Moss
Moss is a beautiful addition to any woodland baby shower that can be used as a table runner, backdrop, or as part of your centerpieces. When you combine the moss with the stumps, your guests will feel like they've been transported into the forest!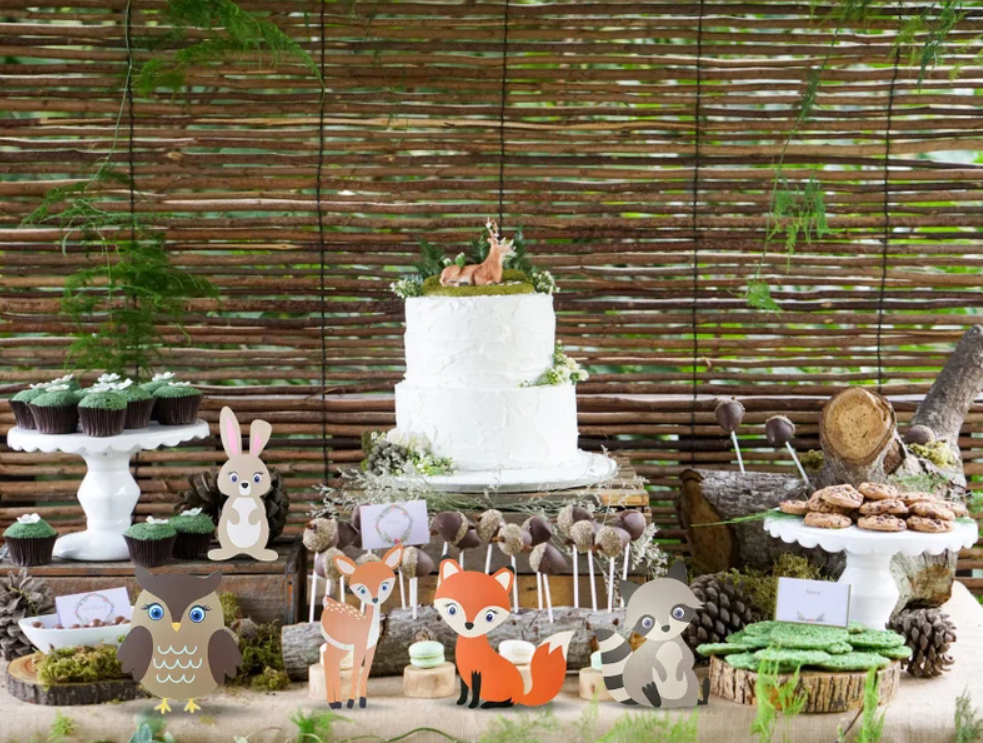 Woodland Animal Cake Toppers
Adding cake toppers shaped like woodland animals, trees, pinecones, or forest mushrooms will make your cake feel like a tiny woodland forest. You can buy realistic toppers or cartoon ones, depending on your preferred style.
What to Serve at a Woodland Baby Shower
Make sure your woodland-themed shower has all the food and drinks your guests could want – and all created with the woodland theme in mind! These food and drink suggestions are a great starting point for you to create a cohesive menu that helps bring your woodland baby shower to life.
Drinks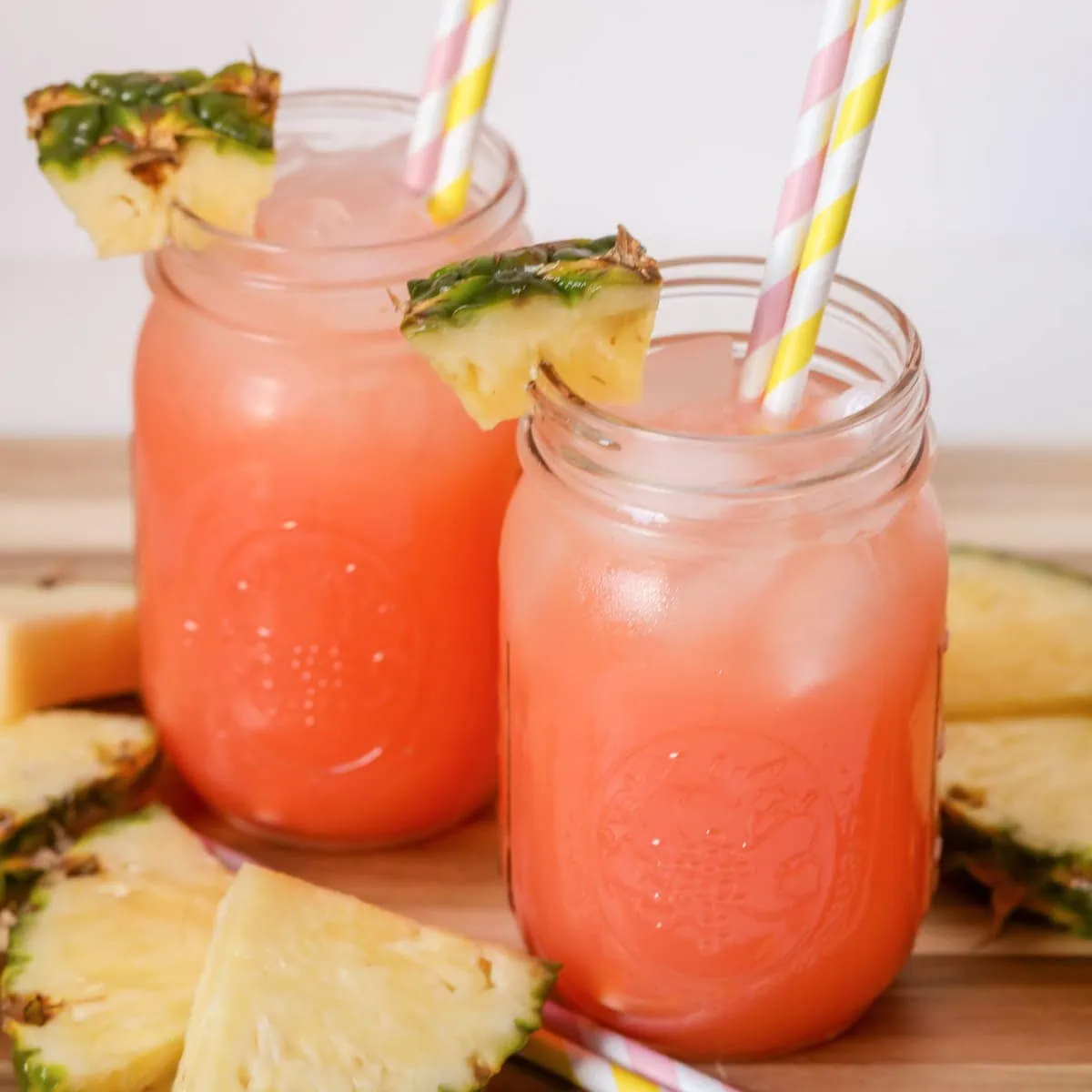 Pink Pixie Punch: Give your woodland baby shower a whimsical feel with some delicious pink punch! This is a great idea for a girl's baby shower. To make it, all you'll need is pineapple juice, pink lemonade mix, and sprite. Follow this recipe by Lil Luna for guidance.
Green Pond Punch: Having a boy? Consider making this green punch recipe by The Farmwife Drinks instead. All you'll need is green Hawaiian Punch, pineapple juice, and ginger ale to create this delicious concoction.
Basil, Strawberry, and Lemon Flavored Water: Bring the natural smells and flavors of the woodlands to your party with this delicious flavored water. All you'll need is a large container of water, basil, strawberries, and lemons. A refreshing beverage for all.
Desserts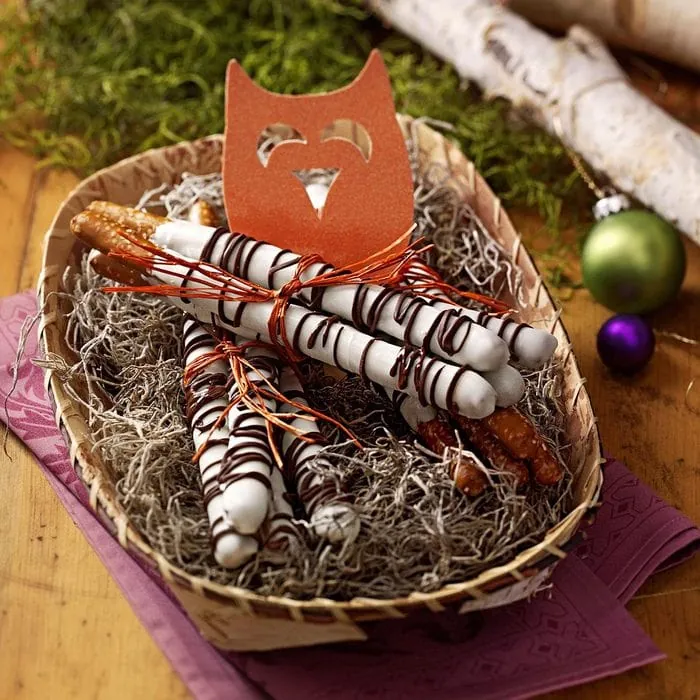 Nutty Chocolate Acorns: Melt some chocolate kisses, then put the melted chocolate in a ziplock bag and cut a hole in the corner to make it like a piping bag for frosting. Use the melted chocolate as glue to combine a kiss to a nutter butter for an acorn-shaped treat. For more guidance, check out this video by Event Answer.
Apple Marshmallow Mushrooms: Avoiding the core of the apple, slice off both sides to create two domes (like the top of a mushroom). Stick two toothpicks in the middle of the apple dome, then slide the mushroom on the bottom. A great woodland baby shower dessert if you're low on time. For help, check out this article by Room Parent.
Birch Pretzel Sticks: Cover pretzel sticks with white chocolate, then add dark chocolate drizzles to create the "birch wood" look. Tie a few of the sticks together to make them look like stacks of wood. For guidance, take a peek at this article by Taste of Home.
Main Entrees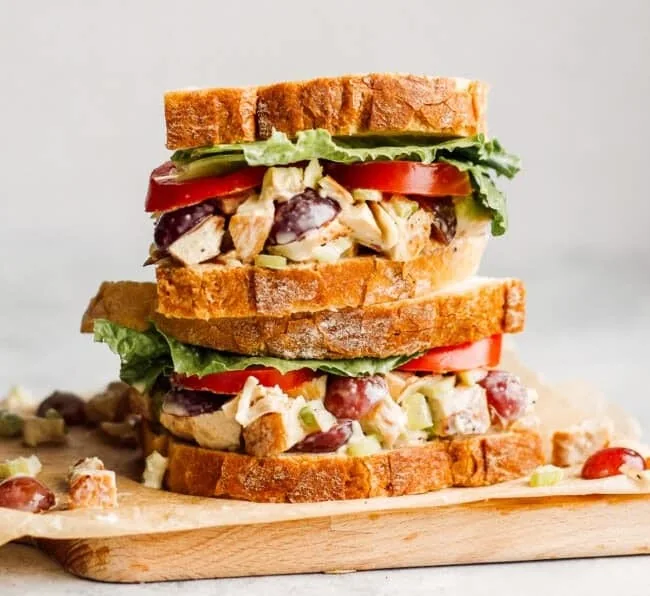 Almond Chicken Salad: Chicken salad sandwiches are delicious, easy to make, and don't require forks and knives – making them the perfect entree for a casual woodland baby shower. Follow this recipe by Easy Chicken Recipes to elevate your sandwich to the next level.
Fruit Salad with Walnuts: Woodland animals love foraging for nuts and berries. Your guests won't have to forage with this delicious fruit salad! Incorporate a variety of berries, poppy seeds, lime juice, and fresh mint. You can also add walnuts for a bit of crunch. Here's an easy recipe by Healthy Fitness Meals.
Appetizers and Dips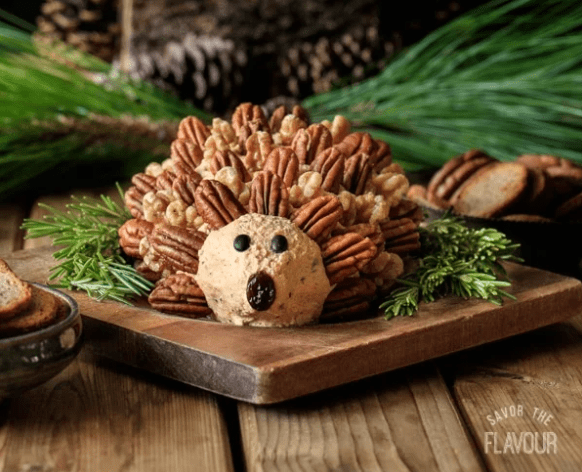 Woodland Hedgehog Cheese Ball: This appetizer will be the highlight of your food table, made from a cream cheese ball with walnuts sticking out, resembling a hedgehog. It's almost too cute to eat! For the recipe, check out this article by Savor the Flavour.
Trail Mix Bar: You can make your trail mix bar as standard or adventurous as you like, with toppings like almonds, pistachios, pumpkin seeds, dried cherries, dried blueberries, chocolate chips, and M & Ms.
Owl-Shaped Veggie Platter: Collect all of your favorite veggies, dips, and tiny bowls, then morph them into the shape of an owl! This app will certainly be a "hoot." For guidance, simply google "owl veggie platter" or search it on Pinterest.