When it's time to plan a baby shower, there's so much to be done. From choosing the games to ordering the food, making sure the day is absolutely perfect takes a lot of work. One of the most fun parts of planning a baby shower is deciding on a theme. There are SO many to choose from, just check out our article on the latest baby shower themes, but one of our absolute favorites is a woodland baby shower theme.
Now, you might be asking yourself, "Is planning a woodland baby shower hard?" After all, this type of baby shower theme includes imagery of trees and cute little creatures… cute little wild creatures! Since you can't exactly welcome a scurry of squirrels into your living room, how can you throw an incredible, authentic, adorable woodland-themed baby shower?
Dear reader, you are in good hands. At WebBabyShower, we live for baby showers—it is in our name, after all. We have helped over 10,000 customers plan incredible baby showers. We're the #1 market leader in virtual baby showers, offering easy, ready-to-go setup, unlimited invitation sending, a guest book, and customizable, themed showers WITH matching invitations. Baby showers are our thing.
Even if you aren't planning a strictly virtual baby shower, you can still take advantage of WebBabyShower to perfectly plan the woodland-themed baby shower of your dreams. Let's take a look at woodland baby showers, including how to use WebBabyShower for yours, some imagery ideas, and much more!
Why Are Woodland Baby Showers So Popular?
Woodland-themed showers have become increasingly popular in recent years, and for good reason! With a woodland theme, you get lovely, soft colors and adorable creatures. Popular color palettes for a woodland baby shower include earthy browns, deep reds and oranges, greens, and yellows—think anything you would find in nature!
Woodland baby showers are a great option for anyone wanting a gender-neutral theme. If the parents-to-be aren't finding out the sex of their baby or are straying away from conventional pink or blue themes, a woodland shower is a great fit.
Possibly one of the biggest reasons woodland-themed baby showers are so popular is because they're both minimalistic and rustic—an aesthetic that is very on-trend right now. Thanks to the rising popularity of "cottagecore" and other similar, soft aesthetics, more and more parents-to-be are choosing woodland themes for both their baby's nursery and baby showers.
Throw a Virtual Baby Shower so Everyone

Can Celebrate!

• Free Trial – 7 Day Refund for any reason
• Only 1 Minute Setup!
• 40+ Custom Themes & Matching Invites
• Use Any Online Registry
• Send Unlimited Invites and Updates
• Baby Shower Games with Scoreboards, Give Prizes!

Build Your Shower
---
Use WebBabyShower For Your Woodland Themed Shower
Thanks to technology, bringing people together with virtual baby showers is easier than ever—but if all of your friends and family are nearby, an in-person might be more your style. The good news is that whether you plan a virtual baby shower, an in-person baby shower, or a combination of the two, you can use WebBabyShower for your woodland-themed baby shower!
We have several beautiful themes that will perfectly complement your woodland-themed baby shower. When you choose your theme with WebBabyShower, it comes with matching invitations that you can send to as many guests as you want. (That's right, there is no guest limit!) WebBabyShower's invite manager makes it easy to send and track the invitations you send.
With our invite manager, you can choose an invitation that matches your woodland theme and choose an RSVP or "Visit Shower" invite.
Customize your invitation exactly how you want it and, before sending to your guests, send yourself a preview so you can be sure everything looks just right. When it's time to deploy, send your adorable woodland baby shower invitations to as many guests as you'd like! You can also track RSVPs and invitation opens—making it easy to send any RSVP reminders to people who haven't opened after a set amount of time.
WebBabyShower isn't just a one-and-done invitation-sending service, either—send as many invitations for as many events as you'd like as long as your WebBabyShower is active.
If you're holding an in-person event, use our themes to inspire the way you decorate your baby shower. Choose the perfect WebBabyShower woodland theme for your shower, and customize your decorations around it! You can find a ton of woodland-themed baby shower decorations online, especially on Etsy. We love these adorable decorations!
Choose Your Perfect Woodland Baby Shower Theme
Now, let's get to what we know you've been wondering: just what do WebBabyShower's woodland baby shower themes look like? We have the best themes that will pull your woodland theme together perfectly. WebBabyShower's woodland baby shower themes come in a wide variety to suit different tastes and different color palettes. Each theme below is a theme you can choose on our website!
Foxes
Who doesn't love little fox-themed things for a new baby? (We know we do!) This playful theme includes a palette of oranges, peaches, and greens and featured frolicking foxes. Pair this with a cute tagline like, "Celebrate Our Sly Little Guy!"
Nursery Jungle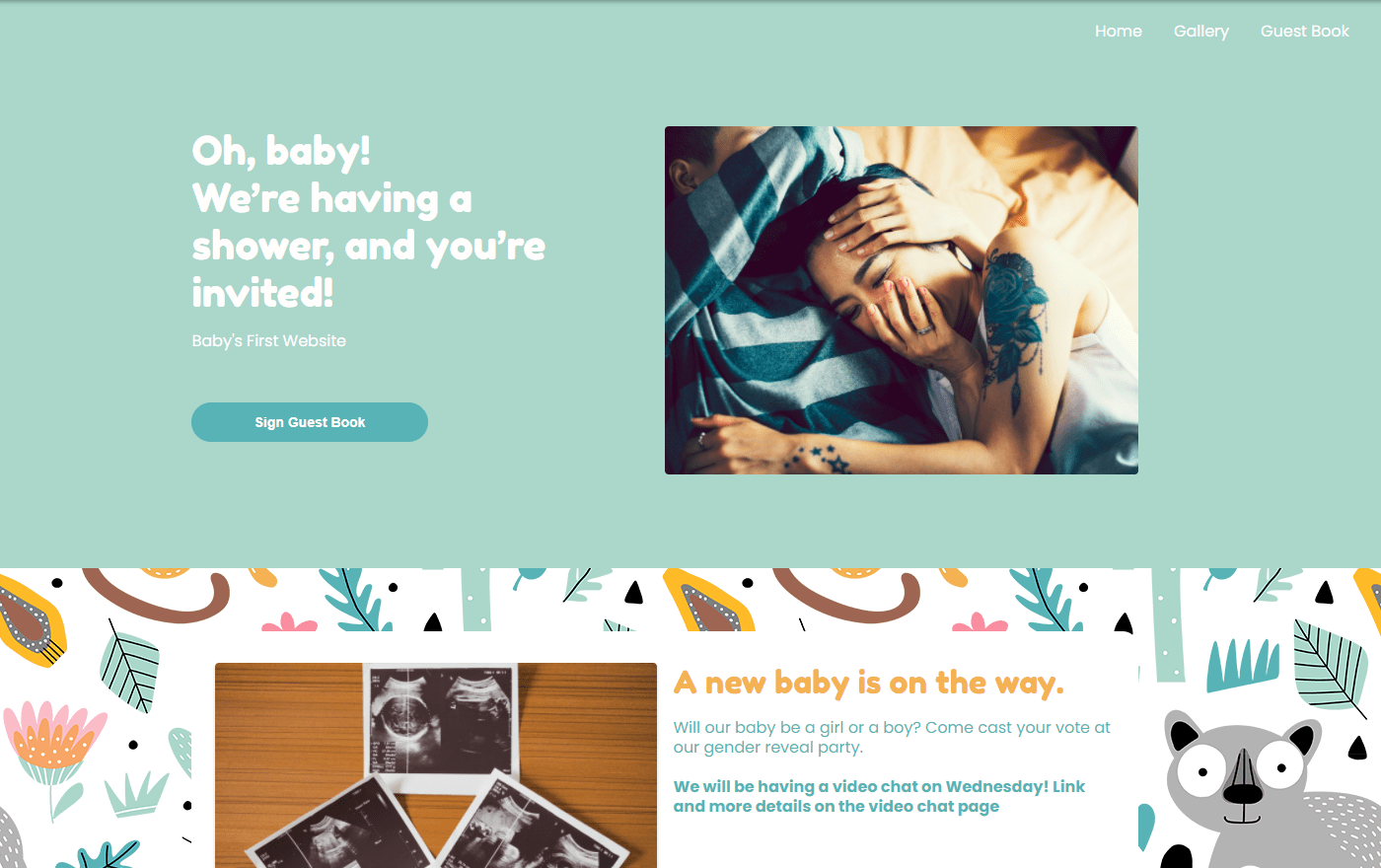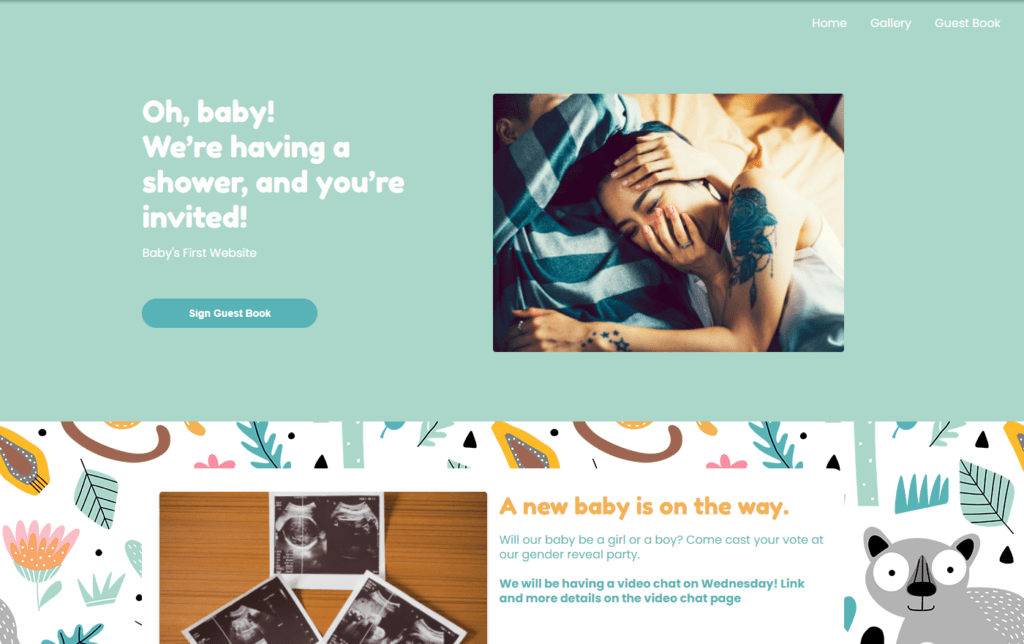 It's a jungle out there with our "Nursery Jungle" theme. This whimsical theme features a soft color palette and eye-catching elements. Pair this with wording like, "Help Us Welcome Our Wild Thing!"
Bunnies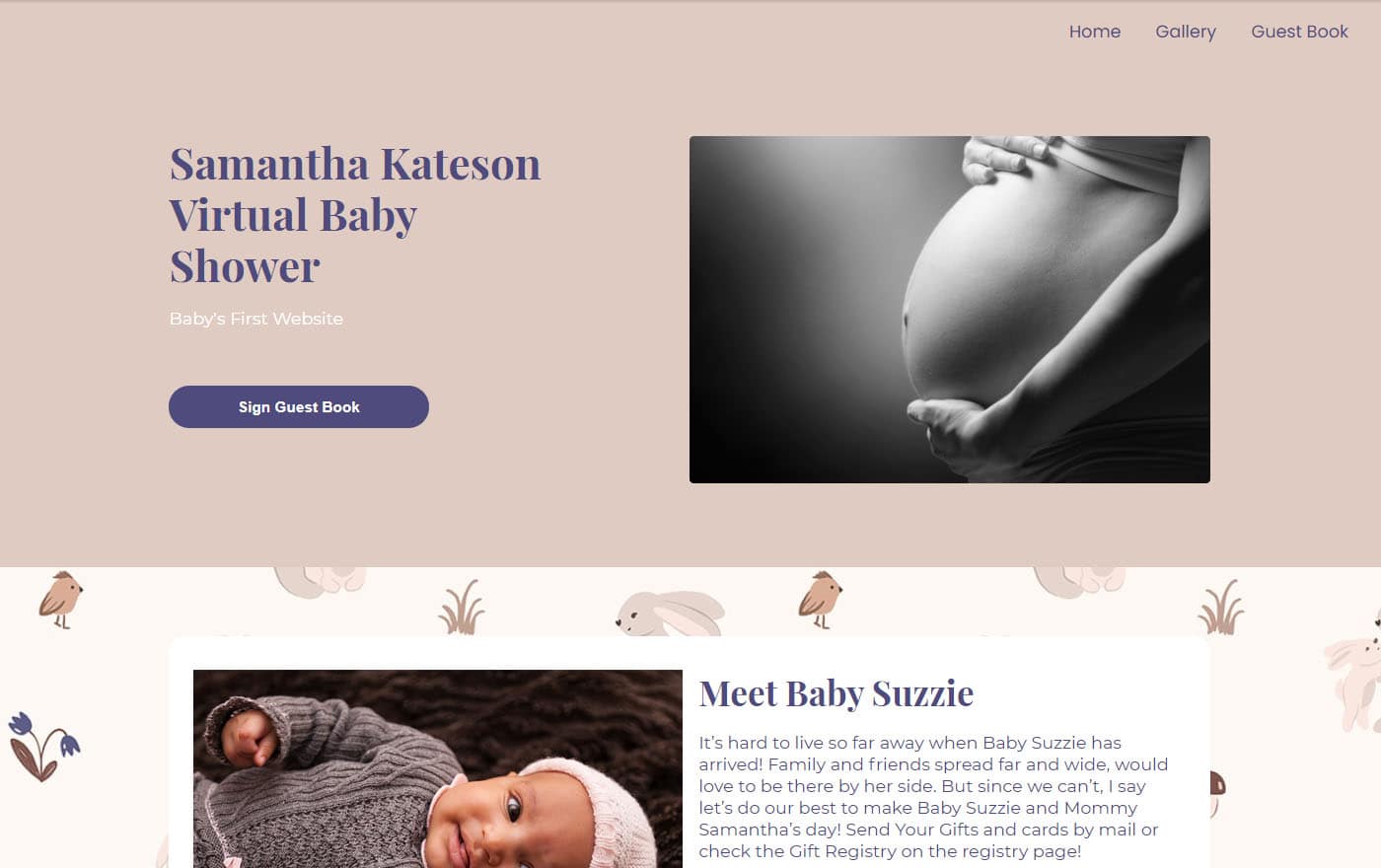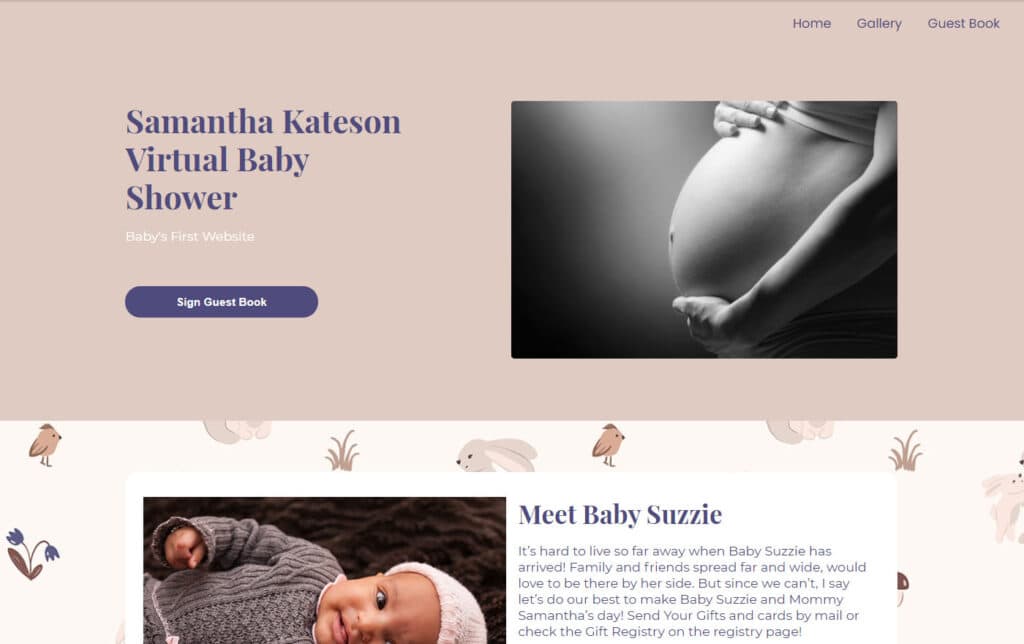 Our "Bunnies" theme features several woodland elements: flowers, acorns, and of course, bunnies! One thing we love most about this is it includes a mommy and baby bunny—making it an absolutely precious theme for a woodland baby shower. Try some sweet wording like this on your invitation: "Baby Colette is HOPPING This Way October 2021!"
Mommy And Baby Bear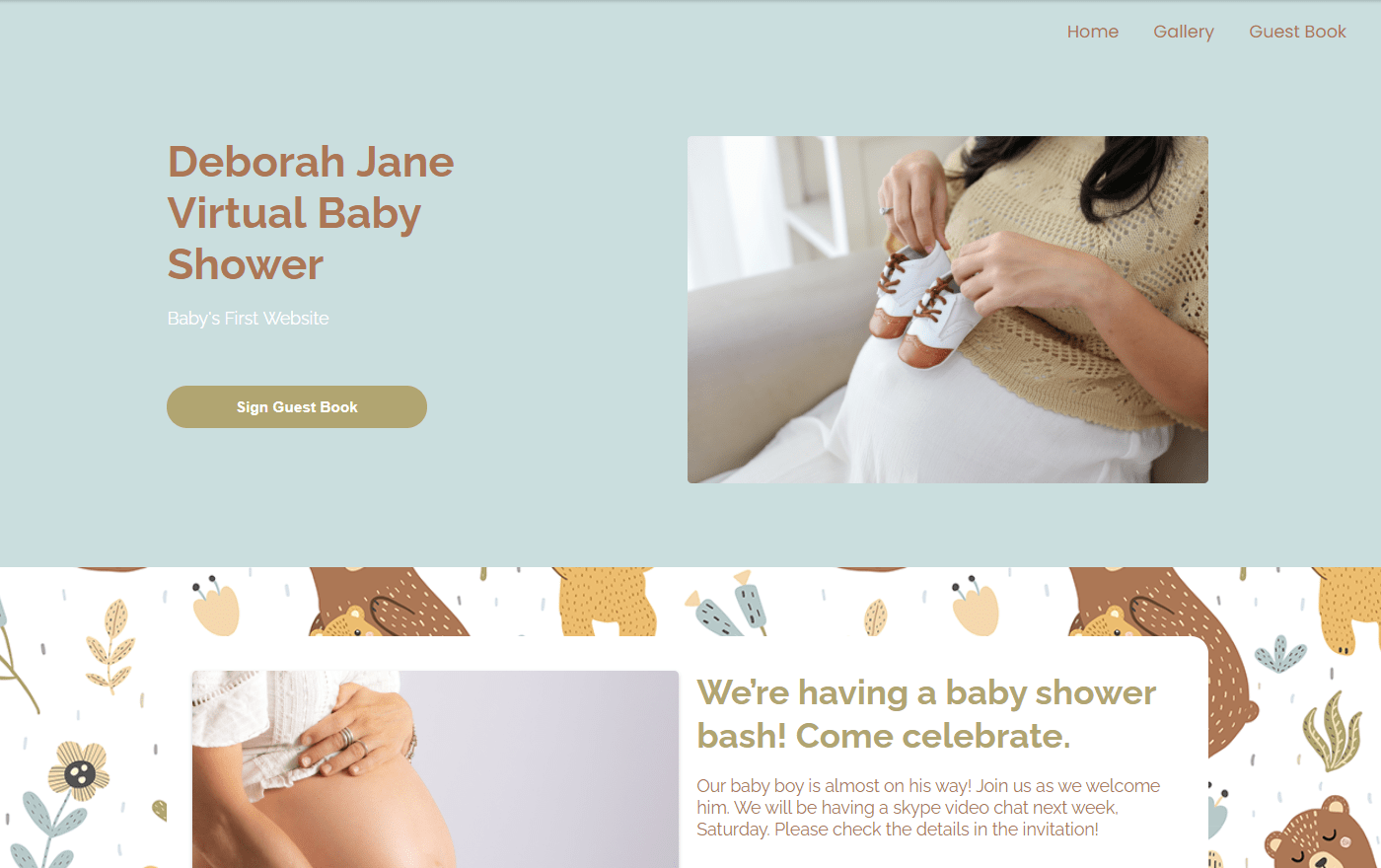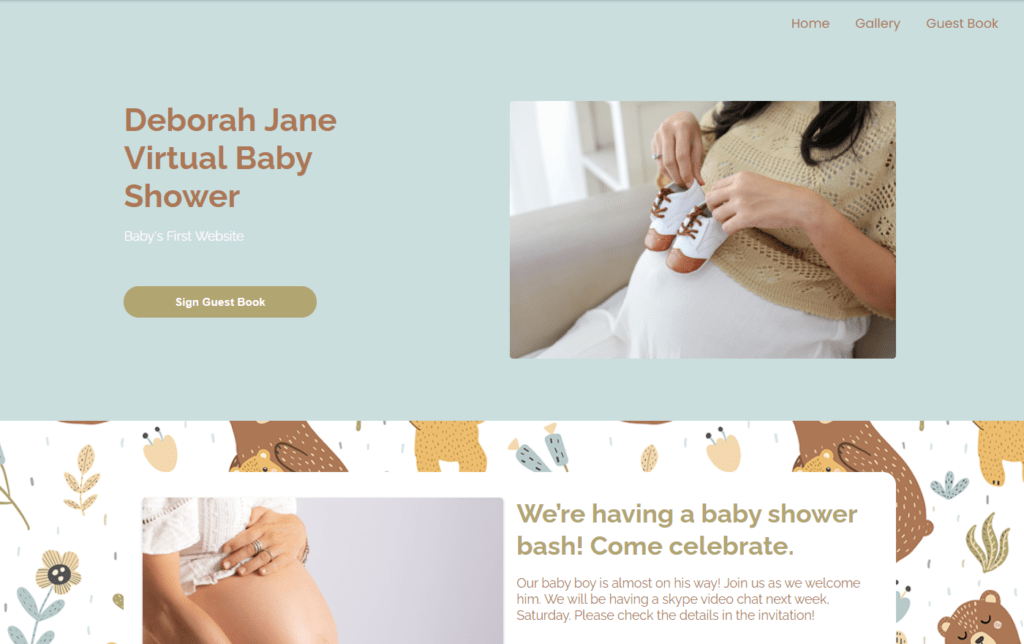 The "Mommy and Baby Bear" theme is another one of WebBabyShower's gorgeous woodland shower themes. This theme features soft blues, browns, and yellows and is perfect for a gender-neutral shower. It pairs perfectly with an invitation that says, "We're Expecting a Cub Soon!"
Koalas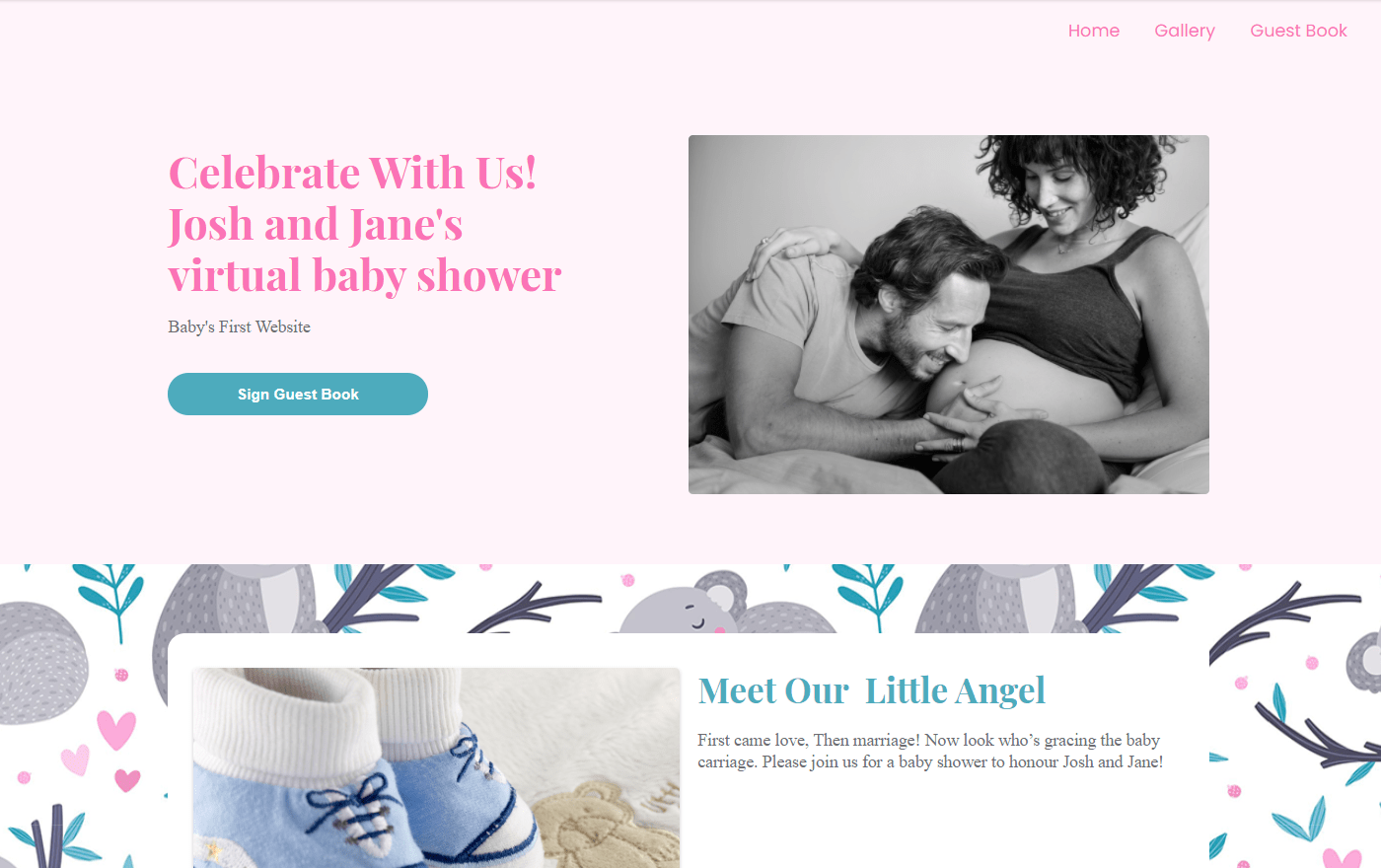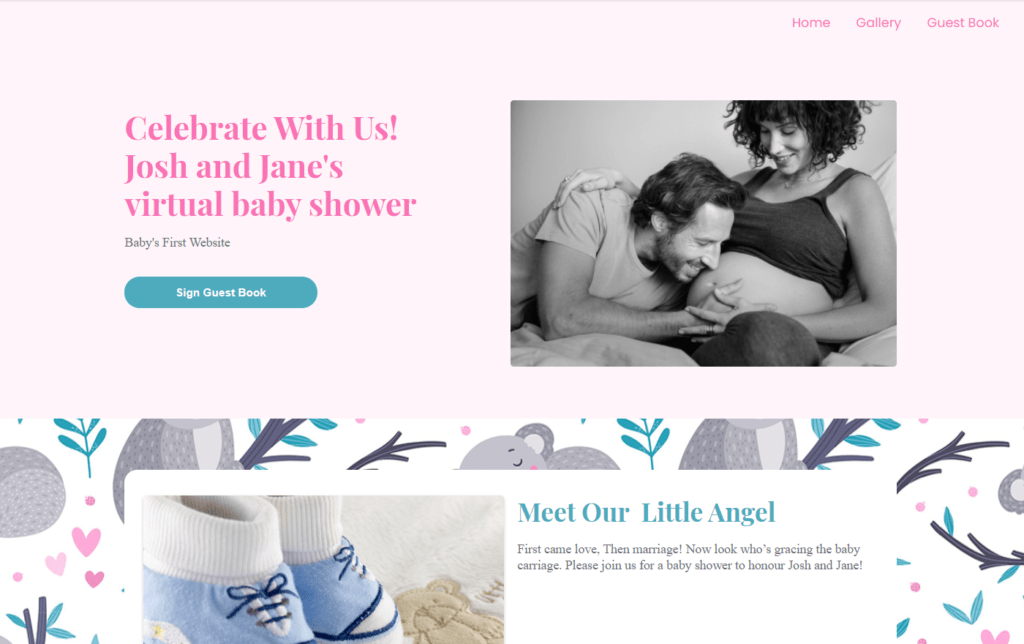 "Koalas" is another sweet mommy-and-baby theme that we're crazy for. This baby shower theme features a color palette of pinks, teals, and grays—easy to pair with decorations. Try invitation wording like, "Let's Hang Out! Join Us For a Baby Shower Celebrating Baby Kayla."
Mommy And Baby Forest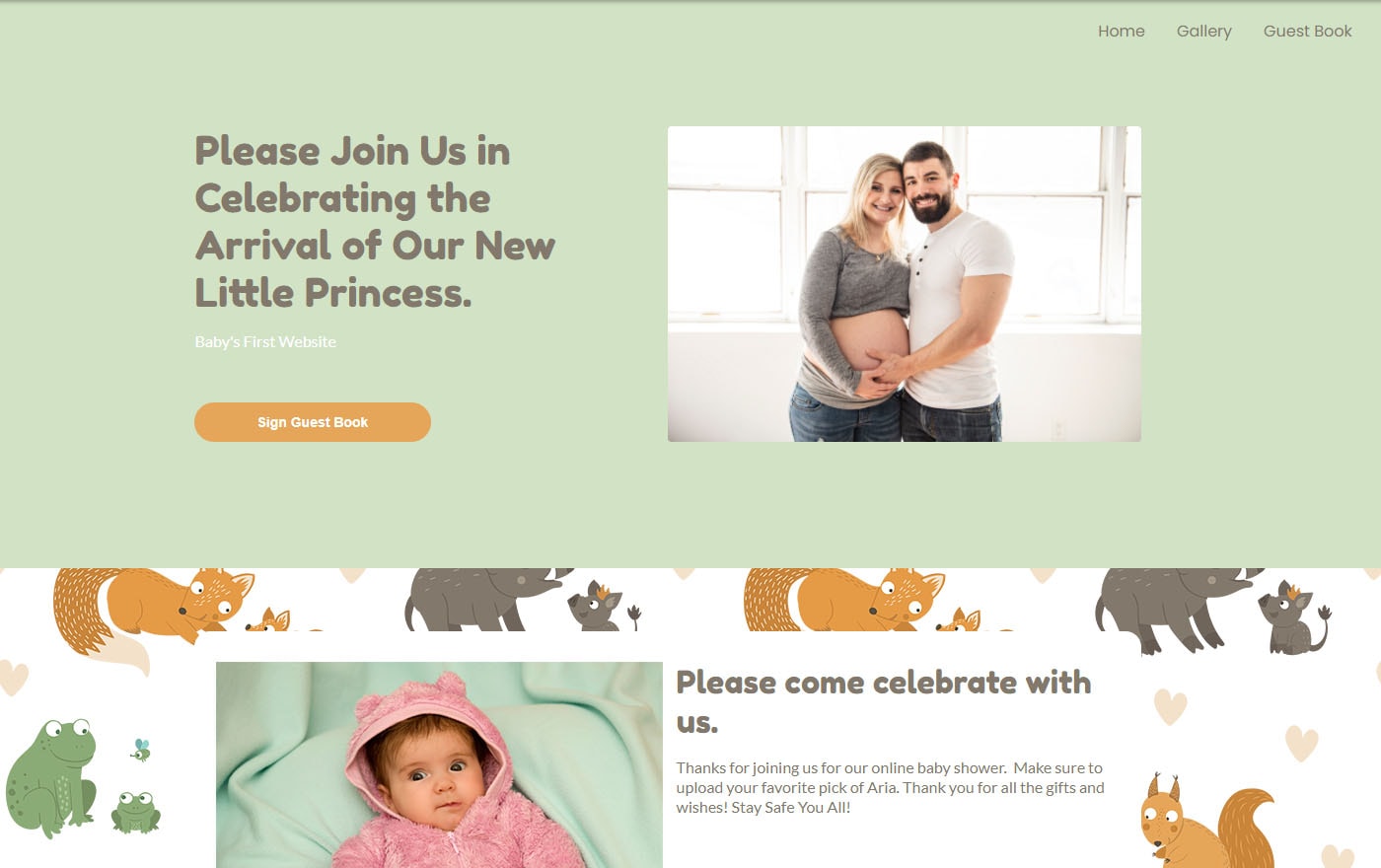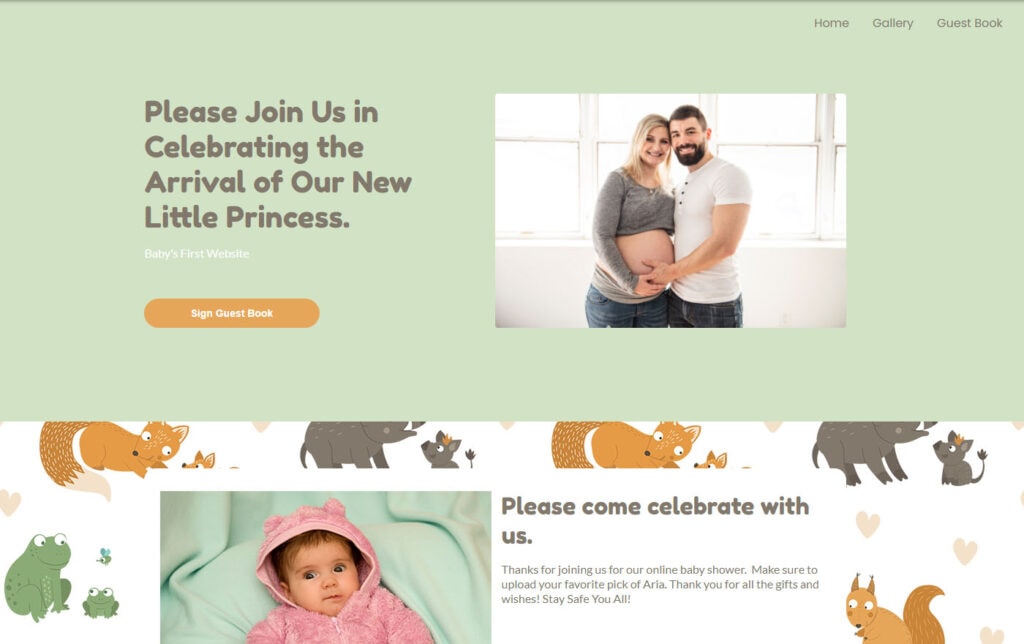 Can't decide on just one woodland creature? Check out the "Mommy And Baby Forest" theme. This one features mom and baby foxes, bears, hedgehogs, and even adorable little snakes. Spark guests' curiosity and excitement with wording like, "Let The Adventure Begin" on the matching invitation for this sweet woodland baby shower theme.
Add All the Extras
Once you've picked the perfect woodland baby shower theme and have built your WebBabyShower site, you can start thinking about all the extras! Let's get down to it and have some fun!
Cake
Let's be honest: cake is one of the parts of a baby shower that guests look forward to most! Who doesn't love cake? This koala cake pairs perfectly with our "Koalas" baby shower theme.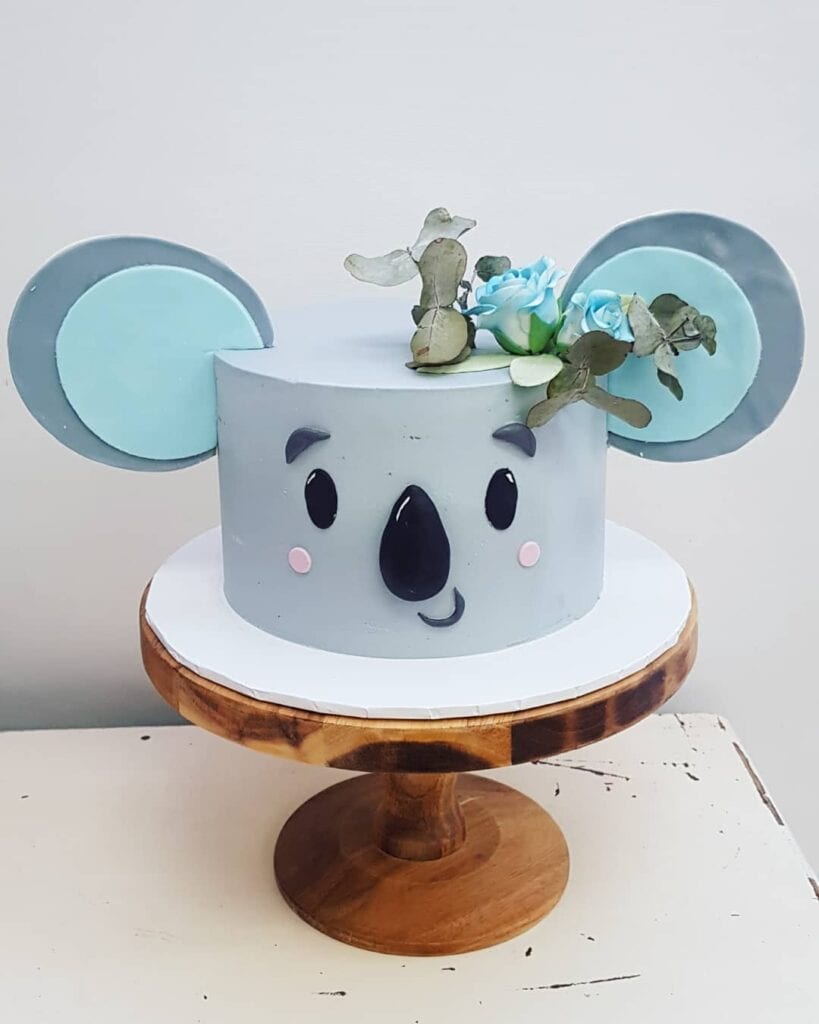 Now, cake at an in-person shower is easy to figure out, but what if you're throwing a virtual baby shower? Simply drop slices of cake off to any guests that live within driving distance. For guests that live farther away, find a bakery that ships nationwide and have them make some cute woodland-themed cookies to ship to your more remote guests.
For the DIY type, you could try your hand at decorating cookies before the event! This is a great article that outlines how to decorate cookies that are perfect for a woodland baby shower.
Invites
One of the most exciting features of WebBabyShower is the ability to match your invitations to your chosen baby shower theme. Pick a matching or complementary invitation theme and send them directly from your site. Our invitation maker and manager make it incredibly easy for you to customize your invitations, send them, and track them right on WebBabyShower!
Since you get unlimited sending, you can use WebBabyShower to send more than just invitations to events—use it to send pregnancy updates and even birth announcements!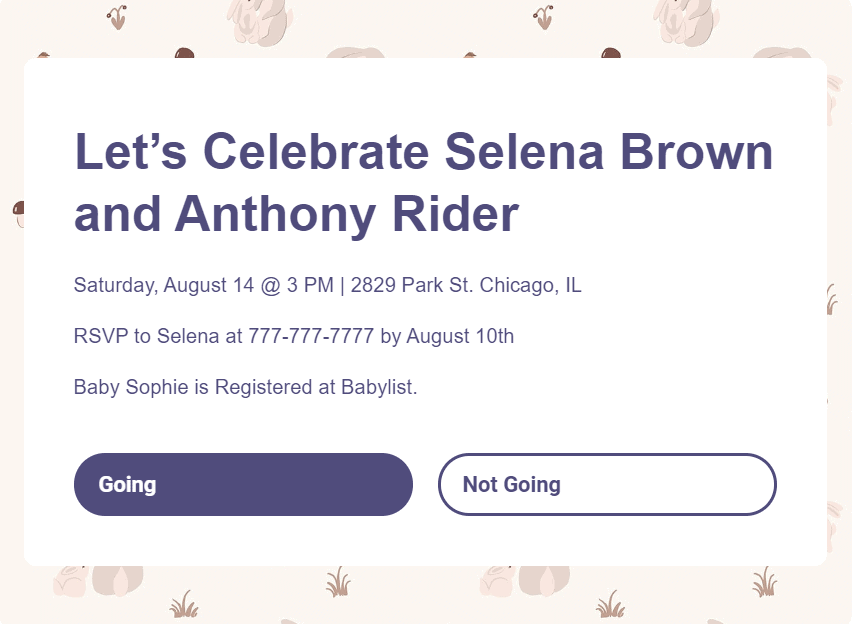 Decor
When it comes to decorating for your woodland baby shower, WebBabyShower can help! Choose one of the adorable woodland themes from our gallery and use it as a guide to help you match the décor for the party.
You can find a ton of cute things on Etsy. We love this precious, "It's a Boy" woodland banner featuring sweet foxes, wise owls, mischievous raccoons, and adorable fawns. It would go perfectly with both WebBabyShower's "Foxes" and "Mommy and Baby Forest" themes.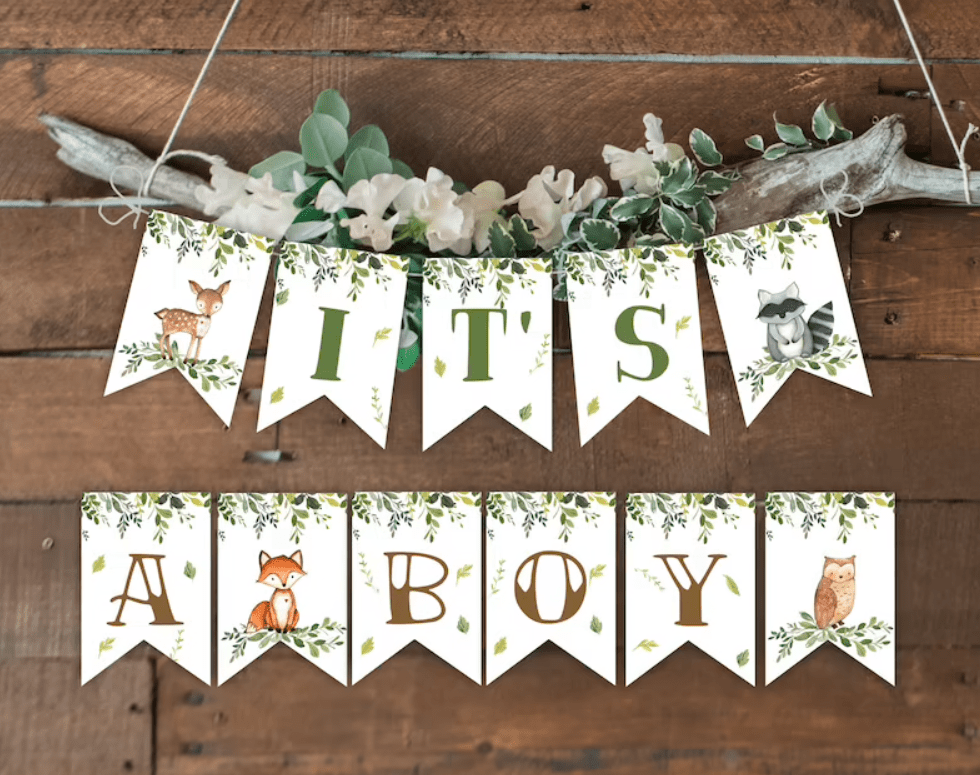 Pinterest is another place to find amazing DIY baby shower décor ideas. The thing we love most about Pinterest is that you don't have to stick to searching for just baby shower décor to find what you're looking for. You can type terms like, "fall décor," "leaf garland DIY," "woodland animal décor," or search for specific animals featured in your chosen WebBabyShower theme ("baby foxes," "bunnies," etc.). We love using Pinterest for all kinds of baby shower decoration ideas: cupcake toppers, garlands, banners, and so much more.
Finally, never underestimate the power of an Instagram hashtag search! Using your WebBabyShower theme as your guide, search hashtags that match the animals in your theme for design inspiration. Hashtags like #FoxBabyShower, #WoodlandBabyShower, #ForestBabyShower, and more. Check out this precious photo we found on Instagram!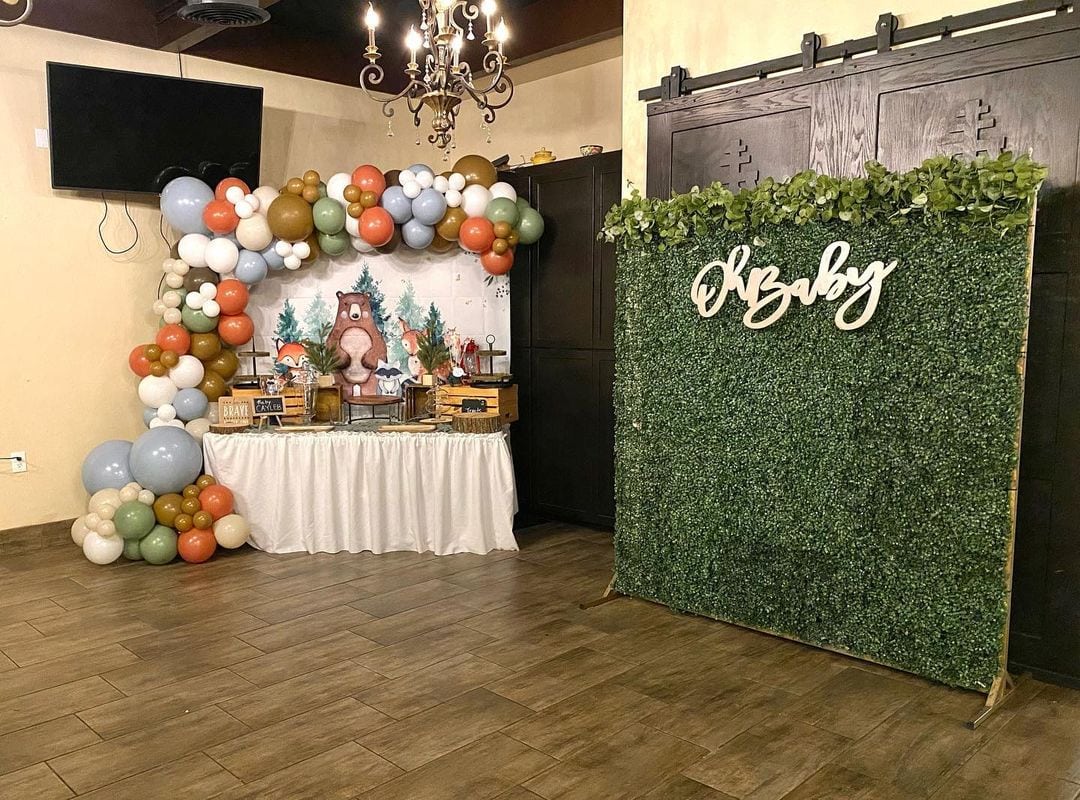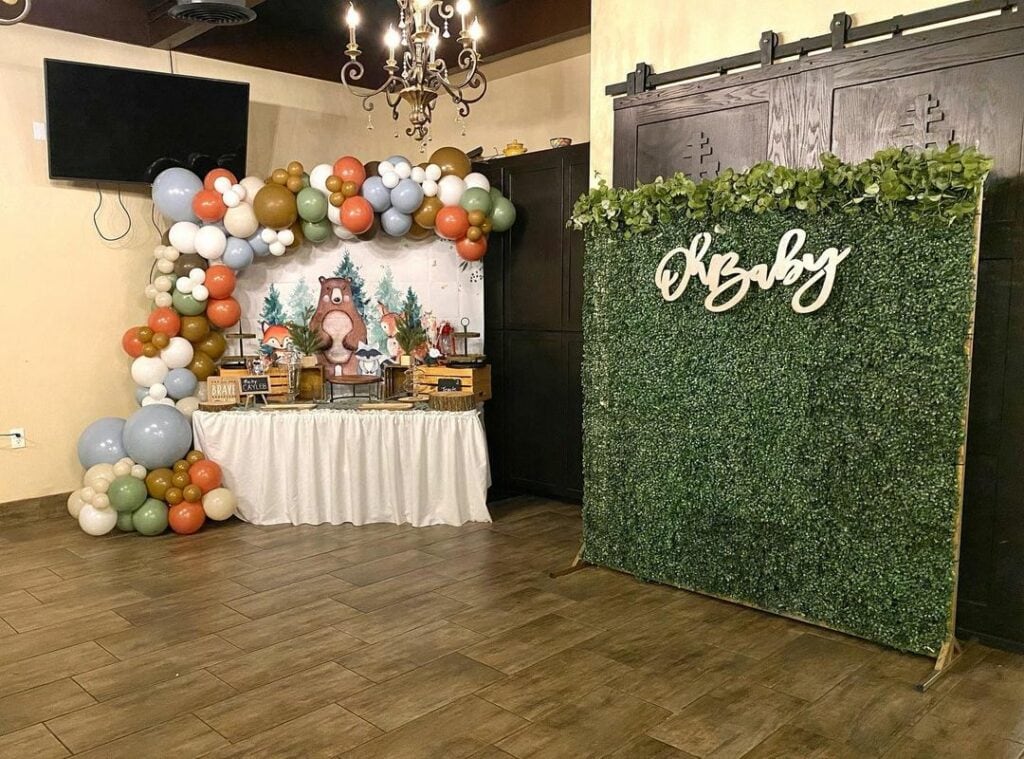 Party Favors
Every good baby shower needs adorable party favors that match the theme! Etsy, Pinterest, and Instagram once again are great places to search for party favors that match your WebBabyShower woodland baby shower theme.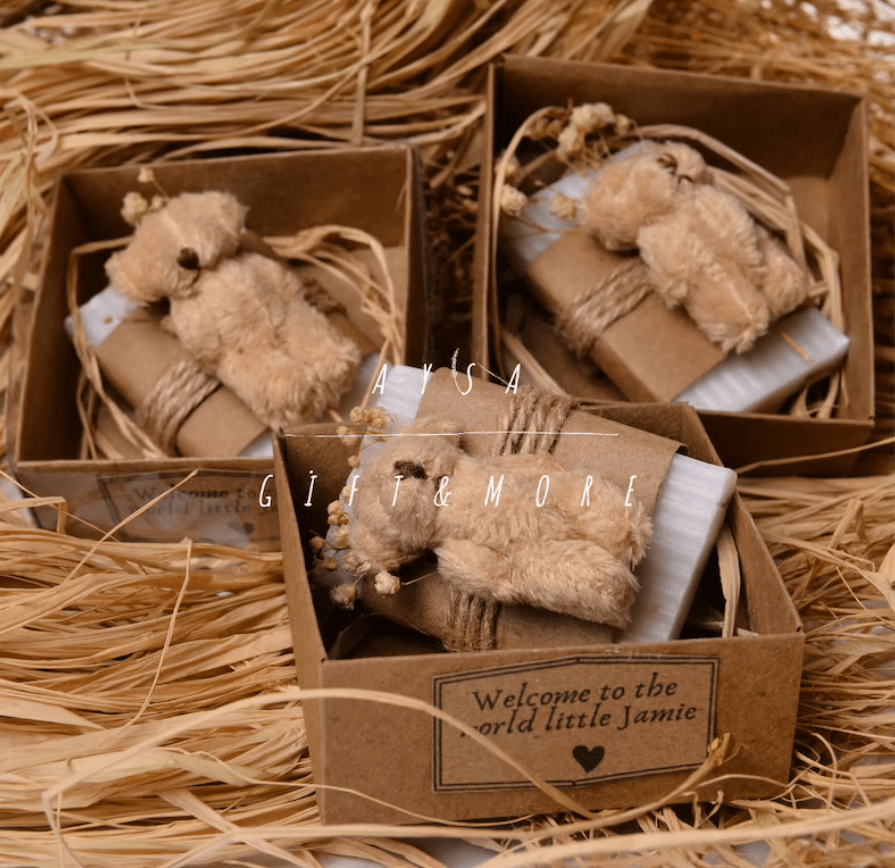 We find Pinterest particularly helpful for DIY directions for baby shower party favors. Try searching for things like "DIY fox party favor bags," "woodland party favors," and don't forget to think outside the baby shower box and search for things like "woodland wedding favor ideas," or "woodland wedding favor DIYs."
Woodland Baby Showers: Easy To Plan, Easy To Love!
When it comes to planning the perfect baby shower with a woodland theme, turn to us at WebBabyShower to get you started. Woodland baby showers are super trendy right now, and the décor and design options available can make choosing one feel overwhelming. WebBabyShower's themes help create a starting point that you can then center your décor, food, and favors around!
Our goal is to help make planning a baby shower easy, fun, and exciting. Our woodland baby shower themes can help make this experience one you will love and remember for years to come. If you choose a WebBabyShower woodland baby shower theme, make sure to tag us on Instagram using #WebBabyShower and show us what you came up with! Happy party planning!