A backyard garden creates the perfect setting for a spring baby shower. It's colorful, all the flowers are blooming, and you can enjoy being outside with your family and friends. Plus, gardens provide an excellent space where you can set up tables and chairs. Here are some great suggestions for a beautiful spring-themed baby shower.
Spring-Themed Baby Shower and Set-Up
There's no doubt that spring is one of the best times of the year to host an outdoor garden party. The flowers and the sunshine make this season perfect for celebrating. . And with an outdoor party, you have the option to safely socially distance with a small group of guests while also including a larger group. How? By using webcams and WebBabyShower, a virtual baby shower platform that's helped over 10,000 families celebrate a new arrival.
Let's check out this spring's best baby shower ideas!
Spring Baby Shower Ideas
Are you looking for the newest and best ideas for a spring-themed baby shower? We have some suggestions to help you begin your planning process and create a great spring-themed event with beautiful decorations.
Light Spring Colors
Spring features some of the best colors for baby showers. Try incorporating white, teal, orange, and cream for a beautiful combination. Start decorating by creating a sort of curtain backdrop from crêpe paper and then adding some balloons. For added color — and taste! — pile tables high with fresh, sliced fruit and colorful drinks like lemonade or punch.
You might also try adding pastel decor through mason jars, candles, and flowers that speak to the spring season. Other pastel color combinations include light pink and mint green or lilac and yellow. A backyard baby shower is the perfect setting for light spring colors.
Want to give guests a party favor they'll actually use? Invite your guests to take a small potted succulent plant or maybe some flowers as a cute souvenir from the party. The favor will remind them that spring is here in full force!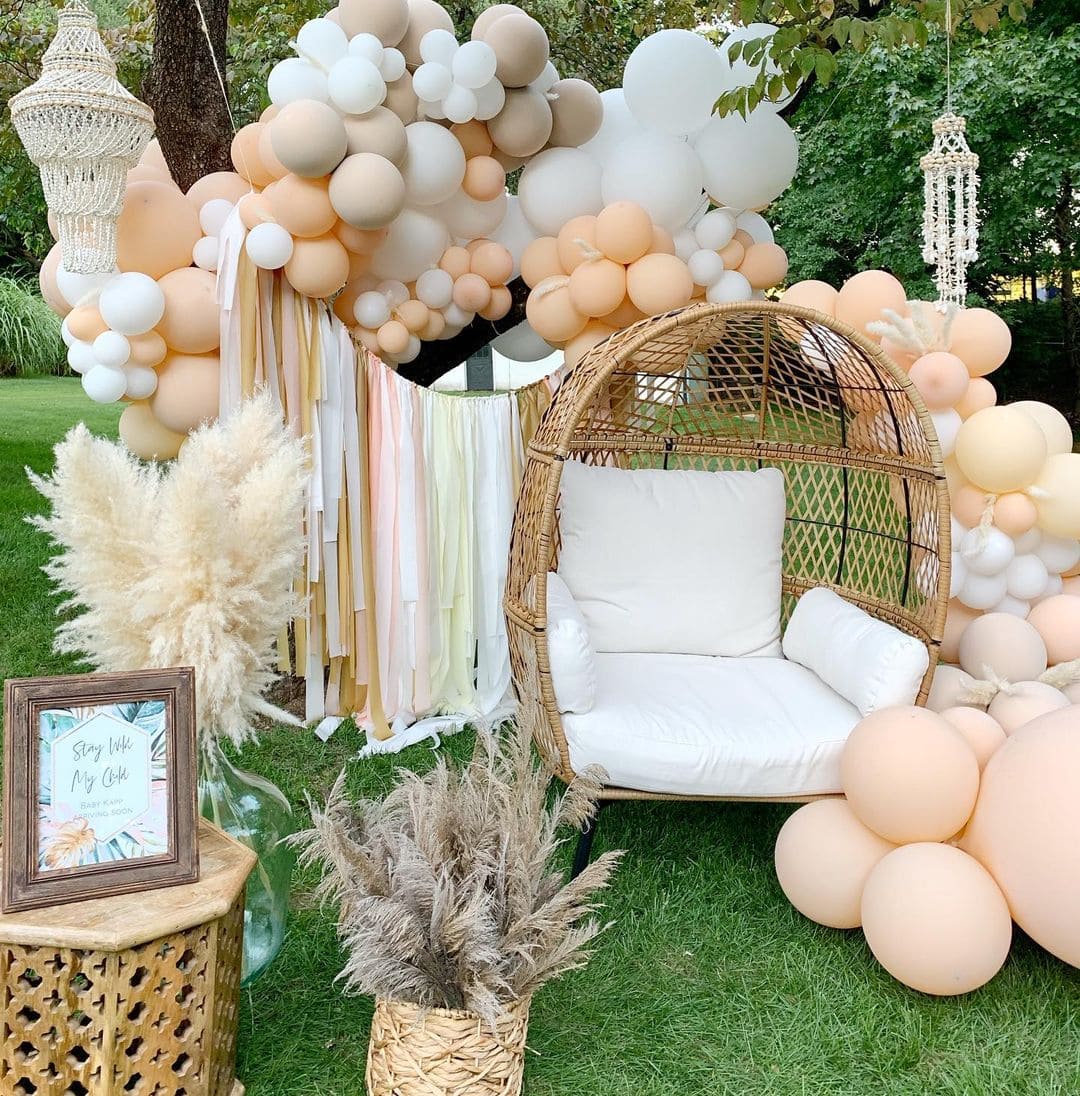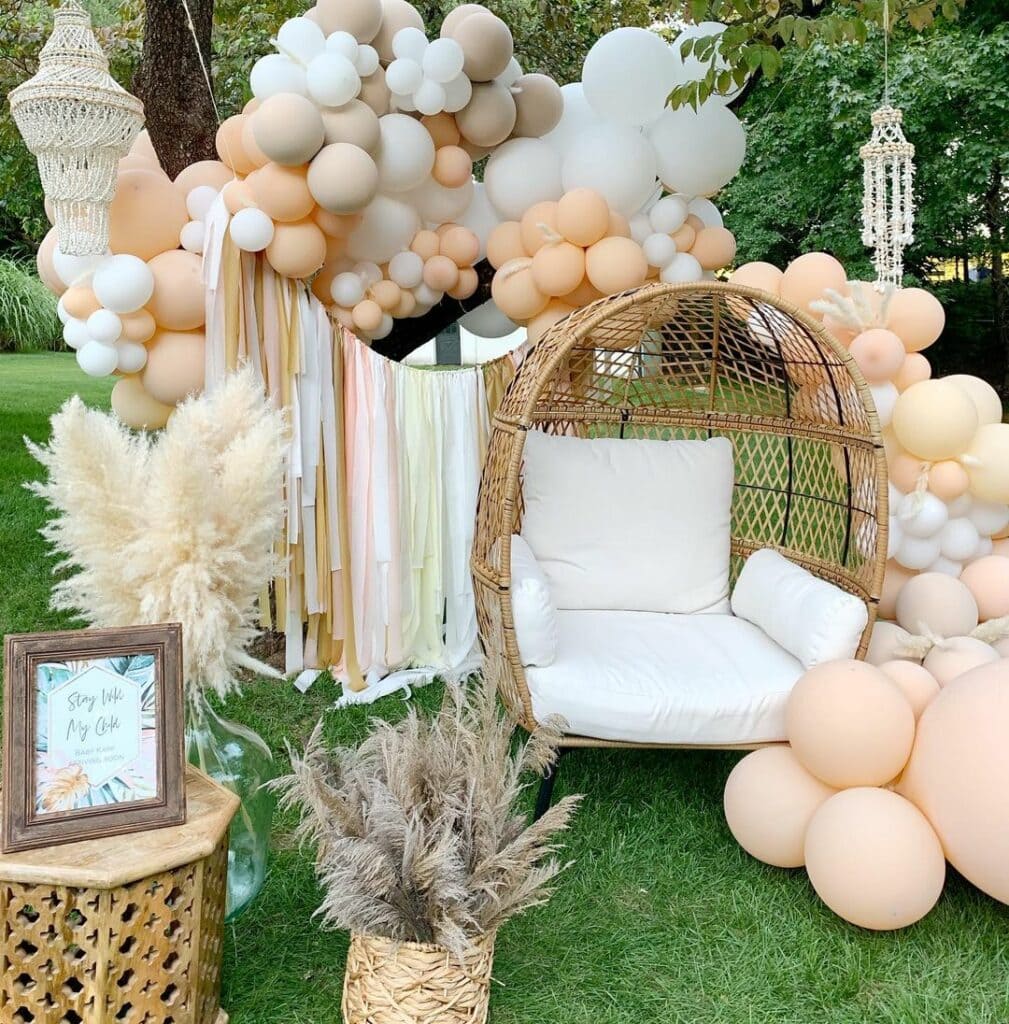 Winter to Spring
If you're celebrating your shower very early in the spring season, you might try a winter to spring theme. The colors you choose can do a lot to communicate this. Try various shades of blue, gold, and white. Darker colors will make the party feel more like winter.
Be sure to set up a wicker chair adorned with tulle and flowers for the parent-to-be to sit on. That way, she'll have a front-row seat for the party and can enjoy all the decor!
Another fun idea is to add some teddy bears or other stuffed animals to the scene to create an adorable and cozy atmosphere.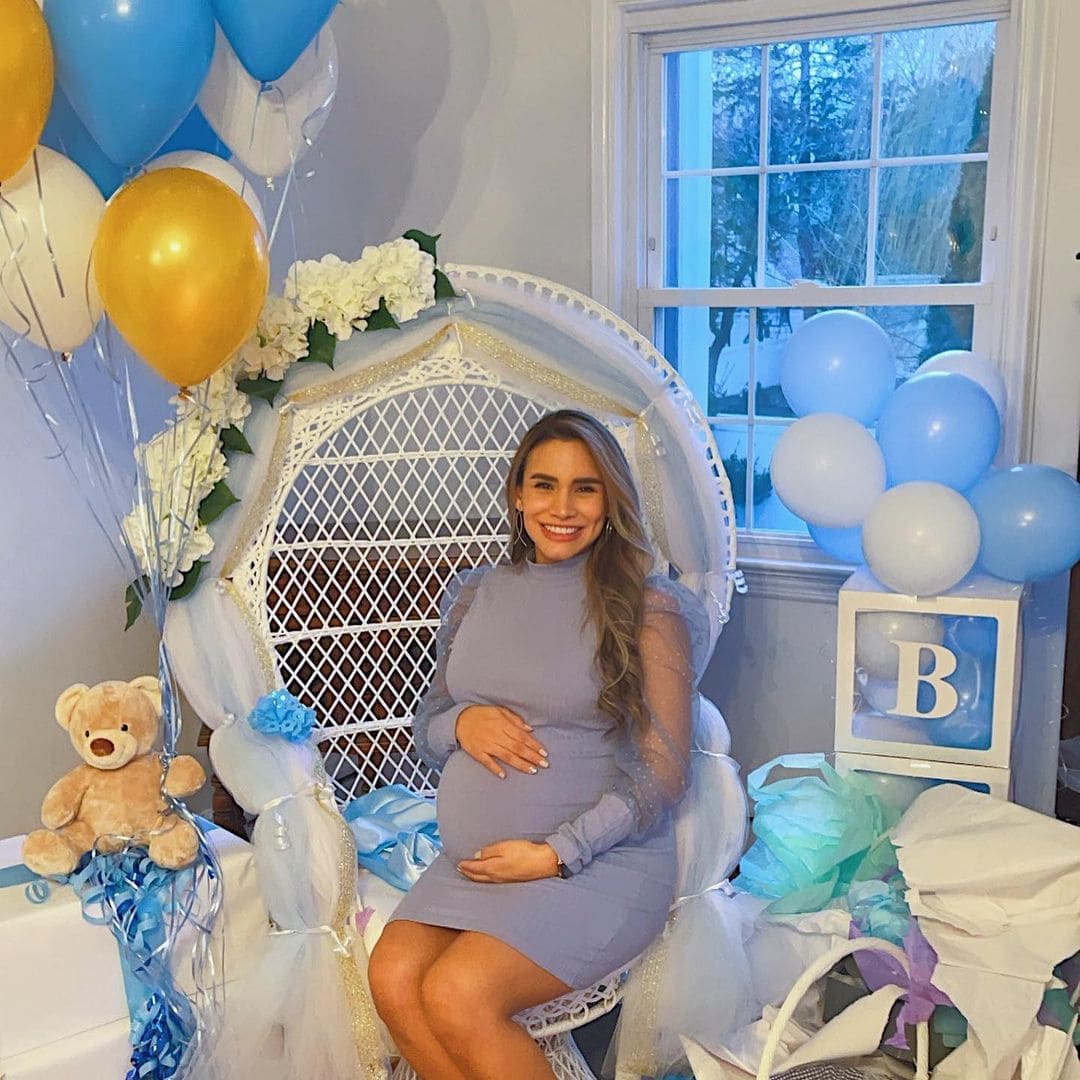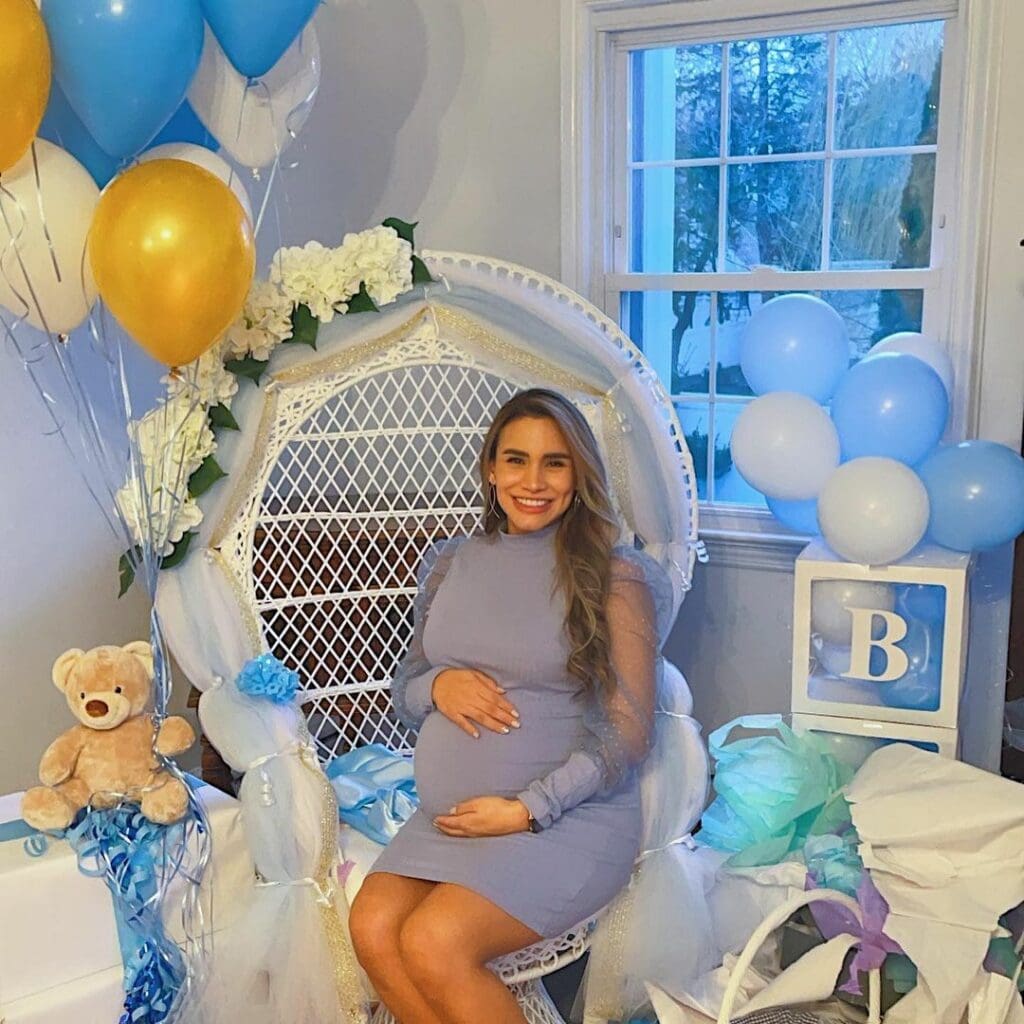 In the Clouds
If you just know the new baby will be an adventurous one, try this sky-inspired theme. Choose light colors like blue, mint green, yellow, and gray. You can also try adding a light blue background to complete the decor and make it feel as though the party itself is in the clouds.
Embrace the clouds theme by adding lots and lots of balloons.You can do a balloon arch or put them on tables with paperweights to keep them from floating away. Add details like balloons attached to baskets of flowers.
Then, add the finishing touch: the words "Oh, the Places You'll Go!" set atop the cake.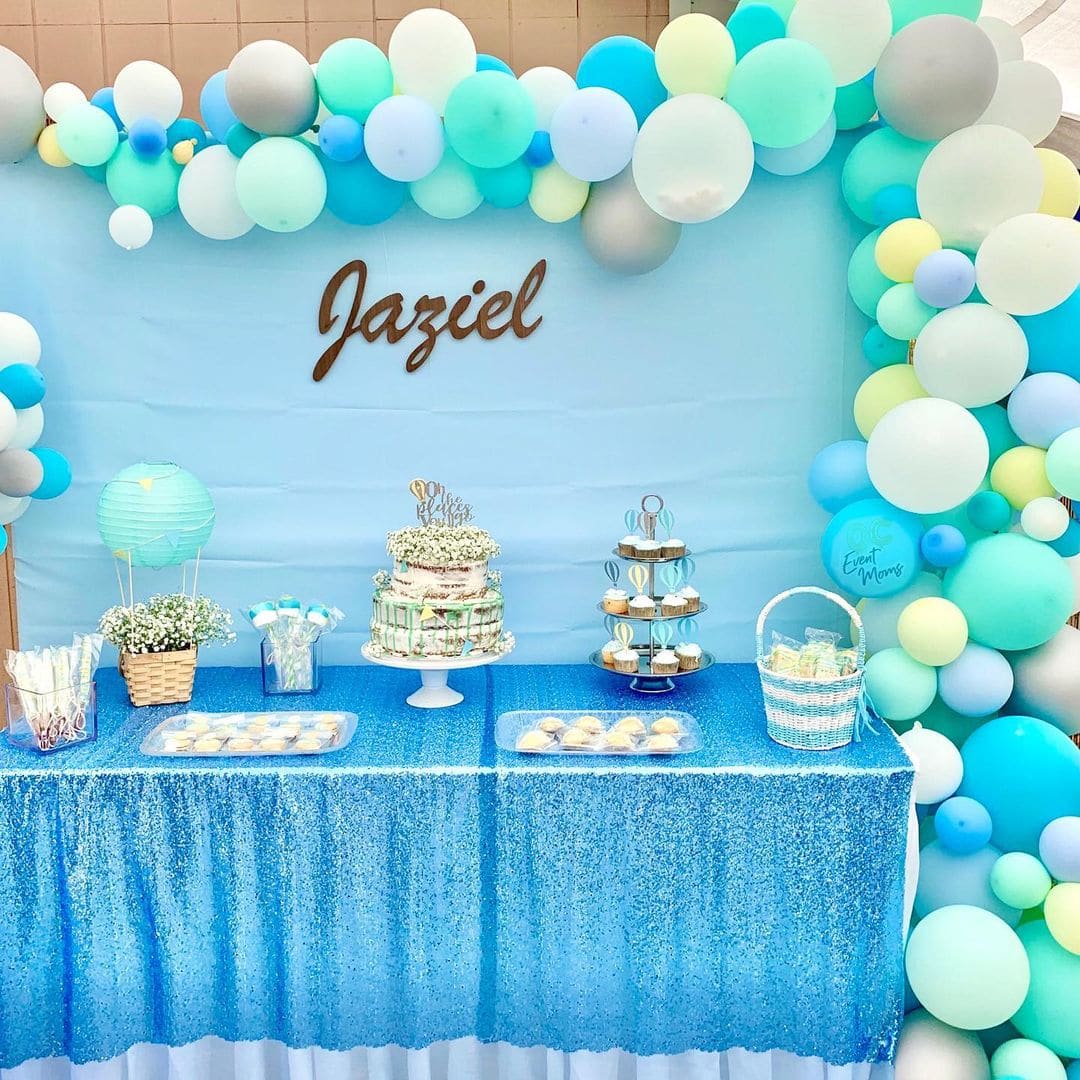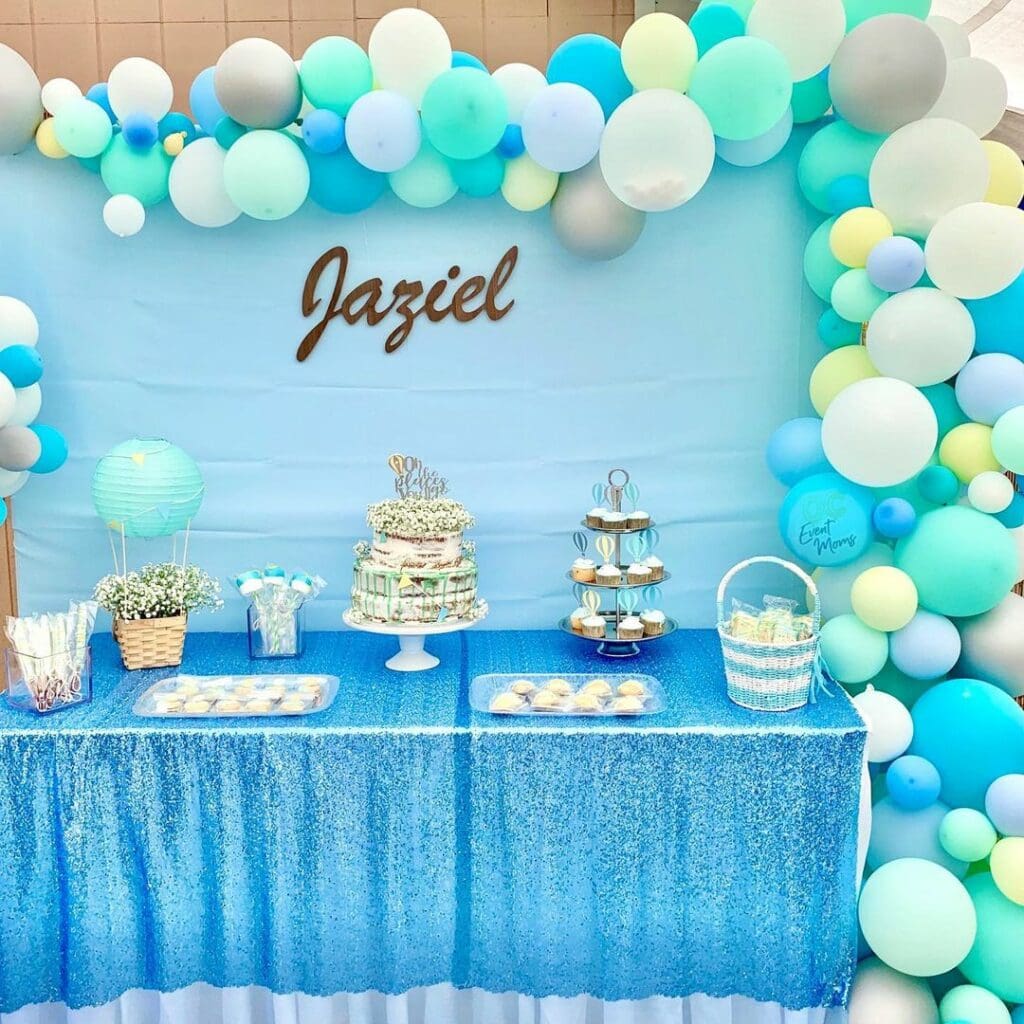 Garden Party
Since you're hosting an outdoor spring event, flowers make perfect sense as a theme. Pick a beautiful color palette like purple or pink, and add flowers to everything — from the cake to the decorations. You might even try a diaper cake with flowers as decor. Parents usually appreciate this a lot since it's both a decoration and a gift!
Tea Party
What's better than a tea party in a garden? How about a tea party-themed baby shower? With light pink, bright orange, and yellow decorations, this occasion is perfect for spring.
Set up a table with scones and cupcakes, and add some pastel-colored plates to match the garden theme. Serve tea, coffee, and other warm drinks that your guests will enjoy. Add small glass vases of various sizes with fresh-cut flowers to make the table look even better.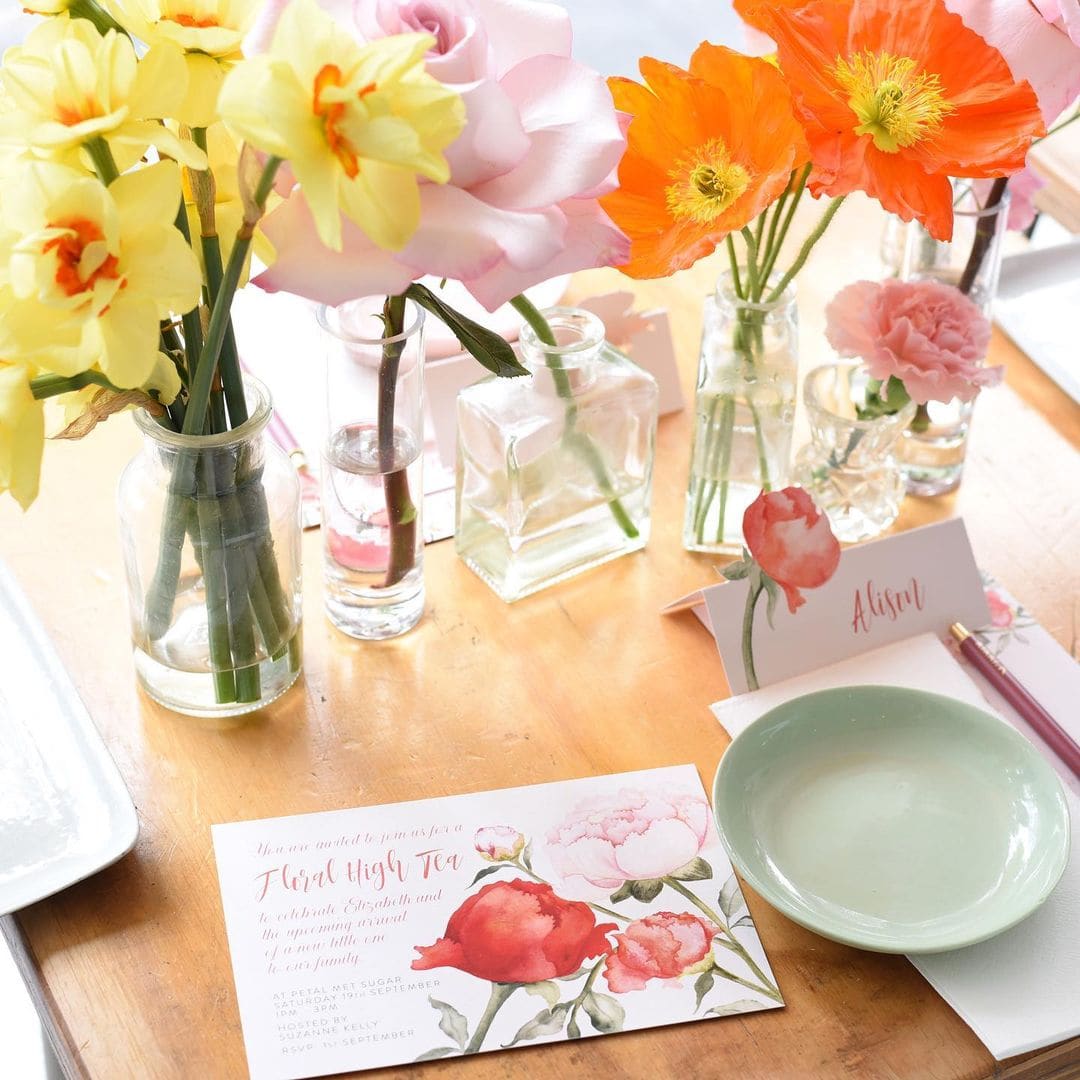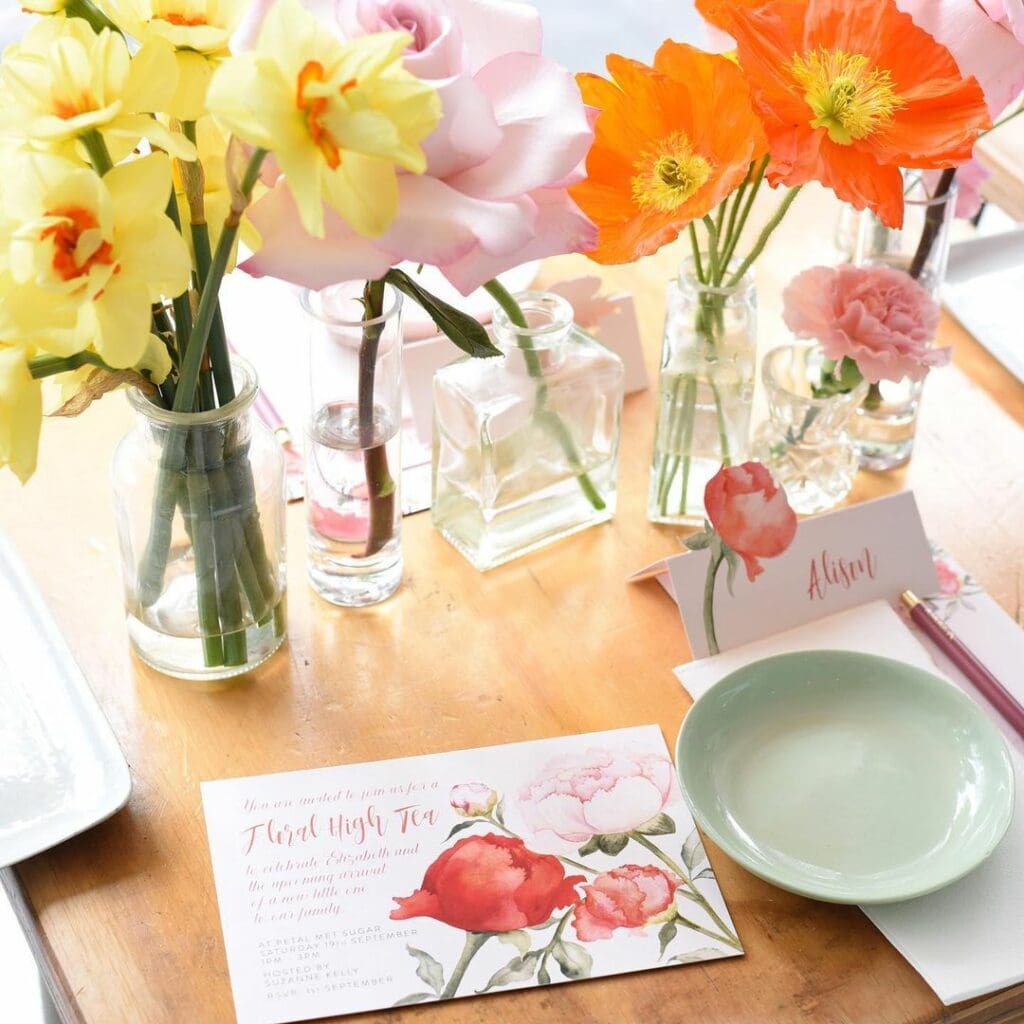 Mickey and Minnie Mouse
This ever-popular Disney duo is a classic choice, and adding Mickey and Minnie decorations will be a snap. Picture an outdoor table prepared for a meal. As a centerpiece, you could add some beautiful flowers, gathered tulle, and Mickey and Minnie Mouse ears as decorations. You can add to the spring theme by setting up a small patch of fake grass atop a pretty tablecloth, so the table resembles a picnic. Tie it all together by using gold and pink for the color combination.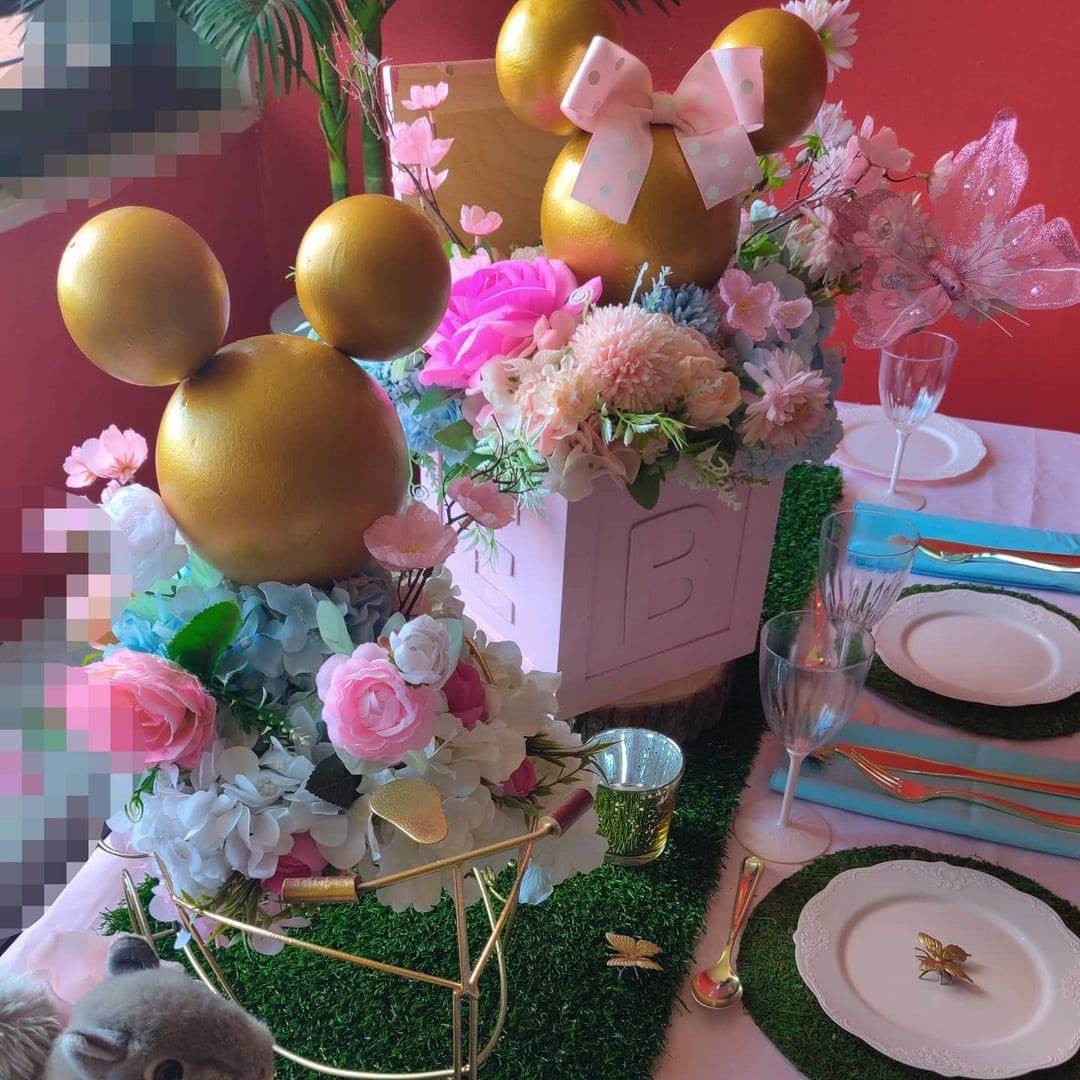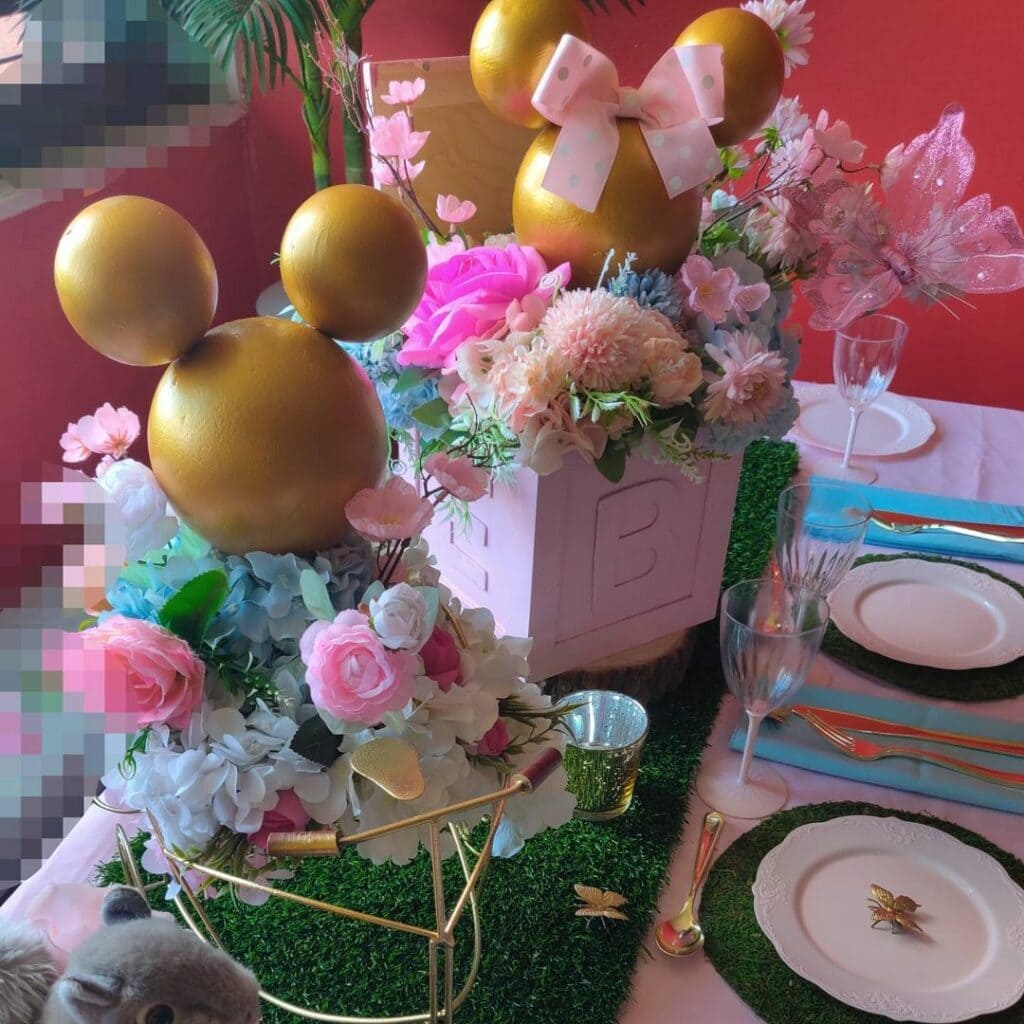 Hawaiian Luau
Nothing turns spring into summer like a luau! You'll need to add details like palm branches, bright colors, and a balloon banner with an "aloha" sign to welcome people toa baby shower with this theme. If you want to make the shower more sleek and modern,incorporate a bit of black and white.
To set the party mood, play relaxing Hawaiian music that makes invitees feel like they're on a beautiful island.You can also prepare foods that speak to the theme — add paper green leafy crowns to the tops of bagels and donuts to make them look like pineapples..Your guests will absolutely love it!
Smell the Roses
Roses are a quintessential spring flower, so they're a perfect choice for a spring baby shower theme. Try creating a wall of roses(you can use real or fake flowers for this) to make a place for photos. It makes a statement and looks great. From there, you can line tables with vases of roses every few feet for an elegant look. Adding baby's breath in porcelain jars is also a nice touch. This is the perfect setting for a baby shower hosted on a lovely spring day.
Nursery Rhymes
You can create a cute theme using nursery rhymes for your spring baby shower. Try getting a chalkboard that can sit on a table and write out a rhyme or two. Then add extra elements like flowers, stuffed animals, and desserts.
Baby Birds
Why not follow a sweet baby bird theme for the shower? You can make a decorative nest, set plastic or ceramic eggs in boxes, and add porcelain birds and birdcages to make your party complete. Use a couple of pastel colors like light blues, yellows, and pinks to pull it all together.
Bunnies Galore
Bunny rabbits make for a super cute theme. You can place some stuffed ones on a decorated table, add a banner with bunnies, and incorporate any other details that will help to finish the look. Opt for neutral colors like white and cream for a lovely, minimalist color palette to go with the decor.
Rainy Day Shower
A baby "shower" is always a cute idea. Decorate with cutouts of clouds, add umbrellas overhead, and use colorful plastic rain boots with flowers to decorate the tables. The decor looks even better if you stick to different shades of the same color.
Spring-Themed Baby Shower Classics
There are some themes that simply never go out of style. If you choose one of these timeless looks, you'll be sure to have a fantastic party on your hands.
Bee Baby Shower
This theme is so much fun! Make bright yellow and white your colors of choice. Then add large cutouts of bumblebees to the decor. A white curtain paired with a colorful yellow balloon arch, bumblebees, and honeypots will create an adorable backdrop. Add some streamers and sunflowers to make everything match. For a focal point, design a sign that says, "Sweet as Can Bee," and add the baby's name. You can hang this up above the backdrop so guests will see it as they enter.
For some sweet treats, create a dessert table. Pile it with cake pops, Rice Krispies treats, gummy bears, cookies, and cupcakes. Pull everything together by making the desserts match. Use similar colors for the frosting and sprinkles (think various shades of yellow and white) to pull everything together, and, as a bonus, it helps with decorating.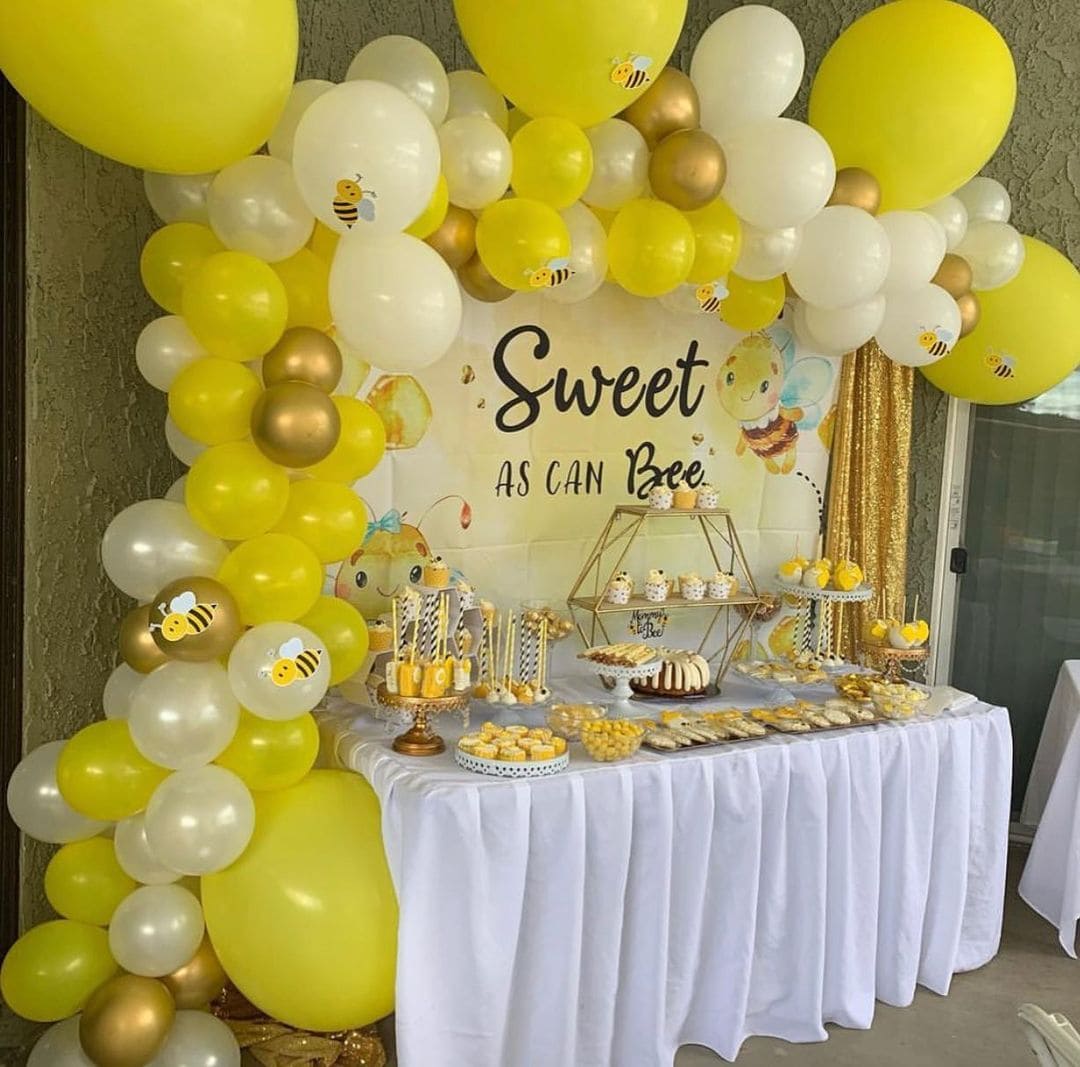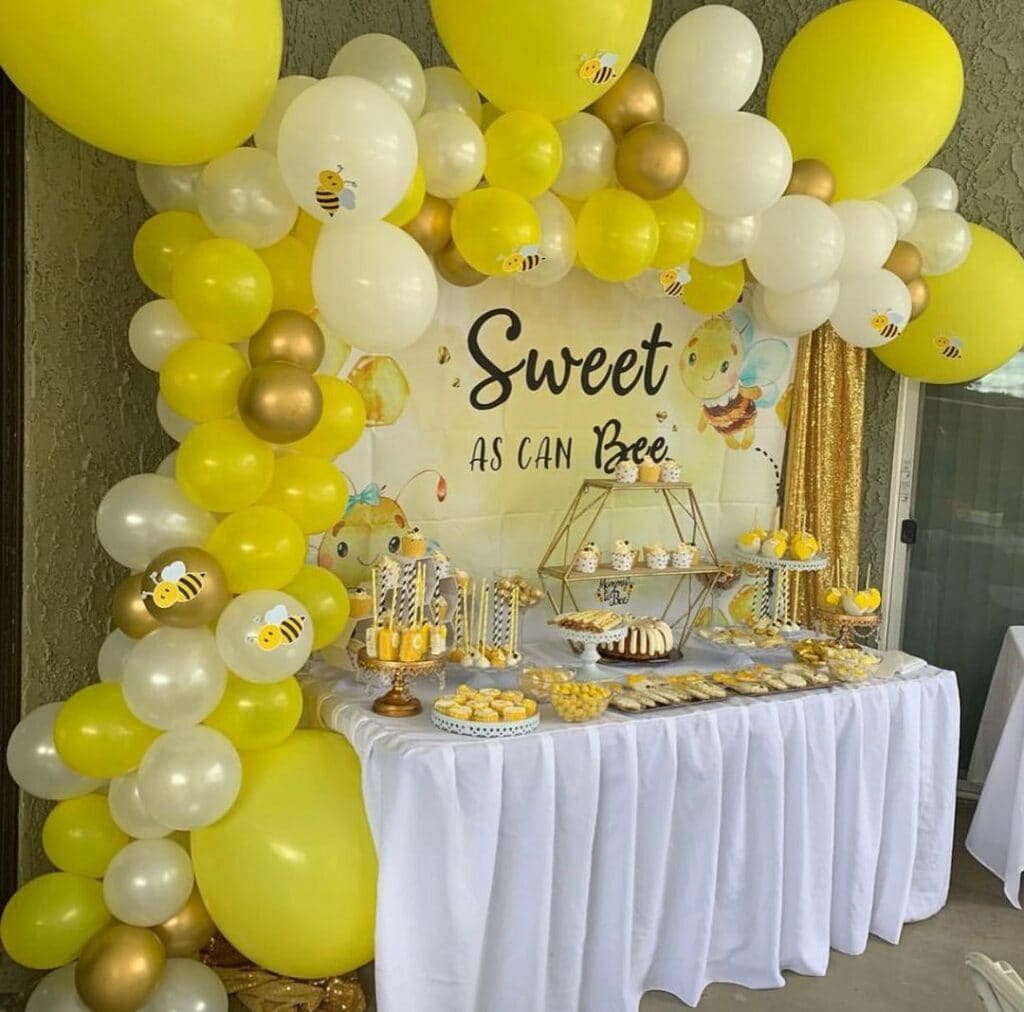 Peter Rabbit Baby Shower
This children's book also makes a great spring baby shower theme! To achieve this look, start by adding greenery and flowers that you might find in a garden. From there, you can create a banner that looks similar to a page from a book and reads, "BABY SHOWER" or anything you'd like. Add balloons, checkered tablecloths, trellises, and anything else that makes it look like you're in a vegetable patch or garden.
For a finishing touch, add a giant cardboard cutout of Peter Rabbit himself, pointing the way towards the party. You might also give away copies of the book as party favors for your guests.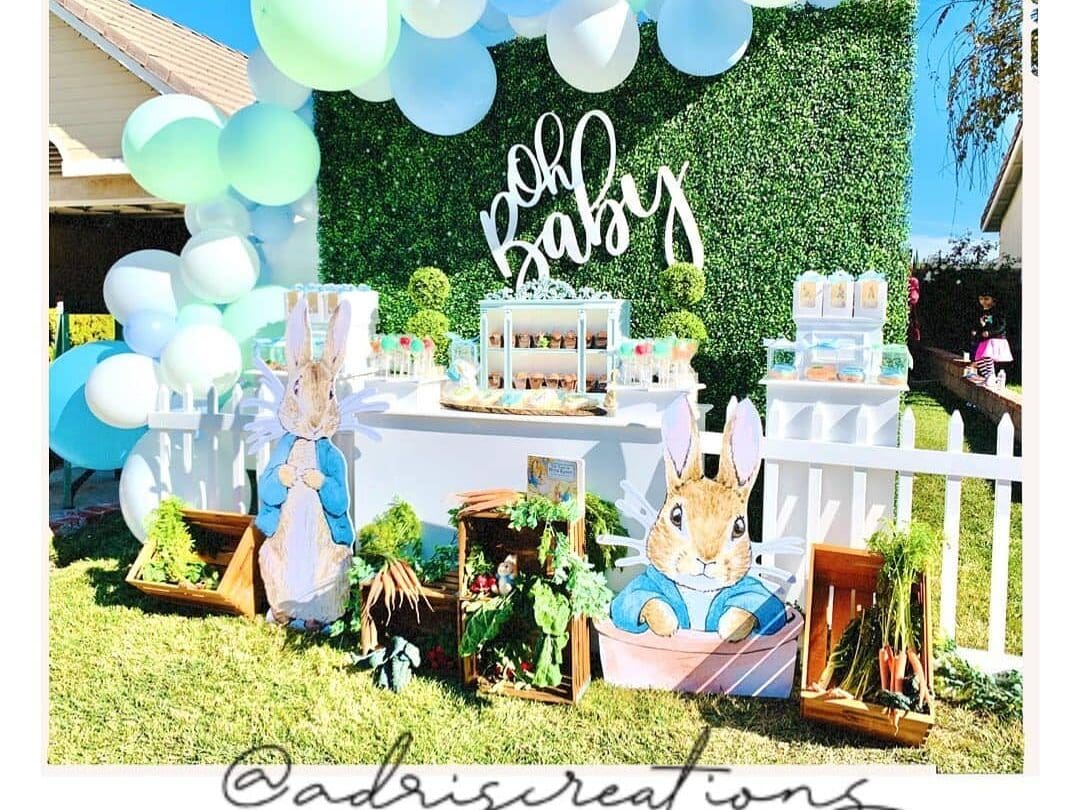 Spring Woodland Baby Shower
Try a rustic, woodland baby shower theme for the spring season. Add some greenery and wood details to set the scene.,. You can add other things like ivy, flowers, and candles for a charming look. One of the most essential elements for a woodland-inspired party is to use rustic browns and bright whites, so be sure to include those colors in your decor.
A cake with just a bit of frosting and cupcakes on a tiered wooden dessert tray make for a unique display. . Add fresh fruit to the dessert table, and you're all set.
Floral Spring Baby Shower
Florals are always a good idea for a spring baby shower theme. Instead of picking one color combination, try adding flowers of all different hues to create a rainbow effect. You can add them to the cake, the dessert, and the tables, as well as any other place that needs some color. Use fresh flowers if possible for the most authentic look.
How to Set Up a Virtual Baby Shower in Your Garden
A small gathering outdoors with close friends and family present is a great way to celebrate a baby shower while still maintaining social distancing. You can have the party in-person and set up a laptop or use a phone to do a video chat during the event to include out-of-town or self-quarantining guests.Think of how many people will attend in person and how many will attend virtually. You can include as many people as you'd like through your baby shower website hosted with us, and use it as a central point for your registry and other information. With this number in mind, you'll need to think through a few things to make sure that a virtual baby shower in your garden goes well.
For an outdoor party, it's best to be prepared for anything, as far as the weather goes. Know in advance what you'll do if the temperature drops or storms move in. Have umbrellas ready for guests if rain is expected. You might also want to have a place prepared for people to go, such as a covered patio or a dining room, if the wind gets to be too much,. When you are preparing a table or sitting area in your garden, make sure things can be easily moved to a different location if the weather doesn't cooperate. Try to find decorations that won't be destroyed by rain or wind. Opt for plastic rather than paper, and use heavy items to weigh down tablecloths.
Make sure to set up an excellent space for the virtual part of the party. Choose a setting with a nice background that displays the decorations and gives the online guests a chance to say hi to everyone who's there in person. This can work seamlessly with your in person activities with a little planning.
If you are doing a combination in-person and virtual event, try it this way: Greet your guests that arrive for the party in person, and allow people to get drinks and find their seats. Then once you begin with activities or games, start the virtual part of the party by turning on the video chat. Make sure everyone can hear you and see what's going on. Then keep the video on while the new parent or parents play games, open presents, and more.Guests can also pass along the laptop to different people and allow everyone to say hello. This works well if all of your guests know each other.
Equipment Required
For a virtual outdoor baby shower, you'll need the following equipment: a laptop, Bluetooth speakers, cables, and possibly a projector and screen, depending on what you'd like to do. Even a small portable Bluetooth speaker will make a big difference. Make sure to practice video chatting a couple of times outdoors before the party so that you can be prepared. Make sure the WiFi works well and consistently wherever you'll be, and consider bringing a USB microphone with you, as well.
How-to Guide
You can probably get by with just a laptop and power cord for a virtual event. Though you can possibly use your phone for video chat, laptops are recommended if many people join the conversation.
Remember to find a spot near an outlet and position the computer so that it's at a good angle for people to see the party. Plug your computer into the outlet to keep it charged, and connect your speakers to the computer. Then you just connect to WiFi; open the video service of your choosing like Zoom; add video, sound, and audio; and you're all set.
WebBabyShower can help you to create a virtual event to remember so that anyone who can't gather with you in person can still be a part of your day. So be sure to use it as your info hub for everyone, so they know the plan.
You should also troubleshoot the computer set-up before you start the baby shower to make sure things go smoothly.
Get Started Planning Your Spring Baby Shower
There are tons of ways to celebrate a spring-themed baby shower. With these suggestions, you'll never run out of ideas — maybe you've even decided how you'd like to decorate or plan your party! You also know now that there are ways to celebrate both in person and virtually at the shower. You can schedule an event that everyone can be part of by using WebBabyShower to help.