Have you ever heard of a mini diaper cake?
A dessert aficionado might be disappointed to find out that a mini diaper cake isn't an edible cake decorated to look like a diaper (though we're not sure who'd want to eat that!). Rather it's the opposite — a stack of diapers made to look like a cake. And while there will hopefully also be an edible cake that can actually be consumed at a baby shower, any parent or parent-to-be will be ecstatic to also see a beautifully decorated collection of diapers for their little one.
Whether you're using disposable or cloth, diapers are an unavoidable, costly expense for moms and dads, so they'll be absolutely delighted to not only be gifted some but to have them presented in such a cute and charming manner. If you're thinking about putting together a mini diaper cake for someone's baby shower or even putting together one for your own baby shower, don't worry — we're here to help. With over 1 million people have enjoyed a WebBabyShower, a fun virtual baby shower, we know how to make your event special.
This article will contain everything you need to know about how to make a mini diaper cake step by step!
Throw a Virtual Baby Shower so Everyone

Can Celebrate!

• Free Trial – 7 Day Refund for any reason
• Only 1 Minute Setup!
• 40+ Custom Themes & Matching Invites
• Use Any Online Registry
• Send Unlimited Invites and Updates
• Baby Shower Games with Scoreboards, Give Prizes!

Build Your Shower
---
Best Diapers to Use for a Diaper Cake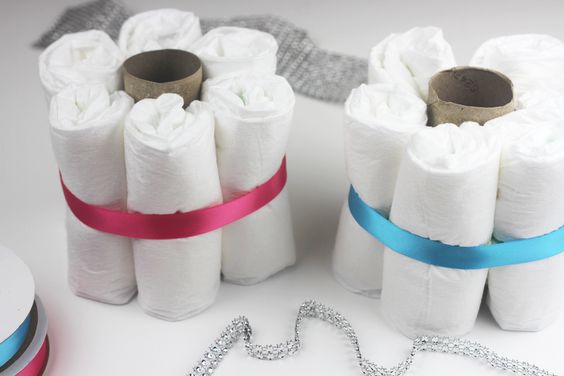 Most people might assume that newborn diapers, known commonly as size N diapers, or size 1 diapers for babies up to 14 lbs. are the ones to use for a diaper cake. And while it's true that a parent will definitely start out using size N and size 1 diapers for their baby, they'll likely already have a surplus of that size.
When most people go to shop for supplies, they'll naturally gravitate to the smallest sizes, not realizing that everyone else has the same idea. This leaves a mom or dad with fewer diapers for their baby to grow into.
It's smart to opt for larger-sized diapers that the baby will be able to fit into in a few months. Size 2 is a great choice as it's for 3-8 months, not only will this ensure that a parent will be well-equipped, they also won't have to immediately dismantle the cake and can instead use it as a decoration for the baby's nursery for those first couple of months.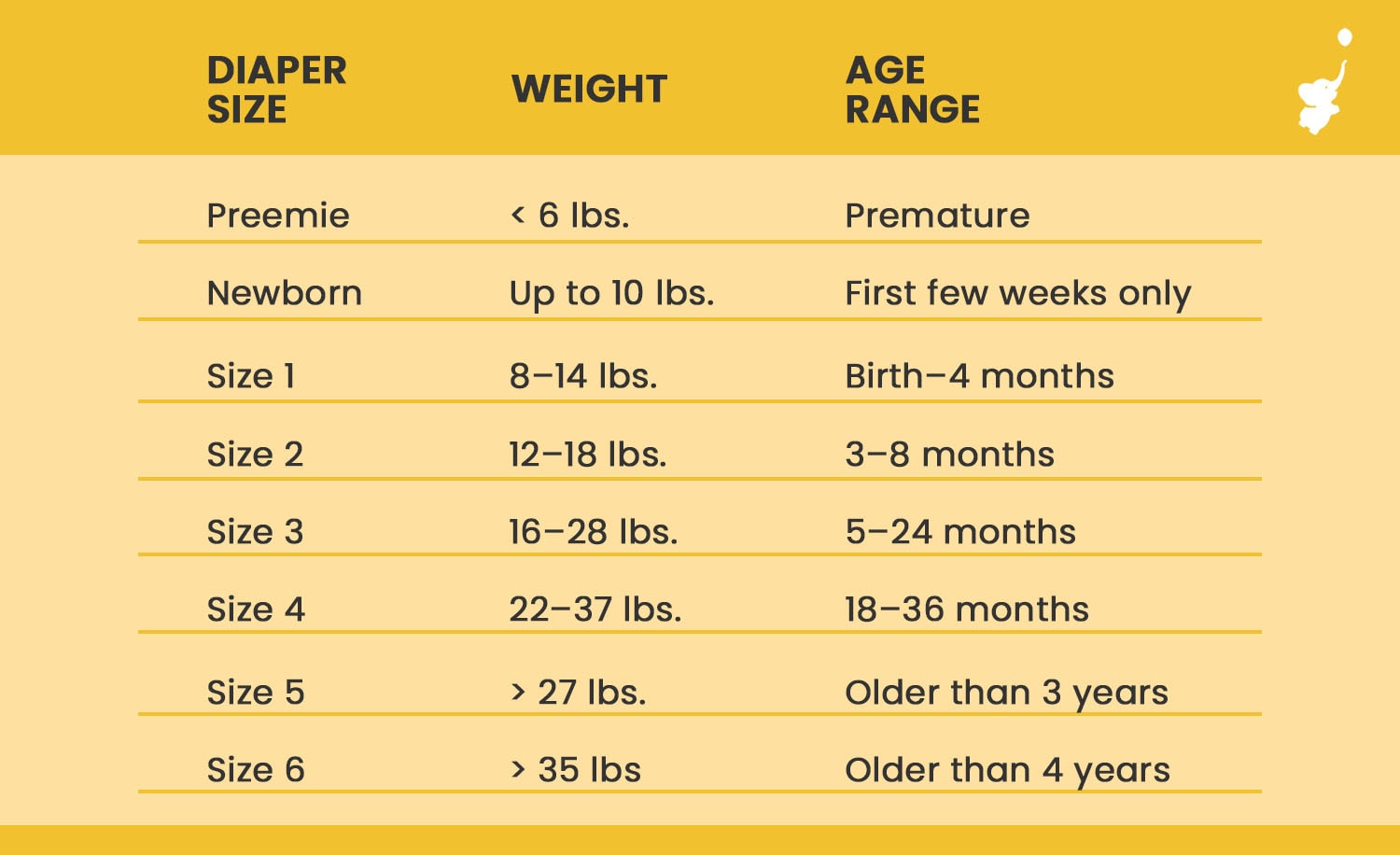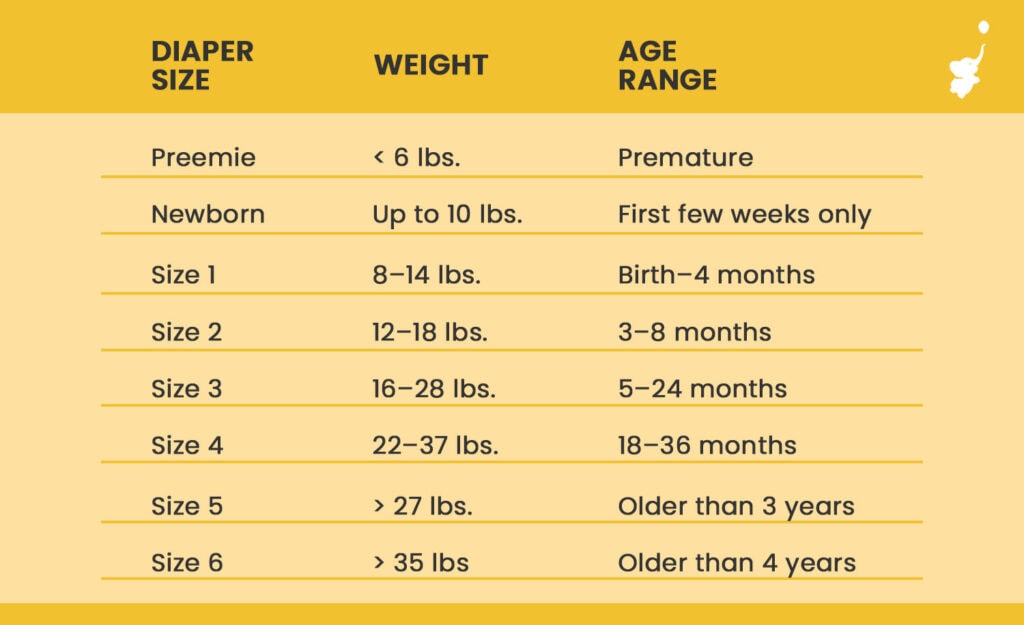 As for designs, you can either choose plain diapers and use ribbons and strings to spruce them up or you can take advantage of the plethora of designs diapers come in today. These days, you can find diapers printed with everything from stars to flowers to dinosaurs. If you opt for printed diapers, be sure to keep the baby shower's theme in mind, so the diaper cake doesn't clash with it.
But for the truly creative among us, plain diapers might be the way to go. The blank palette they'll provide will widen the scope of your possible designs and push you to think outside of the box!
What if the parents are choosing cloth diapers?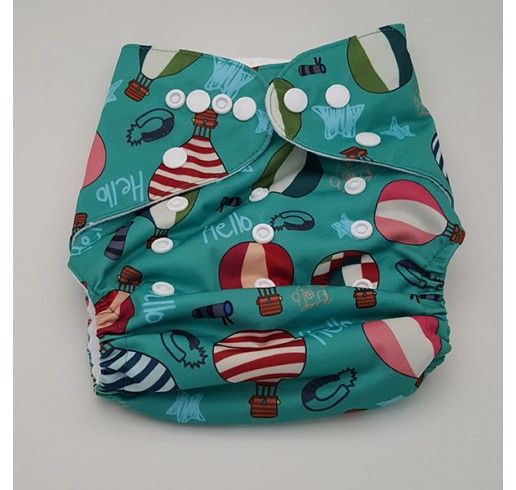 More and more parents are switching to cloth diapers and this means it might be worth checking with the parents to be what they are planning to use. Are they using a subscription service like Thirsties? Or simply purchasing off of Amazon as and when they need? Either way, you can check with them, get them a gift card for a subscription service, or even make them a cloth diaper cake.
How to Deal with a Base for your Diaper Cake
Every cake needs a good base, even ones made out of diapers.
In this case, a sturdy, flat base that doesn't bend is crucial. You don't want the base to buckle or collapse under the tiers of diapers. Think of things like a large serving platter, an aluminum pan, a pizza pan, or even a thick plastic cutting board for the base.
Fortunately, you can find most of these items lying around your house. But in the event that you do have to venture out to a shop, most of these items can be purchased at a dollar store. Be on the lookout for a sturdy serving platter that doesn't bend or a low cost cake stand like this one.
How Many Diapers Do You Actually Need?
The amount of diapers you'll need depends on the size of your diaper cake. For a mini diaper cake, you might need about 25 diapers, which will make up the first and second tiers of your cake.
What Will You Need? clot
So what do you need to make a mini diaper cake?
Most importantly, diapers! Size 2 or 3 preferably.
A sturdy base that doesn't bend.
Lot's of medium rubber bands for securing each diaper.
A large rubber band for each "cake" tier.
Something to anchor the diapers around like a paper towel roll.
A hot glue gun to connect the paper towel roll to the base.
Fun decorations like glitter, bows and flowers!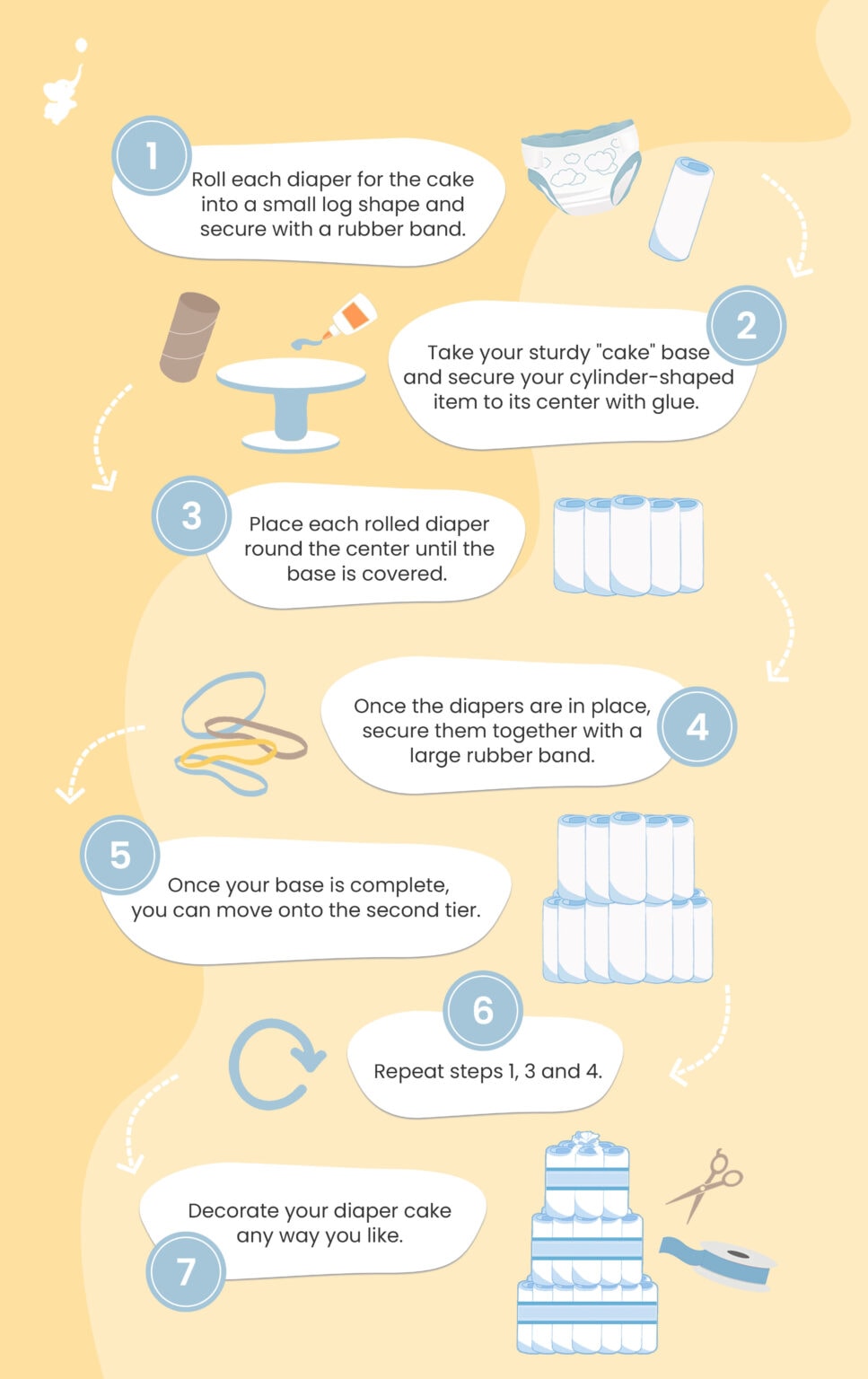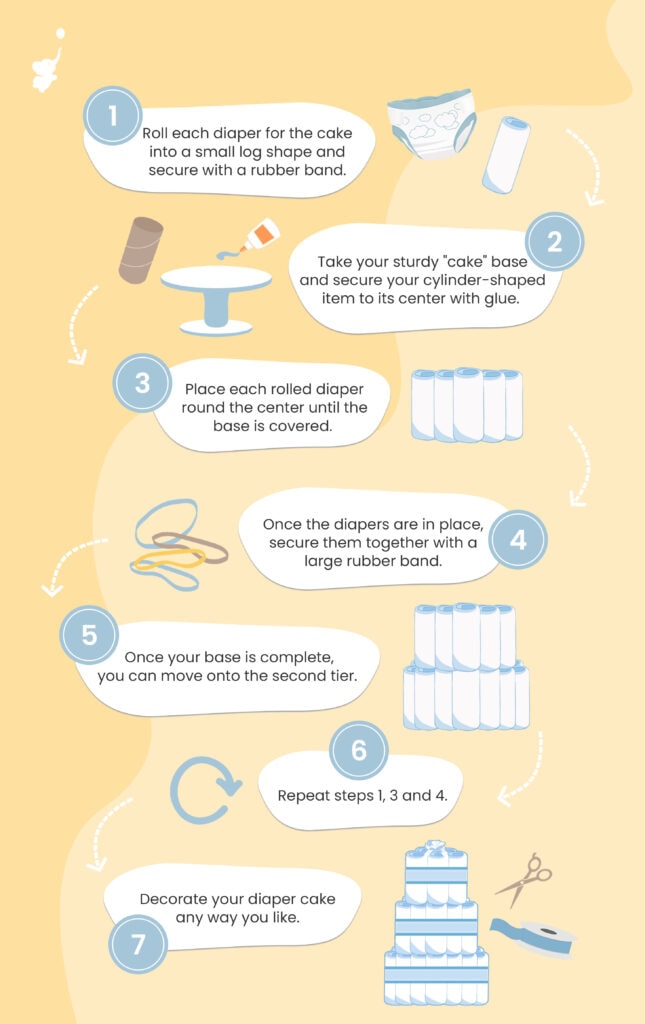 Diaper Cake How-To Instructions
Roll each diaper for the cake into a small log shape and secure with a medium-sized rubber band.
Take your cake base and use your glue gun to secure your cylinder-shaped item to its center. The diapers will be placed around this item, creating the cake shape, so make sure it's centered evenly!
Position each rolled diaper around the center until the base is covered. For a mini diaper cake, you'll only need two rings of diapers at the base. But if you're using a large base, you may need three.
Once the diapers are in place, secure them together with one of your large rubber bands.
Once your base is complete, you can move onto the second tier. Like a wedding cake, the second tier should be narrower than the base. So if you used two rings of diapers for the base, the second tier should have one. Secure with your second large rubber band.
Now for the fun part. It's time to decorate!
Diaper Cake Decorating Ideas
You might be wondering how to make a mini diaper cake stand out. Well, when it comes to decorations, there are a million cute little ideas available by way of Pinterest! Here are five of our favorites:
Lavender Bows and Butterflies
This purple diaper cake adorned with paper butterflies and hair ribbons is perfect for a mom or dad expecting a little girl!
Woodland Creatures
Woodland creatures are a fixture in children's books all around the world, so it's only fitting that they would take center stage on an adorable diaper cake.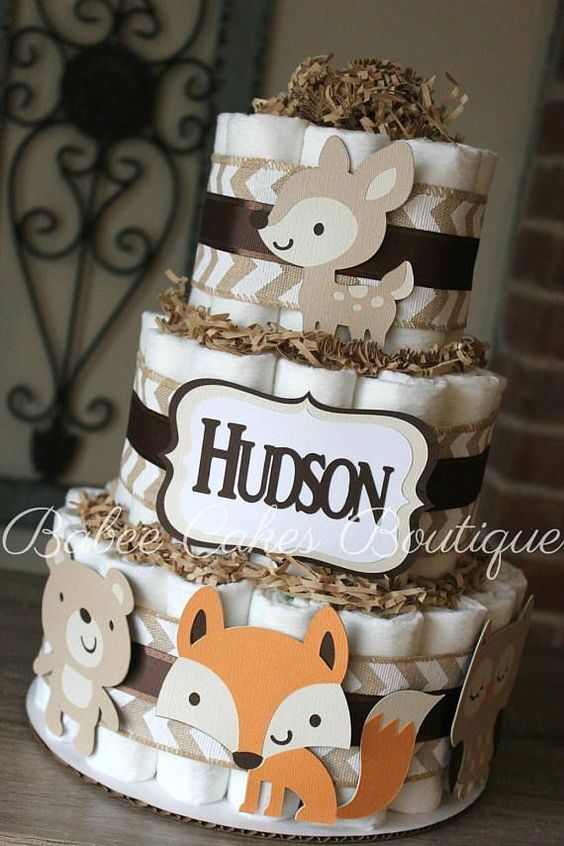 A Ballerina's Tutu
Dreaming of your little girl growing up to become a ballerina (or just someone who enjoys the ballet)? Then a tutu-themed diaper cake is for you!
Under the Sea
Nothing like the majestic creatures that inhabit the real ocean, this cute little furry octopus makes an adorable topper for a diaper cake.
Adorable Elephants
The sweet elephant topper might be the focal point, but the cute addition of the baby's name at the bottom is definitely a nice touch!
How to Make a Diaper Cake Quick FAQ
How Many Diapers Do You Need For a Mini Diaper Cake?
For the average mini diaper cake, 25 diapers should suffice, though you may find yourself needing a couple of extra, depending on the side of your base.
How Do You Make a Small Diaper Cake?
To make a small diaper cake, start by choosing a small base. Next, pick a cylinder-shaped item to act as the core of cake and secure it in place. After that, roll each diaper and secure it with a rubber band. Next, you should position your first tier of diapers around the base and secure it with a large rubber band. Repeat for tier two, keeping in mind that it should be narrower. Lastly, decorate.
See how a great online baby shower works
How Many Diapers Do I Need to Make a Tricycle Diaper Cake?
Tricycle diaper cakes are all the rage these days, and, as the name suggests, are diapers arranged to look like a tricycle. Fortunately, they are just as easy to assemble as standard diaper cakes. Usually, a tricycle diaper cake will require anywhere from 30 to 40 diapers.
How Many Diapers Do I Need For a Two-Layer Diaper Cake?
For a large two-layer diaper cake, 40 diapers should suffice!
Did you enjoy this article? We sure hope so!
Diaper cakes are a fun way to spruce up any baby shower and give a parent or parent-to-be a memorable gift. Not only do diaper cakes act as photo-ready centerpieces, but they also provide a mom or dad with something they'll need plenty of for those first few years of their baby's life.
Plus, before the diapers are needed, diaper cakes can be used as a decoration in the baby's nursery for a couple of months. That way, they can also serve a little reminder of the baby shower.
If this article proved helpful to you and gave you ideas about how to make a mini diaper cake, consider bookmarking it for later reading and sharing it on social media!