Throwing a baby shower doesn't just have to be exclusive to parents where one partner is pregnant. Adoptive parents can enjoy the celebration of bringing a new member into their family, too!
However, the process of throwing an adoptive baby shower doesn't necessarily follow the same steps as a traditional baby shower. Aside from the usual decorations and themes not applying, there's a lot to consider. Thankfully, our guide has you covered so all parents can enjoy the baby shower experience – whether you're the parents to be yourself or someone planning for them!
Throw a Virtual Baby Shower so Everyone

Can Celebrate!

• Free Trial – 7 Day Refund for any reason
• Only 1 Minute Setup!
• 40+ Custom Themes & Matching Invites
• Use Any Online Registry
• Send Unlimited Invites and Updates
• Baby Shower Games with Scoreboards, Give Prizes!

Build Your Shower
---
When to Have an Adoption Shower
Finding the right timing to have an adoption shower can be tricky. Unlike a pregnancy, where there's a set timeline for when the baby's coming, adoption processes can vary.
The best choice is to talk with the parents to be and see when they would feel comfortable with having their adoption shower based on their adoption timeline. While this takes away the possibility of throwing a party as a surprise, it's better to make sure that the parents get a say. If you're the parents to be and planning your own shower, you can just pick your preference!
That said, the timing can have an impact – consider the options so you can have the best time celebrating the new family member!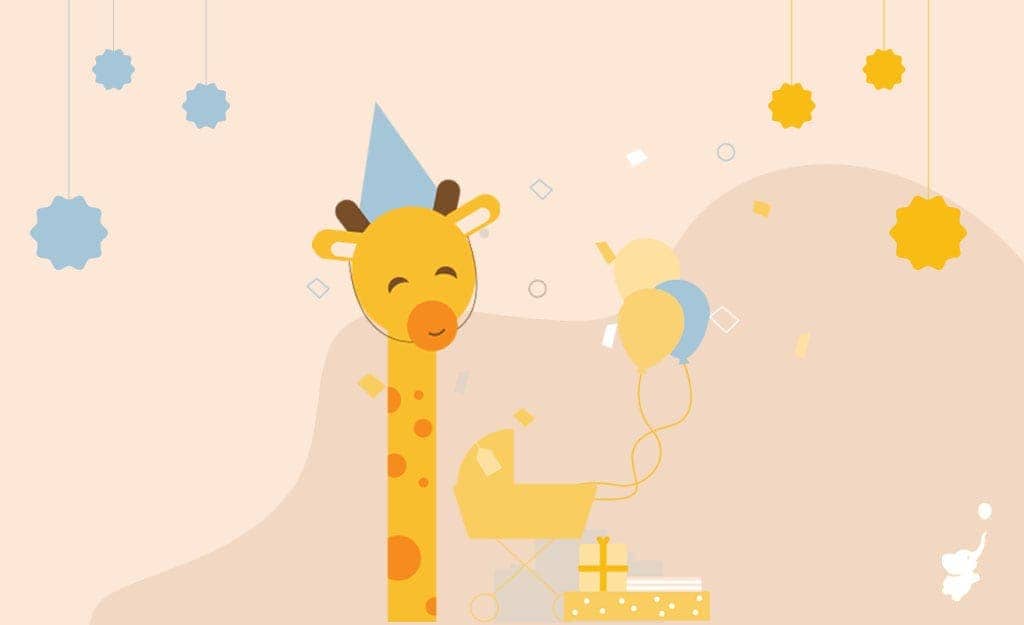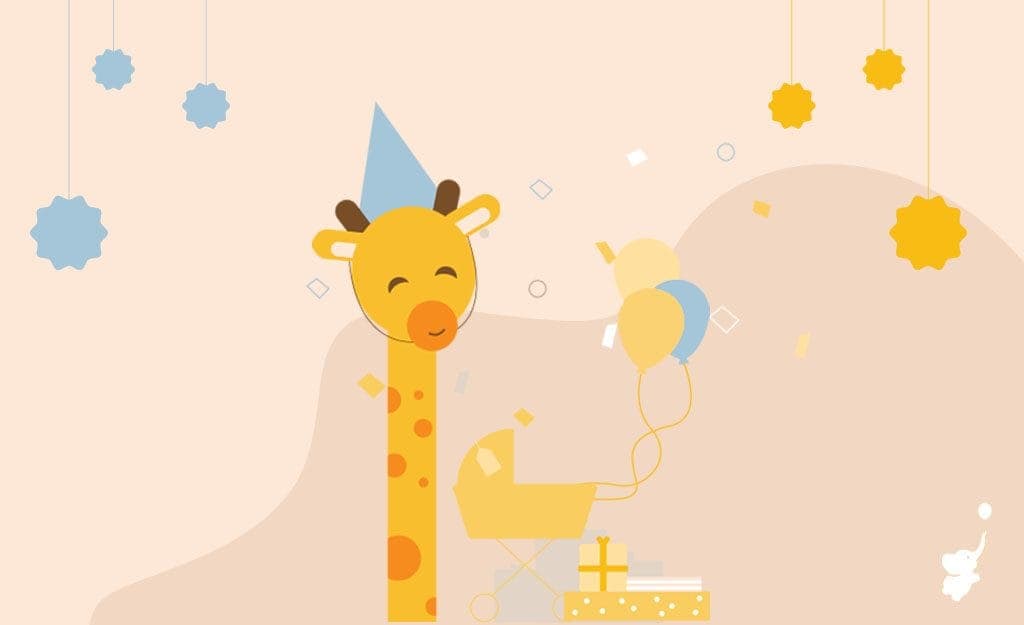 Before the Baby Joins the Family
For adoptive parents to be who want to have as traditional of an experience as possible, you may want to have the adoption shower before the baby or child joins the family. This will allow the new mama and papa to be a part of the traditional baby experience. This option can also help the parents-to-be feel as if they're a part of what other parents enjoy during pregnancy.
After the Baby or Child Joins the Family
The flip side to consider is that adoption is a complicated process—and sometimes, a planned adoption can fall through. Holding off on the baby shower will mean that you and the child can bond before the shower.
If the baby shower ends up being after the baby has joined the family, it can also double as an adoption welcome party! This option adds to the potential activities you can have.
If you're planning a shower for the parents to be, keep in mind that some parents will want some time with the baby to themselves before bringing their new addition into a public setting. Just be sure to communicate so these details are clear before you set a date.
Decorations and Themes
Many traditional baby showers work with ideas like storks and baby bumps—images associated with pregnancy. Just because an adoption shower doesn't fit these traditional ideas and decorations doesn't mean that you can't have an exciting party theme! Consider these adoption party ideas.
One choice is to connect the theme of the adoption shower to the baby's birthplace. For example, if a baby comes from Florida, you could use sunshine or even work with a beach design. You can also potentially pick a theme based on cultural ideas, like a sakura blossom theme for a baby born in Japan. This is the time to get creative!
Another great party theme and decoration idea is to work with the design that the parents have already picked out for the nursery. Not only will that expand the adoption party decorations you can use, but it can also help guests pick out gifts that will match the rest of the baby's belongings! You can also pick out some adoption party favors that match the theme!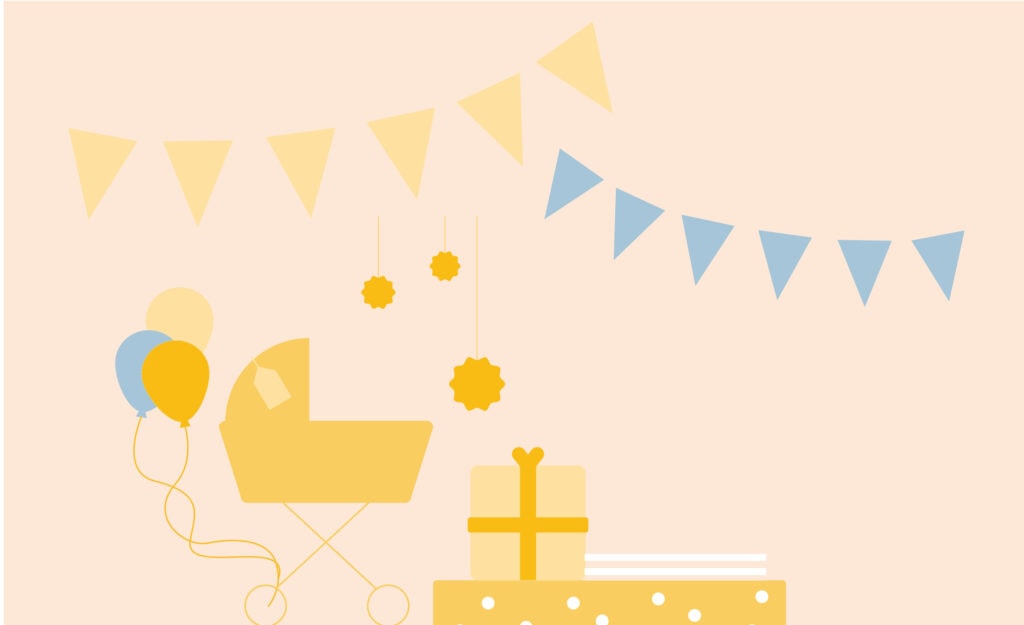 Unlike a traditional baby shower, the goal is not to celebrate a birth. Instead, you want to celebrate your family. Keeping this in mind can help pick a theme that will fit the party's vibe and let everyone enjoy themselves.
If your family already has children, it can be fun to let the older siblings plan the celebration. Since the goal is to celebrate family, there's no reason not to let the whole family in on the excitement and joy of welcoming a new member of the family.
WebBabyShower has plenty of themes for virtual baby showers that can easily match any party or design! These cute patterns are a lot of fun and can help you quickly pick out a theme and colors to plan your adoption baby shower around, and they're enjoyable for guests to see, too. The shower is also set up to be neutral as to whether it's pregnancy or adoption, so there is no built-in pregnancy wording to worry about.
Gift Ideas
Thankfully, many baby shower gift ideas work just as well for adoptive parents as they would for moms going through a pregnancy. While parents may already have a registry of adoption party gifts that they want, it's never a bad idea to consider the options.
Gifts for the Parents
Picking out gifts for the parents to be is a great idea to help celebrate their adoption journey!
Gifts Centered Around Family
One good choice you can consider are gifts with "Family" on it. Some cute options include:
Mugs with quotes about being a parent or adoption

Photo frames to share family pictures or an art portrait of a family

Custom matching t-shirts for the parents and the baby
Baby Memory Books
Some parents also like to have mementos that they can look back on. Journals and photo albums can create an excellent collection of memories for later down the line! Some baby-centric journals have prompts in them to help document the journey.
Baby Supplies
Any parents to be will appreciate getting supplies like diapers and gift cards, but there's no reason that you can't get a little more personal! If you do want to pick out supplies, it's always a good idea to discuss things with the parents, so they don't get overstocked on something. For those purchasing gifts, keep in mind that adoptive babies aren't always newborns, so they may need different items!
As long as the baby is still, well a baby, a great gift is a diaper cake, it also makes a great decoration at the shower, and parents are likely to need diapers! Check out our guide on how to make a mini diaper cake and give the parents a gift they will really appreciate.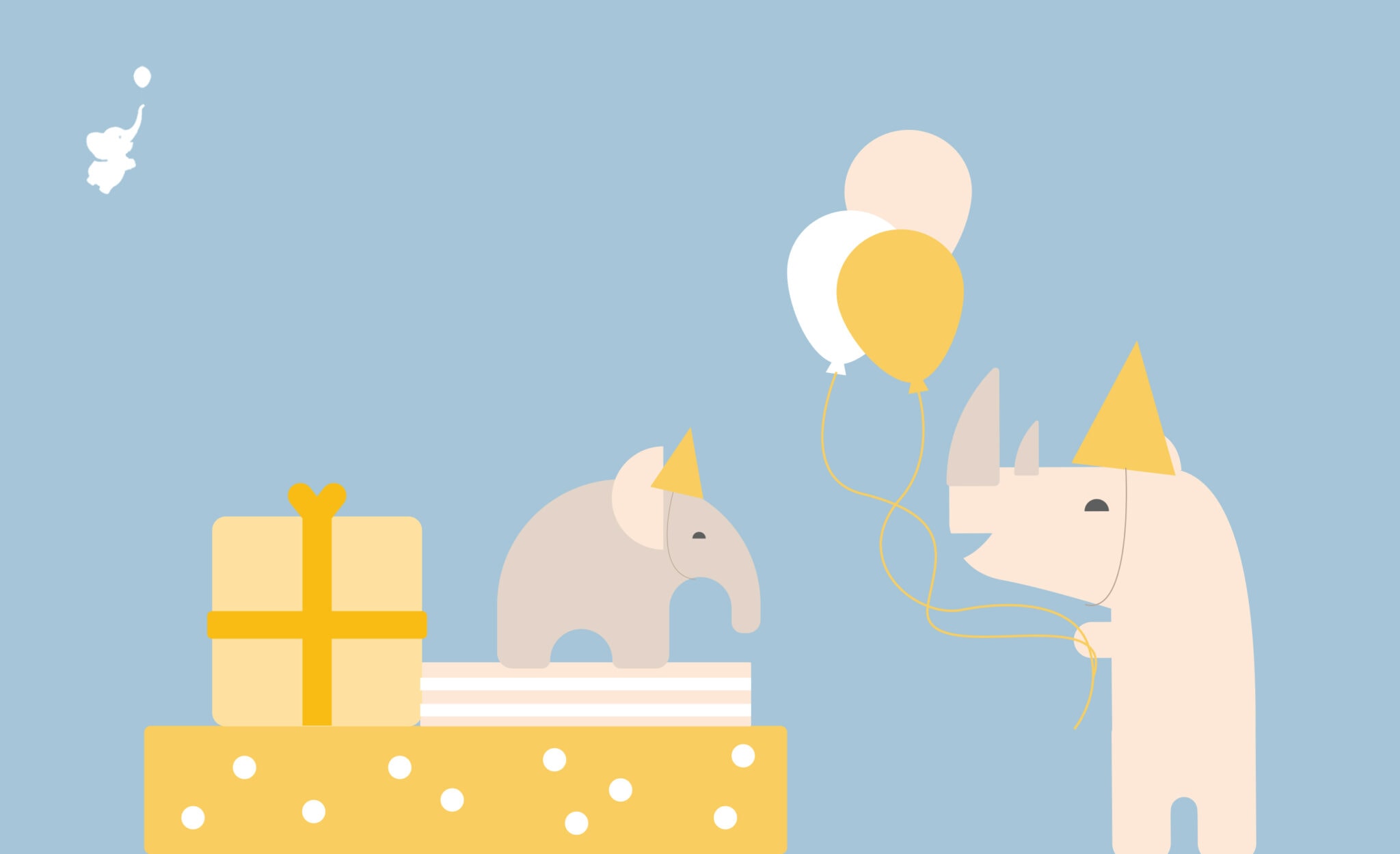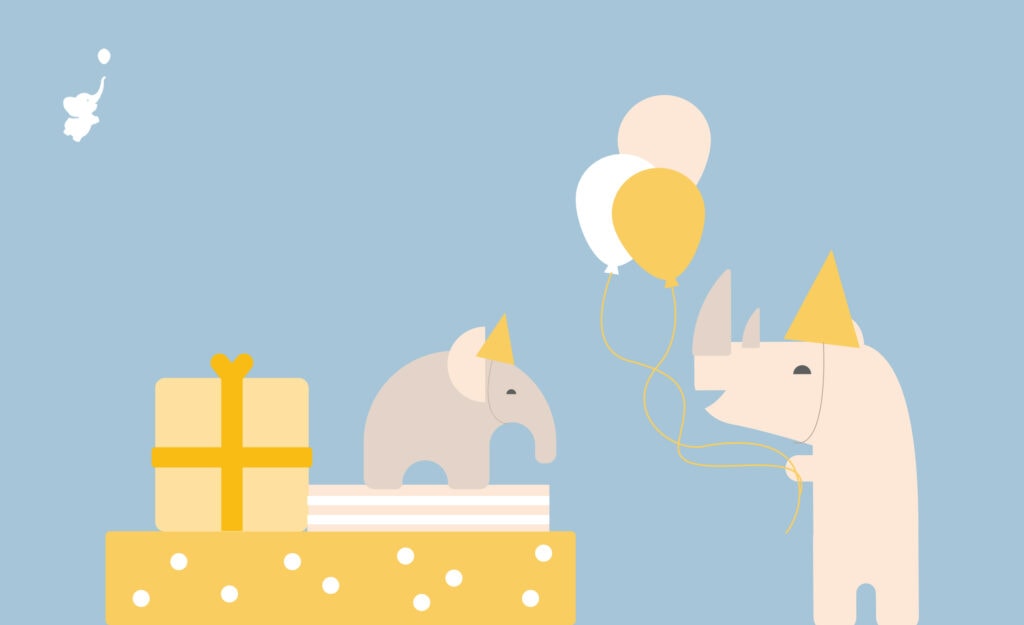 Gifts for the Baby
Whether you're a guest at the shower or one of the parents, there are many excellent presents that you can pick out for the coming baby. Unlike traditional baby showers, children aren't always newborns when they join the family. Any adoption shower gifts should keep in mind the child's age – or be good for kids of all ages.
Consider these fun gifts ideas for adoption celebrations!
Baby's Adoption Date
One choice you can work with is a necklace or a bracelet to represent the adoption. Rather than something based around the birthdate, these jewelry pieces can have the baby's adoption date embossed on it to represent the entry to the family!
Gifts with Cultural Connections
If the baby is coming from another country or has a different cultural origin, it can be fun to find toys based on this as well. You can potentially find building blocks in the baby's native language, making a fun choice! Art prints that celebrate the baby's heritage can also make fun decorations for their nursery.
Clothes and Shoes
Clothes and shoes are also always a great pick that will get used for quite some time. That said, don't forget to consider the size of the baby or child! They'll ultimately grow out of their clothes, yes, but you can pick slightly bigger sizes to extend their use! For similar reasons, including the child's age in the invite will ensure that guests pick out age-appropriate toys.
Gift Baskets
While there are many pre-made baby shower gift baskets out there, you can create your own to make a custom gift! A lot of smaller necessities (like diaper cream, baby wipes, pacifiers, rattles, etc.) can serve as one gift altogether. If you make a gift basket on your own, you can make it match the baby shower theme and ensure that clothes will be the proper size for the baby!
You could check our list of best baby registries to have an idea where you can buy gifts.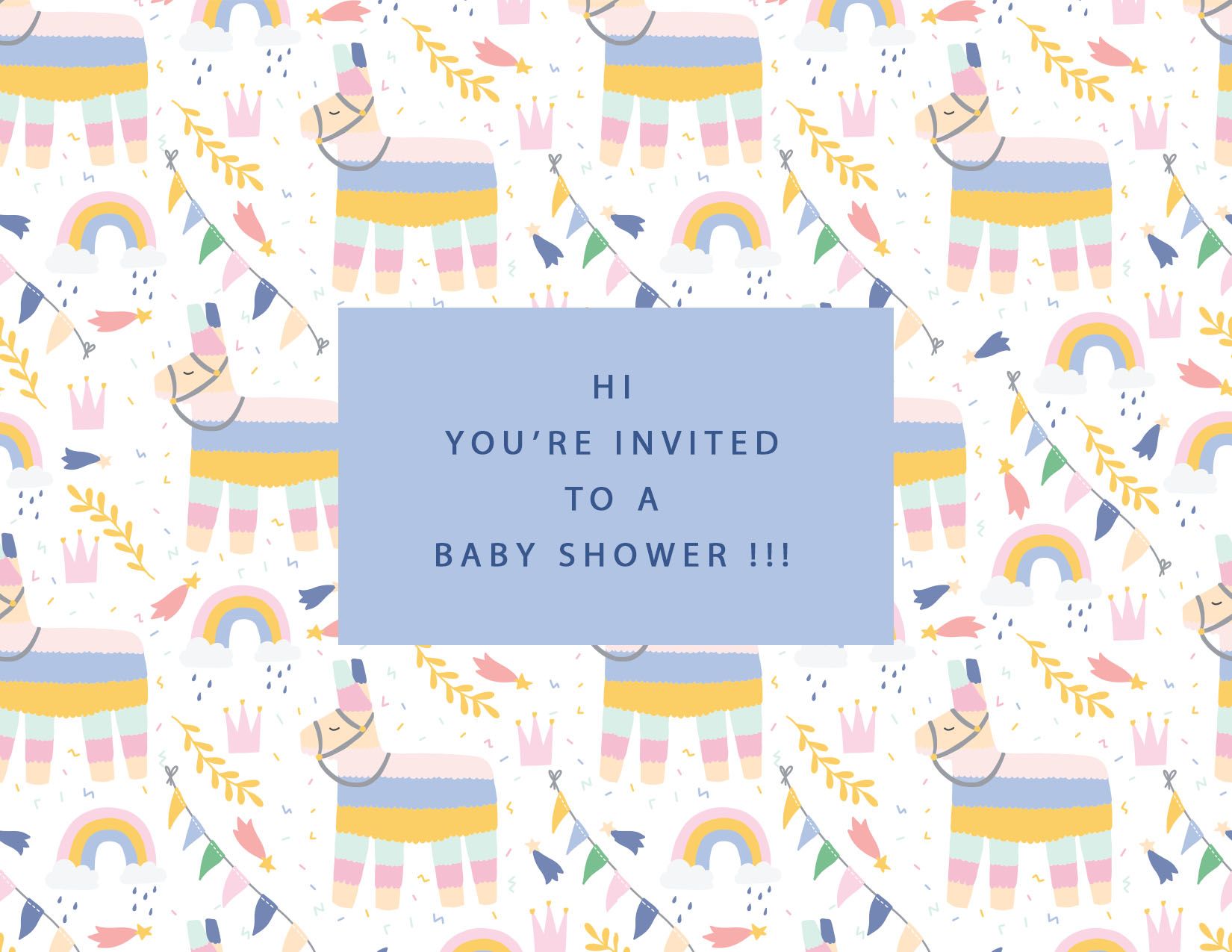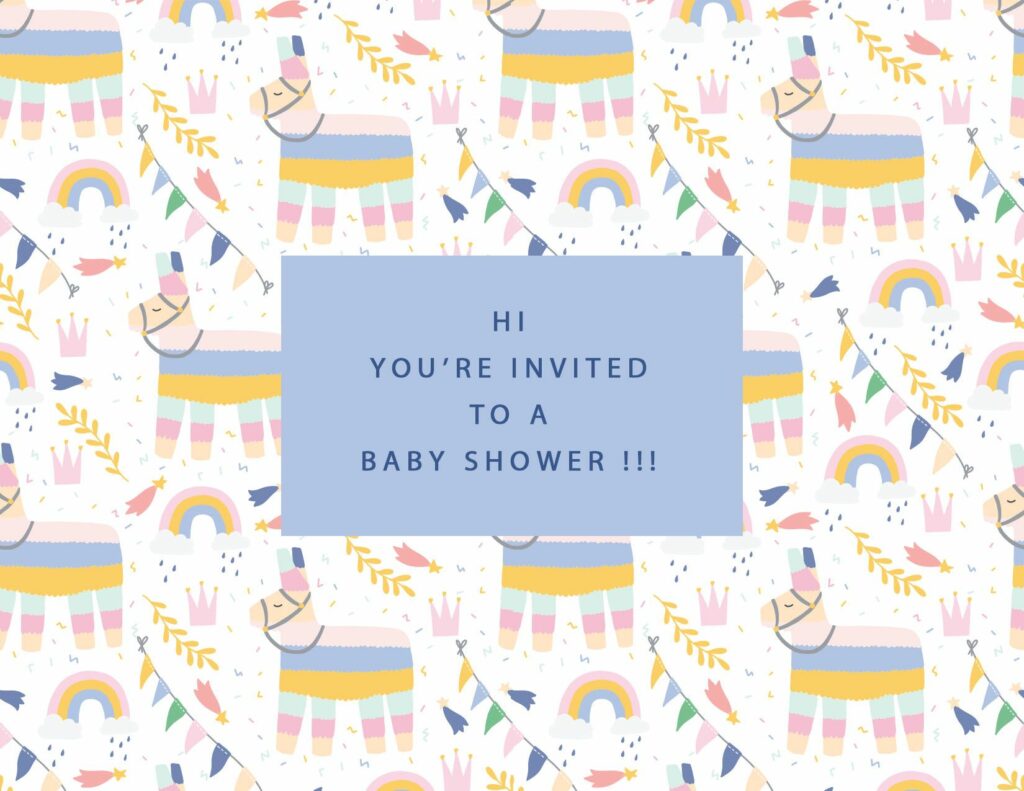 Invitation Ideas
If you already have a plan for the baby shower's theme, then you have a head start when it comes to designing the invitation! Matching the invitation to the theme means that the guests will get a sense of the vibe at the party and even help them pick out gifts.
Of course, there's nothing wrong with doing a wholly different design for the invitation, either. If you like, you can follow the pink for a girl/blue for a boy color theming, but it's okay to use a completely different color. If you're sending a digital invitation, rather than a physical one, the possibilities are endless!
WebBabyShower has a great variety of invitation designs and templates for you to use. You can match the invitation to the virtual party theme or mix and match with something else. The choice is up to you!
Adoptive Baby Shower Invitation Considerations
Not every baby shower guest may know the details of the parents to be's adoption journey. To ensure that everyone is in the loop, you should have wording that indicates it's an adoption shower. This can help guests know not to send gifts that would only make sense in a traditional baby shower. Putting this knowledge upfront also helps avoid any awkward conversations when the goal is to celebrate!
If you choose WebBabyShower to host your adoption shower you could write the whole adoption story on the home page so it's the first thing guests see. Of course, you would want to run this by the parents-to-be first to make sure the details are correct.
Another note that's critical when it comes to planning and sending out invitations for an adoption baby shower is not to set a date too quickly. Keep things flexible to help accommodate the adoption journey, since there can be changes down the line..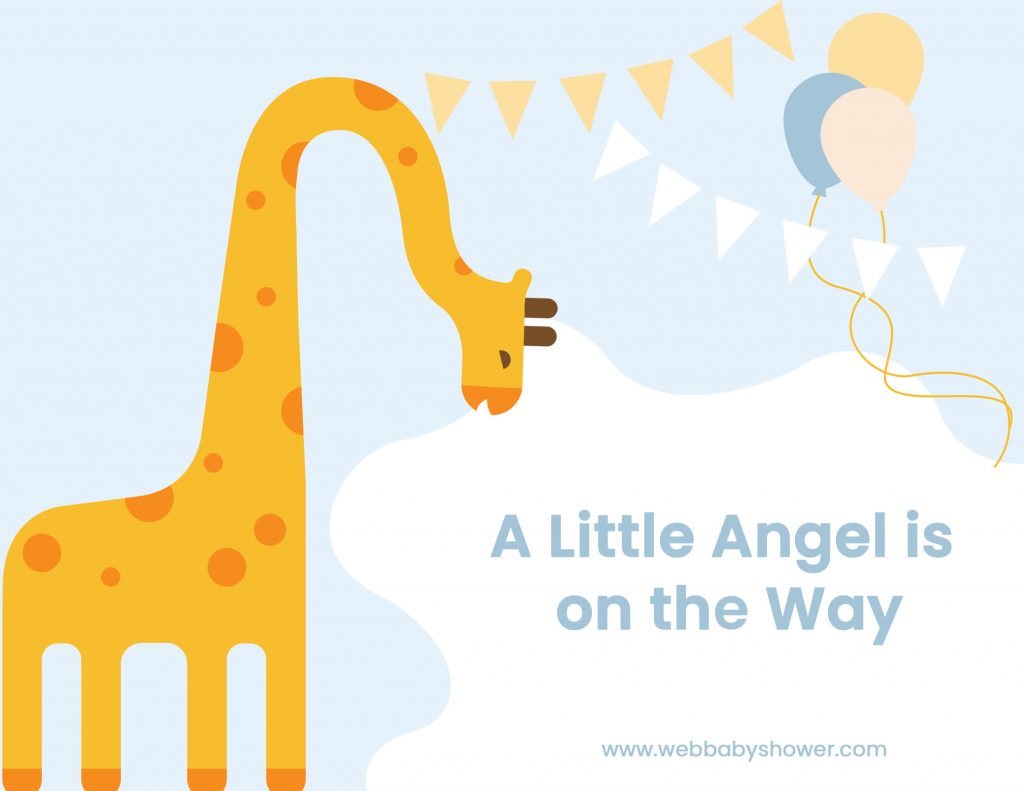 Things to Include in the Invitation
Don't miss out on any vital information in your adoption shower invitation. Things you should include are:
The child's name

Their gender

Age and birthdate

The adoption date

Clothing size

Contact number and address

Shower date

Wording that lets the guests know that the child joined the family through adoption
Optional items that you can include in the invitation are RSVP info. If there's a gift registry, provide that link as well! WebBabyShower has a Gift Registry page so all registries are kept in one place. If you have all the core pieces of information, your guests will be ready to come and celebrate the excitement of adding a new member to the family!
Invitation and Adoption Announcement Wordings
As mentioned, you should include wording to help the guests know that the event will be an adoption shower rather than a traditional baby shower. Here are some fun adoption announcement ideas to think about:
Look who's joined our family!

We are on an adventure to find our baby

Announcing our newest family member…

I've shared their home and love, and now I will share their last name

Our lives are filled with happiness, and our hearts are filled with love/because we have the baby we've been dreaming of

The biggest of life's miracles come in the smallest packages

They're all that we've waited for…the best we've ever had/She's our little wonder, and now we're her mom and dad!
Naturally, feel free to choose a personalized wording for your invitation. Even if you don't do an adoption-theme opening line, clearly labeling the baby's adoption date will help get the information across. An adoption shower invitation can make a great memento, so feel free to get creative!
Sharing Adoption Info
A quick and fun way to help guests get the idea of how adoption works is to have a children's book style story that talks about adoption. This can share all the basics of information, making sure parents can focus on the celebration rather than explaining the process to everyone.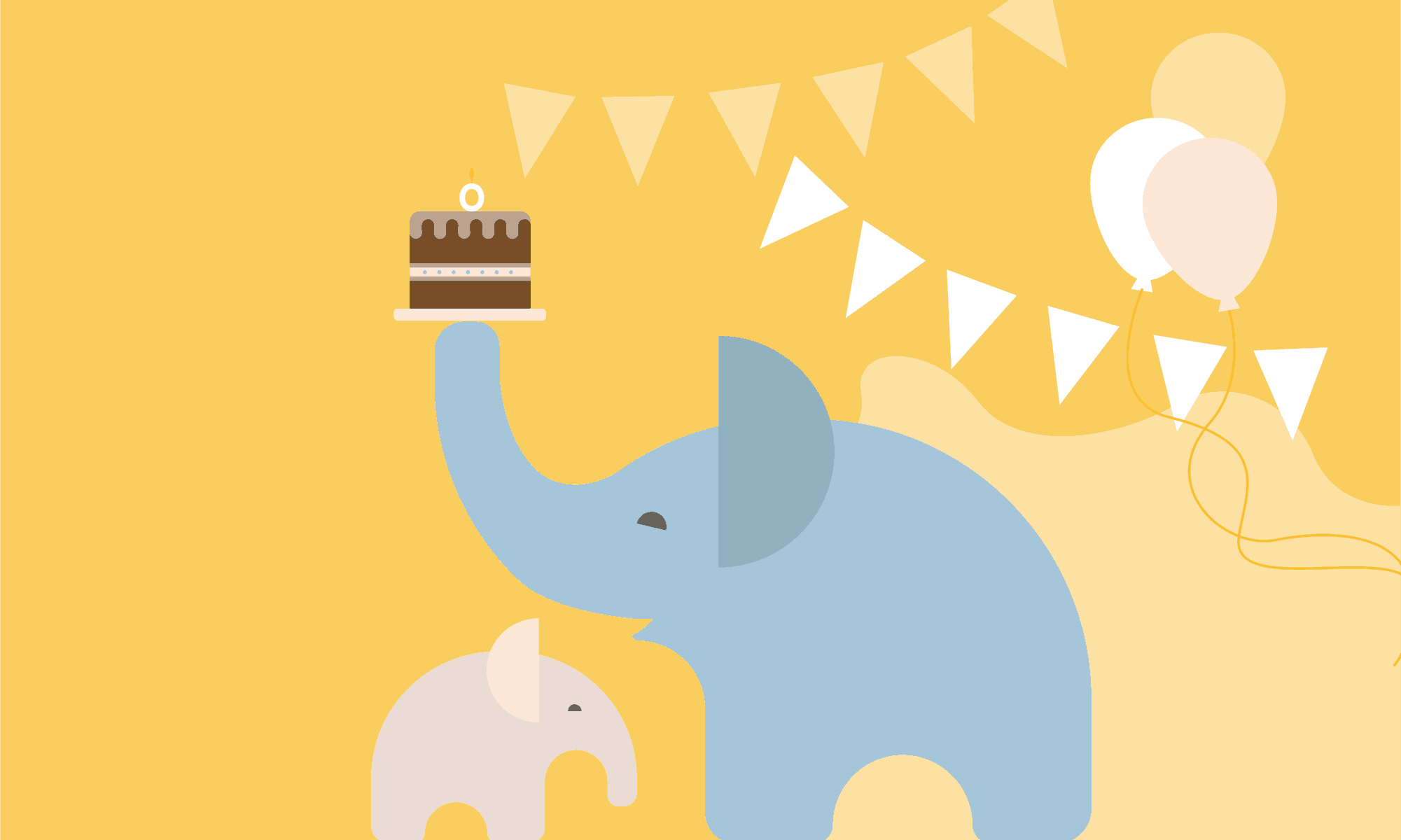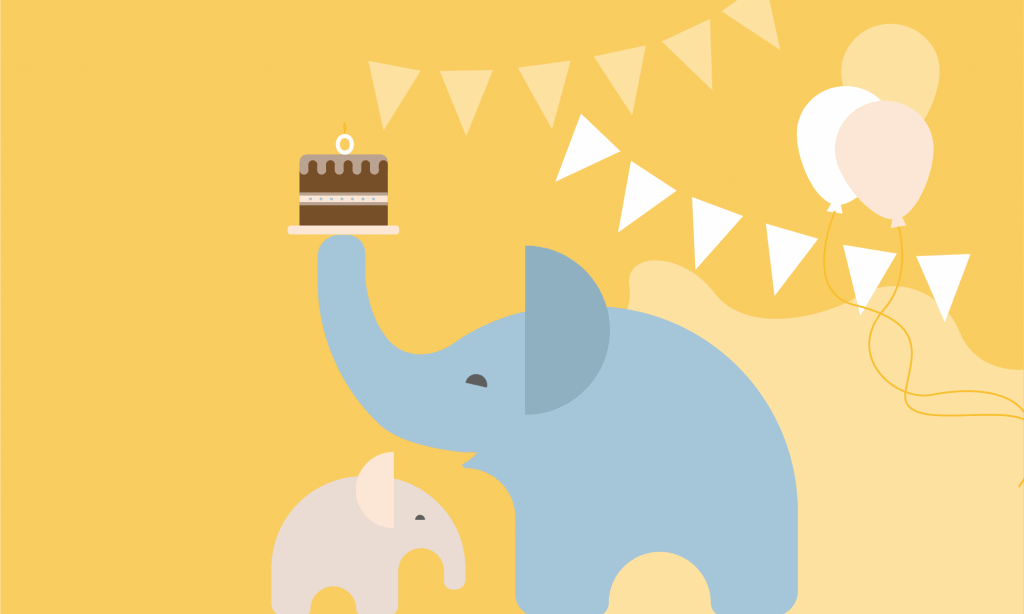 WebBabyShower Makes Adoptive Showers Easy
As the #1 market leader in virtual baby showers, WebBabyShower helps moms and dads make celebrating the new member of their family fun and straightforward. We help families of all kinds, and we want to help you welcome your baby into your home with friends and family—even from a distance!
WebBabyShower can help with all stages of the virtual adoptive shower process. We have years of experience helping families celebrate a special milestone in their lives! Our ready to go setup makes every step of the shower planning experience simple so families can focus on the joy of celebration.
We have customizable and fun shower themes and invitations, letting you quickly plan and invite friends and family to celebrate the parents to be and their new family member. With virtual invitations, you can invite as many people as you like and easily track who's received them. Your shower is easy to share on Facebook if you wish, to help you easily connect with your loved ones.
Not only can WebBabyShower help with the invitations, but we can also help with every other step of the journey! Our gift registry pages make it simple for guests to show their appreciation and joy at celebrating with the parents to be.
See how a great online baby shower works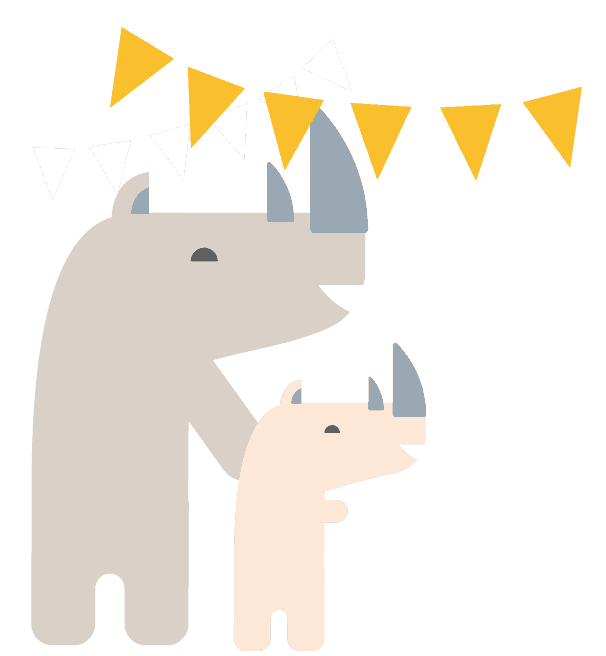 When party time rolls around, our games and baby quizzes make having a fun celebration simple. You can quickly find games suitable for an adoption shower in no time.
We want to make celebrating this wonderful time in your family's life as memorable as possible. Our private photo and video albums will help collect the memories for years to come.
Our customer support team is also here to lend a hand whenever technology decides to be tricky.
Make your unique and exciting virtual adoption experience with WebBabyShower!
Party Time!
Just because adoption is a different way of bringing a child into the family doesn't make the event any less meaningful or exciting. Adoptive parents can still have a shower for their new family member to celebrate this fantastic moment in the family's lives. We hope this guide has helped you learn how to throw a baby shower for adoptive parents!