It's more important than ever to consumers that brands have an eco-friendly mindset. A recent study shows that 70% of consumers prefer to shop with brands that focus on sustainable goods, even if that means they need to pay more for their products. We've seen this as well with our customer's registry lists for their virtual baby showers.
For 41% of parents, the inspiration to be more environmentally focused stems from their children. For these reasons, buying eco-friendly baby shower gifts for the parents-to-be in your life can be a safe bet.
11 Best Eco-Friendly Baby Shower Gifts
Eco-friendly baby products exist in almost every category, from baby gear to feeding supplies. The following selections are some baby shower gift staples that can help soon-to-be-parents continue their sustainable lifestyle when their baby arrives.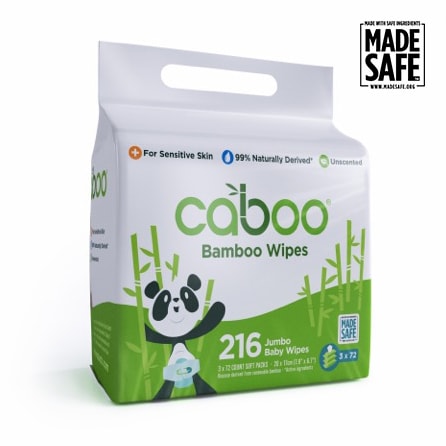 Bamboo is a fast-growing plant that experts consider an eco-friendly wood, mostly because it's quicker to grow than trees, and we can use it in similar ways. Caboo makes these baby wipes with bamboo instead of trees, giving parents a more sustainable way to keep their babies clean.
These wipes are:
Free from phthalates, formaldehyde, parabens, and alcohol
Gentle on sensitive skin
Unscented
From a manufacturing facility that's FSC and FDA-certified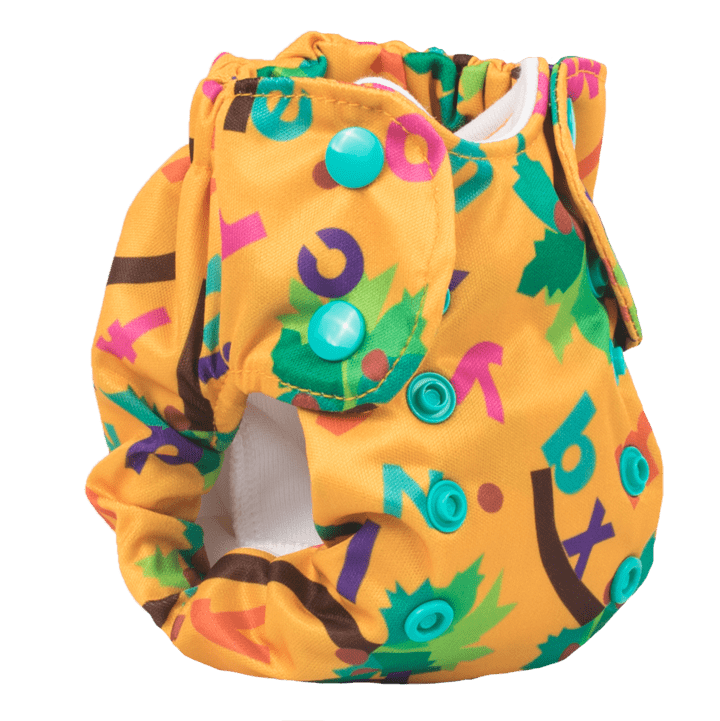 Cloth diapers are reusable, keeping diaper waste out of landfills. According to a researched report to The National Association of Diaper Services, "Single-use diapers are shown to generate significantly more solid waste, to consume greater quantities of energy and raw materials, and to generate more potentially toxic pollutants on a per-diaper-change basis."
Smart Bottoms creates its Smart One Cloth Diapers with a 100% organic cotton interior and a polyurethane laminate exterior to keep them waterproof. They include ten absorbing layers to keep baby dry and lock in moisture for easier changes.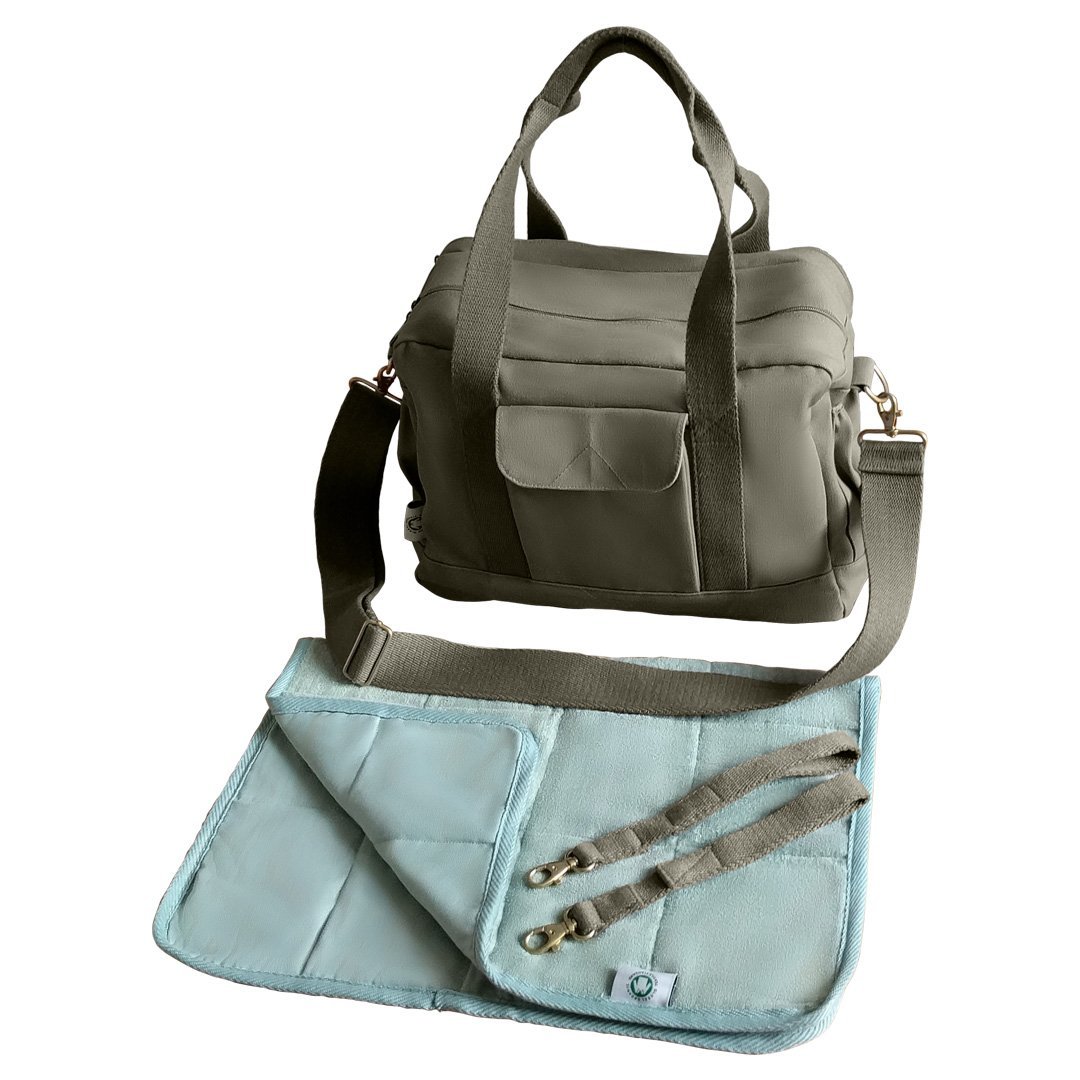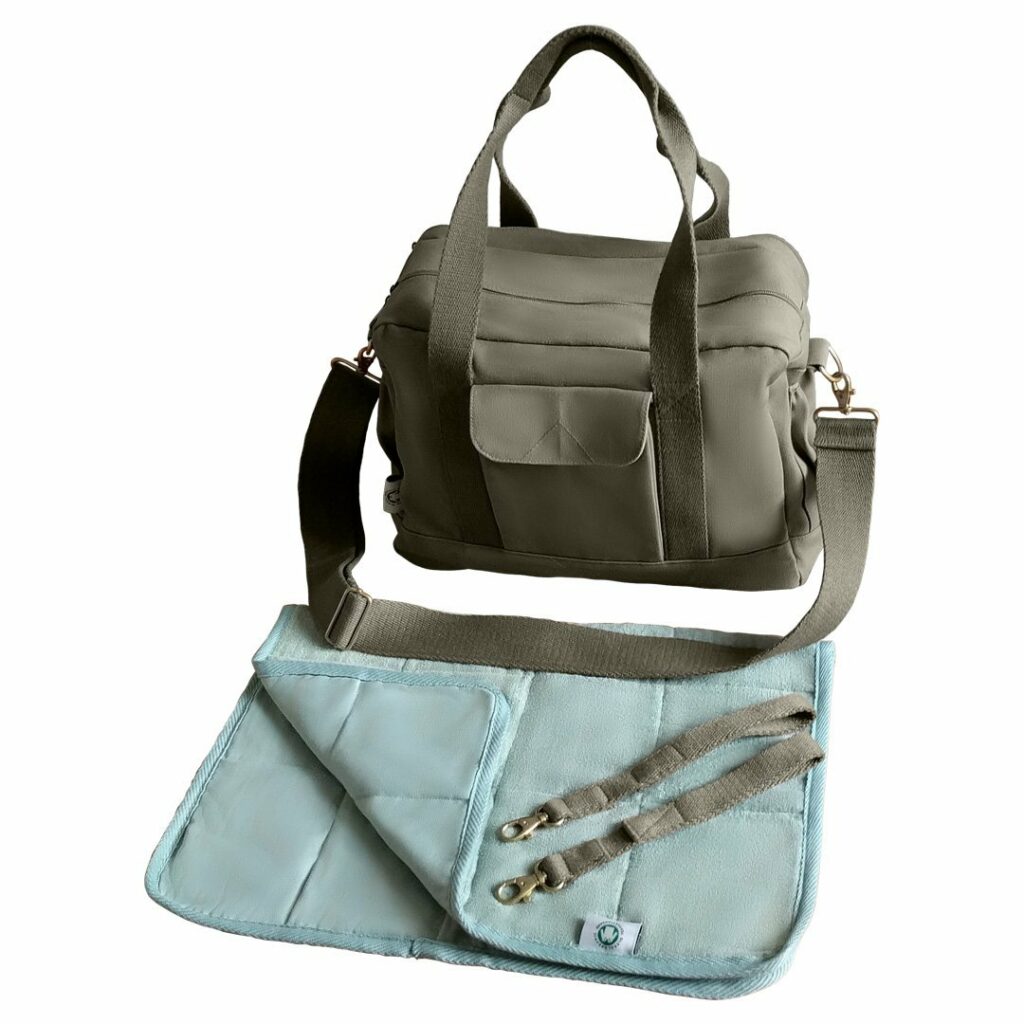 This diaper bag lets new parents tote all their baby's eco-friendly stuff wherever they go. Dera Design makes this bag with GOTS-Certified organic cotton canvas without chemicals, pesticides, or other toxic ingredients involved. REACH-compliant hardware further notes the brand's dedication to environmentally-safe practices.
There are plenty of nooks, crannies, and storage areas for diapers, bottles, wipes, pacifiers, and extra clothing. The bag also includes a changing pad for quick changes on the go that stores conveniently inside the rear compartment.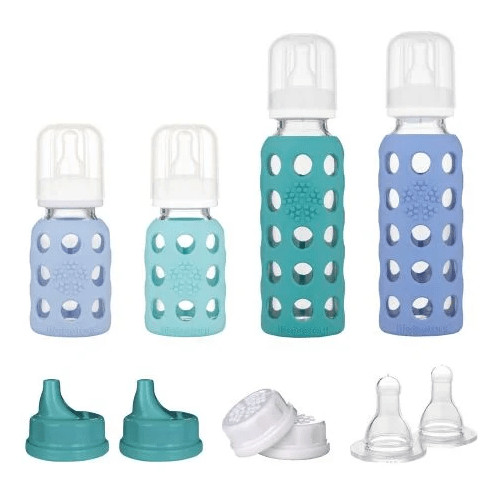 Glass bottles don't pose the risk of exposing babies to BPA as plastic bottles can. However, parents may worry about glass bottles' safety, as they're more likely to break when dropped.
These bottles from Lifefactory have a silicone covering to protect the bottle if it drops on a hard surface and gives little hands a better grip on the bottle.
Glass bottles are also 100% recyclable, making them an excellent choice for a reduced carbon footprint.
This non-toxic foam mat is cozy for baby to play on and is free of BPA, PVC, latex, and other chemicals and ingredients that can be harmful to a baby and the environment.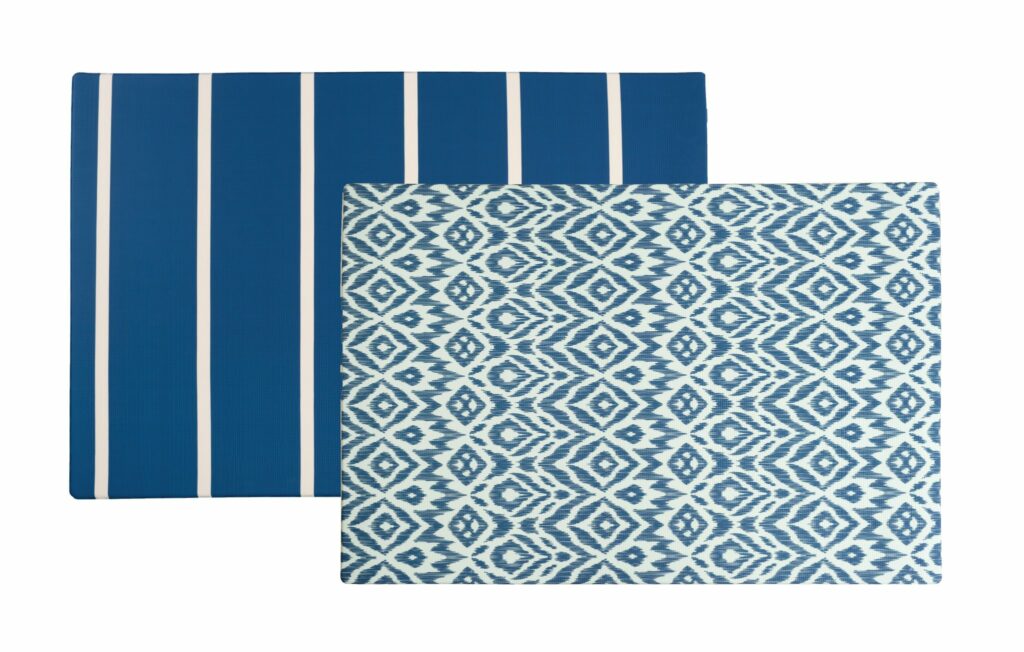 Parents will appreciate this reversible mat because it's waterproof, so quick cleanups of spills or accidents are a breeze.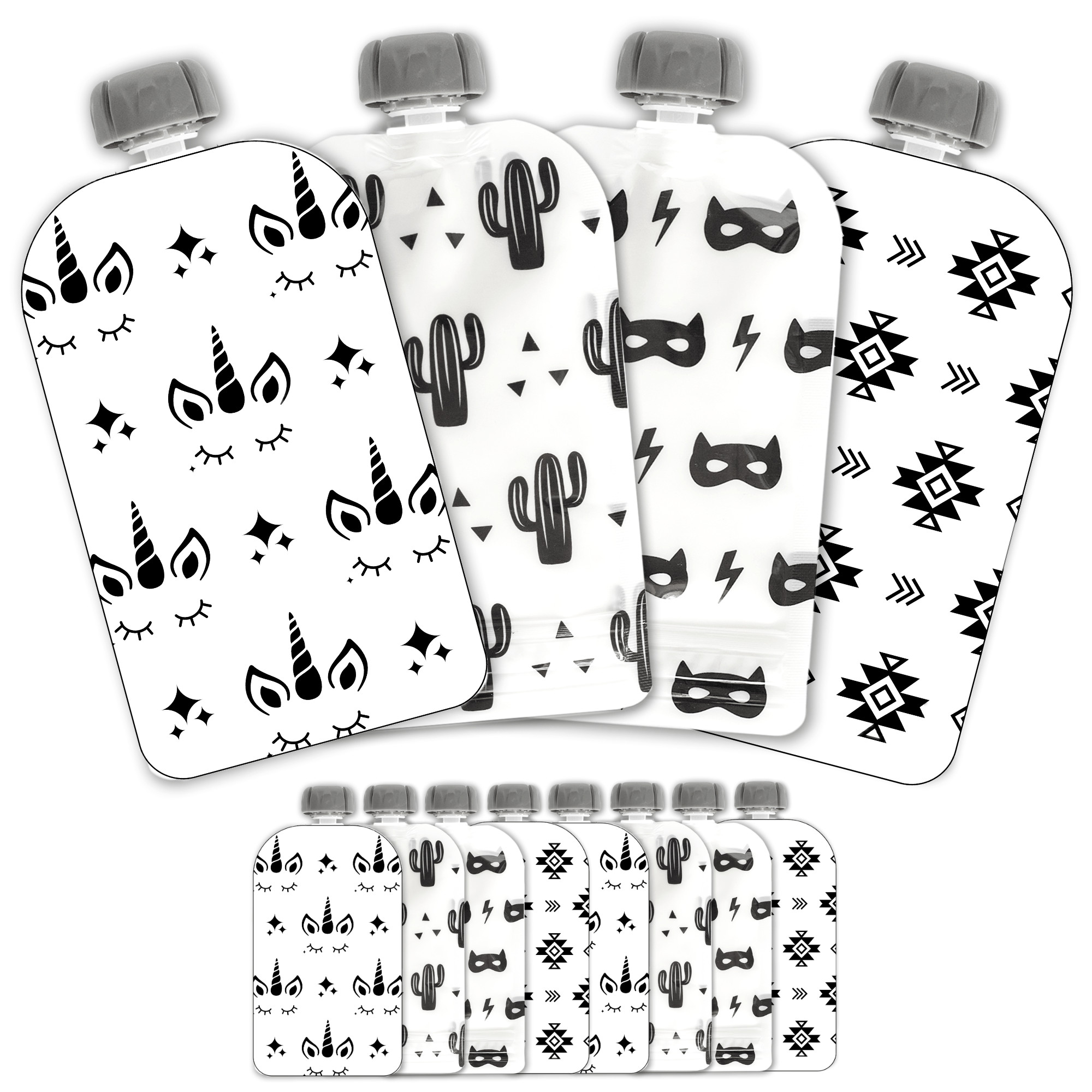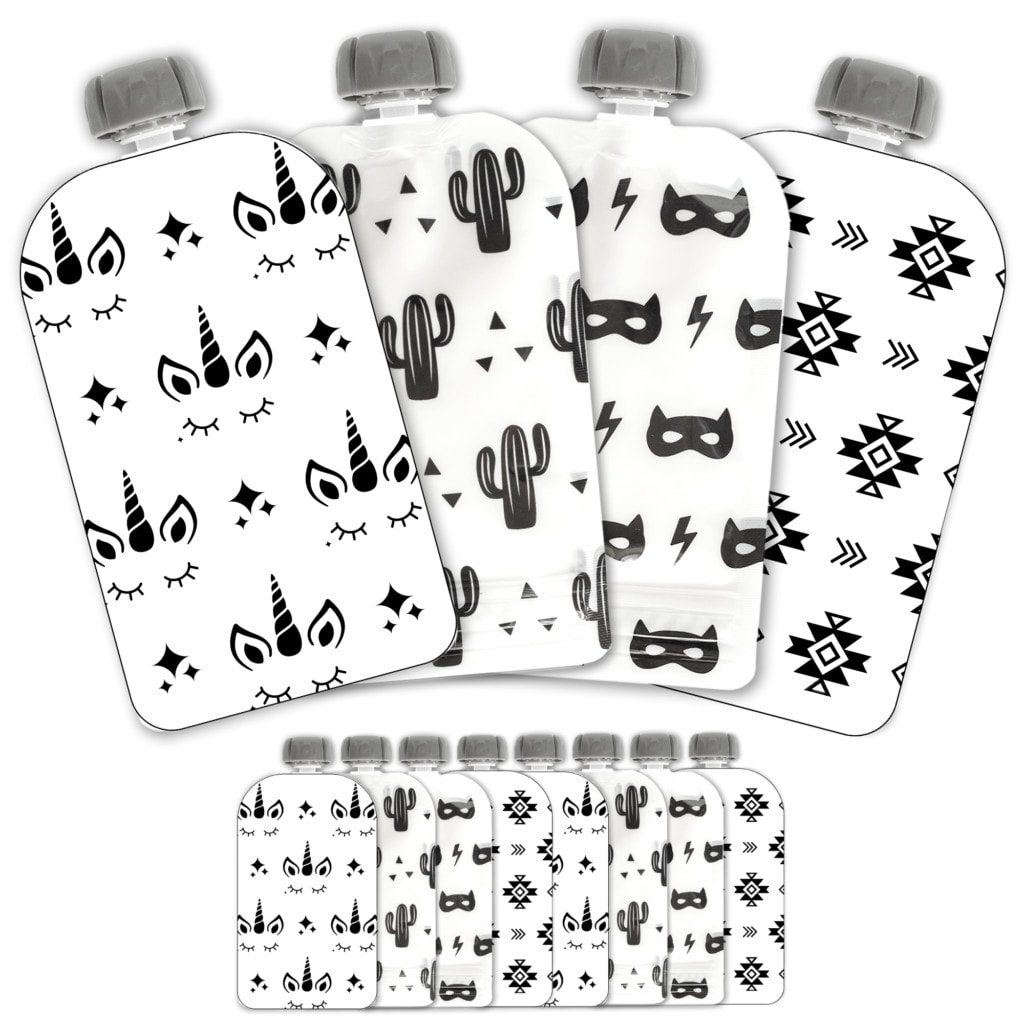 If the parents-to-be in your life have considered making their own baby food using fresh ingredients, these reusable baby food pouches can help them succeed. They're easily washable and refillable, so there's no need to toss a pouch and buy new ones when they need to store more food.
Each pouch is free from BPA, lead, PVC, and other toxins, making them safe for a baby to use and good for the environment if the parents decide to recycle them. These pouches are hand-washable and dishwasher-safe.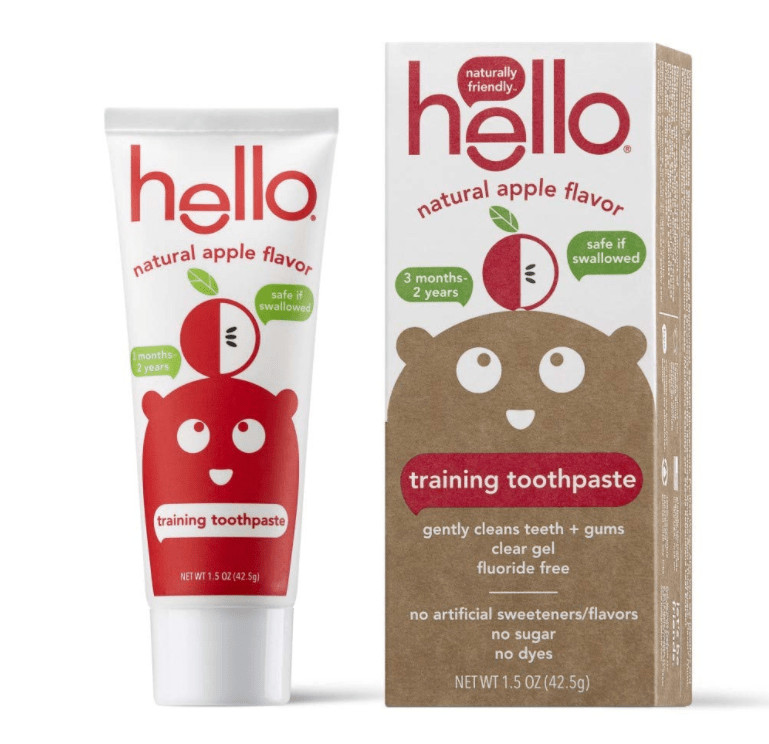 A baby's pre-teeth gums are just as important to take care of as their teeth. Cleaning the gums regularly ensures that they stay free from bacteria and in good shape for their new teeth to arrive. This training toothpaste contains no fluoride and comes in a yummy and subtle apple flavor to appeal to a baby's palate.
Hello Training Toothpaste is Certified Organic and contains only plant-based, natural sweeteners, and no dyes. Even the tube is environmentally-friendly, containing no phthalates or BPA.
The toothpaste is safe to swallow, but the company recommends using it only with babies at least three months old and only using a very small dollop with each brushing.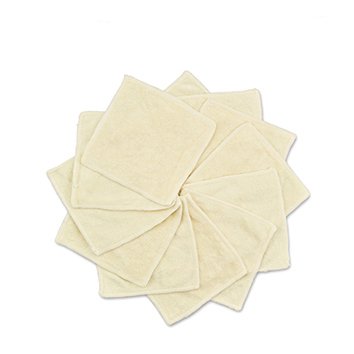 If throwing away baby wipe after baby wipe doesn't appeal to you or your gift recipients, try gifting these reusable bamboo baby wipes from babygoal. They're made from bamboo, making them a more sustainable alternative to traditional baby wipes, but they're also washable, so there's no discarding needed.
Add a little water to the cloth, and they become an instant baby wipe for diaper changes. Because you can wash them, you can also use them as burp cloths, washcloths, or whatever else you need them for. Stash them in a diaper bag and have them ready to go whenever you need a quick clean.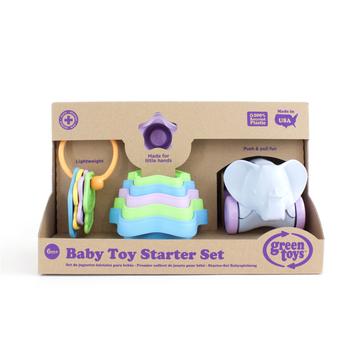 Green Toys is a company that makes its products and packaging with 100% recyclable material. This adorable baby toy gift set has all the essential baby toys: keys, a push-and-pull toy, and stacking cups.
Each toy is BPA and phthalate-free. You can also stick them in the dishwasher to clean and disinfect them between uses.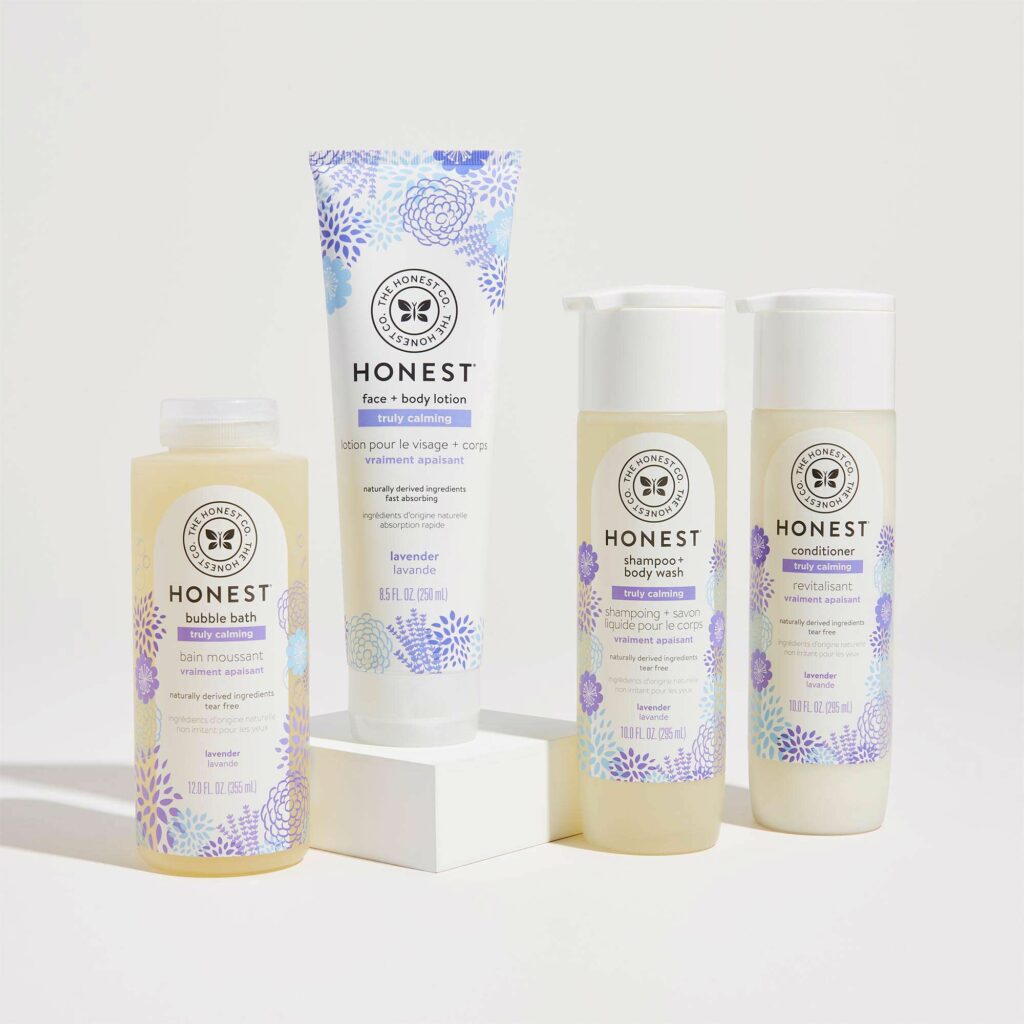 The Honest Company is known for its eco-friendly practices and products, and this bath set fits its strict mold. The set includes baby shampoo and wash and baby lotion, both of which are gentle, no-tear formulas without chemical fragrances, dyes, parabens, phthalates, and other toxic ingredients.
Pediatricians also test these products to ensure their safety for babies. Their vegan and hypoallergenic formulas can help new parents avoid rashes, dryness, and other common baby skin issues.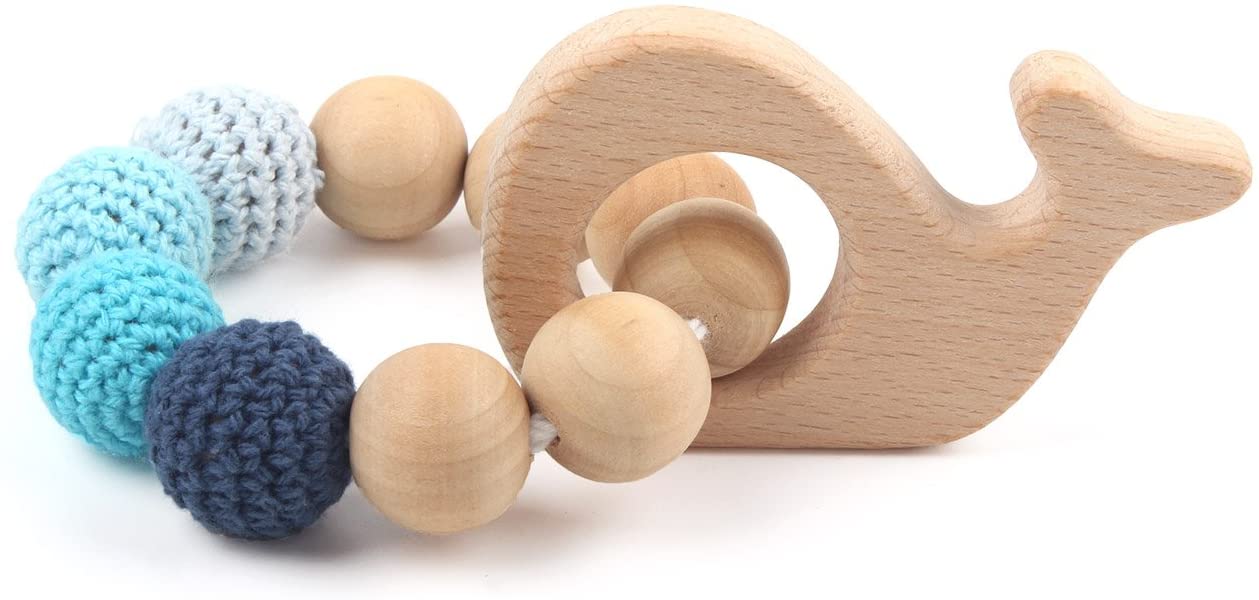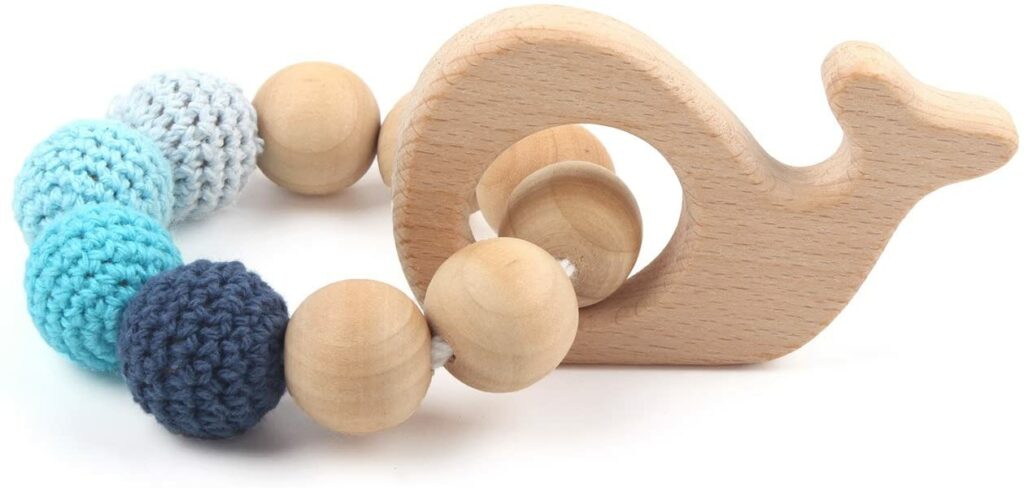 This teething ring includes wooden and crocheted beads to give a baby different textures to feel and mouth. The maple wood beads and handle are smooth and durable, so there's no need to worry about splintering or breaking as baby plays with it.
This simple toy is just the right size for young babies to grasp, while its calm and soothing colors are engaging to look at. The teether also has no paint or BPA and has passed FDA and CE certification.
Why Buy Eco-Friendly Baby Shower Gifts?
In 2021, experts predict that United States consumers will spend about $150 billion on eco-friendly products. But the move toward being more eco-conscious is more than just a trend.
Shoppers are more focused than ever on buying from brands that align with their values. Environmental friendliness is one factor that comes out on top as one that people look for when deciding what brands to stick with.
Having a brand new baby in the family means a lot of new stuff to buy, from virtually endless supplies of diapers to bottles, nursery furniture, toys, and more. Choosing eco-friendly products as baby shower gifts ensures soon-to-be parents will get what they need while lowering their carbon footprint.
Eco-friendly baby gifts may even be safer alternatives for babies to other not-so-environmentally-friendly products that contain dyes, paints, and other substances that can be hazardous to little ones. Some research shows that even non-BPA plastics, which manufacturers now use in many baby products, may still be harmful to our health.
Baby gifts made from sustainable practices and materials are often organic and free from toxic ingredients and chemicals, like formaldehyde, parabens, talc, and phthalates.
What to Look for When Buying Eco-Friendly Gifts for a Baby Shower
Eco-friendliness and sustainability are more than just words used to describe products. Brands that have a real focus on environmentally friendly products go to great lengths to ensure that what they sell comes from sustainable practices, uses eco-friendly materials, and reduces energy consumption.
Here's what to look for when shopping for eco-friendly baby shower gifts: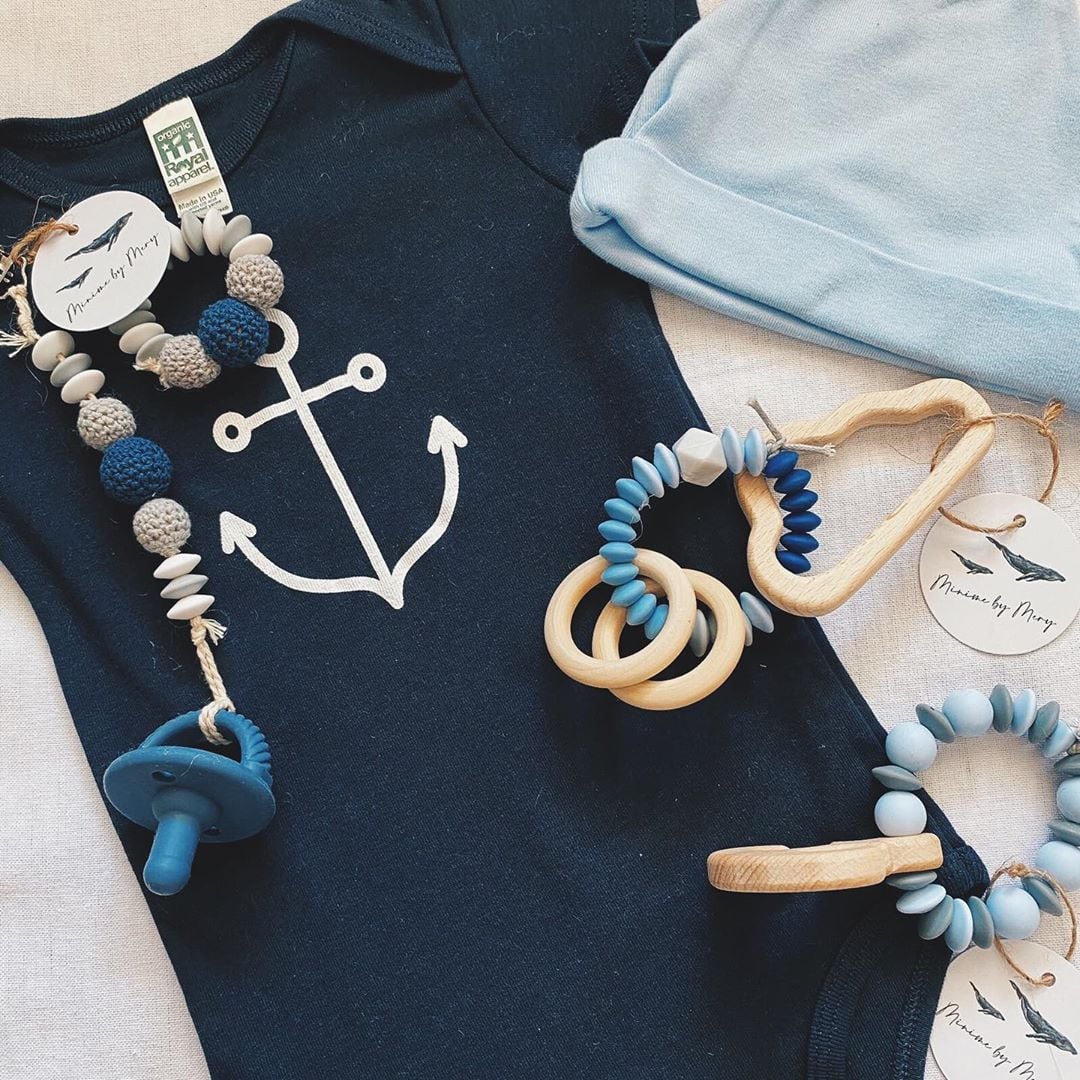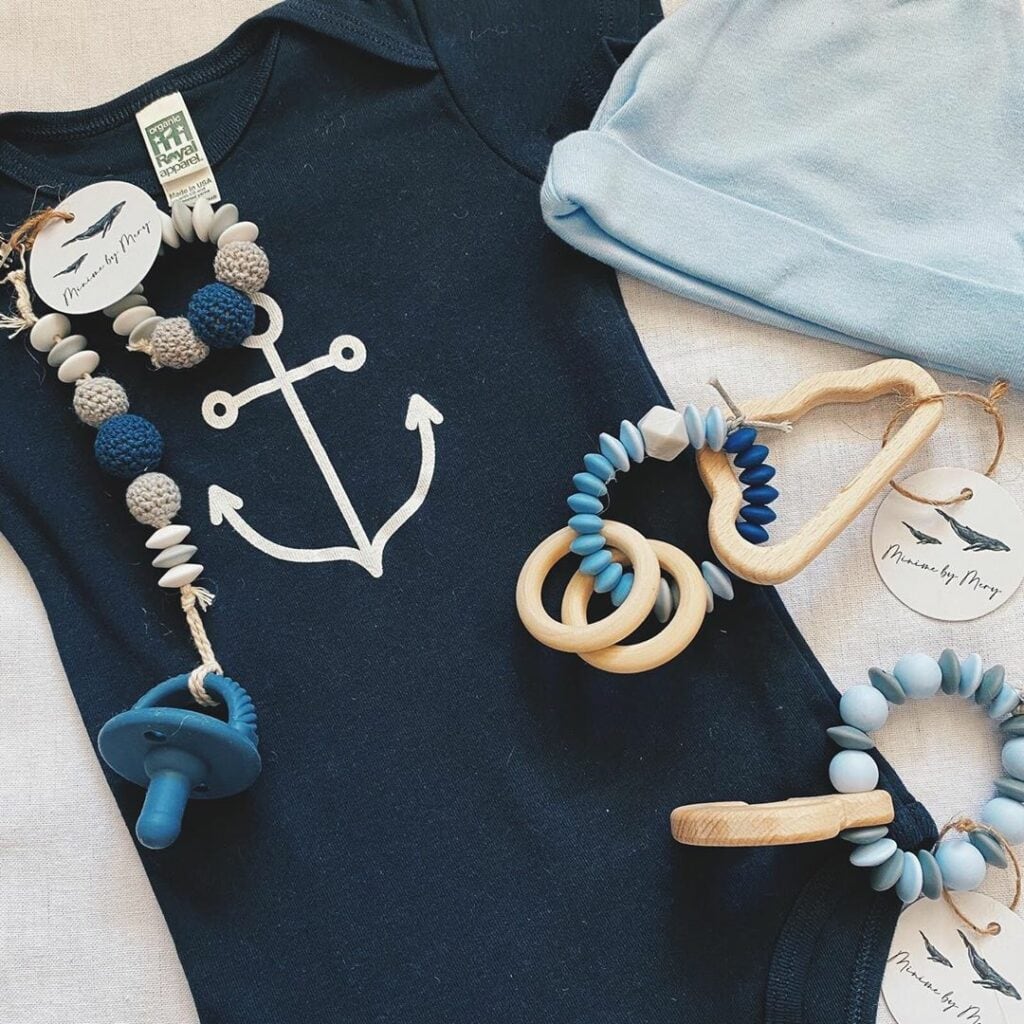 Biodegradable Materials
Biodegradable materials can break down partially or wholly when you recycle them or throw them away. Unlike non-biodegradable materials, biodegradable materials take up less space in landfills. You can also sometimes use them for other purposes, like making compost for your garden or feeding animals.
Examples of biodegradable materials include:
Wood
Straw
Bamboo
Cotton
Beeswax
Paper
Modern technology has also allowed the production of biodegradable and bio-based plastics. Biodegradable plastics break down much like other biodegradable materials, while bio-based plastics may not break down entirely but can still offer an eco-friendlier alternative to regular plastics.
Packaging
Baby toys, bath gift sets, and other products that people often gift at baby showers are notorious for their less-than-sustainable packaging. Boxes with styrofoam, plastic, and overused packaging use many materials that aren't biodegradable or recyclable. When a product has packaging made with recycled materials, the package requires less energy to produce.
The key to finding gifts that have eco-friendly packaging is to look for minimalism. Does the packaging contain the least amount of materials possible to secure the item? Did the brand package it with recyclable or biodegradable materials, like recycled cardboard or a reusable mesh bag?
Sustainable Energy
Energy goes into making products, but those that go through factory production tend to use the most power. Bumping down on machine processes and switching to more energy-efficient practices can reduce how much energy is necessary to create a product.
One report shows that 51% of consumers who participated in the study believe that companies switching to sustainable practices can significantly influence more eco-friendly behaviors.
However, you can also support energy conservation by purchasing baby shower gifts that don't require power to work. Avoid toys and products that plug into outlets or require batteries. Instead, stick with simple toys and products without sound, lights, and screens, or those that function with solar power.
See how a great online baby shower works
Eco-Focused Companies
Companies that are truly focused on being green will make it known throughout their branding and product line. And they won't just talk about it; they'll do it. You might have to do a little research before shopping for the baby shower, but doing so will help you separate the real from the fake.
Checking a company's website is a good start. Look for a News section with press releases about do-good tasks and eco-friendly awards that the company may have won. You can also search the web for sustainability reports on the company that detail what the company is doing to maintain its low carbon footprint.
Certifications
Trusted organizations certify products and brands with environmentally practices and features. You can usually find certification seals on certified products or find the details in online product listings. Common certifications to find on eco-friendly baby products include:
Forest Stewardship Council (FSC): The FSC certifies products that come from sustainable, well-managed forests to prevent deforestation.
Global Organic Textile Standard (GOTS): GOTS certification acknowledges products that are made with at least 70% of certified organic fibers and meet specific processing, toxicity, social, and other criteria.
GREENGUARD: GREENGUARD Certification is for products that have met strict standards for low indoor emissions of volatile organic compounds (VOCs). GREENGUARD Gold allows even less VOCs to meet its standard.
Safety
A manufacturer can make a baby product with organic materials and environmentally friendly processes but then cover it in a flame retardant layer to protect it from flames. Flame retardants can be extremely toxic to people, especially children.
Eco-friendliness doesn't always mean non-toxic. It's crucial to separate the two when looking for baby products and ensure that your picks meet both criteria.
The Best Eco-Friendly Baby Shower Gifts
The eco-friendly baby shower gifts in this guide are some of the best choices for parents-to-be who need essentials for their new baby and want to reduce their carbon footprint.
There are plenty of environmentally friendly baby products on the market, but be sure to research companies and products before buying. Not everything with a "Green" label or certification logo is legit. You can use our buying guide and etiquette to sift through products and determine which ones are worth your money.