— Image compiled of beautiful photography taken from KiraJeffreyPhotography
With a brand new baby, you want to capture every moment on camera. But babies can have unpredictable schedules, and with so many people staying at home this year, it might make more sense to try DIY newborn photos. But how do you get started?
"The main thing that I always like to remind people is that the photos that you take in the beginning are timeless," says Kira, owner of Kira Jeffrey Photography. Today she'll share her knowledge with us and offer fantastic tips for how to take great pictures at home.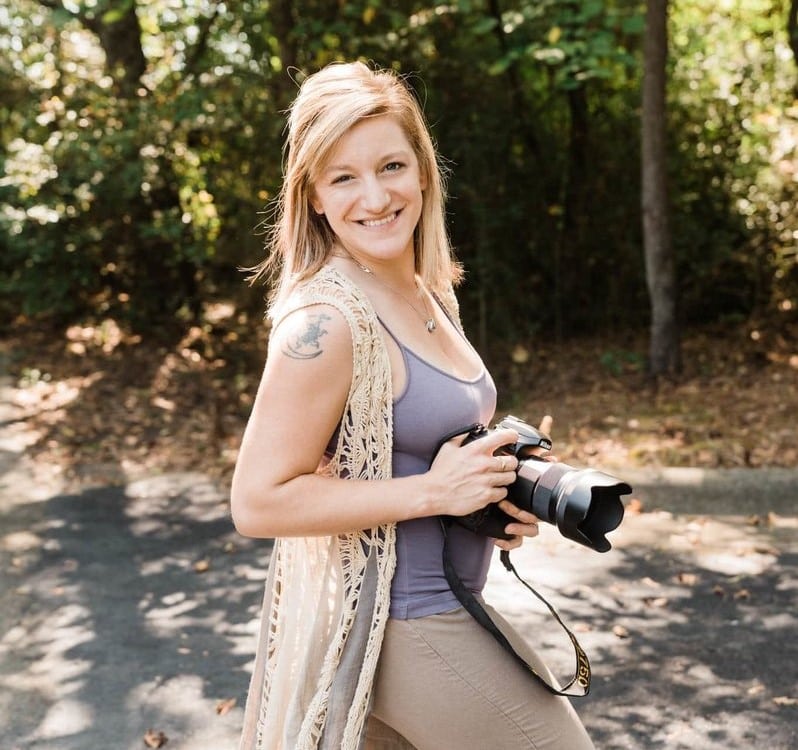 We offer the advice of professional newborn photographer, Kira Jeffrey. She draws on years of professional experience to give us great advice about photography how-tos.
Looking for more post-birth ideas?
We have got you covered, from how to host a perfect Sip and See to sprinkling mama's second baby. Check out our guides to help you with all things baby shower
Throw a Virtual Baby Shower So That Everyone Can Celebrate!
• Free Trial – 7 Day Refund for any reason
• Only 1 Minute Setup!
• 20+ Custom Themes & Matching Invites
• Use Any Online Registries You Want
• Send Unlimited Matching Invites and Updates
• Private Video Hosting for everyone
• Baby Shower Games with Scoreboards, Give Prizes!
Build Your Shower
---
Why DIY Photos are a Great Idea
2020 changed a lot about our lives, and one of those things is that many people enjoy having their families at home. Due to Covid stay-at-home orders, as well as the cost of hiring a photographer, taking your own photographs is a great opportunity.
This Q-and-A section with Kira Jeffrey will answer often-asked questions and give you a better idea of how to proceed.
Tips from an Expert
Q: How many years have you been a newborn photographer? How did you get started?
A: I started in the newborn world when I had my son, and he is 4 ½ now. I actually went to college for photography, and got a degree in technical photography. Then when I graduated and thought, 'I need to pay my bills', I didn't know what to do…so I dabbled in all sorts of things. I actually worked at a daycare for a while because I loved babies and kids, and that was my next route.
I wound up finding a commercial photographer and assisted her for five years. She taught me the world of running a business with photography and how to be successful with the back-end stuff. I found out that I didn't love commercial work, but I love babies, so that's when I branched off on my own. I started doing my own family photography.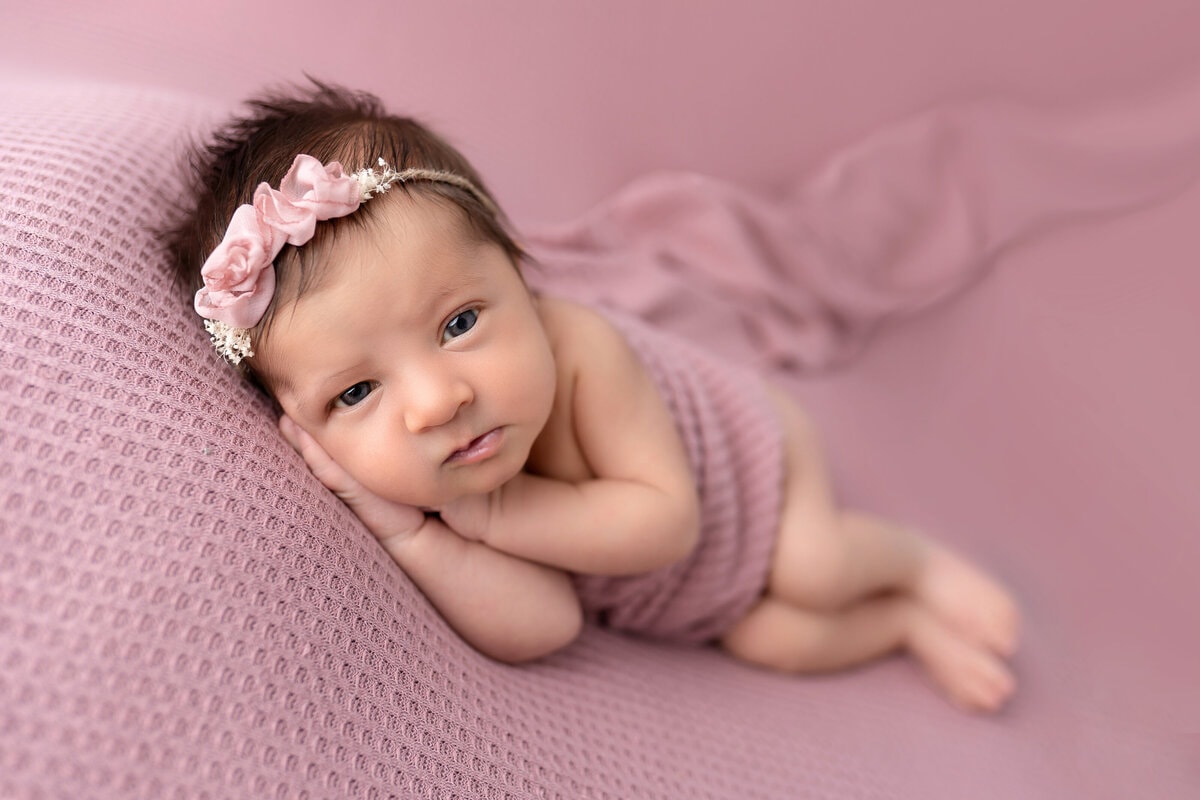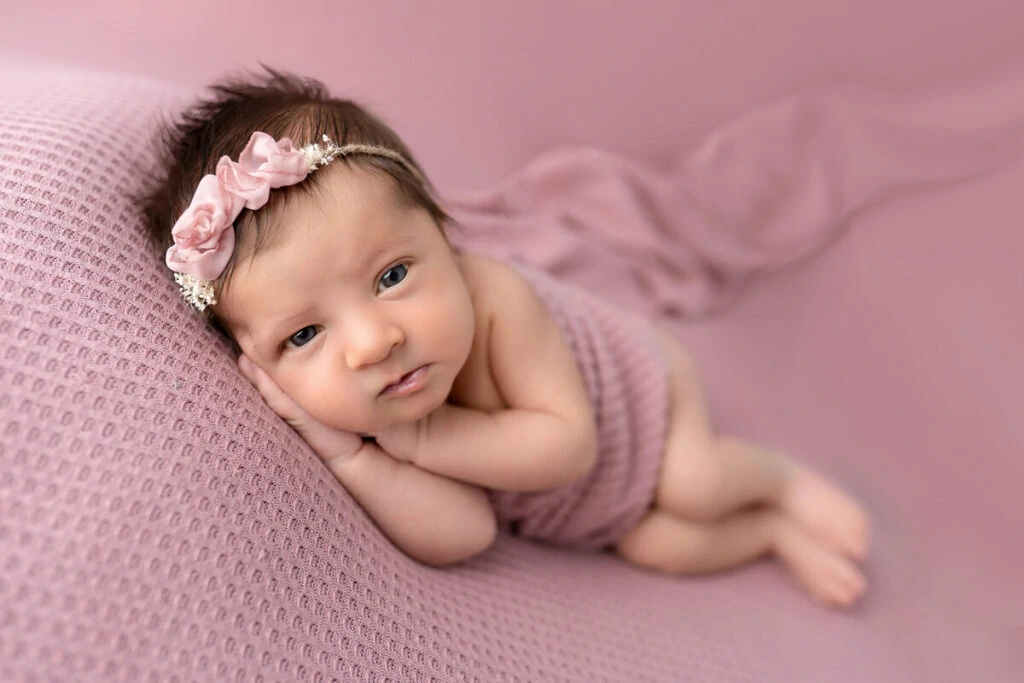 What to Do First
Q: How do you keep the baby happy and ready to take photos?
A: A lot of parents love the open eyes baby look. So hold off feeding for about two hours before you want photos. Feed the baby and then give them a bath… then let them kick around in their diaper for a little bit…get that energy out.
Then right before you take photos, give them a nice full feeding…usually, you can get a little bit of those open eyes right before they go to sleep.
Q: What are the steps a parent has to take if they want to take a photo of their baby from home?
A: Prepare the environment, check the lighting and prep the baby.
Getting Your Baby to Pose
Q: What are some tricks you've learned from working with little models that might be hard to direct?
A: Patience is key. Give yourself plenty of time to try and achieve the shots you want. Sometimes it takes a long time to soothe into a shot you want, don't give up, and don't get stressed. Don't be afraid to just call it and try again tomorrow when you have that option.
There's plenty of helpful information out there for DIY baby photoshoots. Jessica Brown states that we should "embrace trial-and-error" when taking photos because getting that perfect shot takes time.
Q: Are there specific poses you would recommend?
A: Keeping your baby comfortable and natural is KEY. DO NOT attempt any poses that the baby has to balance their head on or in their hands. Laying on the back and side will always be safest and most natural-looking.
Be very aware of the baby's airways; they are VERY narrow, and always make sure their neck is not strained in any way.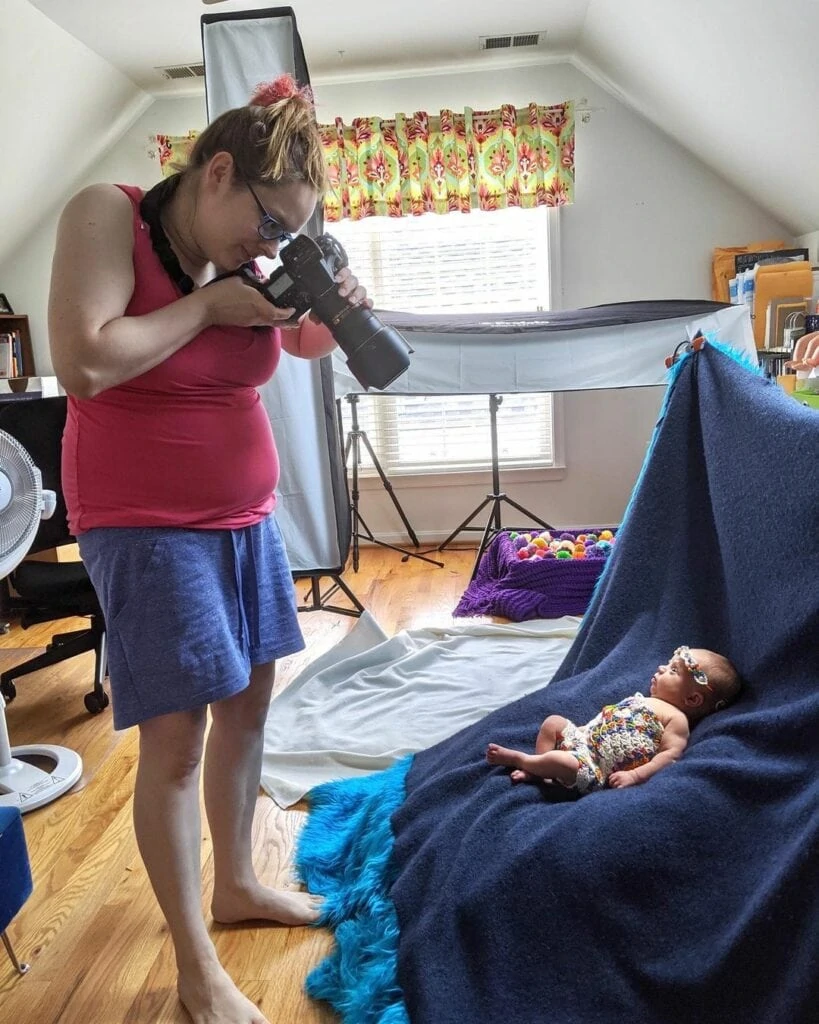 How to Take Newborn Photos
Q: How do you do a newborn photoshoot at home?
A: I take the time to set up everything I might want to use prior to getting the baby so that everything is ready and the baby won't be waiting on you to set up. Clean up any clutter that might be in the background in lifestyle-like photos – changing table, crib, chairs, etc.
Q: At what age should you take newborn photos? (Is 3 weeks too old?)
A: There is never anytime that is "too old." I always recommend taking photographs within the first three weeks because a baby will change so much, but anytime is better than never! Don't miss those moments!
Age of the Baby
Q: My baby is not a newborn anymore. Can I still get some good photos?
A: Yes!
Q: What are the youngest babies you've worked with?
A: I've done fresh 48s in the hospital hours after the baby was born. I've done newborn photos as early as babies just 3-4 days old. I always recommend waiting 1-2 weeks to give parents and baby time to adjust to a new life together.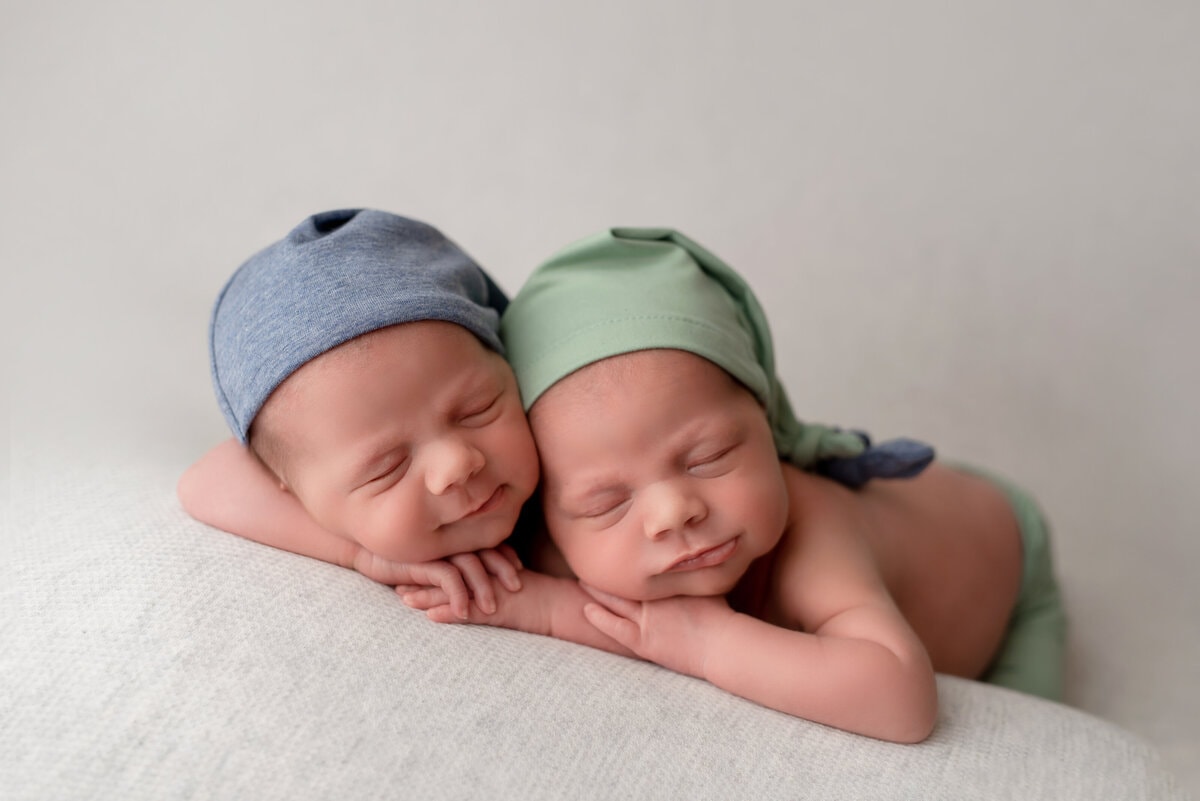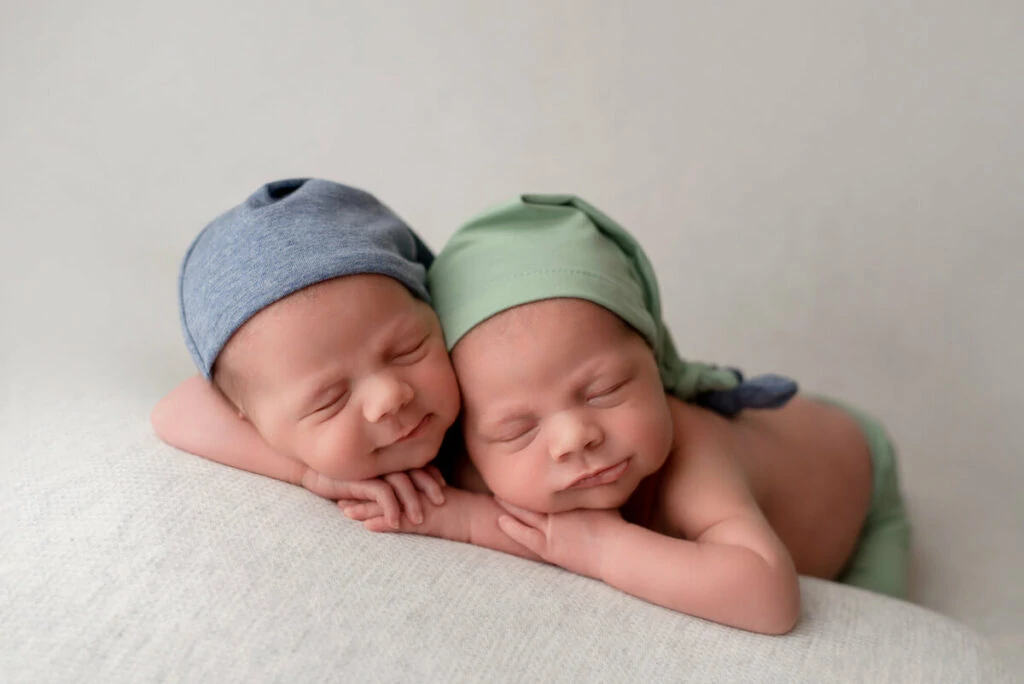 Staging the Photos – Props and Outfits
Q: How do you stage DIY baby photos?
A: My favorite kind of background is going to be softer, more muted tones…having greys and whites and neutral tones will bring out the best color in the baby's skin naturally.
Especially when you're doing DIY, white is going to be your best color because it helps to reflect; bounce that light back in to help break out the shadows, where darker colors will absorb your light. The lighter colors will lighten up the whole image.
You don't want patterns as much…you don't want to take anything visually away from the baby. Especially if you're trying to capture those moments with your baby being so small and fresh, focus on the baby and their features, and less about what is going on around them.
I would push an ottoman, couch or chair up to any window light in the area you want to work with and then lay down whatever base layer. It could be a carpet, could be a fur, a blanket, or anything that offers a nice base surface.
If you have a big soft chair, you can drape it, having the top of the fabric coming down and around to have a background and a foreground. Then you have what we call a "swoop", where it's a consistent layer from top to bottom, keeping that constant background, so you don't have to worry about the clutter of anything else.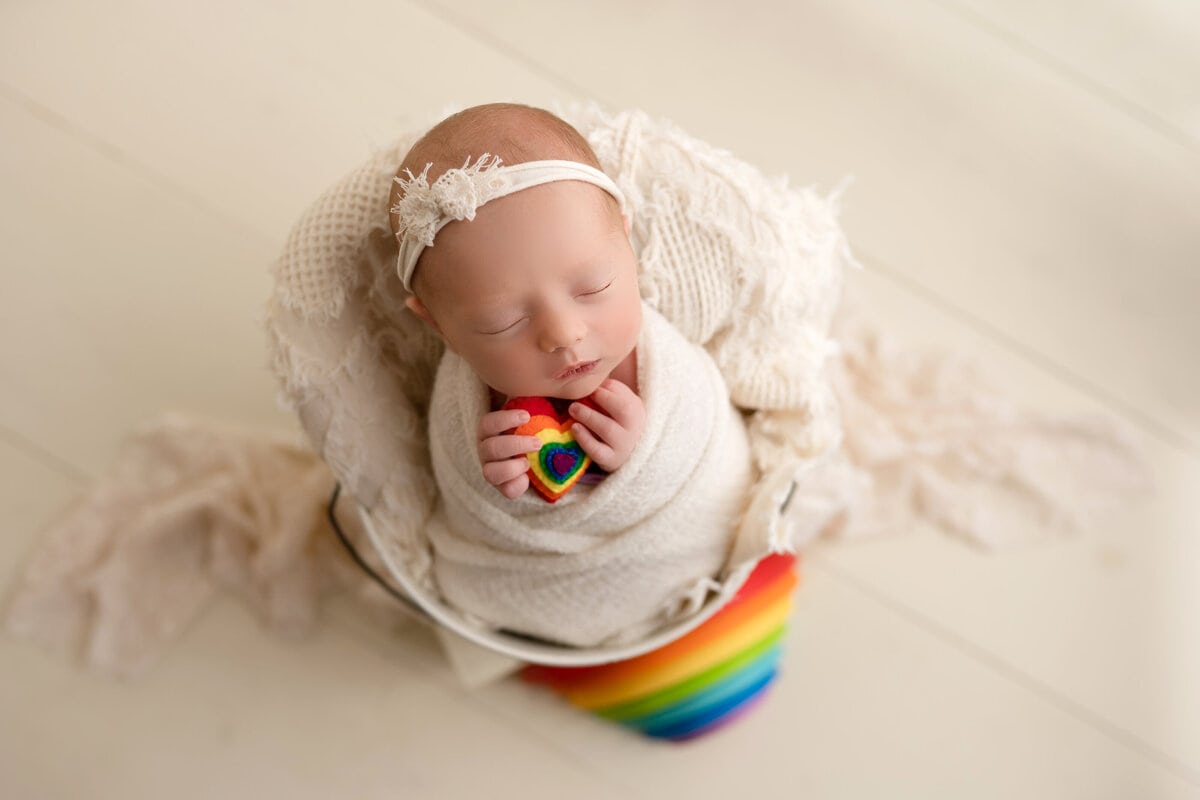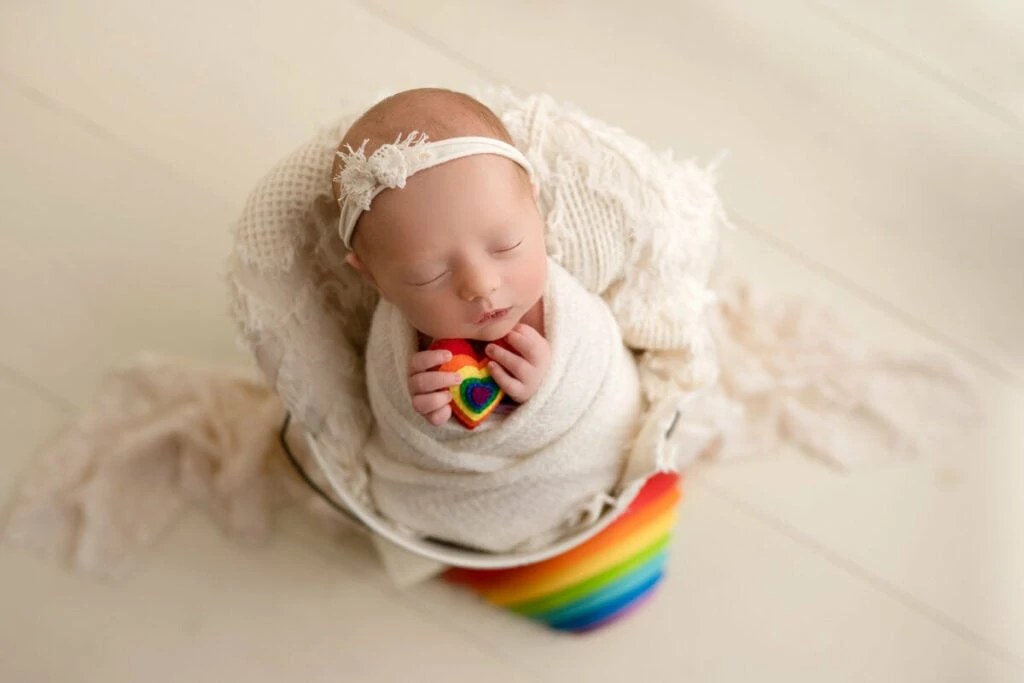 Can I Get Props From Around my Home?
Q: What baby photoshoot props would you recommend Moms & Dads using at home?
A: Go into the baby's nursery and focus on what's in there, whether it be the changing dresser or table; you can lay them there and take a really cute picture. Or in their crib, getting overhead from the crib or through the bars of the crib, those are definitely easy and cute DIY type photos.
What Should Your Baby Wear?
Q: Do you think some clothes work better in baby photography than others?
A: I'm a big fan of neutral tones, as in tans and whites, creams, really soft colors. The main thing that I like to remind people is that the photos that you take in the beginning are timeless. These are the photos that you will look back on forever as your first family photos. And if someone is wearing a bright pink bow and shirt, is this what you would want forever?
I always tell parents to pick solid colors for family photos. If you choose to use any patterns, I usually say put only one person in a pattern. Then everyone else in solid…classic patterns are better, but avoid shirts with words. My favorite look is with everyone in khakis, whites, greys, and more pastel, muted tones.
I love having a little bit of greens or blues, especially if you have a boy. Or if you have a girl, have more girly colors. You don't want the wardrobe to take away from the picture; we want the baby, family, and their connection to each other to be the center of the photo.
What Equipment to Use
How to Use Light
Q: What lighting angle is best? How can I set this up?
A: Find your best window light. Having natural window light and turning off any overhead lights is going to give you the best color. Because your overhead lights will make you appear yellow and the window light is nice crisp natural light, I always say to turn off all the lights in the house and try to find one window light that you can use as your source of directional light.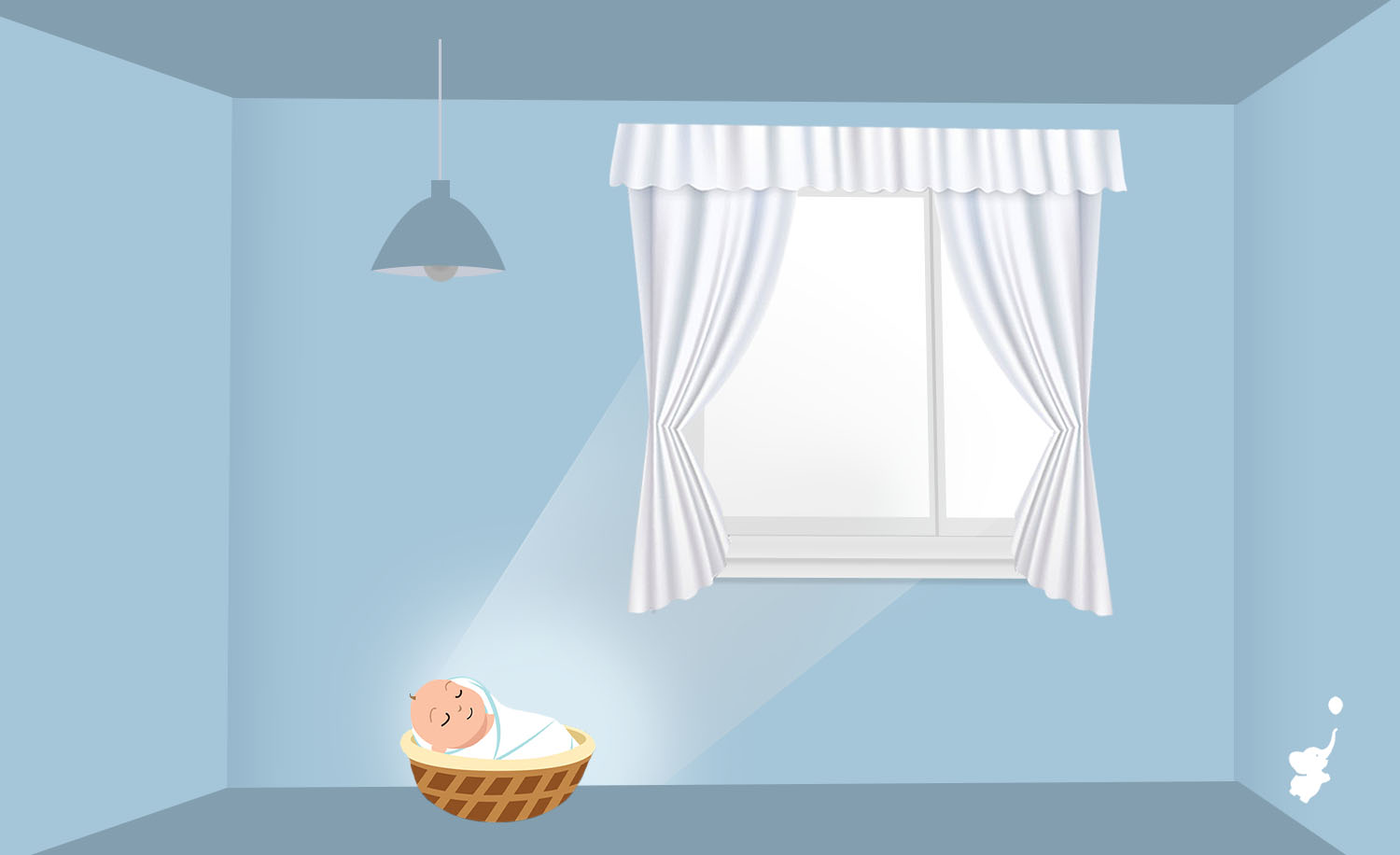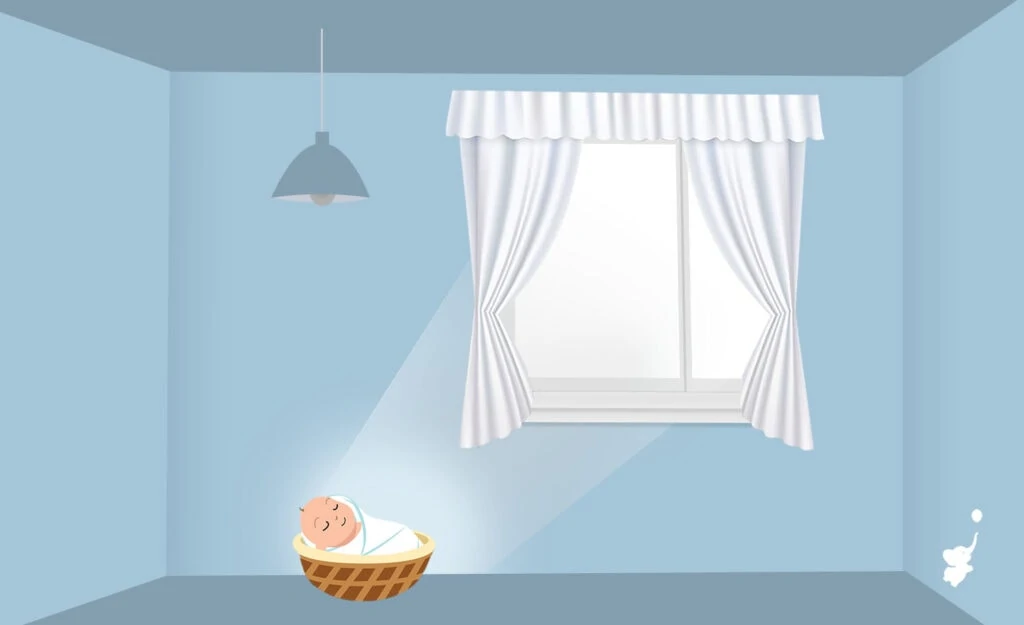 Sometimes it can be too strong, and you need a sheer, or a "diffusion," as we call it. Something like a soft curtain that will soften the light and not have it feel so harsh and dark. So it evens out the lighting better by diffusing it. You want to be shooting "down the nose" so that you're not shooting "up the nose," so always look for the light to come down across their face, from their forehead to chin, and not the opposite.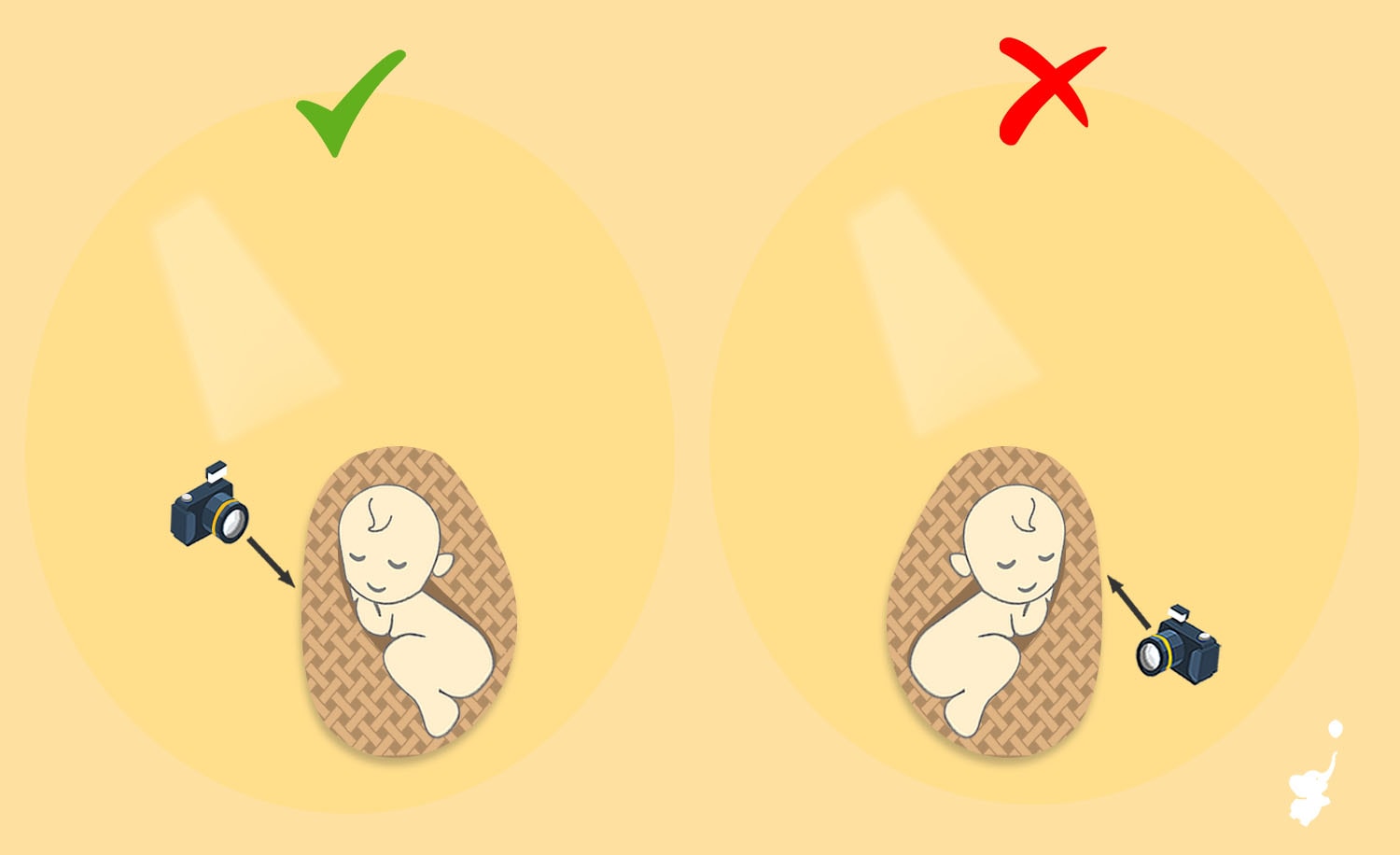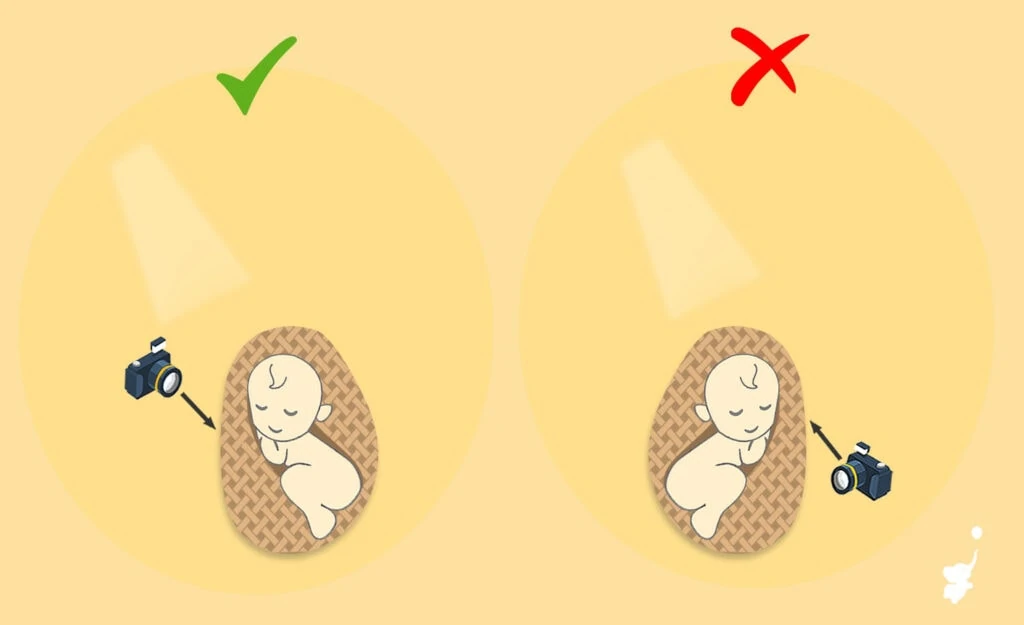 Q: Can I take photos on a phone camera and still get good results?
A: I would say for DIY stuff, the phone cameras that people have nowadays are great! You can still print a decent-sized photo. If you're looking to blow up to a very large 20×20 canvas, that's when I'd suggest investing in something that has a higher resolution. When you blow it up very large, you're going to start losing more details. But for your basic pictures that people put on the wall that are 4×6 or 8×10, your cell phone is pretty phenomenal. Many of these cameras just keep getting better and better.
Photograph Timing
Q: Do you think there is a "best time" to work with a photographer?
A: Within the first three weeks, it's easiest to achieve those posed newborn images while capturing your baby in their fresh newborn stages before they start changing.
Photographer Lisa Holloway says, "white noise does wonders for keeping baby asleep." Keep this in mind if your baby still won't settle.
Things to Remember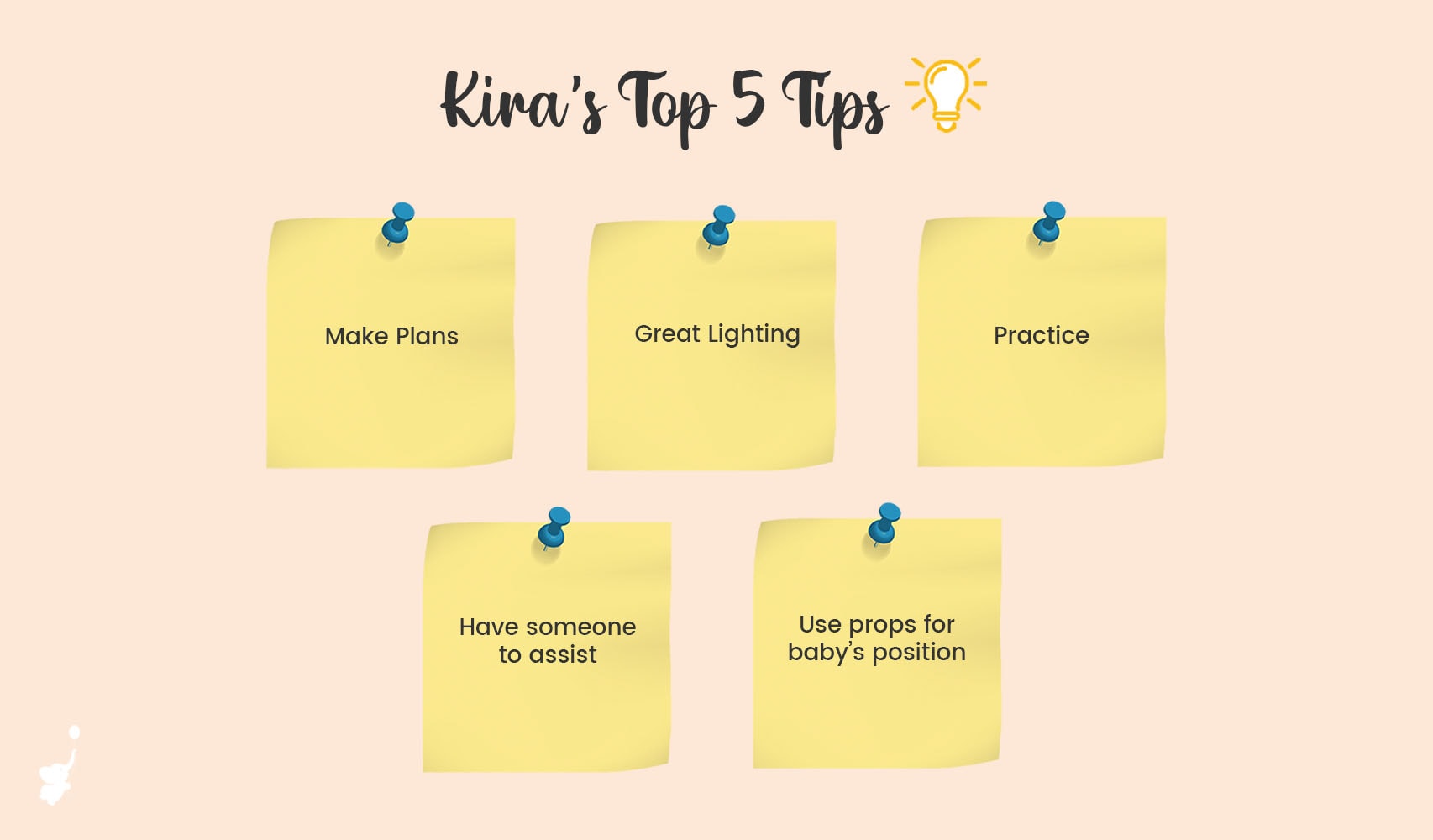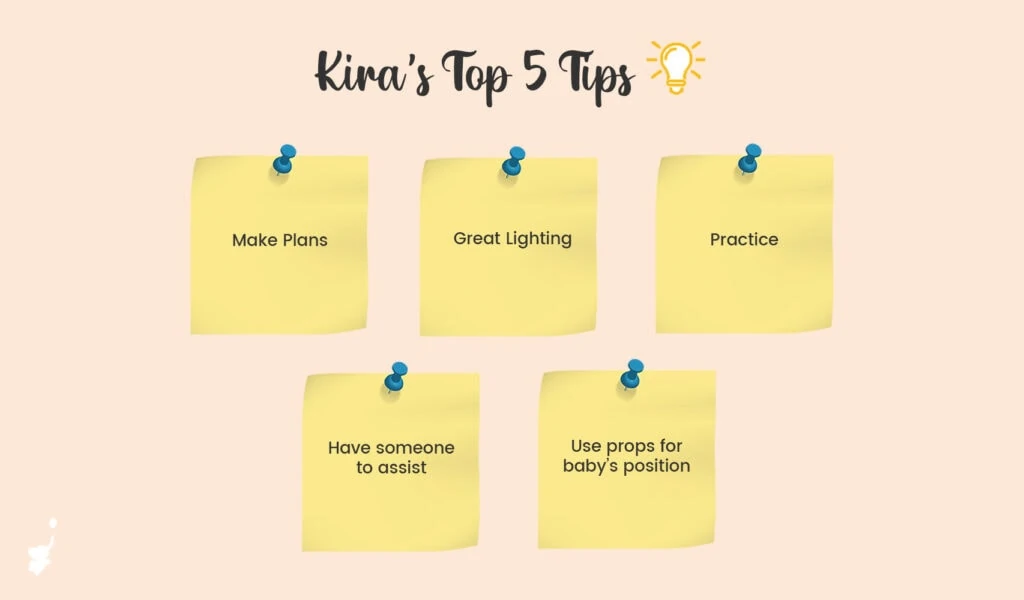 Q: What would be your top 5 tips for moms at home who can't make it to a photographer and want to try to DIY it?
A:
Go in with a plan. Try to have an idea of what you want to try and capture, and focus on keeping it simple. But have an open mind and embrace what you can capture as you experiment!
Lighting is key and natural light is best.
Wrapping the baby will help keep the baby soothed and controlled better. Look up some videos on the best ways to swaddle and PRACTICE before photos to get the best look.
Having someone around to assist will be so helpful. Don't try to do everything yourself.
Use socks or rolled washcloths under blankets and fabrics to help prop and position the baby's head and body.
See how a great online baby shower works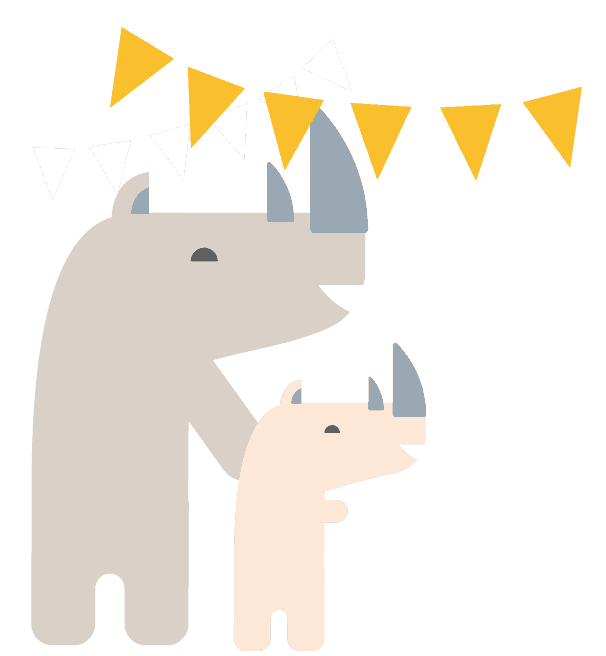 So here you have it – tips from an expert about how to take DIY newborn photos! This overview gives you insight into all the most essential photography aspects at home, including lighting, backgrounds and poses.
There are so many reasons to choose the DIY route, including a budget, health concerns, or merely a desire to be creative. Whatever your reason, it's nice to know that it's totally possible with some simple preparation.
Using this information (like knowing baby shower etiquette) will make the process easier and more fun for both mother and baby. Remember to enjoy these moments, even as you seek to preserve them through film. Time goes by fast, but DIY newborn pictures can transport us back to beautiful early days in the lives of our little ones.