From wineries to parks to community centers and more, a baby shower can be held in any number of places. Imagine celebrating the parents-to-be in an elegant tearoom or a beautiful garden. Not their style? You can always host one on a farm or in a barn! This is seriously your lucky day, as we are here to guide you to some of the best – and most unexpected! – places to have that one-of-a-kind baby shower.
While traditionally baby showers have been held in the host's home or even in the home of the new parents-to-be, it's 2021. Things have changed. Baby showers can be enjoyed at a variety of venues and can even be done virtually. WebBabyShower is the premier online baby shower service and has helped thousands of families celebrate their growing family, connecting loved ones near and far.. 
Where to Have a Baby Shower
Before you get started planning the details of a baby shower, you have to consider its theme, the number of guests you want to invite, and how you want to make it the best possible baby shower that the new parents will never forget.
Of course, if you are hosting a baby shower for a spring or summer baby, then an outdoor venue could be a great choice. For those winter babies (depending on where you live), an indoor event space might be the better option.
Finding the perfect venue for your baby shower can be somewhat of a challenge, but we are here to help you overcome that hurdle and make the best decision regarding the location for your event so you can find one that meets your unique needs.
We are also aware that during the current COVID-19 pandemic many people have concerns about gathering in person and have turned online to host a baby shower with great success! By eliminating the concerns of the virus, parents-to-be can enjoy a virtual baby shower in a stress-free environment. By taking that one step further, if you do decide to host a baby shower at a specific venue or event space, you can easily incorporate a virtual element as well for those guests who might not be able to make it to the baby shower.
Best Places to Have a Baby Shower
There's no shortage of locations from which to choose when it comes to hosting a baby shower. From an online space to a nearby business, simply select a venue that will make the parents-to-be feel most comfortable!
WebBabyShower
No matter the venue, you want a baby shower to be joyful, fun, and unique. WebBabyShower checks all the boxes in that regard as the No. 1 leader in virtual baby showers. With its ready-to-go setup, customizable invitations, games, and so much more, a WebBabyShower is a great way to celebrate the new parents and baby no matter how you plan it — whether on its own or as the perfect complement to your in-person baby shower.
A Vineyard or a Brewery
Don't worry! We aren't suggesting serving the mom-to-be a glass of wine, but a vineyard or brewery makes a great location for a baby shower. Can you just picture the sweeping views a vineyard would provide you? Both vineyards and breweries also make great spots for co-ed baby showers, offering a great setting to celebrate the parents-to-be and their baby in a memorable but casual way.
My grandmothers come to mind with these ideas. One would totally be in her element in a winery, while the other would rather go up to the bar and request a round of margaritas for everyone! And don't feel badly about asking guests to pay for their own drinks. If you have food and non-alcoholic drinks for them, this really should not be an issue. Besides, buying drinks for everyone could really hurt your budget.
Need a theme for the shower? How about the beer-focused "Baby Is Brewing" theme? Perfect.
A Clubhouse
If you live in a neighborhood or community with a clubhouse or are a member of a country club, this may be a great option for you. Most clubhouses or country clubs have rooms to reserve or rent. There may be a staff who will do a lot of the work of setting up the event for you. You simply have to schedule the day and time and come up with a theme. Plus, if Wi-Fi is available, you can easily include an online baby shower component with WebBabyShower as part of your in-person event.
This type of event space could stretch your budget a bit, as clubhouses may be expensive to rent, and may be somewhat limited in size, something to keep in mind while practicing COVID-safe habits like social distancing.
Other Cool Places to Have a Memorable Baby Shower
Looking for an especially memorable baby shower venue? We know just what you're looking for!
A Tearoom
Would you like to have tea with the queen? Well, if that queen is the new mom-to-be you would, right? A tearoom is the perfect location if your baby shower guest list is a bit more intimate in terms of size and you prefer a quiet, yet still elegant, ambiance. I'd shy away from this venue idea if a big meal and lots of goodies are on the menu.
Most tearoom baby showers are held either sometime in mid-morning or late afternoon — you know, the time the actual queen might enjoy her tea and crumpets! A tearoom setting lends itself to a more private affair with stylish appointments. (Think: fine china and sophisticated décor.) In addition to serving a fine selection of teas, you can also offer cookies, crackers, and macaroons. .Simple hand-held treats will do. If you want to incorporate a cake, that will provide a great finishing touch.
Remember that a tearoom is also more suited towards a female-only guest list. If you have invited the guys to your event, you might want to reconsider this setting. For some reason, a bull in a china shop comes to mind here!
A Barn
Put on your jeans and boots and settle in for a laidback and somewhat rustic — yet super charming — occasion! Having a baby shower in a barn means a bigger guest list and lots of options for themes. One of the downsides, however, might be cost. Depending on the location of the barn, you could be digging into your wallet a bit deeper than you'd expected.
Another thing to consider is ensuring the barn is available. Translation? You probably have to make your reservation weeks or maybe even a few months in advance. Preparation is key!
A Party Tent
A party tent is perfect for an outdoor baby shower, especially if you are concerned about any changes in the weather that might occur the day of. Having a tent on hand is a great idea if you want to provide some shelter and shade for your guests. Tents can also be customized with decorations and tailored to the theme at hand.
Furthermore, during this time of a global pandemic, a party tent is a perfect way to have a fun shower while still allowing for the necessary social distancing measures. For nice weather, opt for a tent that opens on the sides, expanding your gathering space while taking advantage of the warm temperature outside. Expecting the day to be a little chilly? Some tent rental places provide heating units to rent if the temperatures drop outside. You may be able to rent additional chairs, tables, tablecloths, and more from the party tent company, as well. Fortunately, renting a tent is usually a bit more cost effective than renting a room.
Low-Cost Places to Have a Baby Shower
Throwing a baby shower doesn't have to be expensive. Check out these budget-friendly places to have a baby shower that are sure to impress without breaking the bank.
A Church Hall
Achurch fellowship hall is a popular place for baby showers, especially for those who attend the church. The upside to this location is it is usually free, or, at the very most, the church may request a nominal donation. If church leaders do happen to charge you for the space, it shouldn't be too expensive. And because most churches have Wi-Fi these days, you can host a virtual baby shower in conjunction with your in-person baby shower!
A Community Center
Another low-cost option is your local community center, which usually has an abundance of rooms in various sizes from which to choose. Plus, it will probably have lots of available parking spaces so your guests can easily find a spot. Most community centers will let you bring your own decorations, so you can set up as you choose, though they will most likely require you to clean up after yourselves too. Most should also have access to Wi-Fi, which means that you can still connect with all of your out-of-town guests or those who simply could not be there in-person via webcam.
Your Home with WebBabyShower
Having a baby shower at home does help mitigate a lot of off-site venue issues. First of all, you get to be in complete charge of all the decorations, food, and drinks. Set-up is easier, and you can start decorating in advance of the actual baby shower date. No last-minute stress in that arena!
An at-home baby shower is also a great idea if you won't want to take center stage at some public location where any and all eyes might be watching you. Granted, you will have some clean-up to do afterward, but that's a small price to pay for all the fun you will have.
Set up an online WebBabyShower event simultaneously to speak and play games with faraway friends and family. With an online component, everyone's included! Your shower just may be the talk of the town!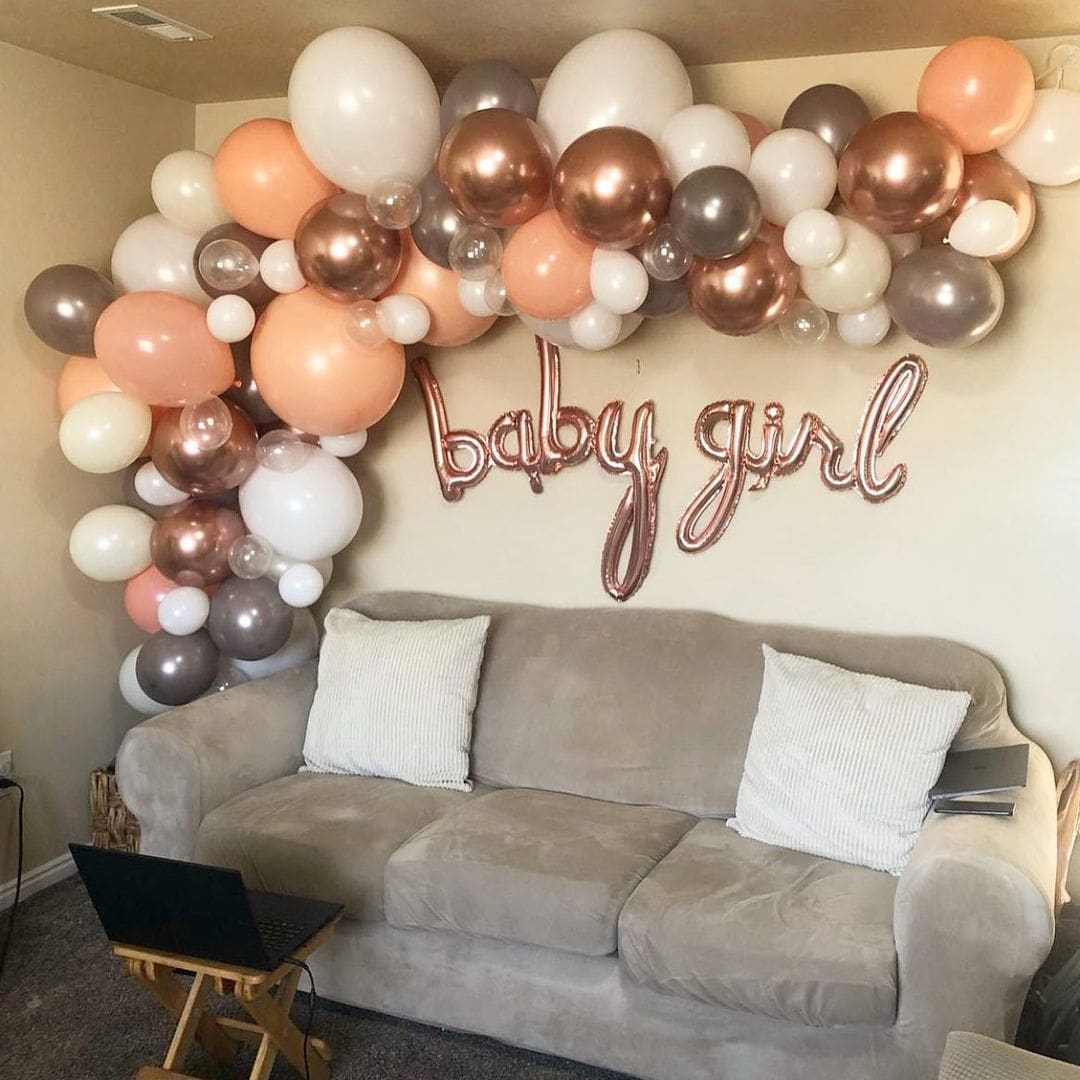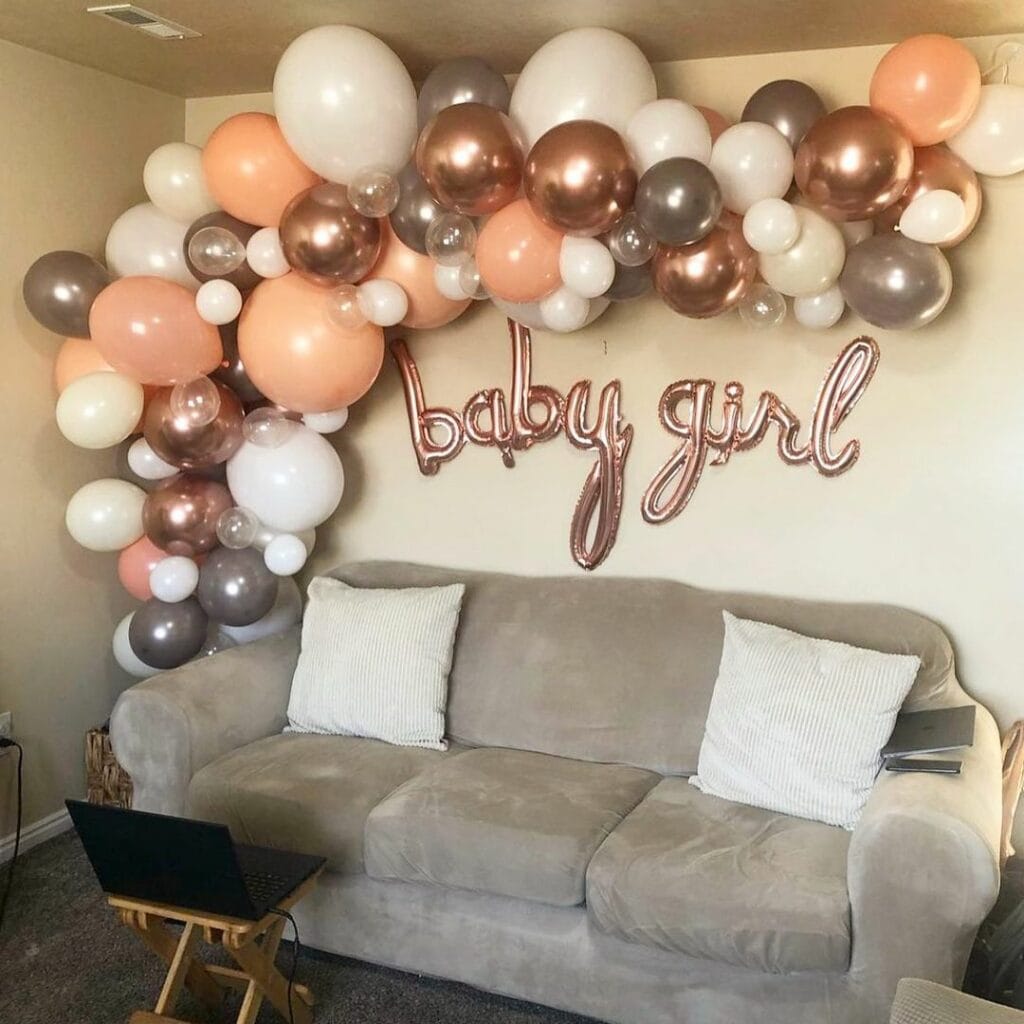 Fun Outdoor Places to Have a Baby Shower
If the parents-to-be love the outdoors, hosting a baby shower in the fresh air just might be a good idea. Plus outdoor events are more COVID-safe, and there are so many locations to have a baby shower. Plus, you can connect to Wi-Fi in most places, giving yourself the added bonus of hosting the baby shower virtually at the same time.
For more info on planning an amazing outdoor baby shower check out our article here.
A Lake
Hosting a shower outside at a lake would be most conducive to a spring or summer event unless you live in an area that is warm year-round. The only concerning thing might be the possibility of inclement weather, but you could always check the forecast in advance and maybe reserve a shelter space if available as a back-up plan.
Before deciding on a baby shower by the lake, make sure you check with any local officials to see if it is even allowed. If it is, there may be certain rules that apply, so make sure you take all of those into consideration.
Remember, too, as with any baby shower held in public, you may be subject to prying eyes from outsiders. If that doesn't bother you, then carry on. However, if you think some of your guests — or the new parents — might feel awkward in this scenario, then perhaps a lake baby shower is not the best idea.
A Picnic in a Park
Do you want a COVID-safe and budget-friendly place to have a baby shower? Then consider a picnic in the park. Before settling on a spot, however, check with the city or town in which the park is located to make sure it is allowed. Nothing would ruin a fun baby shower quite like a city official stopping by to break it up. With nature as the perfect backdrop, you won't have to splurge on decorations, and just imagine the fun food and drinks you can incorporate into this event.
As with any outdoor setting, though, you will want to keep an eye on the weather. You don't want a pop-up thunderstorm to rain on your party!
A Backyard
For laid-back parents-to-be, turn your backyard into a fantastic baby shower location. First of all, the quick access you will have to your house makes it easy to fetch any food and drinks for your guests from the kitchen, and because the celebration is being held outside, it keeps the mess to a minimum inside your home. (Do you really want to spend hours cleaning up afterwards?)
Again, weather could be an issue, but if you have any type of covered area, a little rain might not be a problem. You can rely on any existing landscape features you have, such as flowerbeds, to accent the event with natural beauty.
And if you're hosting a co-ed baby shower with lots of friends and family, then you can fire up the backyard grill and offer a bounty of burgers and hot dogs. Or make it an evening baby shower and set up a station to make s'mores, perhaps around a fire pit.
If you are considering hosting a virtual baby shower at the same time, just tap into your Wi-Fi and set that up in an instant. What a perfect way to expand your guest list and make this an affair to remember!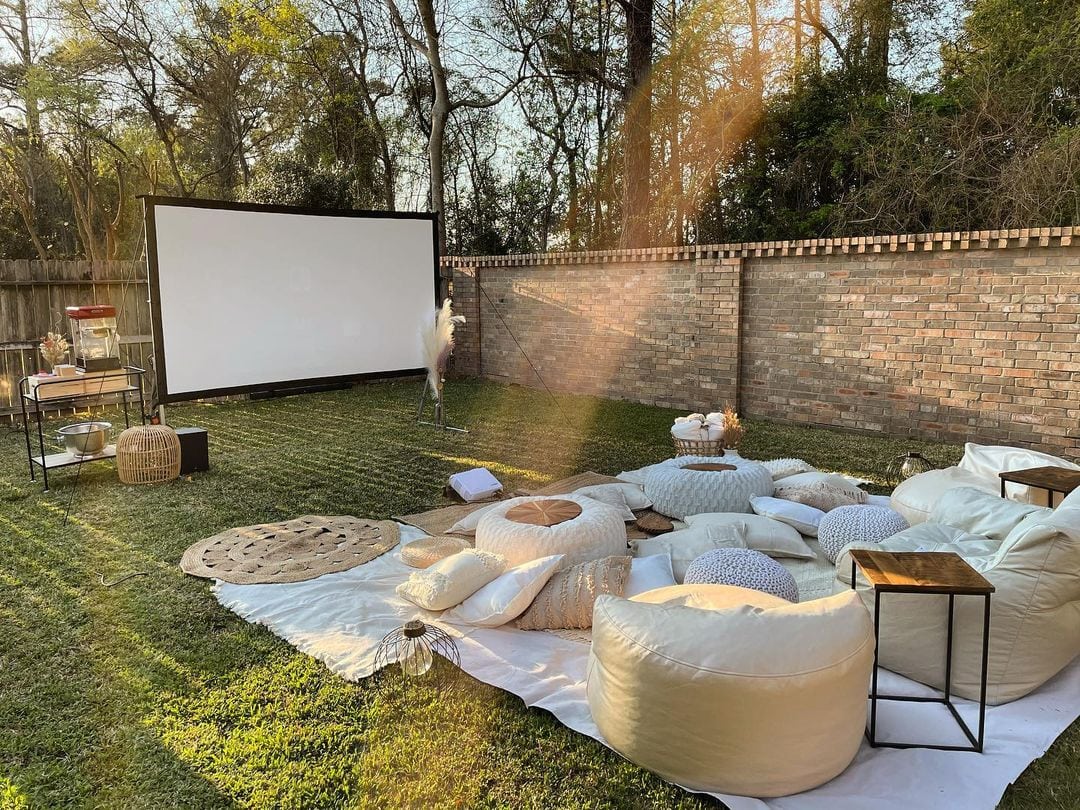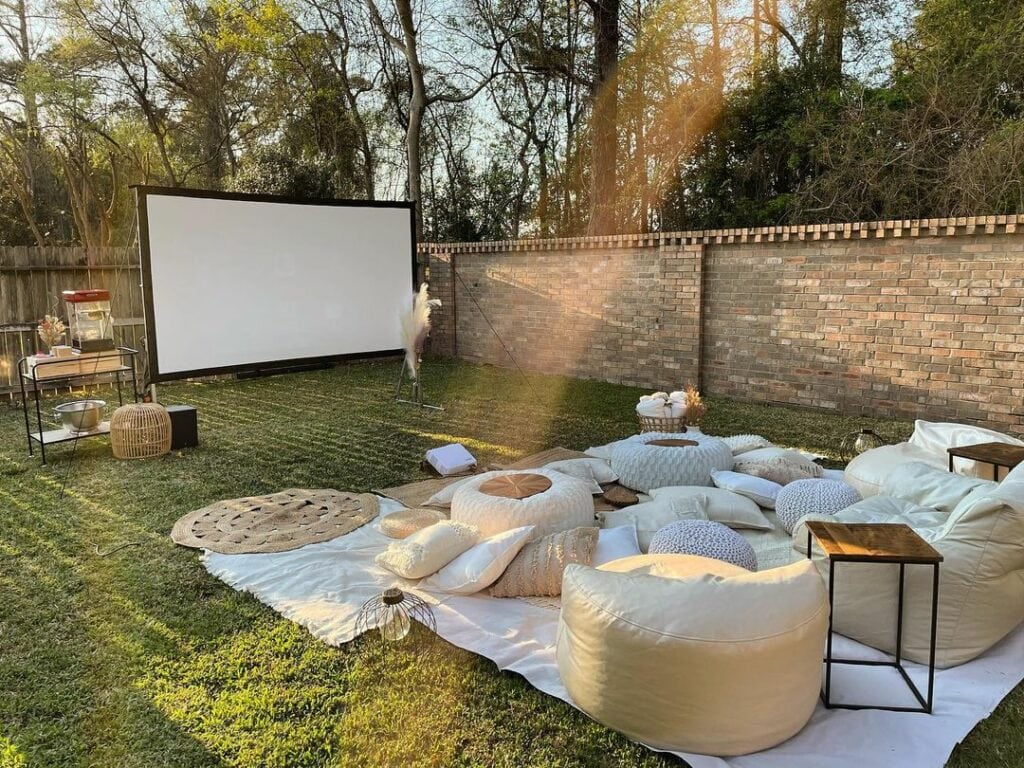 FAQ
Where Is the Best Place for a Baby Shower?
For one of the best and most consistently available venues around, look no further than WebBabyShower. It won't put a damper on your budget, it's incredibly user-friendly, and it offers you the best way to invite friends and family from all over the world to celebrate in one unique place. The best part is you can easily combine it with an in-person event… the best of both worlds!
Who Pays for a Baby Shower?
Traditionally, the person hosting the baby shower usually pays for it. This person may also divide the costs and responsibility among a few close family members who may co-host the party. Sometimes, however, the parents-to-be might assume the cost of the event. There really is no hard and fast rule these days for who pays for a baby shower.
Who Normally Throws a Baby Shower?
While traditionally a close female family member would throw the baby shower, that tradition has kind of taken a back seat to how things are done today. I have even known some moms who have thrown their own baby showers, giving them the chance to do it completely their way! What is even more exciting is that some dads-to-be are rolling up their sleeves and getting involved in throwing and hosting their own shower! Who knew?
The Best Venue All Depends on You
We hope you enjoyed this list. With all of the amazing ideas for baby shower venues out there, there is sure to be one that suits your needs, budget, guest list, and overall expectations. We understand throwing a baby shower can involve a lot of planning, but we hope this list has taken a lot of the stress out of the equation and inspired some new and fun ideas for the baby shower you want to host.