So, you're in charge of planning THE perfect baby shower for your beloved bestie, cousin, or co-worker—right? As you weigh the costs of decorations, food, and various venues, the pressure is officially on. But don't sweat it, there are many ways that you can throw the ultimate baby shower without even breaking the bank!
We have compiled 17 unique ways to help you host an amazing baby shower on a budget—without busting your bank account. And the best part? Your guests will never guess your baby shower bash didn't cost a small fortune. With our ideas, you can plan an inexpensive baby shower that still looks like you spared no expense. Read on to find out how!
Before We Start: Plan Your Shower
Before you can start to survey all the ways you can host your baby shower on a budget, you have to have a solid idea of how you actually want your baby shower to go down. The first step is actually giving your party some direction.
The fact is that there are so many different options available, and so many ways to save money here and there, but none of it really matters if these ideas aren't relevant to you. Having a baby shower on a budget doesn't mean you need to sacrifice the party you actually want.
So before reading this article, think about what you actually want from your shower. Think of when you want it, who you want to invite, the activities you want to include, and more. This way, you can find budget ideas that don't compromise the actual fun and enjoyment of your party. Check out our baby shower planner template for some inspiration in planning your shower.
Here are our top tips for throwing a shower on a budget.
#1 How to Throw a Baby Shower on a Budget
First of all, when planning a baby shower on a budget, remember no one is going to care how much money you spent on food and decorations. (In fact, the guests have no insider budget info, unless you fill them in!) As with any celebration, the baby shower is all about the memorable moments that make the day special for the expectant mom (Well Kept Wallet).
With that in mind, there's more involved than just saving money when planning a budget baby shower. For example, how do you include everyone on the mom-to-be's invite list? Honestly, this may be one of the biggest baby-shower-planning hurdles you'll have to jump. Fortunately, we have a solution. A small gathering with an online baby shower is a great idea to have that intimate, in-person experience, while still including ALL of the new mom's family and friends in this special celebration. And by most "Throw a Party" standards, starting at just $89, WebBabyShower is an inexpensive solution. Not only can you invite folks both near AND far, you can keep your baby shower budget low!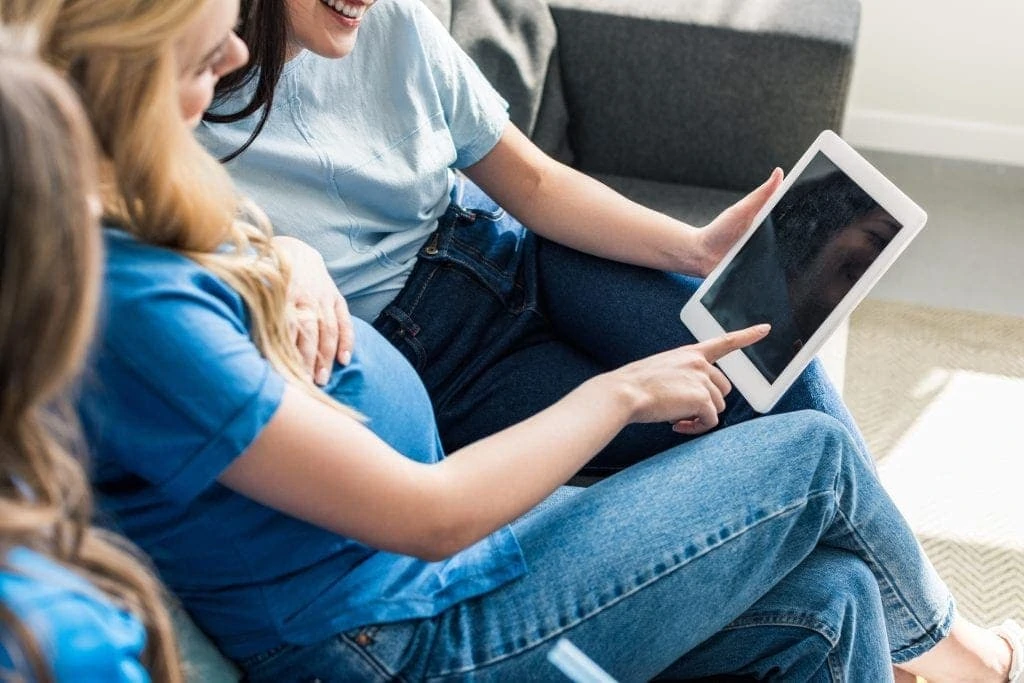 #2 Host a Baby Shower at Home (Or Consider a Friend's Home!)
Another budget baby shower idea is to skip the expensive venues that limit the number of guests you can invite, and instead, opt to host the party at your home. Not only will you save money, you'll save time! How? Because all of your baby shower decoration options and finger food menu items will be on-hand, so you don't have the stress of dropping off party streamers and hors d'oeuvres at a different location.
Don't have room at your place to host a party? Consider hitting up a friend of the mom-to-be to hold the baby shower in their home. The cost to you? ZERO! An in-home baby shower also eliminates the costs of rentals, such as chairs. Check out this YouTube video to see how this in-home baby shower on a budget came together!
#3 Where to Have a Baby Shower on a Budget
If you can't host the baby shower in your home or at a friend's house, no problem! There are still plenty of alternate locations to choose from that won't cost you a dime. For instance, many churches have fellowship halls or family centers, complete with a full kitchen. A community center is also a great choice, especially as they tend to be centrally located.
Hosting a warm-weather baby shower? Head to the park! Not only will your venue expense be nonexistent, guests with children will appreciate the distraction of the playground equipment. Just keep in mind, you may need a Plan B in place, depending on the weather. Check out this U.S. News article to read more on the money saving perks of a budget-friendly venue.
You'll often find that the venue isn't nearly as important to people as the guest list. Your friends just want to see each other and celebrate the new arrival! So there really is no need to stress about locking down an expensive venue location, when there are plenty of free options available!
#4 Right Size for Your Baby Shower (Less Guests & Smaller Groups)
Sometimes less really is more. And this is certainly true when planning a baby shower! If the mom-to-be doesn't have a ton of names on her invite list, choosing a smaller venue is definitely easier from the get-go.
Also, every new mom won't feel up to a big bash before baby's arrival. In fact, a big crowd may feel downright overwhelming. That's when a small, intimate shower that includes only her closest family and friends makes an ideal choice! Cutting overlapping shower guests is another way to keep the names on the invite list to a minimum (Mommy On Purpose).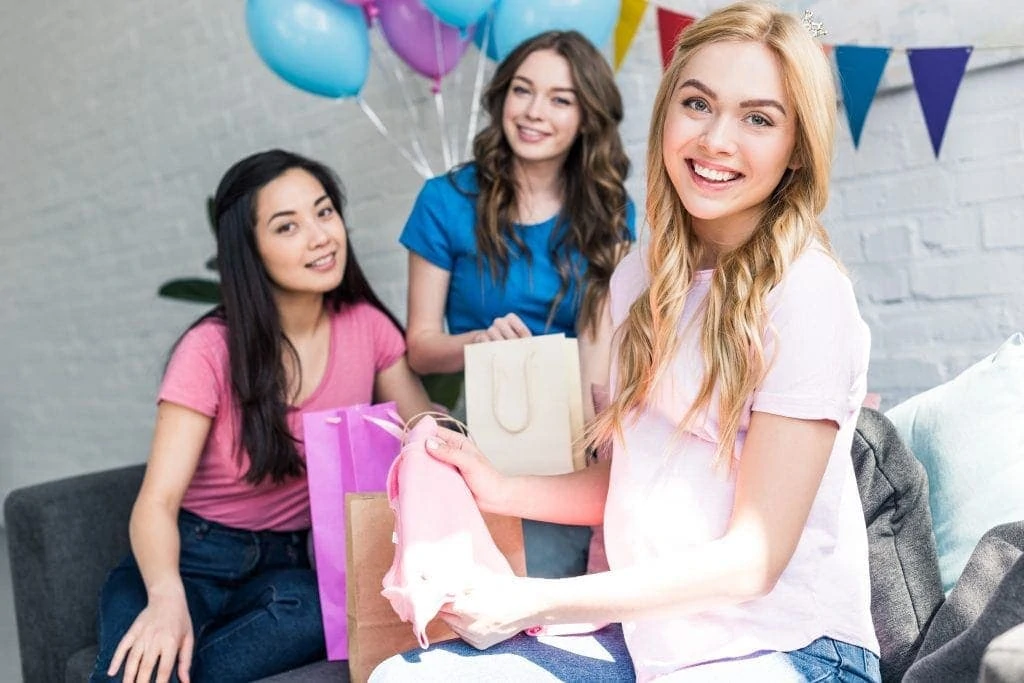 #5 Let Friends and Co-Hosts Help: Say "Yes!"
It's an honor to be trusted with the responsibility of planning and hosting a baby shower—really, it is! But organizing such a large-scale event can also be overwhelming to say the least! That's why it's important to remember that you don't have to go it alone.
When friends or family members of the mom-to-be offer to help by whipping up a dish, hanging streamers, or creating the baby shower invitation list, accept their offer and just say "Yes!"
Live Like You Are Rich has more to say about planning a shower solo versus enlisting the help of others. Someone may even offer to help by co-hosting the shower. Remember, your co-host should be someone who shares the shower planning duties equally and fairly. WebBabyShower also includes a great co-host feature, so check it out!
#6 Go Green—Free Baby Shower Invites
Save the planet (and your time!) when you choose digital invites, like those available online through Paperless Post. Their personalized invitations offer a huge array of awesome AND free baby shower invite designs, like the whimsical Folk Tails, the celebratory Confection, and even custom options to upload your own personalized design. And keep in mind, when you choose WebBabyShower, our baby shower packages also include invites. In this U.S. News article, Susan Johnston Taylor discusses paper invites and post-baby shower digital thank you notes.
And who says that the budget option has to be "worse?" Digital invites also offer the significant advantage of tracking and monitoring the RSVP list for you! If you've ever had to manage a guest list, you know that tracking RSVPs can be one of the most frustrating parts. So, when an option comes along that is both cheaper and more convenient, it kind of seems like a no-brainer!
#7 Baby Shower on a Budget Food Ideas
When groups of people gather together, you can expect food to be a major part of the celebration, and a baby shower is no different! But how do you serve delectable dishes without busting your budget?
Consider serving inexpensive finger foods, like sandwiches, paired with veggie or fruit trays. Another idea is to serve traditional foods, but in a new, unique way, such as pasta salad served in vintage glass cups or fruit salad scooped into waffle cones (Miss Mae's Days). You'd be surprised the quality of food you can get just from a trip to a nice grocery store.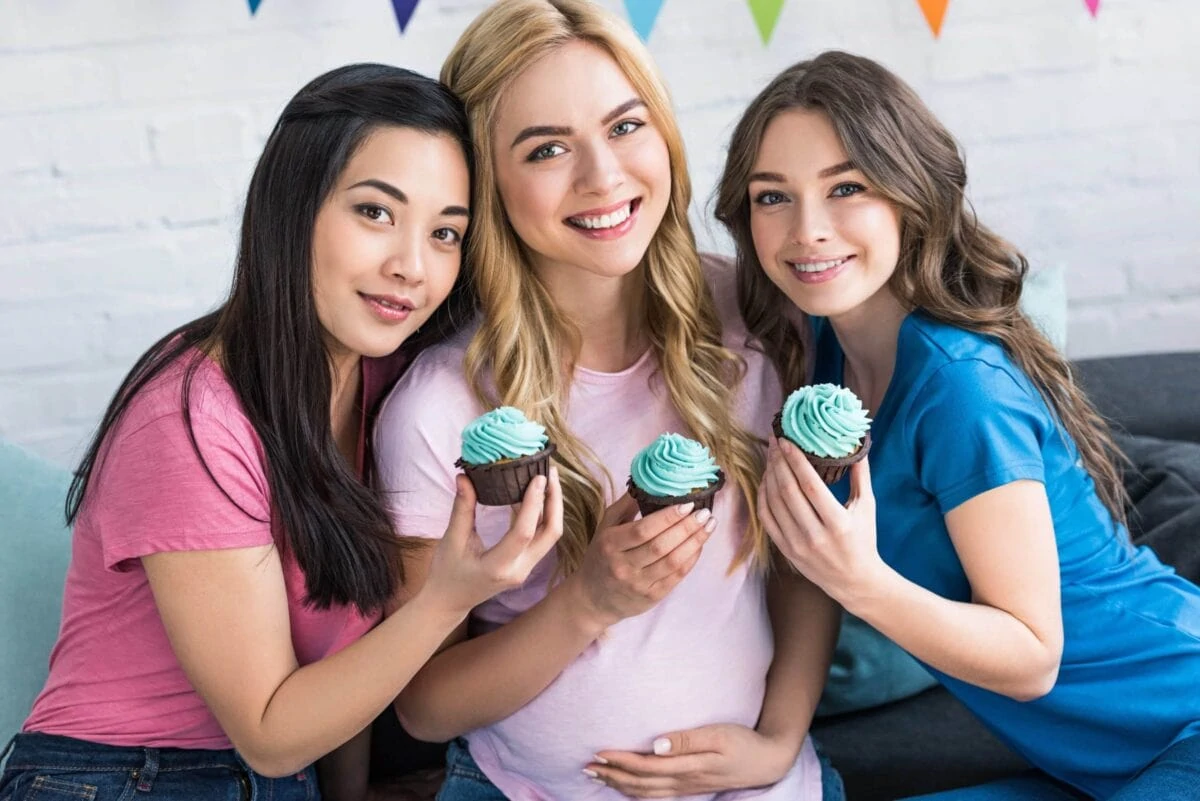 For dessert, asking a beloved family member or friend to bake the cake will help keep the budget balanced, and will also be a sweet gesture the mom-to-be is sure to treasure. A dessert bar, with a variety of cookie or ice cream flavors and toppings, can also serve as an alternative to the traditional baby shower cake. The important thing to remember here? Skip the caterers to save big bucks!
#8 Best Time to Host a Baby Shower on a Budget
Did you know the average cost of food/drink is 40 percent of your overall budget? With food being such a major baby shower expense, choosing the right time of day to host the party sets the tone for food expectations. Hosting an afternoon shower after lunchtime, say 1:00 or 2:00 for example, will help to ensure most guests have already eaten a meal. So light snacks will be perfectly acceptable AND super affordable, too!
Read more at Live Like You Are Rich. We also have our When Should You Have a Baby Shower? article.
#9 No Booze (If It's Not a Sip-and-See Party)
Forgo the baby shower booze, and you'll also forgo the extra expense of serving guests wine or margaritas. Besides, mom-to-be is most likely not drinking alcohol these days either (Mommy On Purpose).
The only exception would be a Sip-and-See party, where guests may be expecting a wet bar. Even then, however, you have options like serving an assortment of teas or even hot chocolate varieties if you're hosting a winter bash.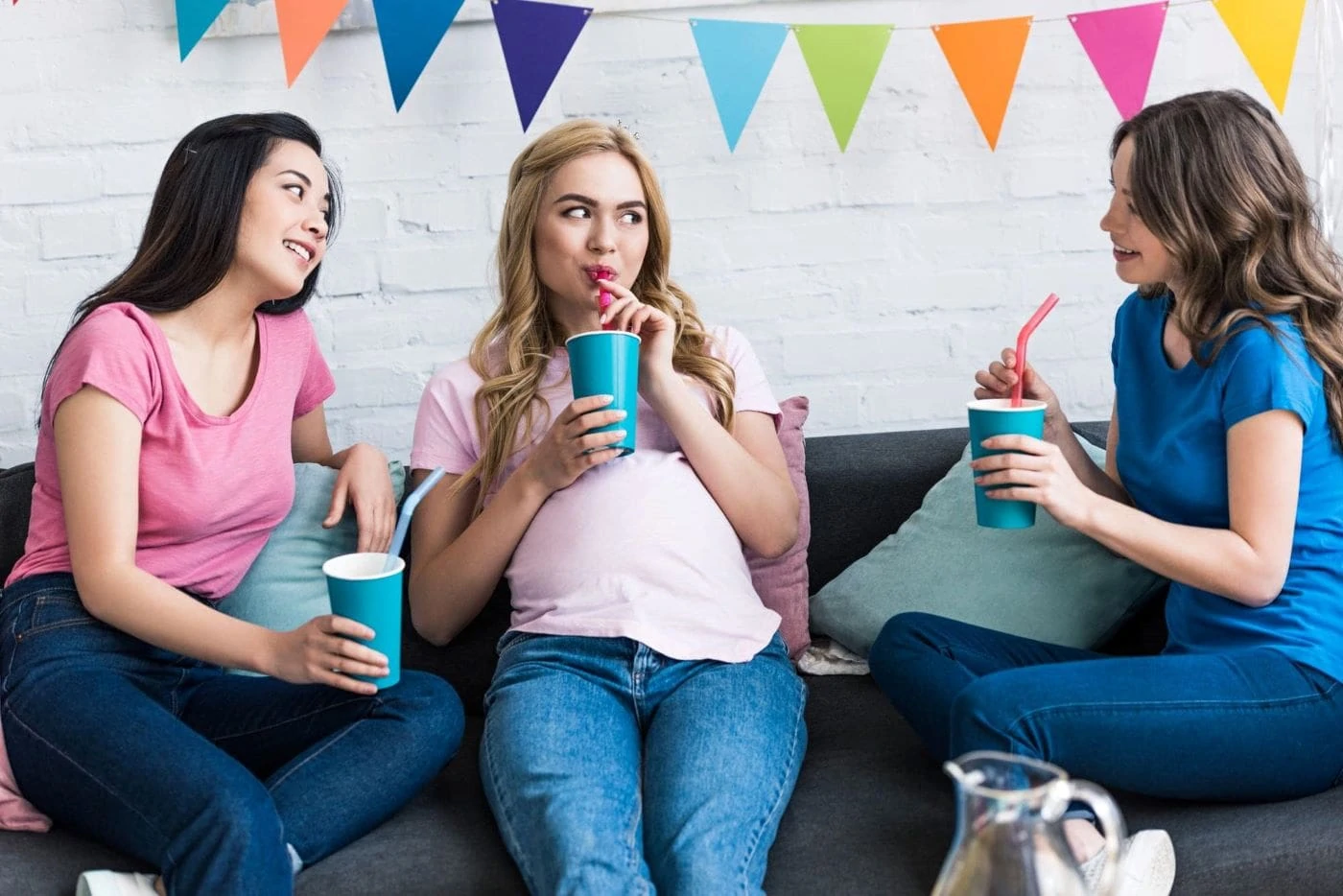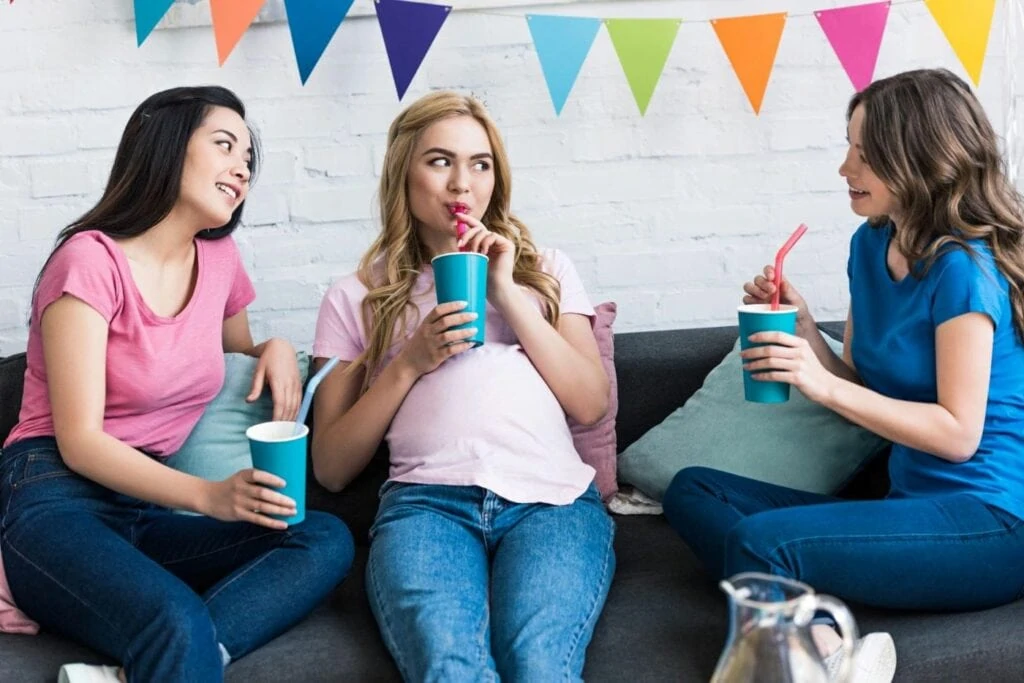 #10 Potluck Anyone?
An old-fashioned potluck is an ideal way to involve a large group of family and friends in the party planning. Plus, you'll dramatically slash your food/drink budget when you opt for a potluck. This Mommy On Purpose article suggests turning the potluck into a game—Cravings Table—where everyone brings dishes they craved during their own pregnancy. For added fun, the mom-to-be has to guess who brought what. The takeaway? To save cash, keep it simple!
#11 Free Baby Shower Games
There's no need to spend a ton of funds on baby shower games when there are plenty of printable games online for FREE! A baby shower game is an excellent way to add some excitement to your party. It is also a great way to make sure that every guest feels involved and included.
You can find several fun and free printable games, like Baby Shower Animals Match, Baby Shower Bingo, Baby Shower Karaoke, and more—all right here on WebBabyShower! We have created a free baby shower games printable for you! Plus, find even more free printable games at the Spruce and Fun Baby Shower Games.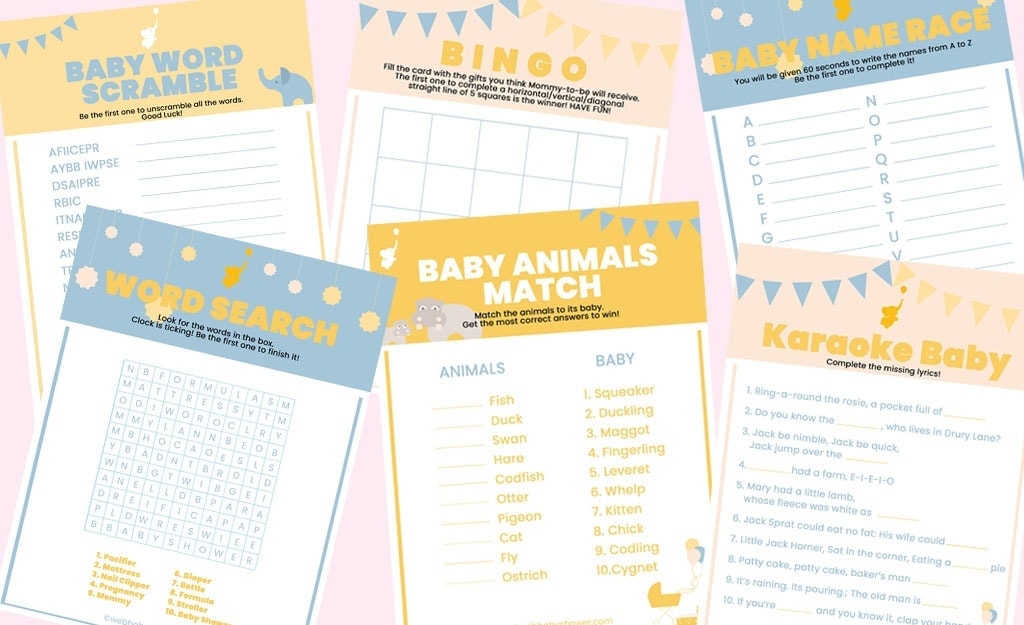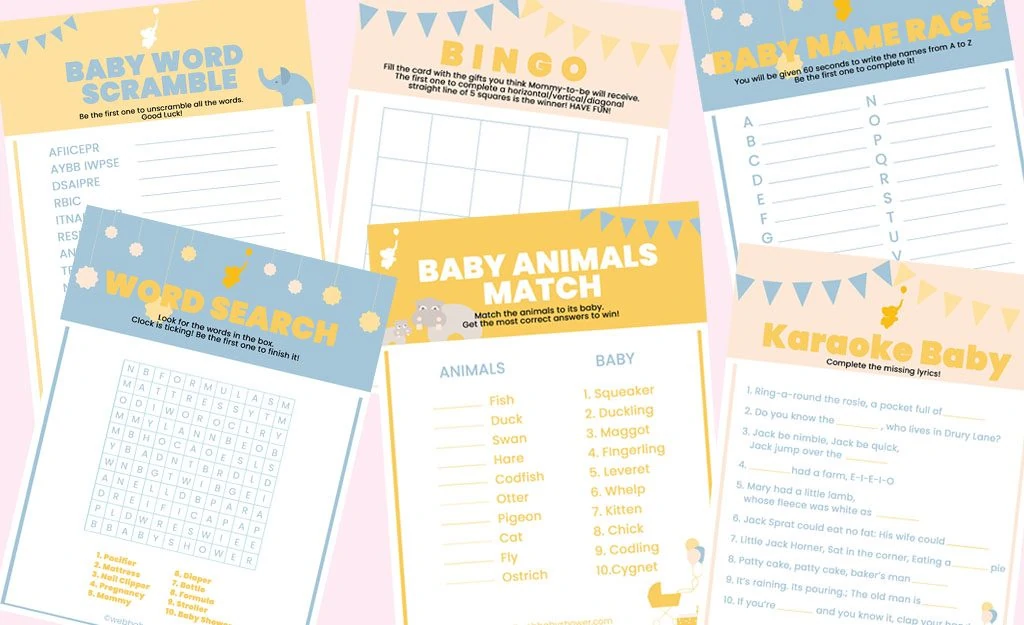 #12 Free Printables from WebBabyShower and Others
Don't stop at printable games! For your baby shower on a budget, SO many things can easily be printed right from the Internet. Ideas range from "Hooray for Baby" posters and onesie garland to shower favors, like labels for mini hand sanitizers (Pretty Providence). And The Yellow Birdhouse offers 65 free baby shower printables—invitations, decorations, cupcake toppers, and more! Also make sure to check out our free printables from WebBabyShower.
With these printables, you can use professionally made materials to turn your baby shower decor into the DIY party of your dreams. No one will suspect that you saved money on the decorations, because it will all look so great!
#13 Diaper Notes: The Diapers That Make You Smile at 3:00 a.m.
Let's face it, new moms and dads can expect a lot of third shift diaper duty. Why not offer some advice, encouragement, or simply give them something to smile about for the 3:00 a.m. diaper change? And it's oh, so easy! All you need are plain diapers (not the kind with the cute cartoon characters) and some sharpies for writing inspiring or funny messages. And the best part? This makes for a fun (and cheap!) baby shower activity (Well Kept Wallet).
#14 Guess the Size of Mom's Giant Belly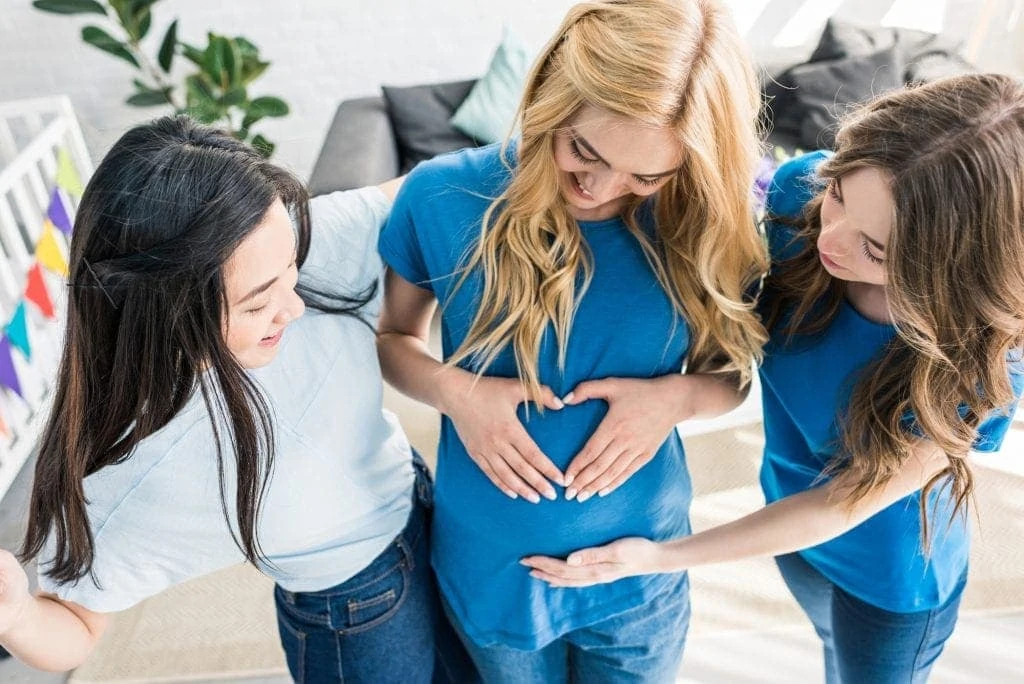 Here's an inexpensive baby shower activity. All you need is string and scissors to get the game rolling. Family and friends will enjoy guessing the size of mom-to-be's belly. This easy game always generates a lot of interaction, as well as lots of laughs! For even more savings, consider letting tabletop decorations double as prizes.
Speaking of prizes, consider repurposing new, unused items you already have lying around your house to save money, according to Miss Mae's Days. Be sure to explore the website for more fun and inexpensive game ideas to entertain your guests!
Of course, this is one of those games that really depends on the mother. Some will totally love this crazy game, and some won't be so keen on it. Be sure to gauge your audience before going with this one!
#15 For the Right Audience, Consider "Beer Bottle"
A baby shower is all about having fun, no matter your budget. And the action-packed "Beer Bottle" game is a great way to entertain guests for cheap. How do you play? It's simple! Just fill a baby bottle with beer or the beverage of your choice—apple juice, sweet tea, lemonade—the list is endless. Then at the same time, the competitors begin sucking their bottles to see who can chug the fastest. (No cheating by unscrewing the ring!) The first one with an empty bottle wins! See the game in action here. For the saucier shower, there's also preggo or horror film—guests guess which close-up, cropped face photo depicts labor and the other a horror scene— from pregnantchicken.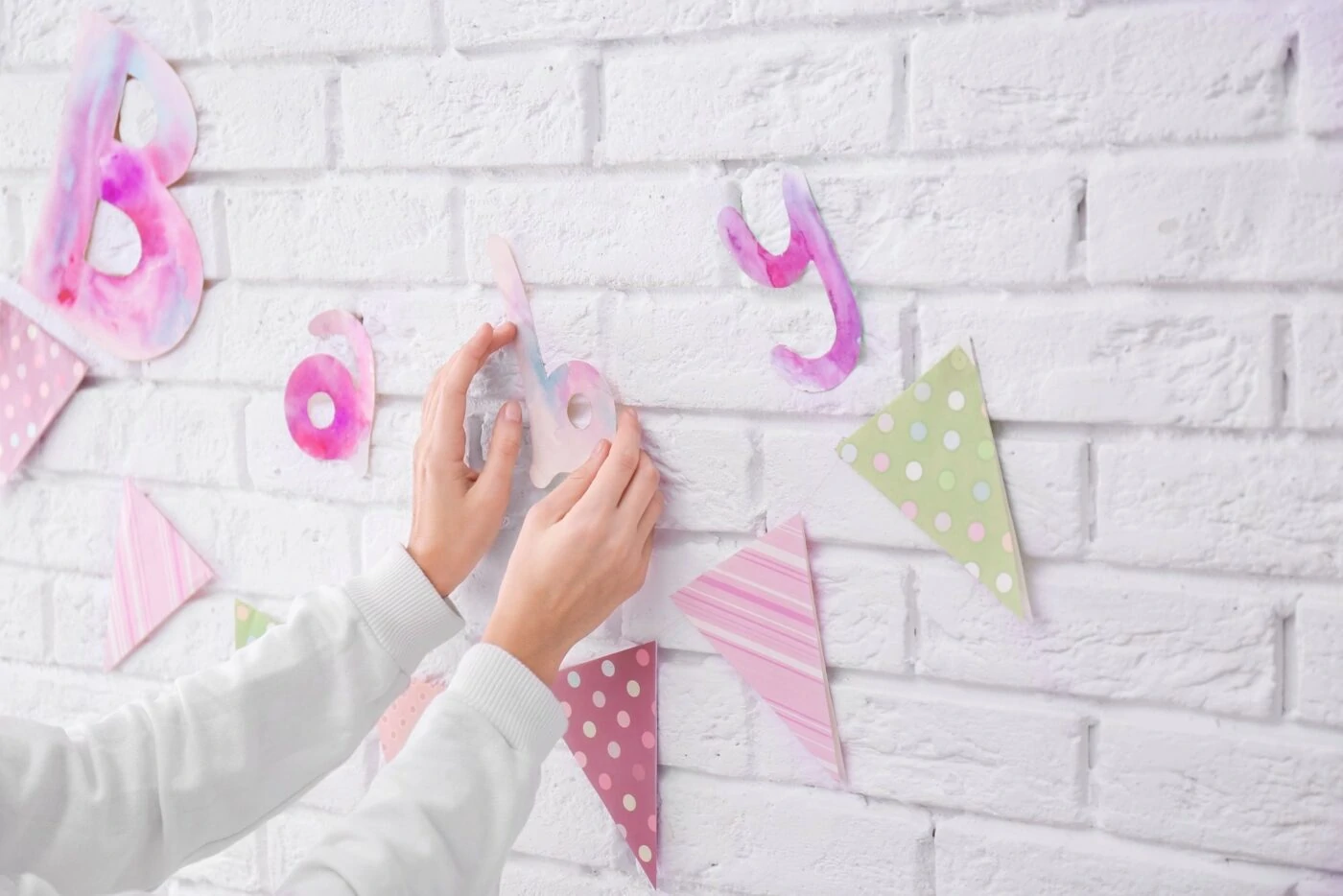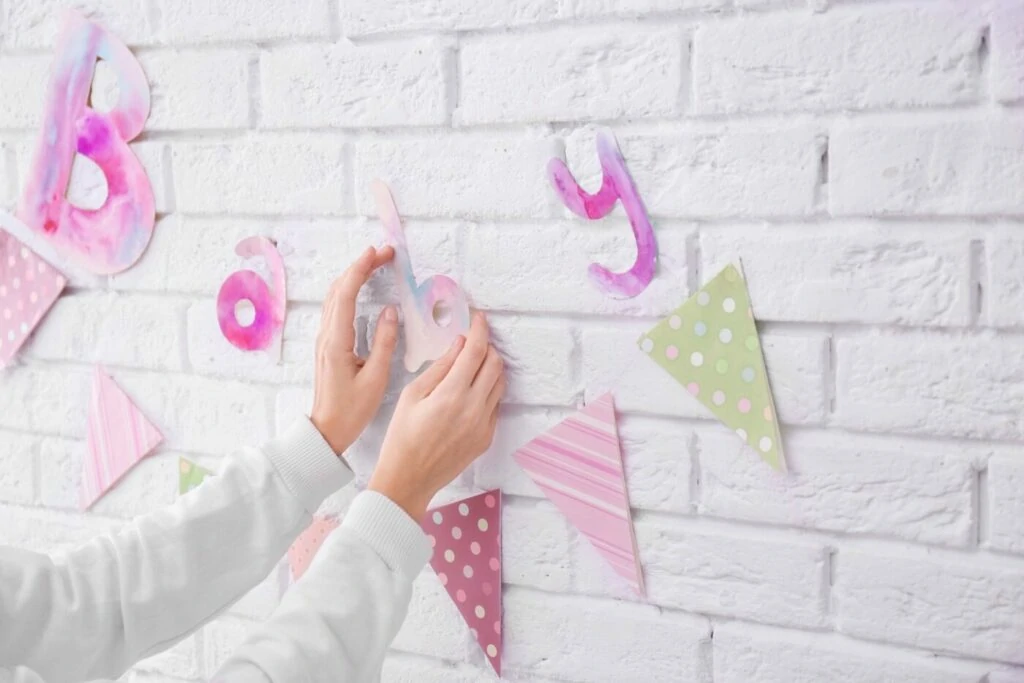 #16 Decorations
Airplanes, sailboats, or zoo animals—there really is no limit when it comes to baby shower theme ideas. But here's a smart idea! When choosing a theme for decorating, pick one you already have some decor items for. For example, you may have a whole slew of Easter bunnies that would pair perfectly with a bunny theme. You can easily ask friends to loan you any on-theme items they have lying around their house, too. Talk about cheap baby shower décor that won't reveal you cut corners to save cash! (Live Like You Are Rich)
When purchasing decorations, shopping at stores with budget-friendly prices is another great way to save money. Miss Mae's Days has tons of tips for decorating—everything from the entryway to tables and windows—all on a Dollar Store budget. Feeling crafty? Add a personalized touch by creating your own décor! Visit our free printables for free decorations!
#17 Skip the Throwaway Favors
Why waste money on throwaway party favors? Instead, save money and offer real thank yous that people care about! One sweet idea is to send guests home with homemade treats, like cookies.
In an article on the Bump, author Allison Micarelli suggests wrapping these made-with-love goodies in inexpensive cellophane bags tied with a pretty ribbon. Yum!
Did you enjoy our 17 unique ideas for throwing a baby shower on a budget? Don't miss our Zoom baby shower guide. We hope our list helps you to create a memorable day for the mom-to-be, without busting your bank account. And no matter your budget, we hope the baby shower you have planned is a success.
See how a great online baby shower works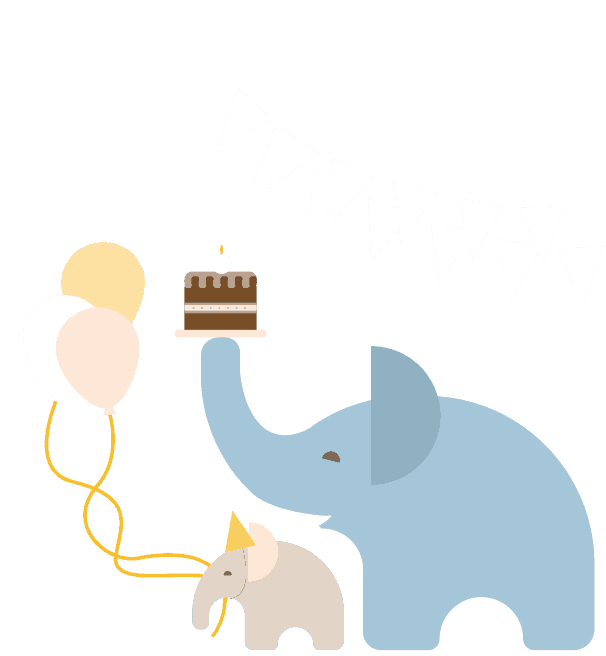 Remember: Guests are More Easygoing than You Think
The pressure to throw an expensive baby shower often comes from one place only – the host! The host might tend to feel that a less expensive baby shower will seem "cheap," or like they don't really care. We're here to tell you that 99% of the time, that is all in your head.
Your guests really just want to get together and celebrate the mother! They don't care whether you used DIY decorations or expensive craft store decorations. They can't tell the difference between finger food from the grocery store or expensive appetizers from a fancy bistro. They just want to be there for the mom on her special day!
So, don't stress too much about all of it. If you have an opportunity to save money, go for it!
Conclusion
We hope you have found some inspiration within our list of budget baby shower ideas. Remember, it is all about having the baby shower of the mom-to-be's dreams. As long as you can save some money without compromising on that vision, then you are on the right track!