How Do You Plan a Baby Shower from Afar
It's never easy living far away from friends and family when you're expecting a baby.
Are you struggling to enjoy the landmark pregnancy moments because your family isn't nearby to celebrate with you? Are you worried about being surrounded by your favorite people because of COVID fears? These situations make pregnancy tougher on lots of mamas-to-be. Having a covid baby shower is still possible though!
Fortunately, we've got your back with ideas to keep at least one pre-baby tradition alive. We've found 7 easy and affordable ways your friends and family can plan the ultimate baby shower for you from afar.
What is a Virtual Baby Shower?
A virtual baby shower is probably the easiest way to throw a baby shower from afar. This type of shower involves utilizing an online resource like WebBabyShower to help you put all of your information in one place.
In a virtual shower, guests will upload messages, videos, and pictures for you to see in a dedicated shower website. You can send custom matching invites and thank you notes via email or Facebook to keep costs down. You'll host your baby shower on our platform versus in-person, and if you use a video chat tool your guests will join in to watch you open gifts, play games, and talk like you would at a traditional shower.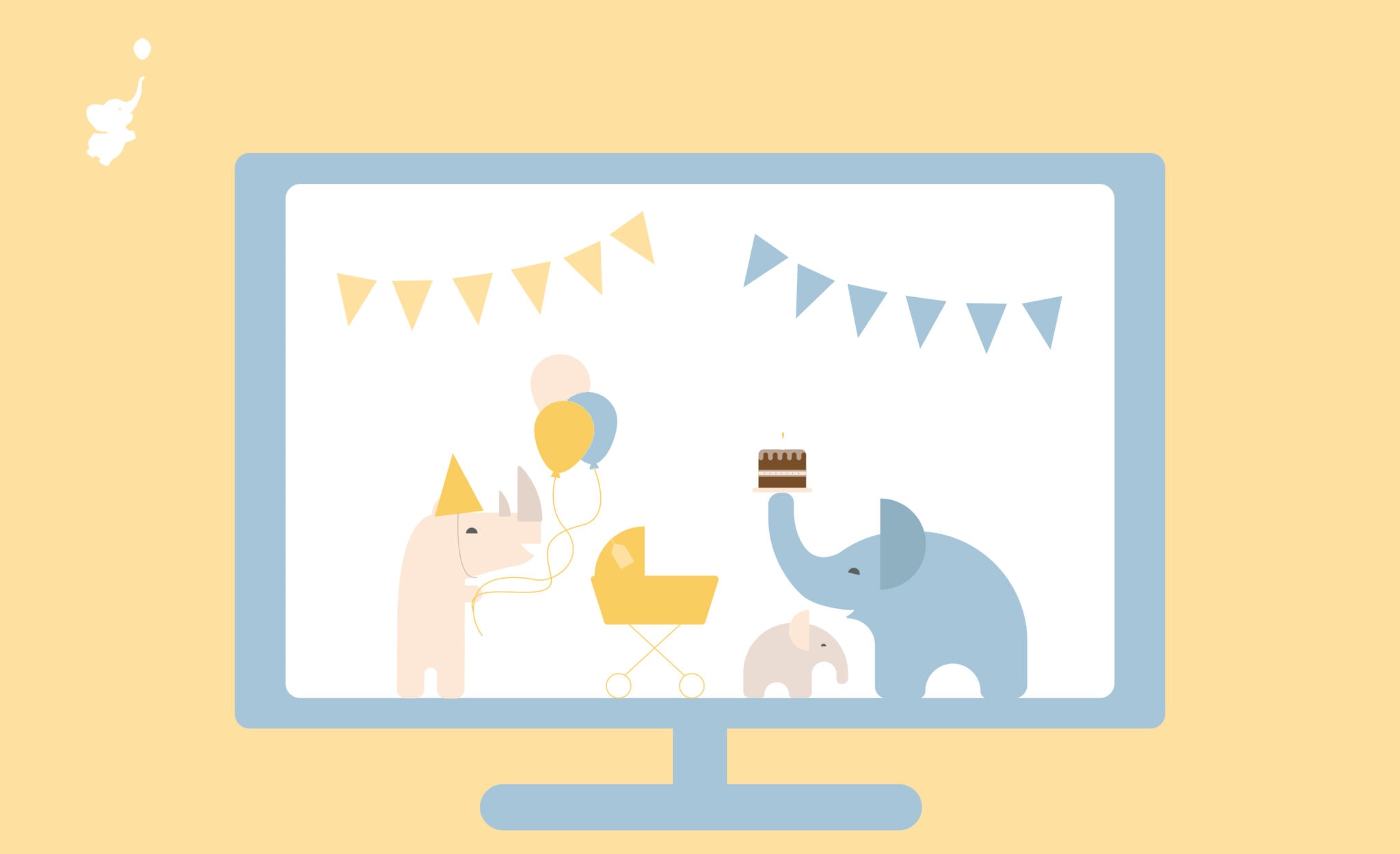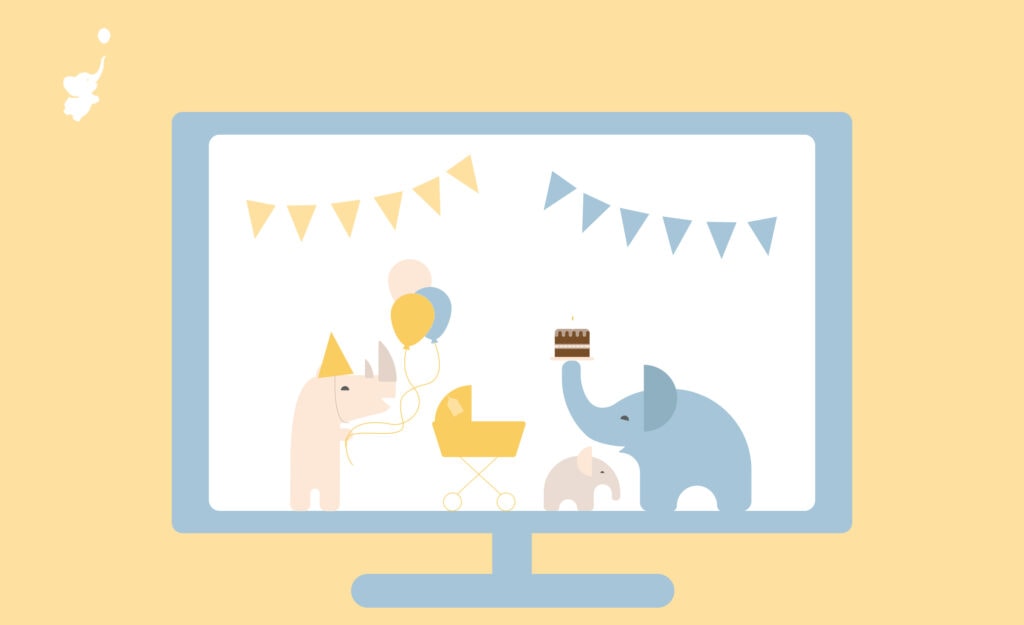 A virtual baby shower essentially takes the shower experience and puts it 100% online so that you're able to involve friends and family who may not have been able to join in-person.
Throw a Virtual Baby Shower so Everyone

Can Celebrate!

• Free Trial – 7 Day Refund for any reason
• Only 1 Minute Setup!
• 40+ Custom Themes & Matching Invites
• Use Any Online Registry
• Send Unlimited Invites and Updates
• Baby Shower Games with Scoreboards, Give Prizes!

Build Your Shower
---
How do You Have a Baby Shower from Afar?
Having a baby shower always requires some work, but a baby shower from far away probably seems even more daunting. Don't worry, virtual parties are all the rage this year, and WebBabyShower makes it easier than ever to connect your loved ones all over the world for your special day.
Why Have a Virtual Baby Shower?
2020 has not been kind to brides or moms-to-be. The coronavirus outbreak has placed a huge roadblock between all of us and our friends and family, whether we like it or not. Since pregnant women are more susceptible to the virus, it's essential to keep your friends close emotionally rather than physically right now. A virtual baby shower with WebBabyShower can help.
Even before the COVID outbreak, there were plenty of moms and dads-to-be who lived too far away to have baby showers that included all of their friends and families. Often our customers would mix a small in-person shower with our online platform. Whether you're living overseas or across the country, it's still possible to have an excellent virtual shower without too much work thanks to the newest technology.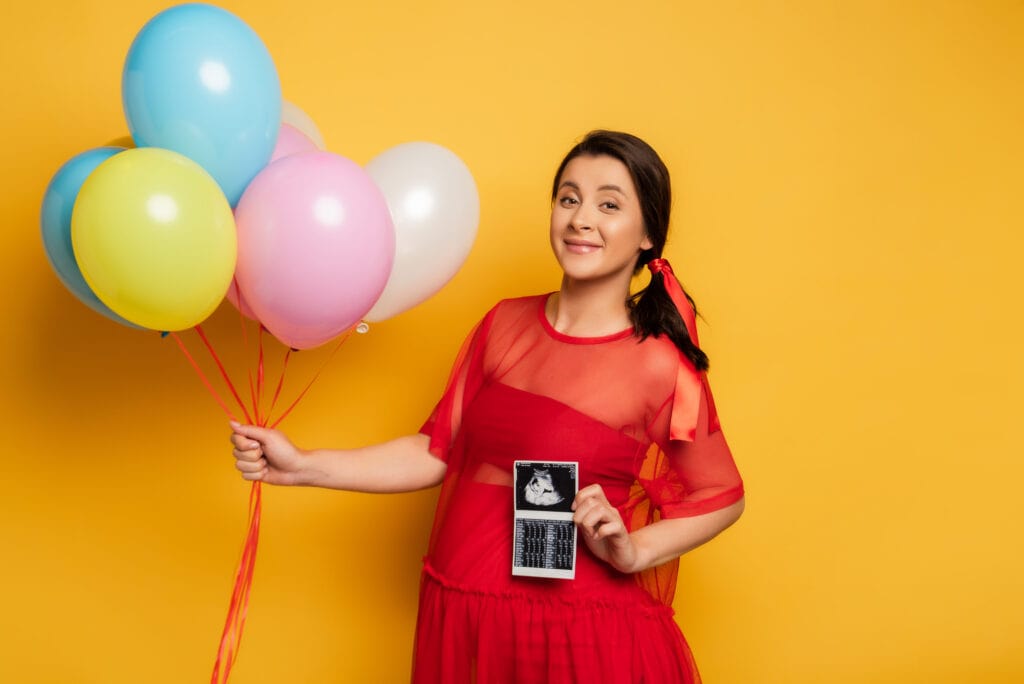 7 Steps to Creating an Unforgettable Baby Shower from Afar
It might still seem like a daunting task to set up a shower from afar, but we'll save you some time and energy if you follow our step by step guide to creating the ultimate virtual shower.
The Vital, Albeit Boring, Details
When you start, you'll want to get on the phone with a few key family members or friends to select a date that works for everyone. With WebBabyShower you can schedule video chats on multiple dates or you can have a shower without ever turning on Skype or Zoom. It's up to you and how you're feeling.
If you have multiple time zones to account for in your party, you could schedule a video chat using WebBabyShower's scheduler tool for each one. If you'd rather do it all at once or break up your chats differently that's fine too. This is your party and it's completely customizable.
Having a party through WebBabyShower means that your guests can come and go as they wish. You can update your site with the latest sonograms or bump photos and add a registry so your guests can shop. It's almost like having a year-long baby shower, but with the work of one event.
Send Out Invites
Once all the details of your shower are sorted out, you can send out invitations. You can use one of WebBabyShower's themed invitations rather than mailing out generic cards. If you'd rather go custom but still avoid the mail, WebBabyShower has great options for that as well.
Since the shower is virtual, you can easily incorporate virtual invites as well. WebBabyShower does the work for you with several fun email invite templates to work with. Plus, you can customize your e-vites through the site as well.
Additionally, WebBabyShower provides open tracking for emailed invites. You can even copy your event link and share it on Facebook or other social apps. It couldn't be any simpler to get your guests on board.
Going the traditional route and mailing your invitations isn't a bad choice either, but you will want to make sure to budget for the added cost of paper invitations and stamps.
Get the Technology Working
Not only can you set up one or more virtual hangout sessions for your shower using Zoom or Google Hangouts, but your guests can also upload personal videos they have made straight to your shower page. The personal videos are great options for grandparents to be or those individuals who can't make it to the official video chat.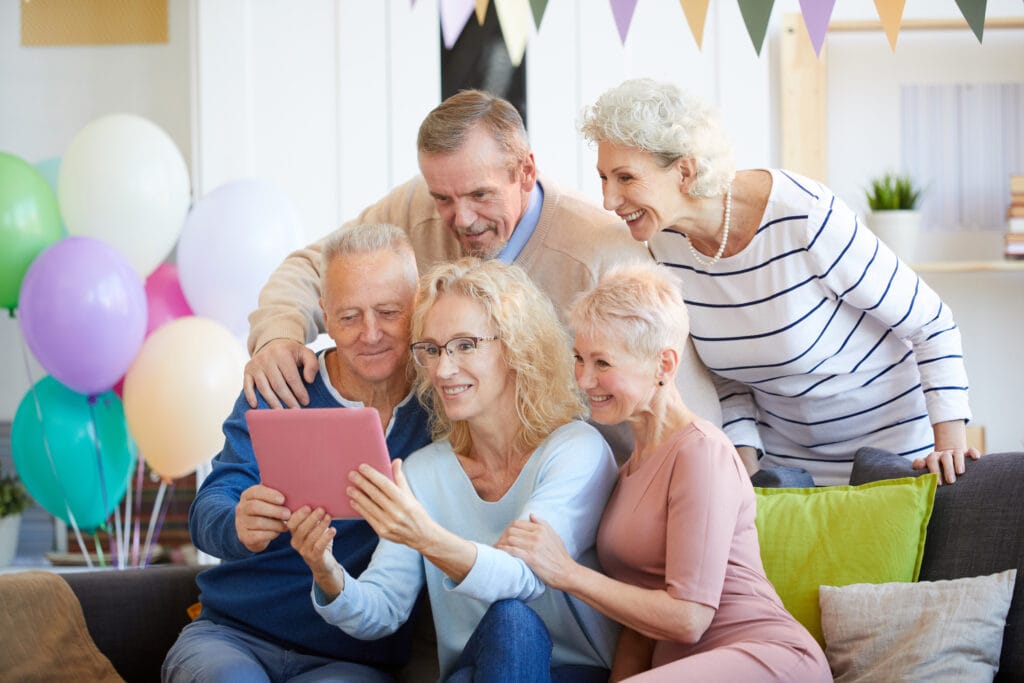 If possible, make sure you use a technology you've used before. If you're familiar with Skype and not Zoom, then go for Skype. Sticking with something you know, or enlisting a friend for a trial run, will help to ease the burden of technical difficulties on party day.
Plan Gifting Options That Make Sense
WebBabyShower allows you to link all of your registries in one spot for guests. That means you can register at multiple places and set up a monetary gift account to give your guests plenty of options.
If you're overseas from most guests, it might be nice to give them the option to gift money so they don't have to spend a ton on shipping costs. There are registries that help hosts receive cash from guests! If you choose to go this route, it's nice to show guests what you purchased or plan to purchase with their money.
There are several ways you can show guests where the money they provided went simply. Maybe host the shower from the baby's nursery to show off big-ticket items or use new onesies as background decor.
If your guests provide mostly physical gifts versus money, like baby shower books, you'll need to decide whether or not you'll open them on camera. You can always use gift opening as a fun way to play a game like present Bingo to make it less uncomfortable for you.
Play Some Games
Every baby shower has games, but you might not think it's possible with a virtual party. Luckily, WebBabyShower has you covered. We provide exciting games that work in a virtual space, so your baby shower from afar can feel like an intimate gathering at home.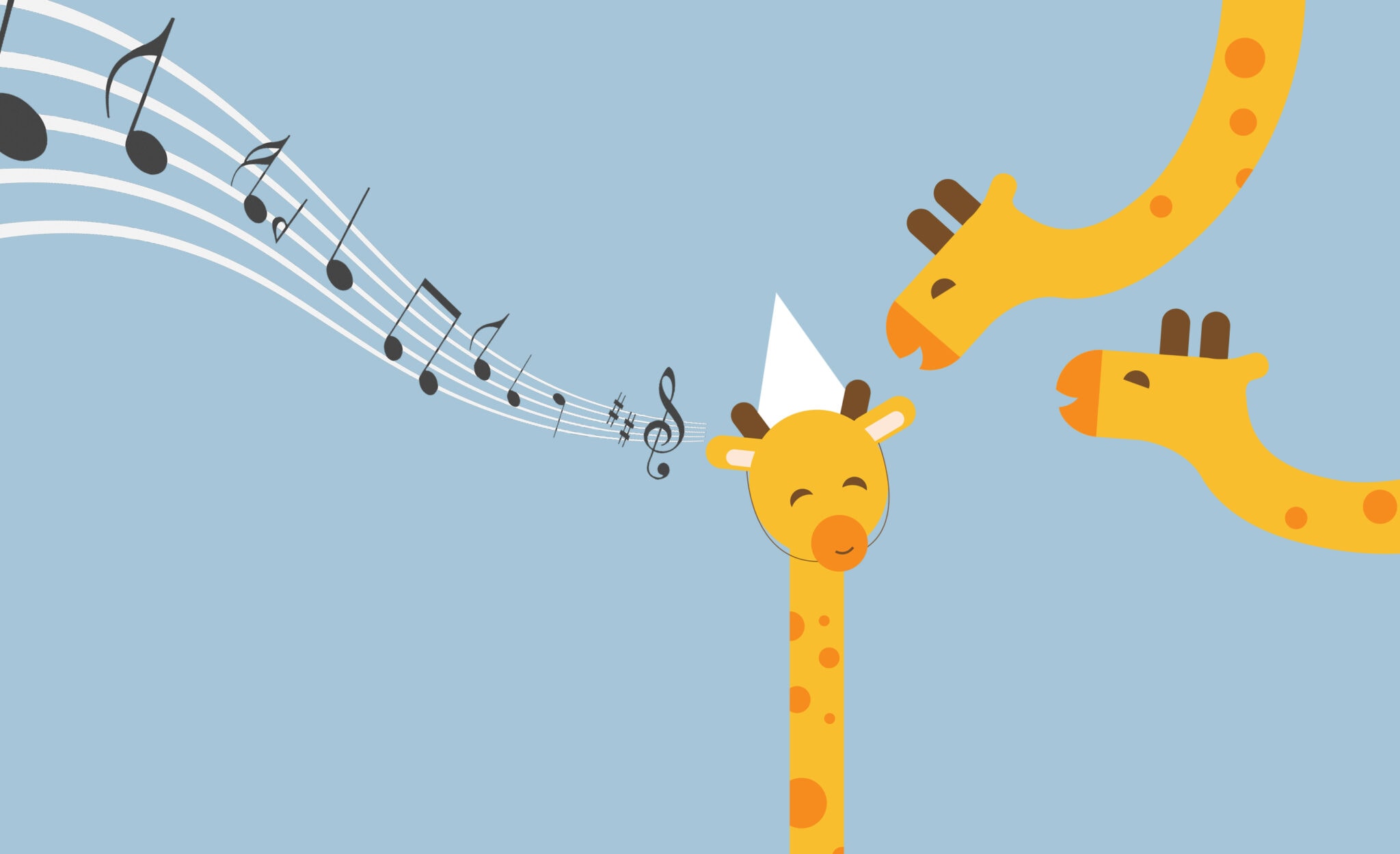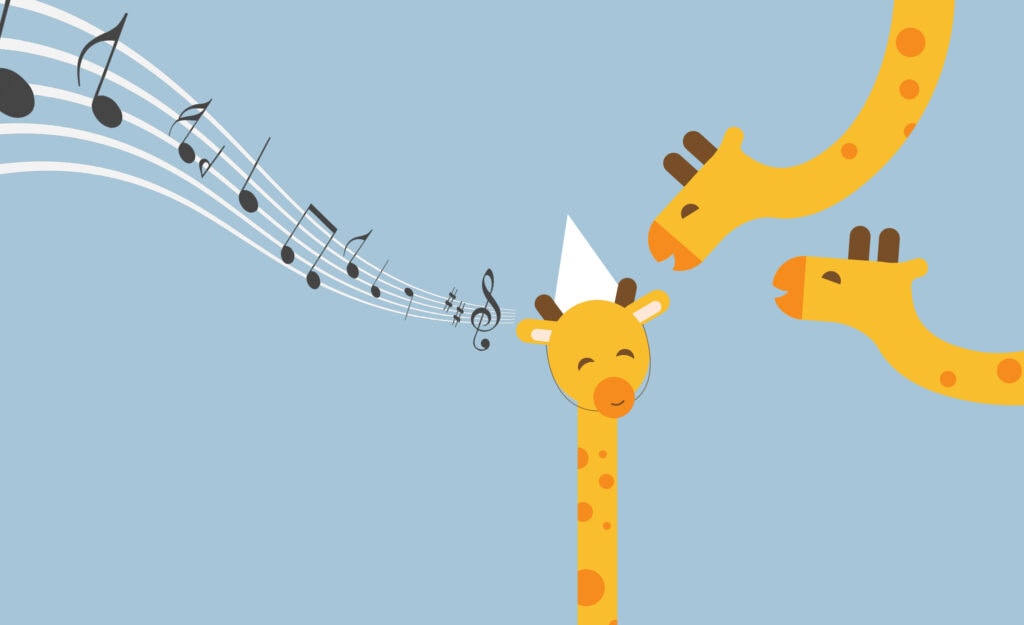 Guests can play the games on their own time on the WebBabyShower platform and do not have to play live with other guests. Everyone's results will show up in the same place because your personal shower page features a virtual scoreboard so you can keep track of the friendly competition!
You can link to our free printable games too so guests can print their copies and play live games as well.
Some of our favorite games available through WebBabyShower are as follows:
Baby Animal Match Game

A Baby in Any Language

Nursery Rhymes Trivia

Baby and Pregnancy Trivia (available in a customized version for adoption or multiples as well)

Baby Songs
Guests can create user names or use their real names to play these games online. The scoreboard makes it easy to give out prizes; you could consider e-gift cards or small trinkets from Amazon or Etsy shipped to their door.
Keep the Party Going with Favors
Traditional party favors like soaps, customized candy boxes, and the like might seem out of reach with a virtual baby shower, but that doesn't mean you can't send your guests off with a shower keepsake.
Consider sending out something small to guests with their thank you notes. You could easily include some candy, seed packs, a can koozie, or some hair ties in a style or color that represents the theme of your shower.
If you'd like to keep things virtual, you still have options. You can go with gift cards to places that are local to your family and friends. If you'd prefer to be more philanthropic with your favors, consider donating to a charity that your group chooses in honor of your guests. You could print out the donation recognition and include it physically or as a pdf in guest thank yous.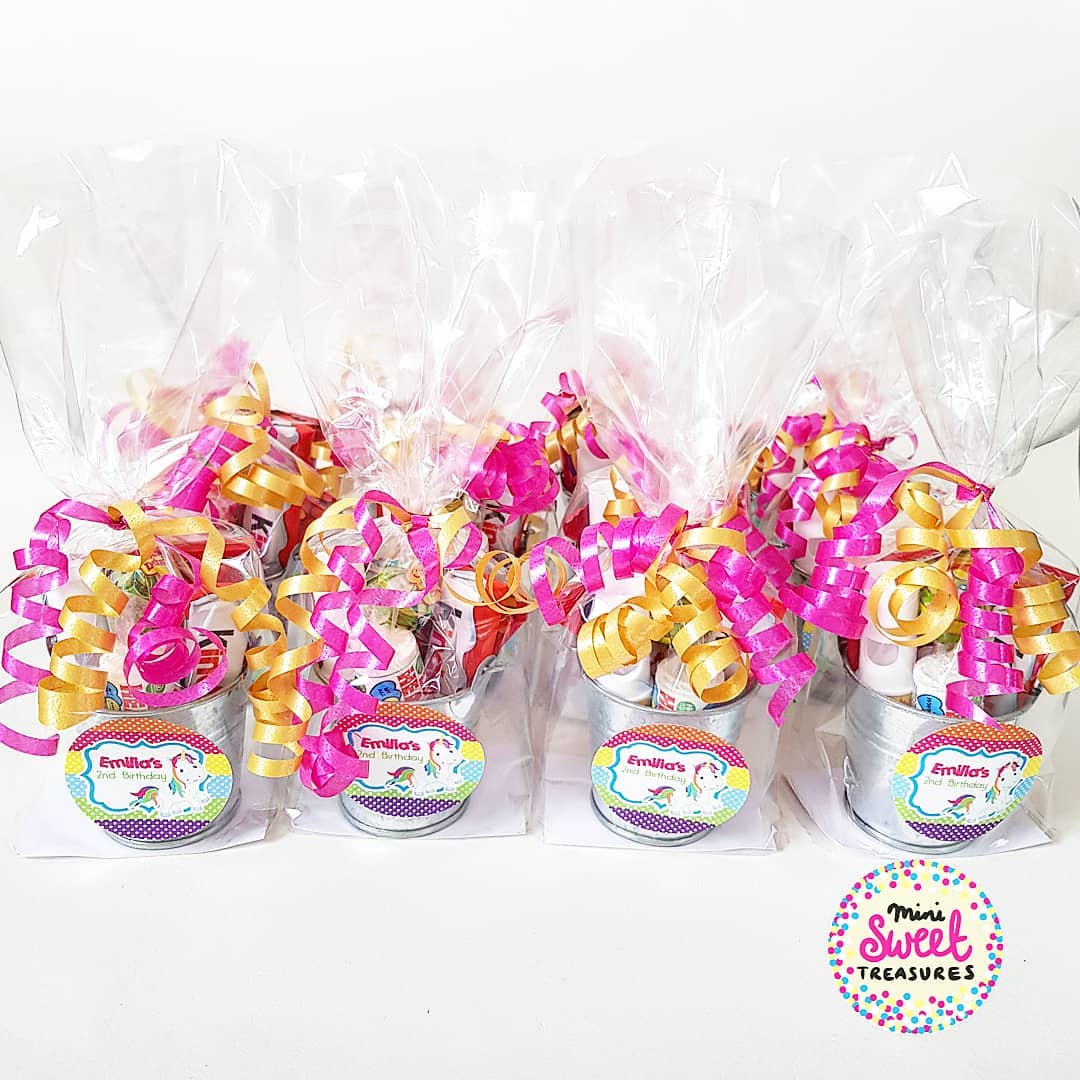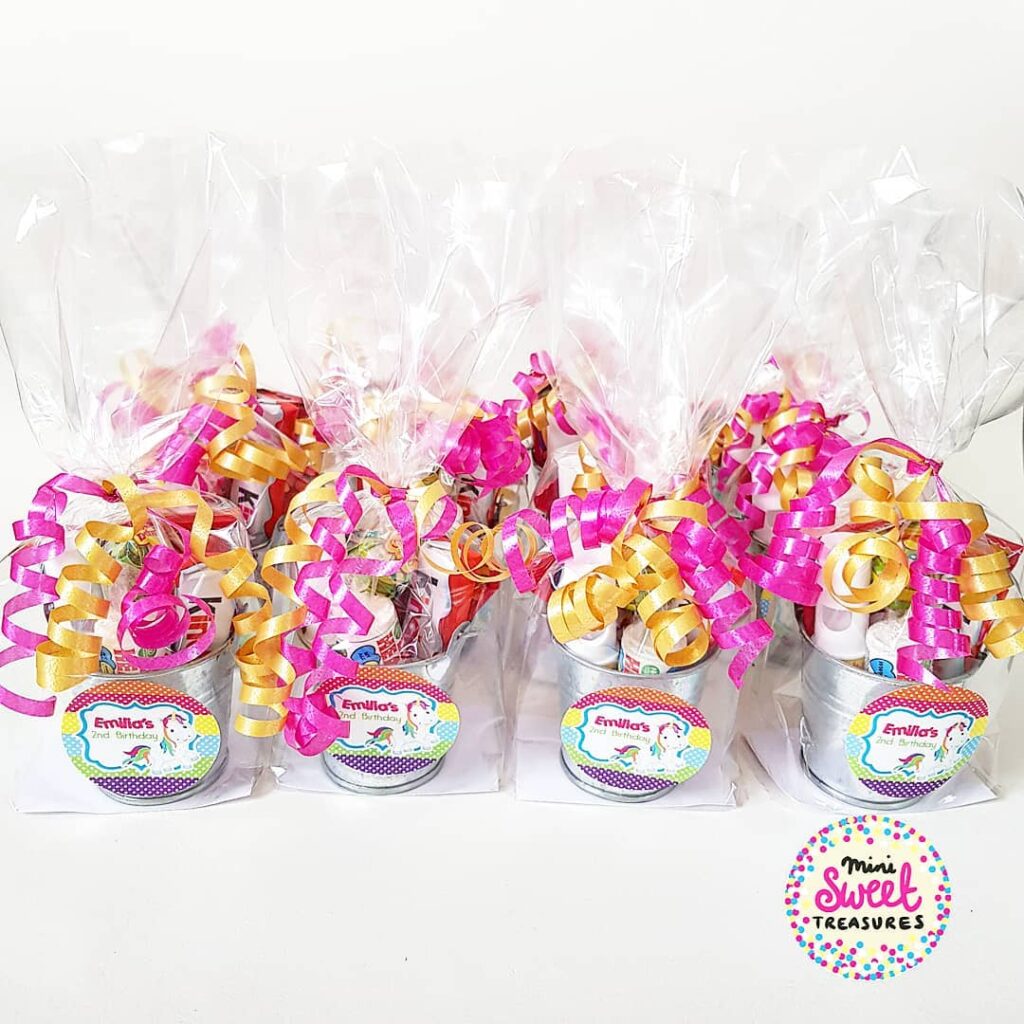 Don't Forget to Say Thank You
Every shower needs thank you notes to help show your gratitude for the time and expense your friends and family put into the party. A virtual shower can be taxing on certain guests, especially the older crowd who don't understand technology so well, which makes it even more vital to recognize their contributions.
You can go digital for thank you notes as well, but it might be nice to budget in funds to send physical notes instead. It's the added personal touch of seeing your handwriting on a card that can spread joy to guests who are still bummed they weren't able to squeeze you in person.
Additional Details for a Virtual Shower
Hosting a baby shower from afar doesn't have to be wildly different from an in-person shower, but there will be some differences. For instance, you won't need to worry about catering a meal for a virtual party. Although you could send along a mocktail or appetizer recipe for guests to make ahead if you want to create a cohesive atmosphere.
Consider the Details
Food:

You may want to have some ground rules about if and when guests can eat during the shower. Nothing kills the mood like the sound of someone chomping as the rest of the crowd oos and ahhs about your gifts.

Decor: If you're using Zoom, you can ask everyone in advance to download the same background so you'll have an adorable screenshot as a keepsake. You can use your own photo for the background or pick a favorite landmark from Zoom's library of backgrounds.
Pick a Theme
Keeping a virtual shower cohesive and making it feel like an in-person party is easier if there's a theme throughout the details. WebBabyShower has plenty of ready to go themes you can choose from, but if you're not digging those themes you can also choose a customized option.
WebBabyShower's theme gallery is full of adorable options that you and your guests will love including themes that are specific to boys, girls, and multiples. You can also go gender-neutral with great themes like foxes, polar bears, ultra-trendy llamas, or baby blocks.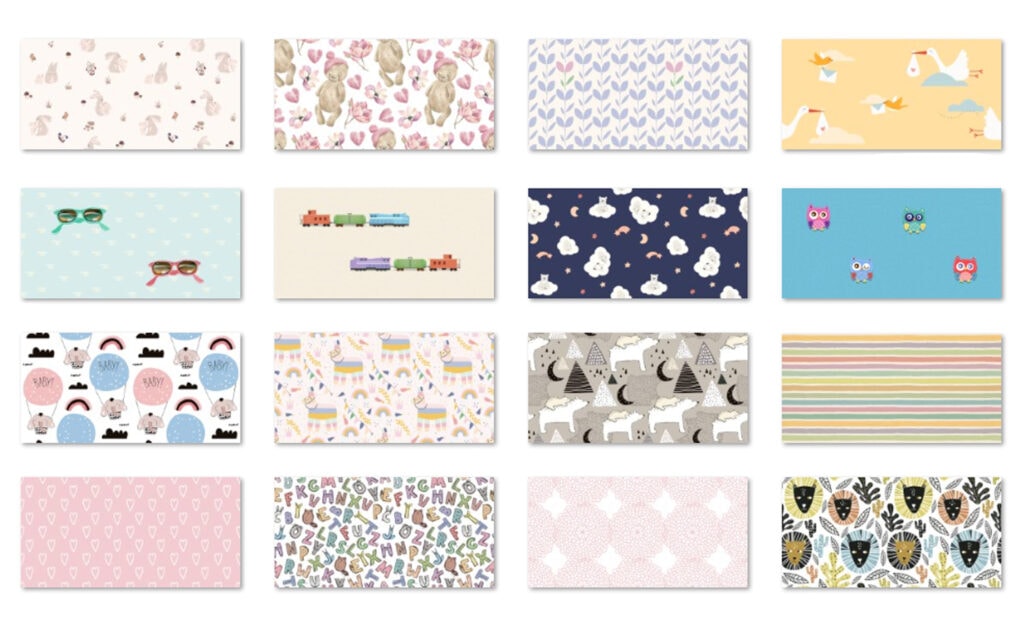 If you're not sure what to choose, then try checking out Pinterest for some ideas. There are plenty of options. Some of our favorites are these:
Baby Animals

Parents to Bee

Let's Taco 'Bout Baby

Baby is Brewing

Baby in Bloom

Ready to POP

You are my Sunshine
Considerations When Choosing a Theme
There are a few things you should keep in mind when picking a theme for a virtual shower. Take into account how obvious the theme will be for folks looking into your world through a computer screen. Will you play games that involve your chosen theme? Typically food, drinks, and decor are a big part of a theme party, so understanding how to incorporate the theme virtually is vital.
You will also want to ensure that your theme is appropriate for the crowd. If you're throwing a virtual couples shower, then utilizing a theme like "baby is brewing" is a fun touch, but if your shower is mostly aunts and grandmas, then you may want to go with a less controversial theme.
Maybe you want to get in touch with your own culture, for example Mexican baby showers are growing in popularity and this wonderful idea can easily be planned on WebBabyShower.
Make it Your Own
How ever you decide to throw your baby shower from afar, make it all about you and your new bundle of joy. Your guests will support your decisions and understand why you're making the choices that you are regardless. If you're concerned, then you could always enlist the help of a trusted friend or family member to have the tough conversations for you.
Other Fun Offerings from WebBabyShower
In addition to all of the exciting themes, games, and togetherness that WebBabyShower offers for your virtual shower needs, you will have the opportunity to get a keepsake document. The document includes pictures, invites, thank-yous, and more from your shower, so you'll always remember what an exciting period it was.
Your guests can sign a virtual guestbook for you that you can then print and keep with your baby book or other mementos so that it feels almost like they were with you. Guests can write encouraging messages for you or just sign their names. It's as personal as a traditional guestbook, but all online.
Let the celebration of your baby go on for longer! Upgrade your plan to a "Baby's First Year" site where you can keep track of all of those exciting milestones that the first year brings for babies and their families.
How to Choose a Video Conferencing App for Your Shower
If you don't use video conferencing software regularly, then you'll need to choose the right application for you and your guests. Choosing an application that is too complicated or that no one is familiar with is a big mistake because you're bound to have technical issues that can put a dark cloud over the day. Try to choose a service that is easy for all skill levels.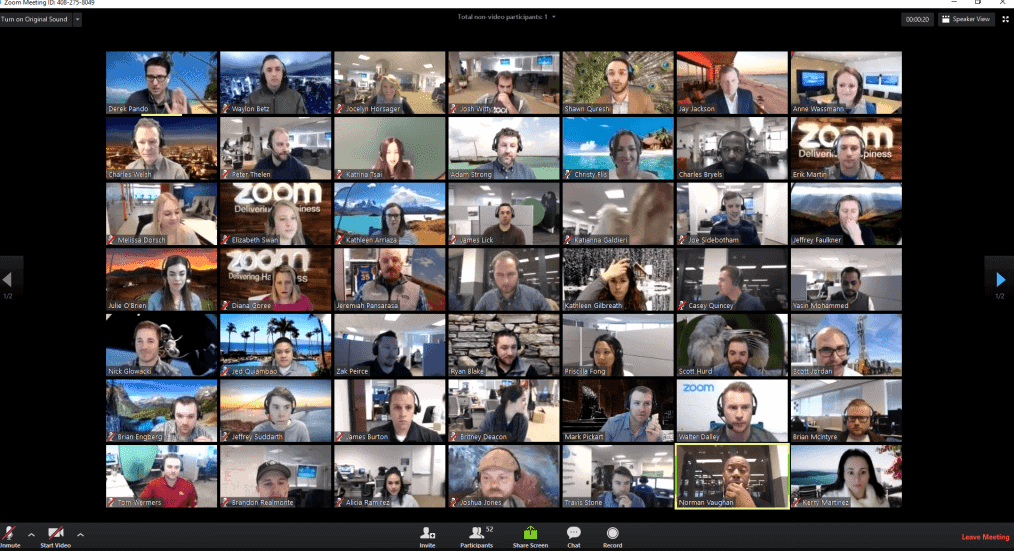 Some of the top video chat apps out there are as follows:
Zoom:

Allows up to 100 users, free up to 40 minutes, and allows the host to create a virtual, password-protected, waiting room for guests.

Skype:

Free to use for up to 50 devices, but there is no password protection so anyone can join.

Facetime:

Only works for individuals with Apple products like iPhones, iPads, and Mac computers, but it will be private since your guests will need to log in using their Apple ID after you invite them.

Facebook Messenger:

Only available to those with Facebook accounts, and can only stand up to four connected devices at a time. Might be a better software to plan the shower than to host it.

Google Hangouts:

Your guests will need a Google or Gmail account to log in to this service, but since most of us have one, that shouldn't be too tough. It allows up to 250 participants at a time, but only ten total devices. This is a good service if you are inviting a few larger families who all live together versus individuals living in many separate areas.
All of the applications we referenced above have both chat and video options, so you can utilize them both during your event. Some are better than others as far as how the app utilizes the screen area and allowing guests to all see one another. You'll want to look into each one extensively before you decide on what's right for you.
See how a great online baby shower works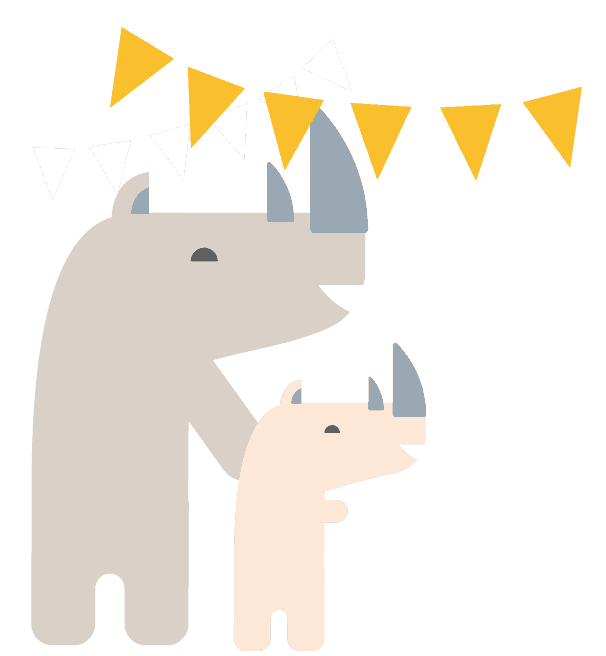 Conclusion
It might seem daunting to throw a baby shower from afar at first, but it's an exciting experience that you'll remember for a long time to come. WebBabyShower even provides the opportunity to grab a scrapbook of your shower for a keepsake.
It's always a challenge to be without family and friends during your pregnancy, but a virtual shower will help bring normalcy to your world.